MG Car Club announces insurance partnership with Cherished Vehicle Insurance Services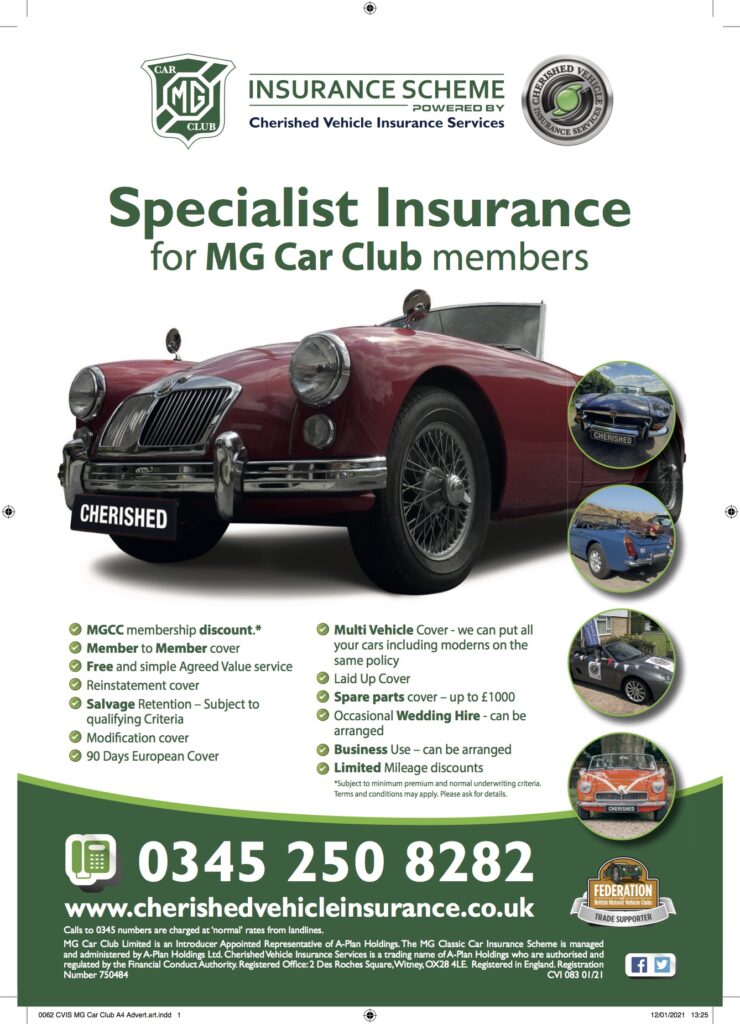 The MG Car Club is excited to announce the launch of a new club insurance partnership with Cherished Vehicle Insurance Services. The scheme will create an offering for MG Car Club members that will keep the specialist needs and requirements of MG Car Club members at the forefront.

The scheme will offer MG Car Club members a number of features including; member to member cover where members can drive other cars insured with the scheme, free and simple agreed valuations, salvage retention, multi-vehicle cover including non-MGs, 90 days European cover, modification cover, re-instatement cover, laid up cover and even cover for those spare parts you have stashed in the garage that are probably worth more than you realise.
All this at discounted rates for MG Car Club members who will also get the advantage of dealing with genuinely knowledgeable people at the end of the phone.

Peter Barrett from Cherished Vehicle Insurance Services will be heading up the scheme and is an MG enthusiast himself, having owned an MGF for a number of years.

Peter Barrett said, "We have a real passion for classic cars here at Cherished Vehicle Insurance Services. I know from my own MG just how much these cars mean to the enthusiasts like me who lavish hundreds of hours of effort, not to mention money, on keeping their prized MGs on the road. Therefore, we understand just how important it is to have knowledge of the cars and offer an insurance scheme that is tailored to the needs of classic car owners."

The contribution to the MG Car Club however goes deeper than offering club members a specialised insurance product. For each policy taken out, Cherished Vehicle Insurance Services will offer a commission back into club funds to ensure that the MG Car Club, its registers and centres have a significant contribution towards the much needed resources required for putting on club activities and events for members.

Centres and Registers who previously received insurance sponsorship will continue to receive that funding through this new partnership and in addition there will be an application scheme open for centres and registers to apply to Kimber House for grants to fund particular activities.

Furthermore, the club support from the new insurance partnership will extend to motorsport also and the MG Car Club is excited to announce Cherished Vehicle Insurance Services as the new headline sponsor for the MG Cup, starting with the 2021 season. Motorsport fans can expect to see the new insurance scheme livery adorning competing cars from the opening round at Silverstone on 20thMarch 2021.

Adam Sloman, General Manager for the MG Car Club said; "It's great to have an insurance partner on board who show such enthusiasm for our members and their cars. We are aware of a number of members who have already insured their MGs and other cars with Cherished Vehicle Insurance Services and the feedback has been superb. Furthermore, as the MG Car Club strives to ensure it has the resources to provide members with the services they enjoy and expect, the support through commissions and sponsorship received will have a positive impact on every aspect of members interactions with the MG Car Club in the future."

You can hear Peter Barrett introducing the MG Car Club's insurance scheme powered by Cherished Vehicle Insurance Services on the MG Car Club Podcast at www.mgpodcast.uk and the team can be contacted by telephone 0345 250 8282.