MG on Display at the RAC
The Royal Automobile Club was founded in 1897 by Frederick Richard Simms with the primary purpose of promoting the motor car and its place in society. The Club introduced the 1000 Mile Trial in 1900 and, following the success of this, the Tourist Trophy was first held by the Club in 1905, which remains the oldest continuous competitive motor sports event. In 1907, King Edward VII awarded the Club the royal title, which is held to this day, sealing the Club's status as Britain's longest-standing and most influential motoring organisation.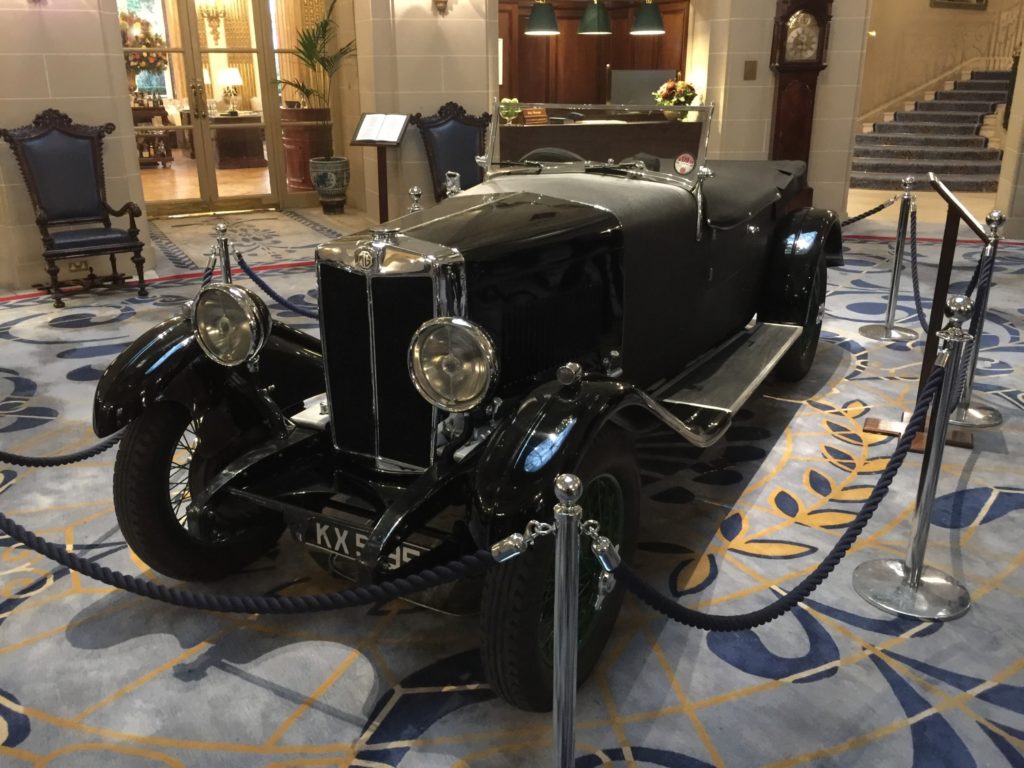 In 1927, the Royal Automobile Club in Pall Mall were very much exercised by the record breaking exploits of Henry de Hane Segrave in the 1000hp Sunbeam, powered by two Sunbeam Matabele aero engines, claiming the World Land Speed record at 203mph. Meanwhile, in Oxford, Cecil Kimber was perfecting a special rolling chassis for his next offering from the MG works: the MG Sports Six. Though it used many Morris components, it was further refined in 1929 and called the 18/80.
As you entered the Royal Automobile Club in Pall Mall during the week beginning Monday 18, an MG 18/80 would have greeted you, Displayed in the stunning Rotunda, the period MG and beauty and elegance of the Rotunda echo through all the halls, with gold chandeliers and stunning paintings, every inch of the club has been carefully crafted. During the RAC building's illustrious history, this is only the second time an MG has been displayed in the Rotunda.
The MG displayed was a 1930 18/80, fitted with 'Speed Model' coachwork by Carbodies of Coventry. One of its earliest owners was the famous racing motorcyclist, Geoff Monty, who, in the 1950s and '60s, formed a racing partnership with Dudley Ward. During the years 1945 to 1987, owner Morgan Marshall of Imperial Motors in Bristol had several sporting successes with the car in events such as the Land End Trial. It is said that he covered some 300,000 miles during this time. Today, this car is in regular use with its present owner.
Being only the second MG ever displayed in the RAC building, it was a very special occasion. The MG Car Club President, John Day, said: "It's a tremendous honour to have an MG in the RAC building. It's the seat of British Motoring as we know it. As soon as the MG Car Club were asked to organise this, we jumped at the chance, as the RAC have always championed the cause of the motor car right from its inception. Kimber got it right when designing the 18/80. It has presence on the road and it has presence here in the RAC building."
The Chairman of the Royal Automobile Club, Tom Purves, who is a big advocate of the MG Marque, said: "It means a great deal to have an MG on display. MG is a wonderful and very important brand in British industry. It made lot of people very happy and employed a lot of people, and to have one here in the Rotunda of the Royal Automobile Club seems entirely appropriate. I can't imagine over the years how many of our members have been MG owners, I myself have owned MGs and The MG Car Club was the very first Car Club I joined when I was 17, so MG has always been close to my heart."