MG5 EV wins first major award as WhichEV names its Best-Value Electric Car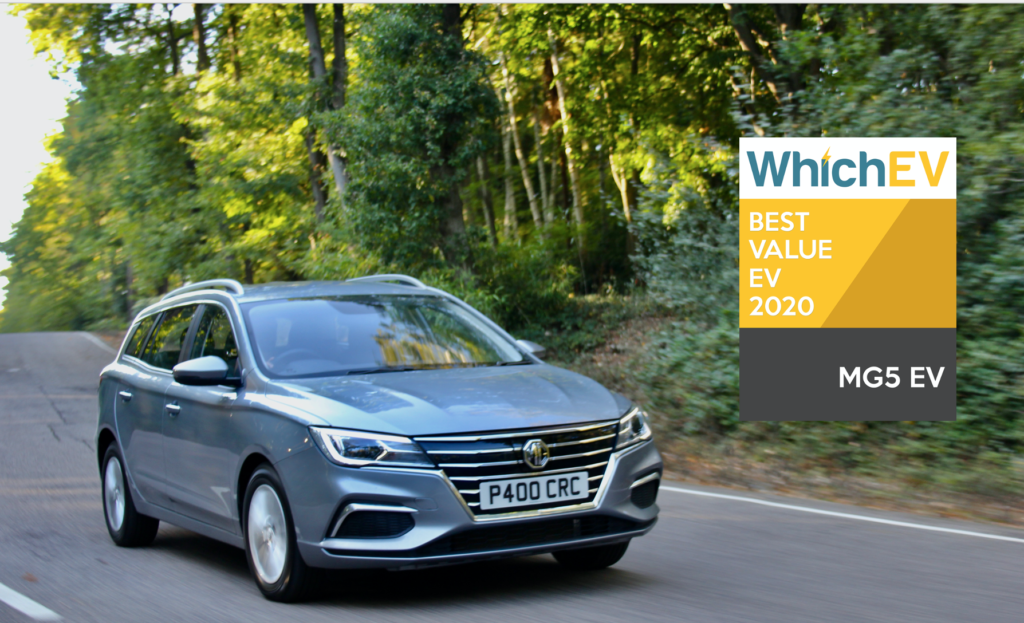 The All-New MG5 EV has won its first major award after WhichEV named the ground-breaking electric station wagon as its Best Value EV thanks to its range, equipment, affordable purchase price and lengthy warranty.
In addition, the MG ZS EV was also Highly Commended in the same category of the first high profile EV awards ceremony in 2021.
The MG5 EV – available from £24,995 – is the only all-electric station wagon currently on sale in the UK and offers a 214-mile range, an 80%/50-minute rapid-charge capability and an 80,000-mile/7-year warranty.
WhichEV Editor James Morris said: "The MG5 EV sets a new benchmark for EV affordability. Not only does it deliver an incredibly low price for an electric car, but it also provides a decent range, commendable performance and great practicality for passengers and cargo alike. It has a decent level of equipment and long warranty, too. This EV represents superb value for the UK market, and breaks down the barriers to electric ownership."
David Pugh, MG Marketing Director, added: "We knew when we launched All New MG5 EV that it was a bit of a gamechanger both in terms of its value for money and its unique position in the market, so seeing that recognised by a title as prestigious and influential as WhichEV is terrific news for us, as well as for our dealers and our customers who can be reassured that they have made the right choice in choosing the MG brand. In 2021, we will further strengthen our leadership in electrification and commitment to making EVs affordable for everyone."
The iconic brand – which has been a motor industry innovator for almost a century – is already ahead of the curve with its plan to offer affordable EVs for everyone, reflected by the fact that the recent largest single shipment of MGs contained a 66% EV mix, made up of the company's best-selling MG ZS EV, All New MG5 EV and MG HS Plug-in.
MG will be engaging with its 120-strong (and growing) dealer network over the coming months to offer reassurance to customers and help them make the most informed EV choice possible.
It currently offers three plug-in models in the UK – the established MG ZS EV, the game-changing All New MG5 EV station wagon and the MG HS Plug-in, all backed up by MG's incredible value, 7 year warranty and fast-developing dealer network.
To find your local dealer, or to discover the high-tech, value-for-money range of cars on offer, please visit mg.co.uk.