Ex-Works MGB 'BRX 854B' listed for sale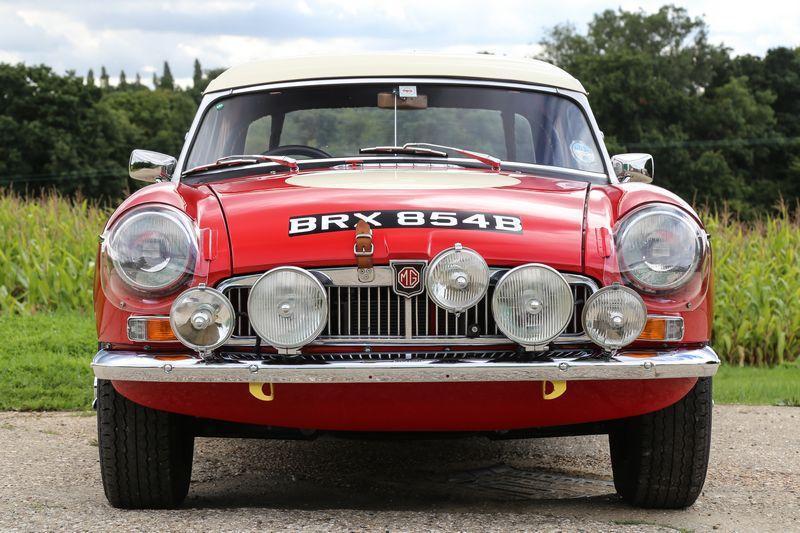 Former MG works MGB 'BRX 854B' has been listed on eBay for £199,995. Built in 1964, the MGB was one of two MG rally cars made that year in the competitions department in Abingdon. After an unsuccessful start, BRX 854B finished third in class and 13th overall in the 1965 Castrol Danube Rally, driven by owner Ken Tubman.
The enclosed cockpit boasts professionally restored seats and dashboard with all auxiliary switches as fitted in 1964. The passenger door is fitted with map pocket and protective knee foam.  Period features such as quilted finish to transmission tunnel, inner sills and original BMC Competitions Department rear roll hoop hark once again to the detail of this car. The engine is a 4 cylinder BMC B Series with 3-bearing crankshaft fully balanced.  Original Leyland Special Tuning 770 camshaft with vernier timing gear.  Special Tuning AHT 100H cylinder head, gas flowed with big valves.  Twin 2-inch SU carburetors fed via Filter King to accurately meter fuel flow, by twin SU pumps.  In turn, the transmission is a 3 Synchro, helical close ratio box with competition overdrive.  MGB Banjo axle, 3.9:1 ratio with limited slip differential.  
This competitive car sports suspension with front up-rated and lowered coil springs, up-rated lever arm shock absorbers.  ¾inch anti roll bar.  Rear competition leaf springs, specially re-manufactured Armstrong Adjustaride lever arms and up-rated bushes throughout. The wheels are bespoke Competition 72-spoke 14 x 5½ J wire wheels from Motor Wheel Services, and are running on Dunlop 5.5 x 14L section racing tyres. The electrical system is run off a 12-volt (single battery) system with heavy-duty dynamo.  Included in the car is a hand built wiring loom to accommodate auxiliary equipment, switches and fuses, which are in the cockpit.  Extra items include flexible map reading light and foot operated horn switch for navigator.  Five Lucas driving lamps, two SFT 700, 7-inch (bottom mounted), two SFT 576, 5½-inch (bottom mounted) and one SFT 576, 5½-inch (back mounted) adorn the front of the car.
The history file of the car includes a letter from the British Motor Industry Heritage Trust in April 2008, confirming that Chassis number G-HN3/45748 was allocated to the BMC Competitions Department, Abingdon in August 1964.  The Abingdon Experimental Register states that Competition MGB, issued with the department engine number EX 235/2 was prepared for the 1964 Liege Rally. Further documentation confirms that this car is MSA papered and is offered with correct HTP (Historical Technical Passport) meaning it is eligible for such prestigious events as Le Mans Classic, Goodwood Revival, Monaco Classic Grand Prix and other pre-65 races if invited.  In 2008, BRX 854B campaigned in the Le Mans Classic with Barry Sidery-Smith co-driving the vendor. Information courtesy of Historics at Brooklands.
For more information on MGB BRX 854B, check out the eBay listing here.
---