Introducing Mark Baulch: our new Competitions Secretary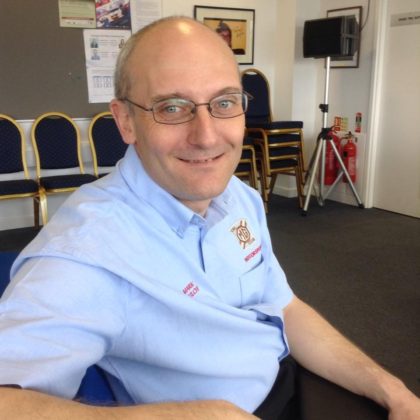 The MG Car Club is pleased to announce that we have a new Competitions Secretary, our current Awards Co-Ordinator Mark Baulch.
Mark replaces our previous Competitions Secretary, John Hutchison, who stepped down at the end of last year. John spent just under six years with the Club and during that time worked with the Race Sub Committee to organise the Club's race programme. Over the years our Club Racing has gained a high reputation for the efficient way our events are organised and run, which John has fully contributed to. He will be a hard act to follow and we wish John every success in his future endeavours.
As well as having been Awards Co-Ordinator for MG Car Club for the previous four years, Mark is also the Deputy National Press Officer for the British Grand Prix, Co-Ordinator of the RallyMaker progamme at Wales Rally GB, Chief Control Officer for the Goodwood Festival of Speed, Rally Championship Co-Ordinator for the Association of Central Southern Motor Clubs and Treasurer for Southern Car Club.
Mark has been involved in Motorsport at all levels, from karting to Stock Car Racing, to National and International Rallying and Formula One for over 30 years. He has been a Marshal since he was 16, held a senior official licence for over 20 years and worked as everything from Race Secretary to Safety Officer to Clerk of the Course and Club Steward at various events, as well as being a race commentator at over 500 short circuit meetings.
Outside of Motorsport, he was most recently the Head of Policy & Representation at the Hampshire Chamber of Commerce, where he built up a network of contacts across business, local authority, County Council, Government and MPs, national bodies and others. Prior to that Mark spent nine years working for an information services company, not only in sales but with implementing various IT systems and exploring ways of integrating different systems with one another.
Earlier in his career, Mark was a retail manager as well as an Events Manager and so is highly experienced in customer care and has a solution focussed background.
Mark will split his time between the Club office and his home office. He can be contacted via email motorsport@mgcc.co.uk. A contact phone number will be available soon.