MG X Power SV line up wows Hampton Court Palace Concours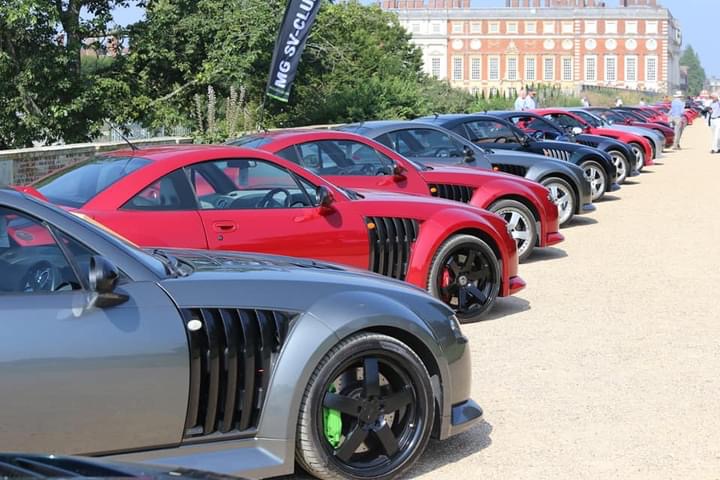 It was a glorious September day, and as you can see from some of the photos the MGCC's SV Club was parked right by the Thames at the end of a very long row of Ferraris, Lamborghinis, McLarens and other exotica. In fact we were amongst very illustrious company as we spotted a Ferrari LaFerrari, Bugatti Veyron, Koenisegg Regera, Pagani Zonda, Aston Martin Bulldog, Bentley Blower Continuation, McLaren F1 and many other very desirable and valuable machines. It was a busier occasion than last year with many looking to put the Covid restrictions firmly in the past and enjoy the final flourish of summer weather.
Last year we had the "Magnificent Seven" so it was good to see an increase this year to "Ocean's Eleven" with attendees being #110 Bill with his Red Hot SVS,  #111 Graeme in the XPower Grey ex-Maidstone Sports SVS, #112 Steve in his Sunspot Yellow SV, #119 David with his BRG SV, #121 Nick and his recently purchased Solar Red SV, #124 John and his also recently acquired Dark Cobalt SV, #128 John who is another recent new owner with his Grigio Titanium SV-R, #136 John  with his BRG SV-R ex-EVO Rowan Atkinson car, #137 Gareth  and his XPower Grey SV-R ex MG Rover Director's car,  #152 Stan his Red Hot SV-R, and of course yours truly in my Mirror Silver  #151 SV-R ex John Towers car. Naturally all the owners are thankful again to Gareth for his superb organisational skills.
You can view the full image gallery here
Words and images by Colin Withers