The voice of motorsport – a tribute to Murray Walker 1923 -2021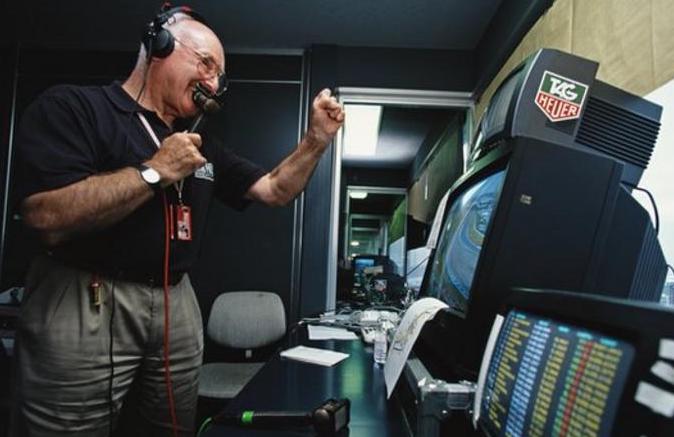 Murray Walker died aged 97 on March 13 2021. He was the voice of motor sport for many generations and provided the narrated sound track to some of the greatest moments in the sport's history. Remarkably, Murray Walker commentated on his first Grand Prix, way back in 1949.
He was a commentator that was never afraid to get emotionally involved in the sport and his genuine passion came through loud and clear during every single race from touring cars to World Rallying and F1.
From the most euphoric moments, such as when Nigel Mansell won the world title, to shocking events like the death of Roland Ratzenburger and Ayrton Senna at Monza – Murray Walker talked us, emotionally, through them all.
Born in 1923, Murray Walker was of Scottish descent, but was brought up in Birmingham. His father Graham Walker was a works motorcyclist for the Norton Motorcycle Company and competed in the Isle of Man TT, later Competition Manager for Sunbeam and then Rudge-Whitworth.
It was a dead cert then, that Murray Walker would end up in the motor industry and sure enough, his first job was with Dunlop before he went into National Service. During his time in the military, Murray Walker commanded a Sherman tank in the Battle of Reichswald and left the army a Captain.
In civilian life, he followed in his father's footsteps and entered motorcycle racing and trials winning the Scottish Six Days Trial. His career then lead him into advertising, working back at Dunlop then later Esso and the Masius advertising agency who had clients as diverse as British Rail and Vauxhall. Amazingly, Murray Walker retained this job until the age of 59 and ran it in tandem with his commentary career!
He worked alongside his father commentating on motorcycling from 1949 until his father's death in 1962. He got on very well with his father in the commentary booth, but the same could not be said for his next partner – James Hunt.
Initially, the pair did not get on at all but the friction and debate that resulted on air, only made the audience more engaged and soon viewers were delighting in the on air tension between the two. Hunt whilst imparting his expertise was opinionated, brash and lived a wild lifestyle. Murray Walker on the other hand left his animated excitement focused on the action he saw in front of him.
Murray Walker famously always stood up when commentating and typically, he and Hunt had to share one microphone. This meant passing it to and fro.
On one occasion, Murray Walker wouldn't hand the microphone over despite Hunt asking for it a number of times. Apparently, Hunt stood up and grabbed the microphone from Murray Walker, who responded by grabbing the former World Champion by the collar and raising his fist – luckily at that point, a producer intervened!
In the end, through mutual respect (and being given a microphone each) the pair developed a close friendship and their chemistry went down in history as one of the great double-acts in broadcasting.
Years of exposure to loud engines and age-related hearing problems had left Walker with hearing loss in both ears. In 2006 he became chief ambassador for David Ormerod Hearing Centres, a high street Audiology chain that fitted his hearing aids. He was made an OBE in 1996.
His enthusiasm for motorsport was unparalleled and whilst he genuinely was an expert on motorsport with an encyclopaedic knowledge – he wasn't afraid to have fun and see the humour in a caricature of himself.
One such moment, famously saw him team up with Nigel Mansell to advertise the launch of the MG Metro as the clip below shows!
So, as we say goodbye to a true icon of motorsport, join me and take a moment to sit back and remember all those incredible sporting moments we shared with him. All those times he told us just how well a driver was doing before the 'curse of the Murrayism' struck and they had an off.
Remember him for classic quotes like, "I don't make mistakes; I make prophecies that immediately turn out to be wrong" and "excuse me whilst I interrupt myself."
But, more than anything, let's remember him for someone who shared his passion with the nation and made us all the more interested in motorsport as a result. He was the heart and soul, the personality, not just the voice – of motorsport.
For me, I will always associate his voice with the excitement of Sunday afternoons, the smell of Sunday dinner on the air and me glued to the TV as Murray Walker explained to a young boy the wonders of what would become his life's passion – motor racing.
Years later, I got to meet Murray Walker and ask him, what he thought made a good commentator? His reply was simple, "Just explain to everyone why they should care and why it's important and share with them how you feel about it."
It was advice I would hold close to my heart forever.
So, in the words of Murray Walker himself, speaking when Damon Hill won the World Championship in 1996 at Suzuka;
"I've got to stop now, because I've got a lump in my throat."
Words by: Wayne Scott