International Youth Week: Celebrating young MG people like, Raunaq Anand
In celebration of International Youth Day this week, we are sharing stories each day, over the next week, from some of the young people in the MG community.
In part six, we meet Raunaq Anand. Raunaq is the Legal Counsel/Deputy Manager at MG Motor India, here is her story.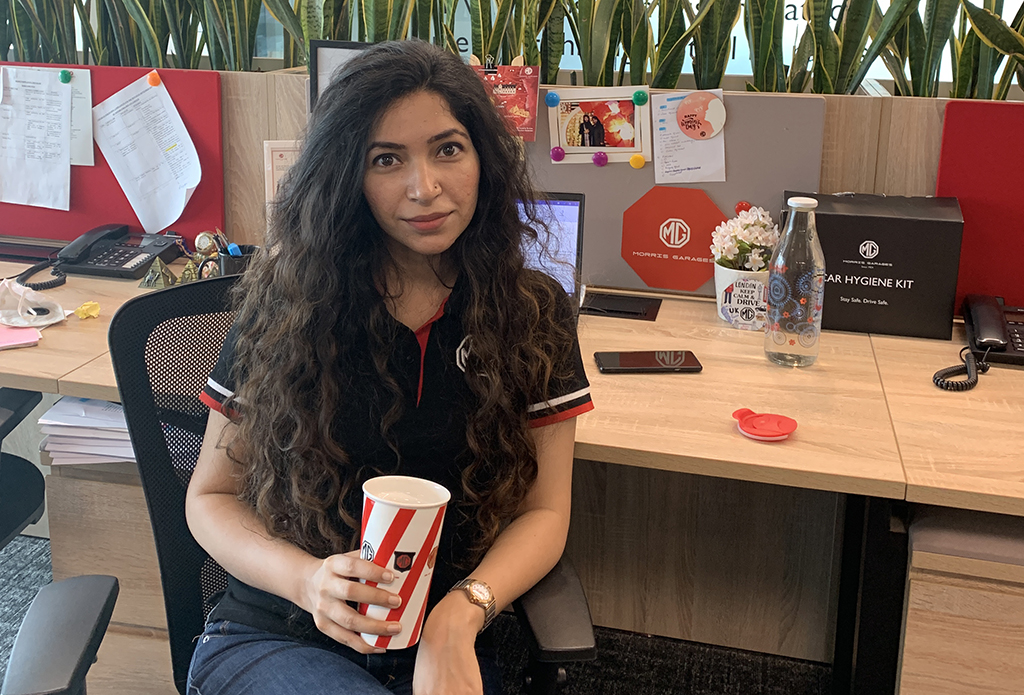 What does working at MG Motor India mean to you?
MG has a century-old motoring heritage and is growing expeditiously. In no time MG was able to make a name in the Indian automotive industry with its bold vision by tapping into the future much before any other OEM. Another highly commendable facet is that MG promotes start-ups that work towards innovation. Being a part of a company, which is at the forefront of innovation and promotes the same is surely very exciting!
I am saying this to give you an idea of how fulfilling it feels being able to work here- especially as a lawyer. For me, it's a perfect combination of the two things I am very passionate about – law and technology. Apart from the experiences at work in terms of learning, the office is really an outlier for the industry. We can easily call it 'The Google office of Automotive'. It brings a very positive, fast-paced vibe for all of us working here.
All in all, it is really an amazing place to be at, and needless to say, I love working here. The personal and professional experiences one gains here are going to last a lifetime.
What is your favourite thing about your job?
It has to be the work and the passion which everyone brings to the table. New ideas take shape every day into a benefiting project, and anyone and everyone can contribute in their own way. I get to work with people from varied backgrounds, get a hang on different aspects of technology and business -undoubtedly a great learning experience for me!
Also, departments aren't necessarily strictly bifurcated, no one here is confined to their 'area of work', so to say. There's an open-door policy- your inputs/ideas are considered and if they do hold the potential of making any positive difference, those ideas don't go in vain and instead are worked upon to create a difference.
How did you start your MG career?
I'd been working in a highly regulated space for over 4 years before and was looking for a change where the growth could be multifaceted in terms of outlook and an environment where new ideas are accepted and feasible. MG India's way of working and their vision really stood out, especially in terms of diversity and inclusion. Fortunately for me, there was a vacancy around the time I was looking to move-on, and a recruiter had contacted me (right place at the right time perhaps). After a couple of rounds of interviews, I got that call! It was a wonderful start and remains exciting to this day.
What is one piece of advice you'd tell your younger self?
There's definitely not just the one, but the most important ones would be- Start building skill as early as possible and build varied skill. If you enjoy reading, read a government policy too and examine it- it'll make you an analytical person. If you like being around people, volunteer- it'll change your outlook on life. Intern at different places- see how the real wold works. There's so much out there- try out a new sport, pick up an instrument- do what brings you happiness, but in the quest of finding happiness, don't compromise on your goals!
And travel- I cannot stress enough on the importance of travelling. It'll widen your horizons like no other experience.
I recently came across an article which has resonated with me – Aim for the best version of yourself but be sure to cut yourself some slack. It's ok to be unsure about what you want to do from time to time. Be honest enough with yourself to recognize when something you wanted at one time in your life is no longer serving your interests and needs. It's ok to "fall down," because you will always get back up and when you do, you will be an even better version of yourself than before.