Presenting Zed 15 & Saloon Day
The MG Car Club is pleased to announce that the 15th anniversary of the MG Zed range will headline Saloon Day 2016 at the British Motor Museum at Gaydon on Saturday 9th July 2016.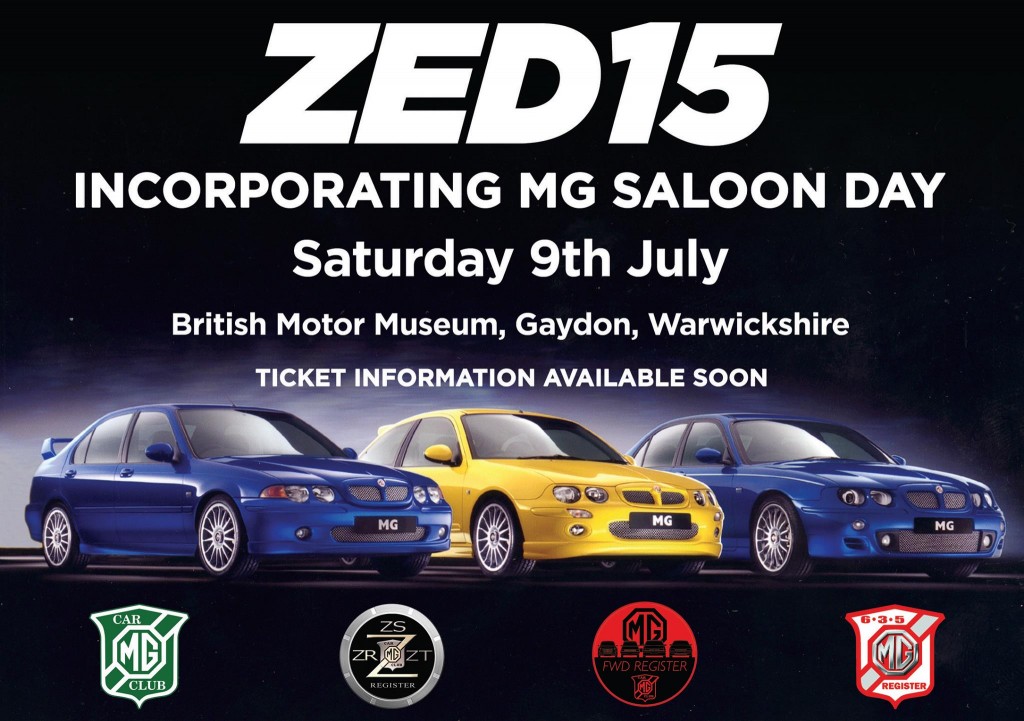 Saloon Day is a key event on the MG Car Club calendar, and this year it will be made extra special with the Zed's 15th Birthday celebrations.
The MG Zed range launched in 2001, and breathed fresh life into the MG marque. The ZR would go on to become one of Britain's most popular hot hatches, whilst the ZS received critical acclaim for its fantastic handling and drivability, and the ZT proved to be the ultimate Q-car thanks to the torquey V6 and brutish V8 models.
Alongside the Zeds will be tin-top MGs of all descriptions – from the classic Y-type of the 1950s, the 1100s/1300s from the 1960s, through to the ultimate '80s MGs; the Metro, Maestro and Montego. Completing the picture will be the current range of MGs in the form of the MG6 and MG3.
The British Motor Museum offers a convenient location, and will provide an ideal opportunity for many to visit the museum, which is currently undergoing refurbishment.
General Manager Adam Sloman said: "Saloon Day is always a great event, and this year will be no different as we celebrate 15 years of the iconic MG Zed range. We are delighted to be holding the event at The British Motor Museum, and look forward to getting lots of MG saloons and hatches together."
Ticket information for Saloon Day 2016 will be available soon. Keep an eye out on the website in the coming months.