MG Car Club Coronavirus LATEST EVENT UPDATES 26/3/20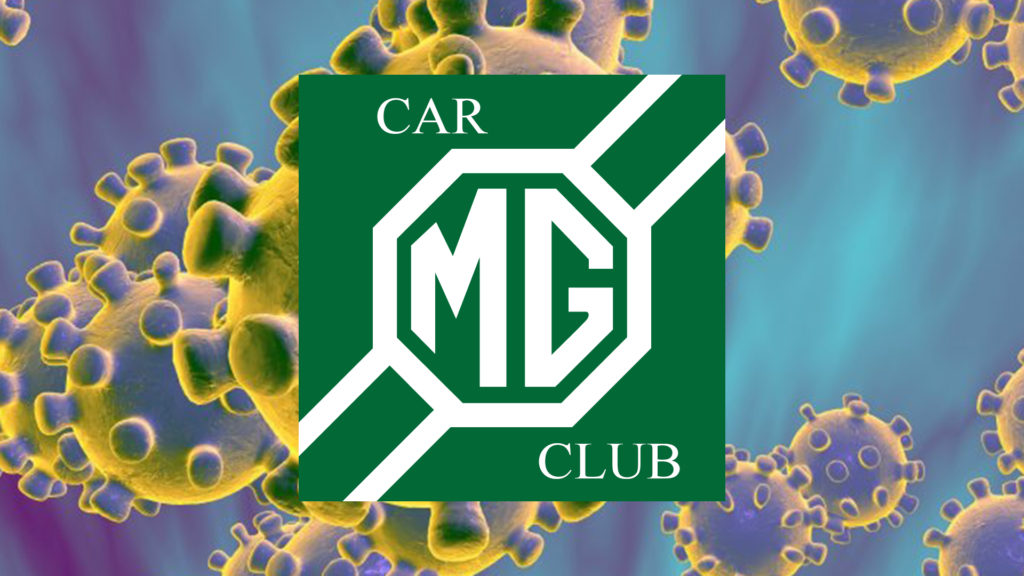 The MG Car Club is committed to following the latest UK Government advice on events and public gatherings. Current government and public health advice states that all, non-essential social contact with other people should be avoided for foreseeable future. We are also being advised to avoid pubs, which if course is the most popular type of venue of regional club meets. Those at risk or with underlying health issues are being advised to self-isolate for a period of 12 weeks.
Therefore, we are advising all regions and registers to cancel or postpone their monthly meetings and local club events for the foreseeable future, in line with government advice. We urge you to watch the MGCC website and the government advice links below for up to the minute information.
Keeping up to date
Please be assured that during this rapidly changing situation, we are monitoring advice very closely and will follow up with MG Car Club members if the situation develops.
Please note: If volunteer organisers of regional events choose to postpone or cancel certain events, members should support them in that decision.
Reach out
We have a number of elderly members amongst us. If you know of any in your MGCC centre or register, why not drop them an email or give them a call to chat MGs for a while and make sure they have all they need. For those with underlying health issues, the next 12 weeks is likely to be a long and potentially lonely time. Also, don't forget that members can keep in touch via our club Facebook page here.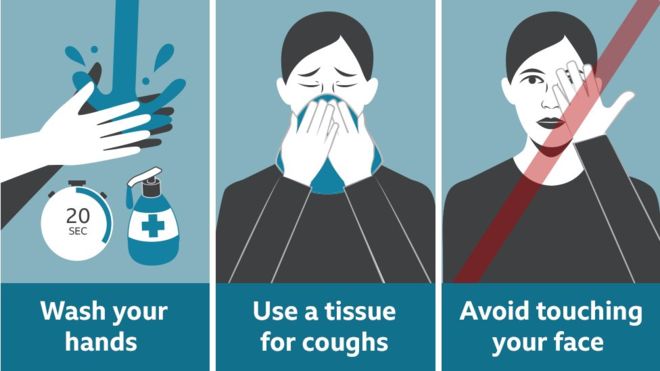 Latest event updates:
Kimber House
We will also not be accepting visitors to Kimber House, the MGCC offices in Abingdon at the present time and the offices will be closed but for a small number of essential staff, read more about how this affects the club here.
---
Regional Meetings
The MGCC are advising all regions and registers to cancel or postpone their monthly meetings and local club events for the foreseeable future, in line with government advice.
---
**NEW DATES** NEC Restoration Show rescheduled for 7 – 9th August 2020
The Practical Classics Classic Car and Restoration Show, with Discovery run by Clarion Events have announced the new dates for the show.
All ticket and exhibitor bookings will be carried over to the new date. If you have any questions, please visit the website www.necrestorationshow.com or contact your ticket vendor directly.
---
Techno-Classica, Essen
This year's Techno-Classica Show, set to be held in Essen during 25-29th March 2020 has been postponed due to local restrictions on public gatherings amid fears around the spread of COVID – 19 Corona Virus in Germany. We would advise MGCC members holding tickets to this event to contact the organisers: www.siha.de.
---
78th Goodwood Members' Meeting – POSTPONED DATE TBA
The 78th Members' Meeting was due to take place on March 28th-29th, but has been postponed with a new date to be confirmed.
While the coronavirus pandemic continues to be an ever changing situation, the Goodwood team are currently exploring a range of alternative dates for 78MM, consulting with all relevant parties, and we will keep you informed as the situation develops.
In the meantime, they will continue planning for the Festival of Speed and Revival, in the hope that both events will be able to go ahead as planned on July 9th-12th and September 11th-13th respectively, as well as looking forward to the rescheduled 78th Members' Meeting.
---
Goodwood Festival of Speed – POSTPONED DATE TBA
The Goodwood Festival of Speed has been postponed, with a view to shifting the event to a later date in the year amid the COVID-19 outbreak. The Duke of Richmond said: 'Over the last few weeks, we have been working together with everyone involved to understand the viability of the Festival of Speed going ahead in July. Due to the uncertainty of the coronavirus threat and not knowing whether the situation will have significantly improved by then, we sadly need to postpone the Festival of Speed in July.'
---
British Motor Museum events – CLOSED UNTIL 1ST JUNE
The museum is closed until June 1st and all events up to that date are cancelled. All events after 1st June will be reviewed in the near future. So, please keep checking back for updates.
---
National Drive it Day – FBHVC STATEMENT:
The FBHVC is committed to following the latest UK Government advice on events and public gatherings pertinent to our member clubs and as such, the following statement is in line with that advice, at time of writing, during this fast-moving situation.
Federation of British Historic Vehicle Clubs updated statement on Drive it Day 2020: #DriveitDayMemories
The FBHVC is committed to following the latest UK Government advice on events and public gatherings pertinent to our member clubs and as such, the following statement replaces all previous correspondence regarding National Drive it Day during this fast-moving situation.
In response to the updated guidance and restrictions issued by UK Government, the Federation recommends that all activities that involve taking a historic vehicle out on the road specifically for the purposes of Drive it Day, now be abandoned. All enthusiasts are now urged to stay at home on 26 April 2020 and not partake in any non-essential travel for Drive it Day and instead, get involved in a nationwide social media campaign to spread positivity around historic vehicles during this difficult time.
Currently, UK government are advising against all non-essential social contact. Our current general guidance to car clubs, that can be found on our website www.fbhvc.co.uk , encourages the cancellation or postponement of meets, events and gatherings of people. Additional advice has now placed restrictions on non-essential travel of any kind.
However, enthusiasts of historic vehicles are still encouraged to participate on 26 April 2020 in the mass sharing, via social media, of images and memories of themselves and their families out and about in their historic vehicles during a previous year's Drive it Day.
Use your chosen social media platform to share images and stories of memorable trips with your historic vehicles or indeed, what you might be working on within the 'self – isolation' of your garage or shed.
The FBHVC are asking for all enthusiasts to share pictures using the hashtag #DriveitDayMemories.
Post your picture on to the FBHVC social media feeds or those of your member clubs. We will be monitoring those social feeds and public posts published with the #DriveitDayMemories hashtag will be gathered onto a special area within the FBHVC website galleries in the future.
As previously stated, with such a crowded event calendar, the possibility of achieving consensus for a revised Drive it Day date later in the year will be virtually impossible. Therefore, Drive it Day 2020 will not be re-scheduled for later this year, but will resume its normal format on 25 April 2021.
For the latest advice for car clubs, events and other news – keep up to date via the Federation news pages at www.fbhvc.co.uk .
---
The Peter Best Drive it Day, Braxted Park
Peter Best have decided to rearrange their event for Sunday 27th September 2020.
There's no need to register again, Peter Best will take care of everything by transferring your details over to the new date. They will be in touch nearer the time to confirm attendance.
If you have booked a VIP Breakfast or Afternoon Tea experience, your booking time will remain the same but will take place on Sunday 27th September instead. If you wish to cancel or amend your booking, please contact: stephen.best@peterbestinsurance.co.uk
---
MG Car Club Racing and Motorsport UK
In light of recent developments in the COVID-19 crisis, and following the address to the nation by the Prime Minister on the evening of 23rd March, Motorsport UK has today extended its suspension of all organising permits and Certificates of Exemption for motorsport events until at least 30th June.

This move provides clear guidance to event organisers, venues, competitors, officials and volunteer marshals of the role that Motorsport UK must play in supporting the broader UK public health agenda.

In recent days the feedback from our members and the community was a need for increased clarity to allow them to plan appropriately and, should the need arise, put in place necessary contingency measures.

Motorsport UK Chairman, David Richards explained,

"Motorsport UK has a vital role to play with its community in re-inforcing that, at this time of national emergency, we must all stay at home to play our part in protecting the NHS and ultimately saving lives. Today, the government have required that we effectively lock-down for a period of three weeks, however given that the most vulnerable in our society are required to isolate for three months, it is evident that the most responsible course of action was to propose a longer suspension of our sport. When we reflect back on this time, it will be a brief, but vital, hiatus from our everyday motorsport life and we must put this in perspective. This is a time of national unity and we need to come together with the broader public community to do all we can to support this battle and ultimately save lives."

Motorsport UK will continue to monitor the prevailing advice from the UK Government in respect of the COVID-19 international pandemic and will update the motorsport community accordingly.
---
MGLive! is POSTPONED
The Covid-19 pandemic has developed rapidly and with news that motorsport's governing body, Motorsport UK, has suspended all organising permits and Certificates of Exemption for motorsport events until at least 30th June, the MG Car Club has been required to postpone MGLive! 2020.
We are currently entering into extensive discussions with Silverstone and our other event partners to find suitable options to reschedule the event.
All entry tickets, camping passes and exhibitor bookings already purchased for the event, due to be held 13-14 June 2020, will be valid for the rescheduled date.
Adam Sloman, General Manager of the MGCC said:
"We remain committed to following UK Government and Motorsport UK advice. Therefore, in light of this updated guidance, we have had to make the very difficult decision, in conjunction with Silverstone, to postpone the event. This is an unprecedented situation and we will now enter into negotiations to secure a new date as soon as possible. We realise that the situation is far from ideal, therefore we ask for patience and understanding during this complex time."
Current government and public health advice states that all, non-essential social contact with other people should be avoided for the foreseeable future.
PLEASE NOTE: The MG Car Club asks specifically that, in the first instance, attendees booked to attend do not contact us regarding refunds at this stage. The MG Car Club will be in touch with each one of those who have already booked and paid, to explain in detail, the options available to them. Anyone who is not able to attend the new dates for the event following their announcement, will be issued a full refund in due course.
The MG Car Club wishes to thank all attendees for their patience whilst contingency plans are being put in place and we look to transition to a new date. A further update will be issued as soon as possible.
Like many organisations, the club's offices at Kimber House in Abingdon are currently closed to visitors and much of the team are working remotely, so please be patient if calling the office or enquiring via email as the MGCC is experiencing a high volume of correspondence in the present situation.
---
Track Days – MGs on Track
With the recent advice from the UK Government and statement from Motorsport UK, you are probably wondering what the situation is with track-days. Our latest update is that these are still running unless you specifically receive an email informing you otherwise. We appreciate that there is a heightened level of concern about this pandemic, but we have been working closely with the various circuits to establish the position with respect to these track days. Please visit the MGs on Track website for the latest updates on track days – www.mgs-on-track.com
---
Pride of Longbridge
Due to the latest Government advice, the volunteer organisers of the Pride of Longbridge event, due to take place on April 18th, have taken the decision to cancel the event.
---
Kimber Classic Trial – CANCELLED
In view of the UK government advice issued this morning the Clerk of Course has officially cancelled the 2020 Kimber Classic Trial. As this crisis is likely to extend into the autumn and possibly beyond it is unlikely that any alternative dates can be arranged. For the latest updates on the Trial, please visit the MGCC South West Centre website HERE
---
Lands' End Trial – POSTPONED
The Land's End Trial has been postponed due to the COVID-19 pandemic. Bill Rosten, Clerk of the Course wrote to competitors, amongst which are many MGCC members to advise that the event would instead be run over 11 -12th September 2020.
---
Sunday Scramble – Bicester Heritage – POSTPONED
Bicester Heritage has the made decision to postpone the next Scramble, due to be held on the 26th April, to a new date on the 21st June 2020.
Bicester Heritage wishes to reassure all Scramble Pass holders (purchased for the 26th April) that their current Passes will allow entry to the Scramble on the new date of 21st June 2020. If you would like to login to your Eventbrite account to check your Passes, please click here. If you are unable to attend the new Scramble date then you are entitled to a full refund. Refunds can be requested up until Saturday 13th June 2020. Should you wish your Pass to be refunded, please follow the steps set out by Eventbrite by clicking here.
On behalf of all at Bicester Heritage, do take care and please ensure that care and compassion for one another remains at the forefront of all our minds.
---
Donington Historic Festival 1-3rd May 2020 – POSTPONED
In light of Motorsport UK (the governing body for motorsport in the UK) extending its suspension of all motorsport events until at least 30th June, the Donington Historic Festival as been postponed to an alternative date later in the year.
The Donington Historic Festival website and social media channels will be kept up to date with the latest information.
The policy of MSV, who operate Donington Park, is as follows for existing ticket holders:
'In the event a race meeting is postponed, all tickets will be valid for the rescheduled event. If you let us know that you can't make the rescheduled date once it's been announced, you will get a refund. If a race meeting is cancelled entirely and not rescheduled, you will automatically get a refund. We hope that this approach will provide total comfort and reassurance to our customers.'
---
MGs in the Park
We have also been informed by the Oxfordshire MGOC that they have decided to cancel their MGs in the Park event that was due to take place at Cotswold Wildlife Park in June.
---
The 24 Hours of Le Mans postponed until September
In view of the changing health situation related to the coronavirus and the latest Government guidelines, the 88th 24 Hours of Le Mans, initially scheduled for 13-14 June, has been postponed until 19-20 September 2020.
Currently , the historic edition of the race, Le Mans Classic, in July – is set to go ahead as planned.
---
CarFest North
In order to create certainty and continue to safeguard and maximise funds for UK Children's charities, CarFest have taken the decision to bring together CarFest North and CarFest South to create CarFest United!
CarFest United will be held at Laverstoke Park Farm, across the weekend of 28th – 30th August with encouragement for Northern attendees to join in. The site has been increased in capacity.
---
Beaulieu Spring Autojumble
Due to the ongoing coronavirus Covid-19 situation, we have made an early but difficult decision to cancel Spring Autojumble mainly because of its significant infrastructure complexity and planning lead-in times, as well as the current travel difficulties faced by overseas visitors. As one of our biggest events, which attracts a good number of event-goers in the category that has been advised by the Government to self-isolate, our priority remains the wellbeing of our visitors, suppliers, staff and volunteers.

We have only made this decision after a good deal of consideration during these unprecedented times, and are sorry for any inconvenience this may cause.

Exhibitors will be refunded or may roll their booking and payment over to Spring Autojumble 2021. Ticket holders will be given the choice to receive a refund, or to use their ticket either for International Autojumble on September 5th & 6th 2020 or for the next Spring Autojumble in May 2021. They will receive an email in the coming days with advice about processing refunds. As we are following the Government's advice to ask staff to work from home, we will only have a skeleton staff in the offices, so please bear with us.
---
Bo'ness Revival – 4-6 SEPTEMBER – CANCELLED UNTIL 2021
The organisers of the Bo'ness Revival, attended in large numbers by our Caledonian Centre especially, released the following statement:
From the Bo'ness Revival Committee:
"After a lot of discussion and soul-searching, it's with heavy hearts that we have decided to cancel the 2020 Bo'ness Revival and Classic. In light of Motorsport UK cancelling all events until at least the end of June, we are unable to plan an event that takes many months to organise to make it as successful and safe as possible for competitors, entrants, marshals, organisers and visitors. We hope you understand and everyone involved with the Revival is humbled by the support you have shown throughout this situation that none of us could have predicted.
We'd also like to thank all of our sponsors who have been unstinting in their support for the Revival and without whom we simply couldn't run the event.
We will be refunding entry fees to those who have already paid for the Classic. Any Hillclimb competitor can also be refunded, defer their entry to 2021 or gift their entry fee to the club, we wil lbe in touch about this in the near future,
However, this is far from the end of the Revival and Bo'ness Hill Climb Revival Club. We are already looking to the 2021 event and how we can make it the best Revival yet. Much of the planning that has gone into this year's event will be carried over and we have plenty of other ideas too.
We will continue with our regular Facebook posts celebrating the great drivers, cars and people of past Revivals. Kenny Baird has plenty more of his history of Bo'ness Hillclimb to come and we also have our virtual Breakfast Club meeting this Sunday from 10am right here on the Bo'ness Revival Facebook page. Make sure you drop by with a cuppa, bacon roll and ready to chat about all things classic and hillclimb.
There are also other events we have planned for later in the year that we'll keep you up to speed on as and when the unfolding situation allows.
In the meantime, all of us at the Bo'ness Revival ask that you stay safe, keep well and we send our best wishes. We look forward to seeing you all again in good health and cheer very soon."