Nathaniel Cars 'Christmas on Us' MG3 sale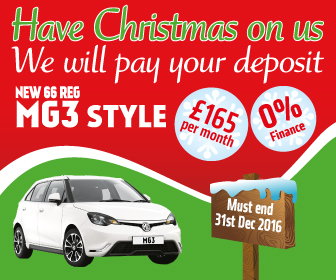 The Nathaniel Cars 'Christmas on Us' MG3 sale has begun, giving buyers the opportunity to get a new MG3 with no money down and 0% finance.
There has never been a better time to get a new MG hatchback, with several sporty and fun MG3 models that start at just £8399. The new MG3 cars offer fun and exciting personalisation options, which you can customise yourself online by clicking HERE.
Choose your colour, alloy wheels, mirror caps, and graphic pack to make your new MG3 entirely your own. The many choices and affordability makes it the perfect economical new car for teen drivers, young professionals, and retirees exploring new horizons.
Check out the range of MG3 models including the MG3 Time, MG3 Form, MG3 Form Sport, and MG3 Style. Your monthly payment for a new MG3 Style could be as low as £165/month. The sale ends 31st December 2016, and numbers are limited, so there is no time to lose.
Call Nathaniel Car Sales at 01656 360069 to schedule a test drive today.
---