International Youth Week: Celebrating young MG people like, Akashdip Kadam
In celebration of International Youth Day this week, we are sharing stories each day, over the next week, from some of the young people in the MG community.
In part ten, we meet Akashdip Kadam. Akashdip is the Dy. Manager, Manufacturing Engineering at MG Motor India, here is his story.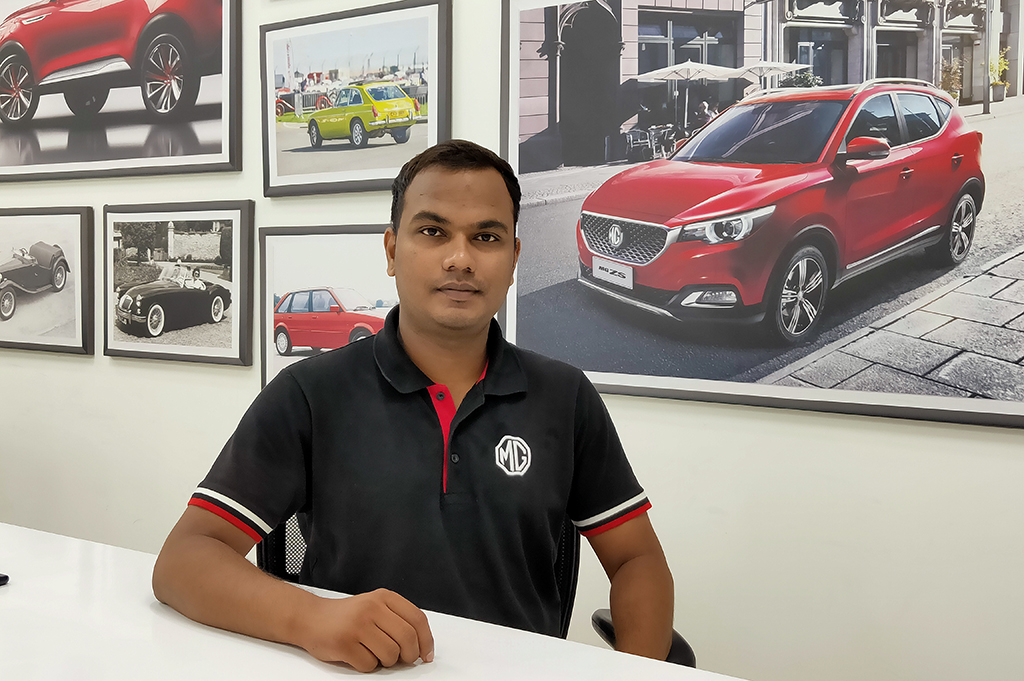 What does working at MG Motor India mean to you?
Working at MG Motor India is my Pride, Passion and no less than a journey to success! There is a sense of belongingness. Since, we can voice out our thoughts which in turn are being respected.
Working in MGI is all about hint & pinches of laughter, teamwork and commitment. A culture of gratitude & creating a happy workplace is what MG work towards every day and strive to. As the old adage goes- "All work and no play make Jack a dull boy" is strongly believed in MGI. MG encourage employees to take a pause, reflect on successes and revel accomplishments. Celebrations are a norm and happy workforce is the essential mantra that MG follow.
In this era of automation of industry change and technological advancement, MG focuses on agile learning methods to uncover the potential of its people and expand their horizon of human intellect. MG makes leaders of future by providing opportunities to reach new heights by stepping on ladder to success. MG partners with world class organizations to provide customised learning and development programs for employees, tuned to their specific needs and flexible to their work schedule.
Diversity is at the core of MG and one of the brand pillars. Diversity at MG is not only about gender ratio but also equates to people from different walks of life, companies, backgrounds, ethnicities, regions, religions and genders coming together. With more than 31% women workforce, MG brandishes the best diversity ratio amongst any automotive industry and only strive to include more women. MG is an equal opportunities workforce. Each employee of MG lives and breathes its Core Values and Cultural Priorities – SPEED and MAKE. MG endorse open communication and diverse culture where different cultures coalesce to provide the best to customers.
What is your favourite thing about your job?
"Unstoppable Endeavour with New Milestones"
My work consists of planning, scheduling, procurement, installation and prove out of machineries and equipment for new projects. No two projects are ever same, never does it go cliché. Each project has its own set of challenges, which uplifts me to constantly change and adjust my approach.
I am learning about more than just machineries, equipment, structure and processes of car manufacturing – I am intrigued by the engineering solutions narrowed down by the team, which bestows an endeavouring platform for me assimilate, which in turn fascinates me to become the ultimate gearhead!
The capricious nature of project is always challenging. I usually deal with solution-oriented tasks, multiple team members to interact with blend of experts, a presentation to stakeholders or customers, and a hundred other stumbling blocks to overturn.
I love the diversity of working with a global team – it brings out the best in me!
How did you start your MG career?
I have pursued Bachelor of Science in Mechanical Engineering from University of Taiwan. After which, I had started working in Machine tool design in Taiwan. where I worked for a year.
I got the opportunity to work in MGI. I commenced working in ME department with job profile of Program Management then into Body ME. I met different people from different working background. I have explored potentials and processes of automobile industries at a great extent, which was only possible at MGI.
As it was brown field project, lot of obsolete equipment, machinery, structure had to be to dismantle. Then design and implementation of new project was big challenge for us. Coordinating with global team with Chinese communication helped me and my team to complete project in time. I have learnt from scratch and I feel lucky that I got the opportunity to work for this project where every equipment and machineries that we are setting up for project will be benchmark for future project.
For design approval of project, I got the opportunity to visit China. I have learnt a lot and implemented the same during project installation in India. When I enter in MG, strangers become friends and then strangers become family, that's how I started my MG career.
What is one piece of advice you'd tell your younger self?
Emotions are temporary Never forget that every feeling you feel is just temporary. We all have dark clouds above our heads and sometimes it feels like you are trapped and there is no escape to the hardship. The good thing about bad emotions/bad time is that it is just temporary. The only constant thing in life is change – therefore better times will come and we shall prevail.
Develop the quality of Aplomb – the ability to remain calm especially in hard times will have a huge impact to your performance. People who can remain calm can control their emotions and as well they do not allow themselves to be carried on by their bad emotions. It will help you to clear your mind and being able to see options that opens new doors.
We all know that it is impossible to focus on what is essential when we are mentally blocked or emotionally disturbed. Consequences are panicky reactions – in such moods we are at our worst.
For me staying calm has a lot to do with accepting life and the pain life can bring along. If we manage staying calm, I believe it reflects that we learned respecting others as well as ourselves. It would make life a cakewalk.