International Youth Week: Celebrating young MG people like, Richa Maurya
In celebration of International Youth Day this week, we are sharing stories each day, over the next week, from some of the young people in the MG community.
In part nine, we meet Richa Maurya. Richa is the Junior Engineer (Quality Systems) at MG Motor India, here is her story.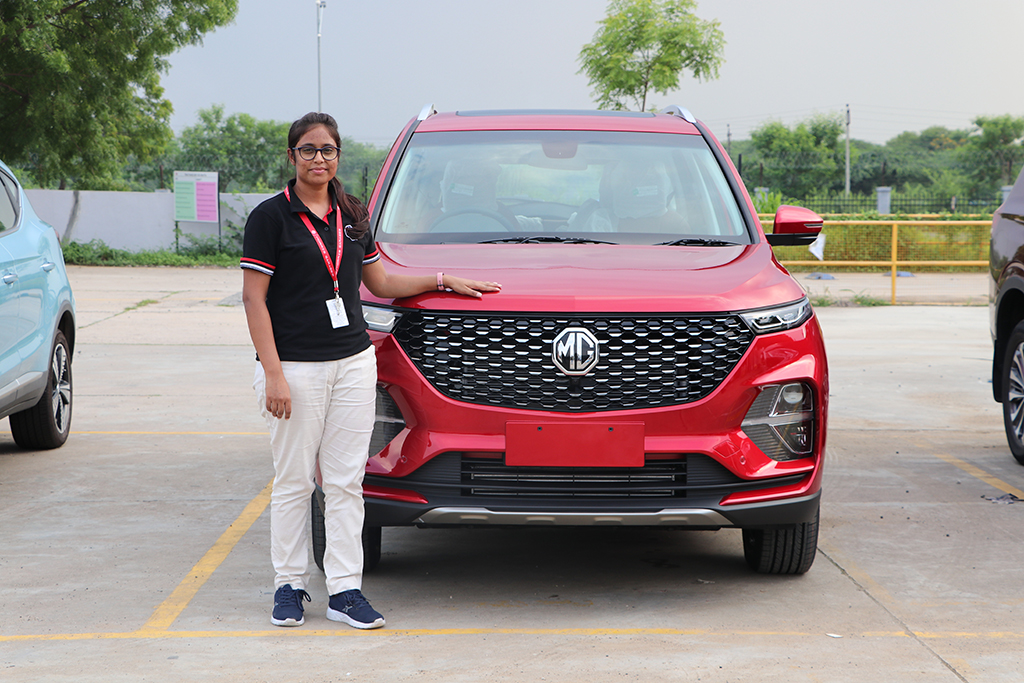 What does working at MG Motor India mean to you?
I take pride to be a part of the MG Motor India team. From an outsider perspective, MG is a known brand with attractive marketing strategies, and being associated with such a well-established brand excites me. I feel connected to the things of today's era with the new product features which MG has introduced; Internet Car for example. The manufacturing plant is a charm to witness – equipped with new machinery, robots, and advanced testing facilities. It gives me exposure to different technological setups, automation, and manufacturing excellence tools. Each day is a new learning experience here.
MGI focusses on multiple learning methods to uncover the potential of its people. I take it as an opportunity to expand the horizons of my knowledge and intellect. The well-ingrained MGI core values and SPEED culture motivate my inner self to become an initiator and effectively handle the entrusted responsibilities. It has added a new dimension in terms of becoming independent and decision making. The holistic growth avenues provided by MG would act like a catalyst and help me rise in my career.
With wonderful branding initiatives, a good product in the market, vehicle being appreciated by the customers, I take pride to be recognized as an engineer working in this company.
What is your favourite thing about your job?
My current role of implementing Quality Management System gives me an enterprise-level exposure. The bigger work span gives me an edge to learn something new every single day. Apart from my regular job role, I have gained insights into the business, defining strategies, and project planning.
I am fond of meeting new people and my job requires me to constantly interact with people from different departments. I enjoy working with them to understand their roles and function. It is interesting to learn how each task of every department ultimately relates to the requirements of the Customer.
I enjoy the freedom I get to take new initiatives while implementing the systems in the workplace. My seniors constantly coach me, and I am provided with constructive feedback at the right instances to hone my skills. It makes me understand the concepts better and implement them effectively. I feel my ideas are appreciated and my efforts are recognized by my managers.
It is interesting to work in such a dynamic work environment; not constrained to doing monotonous work all the time. The workplace offers ample learning opportunities each day. There is a jovial environment at the workplace, and I am surrounded by good people to interact with.
How did you start your MG career?
The last 5 months I have spent with MG Motor have been exciting.
After working for 5 years with an automotive supplier organization, I got a good opportunity to join an OEM. I had always wanted to work with a well-established brand and association with MG had to offer more than I imagined.
The transition from making one automotive component to work in the complete vehicle manufacturing unit was a big change for me. It was interesting to see a completely different work environment. I witnessed the use of automation, robots and new technology machines used in the vehicle manufacturing process. The workplace is like an ocean of learning opportunities.
Despite the dynamics of COVID scenario, my onboarding was a smooth experience. While telecommuting, I was made to understand my work roles along with the short- and long-term plans. The consistent communication messages from the seniors helped me engage with the company better.
Digitally Connected through the virtual meetings, virtual employee orientation and plethora of online trainings was the new experience I enjoyed the most. The knowledge sessions included various topics like vehicle familiarization, manufacturing excellence tools, quality systems etc. With all this learning, I felt adequately equipped to begin the work when office resumed.
MG has offered me a cordial work environment. I am involved in driving a new initiative and see my skills and ideas are getting implemented. I appreciate the open communication culture here.
What is one piece of advice you'd tell your younger self?
I believe positivity is the key to all the situations we may come across. We must handle the challenges in a healthy spirit; with the underlying thought of identifying the learning opportunity in difficult situations.
It is important to understand that there is no short cut to success. There is a growth opportunity in every task that you handle. Hard work and Smart work, both are required to build your competency and execute your tasks. We should make conscious efforts to contribute something meaningful in anything we do.
Another important aspect is to have patience, and not jump for immediate solutions. Whenever you come across a not so favourable situation, do not be inclined to give up so easily. Seek support from anyone better learned than you. Building a healthy relationship at the workplace helps in this process.
MGI is a good and popular brand. It would take extra effort to keep up to the expectations. Our focus must be on the work integrity. We should strive our best to never let it down.