Clubs collaborate to create exciting new mega Triumph and MG Weekend!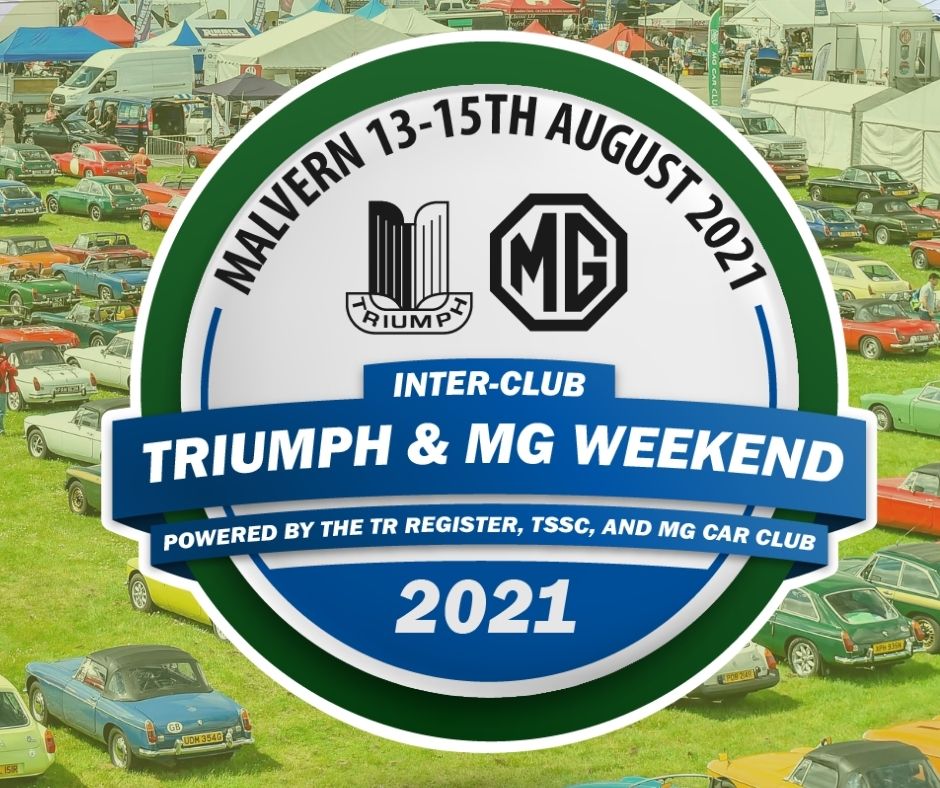 This new event marks a historic collaboration between Triumph clubs, TR Register and TSSC and the MG Car Club to create the Triumph and MG Weekend at the Three Counties Showground, Malvern 13 – 15 August 2021. 
 
It was one of the great rivalries of the British Motor Industry. The automotive equivalent if you like, of City vs United – it was Triumph vs MG! 
But, whilst fans of these historic marques have traditionally existed as friendly acquaintances ever since, the global Coronavirus pandemic has brought all sorts of communities together closer than ever before and the Triumph and MG clubs are no different. 
 
It was with great excitement that the MG Car Club, TR Register and Triumph Sports Six Club (TSSC) announced that they have created a partnership to create a memorable, jointly run, inter-club weekend at the Three Counties Showground, Malvern, Worcestershire over the weekend of 13 – 15 August 2021. 
 
The TR Register and Triumph Sports Six Club (TSSC) had already combined their annual international festivals into an inter-club collaboration with the Triumph Weekend in 2019. But, following the news that MGLive! at Silverstone had been forced to be postponed until 2022,  the hand of friendship from Triumph was extended to the "marque of friendship" in MG and the partnership has added the MG Car Club joining as the event's third organising partner.
 
The weekend will feature specialist traders, an extensive Auto-jumble, Auto-solo including the MG Car Club's historic California Cup, technical seminars, plus inter-club challenges, evening entertainment, live music, live action arena show and Concours D'Elegance competition, anniversary displays – plus much more to be confirmed during the coming weeks. The collaboration between clubs isn't limited to those organising the event either, as all marque car clubs are invited to come and display their vehicles and join in with this historic collaboration. 
 
The three-day event will also celebrate a number of historic milestones and anniversaries for each marque including 60 years of the MG Midget, 60 years of the Triumph TR4 and Herald 1200, 20 years of the MG Zeds, and 40 years of the Triumph Acclaim and special display areas will be a focal point of what promises to be an event you will not want to miss! 
 
Lauran Gallacher, Assistant General Manager of the MG Car Club says; "Whilst we were sad that MGLive! was not possible this year, we have turned the challenges of COVID around into an opportunity to offer a new, fun and landmark event for members of the MG Car Club. We need to come together more as a classic car community and this collaboration shows just what we can achieve when we do so." 
 
Allan Westbury, Chairman of the TR Register says: "It is important for the future of the classic car scene that clubs come together and collaborate and the challenges we all face as a result of COVID have made this even more crucial. Combining our events and resources in this way, means that we can bring Triumph and MG fans together for a really memorable and enjoyable weekend."
 
Chris Gunby, Chairman of the TSSC says: " We are excited by the added interest this will bring to the show. We are all classic car fans at the end of the day and we think this will spark some lifelong collaborations and friendships across fans of these two marques, which have always enjoyed a bit of friendly rivalry. We can't wait to meet our new friends from the MG Car Club and celebrate our love of classic British cars in the wake of what has been a challenging twelve months for everyone." 
 
Weekend entry packages, day tickets and other passes can be purchased online from www.triumphandmgweekend.com .