2021 Donington Historic Festival races to be live streamed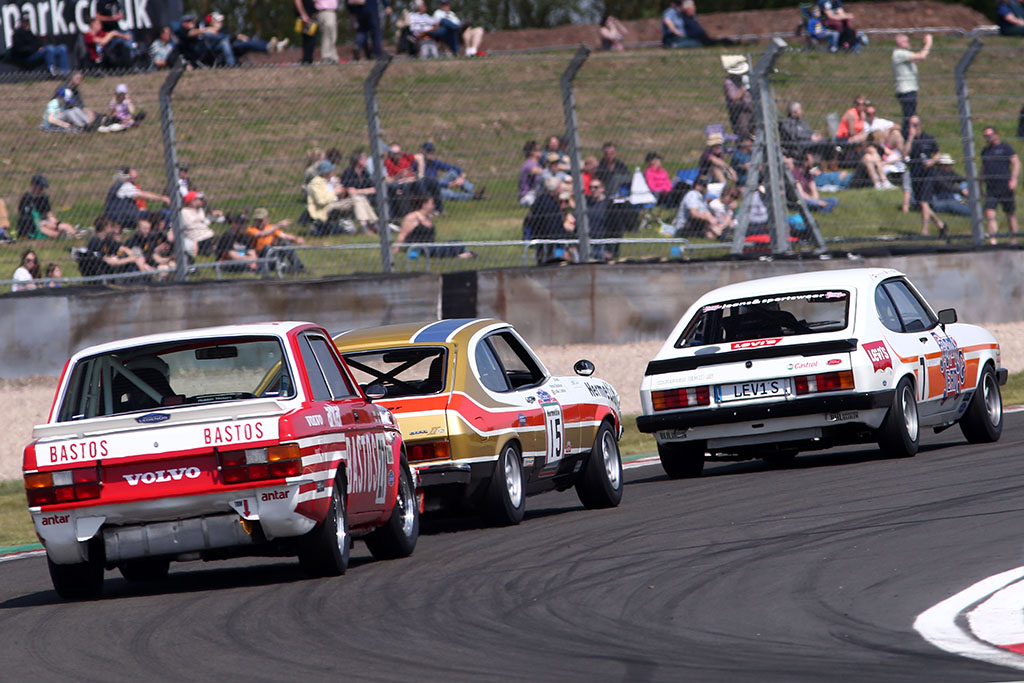 Although recent changes in government COVID regulations mean that spectators are not permitted to attend the event in person, historic motorsport fans can enjoy all the fantastically diverse live racing action of this weekend's Donington Historic Festival from the comfort of their own armchairs, thanks to live streaming of every race on both days, which will be broadcast on the Festival's website.
The live stream starts at 1pm on Saturday 1 May and 11am on Sunday 2 May. It will be produced by Historic Motorsport TV, the first dedicated video channel for historic racing, and is presented with support from DK Engineering, Motor Racing Legends, and The Royal Automobile Club.
The Festival organisers will also be posting regular photos, videos and updates on the event's social media channels throughout the weekend. In addition, the live qualifying and race timing and commentary can be followed on tsl-timing.com from 9.10am each day – ideal for combining the Donington Historic Festival action with a spot of gardening or perhaps fettling a much-loved classic car.
From Pre-War sports cars of the type that battled it out around Donington Park in the 1930s, to pre-'66 Grand Prix and Formula One cars, stunning pre-'56 and pre-'61 sportscars, nimble Formula Junior single-seaters, and crowd-pleasing Touring Cars from the 1960s, '70s and '80s, there is something for fans of all eras of classic motor racing.
Jaguar enthusiasts can celebrate the 60th anniversary of the E-type with the one-hour Jaguar Classic Challenge race, while two important new historic race series make their debut at the Festival.
The Amon Cup for Ford GT40s closes the Saturday of the event with a magnificent, 80-minute race for one of the most iconic GT cars of all time, while the Sunday of the Festival finishes with a superbly stylish, three-hour Royal Automobile Club Pall Mall Cup race for GT, sports racing and Touring Cars built before 1966.
The live stream timetable is as follows:
Saturday 1 May
| | |
| --- | --- |
| 13:00 | Live stream beings on www.doningtonhistoric.com |
| 13:25 – 14:25 | Jaguar Classic Challenge for pre-'66 Jaguar cars – Race |
| 14:40 – 15:00 | HGPCA race for Grand Prix and Formula One racing cars manufactured before 1966 – Race 1 |
| 15:15 – 15:35 | FJHRA/HSCC "Silverline" Formula Junior Championship (1958 – 1960) – Race |
| 15:50 – 16:50 | Royal Automobile Club Woodcote Trophy & Stirling Moss Trophy for pre-'56 and pre-'61 Sports Cars – Race |
| 17:05 – 17:25 | FJHRA/HSCC "Silverline" Formula Junior Championship (1961 – 1963) – Race |
| 17:40 – 19:00 | Amon Cup for Ford GT40s – Race |
Sunday 2 May
| | |
| --- | --- |
| 11:00 | Live stream begins on www.doningtonhistoric.com |
| 11:25 – 11:45 | FJHRA/HSCC "Silverline" Formula Junior Championship – Race |
| 12:00 – 12: 40 | The 'Mad Jack' for Pre-War Sports Cars – Race |
| 12:40 – 13:40 | Lunch break and interviews |
| 13:40 – 14:40 | Historic Touring Car Challenge with Tony Dron Trophy, Sixties Touring Car Challenge & U2TC for '60s, '70s and '80s Touring Cars – Race |
| 14:55 – 15:15 | HGPCA – Pre-'66 Grand Prix Cars – Race 2 |
| 15:30 – 18:30 | Royal Automobile Club Pall Mall Cup for pre-'66 GT and Touring Cars, pre-'63 GTs and pre-'60 Sports Cars – Race |