August 2023 issue of Safety Fast! is available now
The August issue of Safety Fast! is available for members online, so we thought we'd give you a taste of what's included in this month's magazine.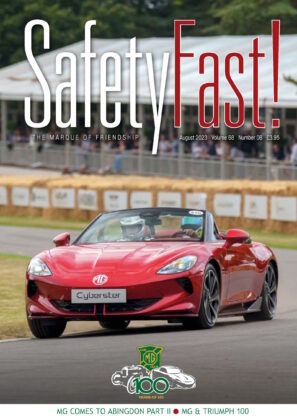 MG comes to Abingdon
A three-part series of articles covering the history of MG
An epic start
Part four of Steve Jackman's story of his introduction into Sprinting and Hill Climbing with the MG Car Club
MG & Triumph 100
Report on the excellent Silverstone event celebrating the MG and Triumph centenaries
Event reports
The Old Speckled Hen Tour, and a busy and rewarding time at recent events
Envs or envious?
A love-hate relationship with an unusual MGA
And we have news updates and reports from a huge variety of model registers covering all eras.
If you're a non-member reading this and it sounds like something you'd enjoy looking at, our award-winning monthly magazine Safety Fast! is included as part of your membership.
Members can read this issue and all the previous editions online.