Smeg unveil MG fridge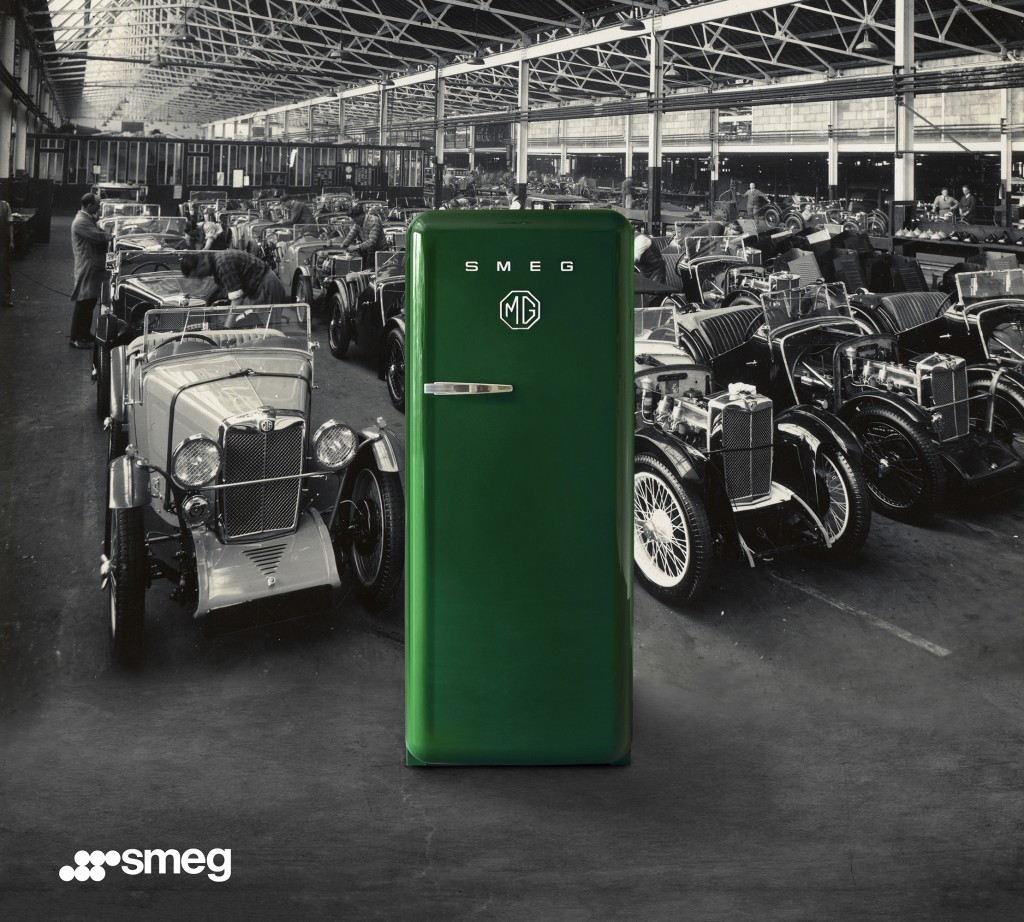 Smeg has unveiled a limited edition run of MG-inspired fridges to celebrate its new UK headquarters, built on the site of the sports car company's original factory.
Set to be unveiled at the MG Car Club's MGLive! event at Silverstone on June 4th and 5th, the collection of 39 fridges is a significant number as it represents the number emblazoned on the MG K3, which famously won the prestigious Mille Miglia road race in Italy, beating all marques in its class, the 1st non-Italian car to ever take honours, back in 1933.
The FAB28RDMGG is finished in the signature British Racing green archetypal of MG's racing cars, which also features MG's iconic octagon badge and plaque denoting its limited edition number.
It boasts 251 litres of capacity, a number well recognised by MG enthusiasts, a tropicalized compressor, an energy consumption of 180Kw/h per year, three adjustable glass shelves, a fruit and vegetable container and a chrome wine rack, as well as an additional internal 2kg freezer capacity.
The name of Smeg's 'Magna Building' headquarters in Abingdon, Oxfordshire is also linked to one of the former MG site's most iconic cars – the Magnette – in a dedication to the history and heritage of the original car works.
Mike Giddings, Smeg's UK managing director, said: "The fridges are a fitting tribute to the site of the original MG car works, which are a seminal part of British motor history.
"Smeg prides itself on strong community ties here in Abingdon, and celebrating local history is very much part of the Smeg philosophy.
"We're extremely privileged to have our fantastic new headquarters situated on a site that is already home to so much design and engineering excellence, and we hope to build on that heritage as Smeg enters an exciting new chapter here in the UK."
Smeg worked closely with the MG Car Club to bring to life this exciting project.
Adam Sloman, General Manager commented: "since its formation in 1930, the Club has been at the forefront of championing MG's classic heritage, its workers and owners, and surrounding local industry.
"We're delighted to have collaborated with Smeg on this very innovative project to celebrate our joint history and heritage and create such a unique piece of memorabilia.''
The UK collaboration with MG mirrors Smeg's operation in Guastalla, Italy, where Maserati, Ferrari, Lamborghini and Ducati are all headquartered. It's also reflective of a monumental year for Smeg, following a fridge collaboration with Italian fashion powerhouse Dolce & Gabbana, the launch of the stunning Dolce Stil Novo appliance range, and a forthcoming London flagship store.
The limited edition MG fridge will retail for £1,499. Please contact 0344 5579907 or log onto www.smeguk.com for more information.