Brooklands MG Era Day 2019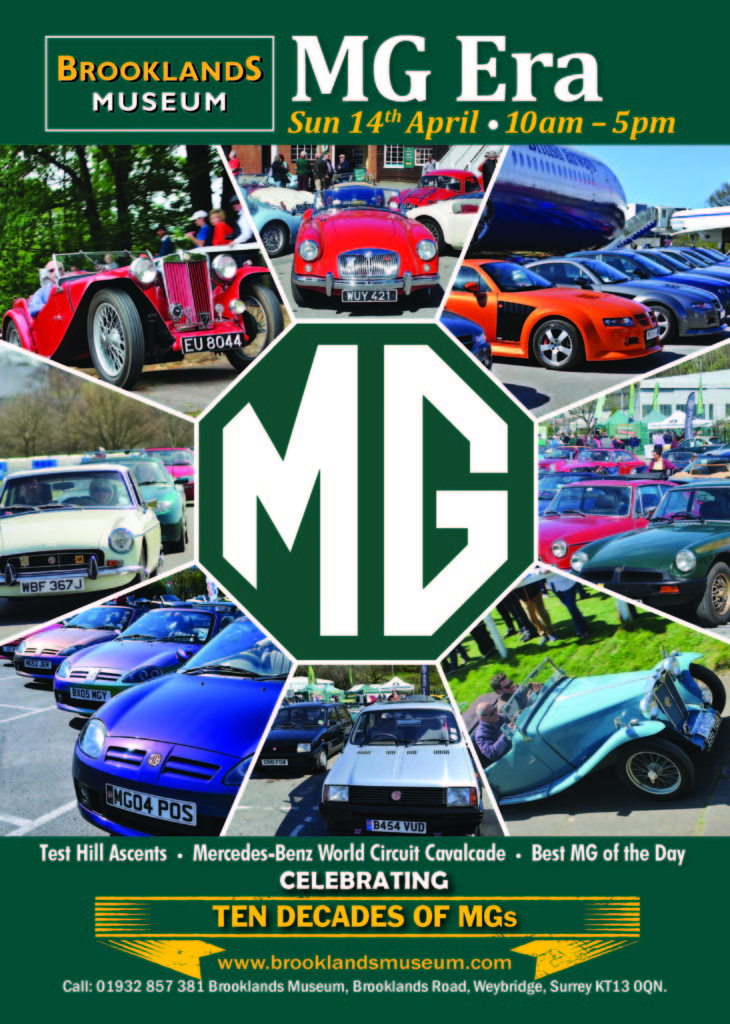 The MG Car Club will once again be attending MG ERA at Brooklands Museum on Sunday 12th April.
MGs of all types and ages are welcome to this event, where Brooklands Museum celebrate one of Britain's great marques.
This year, Brooklands will be celebrating 10 decades of MG, from "Old Number One" to the present day. If you have an MG road car or competition car then please bring it along and show it off to the thousands of visitors who come to the event.
The display of cars around the Octagon badge in the Paddock will feature a car from each of the first 8 decades of MG production, with cars from the 2000s and 2010 joining them.
At lunchtime, there will be a chance to see some of the cars as they parade around the circuit at Mercedes-Benz World, with ascents of our famous Test Hill during the afternoon. During the day, there will also be running a Concours competition where the museum will be looking for the "Best MG of the Day", so why not see if your choice of car matches that of the Judges?
Getting Here
Parking for MGs only on the Museum site – access through the Campbell Gate off Brooklands Road (the B374). Visitor parking will be in The Heights off Wellington Way or in our usual car park at Mercedes-Benz World
ADMISSION PRICES*
Adult£16 (£14.50)
Senior (60+)/Student£15.00 (£13.50)
Children (5-16)£9.00 (£8.00)
Children under 5FREE
Family (2 adults & up to 3 children)£42.00 (£38.00)
*Includes a voluntary donation, prices without a donation are shown in brackets.
Visit the Brooklands Museum website to purchase tickets – Buy Tickets
Contact
Brooklands Museum events@brooklandsmuseum.com 01932 857381 ext 253
Admission Policy
Assistance dogs only are admitted on site. Children 16 and under must be accompanied by an adult. For full visitor guidelines please click here
At all events where we are running Test Hill or Cavalcades at Mercedes Benz World, anyone who wishes to take part will need to produce a valid driving licence as part of the signing-on process. The licence must be for the type of vehicle you are looking to drive or ride.
Please note:
As part of an essential fundraising programme to safeguard the future of Test Hill, Brooklands Museum are asking for a voluntary contribution from everyone who wishes to take part in the ascents and are suggesting £5.00 as a suitable contribution. More details will be available at the signing-in area – Thank you.