MG Motor UK Nurtures Future Automotive Design Talent with SAIC Design Challenge
The SAIC Design Challenge returns for 2019 as the search gets under way to find the next generation of talented automotive designers. Now in its seventh year, the SAIC Design Challenge aims to inspire, engage and nurture the future of automotive designers from China and Europe.
Fully supported by MG Motor UK, the competition is run by the iconic British brand's parent company SAIC Motor and, for 2019, will task students to deliver their own design interpretation under the theme 'Intelligent Frontier 2030'.
This year's theme looks to test students' abilities in designing the MG of the future where emerging technology such as 5G and intelligent driving systems are expected to underpin future mobility. Under 'Intelligent Frontier 2030', students can bring their imagination to life with scale-model concept cars that will exist in a hyper-connected urban environment in 2030 and beyond.
With support from MG Motor UK, the Europe-based finalists will gain valuable experience and guidance from the in-house design teams at the two UK-based design centres – Advanced London and Advanced Birmingham. These two cutting-edge digital design studios support the design and development of the future of mobility for the Roewe and MG brands.
The competition was officially launched at London's Royal College of Art (RCA) in the presence of Vice President of SAIC Design, Shao Jingfeng, alongside Design Director of SAIC Design Europe, Carl Gotham, and Dale Harrow, Chair and Director – Intelligent Mobility at the RCA.
Carl Gotham, Director of SAIC Design Advance Europe, said: "MG is undergoing a tremendous transformation as it embarks upon a long-term growth strategy. Our two design studios in the UK employ 40 designers and this year's competition enables our experienced team to mentor and connect with the up-and-coming future creatives who will be designing our range of MG products in the future. This is an opportunity for students to express their imagination and we are looking forward to judging each interpretation of their future MG designs."
This year, up to six shortlisted finalists will be selected to spend two months at one of the SAIC Design's European Advanced Design Studios to refine their proposals under the guidance of the established full-time designers. Their digital based models and animations will then be judged at the Europe Region Awards Ceremony in September.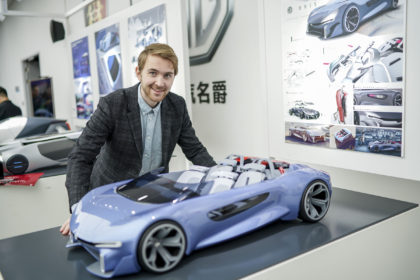 Trym Abrahamsen, 2018's European award winner, said: "The SAIC design challenge has been a game-changer for me. The opportunity to be part of a studio environment over the course of a summer, together with great follow up by professional designers has taken my skills to a new level. It has also been cool to try different technologies like VR in to the design process, seeing what skills are needed for the designers of tomorrow.
"Winning the competition has really opened a lot of doors for me. You get in touch with many people from the industry and the tools to get your automotive design career going. The icing on the cake was of course going to the Shanghai studio seeing the physical mock-up of my alias model, something you cannot get from any other competition. As a student, I would really embrace this opportunity to take a first step into the professional world."
Students have until the 6th of June to submit their entries. For further information and how to enter, visit: www.saicmotor.co.uk/saicdesignchallenge.