MGLive! 2019 Date Announced!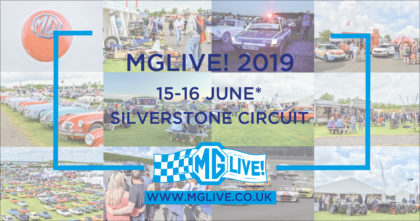 The world's largest MG show, MGLive! is set to return to Silverstone on the 15-16 June 2019.
In 2019, we will be celebrating the MG marque's 95th birthday with our annual festival of all things MG. On track, the MG Car Club and guest Championships will be battling it out on Silverstone's famous Grand Prix layout.
2019 also marks the 60th birthday of the California Cup Autotest and is awarded to the fastest three MG team representing their local Club Centre.
On the infield, there are displays of everything the MG brand has to offer; the Club's 17 different model registers will be showcasing over 3000 cars to the general public.
A lifestyle marquee showcasing products from local craftspeople will feature with a free family friendly funfair will also be on site, making sure even the smallest classic car fans are catered for.
A selection of food and drink vendors will be available across the site offering everything from noodles to pizza to traditional race track fayre so there is sure to be something for everyone.
The Live Arena will be making a welcome return showcasing masterclass workshops and even a stunt show.
Lots of music and entertainment will take place at the Village Green stage late into the evening and will provide a great place to unwind after a busy day of racing and enjoying all the attractions.
Adam Sloman, General Manager of MG Car Club commented "We are absolutely delighted to be back at Silverstone for MGLive! next year. We're planning on it being the biggest MGLive! we've ever put on, and look forward to having a great weekend of racing and fun!"
Tickets for MGLive! will be available in early 2019, keep up to date with the latest news & ticket information by registering on our website www.mglive.co.uk.
* Please note, these dates are provisional and are subject to change due to Silverstone's calendar.*