Another great reason to attend MGLive!
BMH and MGCC announce a new 58-car race for MGLive!
British Motor Heritage (BMH) and the MGCC have a long history of collaboration, and this is set to continue through 2020 with the announcement of an all-new 58-car race for MGLive! (June 13/14). It will be for pre-'66 classic saloons, and represents a particularly exciting opportunity for the owners of these popular cars, as it's being staged on the Grand Prix circuit – the track on which F1 was born 70 years ago this year.
The regulations are basically the same as those for the Goodwood Revival's St Mary's Trophy – the only other stipulations being the requirement of the cars to run on Dunlop Historic Race tyres and pump fuel. The event will be of 40-minutes duration, allow entries from either one or a pair of drivers, and will be preceded by a 20-minute qualifying session.
British Motor Heritage's Managing Director John Yea explained: "The criteria have been specifically chosen to ensure a truly mixed field of everything from MGs to Minis and Lotus Cortinas to the mighty Ford Galaxies, so the sight and sound of the 58-car grid should certainly be something to savour!"
The race is by invitation only, so anybody wishing to participate should email details of themselves and their car asap to motorsport@mgcc.co.uk.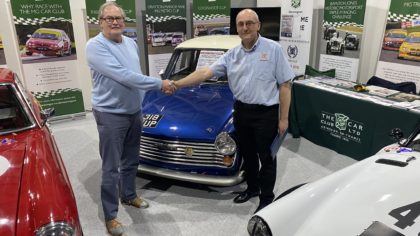 Other 2020 collaborations between BMH and MGCC
BMH will also be supporting the MGCC's five other 2020 race meetings. The backing will range from the provision of a 'welcome centre' at every venue, to that of a course car and multi-vehicle display for the Donington meeting over the weekend of July 11/12.
Bill Silcock, Chairman of the MGCC said: "We greatly cherish our relationship with BMH, a company that is not only a valued supporter of our events, but without the products of whom many of our members' cars would arguably be in inferior condition, or perhaps no longer exist at all.
Mark Baulch, Competitions Secretary for the MGCC announced the move alongside John Yea, Managing Director of BMH at the 2020 Race Retro event, which can be seen on the video here