Graham Robson 1936 – 2021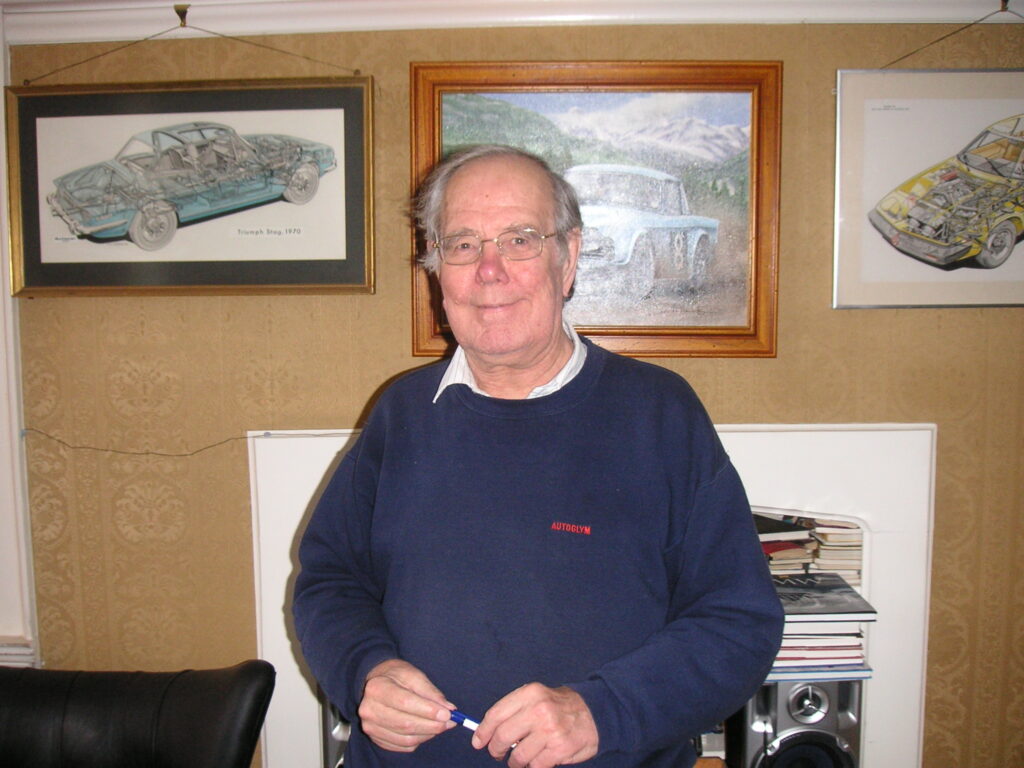 Many in the world of motoring and motorsport have lost a good friend with the death of Graham Robson on 6 August 2021. He enjoyed a busy professional life which continued right up until his passing. Graham Robson wrote over 169 books, some published in several other languages, and countless newspaper and magazine features, which must have made him the most prolific motoring author ever. But quantity did not affect quality – his books, mainly covering classic cars and rallying, were all meticulously researched and well written: on many subjects his books are now the 'standard works'. Because of his wide motoring knowledge, Graham was regularly called on to be master of ceremonies or commentator for national club events. It also helped him become President of the TR Register, Vice President of Club Triumph and Honorary Life member of several others clubs including the MG Car Club.
Alec Arthur Graham Robson was born in Skipton, Yorkshire, on 18th January 1936 to Clifford and Kathleen Robson. An only child, he was educated at a local school then at Ermysteds Grammar School before going up to Lincoln College, Oxford, where he read Engineering.
His first job was as a Graduate Trainee at Jaguar cars in 1957. His subsequent career became almost a perfect training path for someone destined to become a leading author:
In 1961 he became a Development Engineer, then Competition Secretary at Standard- Triumph where he presided over the successful Works TR4 rally campaigns and the victory at Le Mans for the Triumph Spitfire. He worked at Autocar magazine from 1965 and the Rootes Group (which became Chrysler UK) in 1969, becoming their Chief Engineer in Product Proving . He then had a spell as Technical Director at Kangol before becoming a full time independent motoring writer, researcher and author in 1972. That word 'independent' cannot be stressed too highly because whatever his links with the manufacturer of a car he was writing about, his research was always thorough and he never pulled his punches. Once asked what was his most memorable motoring moment he said: "First sight of the Ford RS200, the day it was shown to a privileged few, before its public launch." It was typical of the esteem in which he was held by manufacturers as well as enthusiasts that he was invariably on that list.
Many of Graham's books were about motorsport. Perhaps not surprising because he got involved in the sport as a rally co-driver in the mid-50s; he said that his passion for writing was triggered by writing modest rally reports in those days for Motoring News. He became one of the leading UK co-drivers, competing in works teams and winning the Welsh International Rally with Roger Clark in 1965.
He ran Standard-Triumph's motorsport programme from 1962 to 1965 and then got heavily involved in running many different rally championships for Ford Motorsport.
Graham married Pamela in 1962 and they had two sons, Hamish who is now a senior design engineer with Toyota Motorsport in Germany, and Jonathan who is an experienced Landscape Gardener in Dorset. He moved to live in a picture postcard village in Dorset in 1981, thereafter travelling widely on business, and for pleasure. Sadly, Pamela died in 2014 after a long illness.
Graham was recognised by the Classic Car community in 2018 when he was awarded the coveted Lifetime Achievement Award at the National Car Club Awards, held at the NEC in Birmingham.
Graham Robson published more motoring books in the UK than any other author. His most successful and best-known books include:
The Works Escorts
Triumph Cars – the Complete Story (co-written with Richard Langworth)
The Cars of BMC
Cosworth – the Search for Power
The Works Triumphs
Cars in the UK (2 volumes)
Boreham
World Cup Rally 40
Grand Prix Ford – Cosworth and the DFV
The world of motoring will never be quite the same again. Rest in peace, Graham Robson.