T Type and T Register History
Here you can find a short history of the T Register which was originally written by Paddy Willmer, subsequently edited and added to by John Ward our Safety Fast editor, and now brought up to date once again.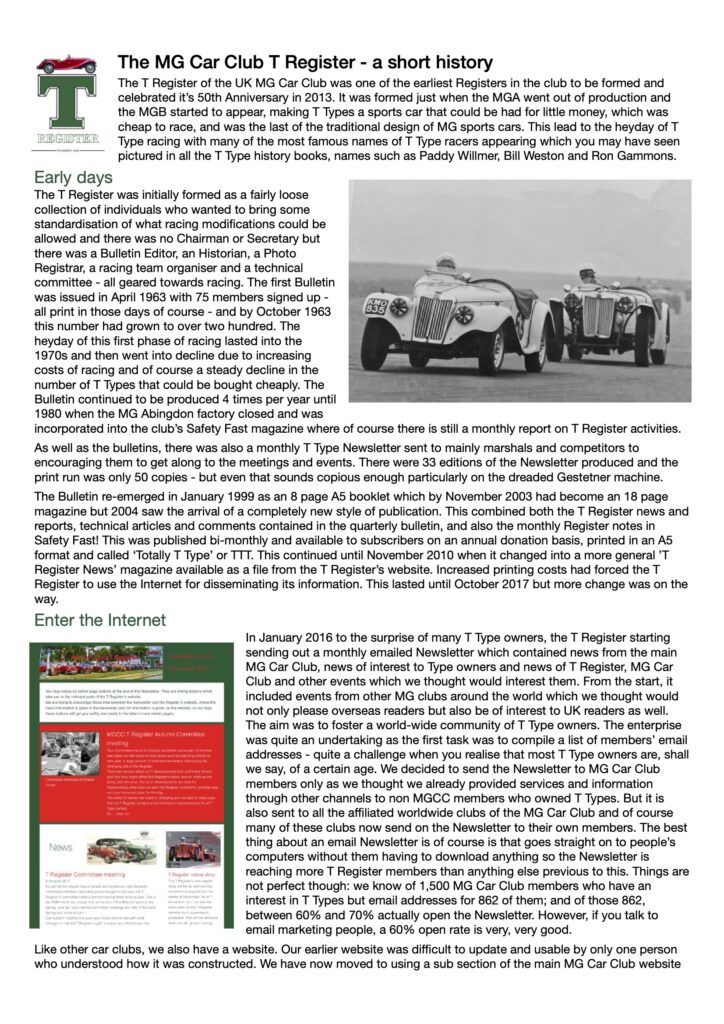 The MG Car Club T Register – a short history (2021)
We have also been collecting a number of articles on past events and personalities involved in T Types and the T Register so here is a landing page where you can find links to these articles, as well as a description of the role of the T Register historian.
The Whys and Wherefores of Design – two articles from Autocar in November 1939 discussing the design of the XPJM engine
The role of the T Register historian
Last Weekend in June '86 – the story behind the T Register's commemorative event of London to Inverness and back in four days
Toshiro Mifune and his MG TD – Hideyuki Okane, Kenji Matsuoka and Peter Cook's article on the famous Japanese actor and his TD.
Harry Lester's TA – an extract from Stewart Penfound's book 'Harry Lester and the Monkey Stable'
Racing a T Type in the 1960s – a memoir by Allan Scott
Cecil Kimber's Musical Tastes – written by the club's Overseas Director Peter Cook, this slightly left-of-field account describes the  fairly large, old, and somewhat tattered red folder that can be found at the top of the stairs at Kimber House. The folder contains twelve 78 rpm records and was given to the club some time ago by one of CK's relatives. Peter goes on to discern what CK's tastes were, set in the social context of his time and includes anecdotes which many of us can identify with.