T Register 2020 Events
This is a preliminary and very incomplete listing for the T Register's events for 2020 and will be added to as we know more and have definitely been decided on.
9 February
T Register at the International MG and Triumph Spares Day
The T Register will once again have a stand at the International MG and Triumph Spares Day at Stoneleigh Park. The video below was made at the 2019 show.
Seen as the season opener, it's where to get the parts in preparation for Spring and for you to use the T Register stand to sell your unwanted parts to a large number of enthusiastic buyers!
There will be a form to complete available from early November to list the spares you have you wish to sell at our stand.
Keep your eye on the International MG and Triumph Spares Day website for when the 2020 show goes live when tickets will be available.
27 April – 1 May
T Register Spring Tour to the Ardennes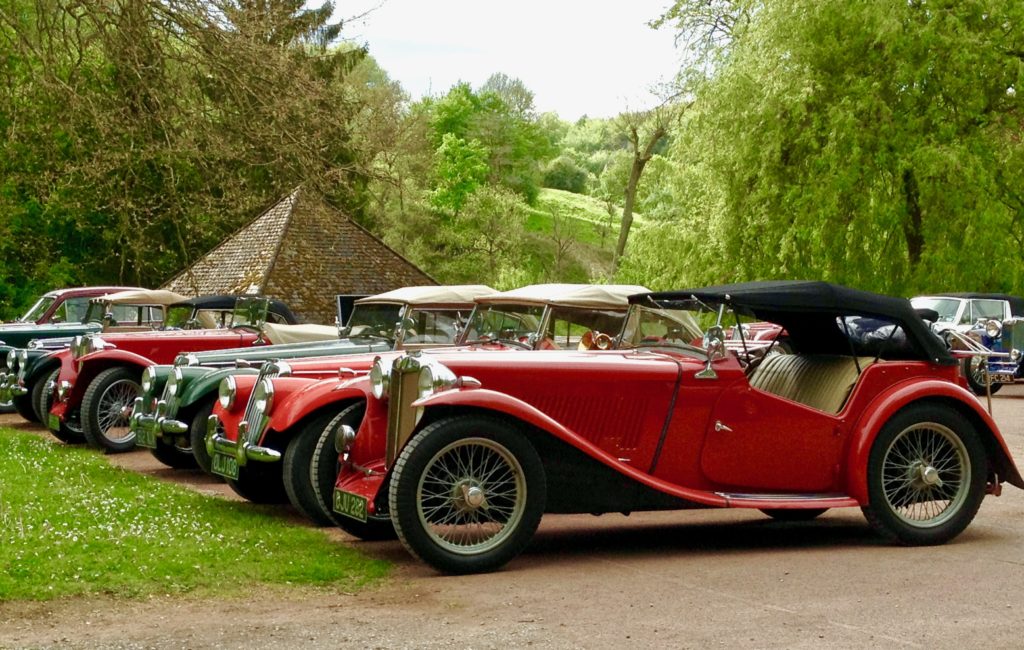 The T Register will again be organising a spring tour to the close continent next year. We will be visiting the Belgian Ardennes the week before VE Day, using the same hotel we visited in 2017 (the year of the escaping banjo bolt!).
Forty rooms have been reserved at the Castel de Pont-à-Lesse near Dinant from Monday the 27th April for 4 nights. The hotel gives us secure parking and those who joined us on our last visit there found it excellent.
How to get there
The nearest ports are Calais, Dunkirk, Zeebrugge and Hook of Holland – the hotel is about the same distance from all of them. You will need to organise your own ferry or Eurotunnel booking. We intend to include in the final briefing a suggested scenic route from a point a couple of hours from the hotel, but this of course is optional.
Things to do in the Ardennes
There are a number of scenic routes in the area, including some recommended by the Michelin guide to the region. There are also lots of places worth visiting, including particularly good caves at Han sur Lesse, a micro-brewery near the hotel and a castle at Bouillon.
As has recently become the tradition on our continental tours, there won't be any set routes or timetables, but we will provide lots of information about the area, and we have the routes from 2017 and they are available to anyone who wants to use them.
Costs
A Double or Twin room will cost €737.50 Half Board and a Single Room will be €500.91. The hotel requires a 30% deposit at the time of booking, which equates to €221.25 for a double/twin and €150.27 for a single room. The entry fee will be £20 per car to cover administration costs.
These are special rates only bookable through the T Register, so we have had to decide what to do about the volatile exchange rates. We have decided to go with £1 = €1, and work out what to do about the excess or deficit when we know how much it is. So the deposit required on booking will be £241.25 per double/twin and £170.27 per single room.
What to do next
If you have already sent an expression of interest to Sally Silcock you will have already been sent an Entry Form. If you haven't, and want to go on the Tour, all other entries will be open on 5 October when the Entry Form will be made available. If you do have any questions, contact Sally Silcock T.01525 750468.