T Register Cars and Spares For Sale and Wanted
This is the T Register's page for advertising cars and spares for sale and wanted. The facility is free. Adverts are listed in date received order, the latest one at the top.
There are two separate forms to complete to put your advert on this page, one for cars and one for spares –
Form for advertising cars
Form for advertising spares

Please be aware, the MGCC and T Register cannot be held responsible for advertisers.
Buyers and sellers of cars and spares can leave themselves open to becoming the victim of fraud or other crimes. Please look at the Vehicle Safe Trading Advisory Group (VSTAG) web site – an excellent source of guidance on how to recognise fraudulent approaches when buying or selling a car or spares.
---
Spares For Sale
Car model
TB – YB
Description
Goldseal oval hole cylinder head, casting no 22952, unskimmed 3″ height, complete with valves and springs.
Buyer collect. Yorkshire based.
Price
£160 ono
Contact
Phone 07876220175
email happypeople222@gmail.com
added 26 May 2022
Spares For Sale
Car model
TC
Description
I have for sale a repairable 1947 MGTC Fuel Tank, which has a leak between the Tank and Baffle plate caused by a potential buyer pushing the car into his lorry by the tank.
Price
£125
Contact
Phone 01483721760
email colinjweeks@outlook.com
added 3 April 2022
---
Spares For Sale
Car model
MGB
Description
If you also have an MGB as well as your T Type and need a spare block, then I have a 5 bearing B series block for sale with 83.18mm bore. I make that 1932cc. All in good order. Northamptonshire.
Price
£150
Contact
Phone 07785111533
email timgreenhill@tiscali.co.uk
added 1 March 2022
---
Spares Wanted
Car model
TF
Description
Gearbox 1st & 2nd gear selector for my gearbox that keeps jumping out of gear. Have tried Moss & NTG Services but unavailable. Any help much appreciated.
Contact
email alan@lupton.co.nz
added 21 February 2022
---
Spares For Sale
Car model
TD
Description
An used 3 bow hood frame stored in loft for c. 50 years
Price
£100
Contact
Phone 01923825442
email roger.giles@hotmail.co.uk
added 15 February 2022
---
Car For Sale
Car model
TC
Description
Chassis number TC10213
First registered on the 24th of November 1949, this MG TC, chassis no 10213 was one of the last 50 TC's produced.
In its original rarer Clipper Blue colour. From 2009 it was stripped down and restored with new wiring loom, renewed braking system, re-chrome of all major parts that needed it, a new S J Gilbert steel covered Ash body tub and Wm. Collingburn leather seats as well as many other parts.
Mechanically, it has been well maintained. There are a few minor marks. The engine has been replaced with another XPAG unit. 1165 miles on the clock but do not know actual mileage of the vehicle from new. The engine runs well, starts easily and shows good oil pressure with no overheating, and the gearbox and back axle are nice and quiet. A minor fault with the gearbox is the known issue with it jumping out of third gear with no load (asking price reflects). Suspension appears to be in good order. The under-bonnet area is very clean and tidy. The interior of the car, including leather seats, door cards, and carpets, is good and the canvas weather gear ie hood and side screens, is in good condition – there is also a full tonneau cover. The wheels are good as are the (correct type) tyres. LED Bulbs throughout as well as LED dual forward side/ indicator bubs. Rear 1130 tank side panel mounted indicators and central high line brake light mounted behind the spare wheel.
Believed to be originally sold by the London MG dealer University Motors Ltd the car has the distinctive number plate VMG 54 and buff logbooks covering years 1954 through the 60s show owners in the London area.
Brooklands screens and steering wheel add to the style as well as the two Windtone horns mounted to the front between the wings and radiator, an option that could be included from new by University Motors.
We've had some good times with it including the revival but increasingly and sadly being used less and less. It has had almost no use for the last three to four of years hence the decision to sell. Badges not included.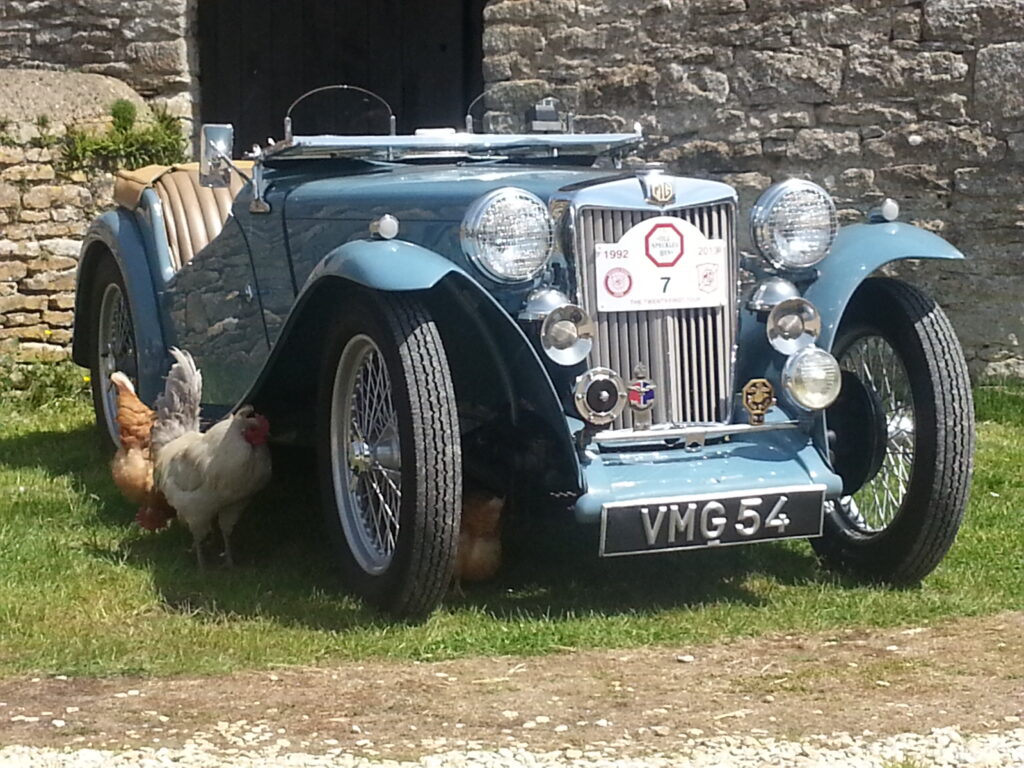 Price
£27,000
Contact
Phone 07877932284
email pete_davies@ntlworld.com
added 12 February 2022
---
Spares Wanted
Car model
TC TD TF
Description
Sadly I have discovered that my spare cylinder head is badly cracked! So I need a round hole head for my new build race engine. Does anyone have a sound round hole head they can spare?
Price
£123
Contact
Phone 07831476672
email dave.morris@sharphill.co.uk
added 22 December 2021
---
Spares Wanted
Car model
TF
Description
Wanted starting handle for MG TF 1954 1250cc in good condition.
Contact
Phone 07833257457
email erniemoult@hotmail.co.uk
added 12 December 2021
---
Spares For Sale
For car model
TD
Description
Fiberglass, front and rear wings, plus
running boards. Good condition.
Price
£175
Contact
Phone 07970801409
added 20 September 2021
---
Spares For Sale
For car model
TC
Description
Two aero screens for a TC which could have been produced by Monaro Motors in Australia as TC accessories (this is being investigated). They include all fittings and the alloy housing that affix to the bodywork.
Note that the fitting to the scuttle is quite different from the normal Brooklands aero screens and include cast MG logos for the knobs at each end of the screens.
The seller is willing to post to the UK.
Price
On application
Contact
email jaghp@optusnet.com.au
added 15 May 2021
Spares For Sale
For car model
TC
Description
Many spares for a TC, including steering column and steering box, new chrome parts, brake drums and brakes, new shoes, hubs, half shafts, speedo cable, clutch, petrol pump, distributor, petrol cap, propshaft UJ and rocker cover. An assortment of other bits, and I can send photos.
Price
£600
Contact
email david.mee7@icloud.com
added 25 August 2020
Spares Wanted
For car model
TF1250
Description
Wanted gear lever remote complete in good condition. UK only.
Contact
Phone 07833257457
email erniemoult@hotmail.co.uk
added 15 June 2020
Spares Wanted
For car model
TD
Description
Any part belonging to the clock in the later dish faced tachometer in the dash of the MG TD.
I am attempting to have one built and any spares, however small, would help enormously.
Contact
email
retiredmathsteacher@hotmail.com
added 10 June 2020
Spares Wanted
For car model
TA
Description
Still looking for a Chrome Rad surround, will consider one needing some fettling, let me know what you have and price looking for?
Price
£50
Contact
Phone 07810682531
email glenn_bukin@hotmail.com
added 27 May 2020
Spares For Sale
For car model
1954 TF
Description
Complete rear axle inc shafts brakes diff needs clean and refurbished.
Price
£480
Contact
Phone 07973694028
email David150@sky.com
added 1 May 2020
Spares For Sale
For car model
TD
Description
3 Hood frame for the TD, not particularly rusty will need some attention to some rivet sections to tighten it up, still works.
Can pack up if required carrier at your cost.
Price
£5,000
Contact
Phone 07738409151
email Ronwbean@gmail.com
added 4 March 2020
Spares For Sale
For car model
TA
Description
TA Engine and Gearbox for sale. Engine is part dis-assembled, block has been repaired but appears sound, cylinder head is dismantled and has been pressure tested OK. Gearbox comes with remote.
I also have an F type cylinder head, block and crank and various parts if anyone is interested.
Located in South Hampshire UK.
Engine block, crank/rods/pistons, pullies/chain, flywheel/clutch.
Price
£1250
Cylinder head with valves, rocker gear and cover.
Price
£750
Spare crank, sounds and looks fine.
Price
£300
Gearbox and remote.
Price
£650
Price for all above
£2500 plus shipping but prefer collection.
Photos
Contact
email trevorayles@msn.com
added 13 January 2020