Captain Castor archive
This is an archive of all the issues of the Captain Castor photo-strip comic in reverse date order – newest first, oldest last.
Many thanks to Felix Lee of the MG Owners Club of Northern California for the inspiration, and to Alan Wakefield for the masthead and good humour.
Issue 37
Captain Castor has been learning what secret ingredients and mode of behaviour are required for a successful Continental Tour. And not a Green Card is mentioned!
See his latest issue as sort of behavioural manual.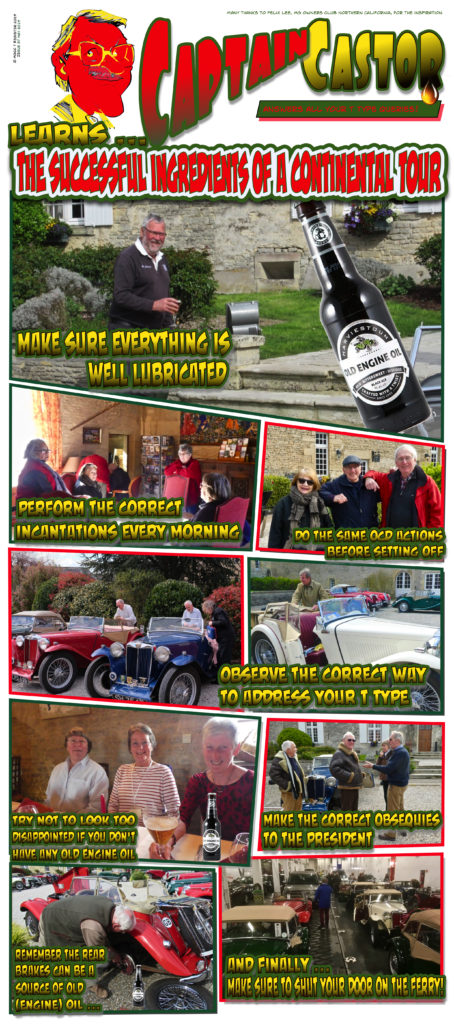 Issue 36
Captain Castor has been learning how to fold hoods. Sort of. And how to use tea on them. Really.
See what went on at Rebuild this year in his latest issue.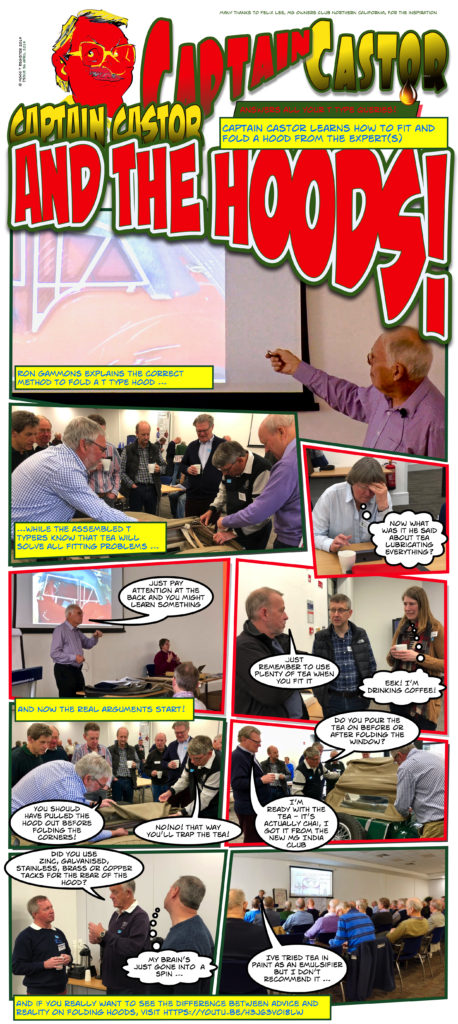 Issue 35
Captain Castor has got a new hat and has been going round ordering people to pose for his camera.
See what people thought of his photographic skills in this issue.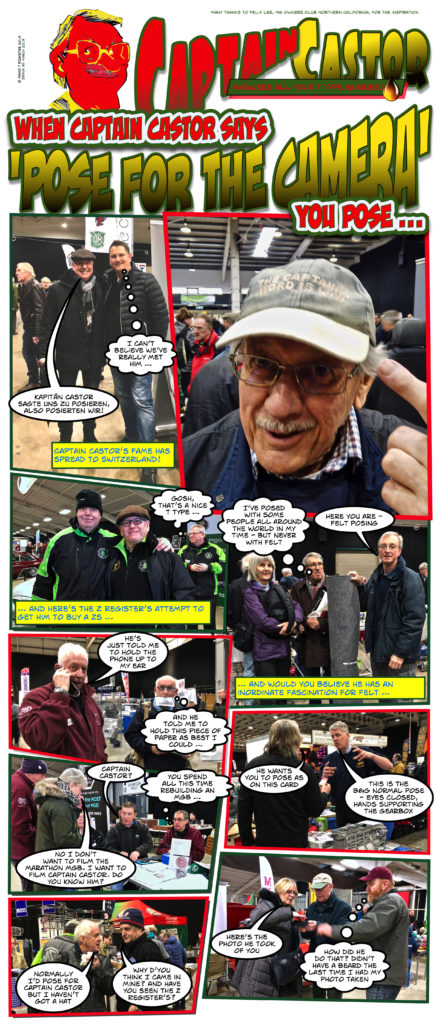 Issue 34
Captain Castor has been visiting Winter meetings and learning how to wrap up warm as well as getting some tips on improving his T Type – and what colour he might like to repaint it in.
See all in this issue.

Issue 33
Captain Castor thought he would copy what every newspaper and TV programme does at this time of the year and has concocted a review of 2018. The weather seems to have been predominantly on his mind, along with GDPR! Seriously!
Sit back on these dark winter nights and revel in the sunshine we had last summer.

Issue 32
Captain Castor went to the Classic Motor Show at the NEC and claims he has seen the future!
See what he saw in the the latest edition.

Issue 31
Captain Castor has seen a sneak preview of Roger Wilson's new book for the T Register and has instantly become an expert on casting marks!
Scrape away the paint on your block and follow Captain Castor's deciphering of those mysterious notations.

Issue 30
Captain Castor was seen at the T Register's Autumn Tour at the beginning of September and was seen in the company of the President!
So he is now officially famous! He got a mention in the President's Gala Dinnner speech and was later seen ferrying him around! What will he do with his new found status? Read on and be afraid …

Issue 29
Captain Castor was one of the lucky few who went to the European Event Event of the Year in Flims but he had trouble with the place name with his spell checker – yes, he does use one! – and got confused about what was going on at the event.
I think he made it back though as I've heard he'll be present at the Autumn Tour …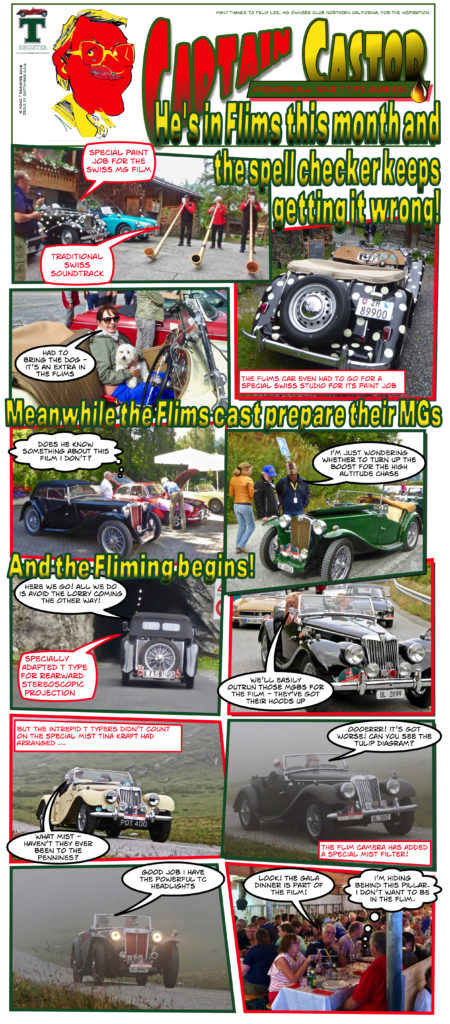 Issue 28
Captain Castor was one of the people present at the T Register T Party at Donington and took good note of the advice the Triple M Register had to give. He also picked up some hints on how to maintain and improve your T Type.
Captain Castor tells all …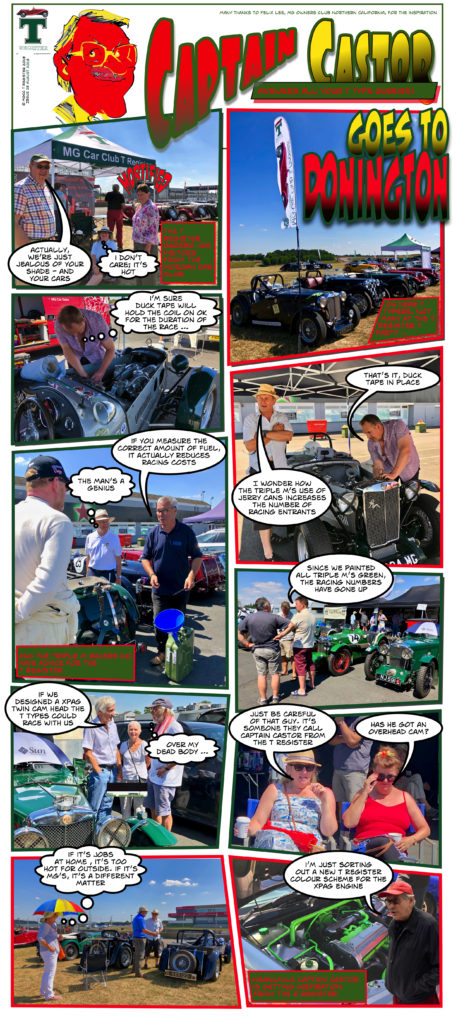 Issue 27
Captain Castor went to the T Register natter at MG Live and you'd be surprised at the heated discussions about what should get discussed there. How can GDPR, Meguiar and Autoglym get so mixed up?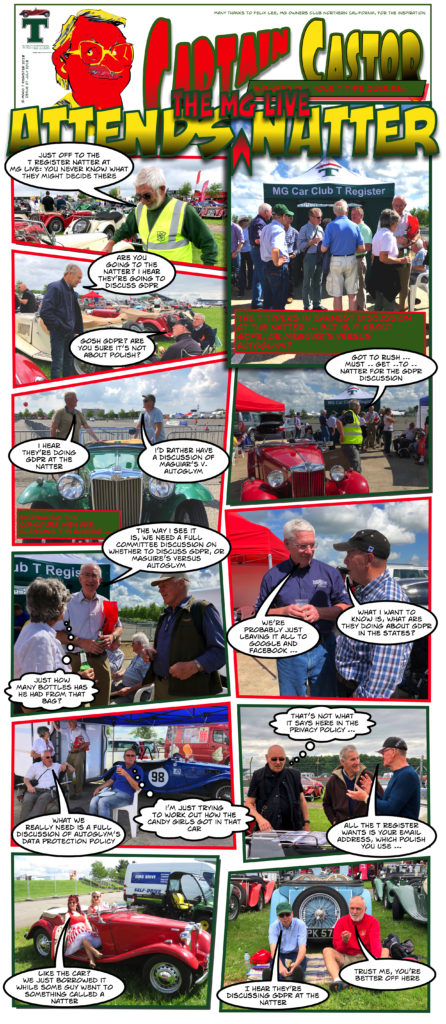 Issue 26
Captain Castor got the inside track of the earnest discussions that go on in that closed environment which is a T Register Tour. Especially in France. Did the T Typers return as experts in GDPR?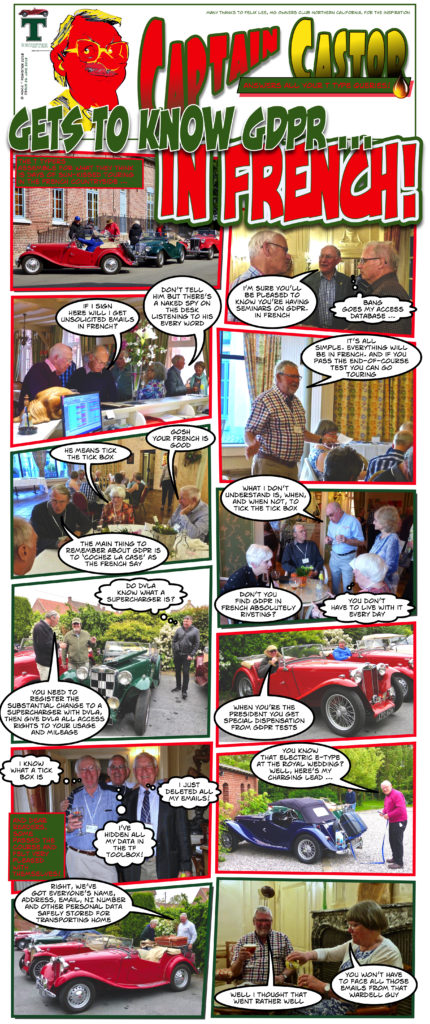 Issue 25
Captain Castor was of course at Rebuild and he got very interested in the cyclic variation in the low temperature variability of stoichiometric mixtures. You can see his plain english explanation below.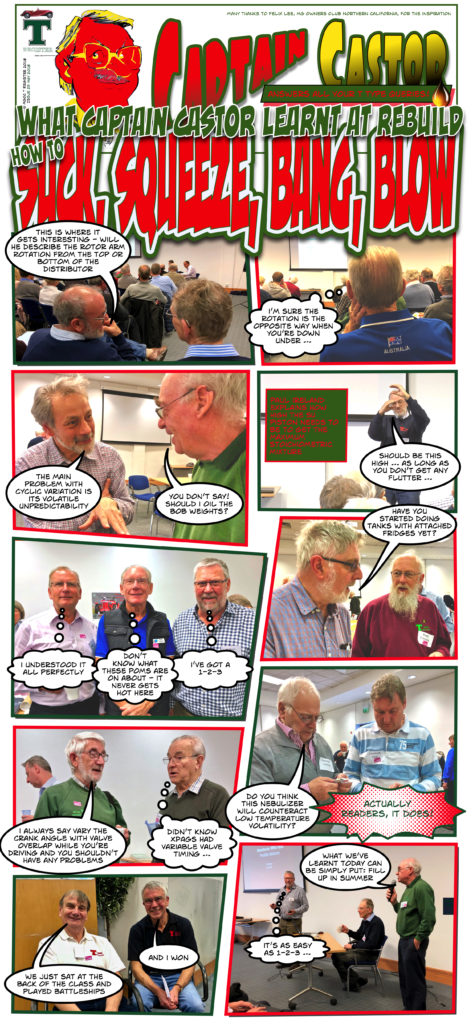 Issue 24
Captain Castor has got himself some hi-tec surveillance gear which he was spotted using at the NEC Restoration Show. You can see what he eavesdropped on in the latest issue.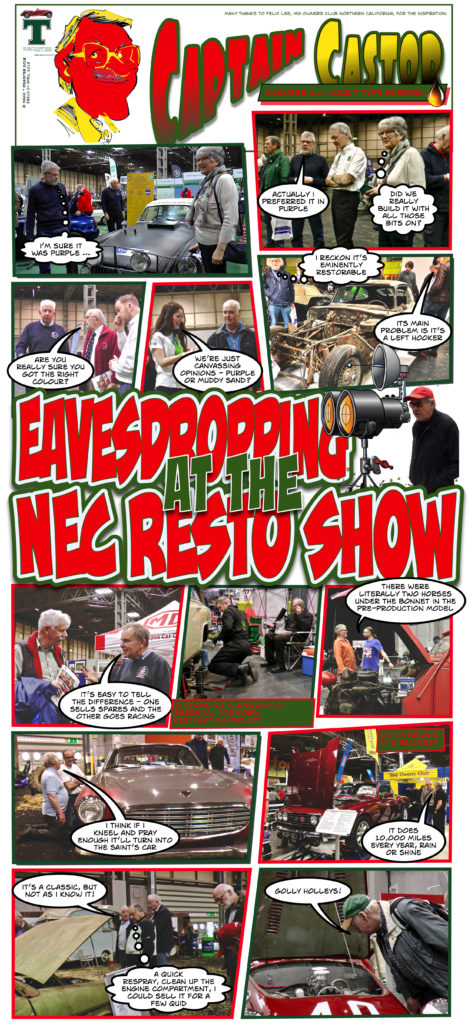 Issue 23
Captain Castor went to the MG Spares Day show at Stoneleigh Park and was quite troubled by what the sheds where you park your MG are normally used for. You can see how he solved the problem in the latest issue.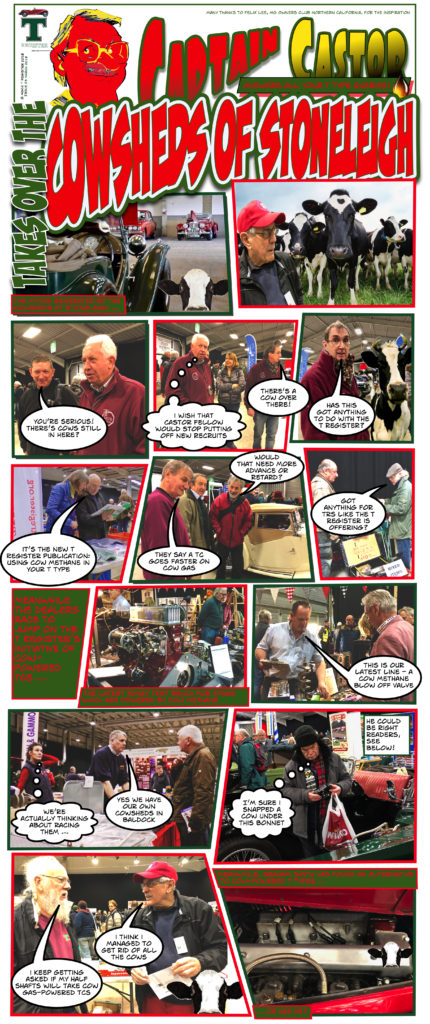 Issue 22
Captain Castor got wind of the TC being entered in this year's Monte Carlo Rally so of course had to offer his help.

Issue 21
Captain Castor has decided to overcome the effects of Christmas pudding and start the New Year in the manner he intends to carry on. Wind, cold, and especially rain, are all nothing to a seasoned open top motoring aficianado like him as he attends a New Year's Day meeting.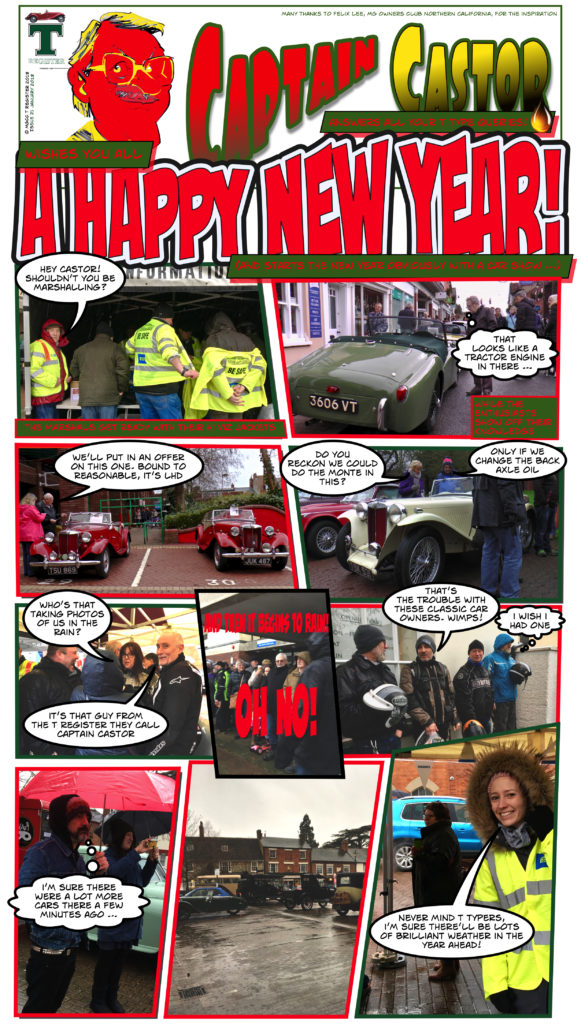 Issue 20
Captain Castor has lots of advice for this Christmas on what to put on your list to Santa for your favourite MG, particularly if you're not of a member of the originality police …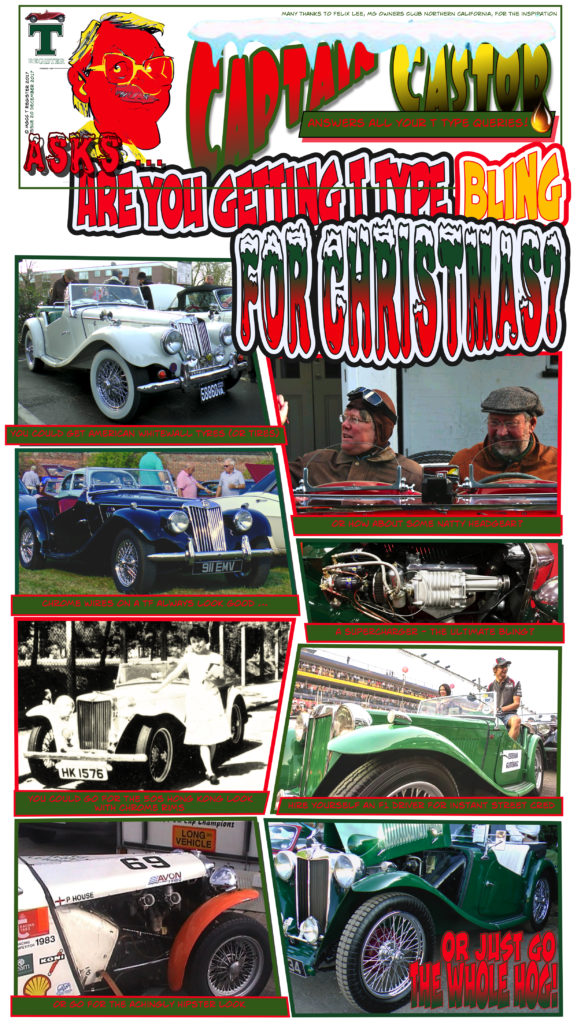 Issue 19
Captain Castor was invited to the MGCC Council and of course has the inside track on what goes on there. Read on and find out what really goes on in this inner sanctum …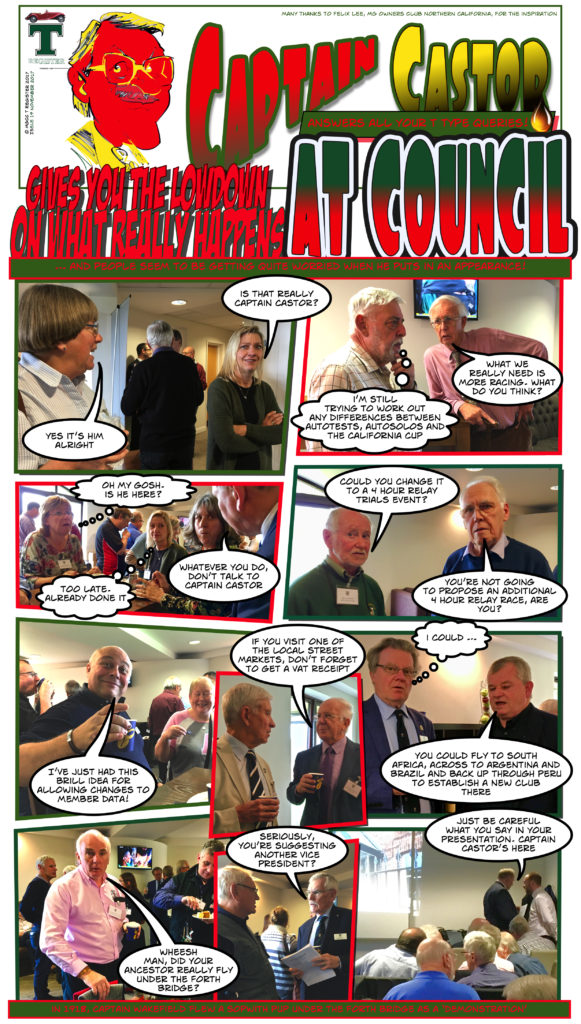 Issue 18
Captain Castor has of course been on the T Register Autumn Tour in the Lake District and was instrumental in deciding that the consumption of beer was de rigeur for all T Type running repairs.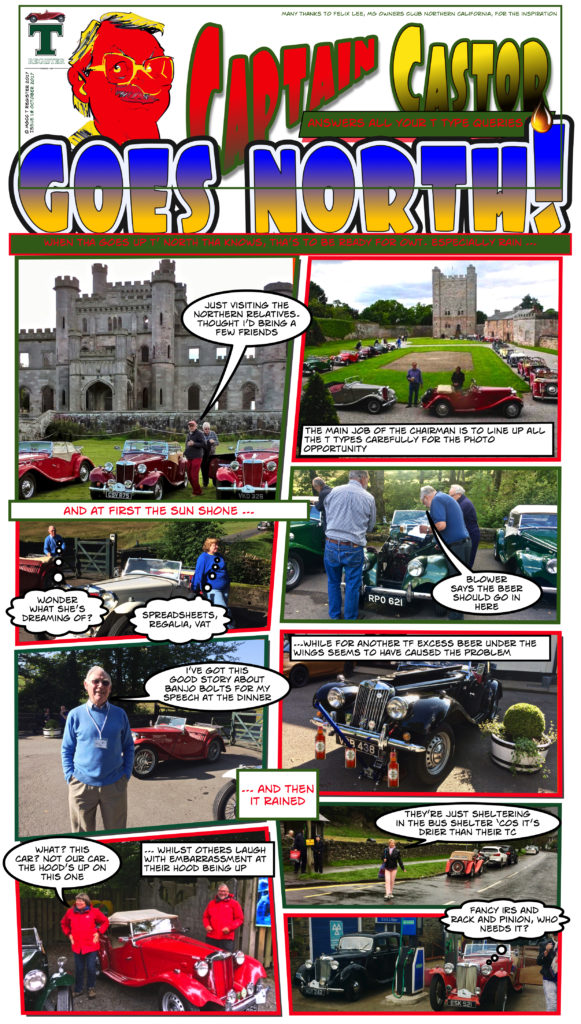 Issue 17
Just to keep up with the racing theme in the September Newsletter, Captain Castor has been keeping his eye open for what really goes on at T Type races, in particular on how they approach the Grand Prix circuit at Silverstone …and the consequences of doing so.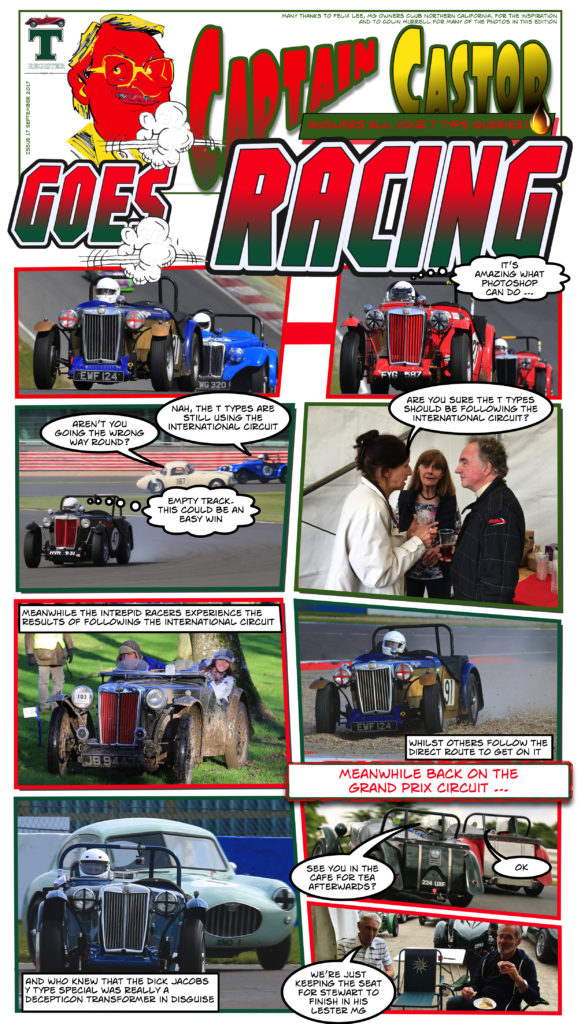 Issue 16
Captain Castor has been to the T Register T Party at Chateau Impney and is moving up a notch or two: he's decided that some of these hill climb events need a bit of MG organising. All he needs is an apprentice – like our President!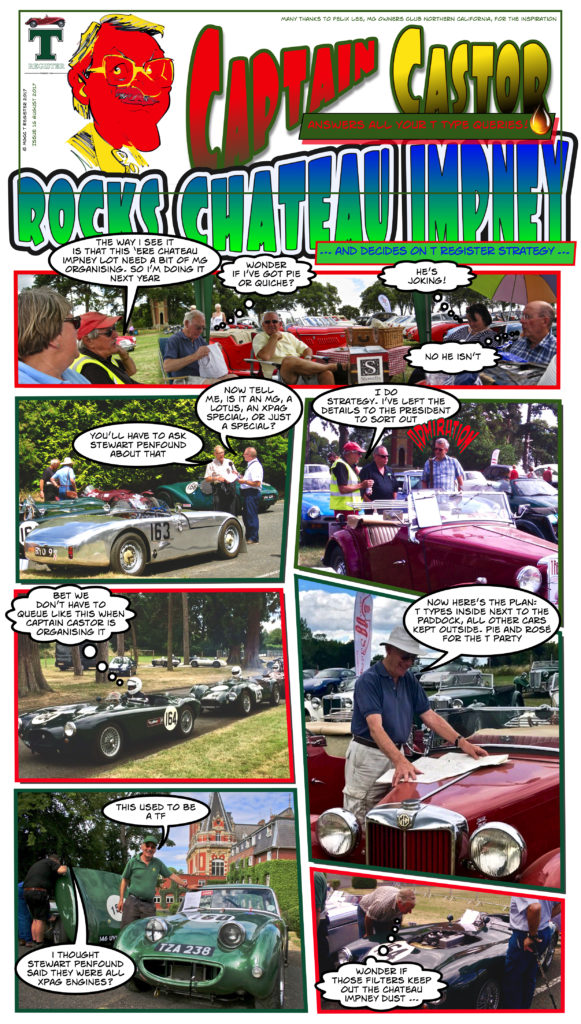 Issue 15
Captain Castor is really getting into the summer vibes and has suddenly become an expert on T Type picnics … and seems to have tapped in to his northern humour. I wonder where he got that from.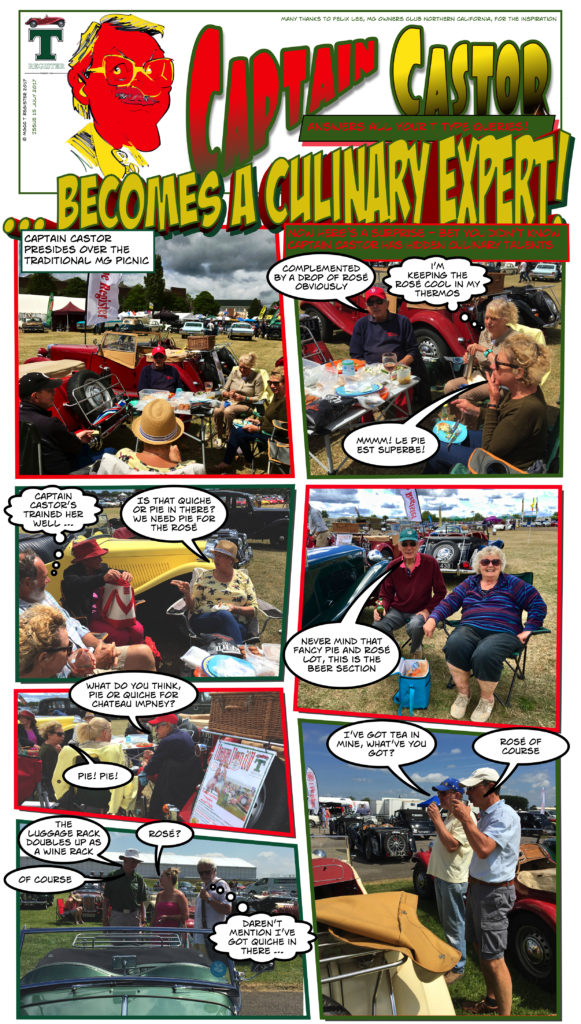 Issue 14
Captain Castor gives you the real low-down on what happens on a T Register Continental Tour – and it's probably what you really expect!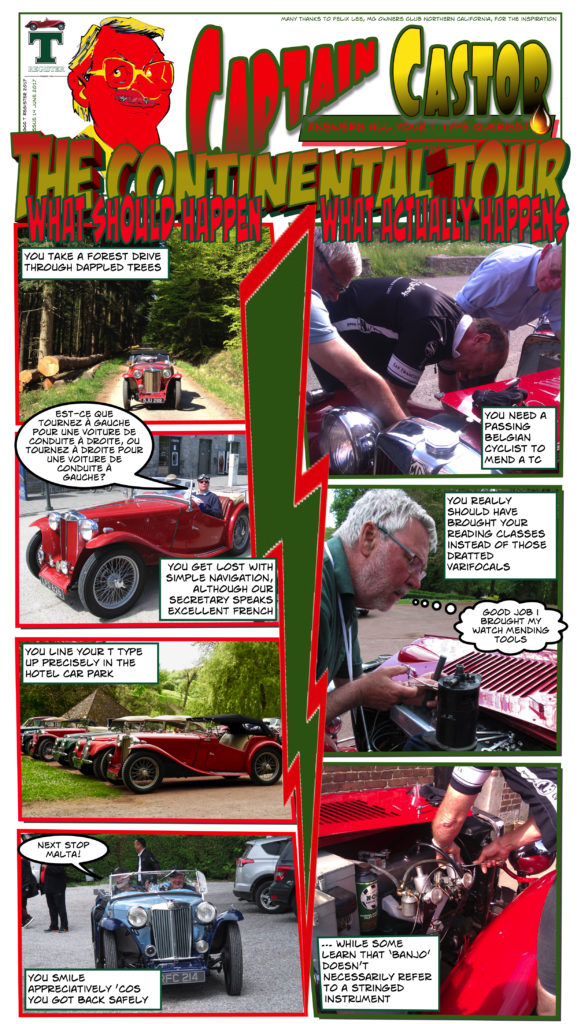 Issue 13
Captain Castor has been working out what colour to paint his XPAG engine and has been delving into the tricky issues of paint colour, ambient light – and how to adjust your screen gamma. All in the interest of getting an accurate fix on the correct colour for your XPAG engine. Unless it's an MPJG of course …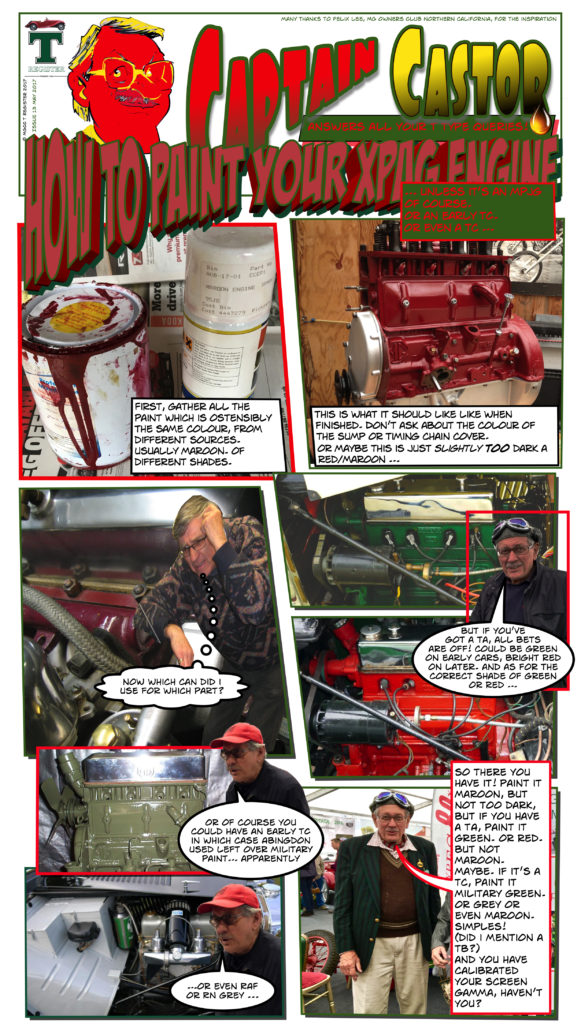 Issue 12
Captain Castor went to Rebuild of course, and was instrumental in East meeting West. He also discovered some unknown facts about trimming your T Type, and a foolproof way of testing the XPAG water temperature …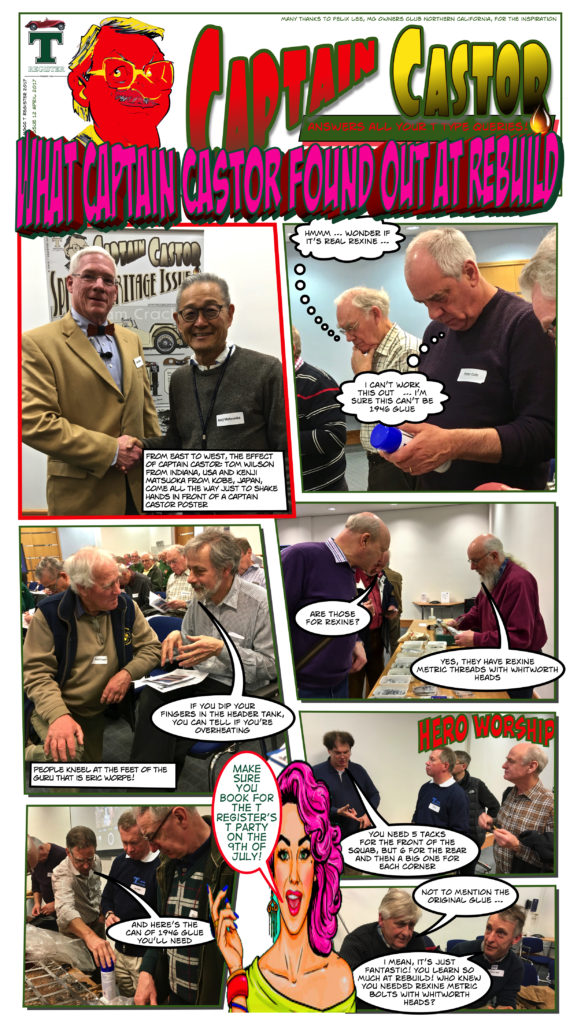 Issue 11
Captain Castor went to the Stoneleigh show and reports on the shall we say, more hidden moments he saw there …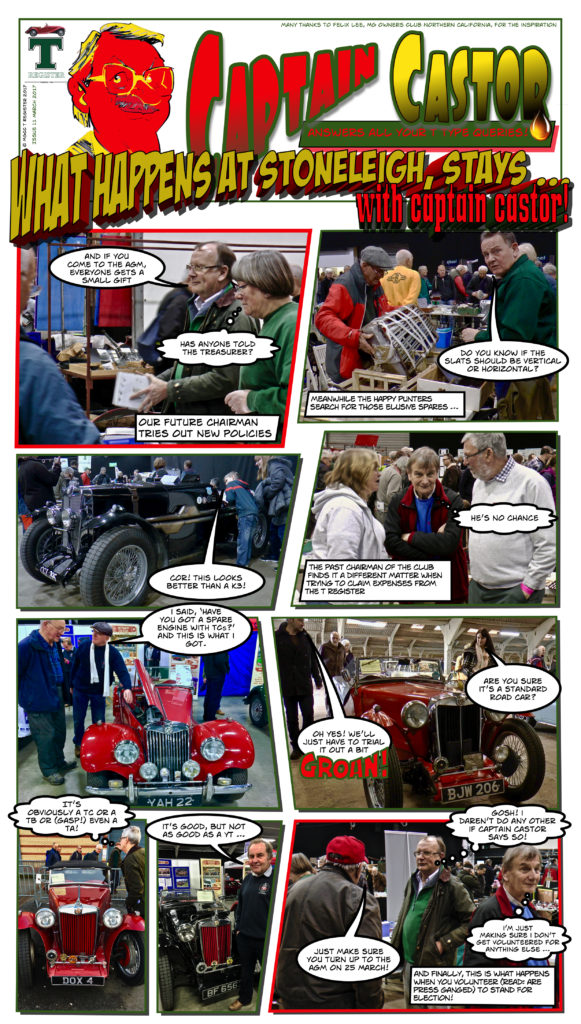 Issue 10
Captain Castor has been musing about the correctness of wire wheels, and making definitive statements on T Type owners' tastes – whilst TD owners look pretty smug …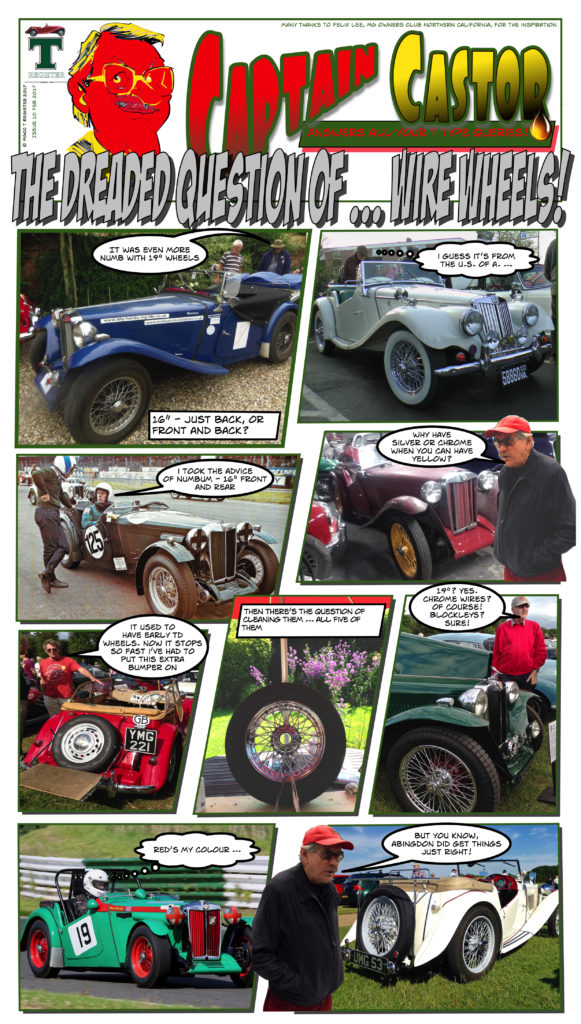 Issue 9
Captain Castor has been out and about during the Christmas Holidays, sampling the delights of winter classic car meetings – well getting rather wet anyway …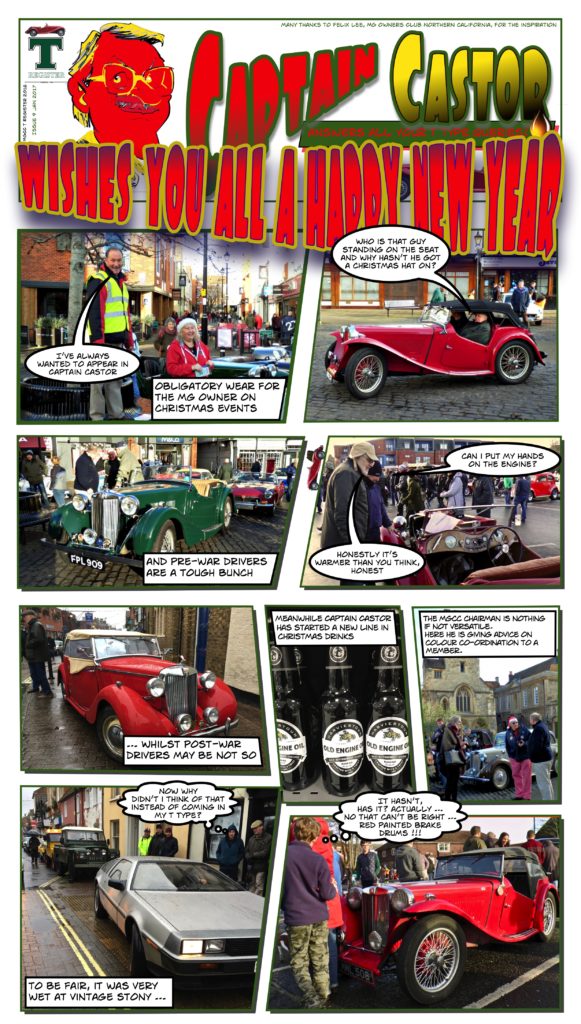 Issue 8
Captain Castor has been to the Classic Motor Show at the NEC in Birmingham.
He got confused by what he thought was an unbelievable offer. He found out what you have to do to join the MGCC V8 Register, and met quite a few characters from the MG world.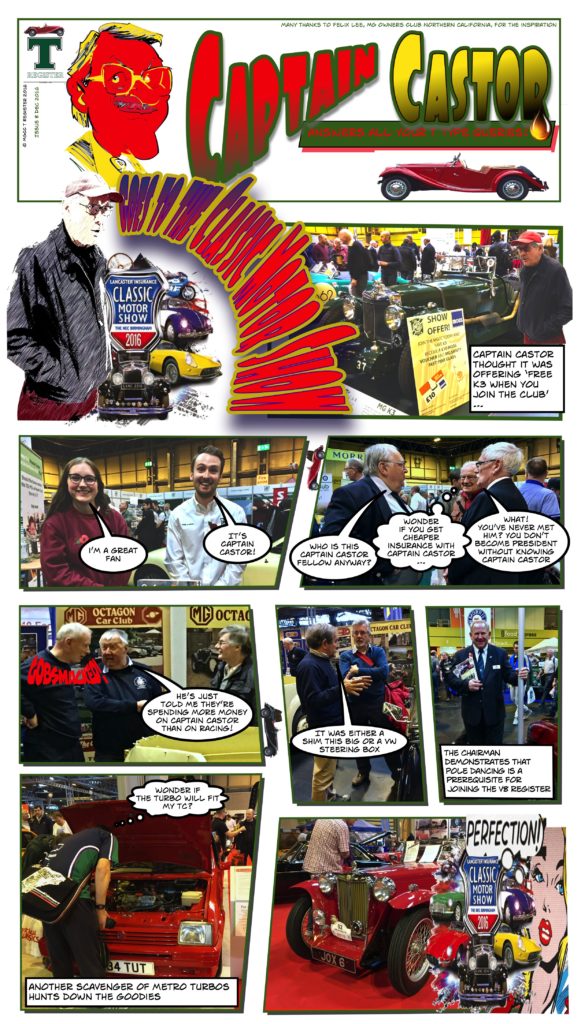 Issue 7
Captain Castor has been getting ready for the colder weather. It's getting chilly. Time to put on that warm clothing for open top T Type motoring.
But what kind of head gear is best? Just to make sure you don't collect a bewildering array of head gear, Captain Castor once again has all the answers.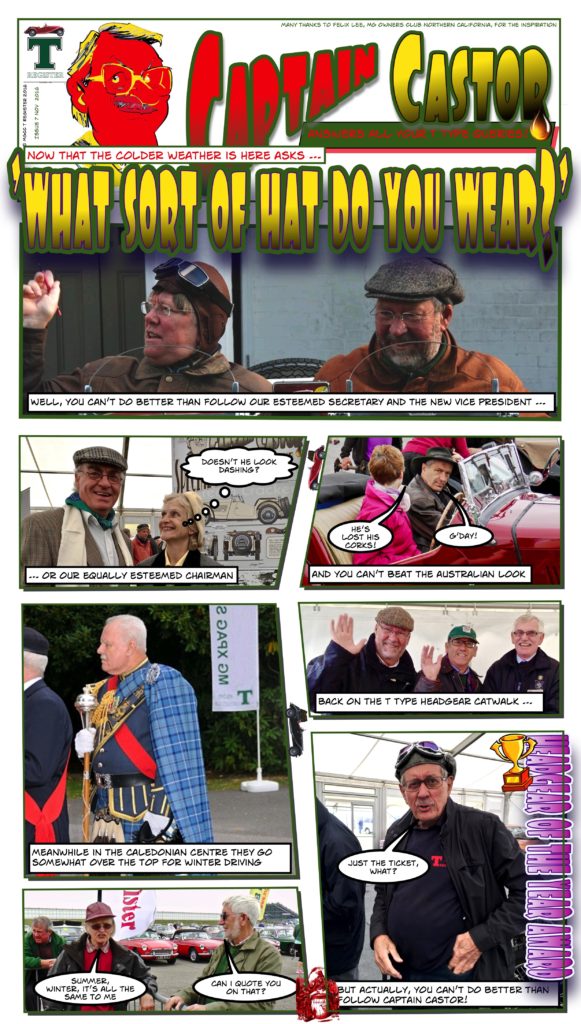 Issue 6
Captain Castor has been changing gear and deciding on whether to go for a 5 speed gearbox or change the crown wheel and pinion set.
He's been through all the options and seems to have developed an interest in Pop Art.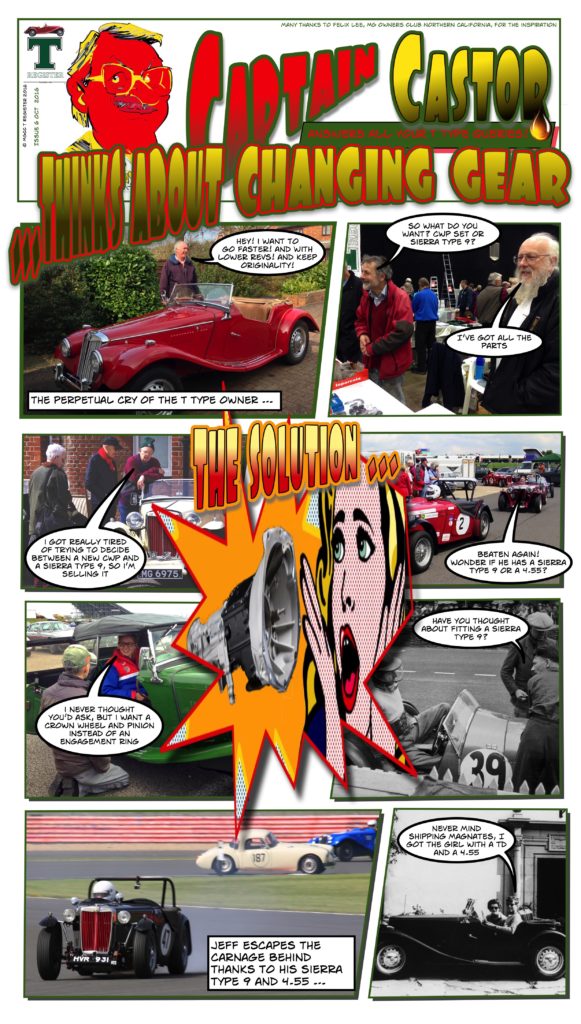 Issue 5
Captain Castor has been giving decisive answers to the most knotty T Type questions … this time the knottiest question of all – just what was the original colour of a T Type rocker box cover?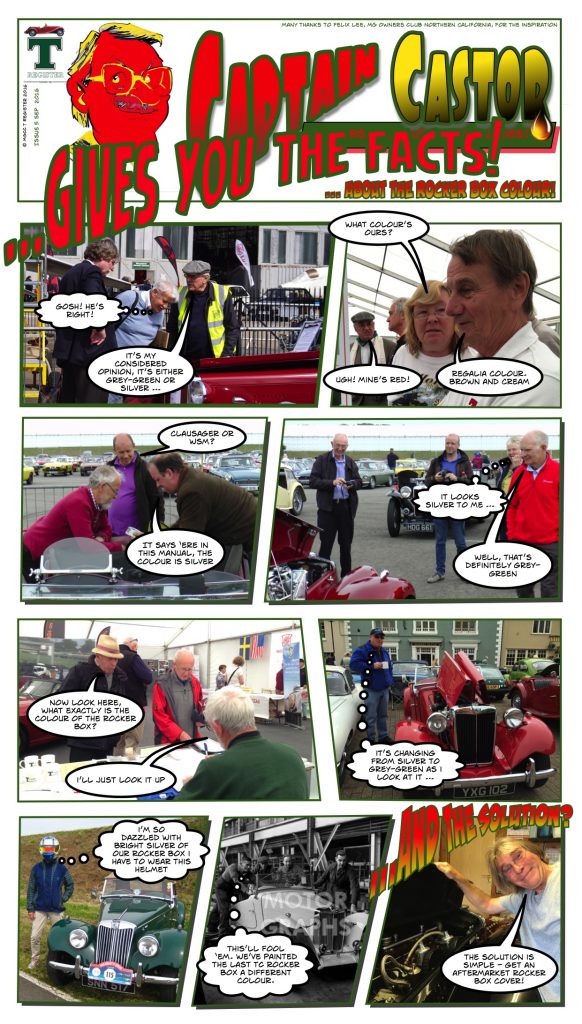 Issue 4
Captain Castor has been eavesdropping at the T Register T Party.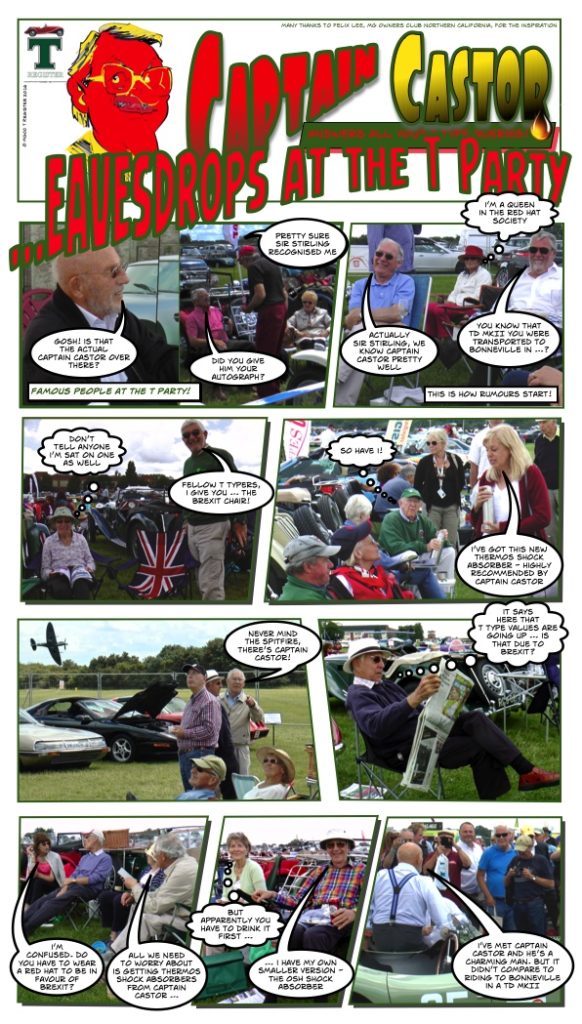 Issue 3
Captain Castor goes pot hunting at MG Live! And succeeds.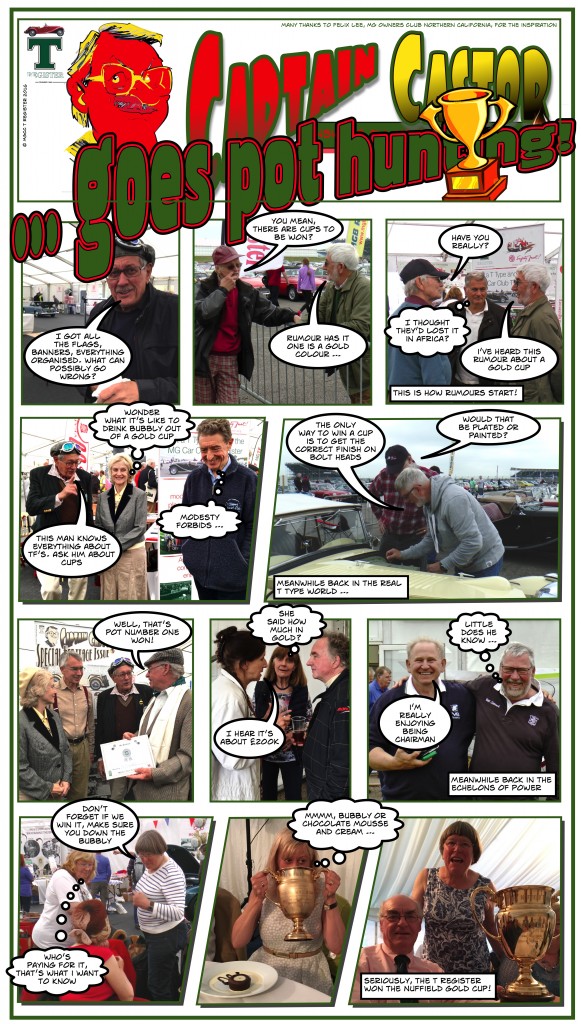 MG Live 2016 poster
Captain Castor is also an expert on Cream Cracker trials cars

Issue 2
Captain Castor at Brooklands. Not only is he knowledgable about T Types but he's also in charge of Brooklands as well. Seriously.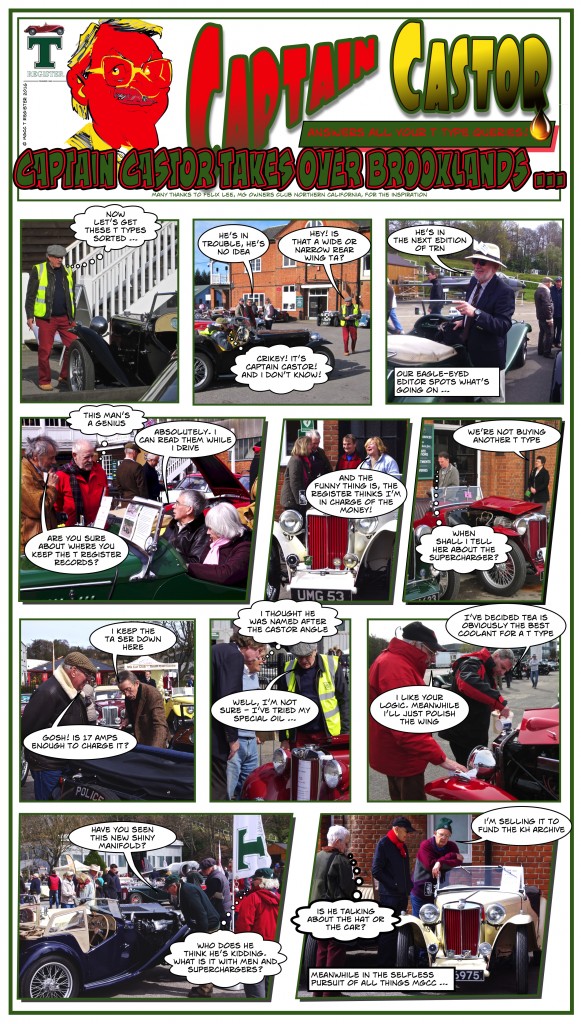 Issue 1
Captain Castor knows all about the X factor in T Type engines.