The T Register email Newsletter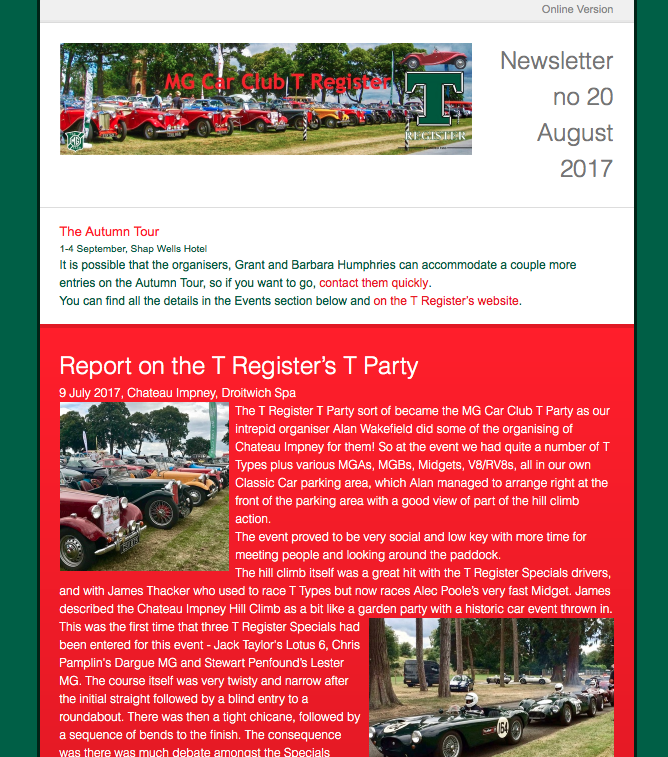 The T Register has a monthly emailed Newsletter for MG Car Club members who own or who have an interest in T Types. It's a formatted email which is readable on smart phones and tablets as well as laptop and desktop computers. The Newsletter is part of the improvement we are making in communicating with members.
Email is a tried and tested means of communication and the majority of our members have an email address. The problem with providing a website or a Facebook Page is that you have deliberately to go to an Internet site to view information; with email, it arrives with all your other emails in a form (we hope) that is easy and quick to scan and digest.
What's in it?
The newsletter keeps you informed of what's going on in the T Register, what's going on inside the club which is of interest to T Type owners, and also of news about T Types worldwide. It will list T Register events as well as events of interest to T Type owners throughout the UK and major international MG events.
It is an additional source of information complementing our website and the T Register Facebook Page, and it contains pointers and links to articles and information in both these places.
Want to receive the new T Register email newsletter every month?
The newsletter is available to all
 MG Car Club members and arrives in your email Inbox on the first Monday of every month.
It's readable on all devices, desktop PCs and Macs, laptops, tablets and iPads and all smart phones.
It's snappy and to the point and gives you links to all the information you need to know about what's going on in the T Type world in one easy to read and attractive email.
Saves you searching and visiting all those websites!
Email addresses
We would obviously like as many members of the T Register to receive this email Newsletter as possible, but unfortunately we do not possess all the email addresses of all the members. If you, or if you know of any other member outside the recipients who would like to receive the newsletter, please see below.
For some members we have two email addresses and so they will get multiple copies of the newsletter. Just let us know which email address you prefer by using any of the methods below.
If you do not wish to receive the Newsletter, there is an 'Unsubscribe' link at the bottom of every edition of the newsletter.
What to do
You can fill in the form below to add your name and email address to the newsletter emailing list
Or contact any T Register Committee member by phone or by using the contact system on the T Register website Committee page

Form for adding your name and email address to the emailing list
Use of your data is governed by the MGCC Privacy Policy, and by ticking the box you agree to be sent the T Register email Newsletter each month to the email address you have provided. You can always unsubscribe by using the unsubscribe button included in every issue.
The MG Car Club T Register uses your email address, solely to send you the Newsletter, and your name and MGCC membership number solely to confirm your membership. Your email address may be provided to an approved email distributor.
Contact the General Manager, The MG Car Club for any subject requests at
12, Cemetery Road, Abingdon, Oxfordshire OX14 1AS; Telephone 01235- 555552; or send an email to info@mgcc.co.uk