The T Register online Factory Records
The T Register's online Factory Records have had an ongoing problem of the records not displaying TD engine numbers greater than 16 characters in length properly by truncating the last character. We have at last fixed this problem and replaced the affected records.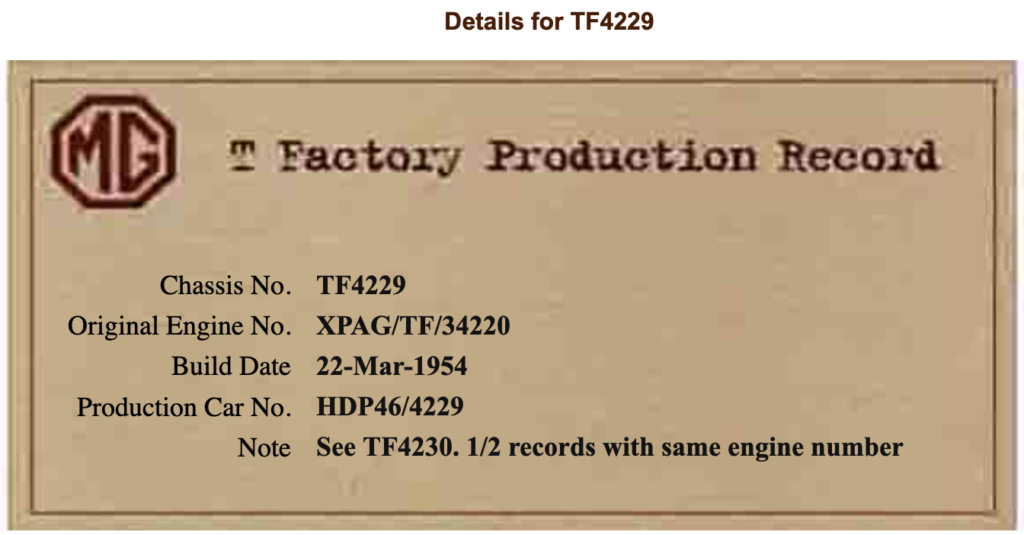 We have also made further improvements. We have re-labelled one of the fields to show consistently the Production Car No in addition to the Chassis No. For UK owners, due to the merger of the DVLA and MoT databases, the T Register are recommending that the Car No is the one to use for future DVLA recording, except where there is a discrepancy between the numbers in the Production Car No field and Chassis No field, where of course the Chassis No should be used. The DVLA can be quite pernickety about a slash (/) …
We have also introduced a new Notes field which we have used to show where there are discrepancies and anomalies in the original paper records and to display some historical notes, as in the picture above. It has been a manual and painstaking process and we would be pleased to receive any queries users of the database might have. The online Factory Records are at
http://www.tregister.org/recall_page.php?req_page=records_home
Next steps
Our intention is to go through all the paper records at Kimber House and check all the online records, and also to include the comments contained in them as we now have the space and method to record these. Any queries we have had, and will get, about incorrect records will be investigated, but each alteration to the records will being done on the evidence of the paper copy of the factory records kept in the archive at Kimber House.
The purpose of the online Factory Records is to reflect the paper records, and not to correct them in the light of further evidence, although this might be noted in the new Notes field.
There will be another report on progress when all the paper records have been examined.