A TC in the Monte Carlo Classique rally – update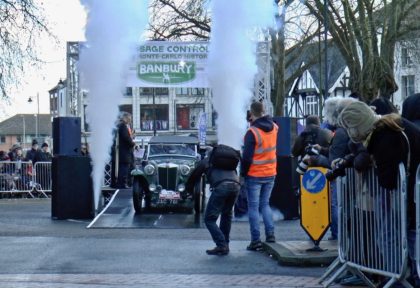 John Lomas, the owner of Blue Diamond Riley Services and its sister company the MG Automobile company, and his navigator Dan Hunter should be on their way back home now after their Monte Carlo Rally adventure in a TC.
They set off OK from Bicester Heritage on Tuesday 30 January and appeared at the Banbury Control Point at lunchtime on Friday 1 February. Banbury Council made a bit of a splash of the event and John and his TC team had a servicing centre there.
They had snow in Scotland and a small electrical fire caused by a short in the nearside side light, which put all their lights out – and that was during a snow white-out! The light was repaired at the Banbury Passage Control and off they went again heading for the Channel Tunnel.
They had fog and rain in France near Calais and then snow again in Dijon and nearly got written off by a boy racer in Lyon! However by the time they reached Valence, the weather had improved and they had sunshine all the way to Monaco. And the TC seems to have not missed a beat except for the earlier lighting problem.
You can see the tracking blog of their daily travels, and there are two videos, one of them setting off from Bicester Heritage and another of the Passage Control at Banbury, and an album of more photographs on the T Register's Facebook Page.
The company are pre-war Riley and MG specialists located at Bicester Heritage and the TC was prepared in their workshop.