Monte Carlo Historique and Classique Rally at Banbury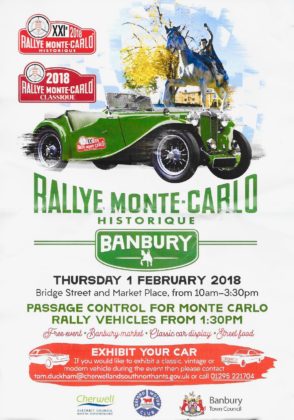 We now have some more information about this event at Banbury. Just to recap, Banbury Town Council and the Cherwell District Council are making a bit of splash of the start of the second day (Thursday 1 February) of the Monte Carlo Historique and Classique Rally in Banbury Town Centre, and there is a map of where it's taking place and where to park, especially if you arrive in your MG.
We now know that they have closed enough roads to enable parking for 50 classic cars, but can close more to make more space available. This of course takes bureaucratic time so they would really like to know in advance if you plan on going so email Tom Duckham or ring him on 01295 221704 to let him know. It would be a pity to turn up only to be turned away …
Don't forget that John Lomas's TC team will also have a servicing centre at Banbury which T Register members will be most welcome to visit.