A TC in the Monte Carlo Classique rally
Blue Diamond Riley Services and their sister company, The MG Automobile Company have entered a TC in the Monte Carlo Classique rally starting from Paisley Abbey in Scotland on 31 January, finishing in Monte Carlo on 7 February.
They are pre-war Riley and MG specialists located at Bicester Heritage and the TC is presently in their workshop being prepared for the event.
John Lomas completed the event in 2016 in a 1931 Riley 9 WD Tourer and this time has a young Dan Hunter as his navigator.
You can see information on the Paisley Abbey Start of the rally, and on UK leg of the rally in general on the Monte Carlo Classique UK Facebook Page.
The second day (1 February) starts from Banbury in Oxfordshire and the Town Council are making a bit of a splash of the event from 10.30am onwards, and they have published a map of where to see the cars. The TC team will also have a servicing centre there which T Register members will be most welcome to visit.
John and Dan will be setting off from Bicester Heritage for the Glasgow start on Tuesday 30 January and you will also be most welcome there to see them off.
They have a live tracker enabling you to see their progress, including their shakedown runs, and you can also keep up-to-date with the TC's adventures on their blog on the Blue Diamond Riley Services and The MG Automobile company's website and on their Facebook page.
There will be an update in the February email Newsletter and in this News section of the website.
In the meantime, here's a few photos of the cars at the Blue Diamond and MG Automobile Company workshop at Bicester Heritage.
| | |
| --- | --- |
| An F Type Magna 4 seater. Rebodied from a Salonette in the 1960s | An MGA 1600 |
| Installing that all-important component of a USB port in the TC ready for the Rally | An L Type Magna parked outside |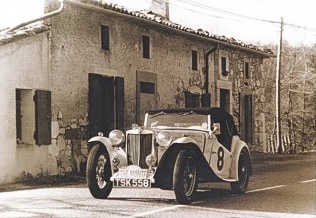 David Johns has reminded us that this is not the first time a TC has been (reasonably) recently entered for the Monte Carlo rally.
He entered his TC TSK 558 Molly in the Monte Challenge in 2000 and won a class award.