Cars and Spares for Sale and Wanted
This is the T Register's page for advertising cars and spares for sale and wanted. The facility is free. Adverts are listed in date received order, the latest one at the top.
There are two separate forms to complete to put your advert on this page, one for cars and one for spares –
Form for advertising cars
Form for advertising spares
Please be aware, the MGCC and T Register cannot be held responsible for advertisers.
Buyers and sellers of cars and spares can leave themselves open to becoming the victim of fraud or other crimes. Please look at the Vehicle Safe Trading Advisory Group (VSTAG) web site – an excellent source of guidance on how to recognise fraudulent approaches when buying or selling a car or spares.
---
Spares for Sale
For car model
TC and TD
Description
No reproduction but all original as salvaged off actual engines — so they will fit!
Water outlet manifold


Price: £40.00

Thermostat housing (with thermostat—un tested)

Price: £40.00

Water pump pulley


Price: £20.00

Water Pump (untested)

Price: £40.00

Set TC brake shoes


Price: £95.00

Dynamo adjusting Link (TC flat / TD cranked)

Price: £20.00

Bracket rear dynamo


Price: £25.00

Thermostat housing (with thermostat—un tested)

Price: £75.00
Contact
email peterjones1880@me.com
added 14 January 2018
Spares for Sale
For car model
TC
Description
A S.CO.T supercharger
It was on a TC
Price
€4000.00 (euros)
Contact
Phone 00491636244200
email jb@classic-data.ch
added 7 January 2018
Spares for Sale
For car model
TF
Description
We have had a message from a Paul who owns a garage in Cardiff as follows –
—————-
Hello, my name is Paul I own a garage in Cardiff ,a scrap van was collecting scrap from my garage and on the back of his truck were 2 wings. With a bit of research I have found they are from a MG TF. These are not original as they are made from fibreglass but I took them off him as he was going to landfill them. I was just wondering if you thought they would be any use to one of your members? I have an old Ford myself and know how hard getting some parts can be so I thought it would be a shame to throw them out without checking.
—————–
Contact
So contact Paul
email torquemotorsltd@btconnect.com
added 22 January 2018
Spares Wanted
For car model
TF1500
Description
New to the T Series community and have recently bought a very tired 1955 TF 1500. Rebuild starts in the New Year. I will be looking for many original spares. Windscreen frame, bumpers and over riders, seat frames and rails, hood frame and side-screens, front valance are the obvious spares I need, but don't know what lies in wait for me when I get out the spanners.
So would be interested to hear of anything you have that is surplus to requirement and may help me with my steep learning curve. Happy to pay a fair price and refurbish as required.
Contact
Phone 07979315075
email mcdougalljs@btinternet.com
added 16 December 2017
Spares for Sale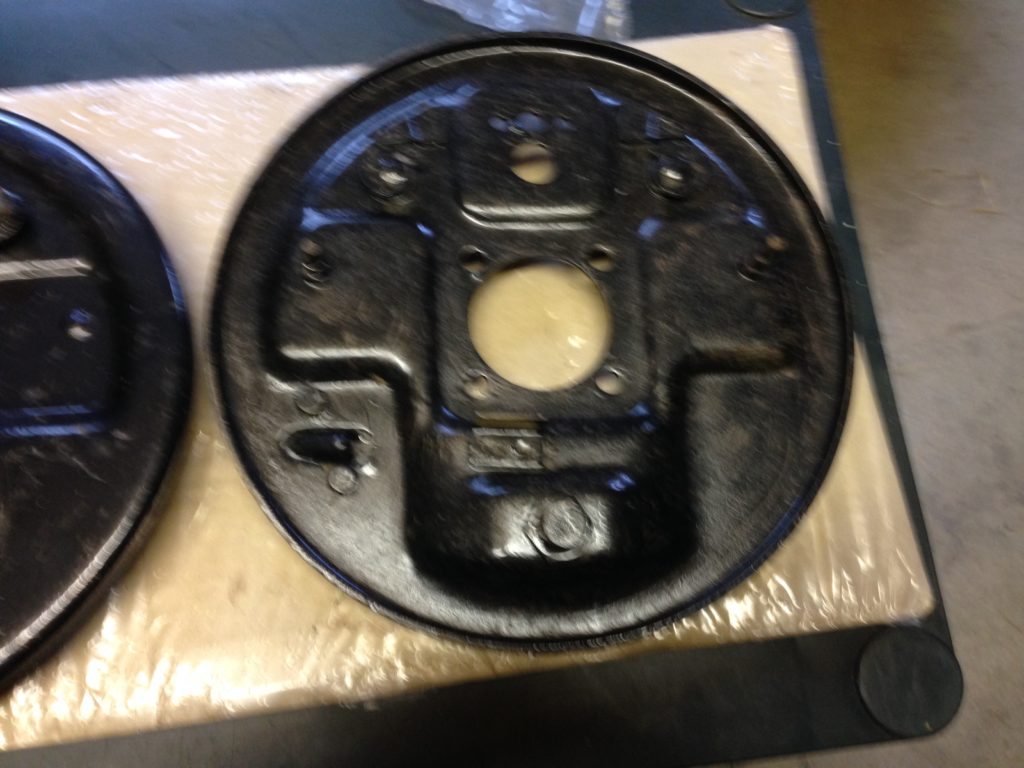 For car model(s)
TA-TC
Description
Rear axle brake plates complete with rare hand brake cable guides.
Sell as pair only. Also axle casing if required. Photograph on request.
Price
£200.00
Contact
Phone 07876220175
email happypeople222@gmail.com
added 6 November 2017