Summer Race Meeting at the Mini Nurburgring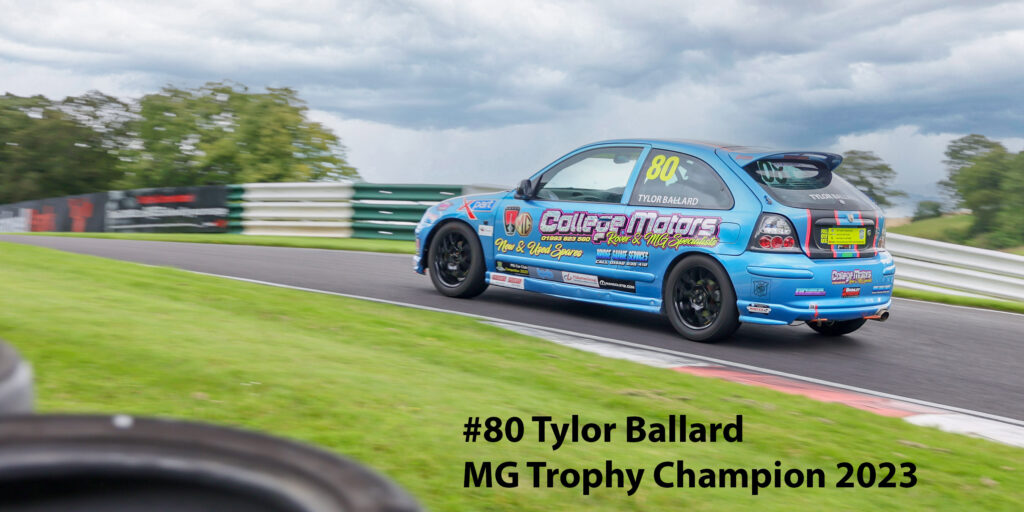 The MG Car Club held its fourth race meeting of MG's 100th year at spectacular Cadwell Park and had a fine day of close and competitive racing.
The Lincolnshire venue with its spectacular fast turns and undulations in scenic surroundings is appropriately nicknamed the 'Mini Nurburgring'. MGCC racers from three championships, joined by their Morgan Challenge guests, lived up to the Cadwell challenge with a day of spirited action topped by intense and dramatic battles for championship points.
Unexpectedly, the outcome of the 2023 MG Trophy Championship was decided at the weekend. With two championship rounds still to run at Snetterton in September Tylor Ballard has amassed sufficient points to secure the title. Tylor, supported by Simon, his father, have battled through many setbacks during the years since Tylor started racing with the championship. His victory this year is richly deserved and will be applauded by his fellow competitors.
MGCC Lackford Engineering MG Midget & Sprite Challenge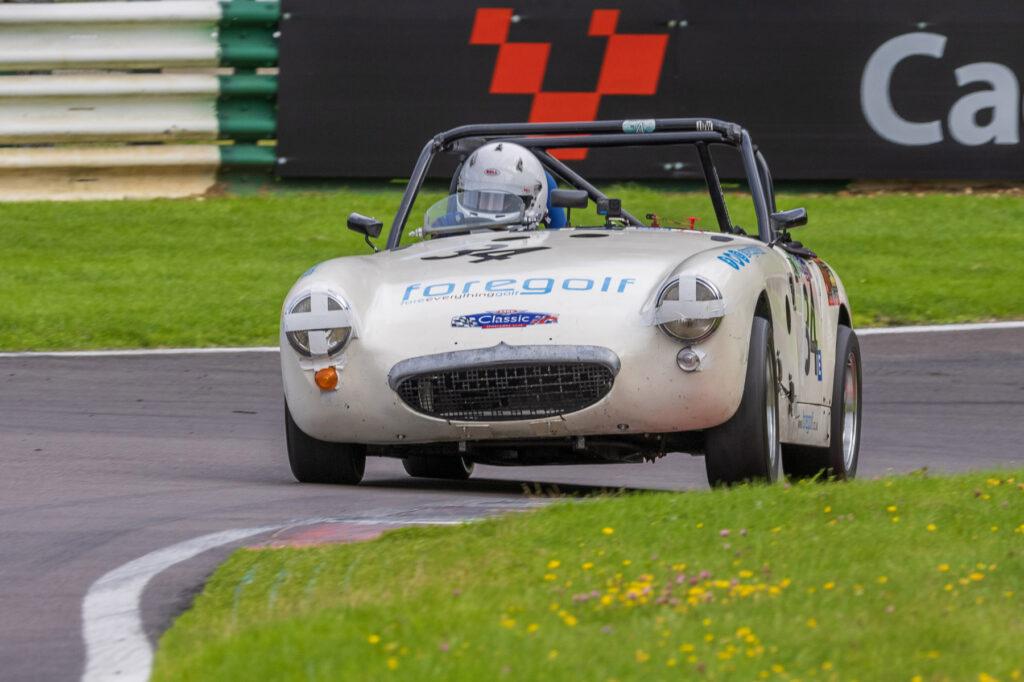 The Midget & Sprite Challenge meeting at Cadwell Park was a special one as it was held in association with the Midget & Sprite Club which is celebrating its 40th anniversary this year. The club members had a dedicated area in the paddock, a track parade during the lunch break and a grid walk prior to the Midget & Sprites first race. After experiencing the track for themselves, albeit at a leisurely pace during the parade laps, they were in awe of the skills displayed by the drivers and the speed achieved by the race cars.
There was drama for the Midgets & Sprites even before the racing started as championship leader, Barnaby Collinson, had a qualifying off that kept him out of both races. Similarly, Richard Bridge, the joint leader in Class E, pulled out of qualifying after hearing a strange noise in his Sebring Sprite. He suspected it was the limited-slip differential but even herculean effort to change the diff didn't resolve the problem, the noise remained and he was forced to sit out both races.
Pacesetter, Stephen Watkins, had his Midget repaired after his Silverstone crash and claimed pole position for the opening race. However, on the warm-up lap for race 1 he noticed an oil pressure problem so he pulled off the grid before the race start. The problem also sidelined him for race 2.
Martin Morris, in his ex-Richard Wildman car which he was racing as his original Midget was diagnosed with a cracked cylinder head after Silverstone, got the lead at the start ahead of James Hughes (Austin Healey Frogeye Sprite) who had inherited pole following Watkins' withdrawal. Morris then moved clear and looked good to take a comfortable win but, with only two laps remaining, he suddenly slowed and then parked up letting Hughes through to take the win and first in Class E.
Hugh Simpson's MG Midget was second home and a comfortable Class D winner after Connor Kay, who was his closest pursuer, dropped out late on with a suspension breakage on his Midget. Mark Turner in his Austin Healey Sprite beat Kim Dear's Midget to win Class H.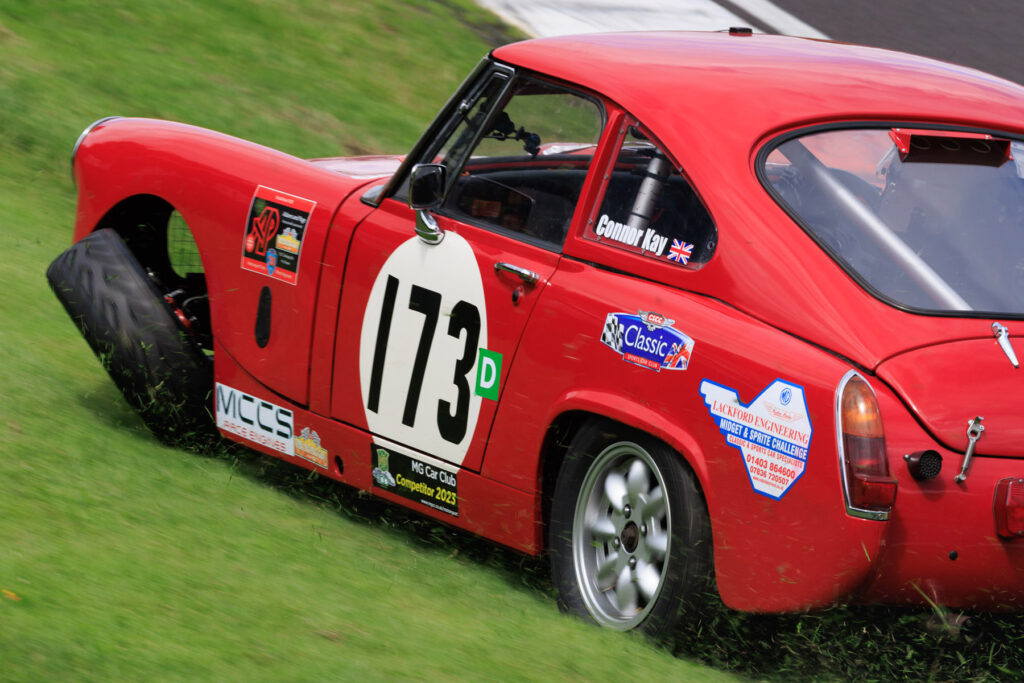 "We lucked into the win a little bit with a couple of the Class As unfortunately having some problems, but it was good fun," Hughes said. "I can see why everyone loves the circuit, it's superb."
"It was [a] pretty lonely [race], and I saw [Morris] coming back towards me, and I thought that's a bit strange. Then he started coming back to me a bit quicker and then he pulled off, so I'm sorry for him."
"We've had quite a few reliability issues [this season] so I think it was due one the other way this time. Fair do's to the car, it went well."
When he had been recovered to the paddock Morris was amazed to find that he'd run out of fuel, a total mystery to him as he reckoned he should have had plenty to make the distance and couldn't find any leaks.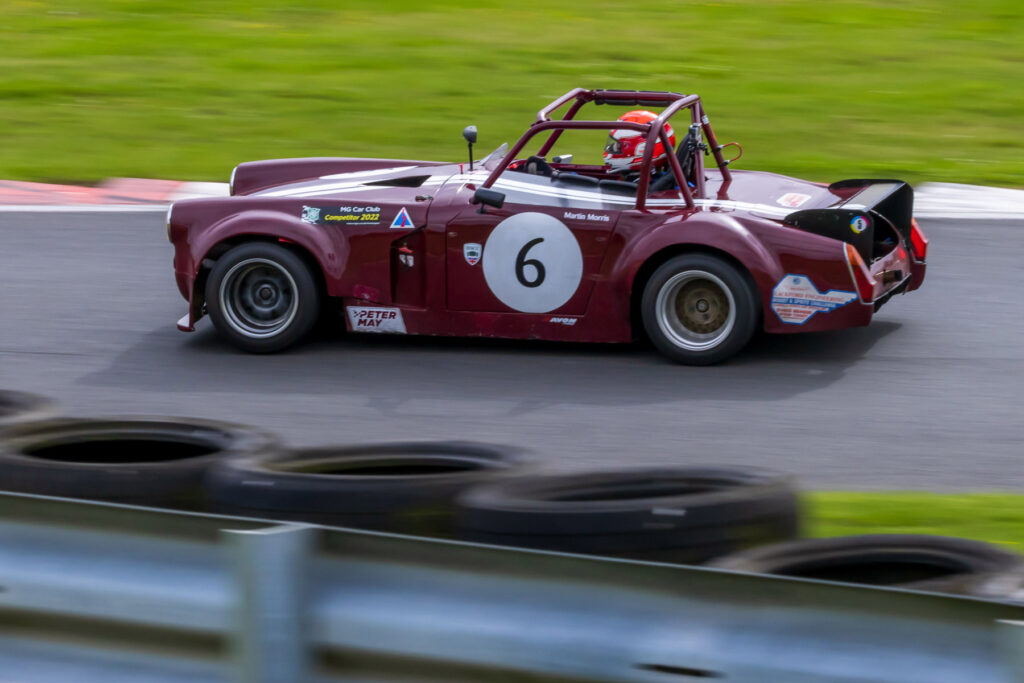 Given what happened in race 1, Morris tried to proceed cautiously early in race 2 which let Hughes get by him for a lap. Morris though soon regained the lead and edged away to take the win ahead of Hughes who again won Class E. Simpson and Turner both took their second class wins of the meeting.
Morris said: "We didn't have much time between races to turn it around so we just brimmed the tank, ran the pump and then brimmed the tank again and thought 'well that's all we can do'."
"We were at Brands a couple of weeks ago doing the GP circuit with the car. I know the race was red flagged but we still had five litres left after 20 minutes so I have no idea why it ran out today."
"I knew I had to pace myself [in race two], there was no point going out like an idiot to start with, so what I had to do is make sure that I didn't push too hard at the beginning. The first race I was pushing from the off."
"I got to a point where I thought 'now I've got to push otherwise we'll be under pressure all the way through' and we got through it. I saw the last-lap board – I never see that as a rule – and I thought just get it to the end!"
Amelia Storey had a good day in her Class D Midget. In addition to her 3rd in class trophy for race 2 she went home with the Midget & Sprite Driver of the Meeting award.
MGCC MG Trophy Championship Sponsored by Charles Warner MG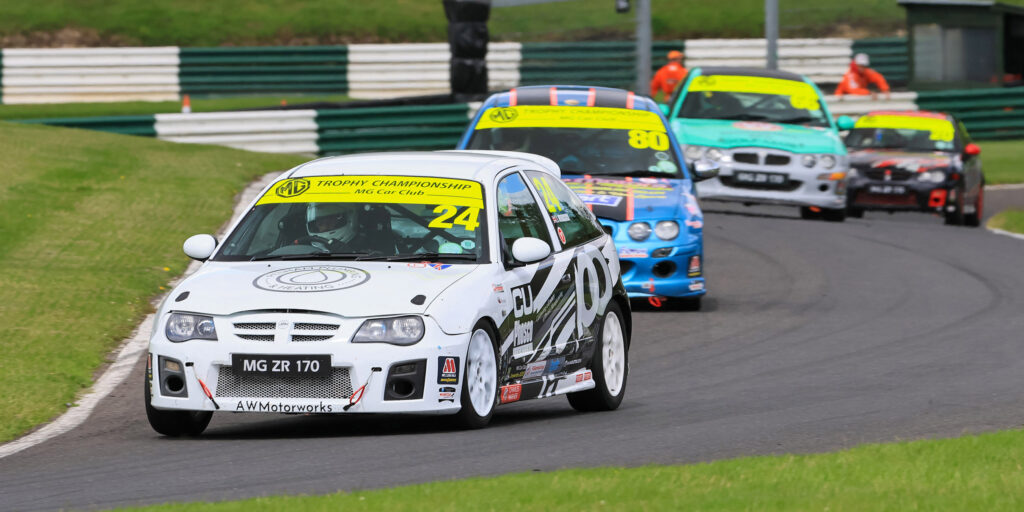 Sam Meagher, who joined MG Trophy's frontrunning Class A earlier this season driving an MG ZR 190 previously raced by Ross Makar, surprised himself by taking clear pole position for both MG Trophy races which were sponsored by Charles Warner MG of Lincoln.
Maegher then he led for much of the opening race. Although he got a good start he missed a gear, which allowed second-placed starter Graham Ross to get ahead. But Meagher managed to reclaim the lead halfway around the first lap.
Ross, now happier with his car's handling than earlier in the year, shadowed Meagher for many laps with Doug Cole in third, the top three running as a close formation. Then, at two-thirds' distance, Ross got on the inside of Meagher into The Mountain and Meagher slid onto the grass which left Ross in the lead and Meagher resuming in third place behind Cole. The trio finished in that order, with Ross grateful to have ended his run poor luck at this venue. Second-placed Cole received the Millers Oils Driver of the Race award.
Ross said: "Cadwell being Cadwell, I genuinely thought the only place I was going to get a win out of this was off the start. I didn't make a great start but Sam missed a gear so by the first corner I was in front but then on the back straight I defended and he drove past me, I was just too slow."
"Then I thought I'm going to have to hope he misses a gear or something falls into my lap, but he was driving really well."
"But [nearer the end] I noticed that in some of the slow corners he was struggling for grip; coming out of Gooseneck the sharp turn left, he was struggling for traction out of there. My car seemed to be quite good, so I could gain on him all the time there."
"So I thought, his tyres are going off, if I can just get up the inside of him there, which I did manage to do, and we're side by side into The Mountain. I don't think Sam knew I was there because we touched a wee bit, and I got the turn and that was it. I got lucky and made the best of my opportunities. I really really enjoyed it."
"It's the third time I've been to Cadwell and it's the first time I've actually completed a race here. I never even completed practice last year."
Jack Woodcock won the Class B race staying just ahead of the championship leader Tylor Ballard, whose qualifying was compromised by an alternator problem.
The same Ross-Meagher-Cole trio fought for the overall win in race 2, though this time Meagher, again starting from pole, got a poor start and Cole led from Ross followed by the recovering Meagher.
With overtaking at Cadwell not easy, they circulated in that order for a time. That was until half distance when Graham Ross spun into the grass at Gooseneck and was rather at a loss to explain his error. "I thought I was doing the same thing every time [at that corner]," Ross said, "the car just broke away instantaneously." He resumed in fifth place and left Meagher on leader Cole's tail.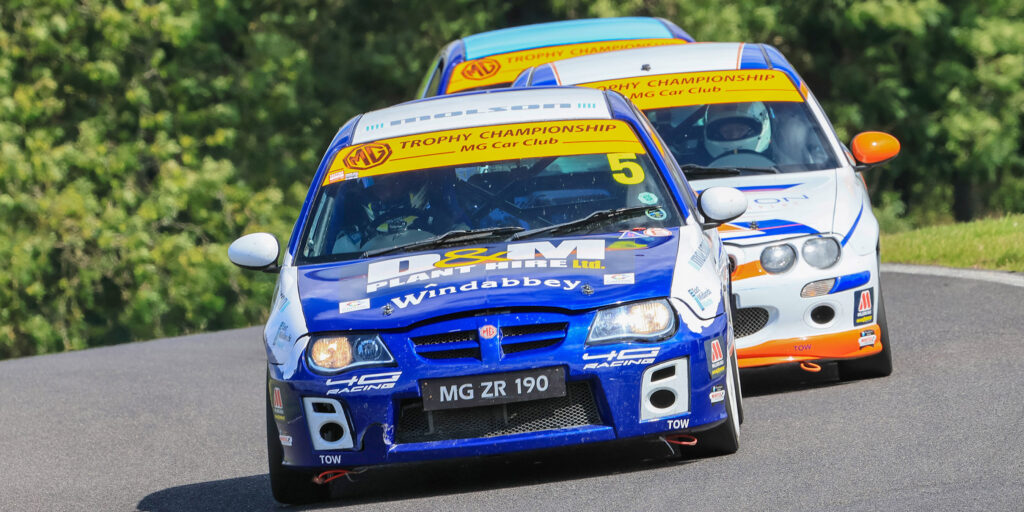 But at Park on the next lap Meagher touched the back of Cole which put the leading MG ZR 190 off and nudging the barriers. Cole was able to resume albeit in P9. That left Meagher free to take his first win while Ross and Cole recovered to second and fifth overall respectively, P2 and P3 in class. Ross got the consolation of the Millers Oils Driver of the Race award.
The Class B fight was a role reversal from race 1 as Ballard started ahead of Woodcock and was able to lead throughout to claim the class win.
"Over the moon, it's great," Meagher said of his victory. "It was a bad start but it was nice to compete with the boys at the front. I tapped Doug by accident, I can only apologise for that. But I'm over the moon to get the first win. It's my first win, ever!"
"[My start] was horrendous, I dropped down to about sixth, so I had to fight my way back though the field."
"[With Cole] I just went a bit too hot into the corner, just a racing incident I think."
"Keep [the car] as it is now, it's going fast, so see how we go at Snetterton."
MGCC MG Cup Powered by Cherished Vehicle Insurance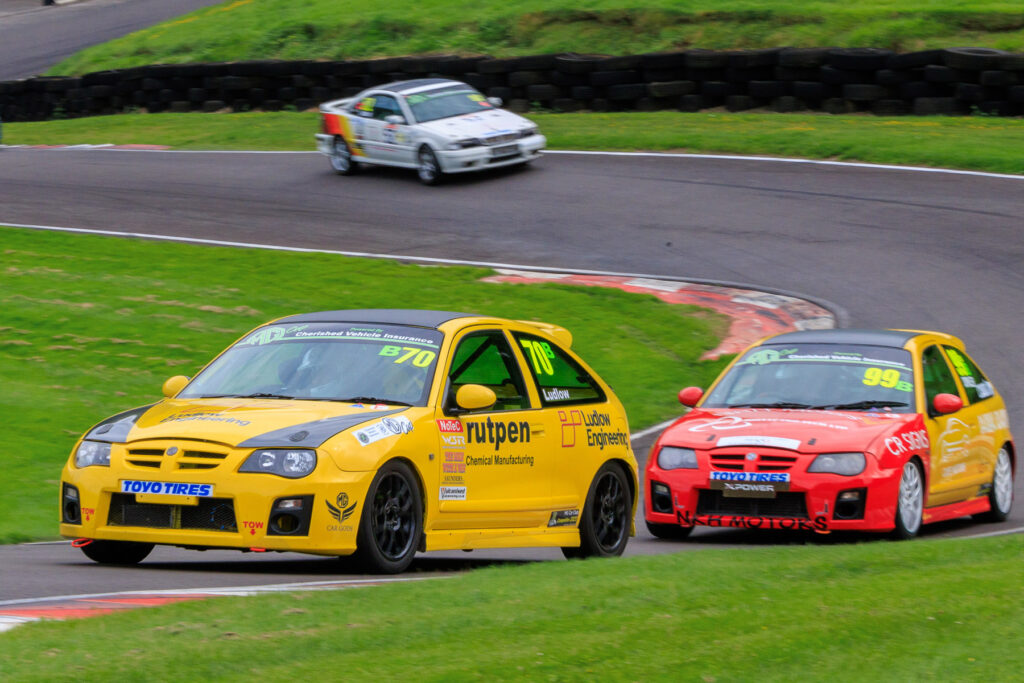 MG Cup championship leader Ian Boulton was absent from Cadwell Park which gifted a great opportunity those trailing him in the Class B standings. Iain Dowler and Dan Ludlow did not disappoint and they engaged in very intense battles for victory in both races. Just like last year at Cadwell, the modified Class B cars out-paced the race-version Class C machines.
MG ZR-mounted duo Dowler and Ludlow shot off from the front row to lead the way in the first race with Dowler ahead. Dave Nixon meanwhile made a lightening start from the third row in his Rover Tomcat to run third. This aided Dowler and Ludlow as a queue formed behind Nixon for the duration, his pursuers unable to overcome the Tomcat's straightline speed.
Dowler and Ludlow meanwhile were glued together out front and at half distance Ludlow made his move. Dowler had a little too much understeer through Barn heading onto the start-finish straight and Ludlow was able to dummy him then bravely passed on the outside of the fast uphill Turn One, Coppice.
They remained tied together for the remaining laps with Ludlow staying ahead to win the race 0.5 seconds and collect the Driver of the Race award. Nixon, third home, got the Class C win not far ahead of second-in-the-overall-table Ashley Woodward's MG ZS 180, who was seeking to take advantage of leader Boulton's absence.
"First time for a couple of years [that I've won]," Ludlow said. "I wasn't sure as always how we'd get on here but the two test sessions in the morning definitely paid dividends. It was very very close but fair racing, really enjoyed it. Iain's very quick, there's nothing between us."
"I took him on the right-hand side going up the hill. I just slightly had the edge on him going down the straight and I was just hoping that I had a car length to make the manoeuvre and I did so it worked out OK. After that I just managed to keep him behind me although there was a few times when he almost got me back."
"It's a new car for me this year and I'm still learning the car. I'm gradually getting better as the season goes on."
The second race was almost an exact role reversal between Ludlow and Dowler out front. This time Ludlow led from pole with Dowler on his boot lid until just before half distance when Ludlow was balked by a Morgan (from the Morgan Challenge which was sharing the track with the MG Cup) and Dowler had the momentum to get alongside then make another brave pass.
Once again they remained in close contention for the remainder of the race and survived a scare when they hit oil at Barn – Dowler estimated that his slide put him at a 90-degrees to the barrier! But survive he did and went on to win the race and receive the Driver of the Race award.
After his win Dowler said: "It was an absolutely fantastic race. We both had great starts and went side by side into the first corner, so it was a little bit hairy to start with."
"Then it was a case of just keep the pressure on him. Dan drove a great race. He just got balked and I got a run on him down the long back straight into Park, its a 90-degree right and I put it up the inside and just stood on brakes until we nearly stopped but we managed to get round. And then it was a case of making sure I did everything right."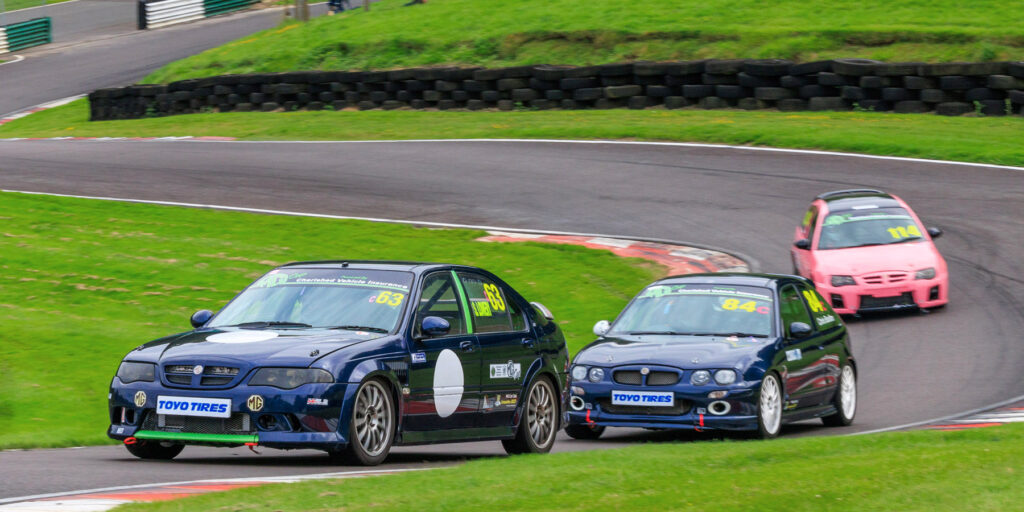 Nixon for much of the way looked good to double up on his Class C win as he again ran third overall, this time with Simon Lowery's MG ZS 180 close behind. But Nixon pitted late on when a lot of smoke emitted from his exhaust. So Lowery got the class win with Woodward in P2 again.
The Morgan Challenge – Cadwell Cup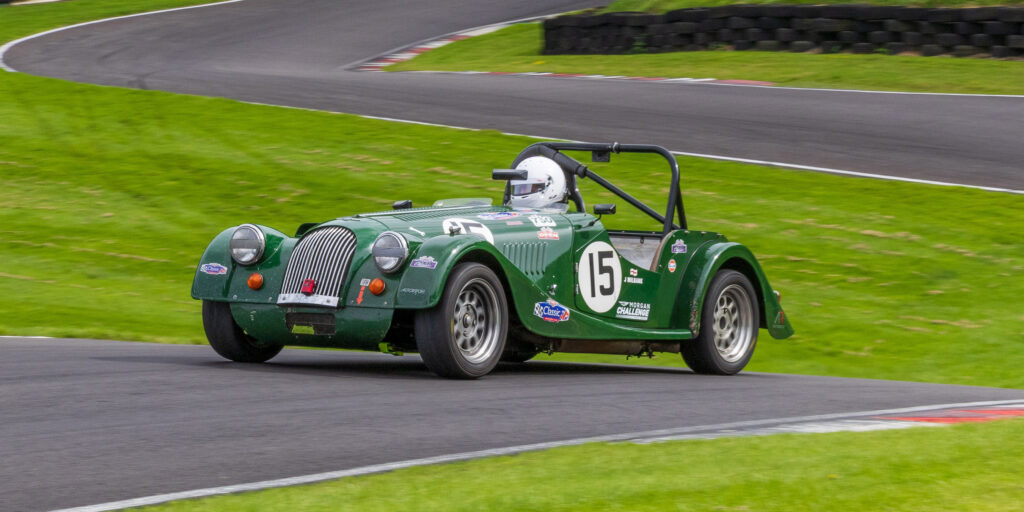 The MG Car Club was joined by competitors from the Morgan Challenge for a non-championship event filling a mid-season gap in their championship schedule.
Both races were won comfortably by poleman John Millbank in his 4/4. He was headed briefly in the first race by Simon Sherry who got a better start from second in his +8 but Millbank was back ahead by the end of lap one and went on to build a healthy 15 second lead from Phillip St Clair Tisdall (Morgan +8) who had moved past Sherry into P2 on lap two. Sherry, who had remained close to St Clair Tisdall, spun out of third place at Barn on lap 10.
Neither Simon nor Kathy Sherry took part in the second race which Millbank totally dominated, beating St Clair Tisdall by nearly a minute.
The final outing of 2023 for the MG Car Club championships will be at Snetterton on September 23rd & 24th. With championships and class positions still to be decided there's bound to be great competition and exciting racing around the challenging Snetterton 300 circuit. Why don't you come along and help to round out the 2023 season in style.
Words by Graham Keilloh. Photographs by Dickon Siddall,
__________________________________________________________