Four of the MG Car Club's Championships crown their champions.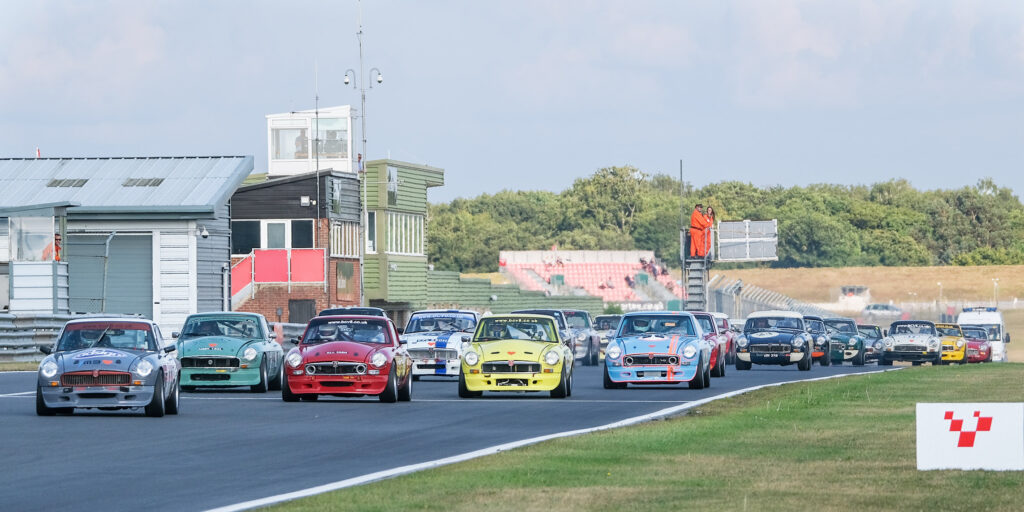 The MG Car Club's 2021 racing season concluded with its Late Summer Meeting at Snetterton. A weekend of typically good-natured competition under fine skies led to four of the club's championships crowning their champions.
MGCC BCV8 Championship
Unlike the other MG Car Club championships in action, the BCV8s still had another meeting left in their 2021 calendar, but that didn't prevent Ollie Neaves wrapping up the title as he maintained his 100% record this year.
Neaves qualified on pole position but was passed by Neil Fowler's similar B GT V8 exiting the Wilson hairpin at the start of the first race before regaining the lead in swashbuckling style around the outside of Coram nearly two laps later. Gearbox problems, which left him with only second and fifth gears, meant that Fowler was unable to respond, and Neaves cleared off to his 11th win of the season, with Russell McCarthy completing the podium behind Fowler.
Ben Tovey topped Class C – and was named Driver of the Race – after passing Jim Bryan early on at Agostini, while losing fourth gear meant Andy Young could only manage third in his MGC. Babak Farsian (Roadster) produced another fine display to win Class AB and beat the Class B frontrunners – headed by Howard Grundon (B GT V8) – after a good scrap.
Fowler's gearbox gremlins meant Neaves could take an easier run to victory in race two, putting the championship beyond all doubt, with McCarthy beating Fowler to second. Behind them, James Wheeler – sharing his dad Jonnie's Class C B GT V8 with his own Class D version sidelined –thundered through from the back of the grid to fourth overall and the Class C win after Bryan ran wide at Riches. Tovey also nipped past Bryan into second but then lost the place by just 0.2s at the flag. Farsian completed a Class AB double, while Steve McKie managed to turn the tables on Grundon and win Class B, being named Driver of the Race for his efforts.
"It's been a really good year," said champion Neaves. "The car's been amazing all year. There probably is a bit of luck involved in making sure that they stay together but it's testament to the job my dad's done to make it all come together without any failures so far.
"It's a real shame Neil's had gearbox issues because the last couple of races, there's been potential for a race-long battle. We've got slightly different gear ratios so there were parts he was quicker than me, parts I was quicker. But I was quite a bit quicker through Coram which was where I made the move – it was a bit of a brave one!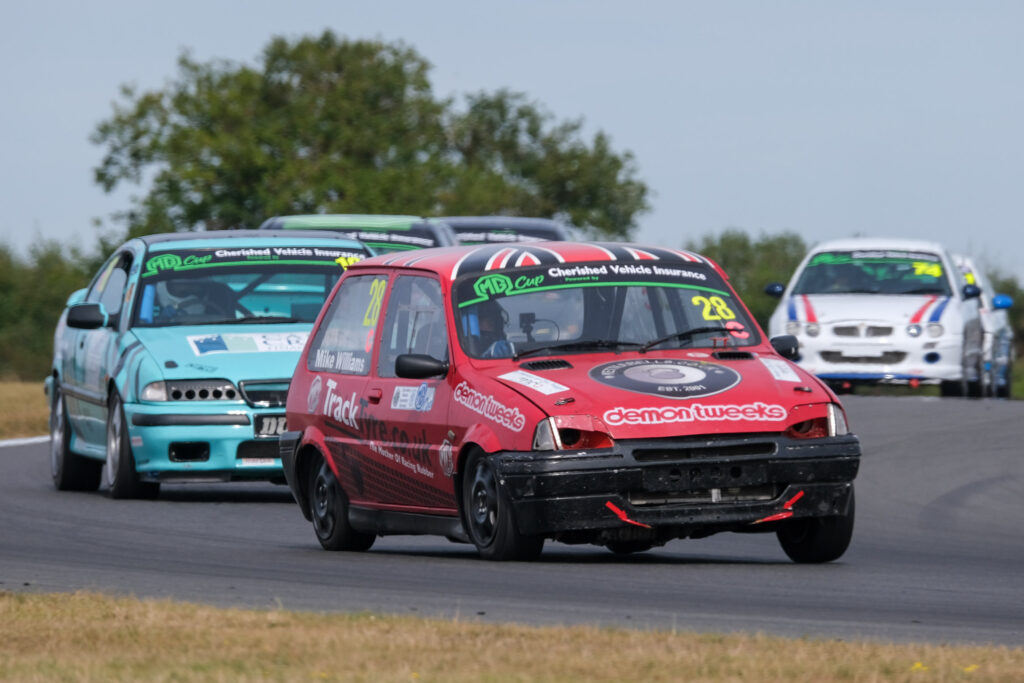 MGCC MG Cup powered by Cherished Vehicle Insurance
An almost perfect score of two wins, two fastest laps and a pole position clinched a first MG Cup overall championship crown for Mike Williams (pictured above), who overhauled a pre-weekend deficit to Class B leader Iain Dowler.
The Rover Metro-mounted Williams was beaten to race one's pole position by Morgan Short (MG ZS 180) but wheelspin for Short at the start allowed Williams to make the best getaway and from there he never looked back. Short had also fallen behind the Rover 220 Tomcat Turbo of Matt Simpson and spent the rest of the race trying to manufacture a way past Simpson and the similar Tomcat of Richard Buckley who passed Short as they squabbled at the start of the second lap. Buckley then immediately demoted Simpson for second at Agostini, before Short's around-the-outside attempts through Oggies and Williams were thwarted by the Tomcats' superior power down the Bentley Straight. When Short tried the outside line at Coram he ran wide and spun, dropping down the order before eventually recovering to fourth. Williams led home Buckley by nearly 18 seconds, despite a late off as he tried to make sure of the point for fastest lap, with Simpson third.
The scrap for Class B honours was particularly entertaining. Dowler's MG ZR 170 made a poor start from class pole and, as he tried to quickly recover, contact at Agostini cost him his rear bumper and a lot of time as he fishtailed wildly out of the corner. It was left to good friends Ian Boulton and Dan Jones (both in ZR 170s) to contest the class victory. Boulton eventually prevailed by just 0.4s and was named the commentators' Driver of the Race. Dowler recovered to third but fell back behind Carl Robinson – 2020's overall champion stepping up to Class B and making a first appearance of the season – when a 5s track limits penalty was applied.
The overall points advantage had now swung in favour of Williams, and the championship destiny was in his hands. With Short having set only one representative lap time in qualifying after a number of track-limits breaches, Williams was able to convert pole position into a lead he wouldn't relinquish. Buckley demoted Simpson from second at the Brundle and Nelson esses but mechanical failure then pitched him off at Coram and into retirement. Williams took the victory from Simpson – who was named Driver of the Race – and Peter Burchill (MG ZS 180) after Short's drive through the field was hampered by an excursion at the Wilson hairpin.
Jones took Class B honours after another close scrap, while Boulton's late pass of Robinson for second at Agostini was reversed when the race was red-flagged and the result taken from a lap earlier. Dowler could only manage fourth in class after a gear-selector issue left him struggling to find gears.
Aaron Ross (MG ZR160) edged the Class A honours in both races, pipping Stephen Highley in the opener and Steve Tyler later on, as an entertaining – and clean – scrap between the three sadly ended with Highley crashing onto his roof (without injury), bringing a premature end to the race.
"It was tough," said a delighted Williams. "I did only what I could do – just go out there and get fastest lap and the race win to get the maximum points, and hope that he [Dowler] dropped some points.
"It was nice having Matt behind me because he defended my lead quite nicely! Probably the last two or three laps I started to cool it down a bit."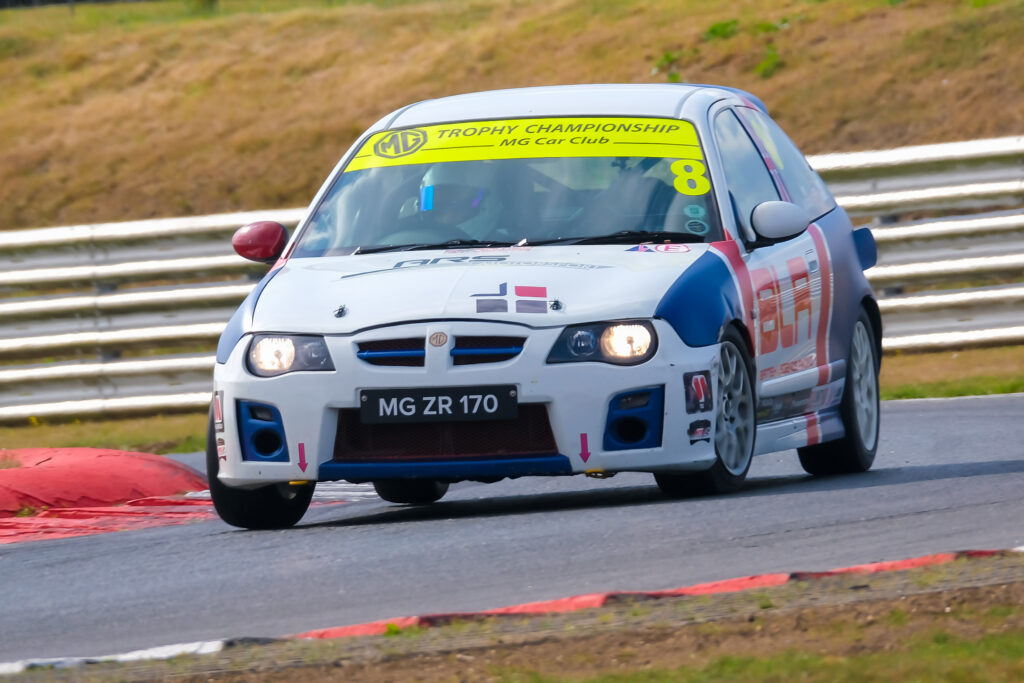 MGCC Holden MG Trophy
With the MG Trophy title already in his pocket after the July rounds at Donington Park, Sam Kirkpatrick chose to sit out the races at Snetterton, which left the way clear for Fred Burgess to take two comfortable wins – his first of the season – on a track at which he thrives. But it was the battles between youth and experience in Class B that stole the show.
Burgess's fellow front-row man Doug Cole was forced to begin race one's first start from the pitlane after his car wouldn't start in the assembly area. But the race was red-flagged on the first lap when Robin Walker ran wide at Williams and rejoined the circuit in the path of Joe Dalgarno, with the collision resulting in both cars rolling. Both drivers were fine but the damage to their cars meant their race weekends were over.
Cole took up his grid slot for the re-run but was unable to match Burgess's pace. He had to settle for second as Patrick Booth completed the podium, with the trio repeating that result in race two.
"Both races were fairly comfortable," admitted Burgess. "I've always said, I don't care if I come fifth or sixth if I have a good race. I enjoyed the weekend because I love this circuit – it's one of my favourite circuits so it's always fun – but it would have been nice to have someone a bit closer."
Instead of focusing on the leader, most onlookers' eyes were fixed on the enthralling Class B battles. The class championship was on the line, with only two points separating Fergus Campbell, Tylor Ballard and James Dennison heading into the weekend. Ballard struck first blood by taking both class pole positions, as Campbell first suffered an ABS issue and was then left to rue race one's red flag as his trademark lightning start counted for nothing. Ballard made the best getaway at the second time of asking and kept himself clear of the engaging scrap between Campbell and Dennison. Campbell made the decisive move for second mid-race at Oggies, and while he was able to pull away and reduce the gap to Ballard, he ran out of laps to make a challenge.
Campbell made another quick start in race two but, as the others tried to follow him between the Class A cars contact led to an accident which brought out the safety car. Ballard fared worst of the Class B contenders, touring into the pits with a holed radiator and his championship hopes in tatters. That left Campbell needing to finish second to be sure of the class title. Under pressure from Dennison and Jack Chapman (pictured above), he was able to fend off the pair and clinch the class crown in style while also named Driver of the Race.
It was a desperately disappointing way for Ballard to lose out, having finished every other race of the season. But at 21 years of age, he has proven that he can compete with far more experienced drivers like Campbell and that his time will come.
"For a relatively modest club racing championship, the Trophy is so incredibly competitive," said Campbell, who repeated his class triumph of 2014 and credited car builder Rob Quinn of Quinntech for the machinery at his disposal.
"I'm 52," he added. "These kids are young and brave! James Dennison is mighty fast and he's got a bit of experience in these cars. The lad Jack has come into it this year and he's really arrived. If my concentration slipped for a minute he would have been there."
Chapman certainly impressed as he passed Dennison for second at Brundle mid-race. Having already been named Driver of the Race for his fourth in class earlier in the day, he was also named as Saturday's overall Driver of Day for his efforts.
James Moreton continued his run of winning Class C at each race he has contested, wrapping up the class title in the process.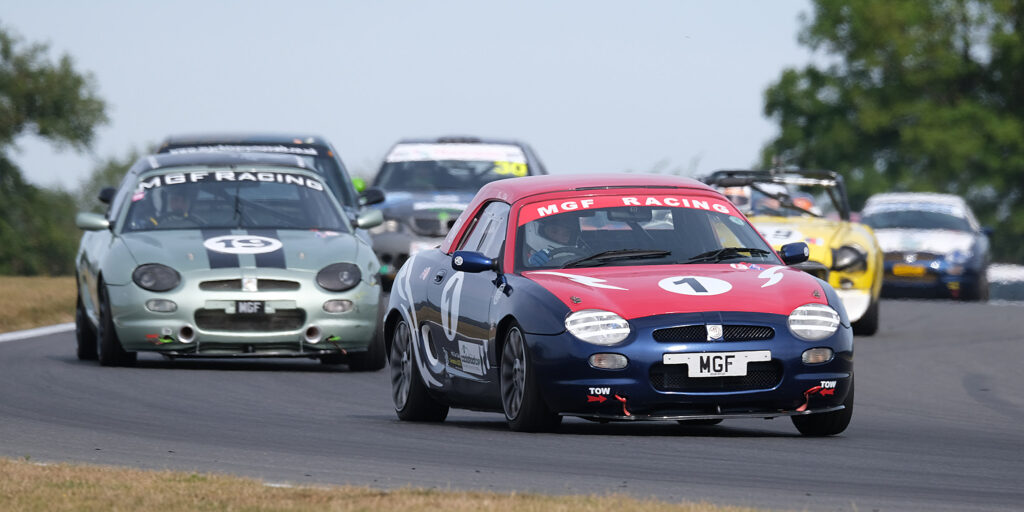 MGCC Cockshoot Cup
The Cockshoot Cup also went down to the wire at Snetterton, with Brian Butler managing to successfully retain the overall title.
After Mark Wright's MGF Cup car, which had qualified third, had to be withdrawn with a hydraulic leak, it was left to the K-Series-engined MG Midget of Keith Egar and Ray Collier's MG ZR 190 to contest the outright victories, although David Morrison's Class B Midget kept them honest. Egar led the opener from start to finish, while Collier – on his first visit to the circuit – had to overhaul Morrison after being passed into Riches. Morrison still managed a remarkable third overall, and was named Driver of Race. Karl Green (MG ZS 180) persevered with engine issues that would force him to miss the second encounter as he set the second fastest lap on his way to fourth.
Clutch failure denied Egar a shot at a double in race two, while Collier was given some breathing space – despite a poor start – after an excursion through the Riches gravel for Morrison. That made the latter's recovery to second all the more impressive despite the day's relatively high rate of attrition.
"I'm really pleased with that," said Collier, who admitted struggling with the long right-hander at Coram, before dashing off to Spain for work. "I didn't expect to get a win this weekend. I'd seen [Morrison] go off. Keith had retired, so it was for me to throw it away then. And then out of nowhere this Midget's looming again and I had to start pulling some laps back! So I think that was an epic drive by him."
Butler (pictured above) was having to manage problems aboard his MGF. But a MAP sensor issue made his throttle pedal more like an on/off switch, and contributed to a couple of grassy moments, couldn't prevent him twice heading home Chris Greenbank in Class F and beating Collier to the overall championship crown. Joe Jones's drive to third in Class F and sixth overall in race two earned him both the Driver of the Race and Sunday's overall Driver of the Day awards.
Mike Peters, whose record in Class B matched Butler's going into the weekend, sadly had to withdraw with engine problems after qualifying, ending his overall championship hopes.
"It's not often I cry but there was a tear in my eye," admitted an emotional Butler. "We've had a horrendous year with family issues, not Covid-related. And then we had nothing but issues all weekend. I'd either got full throttle or nothing. The corners where you just want to feather the throttle there was nothing so I had to give it full beans! I had to just deal with it but it was hard work."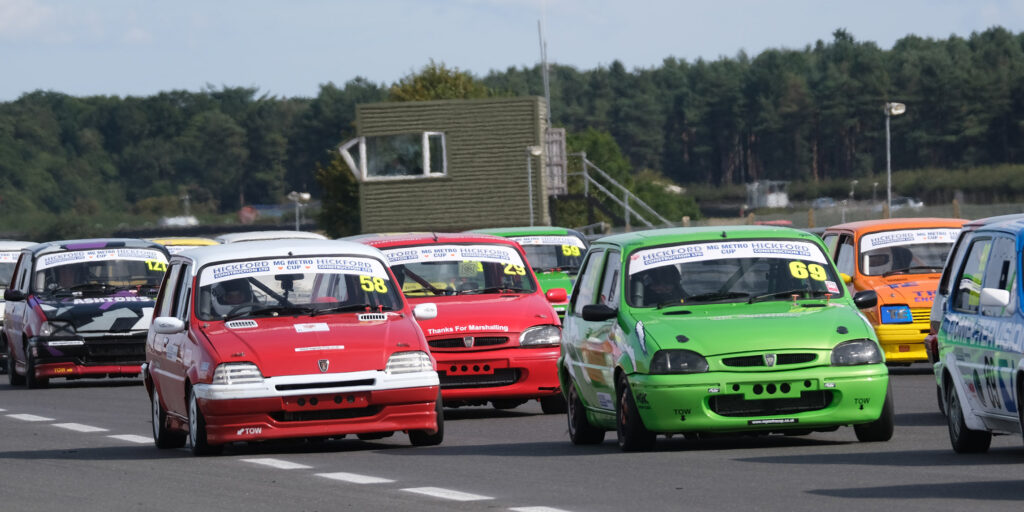 Hickford Construction Limited MGCC MG Metro Cup
Mark Eales survived a pre-meeting mechanical scare to scorch to a pair of victories and claim the MG Metro Cup crown. Finding water in the car's engine oil prompted Eales to switch to an older back-up motor for the weekend, but he still managed to claim pole position by more than three seconds on the three-mile Snetterton 300 layout.
Apart from a late safety car, which led to a one-lap dash to the flag, Eales was untroubled on his way to victory in race one which was enough to secure the title with a race to spare. Behind him, Tim Shooter claimed second, but only by 0.2s from the challenge of impressive first-year driver Ben Williams. Williams had passed Phil Goodwin for third at Riches just after half-distance.
"Reliability and things like that
[were a worry]
," said a relieved Eales. "You don't want to push it too hard if you don't have to. Luckily, I got a good start but I had to push because I could see Tim was constantly there behind me – he certainly wasn't letting off."
With the pressure off for race two, Eales took a commanding 12-second victory. The margin of victory may have been a bit smaller had Shooter and Williams not clashed as the latter made his move for second late in the race. That allowed Goodwin and Willars to inherit podium finishes in the final race of the year.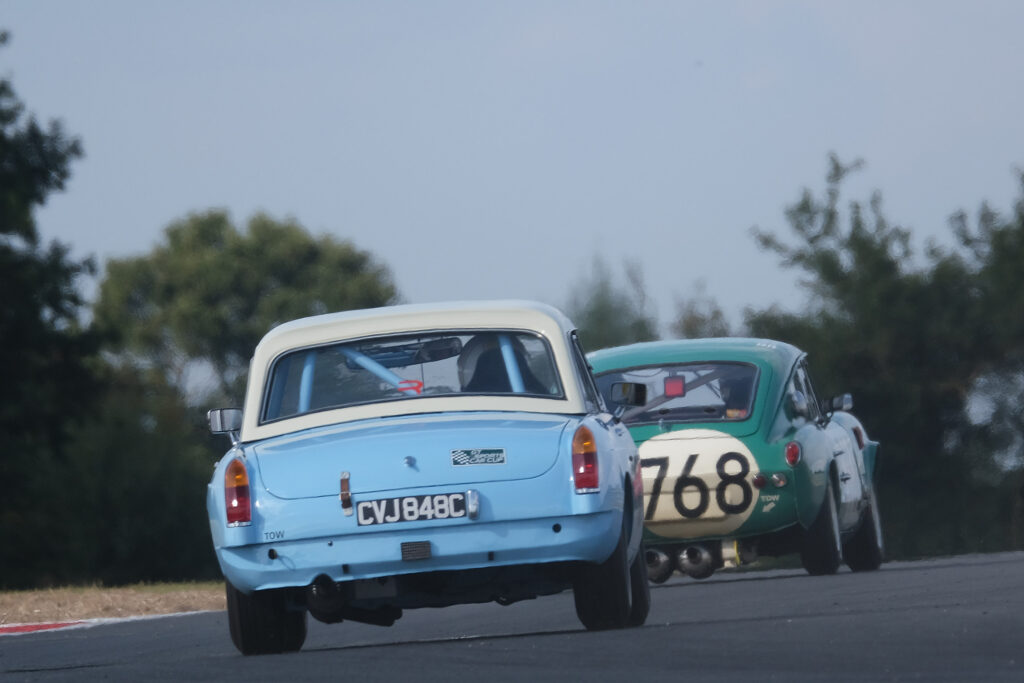 Equipe GTS
MG Trophy champion Sam Kirkpatrick chose to focus on driving his family's MGB at Snetterton – and did so in style, taking it to two victories in Equipe GTS. Kirkpatrick came from behind to pass the TVR Granturas of Rob Cull and Mark Ashworth, with successful moves around the outside at Riches, to win the opener. A poor start from pole position required a repeat performance on Sunday , this time clinching the win by forcing Cull into an error at Oggies. Kirkpatrick's fellow MGB man Tom Smith – fourth in race one – split the Granturas in the second race by passing Ashworth on Coram's outside line.
On his spectacular overtaking manoeuvres, Kirkpatrick said: "I had to get creative because those TVRs are fast!"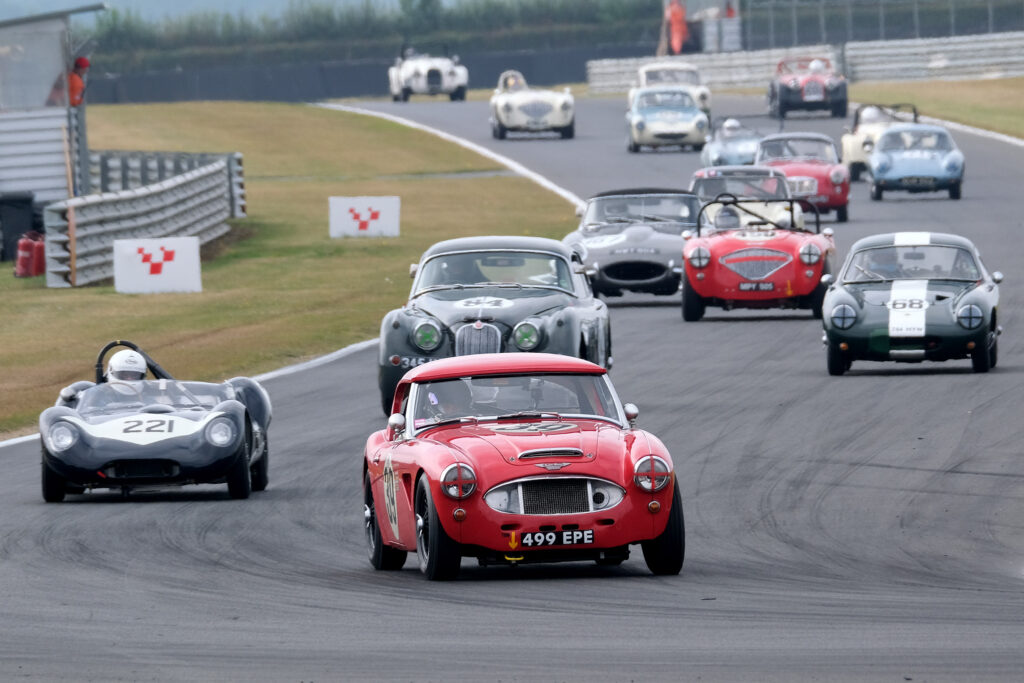 Equipe Pre-'63/50s
The Austin-Healey 3000s of James Haxton and Joe Willmott split the Equipe Pre-'63 races after Mark Holme's polesitting Mk2 version suffered mechanical gremlins on both days. Haxton could only qualify fifth having had to change his engine since the previous races at Donington, but a quick clean of the carbs ahead of race one provided the extra power he had been missing. That allowed him to battle through into the lead and, as his car struggled with high temperatures and fading tyres in the closing stages, hold off the fast closing Willmott and Nick Finburgh's Lola Mk1, which lost second on the run to the flag.
The spectacular Willmott, on his first visit to Snetterton, turned the tables the following day. After exchanging the lead a couple of times, Willmott pulled clear to win from Haxton, with Andrew Moore's Jaguar E-type completing the podium in Finburgh's absence. Paul Mortimer (Austin-Healey 100) twice took the honours in the Equipe 50s section.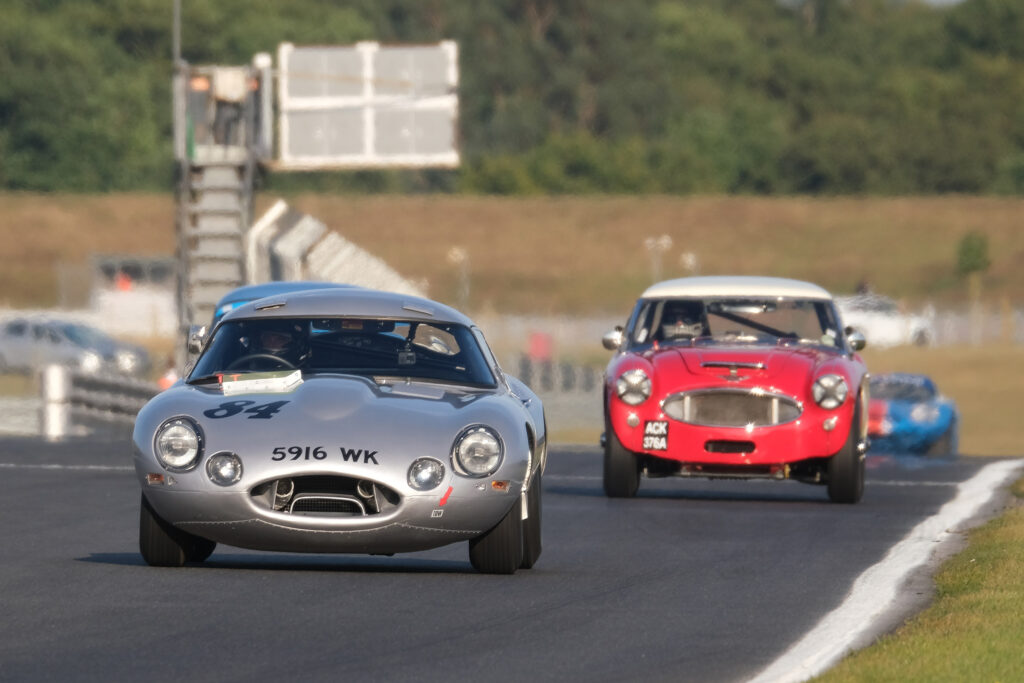 Equipe Libre
On his local circuit, Richard Hywel Evans blasted his AC Cobra to a pair of easy wins, claiming Sunday's race by more than a minute. Behind him, the podium was completed on each occasion by the battling Jaguar E-type and the Lotus Elan 26R Shapecraft of Rick Willmott and Robin Ellis. The pair duelled throughout, making use of the different strengths of their cars. Ellis found a way past Willmott on the final lap of race two, but in the end the superior power of the E-type was enough for Willmott to outdrag the smaller Lotus to the line.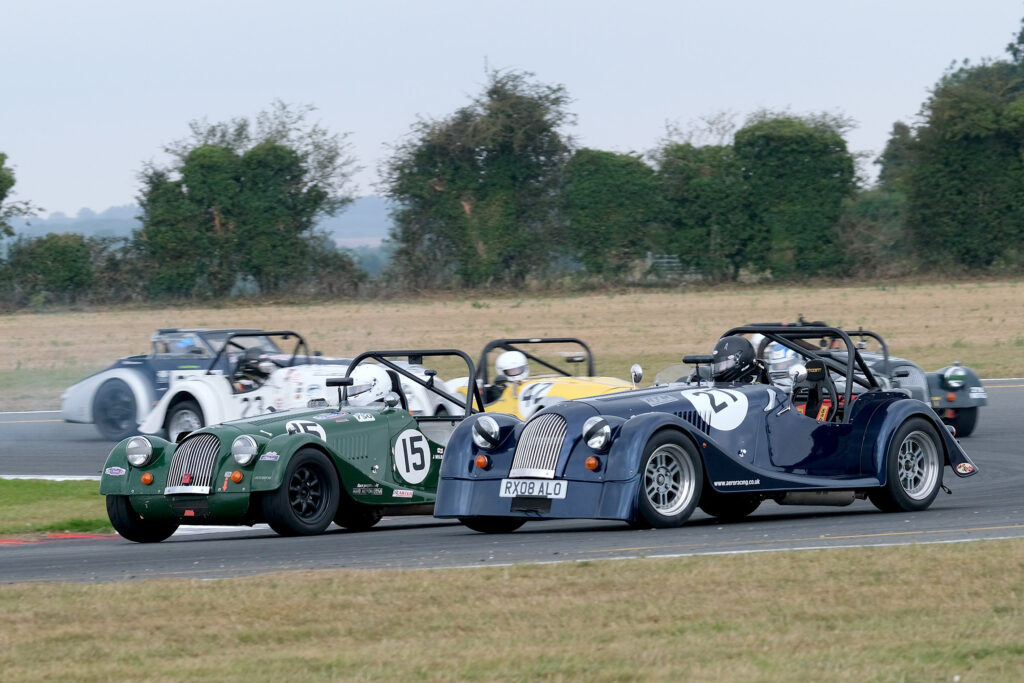 Guest races
The Morgan Challenge completed the programme at Snetterton, with a field of 17 cars. Roger Whiteside (+8) made full use of his V8 power to take a pair of dominant wins from Simon Orebi Gann (ARV6) in both races. Third on each occasion was Brett Syndercombe (4/4), whose Class 3 winning efforts completed an unbeaten season and sealed him the overall Morgan Challenge title.