MGCC racers turn up the heat at Donington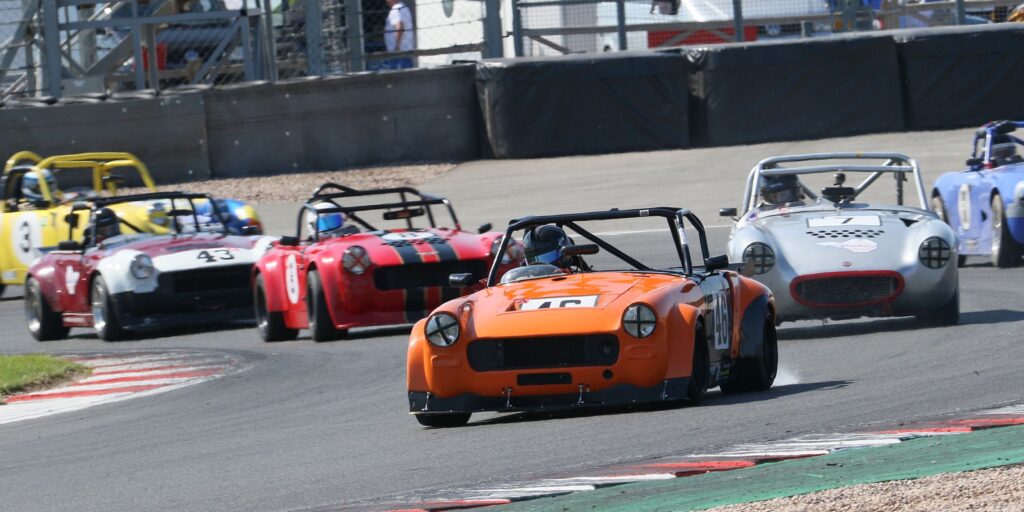 The MG Car Club's Summer Race Weekend was appropriately met with some scorching summer weather for the two days of racing at Donington Park. And, equally appropriately, MGCC's full range of racers turned up the heat too with a weekend's worth of scorching on-track action.
MGCC Lackford Engineering MG Midget & Sprite Challenge
The Midget & Sprite Challenge racing at Donington had a new look at the front, albeit a rather familiar one. Frontrunner David Morrison made his first appearance of the season while 2018 champion Steve Collier (pictured above, number 46) was a surprise 11th-hour returnee, buying his Midget back from Mike Chalk on the Friday before the meeting and racing as an invitational entry.
And for Morrison and Collier it was like they had never been away as they relived memories of 2018 with intense yet respectful battling over first place. Morrison held Collier off throughout race one and took victory. Race two to begin with looked like a replay. Collier had a few goes at overtaking Morrison, including passing at Coppice only for Morrison to cut back inside of him. Then at mid-distance Collier made his move for first place stick at the same corner and built a three-second lead by the end. He got Driver of the Race as well.
Collier said: "It was tough. I had quite a few goes and [we] nearly touched two or three times. David is the person I'd trust most in a nose-to-tail dice, because he is fair. Once I got by I was away, because I knew I was quicker in certain parts and I knew if I could be in front at Redgate I could pull enough gap.
"Pretty well every lap I had the potential to have a go [at Coppice], I needed to be fully alongside otherwise I'm liable to get my front chopped off. It's a good club; it's fair racing.
"It's good to be back: nice people; friendly crowd. Following David nose-to-tail, it brought everything back. It's a great formula. The A-class cars have got so much grip."
Morrison added: "All my work I've done [on the car] I'm happy with – engine, gearbox – I'm just getting a lot of understeer. They're soft tyres and I think they've had enough, the hotter they get I'm sawing at the wheel, that's where I'm just losing out."
Race one front-row starter Ed Weston may have been able to run with Morrison and Collier too but two poor starts, particularly in race one where he was 14th at the end of the first lap. These hamstrung his challenge and he took two distant third places.
Pippa Cow (pictured above, number 7) in her Austin Healey twice finished fourth overall and with these took clear Class E victories, and thus strengthened her position in the overall championship even further.
Mark Witherspoon in his Austin Healey Sprite won Class D in race one, resisting Kim Dear by 1.4s, and with this Witherspoon got Driver of the Race. Dean Stanton's fellow Sprite bagged the race-two class victory, beating Witherspoon by 11s.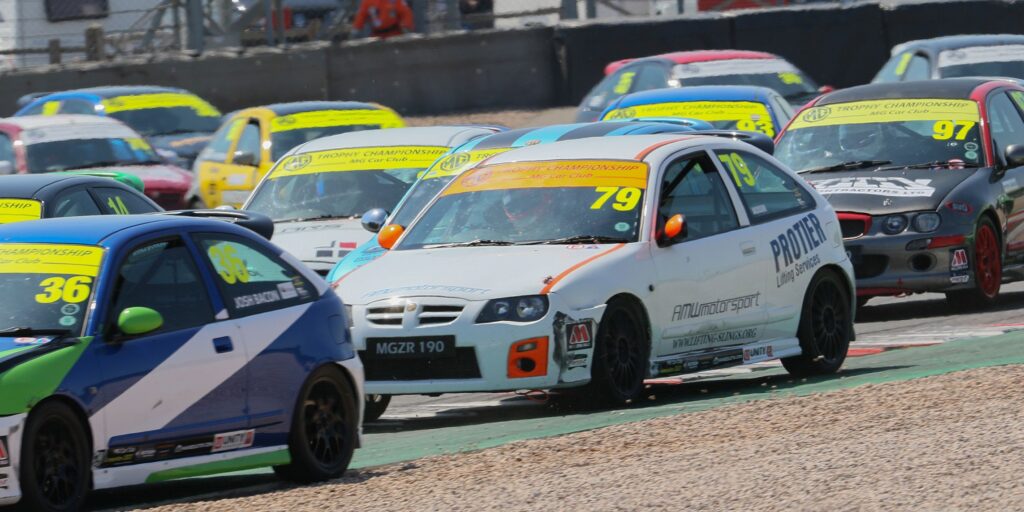 MGCC MG Trophy
The MG Trophy this season has had a pattern of two young guns, Sam Kirkpatrick and Fred Burgess, battling over first place, but with Kirkpatrick prevailing every time. The 20-year-old indeed won six from six before Donington. And in Leicestershire's race one he made it seven.
Burgess true to form attacked Kirkpatrick throughout Donington's race one, and he reckoned he could have made a move for the lead had the race not ended early with a red flag – after a spectacular clash between Paul Savage and Josh Bacon exiting the chicane.
Race two was a similar tale at the front, but this time it had a last-lap twist. A late safety car bunched the contenders up, and Burgess had throughout looked stronger than Kirkpatrick out of Old Hairpin. On the final tour he got alongside there, but they touched and Burgess spun, dropping to ninth, while Kirkpatrick was able to continue to be first home to claim seemingly win number eight – the championship's maximum-possible season total.
But he was docked five seconds for an unsafe track re-join, meaning he was classified third with Doug Cole declared winner. Kirkpatrick's results nevertheless were enough for him to be officially assured of this year's MG Trophy championship.
Kirkpatrick said: "It's been a really close fight all the year with Fred – just managed to get out on top. It was a close fight all the way through [at Donington]."
Burgess added: "I think I've been the quickest car [this weekend], just haven't managed to convert it to a win. Bit disappointing but we'll come back next round and have a go. I like Snetterton, I was always quick there in the 170; I won there last year in the 190.
"There's a lot of ifs and maybes [this season]. I've had the pace most weekends to have at least shared the wins with Sam. There's been a few times the flag's come a lap late or a lap too early. We'll keep trying; we'll get there."
Fergus Campbell in race one topped the Class B runners, finishing fifth overall and getting Driver of the Race having kept just out of reach of the chasing Bacon. James Moreton won the Class C battle by 9s ahead of John Donnelly.
Race two in Class B had an equally dramatic finish as in Class A, with Tylor Ballard claiming first place from long-time leader Campbell on the final lap in a tight five-car lead scrap. This crescendo also got Ballard both the Driver of the Race and Sunday's Driver of the Day.
Moreton made it a double win in Class C, again finishing well clear of runner-up Donnelly.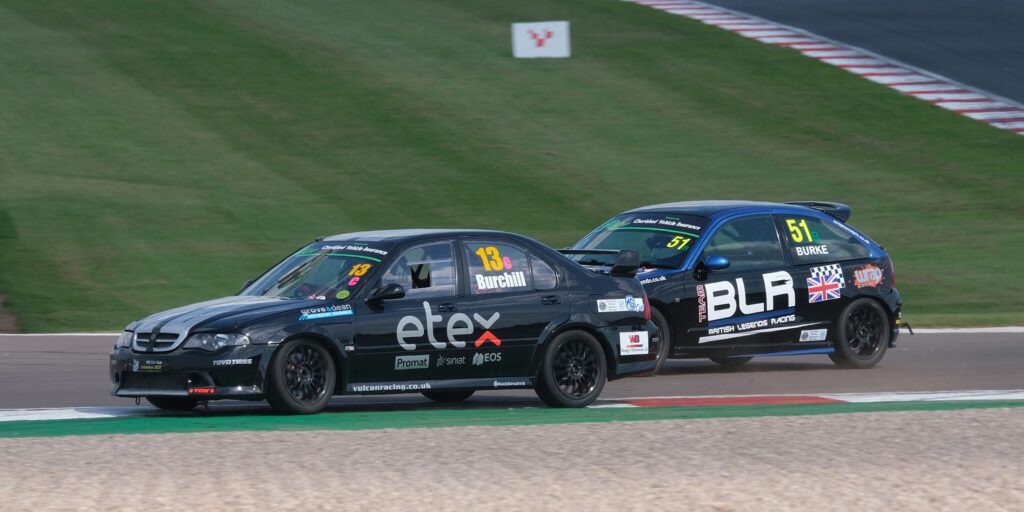 MGCC MG Cup powered by Cherished Vehicle Insurance
In 2021 the MG Cup's fight for first also has been in large part a tale of two drivers: Mike Williams in his Metro and Morgan Short in his MG ZS 180. Short was unable to take part at Donington as his rebuilt engine overheated in Friday testing, but this did not leave Williams on easy street. He had a new foe. Or rather, just like in Midget & Sprite Challenge, a not-so new one.
Champion Richard Buckley, back this year in his frontrunning Rover Tomcat, took a clear race-one pole position then won both of Donington's races, at each stage relegating Williams to second.
In the first race Williams jumped Buckley at the start, but Buckley took the lead back after three laps at the exit of Coppice. Williams stayed on his tail before dropping away slightly late on. Buckley's victorious race-one showing also got him Driver of the Race.
Matt Simpson's fellow Tomcat made it a trio at the front in race two, as he led early on after a fine start. Buckley got by for the lead on lap four, while Williams followed on lap eight but by this time Buckley was 3s up the road. He stretched his advantage to 6s by the end.
Buckley said: "This is my best circuit, and it does suit the car. [In race one] I managed to get past Mike and we had a good tussle. [In race two] I didn't make the best start, and I managed to get past Mike, and I managed to get Matt into Coppice. And watching them fight is good – just giving me a little bit of breathing space. Once I had the breathing space I could pretty much run at my own pace."
Williams meanwhile explained: "I'm never going to win at Donington because of the pace of the Tomcats unfortunately. I changed my strategy for the second race and I put the smaller tyres on the front, we dropped the gearing by about 11%, and we still weren't fast enough.
"It was still a good race, Matt and I had a fantastic battle for second place. I'm always disappointed if I haven't won. If I was happy with second place I'm not a racing driver. It's been a cracking race and it's been a good weekend."
Points leader Iain Dowler in his MG ZR 170 comfortably won the Class B battle in race one ahead Kevin Burke's similar machine, while Iain Boulton won Class A by 2.5s ahead of John Gil's fellow 160. And in both classes there was a very similar tale in race two, with Dowler triumphing well clear of Burke – getting Dowler Driver of the Race this time – and Boulton again beating Gil.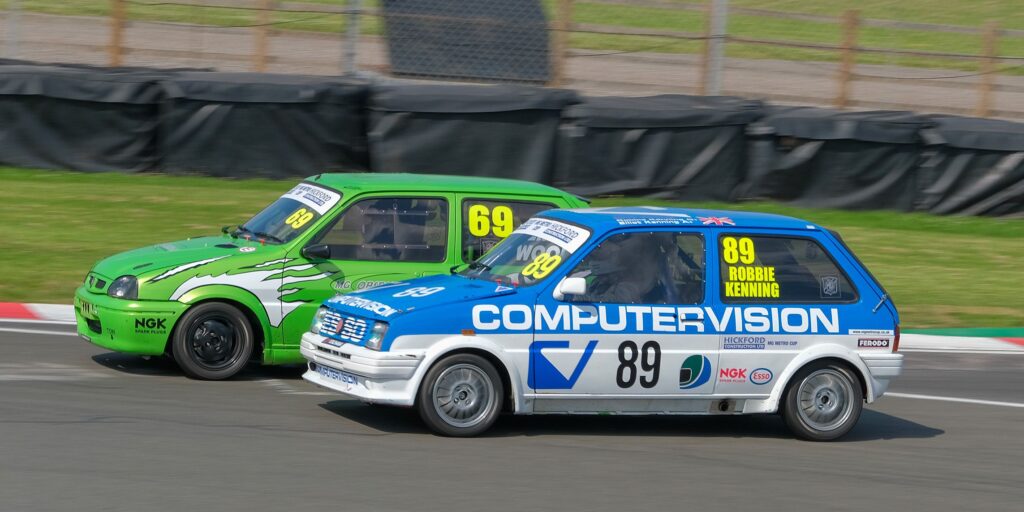 Hickford Construction Limited MGCC MG Metro Cup
The MG Metro Cup shared the Donington track with the MG Cup via a split grid and Mark Eales claimed two Metro wins, making it four victories in a row for him after a nightmarish Brands Hatch season opener.
In Donington's opener Eales cleared poleman Dan Willars and beat him home by over 10s, a feat that also got Eales the Driver of the Race. Eales then in race two led all the way from pole, beating runner-up Phil Goodwin by 2.2s with John Gil's MG Cup car slotted between them. Willars had again chased Eales, but this time had to retire from second at mid distance when his engine blew. Goodwin was third home and was awarded Driver of the Race.
Eales said: "Really pleased, it's been a good weekend. I had a bit of bad luck at the beginning of the season at Brands so hopefully that's all gone and we're cracking on now. Considering the heat you'd think we'd have a few little issues [but we didn't]. Car seems to be going well, so I think it'll be check over, make sure we're happy with everything and leaving it as it is for Snetterton.
"I've been at this a little while now, a few years, and I'm happy with the car, I'm just trying little tweaks now, you build up and build up. I'm more confident. Just trying little bits and pieces that I never used to before. I used to think if it was going OK I'd leave it OK in case I made it worse."
The points leader heading into Donington Tim Shooter had a frustrating weekend. In race one he chased Eales closely but dropped out after he touched the back of an MG Cup car, damaging his radiator and meaning he stopped a few laps later. Then Shooter's race two was dashed barely after it started, with his car stranded in the gravel on the approach to McLeans on the first lap. He later resumed but several laps down.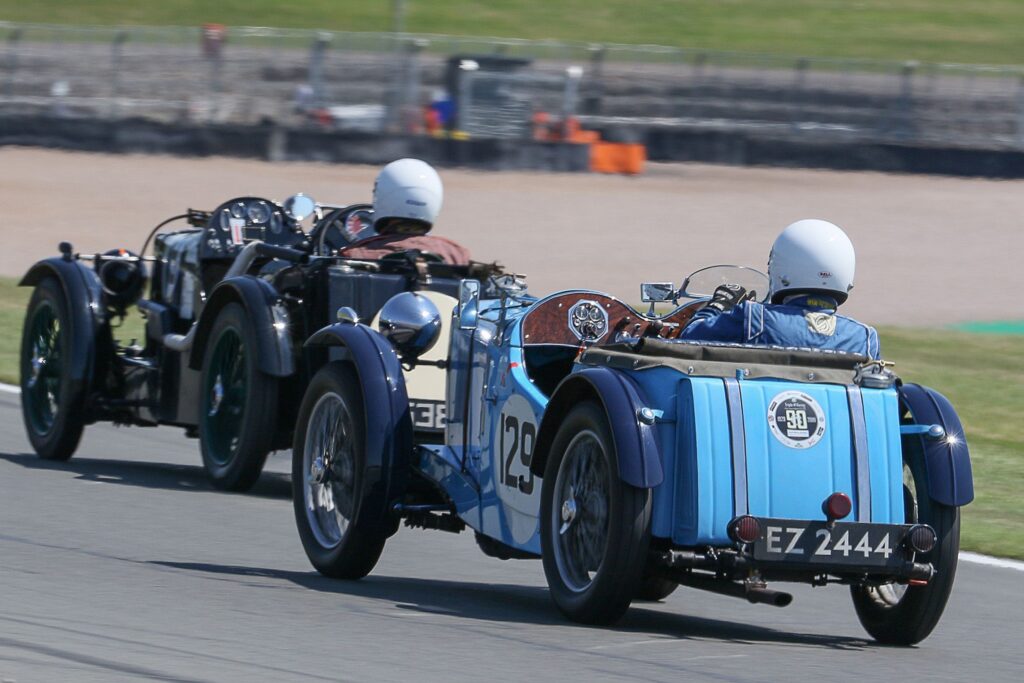 MGCC Triple M Challenge
The beautiful pre-War Triple M Challenge machines took to the Donington track twice on Sunday, and Tom Hardman in his MG Bellevue Special won the first race by over half a minute from pole, and was awarded Driver of the Race with it. His chief pursuer Harry Painter had a spectacular Redgate exit when his left-front stub axle broke on his MG PA, meaning the wheel detached.
Fred Boothby was a comfortable winner of Class 2 In his J2, Barry Foster trounced the Class 1 opposition in his Montlhery Midget while Simon Jackson (pictured above, number 129) in the Class 3 fight beat fellow PB runner Mark Dolton by 15s.
Hardman had to depart the meeting before race two and with Painter also unable to race with his race-one problem, Painter's father Mike, who'd taken the runner-up spot in race one, moved in for race-two victory in his MG Kanye Special, beating Charles Goddard's MG PA Special by just under 16s. Vernon Mackenzie was third in his K3, and got Driver of the Race.
Mike Painter said: "Because Harry dropped out and Tom Hardman as well there was no reason I shouldn't win it. I was concerned of spinning it or throwing it away embarrassingly. And then Charles was sticking with me, I was trying pretty hard and he was still there and I thought 'blimey he's trying hard here!' So I quickened up a bit and then I think he got a bit of traffic, so I got a bit of a reprieve. The cars are great fun, very exciting, we've raced them for years."
Boothby in race two doubled up in the Class 2 contest, while Andrew Morland in his PA won the Class 3 contest by 2.7s from Louis Frankel's PB Cream Cracker, after leader Jackson ran out of petrol late on. Class 1 winner this time was Duncan Potter after Foster retired early.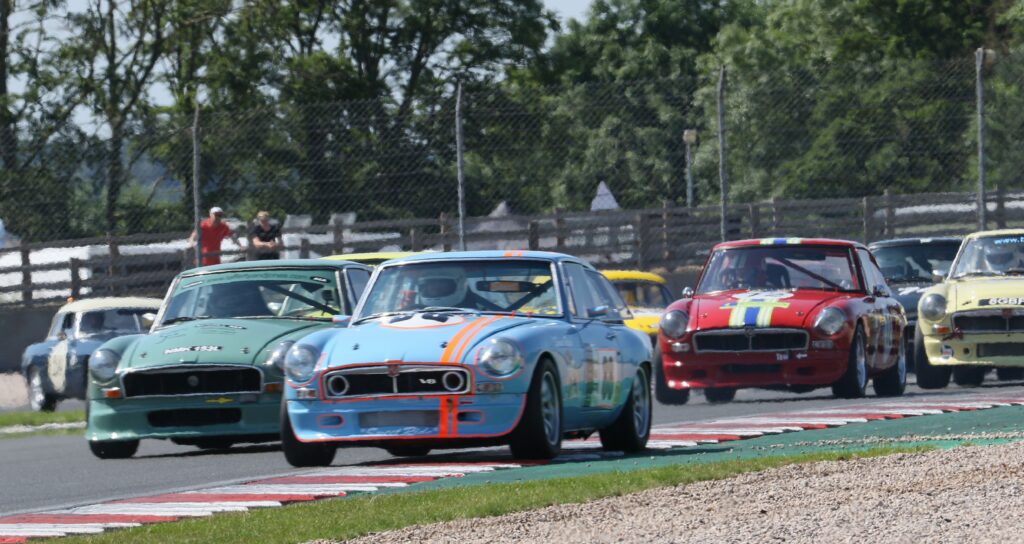 MGCC BCV8 Championship
Reigning champion Ollie Neaves at Donington continued his BCV8 championship domination, bagging two more wins even though he wasn't happy with his MGB's handling and even after making changes between the two races. In race one he lost his advantage from pole off the start to Neil Fowler, but was soon by on the fourth lap at Coppice to lead again. Fowler kept him honest though and Neaves' advantage at the end was less then 3s.
Jim Bryan won in Class C after class poleman Andrew Young had a right-rear half shaft break on the way to the assembly area pre-race. Mark Scott won the Class B battle in his Roadster by 13s from GT V8 runner Stephen McKie, which also got Scott Driver of the Race.
James Walpole was denied Class AB victory by receiving two track-limit penalties, meaning Paul Rayment won out. Babak Farsian had led much of the way in class but dropped down late on with overheating.
In race two Neaves was more dominant, beating home Russell McCarthy and Fowler's battle for second by over half a minute.
Neaves said: "I got a much better start that time, I managed to hold Neil off, who's always really quick in the first few laps. I think it panned out for me today, that I managed to get some good laps in early, make the gap and then I could stroke it home.
"The car's just an amazing piece of kit, it's just so impressive to drive. It did feel very slippery out there but I'm guessing it was the same for everyone.
"I've got lots of further plans [for the car] but I'll be holding fire until some of the others catch up!"
Young in race two was this time able to take the Class C win, in fifth overall and 1.5s clear of Ben Tovey, who was compensated with the Driver of the Race. Bryan once again was in the mix for class victory but had to retire as his engine oil cap was not fitted meaning oil started to spill onto his windscreen as well as that he risked an engine blow up. Scott made it a double Class B win and Farsian prevailed in Class AB.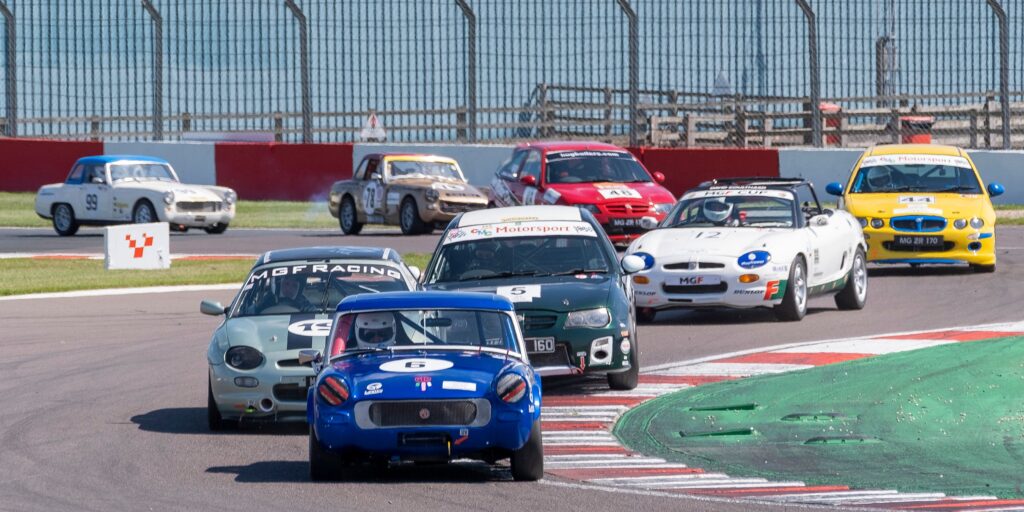 MGCC Cockshoot Cup
The Cockshoot Cup was another category to have a double winner at Donington, albeit in its case it was a perhaps unlikely one as Karl Green took his first two overall victories.
In race one Green in his ZS 180 led all the way from pole, while second-placed Mark Wright pitted after three laps as the gear linkage snapped on his new MG F Cup. Green finished 7.6s clear of runner-up Ray Collier's MG ZR 190, meaning the latter lost his 100% record in 2021. The feat also got Green the Driver of the Race and the Driver of the Day gong for Saturday.
Mike Peters (pictured above, number 6) was Class B victor in his Midget, beating Ian Whitt home by 2.9s, while Brian Butler pipped fellow MGF runner Christopher Greenbank (pictured above, number 19) by just 0.6s to win Class F. Paul Wignall (pictured above, number 5) in his ZR 160 was a dominant Class A winner.
The second race was a very different tale from the get-go as a newly repaired Wright launched superbly and established a clear lead, of 4.6s after three laps, as Green and Collier battled for second. While Peters and Butler – both of whom had 100% class records heading into the counter – were out almost immediately. In Peters' case the engine of his Midget died while for Butler, who didn't make the race start, his MG F woe was more convoluted. After finishing race one an electrical problem was discovered, which took hours to find, and while this was going on some grit in the timing belt bent the engine's valves.
Green, having established his place ahead of Collier, was able to chase Wright down and passed for the lead with three laps left. Wright finished as runner-up while Collier had to make do with third, 21s adrift.
Green said: "My first two wins, and my first two poles as well. It's only taken five years but I got there in the end! The difference is the guys have made slight alterations to the suspension and it's made the car feel more compliant. And because it feels more grounded it's giving me a bit more confidence to push on.
"Mark gave me a good fight, I didn't think I was going to catch him at all at one point, but then luckily the backmarkers helped me out and it gave me the spur to push on a bit harder and eventually I got past him. It was a cracking race."
Wright meanwhile noted: "The car's new and we came Friday just to get it running because it's a new engine. I was told to use a rev limit, which I did, and we qualified third which I thought 'that's quite good considering we're just running around!'
"I've never drove the car before this weekend. Even today we hadn't quite set it up properly so I could only use four gears, I couldn't use fifth. I really enjoyed it. We didn't expect to come today to do any good, we came to finish and put some miles on the car."
Wignall in race two was again a clear Class A winner, in seventh overall, despite a 5s track-limits penalty, and got Driver of the Race with it. Greenback won Class F and Mark Bellamy in his ZR 170 beat Andrew Thompson's Midget home by 4.7s to win Class B.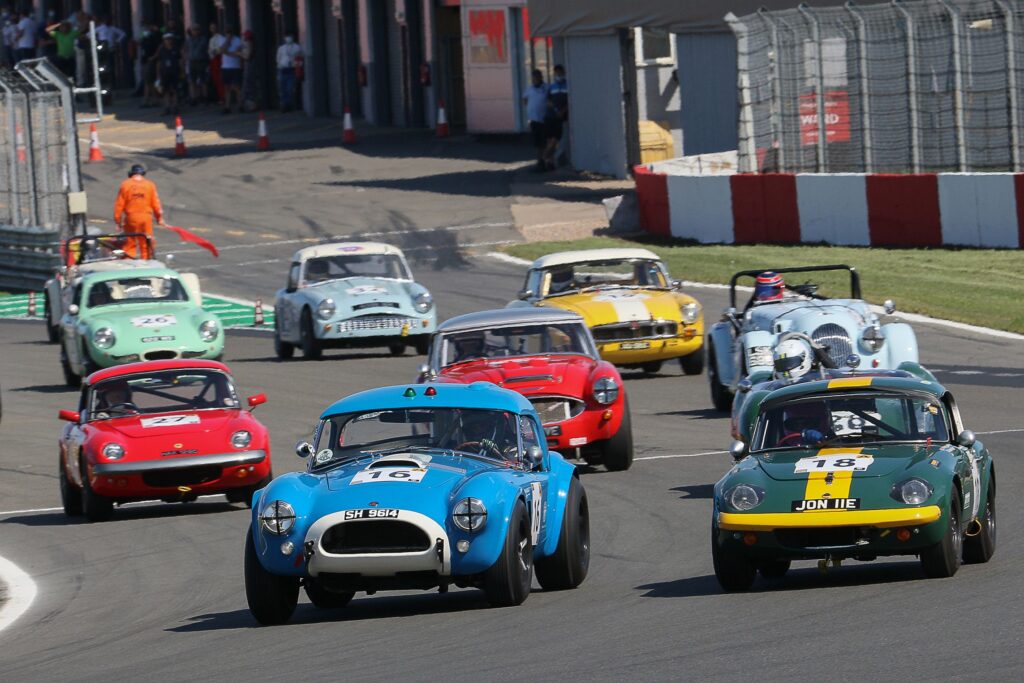 Equipe Three Hour Classic Relay
Bernardo Hartogs in a Lotus XV and Richard Wilson in a Maserati 250S as their The Fifties pairing won Equipe's three-hour relay, benefiting from consistent pace plus fewer car changes than their rivals.
Wilson said: "It's just keeping the 1m25s, 1m26s pace consistently over three hours is a tough thing, especially in the heat, you start to wilt towards the end of the session. The Maserati consumed less fuel than I expected. They're both relatively light cars, so you just keep going, and the brakes are a big thing."
There was a familiar face among the line-up that finished second, with MG Trophy star Sam Kirkpatrick in his MGB making up one-third of the Rogerscale Racing effort. It looked at points that they might be able to chase down the eventual winners, but they hit problems.
Kirkpatrick said: "It was long and hard, but it was good. But we had to deal with a few car issues. We had two unplanned pitstops, due to this car [Simon Smith's Elan] not being able to last very long, having problems with the water getting too hot, and then the Cooper had a misfire and was not as good as it could be either, so maybe we'll have to come back next year and do better! Could've maybe competed for [the win without the problems]."
The Kent's Folly quartet started on pole and led early but fell down the order with several car swaps and the other cars in the line-up not being able to match the pace of Larry Warr's pole-setting Morris Mini Cooper S.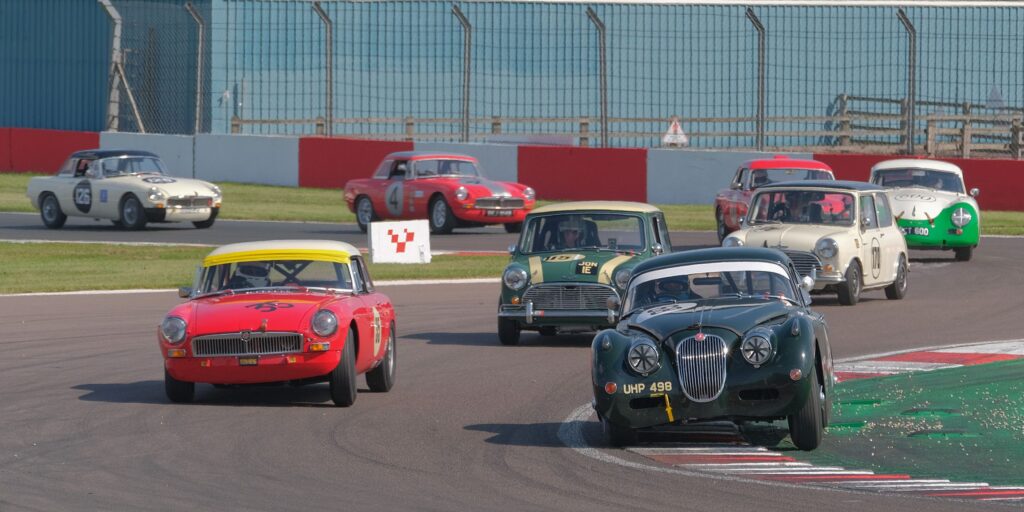 Equipe Classic Racing Libre
The first of Equipe Classic Racing's two 40-minute pitstop sprint races was a classic power-vs-handling battle at the front, and power prevailed as Jamie Boot's TVR Griffith got the better of early leader Jon Harmer in his Lotus Elan 26R. Harmer then dropped out late on with a plug lead problem. Cliff Gray sharing with Will Nuthall restored Elan 26R honour by winning the second Equipe sprint race, passing Boot's TVR in the closing minutes.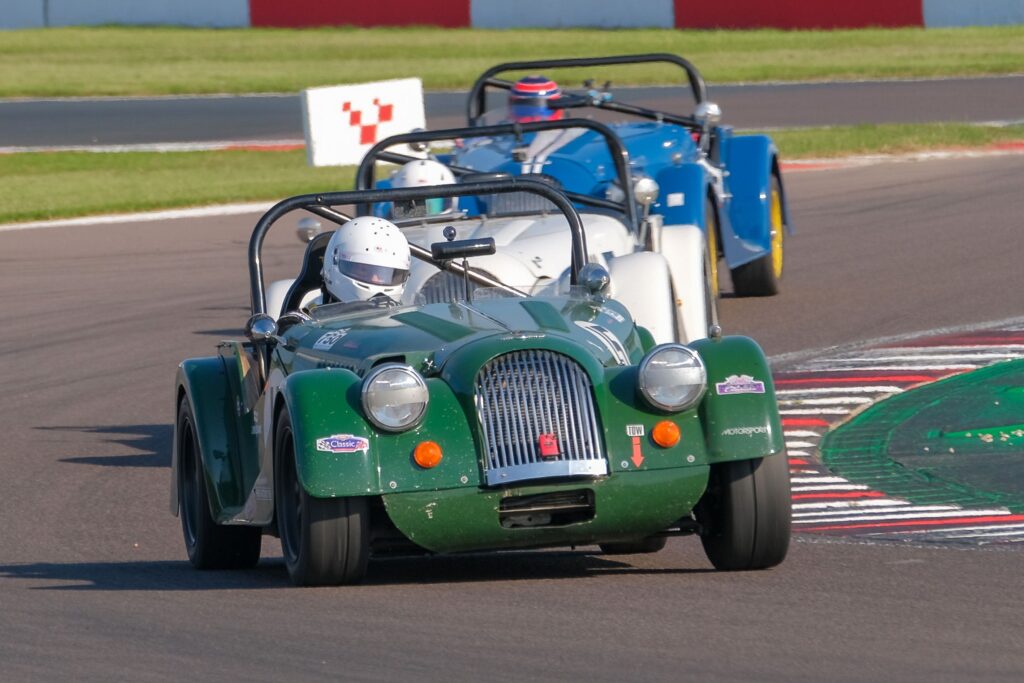 Aero Racing Morgan Challenge
The Morgans also joined the action on Sunday with two races. Bill Lancashire in his +8 won the red-flagged and restarted opener from pole, staving off the similarly equipped Oliver Pratt by 3.1s. For race two Lancashire's son Howard took over his dad's car and, having started from the back due to having to qualify out of session, as only one of them could set a time in the 15-minute qualifying, Howard powered through to finish second half a minute shy of comfortable victor Pratt.