MG Car Club enjoys sunshine on return to Cadwell Park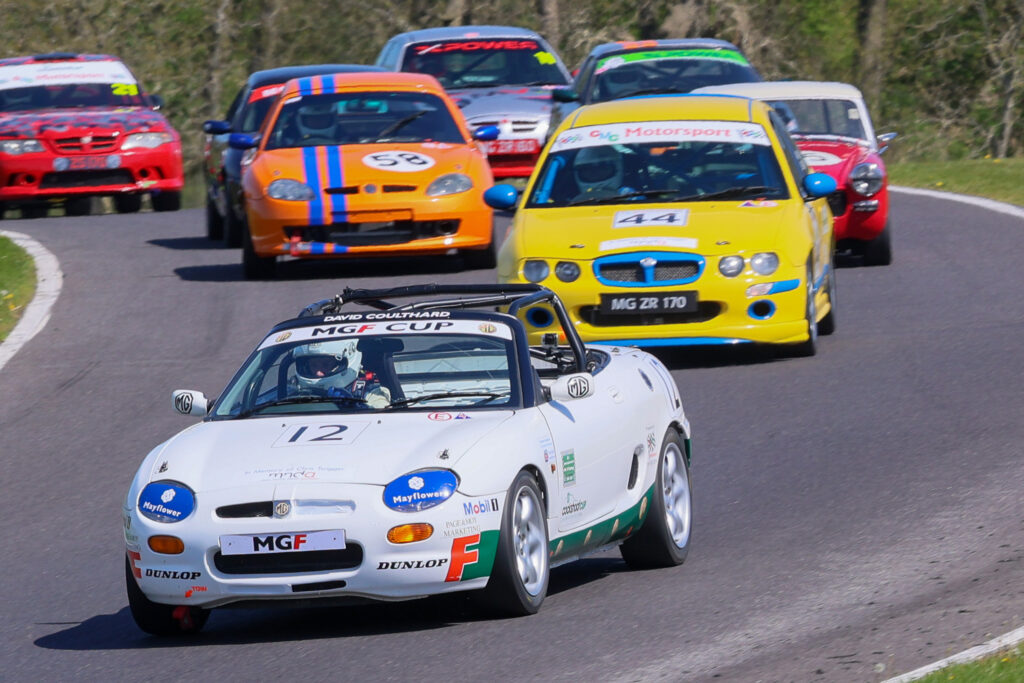 The MG Car Club's first visit to Cadwell Park since 2017 provided a day of close racing action under sunny skies in the beautiful Lincolnshire Wolds. With its narrow ribbon of tarmac snaking up and down hills, through woodland and into open areas, the 2.2-mile 'mini Nurburgring' proved as demanding as ever for the racers, who all rose to the challenge. The members' parade at lunchtime also provided an opportunity for those not competing to experience the fabulous circuit.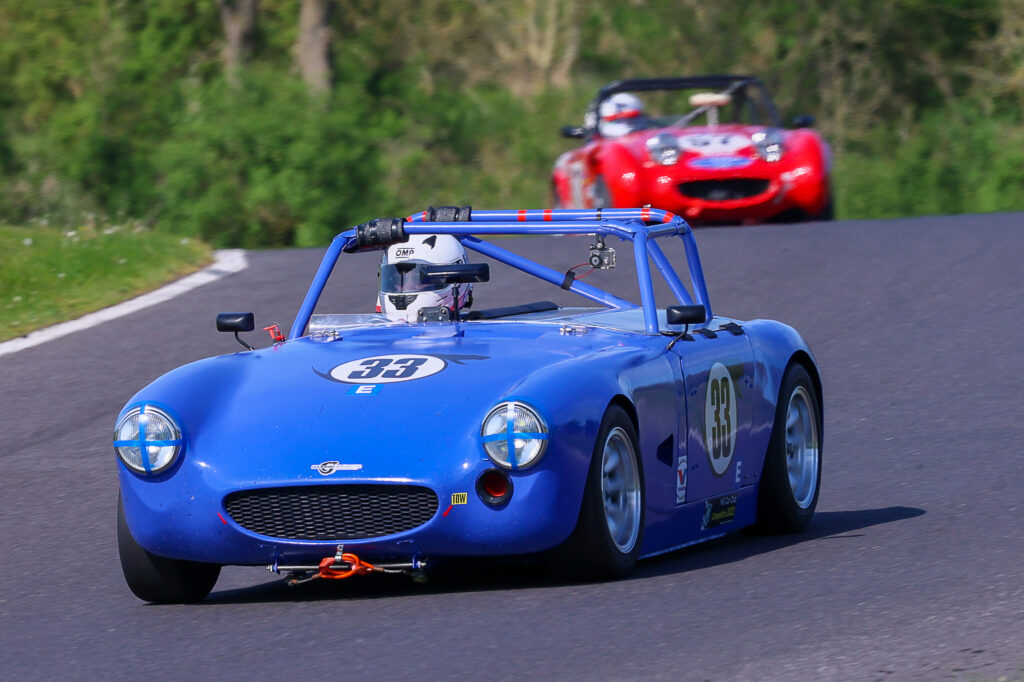 MGCC Lackford Engineering MG Midget & Sprite Challenge
After an excellent Midget & Sprite Challenge entry at Brands Hatch, numbers were a little down at Cadwell Park, particularly in Class A, where just three cars were entered. That may have contributed to Paul Sibley's dominance, although such was the former champion's pace he would have been tough to beat regardless.
One of Sibley's challengers was an early casualty as Brands winner Richard Bridge lost his engine in qualifying after it ingested a broken spark plug. With Mike Chalk caught in the upper midfield, that left Sibley's Midget – on pole by a massive 5s – a clear run to victory, which he duly claimed by nearly 10s without putting too much strain on the car.
Reigning champion Pippa Cow (Austin-Healey Sprite) was an equally comfortable second, and Class E winner, having briefly led at the start. A good scrap between Chalk and Peter Kennerley's Class E Midget for third overall sadly ended with Chalk in the wall between Mansfield and the Mountain. Kennerley himself was excluded from the results for not having a working transponder. So series sponsor Robin Lackford and James Hughes (both in Mk1 Sprites) completed the top four, Lackford holding on by less than a quarter of second.
Behind them, the Class D battle for road-modified cars raged. Ian Burgin (Mk1 Sprite) eventually prevailed, and was named Driver of the Race for his efforts, but Barney Collinson, Edward Easton (who both retired with engine woes) and Oshin Shahiean all played their part.
With a number of drivers suffering mechanical dramas, a depleted field assembled for race two. Sibley made a slow start from pole position, handing Cow an initial advantage, but Sibley powered back past on the Park Straight into a lead he wouldn't relinquish. Cow was again very comfortable in second, earning herself the Driver of the Race award for her dominance of Class E.
There was also a standout performance from Richard Bridge, who had stepped into his father John's Class E Sebring Sprite (pictured above) for the second race, and carved through from the back of the grid to third, despite a lengthy safety-car period – for Shahiean's demise at Barn – limiting the number of racing laps.
Class D was claimed by the Midget of former Cockshoot Cup man Ian Wright, who has switched to the championship this year.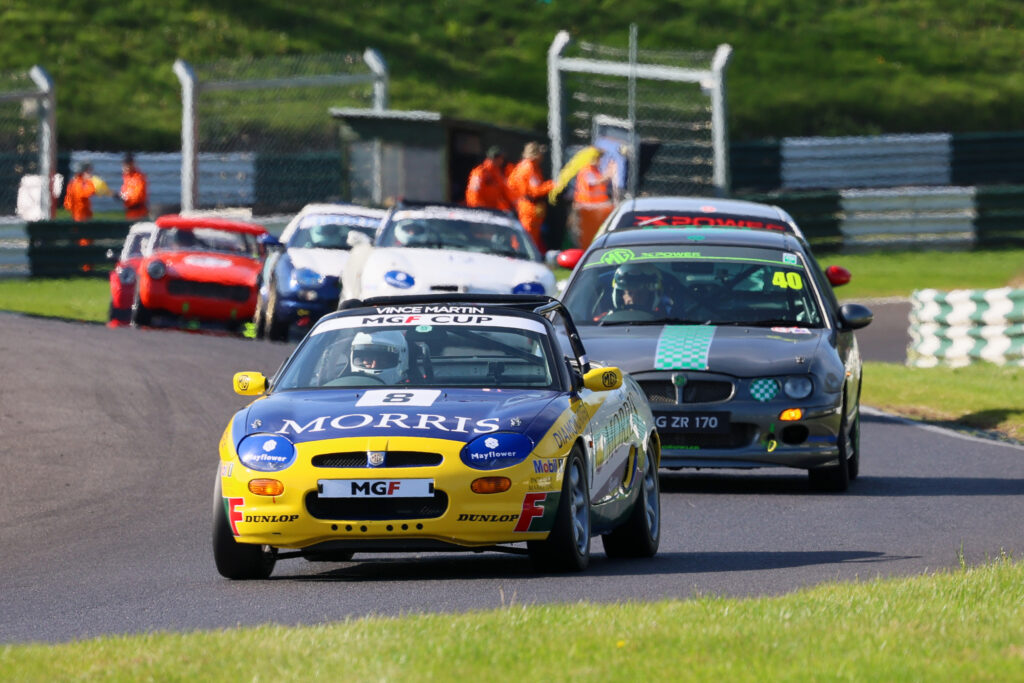 MGCC Cockshoot Cup
The North West Centre's own championship did not travel to Brands Hatch in March, so opened its season at Cadwell Park with a fantastic entry of 29 competitors, its most for a good many years. Two races provided some of the action of the day, with Mark Wright (pictured above) and Paul Wignall both recording their maiden wins in the championship.
Alternator trouble on Wright's MGF Cup car prevented him from recording a time in the Cockshoot Cup's qualifying session, meaning he would have to complete the minimum mileage out of session and start both races from the back of the grid. Wignall meanwhile was having his first competitive outing in the ex-Morgan Short MG ZS 180 after only a handful of laps testing at the same circuit. But last year's Class A champion belied that lack of familiarity to claim pole position by nearly a second from David Morrison's MG Midget. The rest of the grid was a little jumbled, particularly for the second race based on second-fastest times, after a safety-car disrupted session.
When Peter Bramble's MGB piled into the tyre wall at the circuit's iconic Mountain section, it brought a premature halt to race one and required a complete restart, negating Morrison's lead and the rapid progress of Wright to 12th place in a single lap.
Wignall made a better getaway at the second time of asking, but Wright's charge through the field was simply breathtaking. He had risen to fourth within three laps, before passing Keith Egar's K-Series powered Midget and Morrison on consecutive laps on the middle portion of the circuit. Wright then closed in on Wignall, who himself was particularly spectacular through the Mountain section. After sizing up his prey, Wright got a better exit from Barn, the final corner, and powered past on the start/finish straight. He eased clear over the remaining two laps to record a truly amazing victory, even more so considering he was experiencing gearbox problems.
"I'd got to get the run out of Barn because I knew I was flat through the left-hander [Coppice] and I knew he wasn't," explained Wright, who was named the commentators' Driver of the Race for a performance that would also earn him the Driver of the Day award. "I really enjoyed it. I don't mind starting from the back – the guys are all clean, a good set of lads to race with."
"I'm happy with that," grinned Wignall. "I don't think anybody's going to beat Mark, are they?"
Behind Wignall, Morrison won Class B in third overall while Chris Greenbank placed his MGF seventh to claim Class F honours.
Wignall started the second race from sixth on the grid, and avoided an incident at Charlie's, the long right-handed second corner, which dropped the Midgets of Morrison and Ian Whitt down the order and scattered several other cars.
Egar came away with the lead ahead of Phil Standish, the multiple race winner making a return at his local circuit in an MG ZR 190, with Wignall third. As Wignall worked his way into the lead, Wright was again carving through the field, and had risen to third when his race ended abruptly with a very smoky engine failure.
So Wignall was relatively untroubled on his way to a first win by more than 5s from Egar. Having lost out in the early skirmishes, Karl Green mounted a sterling recovery in his MG ZS 180, just pipping Standish to third on the line. Morrison also recovered well to sixth overall, again winning Class B.
Greenback completed a Class F double in fifth overall, for which he was named Driver of the Race. Behind Morrison, rear-wheel-drive debutant Tom Mensley brought the ex-Brian Butler title-winning MGF home in a very creditable seventh, second in class.
Class A in both races was won by debutant Rhys Higginbotham, piloting the ex-Leon Wignall MG ZR 160 as Wignall Jr (twice second) has transferred across to the similar car vacated by his dad.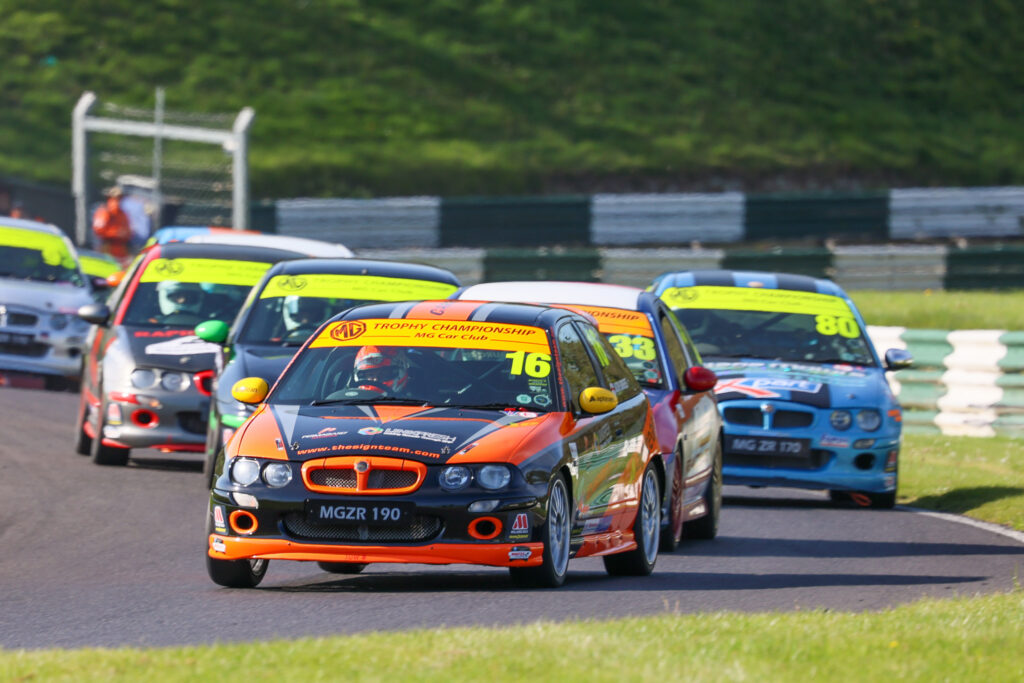 MGCC The C.I.T. MG Trophy
On his return to the MG Trophy after three years away, Jason Burgess (pictured above) claimed a comprehensive double victory, leading both races almost from lights to flag.
Sadly the Class A entry for MG ZR 190s was hit by mechanical troubles for Doug Cole and Adam Jackson (combined with work commitments), a Friday testing accident for Graham Ross and university commitments for Sam Kirkpatrick. With Robin Walker and Paul Savage bedding in their new cars after heavy accidents last year, that left Burgess and Booth to contest outright honours, chased by the leading ZR 170 runners in Class B.
While James Dennison (170) initially got the jump at the start of race one, Burgess and Booth quickly moved ahead. Booth whittled down Burgess's lead in the closing stages, but flat-spotted his tyres in a lunge at Park on the penultimate lap, allowing Burgess to win by a less representative 8.6s.
"I needed to make sure I got off the line faster than that 170 because it's a difficult place to overtake," said Burgess. "And he nearly had me – I think my front tyres were smoking trying to keep up with him! But once we got past we were away. Then I think I probably relaxed just a fraction, and then he [Booth] reeled me in."
Set-up tweaks for race two meant Burgess was in firmer control over Booth once the race restarted after an early safety car. That was caused by an incident among the Class B leaders on the Mountain section.
Josh Bromley had managed to repeat his Brands Hatch class win in the opener, for which he was named Driver of the Race. He passed Dennison at the Mountain late on after Dennison had a couple of frights when his brake pedal went to the floor. Bromley tried a similar move on the opening lap of race two, but his car ended up getting turned across the front of Dennison's. With the track virtually blocked at the top of the Mountain, the pursuing pack was left with nowhere to go. As Tylor Ballard attempted to squeeze past, his car was clipped and sent into the inner barrier, sustaining heavy damage. Ballard himself walked away from the wreckage and was amazingly the only retirement from the incident which took three laps to clear.
Astin Wigley was chief beneficiary, moving into third overall. Dennison managed to pick off Wigley in the restarted race to claim class honours and reignite his championship challenge after a difficult weekend at Brands. But Wigley held on to second in class, the best result yet for the teenager, which earned him the Driver of the Race award. Third was Joe Dalgarno, repeating his race one result, having survived a skirmish with Jack Chapman on the final bend.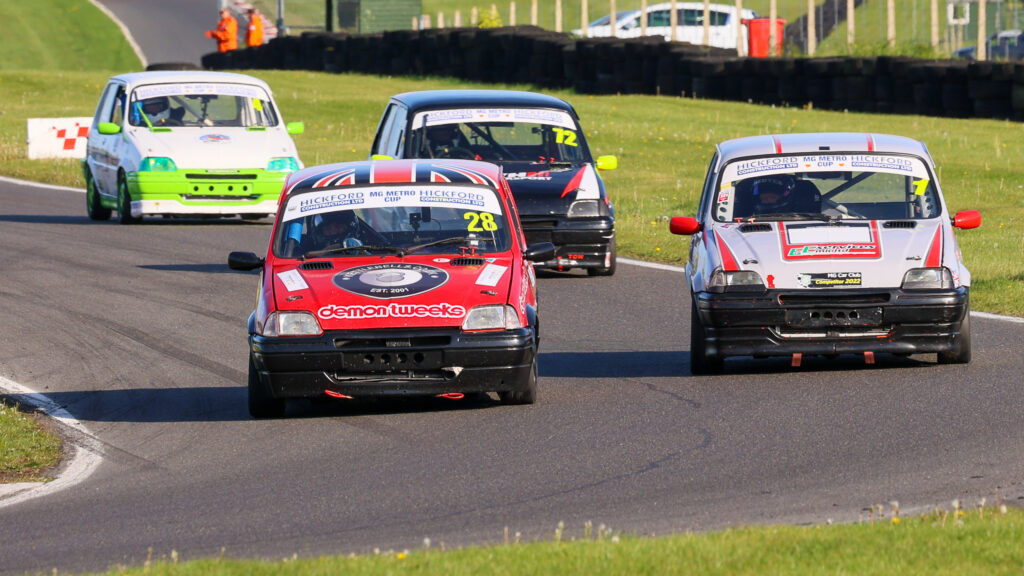 Hickford Construction Limited MGCC MG Metro Cup
Just as they did at Brands Hatch, Mark Eales and Mike Williams shared the spoils in the Metro Cup.
Reigning champion Eales (Car Number 1, above) jumped polesitter Williams (Car Number 28, above) at the start of race one, and inadvertently edged him onto the grass as Williams fought back approaching Coppice. With Williams forced to lift off, Tim Shooter and Dick Trevett nipped past.
By the time Williams had worked his way back into second, Eales had built a 6s lead and appeared to be in control. That was until a late safety car was required to clear Trevett's stricken car, which had bent a valve.
Eales had Williams breathing down his neck for the one-lap dash to the flag but, despite a couple of mistakes, clung on to win by 0.2s and was named the commentators' Driver of the Race. Shooter completed the podium ahead of Jon Moore, Matt Simpson and Les Tyler.
Eales again got the jump in race two, but Williams this time held onto second through Coppice and Charlie's, fending off Moore's challenge. That was crucial as it gave Eales no opportunity to break away. In fact, he didn't lead for long at all, as Williams got a better exit from Charlie's to claim the inside line along Park Straight and into Park. From there, Williams controlled the race to win by nearly 5s.
"A good day, good fun," was Williams's verdict. "I got a good start, there wasn't anything really wrong with it [but] he's obviously just a little bit better off the line. I just kept my foot down [through the] first corner [to keep Moore behind]. I wasn't slowing down for that one! I had to slow down in the first race – that was why I got passed in the second corner.
"I got the distance [ahead] and then it was just a case of maintaining that, and making sure Mark was a good second behind me. If it dropped beneath a second I put in a 'qualifying' lap and off we start again."
Shooter audaciously passed Moore into Hall Bends mid-race to clinch his second podium of the day, while Tyler this time beat Simpson to fifth. Driver of the Race was debutant Ben Young who impressed many on his way to ninth. It had been a challenging debut for Young after mechanical woes forced him to miss qualifying and he was only just able to make the lunchtime members' parade to complete his requisite three laps. From the back of the grid, he rose to 10th in race one, then improved another position in the sequel, reducing his lap times markedly over the course of the day.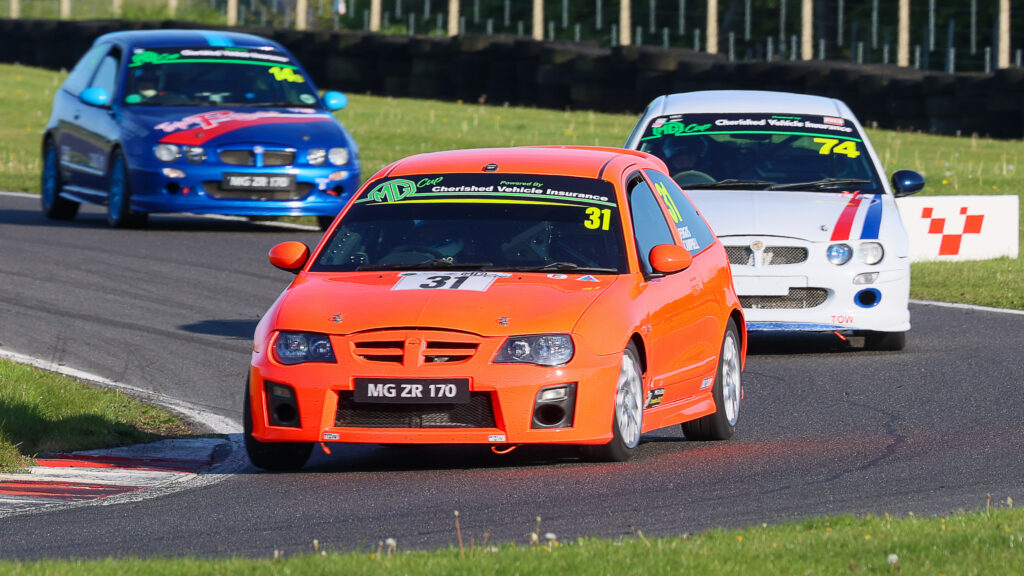 MGCC MG Cup powered by Cherished Vehicle Insurance
While Fergus Campbell claimed a dominant win in the opening MG Cup race, there was plenty of intrigue in the tactical contest going on behind. That would become the lead battle in the second race, in which Richard Buckley prevailed.
Campbell (pictured above), the current MG Trophy Class B champion, plans a relaxed season, and was making his first appearance in the MG Cup. Outright power is not as important at Cadwell Park as some other circuits, which Campbell demonstrated by putting his MG ZR 170 on pole position alongside the similar car of Ian Boulton (Car Number 74, above). The Class B pairing held that order throughout, with Campbell claiming victory by nearly 5s.
"Cadwell Park's a fantastic place to come to," enthused the victor. "You've got to keep your wits about you round here."
Behind them, Dave Nixon was struggling to maximise a new set of tyres on his Rover 220 Tomcat. Having to go defensive through Gooseneck to keep the similar car of Buckley behind compromised their overall pace and allowed a multi-car train to form behind. Eventually, the pressure told, and Nixon's trip over the Mansfield kerb let Buckley and Dennis Robinson (ZR 170) through, with Buckley winning Class C.
Seventh overall and winning Class A was Driver of the Race Marcus Short (Rover 216 GTi), who had qualified a fantastic third overall, and stayed among the main pack, clawing back in the corners what he lost on the straights. He would repeat his class success later in the day, albeit slipping to ninth overall.
From row two, Buckley jumped Campbell and Boulton at the start of race two and was joined shortly afterwards by Nixon in second. A similar train then formed behind the leader, with Buckley holding firm by making sure Nixon always had to think about attacks from behind as well as his own challenges for the lead.
"It was a bit of reversed roles there, wasn't it?" said 2019 champion Buckley. "I got an absolutely amazing start. I didn't do what I normally do which is spin the wheels up. Took it nice and steady, they hooked up, and that was it – I was gone!
"I saw Dave had had a fairly decent start as well. Fergus is a really good driver. He's class. So I pretty much knew that if I could keep Dave at bay, then Fergus would keep nibbling at him. I was playing him a little bit because I knew Fergus was there, so if I could just back him up a little bit, especially coming up through up over the Mountain and into the woods, let Fergus have a little bit of nibble at him, he's got to look behind him."
It worked well, and earned Buckley the commentators' Driver of the Race award, as he won from Nixon, Class B victor Campbell and Boulton, with father-and-son duo Dennis and Carl Robinson completing the closely-contested top six.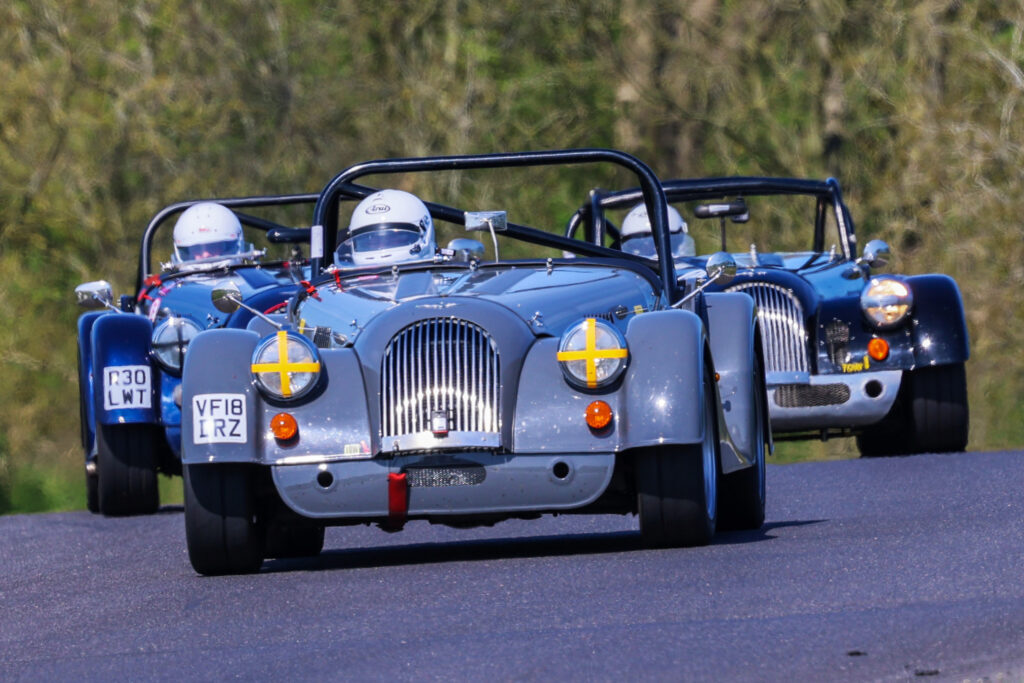 MSCC The Morgan Challenge
A 21-car field of Morgans made a guest appearance at the event for a single 30-minute race, the longest of the day. But Russell Paterson and Roger Whiteside ensured it remained absorbing throughout as they contested victory in their V8-powered +8s.
Polesitter Paterson lost out to Whiteside when the latter got a better run exiting Barn at the end of lap two. But Paterson reclaimed a decisive lead at around two-thirds' distance when Whiteside got sideways through the Mountain section.
The gap ebbed and flowed through traffic, but Paterson held to win by less than a second, with Andrew Thompson's Snetterton-winning ARV6 in third, the Class 2 winner, some 30s further back. Thompson was followed by Tom Andrew's +6 and former F3 Cup man Shane Kelly's four-cylinder machine, which won Class 3. Craig Hamilton Smith in the Baby Doll just edged reigning champion Brett Syndercombe for sixth.
MG Car Club delighted to donate to Marshal Club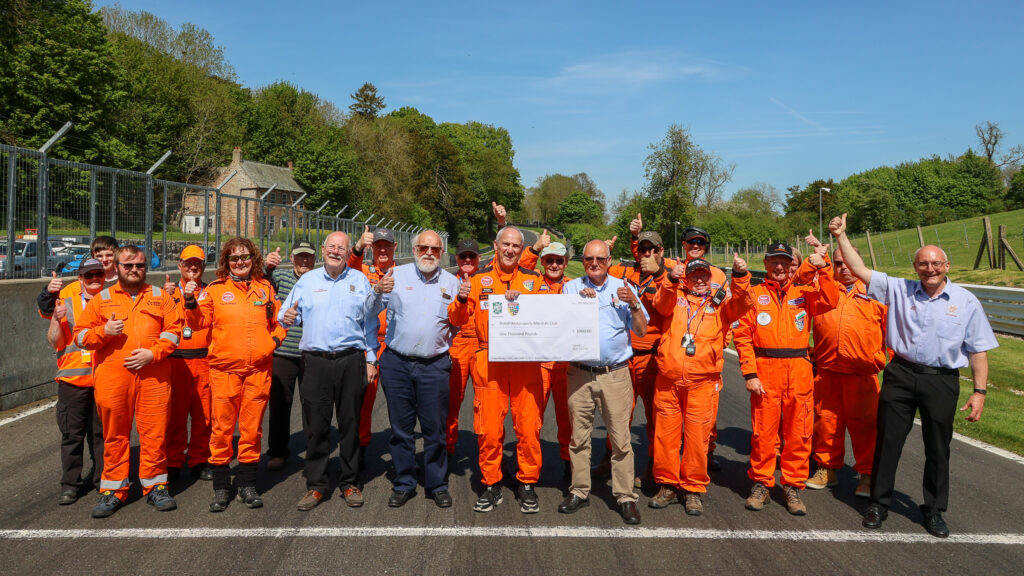 With thanks to the contributions made by MG Car Club Competitors throughout 2021, it was fantastic to be able to make a donation to the British Motorsports Marshals Club whilst at our latest race meeting.
MG Car Club visited Cadwell Park on 8th May and Chief Marshal Paul Stilling presented BMMC National Treasurer Stephen Woolfe with the donation in the sum of £1,000. A number of Marshals were able to join in the presentation as well as representatives from MG Car Club and all agreed that this would be a helpful contribution.
Stephen Woolfe told us that the money will be used to help provide some of the invaluable training that BMMC delivers to Marshals every single year. MG Car Club Competitors recognise that they simply cannot go racing without the 'army' of volunteers that keep them safe during every race.
The Clubs look forward to continuing to work together and support each other for many years to come.
Hot racing action for MG Car Club's Brands Hatch season opener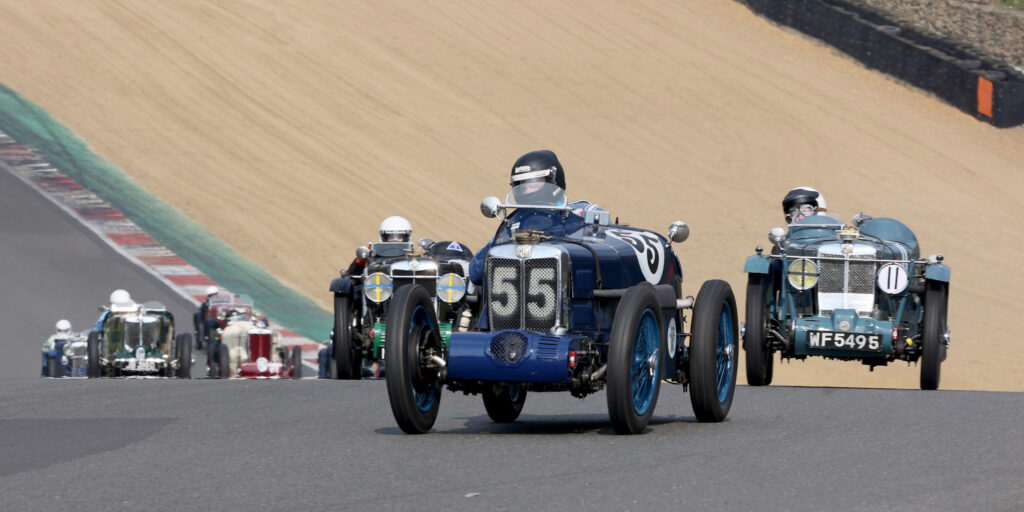 MG Car Club reconvened for the start its latest racing season with five MGCC diverse categories getting their campaigns for 2022 underway on the Brands Hatch Indy circuit. They were supplemented by a race from new guest Ecurie Classic Racing, and it all made for an intense single day of competitive action.
The intensity was matched by the drivers, with each category providing captivating racing both for overall victory and throughout the field. And it was all held in sunny, dry and mild weather that threatened to more resemble mid-summer than mid-March.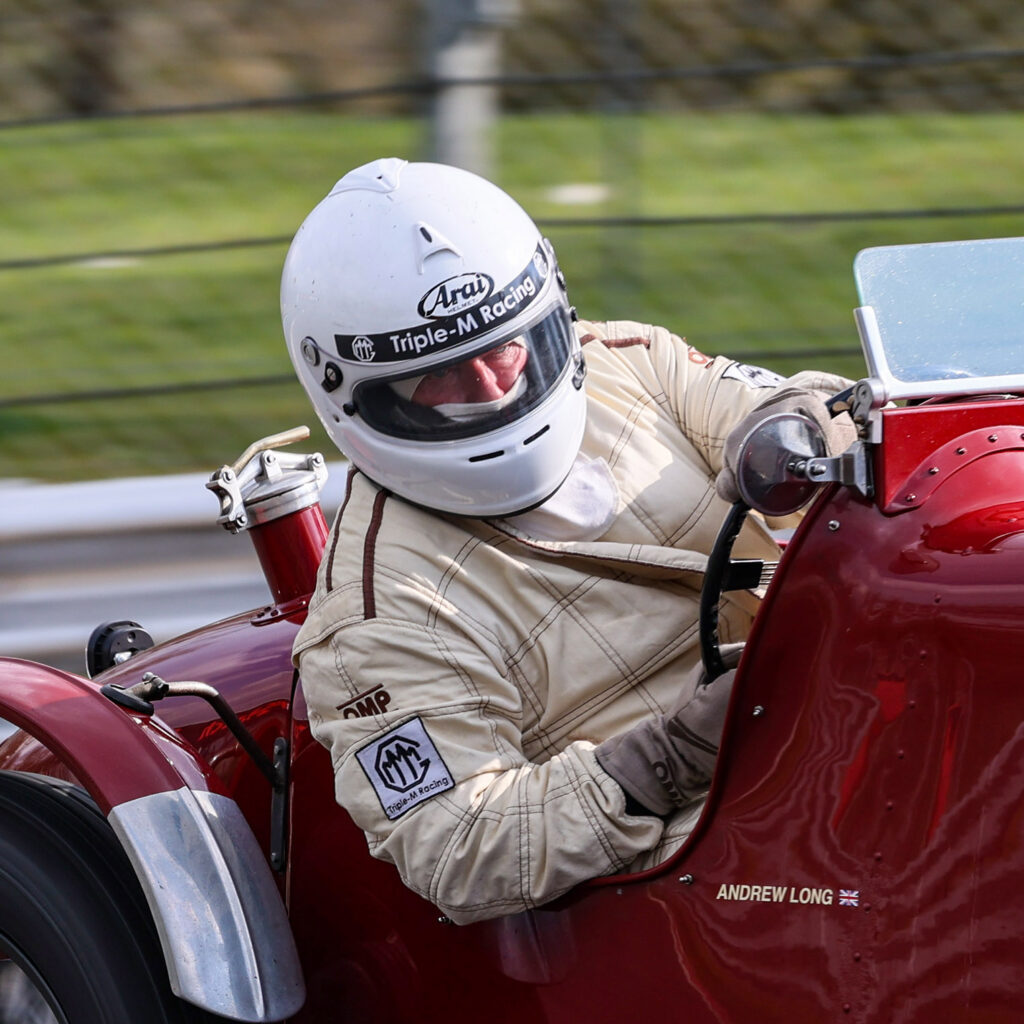 Baynton Jones Historic Motorsport Triple M Challenge
Andrew Long (pictured abocve) dominated the opening Triple M Challenge race for Pre-War MGs from pole with his MG N Type. Duncan Potter in his MG Montlhery Midget and Fred Boothby's MG J2 meanwhile had a close place-swapping battle for second place, with Potter prevailing for the runner-up spot which also got him the Driver of the Race award.
Teifion Salisbury's MG K3 in fourth and Chris Edmondson's MG D Type in fifth also ran in close company throughout and were separated by just half a second at the end.
The second Triple M race was a similar story, as Long again moved well clear to win with apparent ease, and this also got him Driver of the Race, while Potter and Boothby again took turns in second place, with Potter again prevailing.
Mark Dolton in his MG PB Special, who finished seventh in Race 1, finished fourth in the second event ahead of the fifth-placed Andrew Morland's MG PA, which was sixth in Race 1. Salisbury and Edmondson, again running in close company, were next home.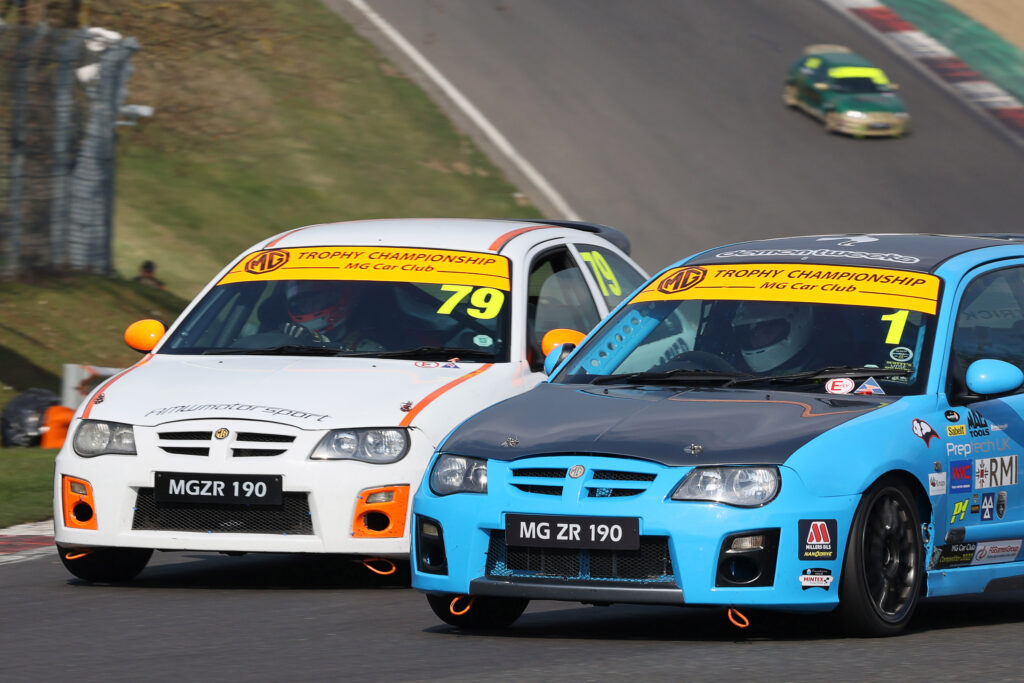 MGCC The FG Barnes MG Trophy
Reigning MG Trophy champion Sam Kirkpatrick was back for 2022's Brands Hatch season opener and took yet another win in Brands' Race 1. But to do so he had to beat a strong challenge from fellow MG ZR 190 runner Adam Jackson (both pictured above).
Kirkpatrick got too much wheelspin at the start and fell behind Jackson, but quickly regained first when Jackson slid wide at Druids. Jackson kept attacking though and passed Kirkpatrick for the lead at Paddock.
Kirkpatrick at one-quarter's distance got back ahead with a thrilling Druids move on the outside, where he was able to box Jackson in behind a backmarker. The front pair continued in close company until the fight ended early when Jackson lost time with a trip through the Paddock Hill Bend gravel. He nevertheless retained second place ahead of double champion Graham Ross, and they ran in that order to the end.
"I didn't think it would be that close [with Jackson] from the quali times," Kirkpatrick said, "but I know he's fast and in the race it's always different.
"I tried it [the Druids move] around his outside the lap before and went a bit far. So tried it again and luckily there was a backmarker there to pin him against, and I got past. I saw the backmarker before and I knew I could maybe pin him [Jackson] in a bit, but we caught him at the right time and it worked out well for me."
Jackson added: "The car's a bit lairy to be honest, it was obviously fast but I think it needs dialling back in.
"I'd closed back up on him [Kirkpatrick] and I was pushing more, and I just pushed it a little bit too far through Paddock Hill and lost the back end. I had to steer into it [the slide] at which point it snapped a bit and went into the gravel."
Josh Bromley passed James Dennison in the early stages to win Class B, an effort that got Bromley Driver of the Race too. Dennison meanwhile lost second in class on the final lap when he got his braking wrong at Druids and went into the gravel. Matthew Harvey won Class C ahead of Chaz Ryles.
Race 2 proved much more straightforward for Kirkpatrick as he won at a canter after all of his Class A rivals – Jackson, Ross and Patrick Booth – started from the pitlane after an incident in the first attempted start (the other Class A runner, Doug Cole, didn't take part after encountering a misfire in Race 1).
In that Race 2 first start, Booth and Jackson, side by side and disputing second place at Paddock, made slight contact and slid and spun in front of a crowded pack and the luckless Dennison's machine was collected by Jackson. Dennison couldn't take the restart, though was physically unharmed despite an ambulance being called to the site of his stranded MG ZR 170.
Come the reconvened race Jackson, despite having to hold his steering wheel at an angle from the damage, was able to climb through the pack to finish second, pipping Class B winner Joseph Dalgarno in a thrilling run to the line. Tylor Ballard was second in Class B while James Cole, third in Class B and sixth overall, got Driver of the Race. Ryles this time beat Harvey in Class C.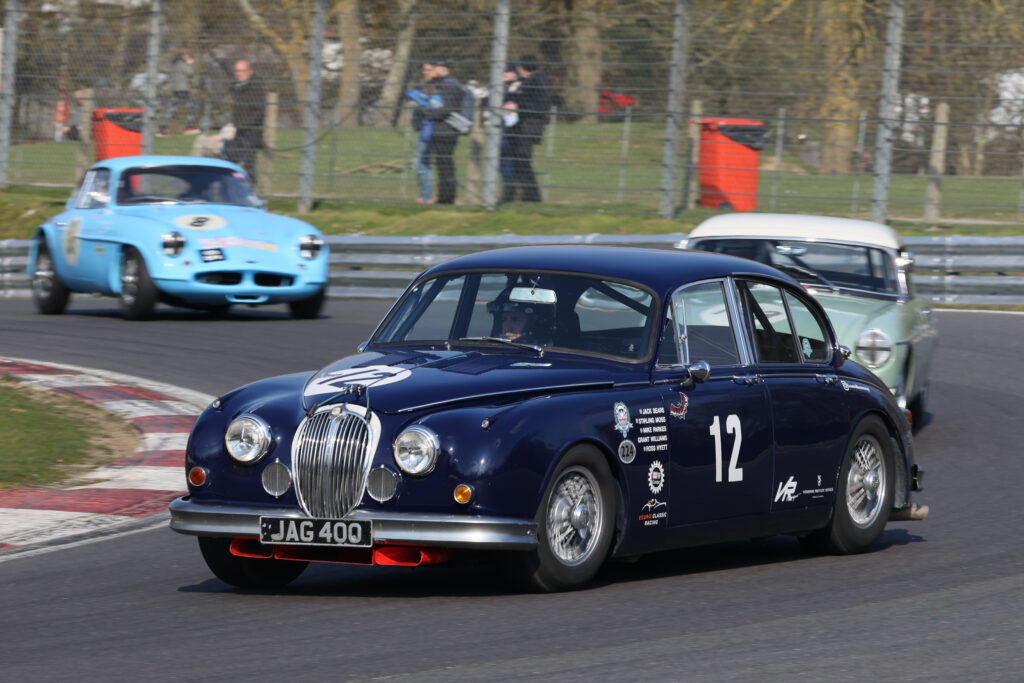 Ecurie Classic Racing
The guest Ecurie race, a 40-minute pitstop event for its classic cars, was won impressively by Grant Williams in his distinctive Jaguar Mk2 that was raced by Jack Sears and tested by Stirling Moss (above).
Williams led the opening stint clearly after polesitter Richard Lambert's Rochdale spun early on but Lambert then climbed through the field excitingly as often the fastest car on track and closed to within 3.7s of Williams.
The safety car was deployed during the pitstop window, as Robert Salisbury's Jaguar had left the track at Clearways, and Williams under the caution pitted a lap later than many rivals and dropped to seventh. He quickly rose to re-establish the lead though after green flag racing resumed, and held off the Jaguar of John Young, who had taken over from Nigel Webb, by 2.3s to win.
Nick Smith, newly back from a humanitarian trip to Poland, took over the Rochdale but pulled out before the end when the car dropped a cylinder, having also just picked up a couple of track-limit penalties.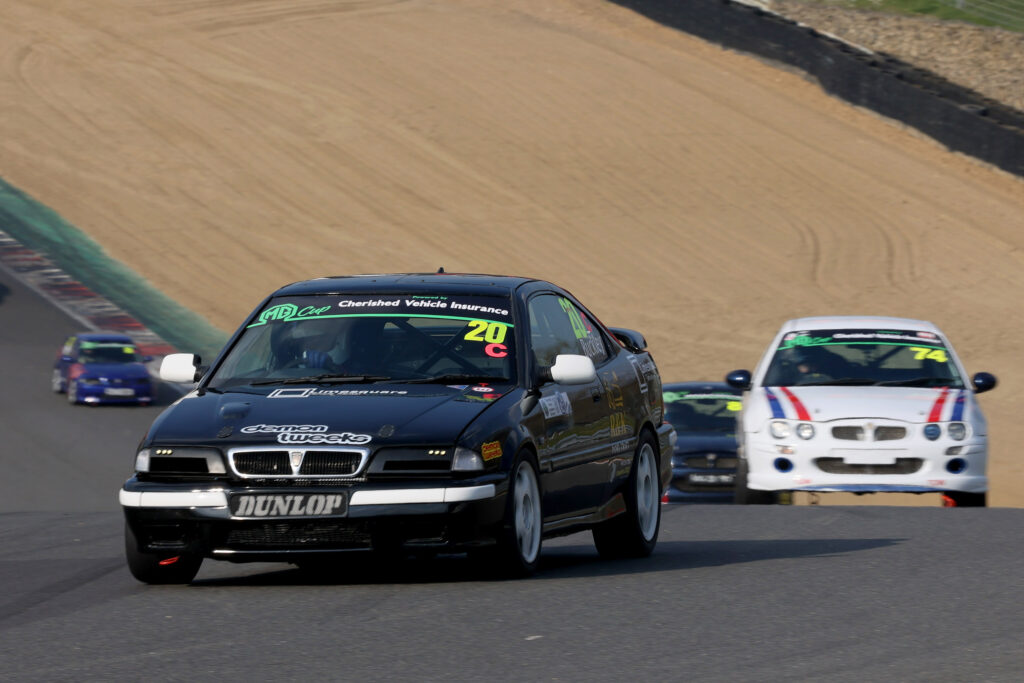 MGCC MG Cup powered by Cherished Vehicle Insurance
The MG Cup races at Brands Hatch also had two frantic battles for first, in this case between 2019 champion Richard Buckley (pictured above), these days back in his Rover Tomcat Turbo, and the invitational MG ZS 180 entry of Karl Green, who is more commonly seen in the Cockshoot Cup and was at Brands Hatch for the very first time.
Buckley held off an attacking Green to win a restarted Race 1, which also was ended early when Chris Boulton's MG ZR 190 went off at Paddock. Ian Boulton was third overall and first in Class B, ahead of Iain Dowler's fellow MG ZR 170.
Steve Tyler beat fellow MG ZR 160 runner Aaron Ross by 1.3 seconds to win Class A, and this also got Tyler Driver of the Race.
Buckley and Green took up battle for first again in Race 2, and Green passed Buckley a handful of laps in with an charging move at Druids. But this delayed both and Green and Buckley resumed in third and fifth respectively.
The pair quickly recovered to first and second and Buckley chased Green hard for the rest of the way, though Green won by 0.4s.
"Good day," Buckley said, "first race, I made an absolute hash start, it was awful, but I managed to then keep the lead. Karl in the ZS, that thing is so quick. I just managed to keep him behind me, we had a really good race.
"And then second race, same thing really. Didn't make a particularly brilliant start. Ian [Boulton] got in front and Karl was in front. I managed to get back past Ian then I made a demon move down into Paddock to take Karl, and I thought it was going to be pretty much the same thing [as Race 1].
"He did a bit of a late lunge down on me into Druids [and] Ian and Iain went past. So we were then chasing them and then I was trying to chase Karl to see if I could get him again but he was just that little bit in front. It was good fun again. Two really good races so can't be happier."
Boulton again was third home overall and the Class B winner, while fellow MG ZR 170 competitor Jack Chapman finished fourth overall and second in Class B and was awarded Driver of the Race.
Ross won Class A, while next up in class this time was Marcus Short in his Rover 216 GTi, who rose through the field impressively after a poor start. Short, taking part in only his second ever car race, is the latest racing son of Le Mans overall victory contender Martin Short – who built the 216 – and is the younger brother of last year's MG Cup frontrunner Morgan, who also cut his MG Cup teeth in the 216.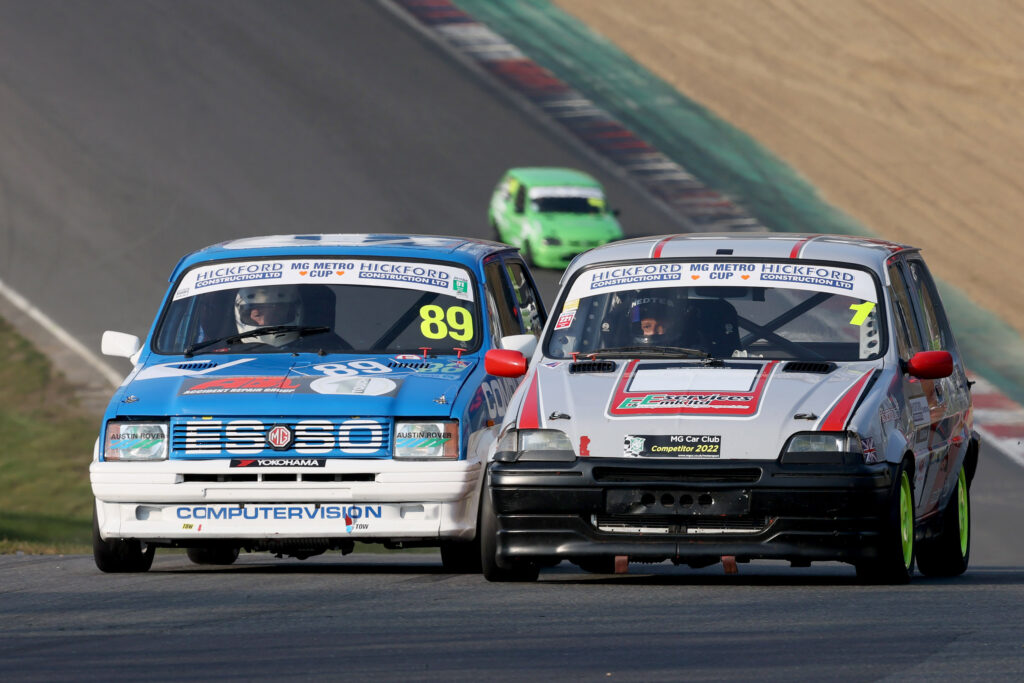 There was much to anticipate in this first MG Metro Cup gathering of the season, with 2017 Metro champion and reigning MG Cup champion Mike Williams returning along with the ever-rapid Dick Trevett, to join incumbent pacesetters such as reigning Metro champion Mark Eales and Robbie Kenning (both pictured above). And the anticipation was justified with fantastic multi-car battles at the front at Brands Hatch.
Eales looked set to lead the frontrunners home in Race 1, but the race then ended in unusual circumstances. The safety car was brought out as Kenning had slid into the Clearways gravel, and under the caution leader Eales peeled into the pits; it transpired that he had wrongly been advised to do so.
Williams was first to the chequered flag as during the one-lap green flag sprint to the finish Trevett, who'd inherited the lead from Eales' misfortune, went off at Paddock with a shock absorber problem. But the result was subsequently changed to make Eales the winner, and with this Trevett got second ahead of Williams. Jon Moore was fourth home, which also got him the Driver of the Race award. "The first race went really well, the final result wasn't quite what we all expected but I got the result I needed," Eales said, "I didn't want it to end like that but we'll say no more about that. Really happy [with my pace], onward and upward."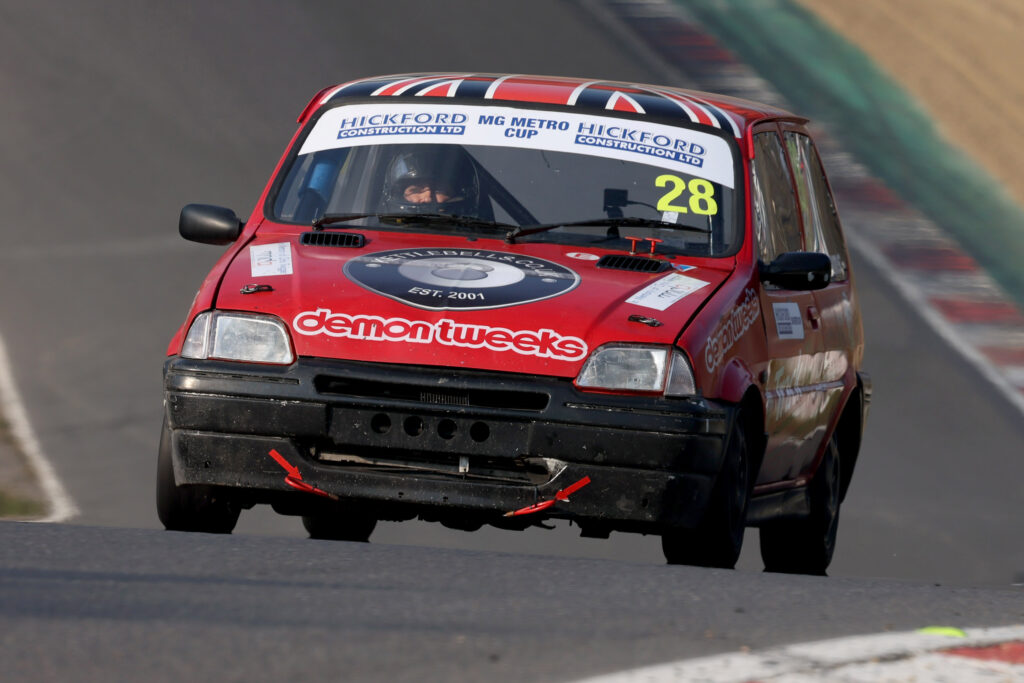 Williams got the recompense though of winning Race 2 and with it got Driver of the Race. Trevett was second home, while Eales didn't make the flag after he sustained rear damage when he dipped a rear wheel on the grass and spun "trying a little bit hard" then got hit by a pursuing car. Richard Garrard who was due to complete the podium pulled out with a lap to go when his CV joint seized. Tim Shooter therefore got third.
Williams said: "I know it sounds silly but I didn't want come and lead from the start and do a trackday type scenario where there's no-one really behind you and there's obviously no-one front of you, so throw me right in the middle of the pack like that and battling. To get the win as well at the end it was well fought and well earned. I had a great big smile on my face all day with the racing."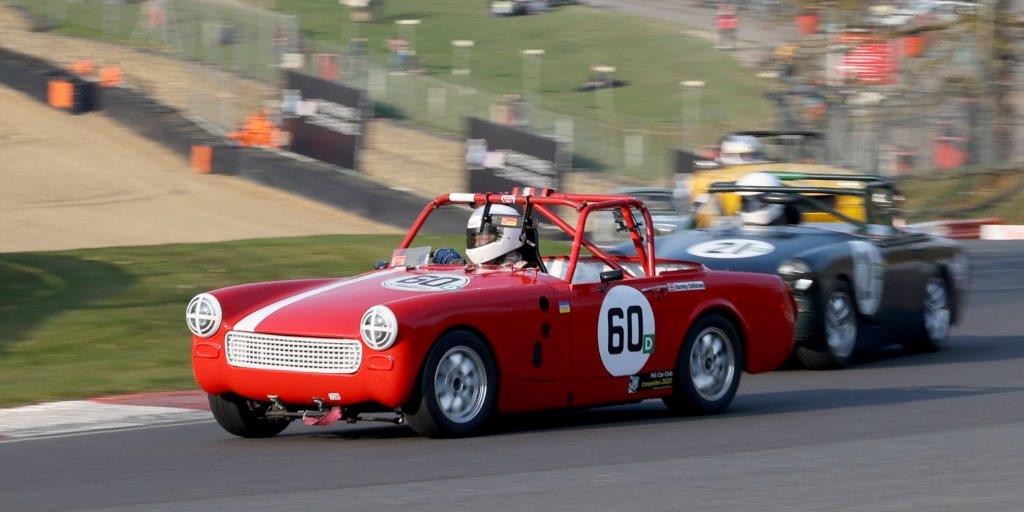 MGCC Lackford Engineering MG Midget & Sprite Challenge
The Midget and Sprite Challenge's Brands Hatch curtain raiser maintained the meeting's theme of having exciting multi-car battles for first place.
Victory in the opening race was a matter for Richard Bridge and returning multiple champion Paul Sibley, who started his comeback in the category at last year's Mallory Park season closer. And Bridge's Sprite prevailed in Brands' Race 1, as having attacked Sibley's Midget in the race's early part he got by at Druids around two-thirds' distance.
Reigning champion Pippa Cow in her Austin Healey Frogeye Sprite won Class E, passing Tom Walker's Sprite at half distance then holding him off for the rest of the way.
In Class D, Barney Collinson (pictured above) in his Midget prevailed in a three-way scrap with Ian Burgin's and Edward Easton's Sprites to win. This freshman victory got Collinson Driver of the Race.
Stephen Watkins – another returning to the Midgets and Sprites, in his case after two years away – finished third in Race 1, 20s shy of first, and set-up changes got him onto the pace for Race 2 and he therein beat Sibley for victory after another long and absorbing place-swapping fight. There was a slightly early finish when Oshin Shahiean in his Midget went off at Druids. Watkins also got the Driver of the Race award with his win.
Bridge meanwhile had ran with the front battle early on but then dropped back to finish a distant third after his throttle cable jammed.
"In the first race it understeered," Watkins said. "And the second one I changed the rollbar at the back and made it a bit stiffer at the back and balanced it up a lot nicer. That put me in a better position, and gave me a chance to have a good battle with Paul.
"I could see he was getting the same problem, he was understeering towards the end of the race. I was finding it difficult to get past him, but I was managing to get a better drive out of Clearways but he was keeping the inside line into Paddock. So I thought I'll have a go at going round the outside which is a bit iffy, but Paul was good and gave me the space. We had some great fun, he dived back a few times, we had a great race."
Bridge said: "The first race was brilliant, loved it. I'm trying to do the full season this year, and hopefully win it. It's about time I won the championship."
Bridge got his results despite having to install his spare engine at the 11th hour. "That's [the throttle problem] what happens when you have to put the spare engine in in a hurry. [We were] building up a new engine and we tested it on the dyno and it had a problem, so we decided to go with the spare engine which is a bit tired.
"But it didn't seem to matter in the first race, and if the throttle cable had been fine in the second race I would have been at least there or thereabouts for the win.
"It's great [to battle Sibley], because when I started in 2009 he was the man to beat but I wasn't in the same class as him, and I was really disappointed when I knew that I was going to come back to Class A and he'd decided to retire. He's so experienced, he's such a good driver"
Walker turned the tables on Cow to win Class E in Race 2, while Collinson doubled up in Class D with another win. He again beat Easton, while Shahiean had earlier spun out of what was another three-way class win battle. Collinson also got Driver of the Day.
Four of the MG Car Club's Championships crown their champions.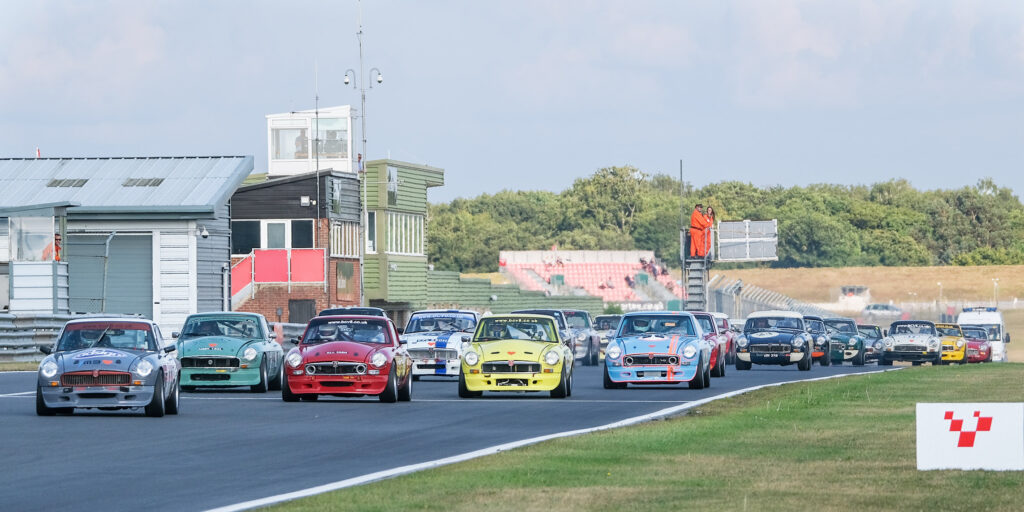 The MG Car Club's 2021 racing season concluded with its Late Summer Meeting at Snetterton. A weekend of typically good-natured competition under fine skies led to four of the club's championships crowning their champions.
MGCC BCV8 Championship
Unlike the other MG Car Club championships in action, the BCV8s still had another meeting left in their 2021 calendar, but that didn't prevent Ollie Neaves wrapping up the title as he maintained his 100% record this year.
Neaves qualified on pole position but was passed by Neil Fowler's similar B GT V8 exiting the Wilson hairpin at the start of the first race before regaining the lead in swashbuckling style around the outside of Coram nearly two laps later. Gearbox problems, which left him with only second and fifth gears, meant that Fowler was unable to respond, and Neaves cleared off to his 11th win of the season, with Russell McCarthy completing the podium behind Fowler.
Ben Tovey topped Class C – and was named Driver of the Race – after passing Jim Bryan early on at Agostini, while losing fourth gear meant Andy Young could only manage third in his MGC. Babak Farsian (Roadster) produced another fine display to win Class AB and beat the Class B frontrunners – headed by Howard Grundon (B GT V8) – after a good scrap.
Fowler's gearbox gremlins meant Neaves could take an easier run to victory in race two, putting the championship beyond all doubt, with McCarthy beating Fowler to second. Behind them, James Wheeler – sharing his dad Jonnie's Class C B GT V8 with his own Class D version sidelined –thundered through from the back of the grid to fourth overall and the Class C win after Bryan ran wide at Riches. Tovey also nipped past Bryan into second but then lost the place by just 0.2s at the flag. Farsian completed a Class AB double, while Steve McKie managed to turn the tables on Grundon and win Class B, being named Driver of the Race for his efforts.
"It's been a really good year," said champion Neaves. "The car's been amazing all year. There probably is a bit of luck involved in making sure that they stay together but it's testament to the job my dad's done to make it all come together without any failures so far.
"It's a real shame Neil's had gearbox issues because the last couple of races, there's been potential for a race-long battle. We've got slightly different gear ratios so there were parts he was quicker than me, parts I was quicker. But I was quite a bit quicker through Coram which was where I made the move – it was a bit of a brave one!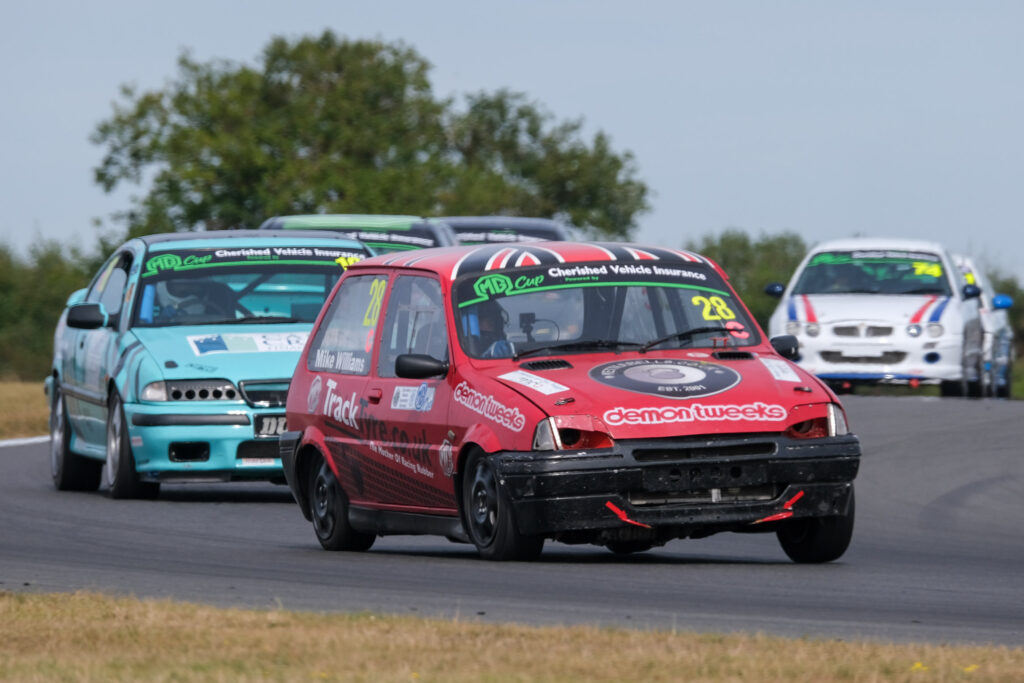 MGCC MG Cup powered by Cherished Vehicle Insurance
An almost perfect score of two wins, two fastest laps and a pole position clinched a first MG Cup overall championship crown for Mike Williams (pictured above), who overhauled a pre-weekend deficit to Class B leader Iain Dowler.
The Rover Metro-mounted Williams was beaten to race one's pole position by Morgan Short (MG ZS 180) but wheelspin for Short at the start allowed Williams to make the best getaway and from there he never looked back. Short had also fallen behind the Rover 220 Tomcat Turbo of Matt Simpson and spent the rest of the race trying to manufacture a way past Simpson and the similar Tomcat of Richard Buckley who passed Short as they squabbled at the start of the second lap. Buckley then immediately demoted Simpson for second at Agostini, before Short's around-the-outside attempts through Oggies and Williams were thwarted by the Tomcats' superior power down the Bentley Straight. When Short tried the outside line at Coram he ran wide and spun, dropping down the order before eventually recovering to fourth. Williams led home Buckley by nearly 18 seconds, despite a late off as he tried to make sure of the point for fastest lap, with Simpson third.
The scrap for Class B honours was particularly entertaining. Dowler's MG ZR 170 made a poor start from class pole and, as he tried to quickly recover, contact at Agostini cost him his rear bumper and a lot of time as he fishtailed wildly out of the corner. It was left to good friends Ian Boulton and Dan Jones (both in ZR 170s) to contest the class victory. Boulton eventually prevailed by just 0.4s and was named the commentators' Driver of the Race. Dowler recovered to third but fell back behind Carl Robinson – 2020's overall champion stepping up to Class B and making a first appearance of the season – when a 5s track limits penalty was applied.
The overall points advantage had now swung in favour of Williams, and the championship destiny was in his hands. With Short having set only one representative lap time in qualifying after a number of track-limits breaches, Williams was able to convert pole position into a lead he wouldn't relinquish. Buckley demoted Simpson from second at the Brundle and Nelson esses but mechanical failure then pitched him off at Coram and into retirement. Williams took the victory from Simpson – who was named Driver of the Race – and Peter Burchill (MG ZS 180) after Short's drive through the field was hampered by an excursion at the Wilson hairpin.
Jones took Class B honours after another close scrap, while Boulton's late pass of Robinson for second at Agostini was reversed when the race was red-flagged and the result taken from a lap earlier. Dowler could only manage fourth in class after a gear-selector issue left him struggling to find gears.
Aaron Ross (MG ZR160) edged the Class A honours in both races, pipping Stephen Highley in the opener and Steve Tyler later on, as an entertaining – and clean – scrap between the three sadly ended with Highley crashing onto his roof (without injury), bringing a premature end to the race.
"It was tough," said a delighted Williams. "I did only what I could do – just go out there and get fastest lap and the race win to get the maximum points, and hope that he [Dowler] dropped some points.
"It was nice having Matt behind me because he defended my lead quite nicely! Probably the last two or three laps I started to cool it down a bit."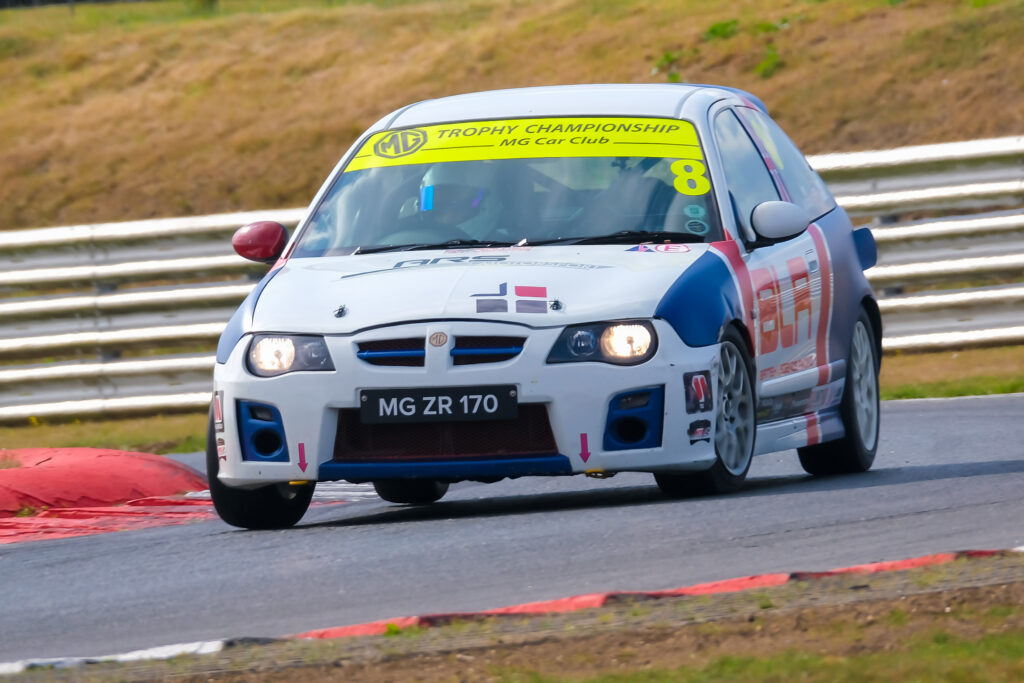 MGCC Holden MG Trophy
With the MG Trophy title already in his pocket after the July rounds at Donington Park, Sam Kirkpatrick chose to sit out the races at Snetterton, which left the way clear for Fred Burgess to take two comfortable wins – his first of the season – on a track at which he thrives. But it was the battles between youth and experience in Class B that stole the show.
Burgess's fellow front-row man Doug Cole was forced to begin race one's first start from the pitlane after his car wouldn't start in the assembly area. But the race was red-flagged on the first lap when Robin Walker ran wide at Williams and rejoined the circuit in the path of Joe Dalgarno, with the collision resulting in both cars rolling. Both drivers were fine but the damage to their cars meant their race weekends were over.
Cole took up his grid slot for the re-run but was unable to match Burgess's pace. He had to settle for second as Patrick Booth completed the podium, with the trio repeating that result in race two.
"Both races were fairly comfortable," admitted Burgess. "I've always said, I don't care if I come fifth or sixth if I have a good race. I enjoyed the weekend because I love this circuit – it's one of my favourite circuits so it's always fun – but it would have been nice to have someone a bit closer."
Instead of focusing on the leader, most onlookers' eyes were fixed on the enthralling Class B battles. The class championship was on the line, with only two points separating Fergus Campbell, Tylor Ballard and James Dennison heading into the weekend. Ballard struck first blood by taking both class pole positions, as Campbell first suffered an ABS issue and was then left to rue race one's red flag as his trademark lightning start counted for nothing. Ballard made the best getaway at the second time of asking and kept himself clear of the engaging scrap between Campbell and Dennison. Campbell made the decisive move for second mid-race at Oggies, and while he was able to pull away and reduce the gap to Ballard, he ran out of laps to make a challenge.
Campbell made another quick start in race two but, as the others tried to follow him between the Class A cars contact led to an accident which brought out the safety car. Ballard fared worst of the Class B contenders, touring into the pits with a holed radiator and his championship hopes in tatters. That left Campbell needing to finish second to be sure of the class title. Under pressure from Dennison and Jack Chapman (pictured above), he was able to fend off the pair and clinch the class crown in style while also named Driver of the Race.
It was a desperately disappointing way for Ballard to lose out, having finished every other race of the season. But at 21 years of age, he has proven that he can compete with far more experienced drivers like Campbell and that his time will come.
"For a relatively modest club racing championship, the Trophy is so incredibly competitive," said Campbell, who repeated his class triumph of 2014 and credited car builder Rob Quinn of Quinntech for the machinery at his disposal.
"I'm 52," he added. "These kids are young and brave! James Dennison is mighty fast and he's got a bit of experience in these cars. The lad Jack has come into it this year and he's really arrived. If my concentration slipped for a minute he would have been there."
Chapman certainly impressed as he passed Dennison for second at Brundle mid-race. Having already been named Driver of the Race for his fourth in class earlier in the day, he was also named as Saturday's overall Driver of Day for his efforts.
James Moreton continued his run of winning Class C at each race he has contested, wrapping up the class title in the process.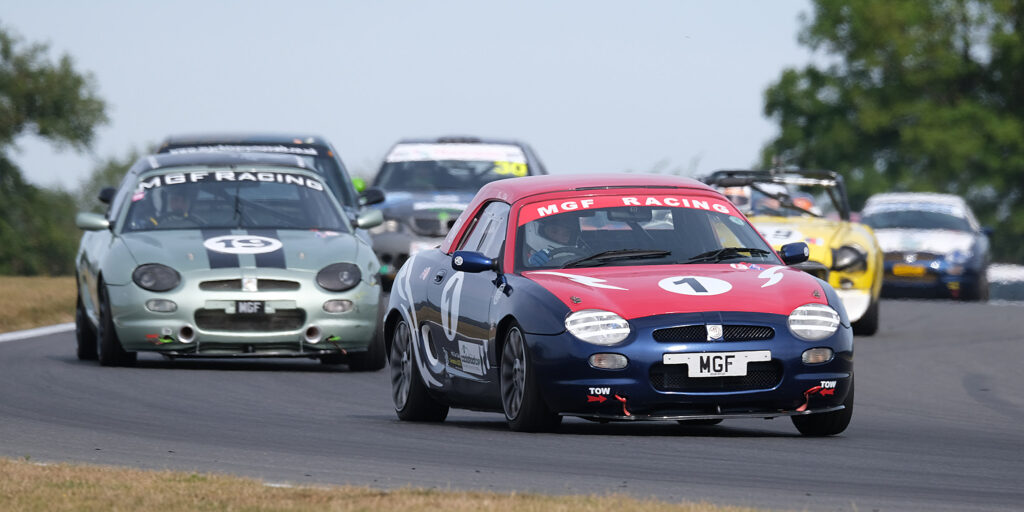 MGCC Cockshoot Cup
The Cockshoot Cup also went down to the wire at Snetterton, with Brian Butler managing to successfully retain the overall title.
After Mark Wright's MGF Cup car, which had qualified third, had to be withdrawn with a hydraulic leak, it was left to the K-Series-engined MG Midget of Keith Egar and Ray Collier's MG ZR 190 to contest the outright victories, although David Morrison's Class B Midget kept them honest. Egar led the opener from start to finish, while Collier – on his first visit to the circuit – had to overhaul Morrison after being passed into Riches. Morrison still managed a remarkable third overall, and was named Driver of Race. Karl Green (MG ZS 180) persevered with engine issues that would force him to miss the second encounter as he set the second fastest lap on his way to fourth.
Clutch failure denied Egar a shot at a double in race two, while Collier was given some breathing space – despite a poor start – after an excursion through the Riches gravel for Morrison. That made the latter's recovery to second all the more impressive despite the day's relatively high rate of attrition.
"I'm really pleased with that," said Collier, who admitted struggling with the long right-hander at Coram, before dashing off to Spain for work. "I didn't expect to get a win this weekend. I'd seen [Morrison] go off. Keith had retired, so it was for me to throw it away then. And then out of nowhere this Midget's looming again and I had to start pulling some laps back! So I think that was an epic drive by him."
Butler (pictured above) was having to manage problems aboard his MGF. But a MAP sensor issue made his throttle pedal more like an on/off switch, and contributed to a couple of grassy moments, couldn't prevent him twice heading home Chris Greenbank in Class F and beating Collier to the overall championship crown. Joe Jones's drive to third in Class F and sixth overall in race two earned him both the Driver of the Race and Sunday's overall Driver of the Day awards.
Mike Peters, whose record in Class B matched Butler's going into the weekend, sadly had to withdraw with engine problems after qualifying, ending his overall championship hopes.
"It's not often I cry but there was a tear in my eye," admitted an emotional Butler. "We've had a horrendous year with family issues, not Covid-related. And then we had nothing but issues all weekend. I'd either got full throttle or nothing. The corners where you just want to feather the throttle there was nothing so I had to give it full beans! I had to just deal with it but it was hard work."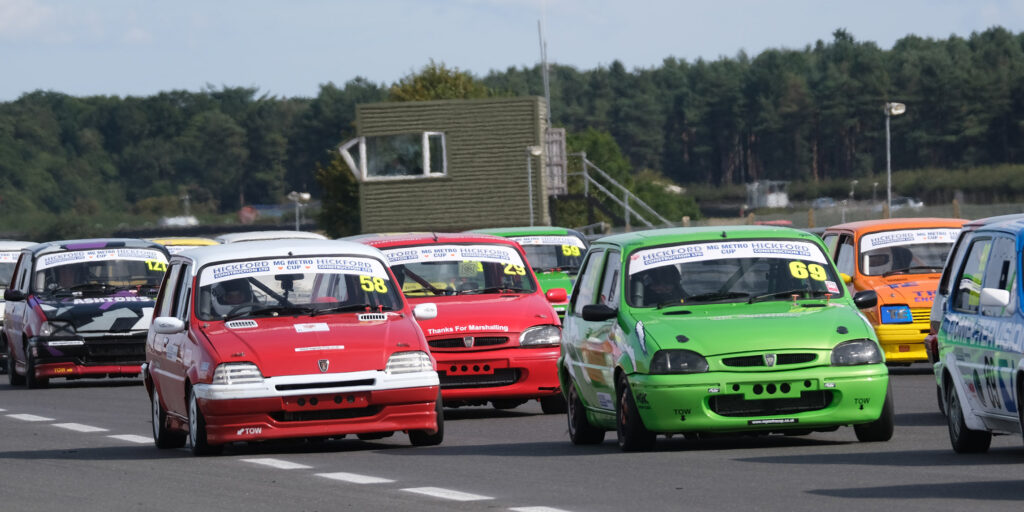 Hickford Construction Limited MGCC MG Metro Cup
Mark Eales survived a pre-meeting mechanical scare to scorch to a pair of victories and claim the MG Metro Cup crown. Finding water in the car's engine oil prompted Eales to switch to an older back-up motor for the weekend, but he still managed to claim pole position by more than three seconds on the three-mile Snetterton 300 layout.
Apart from a late safety car, which led to a one-lap dash to the flag, Eales was untroubled on his way to victory in race one which was enough to secure the title with a race to spare. Behind him, Tim Shooter claimed second, but only by 0.2s from the challenge of impressive first-year driver Ben Williams. Williams had passed Phil Goodwin for third at Riches just after half-distance.
"Reliability and things like that
[were a worry]
," said a relieved Eales. "You don't want to push it too hard if you don't have to. Luckily, I got a good start but I had to push because I could see Tim was constantly there behind me – he certainly wasn't letting off."
With the pressure off for race two, Eales took a commanding 12-second victory. The margin of victory may have been a bit smaller had Shooter and Williams not clashed as the latter made his move for second late in the race. That allowed Goodwin and Willars to inherit podium finishes in the final race of the year.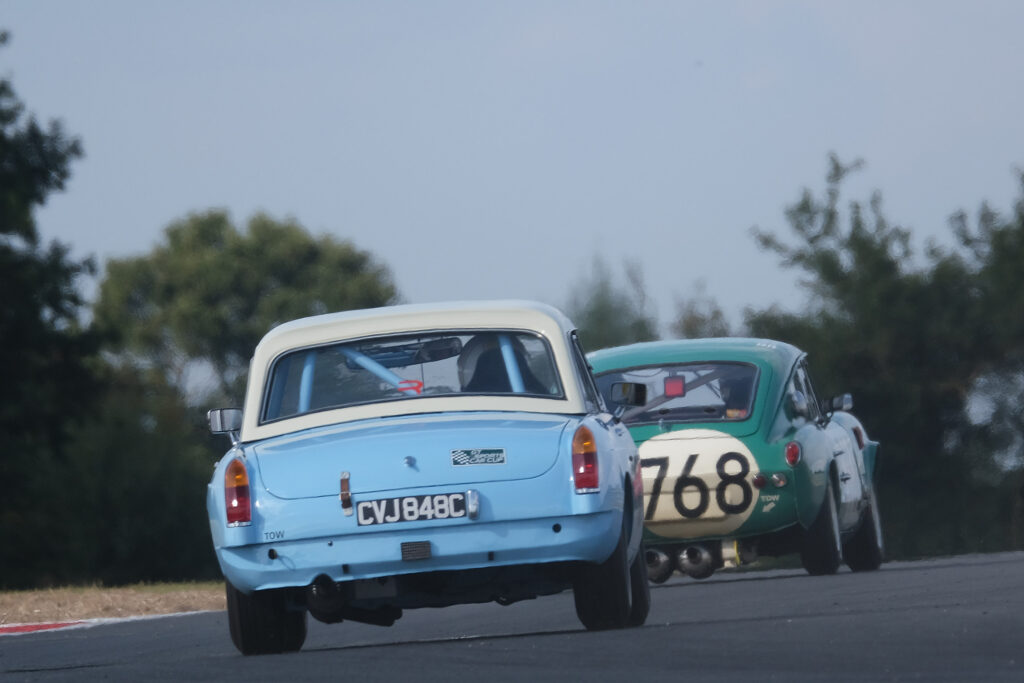 Equipe GTS
MG Trophy champion Sam Kirkpatrick chose to focus on driving his family's MGB at Snetterton – and did so in style, taking it to two victories in Equipe GTS. Kirkpatrick came from behind to pass the TVR Granturas of Rob Cull and Mark Ashworth, with successful moves around the outside at Riches, to win the opener. A poor start from pole position required a repeat performance on Sunday , this time clinching the win by forcing Cull into an error at Oggies. Kirkpatrick's fellow MGB man Tom Smith – fourth in race one – split the Granturas in the second race by passing Ashworth on Coram's outside line.
On his spectacular overtaking manoeuvres, Kirkpatrick said: "I had to get creative because those TVRs are fast!"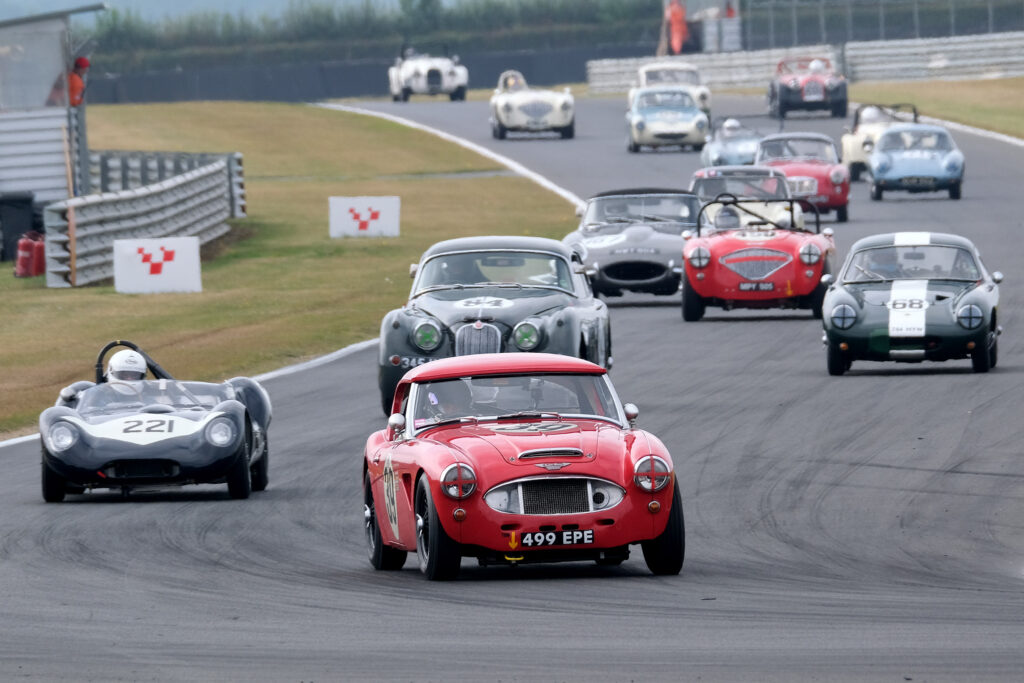 Equipe Pre-'63/50s
The Austin-Healey 3000s of James Haxton and Joe Willmott split the Equipe Pre-'63 races after Mark Holme's polesitting Mk2 version suffered mechanical gremlins on both days. Haxton could only qualify fifth having had to change his engine since the previous races at Donington, but a quick clean of the carbs ahead of race one provided the extra power he had been missing. That allowed him to battle through into the lead and, as his car struggled with high temperatures and fading tyres in the closing stages, hold off the fast closing Willmott and Nick Finburgh's Lola Mk1, which lost second on the run to the flag.
The spectacular Willmott, on his first visit to Snetterton, turned the tables the following day. After exchanging the lead a couple of times, Willmott pulled clear to win from Haxton, with Andrew Moore's Jaguar E-type completing the podium in Finburgh's absence. Paul Mortimer (Austin-Healey 100) twice took the honours in the Equipe 50s section.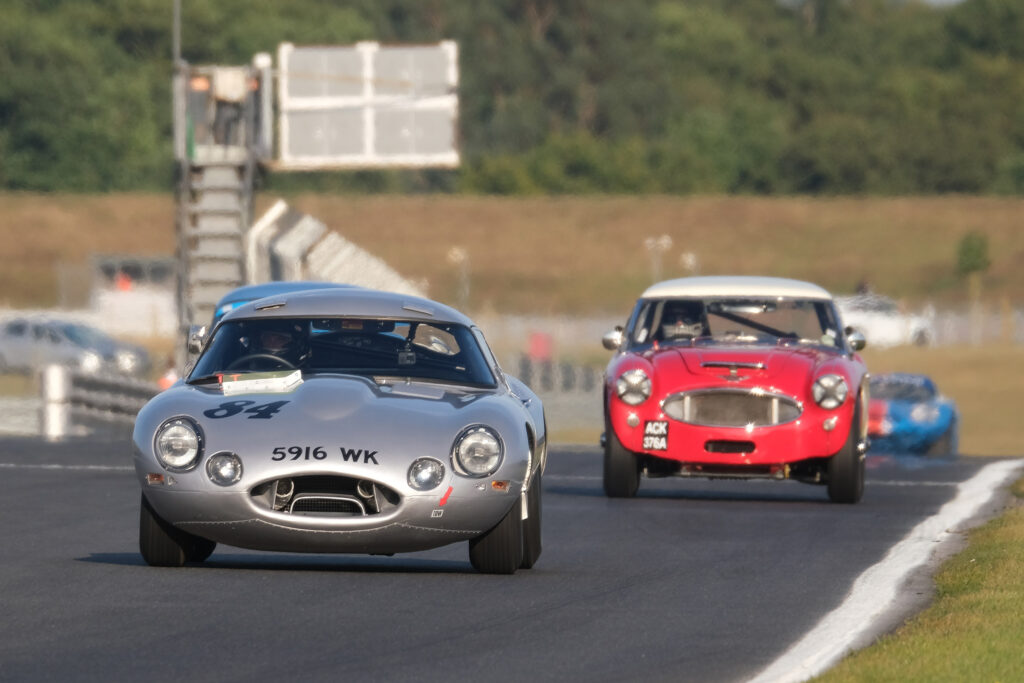 Equipe Libre
On his local circuit, Richard Hywel Evans blasted his AC Cobra to a pair of easy wins, claiming Sunday's race by more than a minute. Behind him, the podium was completed on each occasion by the battling Jaguar E-type and the Lotus Elan 26R Shapecraft of Rick Willmott and Robin Ellis. The pair duelled throughout, making use of the different strengths of their cars. Ellis found a way past Willmott on the final lap of race two, but in the end the superior power of the E-type was enough for Willmott to outdrag the smaller Lotus to the line.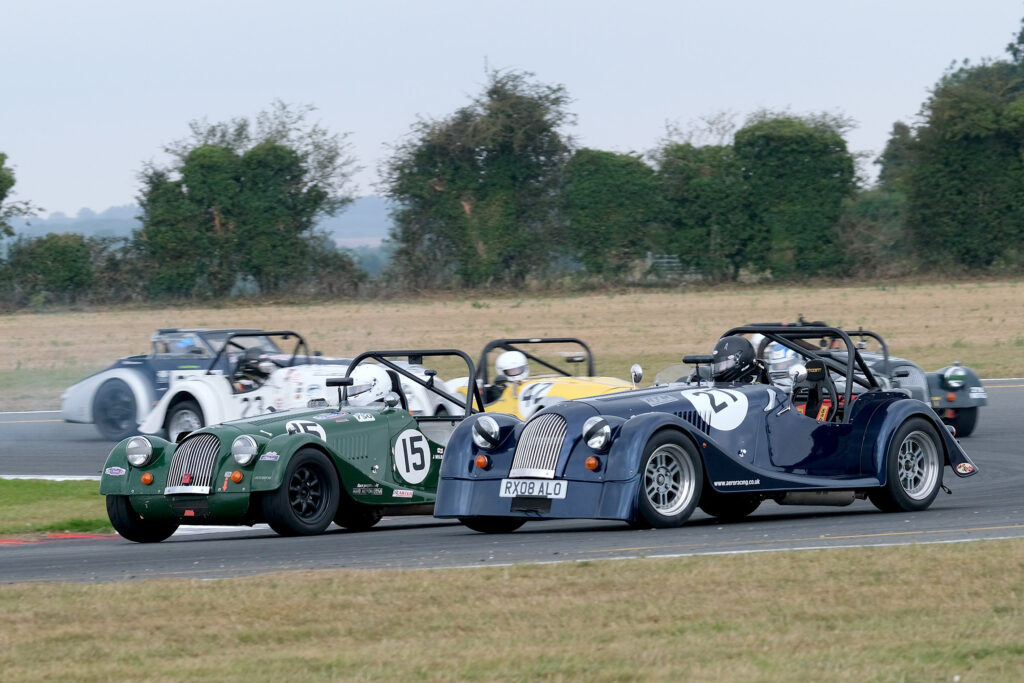 Guest races
The Morgan Challenge completed the programme at Snetterton, with a field of 17 cars. Roger Whiteside (+8) made full use of his V8 power to take a pair of dominant wins from Simon Orebi Gann (ARV6) in both races. Third on each occasion was Brett Syndercombe (4/4), whose Class 3 winning efforts completed an unbeaten season and sealed him the overall Morgan Challenge title.
MGCC racers turn up the heat at Donington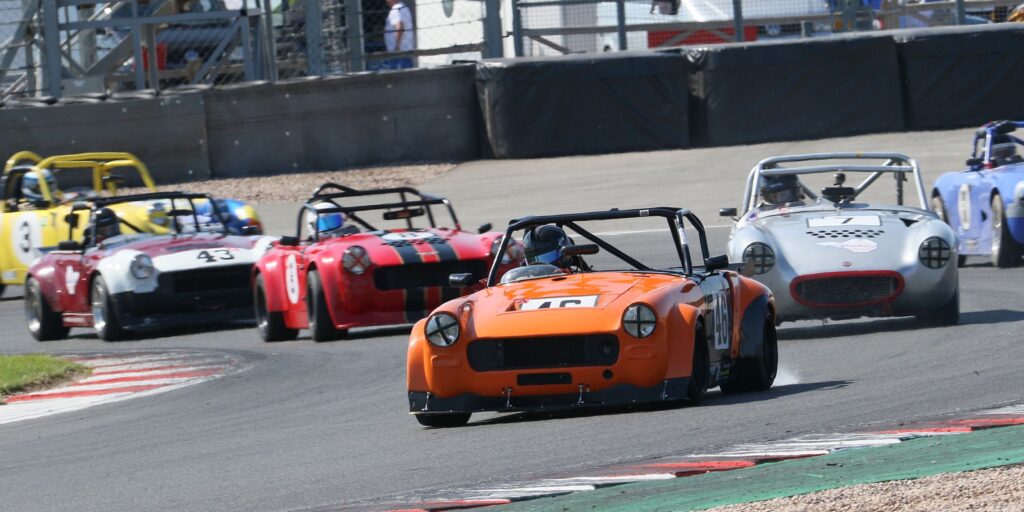 The MG Car Club's Summer Race Weekend was appropriately met with some scorching summer weather for the two days of racing at Donington Park. And, equally appropriately, MGCC's full range of racers turned up the heat too with a weekend's worth of scorching on-track action.
MGCC Lackford Engineering MG Midget & Sprite Challenge
The Midget & Sprite Challenge racing at Donington had a new look at the front, albeit a rather familiar one. Frontrunner David Morrison made his first appearance of the season while 2018 champion Steve Collier (pictured above, number 46) was a surprise 11th-hour returnee, buying his Midget back from Mike Chalk on the Friday before the meeting and racing as an invitational entry.
And for Morrison and Collier it was like they had never been away as they relived memories of 2018 with intense yet respectful battling over first place. Morrison held Collier off throughout race one and took victory. Race two to begin with looked like a replay. Collier had a few goes at overtaking Morrison, including passing at Coppice only for Morrison to cut back inside of him. Then at mid-distance Collier made his move for first place stick at the same corner and built a three-second lead by the end. He got Driver of the Race as well.
Collier said: "It was tough. I had quite a few goes and [we] nearly touched two or three times. David is the person I'd trust most in a nose-to-tail dice, because he is fair. Once I got by I was away, because I knew I was quicker in certain parts and I knew if I could be in front at Redgate I could pull enough gap.
"Pretty well every lap I had the potential to have a go [at Coppice], I needed to be fully alongside otherwise I'm liable to get my front chopped off. It's a good club; it's fair racing.
"It's good to be back: nice people; friendly crowd. Following David nose-to-tail, it brought everything back. It's a great formula. The A-class cars have got so much grip."
Morrison added: "All my work I've done [on the car] I'm happy with – engine, gearbox – I'm just getting a lot of understeer. They're soft tyres and I think they've had enough, the hotter they get I'm sawing at the wheel, that's where I'm just losing out."
Race one front-row starter Ed Weston may have been able to run with Morrison and Collier too but two poor starts, particularly in race one where he was 14th at the end of the first lap. These hamstrung his challenge and he took two distant third places.
Pippa Cow (pictured above, number 7) in her Austin Healey twice finished fourth overall and with these took clear Class E victories, and thus strengthened her position in the overall championship even further.
Mark Witherspoon in his Austin Healey Sprite won Class D in race one, resisting Kim Dear by 1.4s, and with this Witherspoon got Driver of the Race. Dean Stanton's fellow Sprite bagged the race-two class victory, beating Witherspoon by 11s.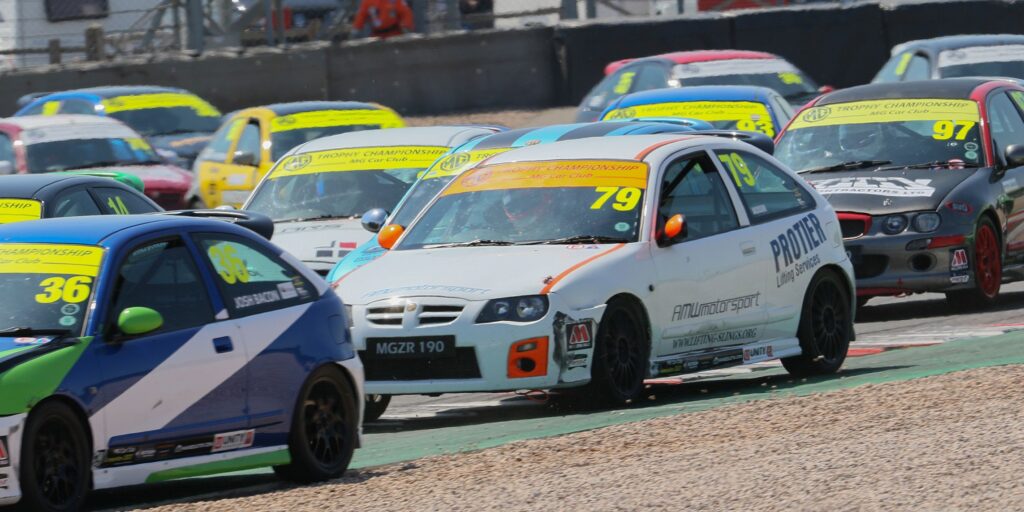 MGCC MG Trophy
The MG Trophy this season has had a pattern of two young guns, Sam Kirkpatrick and Fred Burgess, battling over first place, but with Kirkpatrick prevailing every time. The 20-year-old indeed won six from six before Donington. And in Leicestershire's race one he made it seven.
Burgess true to form attacked Kirkpatrick throughout Donington's race one, and he reckoned he could have made a move for the lead had the race not ended early with a red flag – after a spectacular clash between Paul Savage and Josh Bacon exiting the chicane.
Race two was a similar tale at the front, but this time it had a last-lap twist. A late safety car bunched the contenders up, and Burgess had throughout looked stronger than Kirkpatrick out of Old Hairpin. On the final tour he got alongside there, but they touched and Burgess spun, dropping to ninth, while Kirkpatrick was able to continue to be first home to claim seemingly win number eight – the championship's maximum-possible season total.
But he was docked five seconds for an unsafe track re-join, meaning he was classified third with Doug Cole declared winner. Kirkpatrick's results nevertheless were enough for him to be officially assured of this year's MG Trophy championship.
Kirkpatrick said: "It's been a really close fight all the year with Fred – just managed to get out on top. It was a close fight all the way through [at Donington]."
Burgess added: "I think I've been the quickest car [this weekend], just haven't managed to convert it to a win. Bit disappointing but we'll come back next round and have a go. I like Snetterton, I was always quick there in the 170; I won there last year in the 190.
"There's a lot of ifs and maybes [this season]. I've had the pace most weekends to have at least shared the wins with Sam. There's been a few times the flag's come a lap late or a lap too early. We'll keep trying; we'll get there."
Fergus Campbell in race one topped the Class B runners, finishing fifth overall and getting Driver of the Race having kept just out of reach of the chasing Bacon. James Moreton won the Class C battle by 9s ahead of John Donnelly.
Race two in Class B had an equally dramatic finish as in Class A, with Tylor Ballard claiming first place from long-time leader Campbell on the final lap in a tight five-car lead scrap. This crescendo also got Ballard both the Driver of the Race and Sunday's Driver of the Day.
Moreton made it a double win in Class C, again finishing well clear of runner-up Donnelly.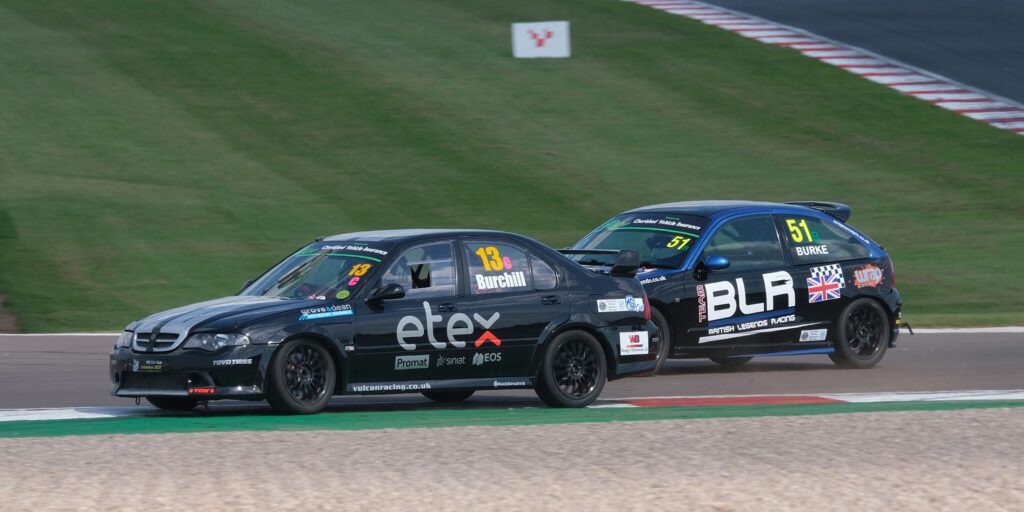 MGCC MG Cup powered by Cherished Vehicle Insurance
In 2021 the MG Cup's fight for first also has been in large part a tale of two drivers: Mike Williams in his Metro and Morgan Short in his MG ZS 180. Short was unable to take part at Donington as his rebuilt engine overheated in Friday testing, but this did not leave Williams on easy street. He had a new foe. Or rather, just like in Midget & Sprite Challenge, a not-so new one.
Champion Richard Buckley, back this year in his frontrunning Rover Tomcat, took a clear race-one pole position then won both of Donington's races, at each stage relegating Williams to second.
In the first race Williams jumped Buckley at the start, but Buckley took the lead back after three laps at the exit of Coppice. Williams stayed on his tail before dropping away slightly late on. Buckley's victorious race-one showing also got him Driver of the Race.
Matt Simpson's fellow Tomcat made it a trio at the front in race two, as he led early on after a fine start. Buckley got by for the lead on lap four, while Williams followed on lap eight but by this time Buckley was 3s up the road. He stretched his advantage to 6s by the end.
Buckley said: "This is my best circuit, and it does suit the car. [In race one] I managed to get past Mike and we had a good tussle. [In race two] I didn't make the best start, and I managed to get past Mike, and I managed to get Matt into Coppice. And watching them fight is good – just giving me a little bit of breathing space. Once I had the breathing space I could pretty much run at my own pace."
Williams meanwhile explained: "I'm never going to win at Donington because of the pace of the Tomcats unfortunately. I changed my strategy for the second race and I put the smaller tyres on the front, we dropped the gearing by about 11%, and we still weren't fast enough.
"It was still a good race, Matt and I had a fantastic battle for second place. I'm always disappointed if I haven't won. If I was happy with second place I'm not a racing driver. It's been a cracking race and it's been a good weekend."
Points leader Iain Dowler in his MG ZR 170 comfortably won the Class B battle in race one ahead Kevin Burke's similar machine, while Iain Boulton won Class A by 2.5s ahead of John Gil's fellow 160. And in both classes there was a very similar tale in race two, with Dowler triumphing well clear of Burke – getting Dowler Driver of the Race this time – and Boulton again beating Gil.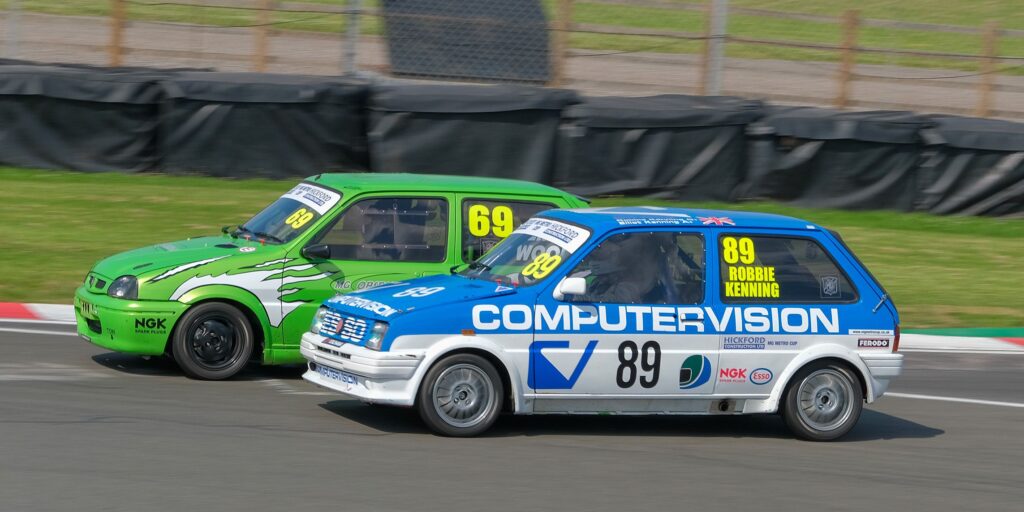 Hickford Construction Limited MGCC MG Metro Cup
The MG Metro Cup shared the Donington track with the MG Cup via a split grid and Mark Eales claimed two Metro wins, making it four victories in a row for him after a nightmarish Brands Hatch season opener.
In Donington's opener Eales cleared poleman Dan Willars and beat him home by over 10s, a feat that also got Eales the Driver of the Race. Eales then in race two led all the way from pole, beating runner-up Phil Goodwin by 2.2s with John Gil's MG Cup car slotted between them. Willars had again chased Eales, but this time had to retire from second at mid distance when his engine blew. Goodwin was third home and was awarded Driver of the Race.
Eales said: "Really pleased, it's been a good weekend. I had a bit of bad luck at the beginning of the season at Brands so hopefully that's all gone and we're cracking on now. Considering the heat you'd think we'd have a few little issues [but we didn't]. Car seems to be going well, so I think it'll be check over, make sure we're happy with everything and leaving it as it is for Snetterton.
"I've been at this a little while now, a few years, and I'm happy with the car, I'm just trying little tweaks now, you build up and build up. I'm more confident. Just trying little bits and pieces that I never used to before. I used to think if it was going OK I'd leave it OK in case I made it worse."
The points leader heading into Donington Tim Shooter had a frustrating weekend. In race one he chased Eales closely but dropped out after he touched the back of an MG Cup car, damaging his radiator and meaning he stopped a few laps later. Then Shooter's race two was dashed barely after it started, with his car stranded in the gravel on the approach to McLeans on the first lap. He later resumed but several laps down.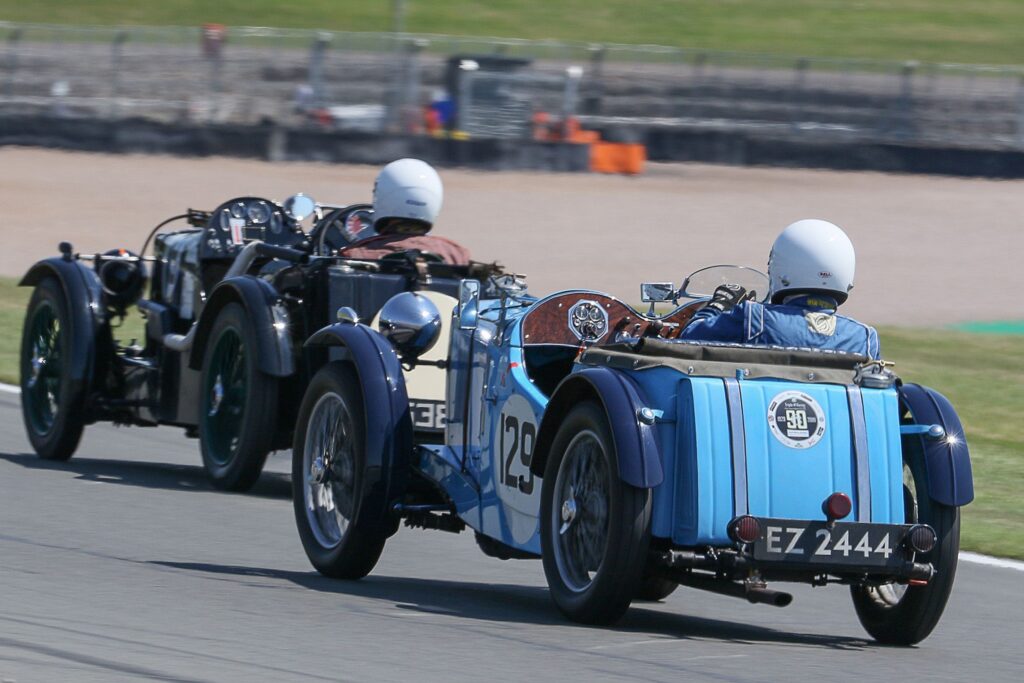 MGCC Triple M Challenge
The beautiful pre-War Triple M Challenge machines took to the Donington track twice on Sunday, and Tom Hardman in his MG Bellevue Special won the first race by over half a minute from pole, and was awarded Driver of the Race with it. His chief pursuer Harry Painter had a spectacular Redgate exit when his left-front stub axle broke on his MG PA, meaning the wheel detached.
Fred Boothby was a comfortable winner of Class 2 In his J2, Barry Foster trounced the Class 1 opposition in his Montlhery Midget while Simon Jackson (pictured above, number 129) in the Class 3 fight beat fellow PB runner Mark Dolton by 15s.
Hardman had to depart the meeting before race two and with Painter also unable to race with his race-one problem, Painter's father Mike, who'd taken the runner-up spot in race one, moved in for race-two victory in his MG Kanye Special, beating Charles Goddard's MG PA Special by just under 16s. Vernon Mackenzie was third in his K3, and got Driver of the Race.
Mike Painter said: "Because Harry dropped out and Tom Hardman as well there was no reason I shouldn't win it. I was concerned of spinning it or throwing it away embarrassingly. And then Charles was sticking with me, I was trying pretty hard and he was still there and I thought 'blimey he's trying hard here!' So I quickened up a bit and then I think he got a bit of traffic, so I got a bit of a reprieve. The cars are great fun, very exciting, we've raced them for years."
Boothby in race two doubled up in the Class 2 contest, while Andrew Morland in his PA won the Class 3 contest by 2.7s from Louis Frankel's PB Cream Cracker, after leader Jackson ran out of petrol late on. Class 1 winner this time was Duncan Potter after Foster retired early.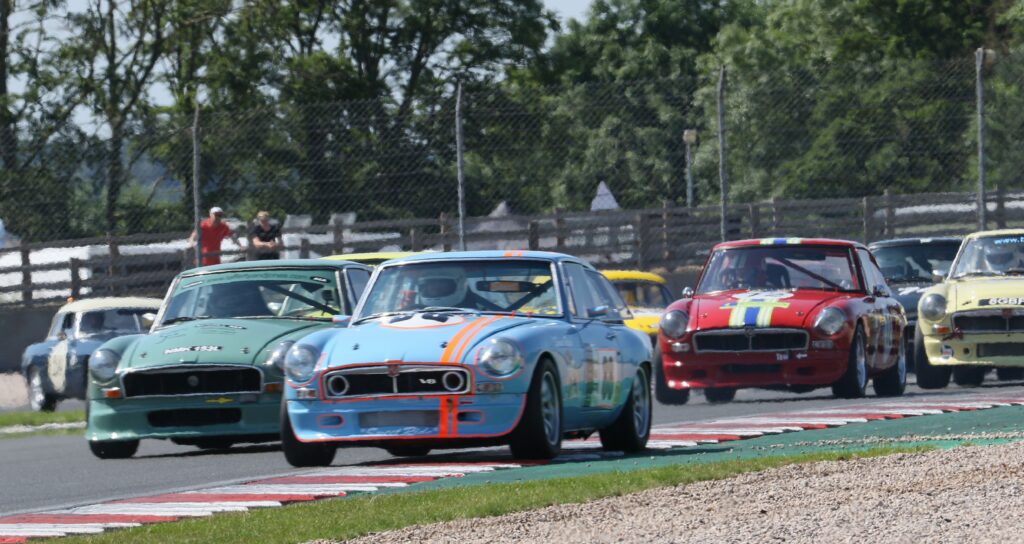 MGCC BCV8 Championship
Reigning champion Ollie Neaves at Donington continued his BCV8 championship domination, bagging two more wins even though he wasn't happy with his MGB's handling and even after making changes between the two races. In race one he lost his advantage from pole off the start to Neil Fowler, but was soon by on the fourth lap at Coppice to lead again. Fowler kept him honest though and Neaves' advantage at the end was less then 3s.
Jim Bryan won in Class C after class poleman Andrew Young had a right-rear half shaft break on the way to the assembly area pre-race. Mark Scott won the Class B battle in his Roadster by 13s from GT V8 runner Stephen McKie, which also got Scott Driver of the Race.
James Walpole was denied Class AB victory by receiving two track-limit penalties, meaning Paul Rayment won out. Babak Farsian had led much of the way in class but dropped down late on with overheating.
In race two Neaves was more dominant, beating home Russell McCarthy and Fowler's battle for second by over half a minute.
Neaves said: "I got a much better start that time, I managed to hold Neil off, who's always really quick in the first few laps. I think it panned out for me today, that I managed to get some good laps in early, make the gap and then I could stroke it home.
"The car's just an amazing piece of kit, it's just so impressive to drive. It did feel very slippery out there but I'm guessing it was the same for everyone.
"I've got lots of further plans [for the car] but I'll be holding fire until some of the others catch up!"
Young in race two was this time able to take the Class C win, in fifth overall and 1.5s clear of Ben Tovey, who was compensated with the Driver of the Race. Bryan once again was in the mix for class victory but had to retire as his engine oil cap was not fitted meaning oil started to spill onto his windscreen as well as that he risked an engine blow up. Scott made it a double Class B win and Farsian prevailed in Class AB.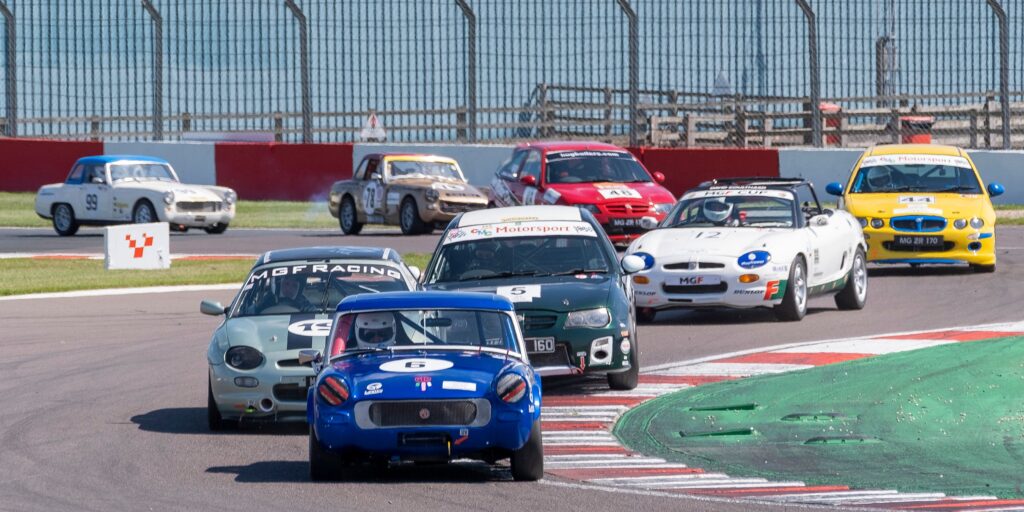 MGCC Cockshoot Cup
The Cockshoot Cup was another category to have a double winner at Donington, albeit in its case it was a perhaps unlikely one as Karl Green took his first two overall victories.
In race one Green in his ZS 180 led all the way from pole, while second-placed Mark Wright pitted after three laps as the gear linkage snapped on his new MG F Cup. Green finished 7.6s clear of runner-up Ray Collier's MG ZR 190, meaning the latter lost his 100% record in 2021. The feat also got Green the Driver of the Race and the Driver of the Day gong for Saturday.
Mike Peters (pictured above, number 6) was Class B victor in his Midget, beating Ian Whitt home by 2.9s, while Brian Butler pipped fellow MGF runner Christopher Greenbank (pictured above, number 19) by just 0.6s to win Class F. Paul Wignall (pictured above, number 5) in his ZR 160 was a dominant Class A winner.
The second race was a very different tale from the get-go as a newly repaired Wright launched superbly and established a clear lead, of 4.6s after three laps, as Green and Collier battled for second. While Peters and Butler – both of whom had 100% class records heading into the counter – were out almost immediately. In Peters' case the engine of his Midget died while for Butler, who didn't make the race start, his MG F woe was more convoluted. After finishing race one an electrical problem was discovered, which took hours to find, and while this was going on some grit in the timing belt bent the engine's valves.
Green, having established his place ahead of Collier, was able to chase Wright down and passed for the lead with three laps left. Wright finished as runner-up while Collier had to make do with third, 21s adrift.
Green said: "My first two wins, and my first two poles as well. It's only taken five years but I got there in the end! The difference is the guys have made slight alterations to the suspension and it's made the car feel more compliant. And because it feels more grounded it's giving me a bit more confidence to push on.
"Mark gave me a good fight, I didn't think I was going to catch him at all at one point, but then luckily the backmarkers helped me out and it gave me the spur to push on a bit harder and eventually I got past him. It was a cracking race."
Wright meanwhile noted: "The car's new and we came Friday just to get it running because it's a new engine. I was told to use a rev limit, which I did, and we qualified third which I thought 'that's quite good considering we're just running around!'
"I've never drove the car before this weekend. Even today we hadn't quite set it up properly so I could only use four gears, I couldn't use fifth. I really enjoyed it. We didn't expect to come today to do any good, we came to finish and put some miles on the car."
Wignall in race two was again a clear Class A winner, in seventh overall, despite a 5s track-limits penalty, and got Driver of the Race with it. Greenback won Class F and Mark Bellamy in his ZR 170 beat Andrew Thompson's Midget home by 4.7s to win Class B.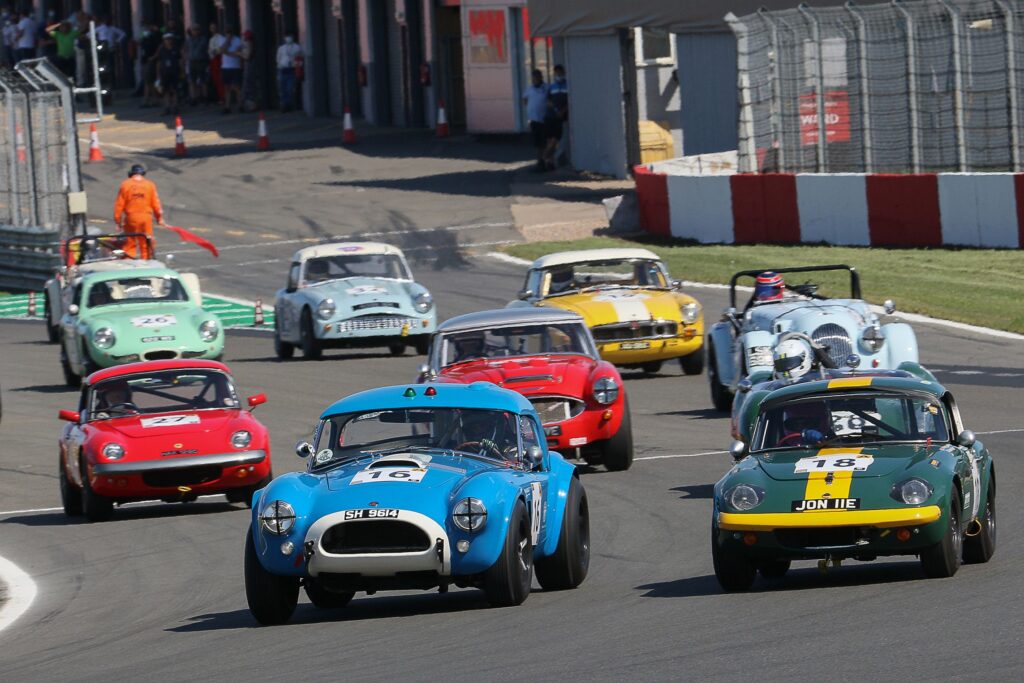 Equipe Three Hour Classic Relay
Bernardo Hartogs in a Lotus XV and Richard Wilson in a Maserati 250S as their The Fifties pairing won Equipe's three-hour relay, benefiting from consistent pace plus fewer car changes than their rivals.
Wilson said: "It's just keeping the 1m25s, 1m26s pace consistently over three hours is a tough thing, especially in the heat, you start to wilt towards the end of the session. The Maserati consumed less fuel than I expected. They're both relatively light cars, so you just keep going, and the brakes are a big thing."
There was a familiar face among the line-up that finished second, with MG Trophy star Sam Kirkpatrick in his MGB making up one-third of the Rogerscale Racing effort. It looked at points that they might be able to chase down the eventual winners, but they hit problems.
Kirkpatrick said: "It was long and hard, but it was good. But we had to deal with a few car issues. We had two unplanned pitstops, due to this car [Simon Smith's Elan] not being able to last very long, having problems with the water getting too hot, and then the Cooper had a misfire and was not as good as it could be either, so maybe we'll have to come back next year and do better! Could've maybe competed for [the win without the problems]."
The Kent's Folly quartet started on pole and led early but fell down the order with several car swaps and the other cars in the line-up not being able to match the pace of Larry Warr's pole-setting Morris Mini Cooper S.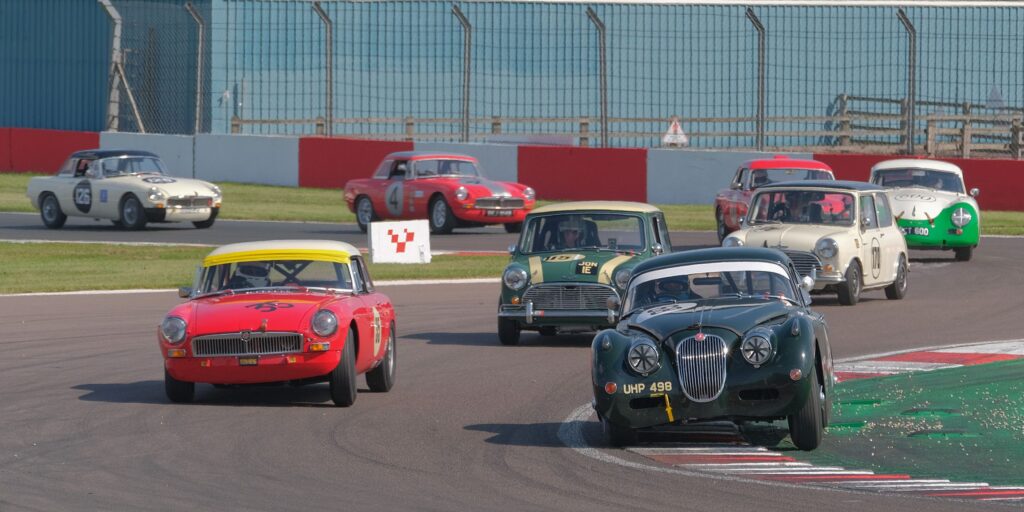 Equipe Classic Racing Libre
The first of Equipe Classic Racing's two 40-minute pitstop sprint races was a classic power-vs-handling battle at the front, and power prevailed as Jamie Boot's TVR Griffith got the better of early leader Jon Harmer in his Lotus Elan 26R. Harmer then dropped out late on with a plug lead problem. Cliff Gray sharing with Will Nuthall restored Elan 26R honour by winning the second Equipe sprint race, passing Boot's TVR in the closing minutes.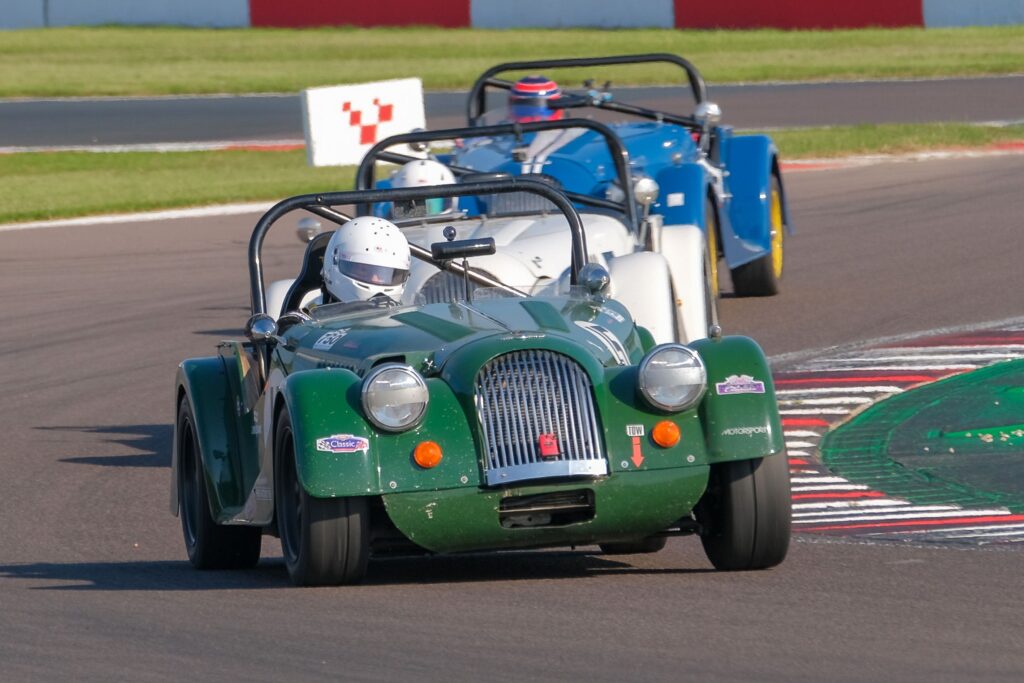 Aero Racing Morgan Challenge
The Morgans also joined the action on Sunday with two races. Bill Lancashire in his +8 won the red-flagged and restarted opener from pole, staving off the similarly equipped Oliver Pratt by 3.1s. For race two Lancashire's son Howard took over his dad's car and, having started from the back due to having to qualify out of session, as only one of them could set a time in the 15-minute qualifying, Howard powered through to finish second half a minute shy of comfortable victor Pratt.
Glorious sunshine greeted the MG Car Club's flagship summer race weekend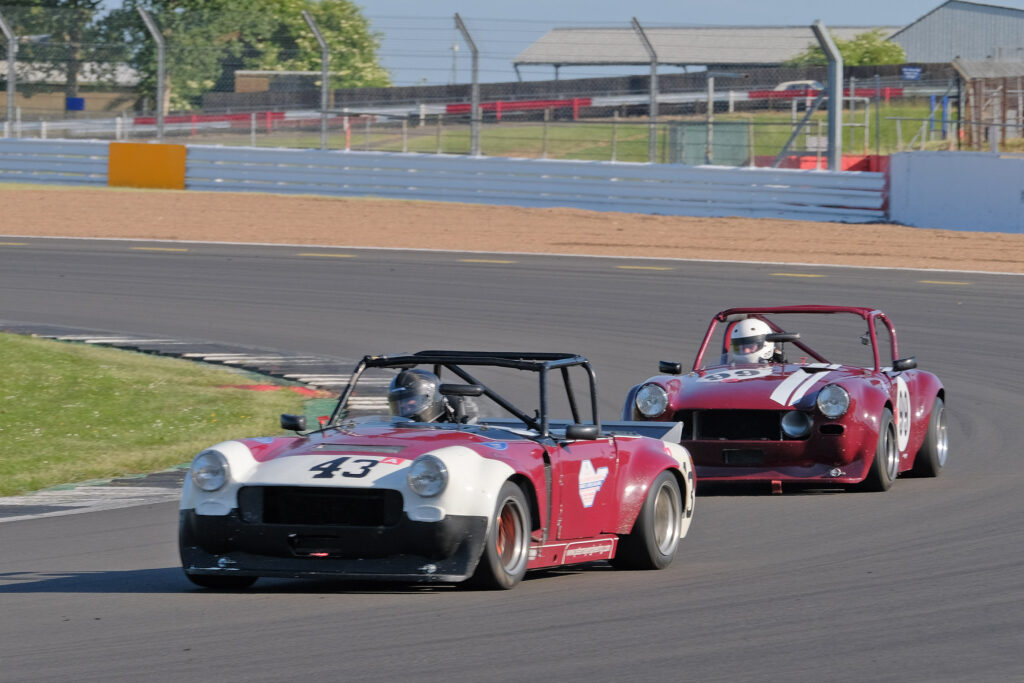 Glorious sunshine greeted the MG Car Club's flagship summer race weekend on the Silverstone Grand Prix circuit, sadly without the accompanying MG Live this year. But the racers put on a magnificent show with close-fought, fair racing enjoyed by competitors and spectators alike. Five of the club's championships were joined by three Equipe Classic Racing grids and a bulging entry from welcome guests the Mini 7 Racing Club.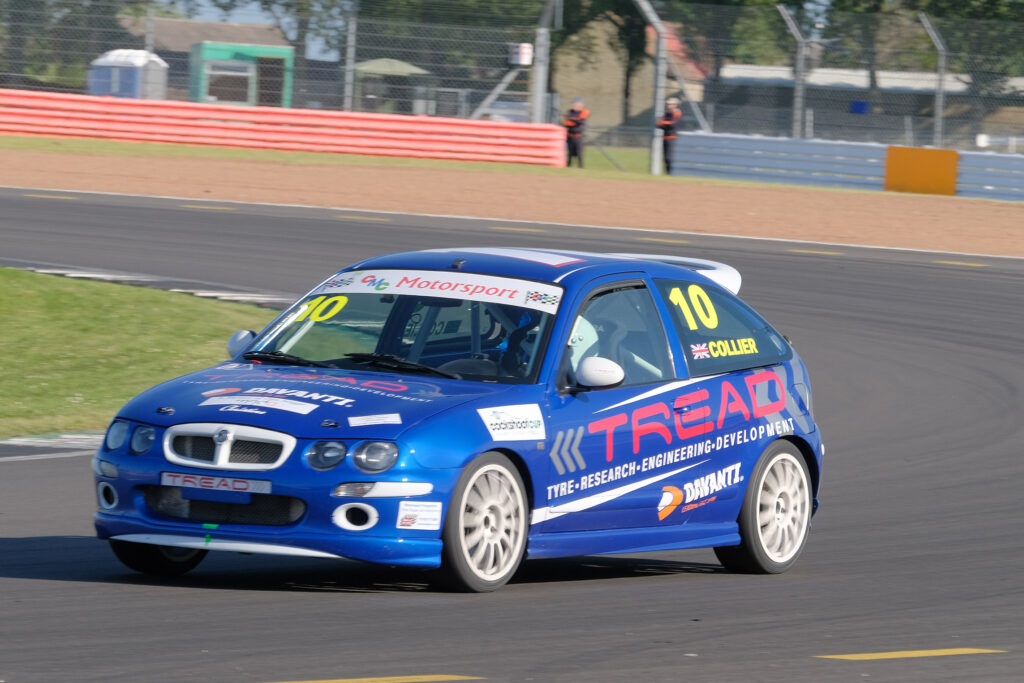 MGCC Cockshoot Cup
Three weeks after claiming two wins at the Cockshoot Cup's Oulton Park season-opener, Ray Collier (pictured above) added two more victories to his account.
The first came after a superb race-long duel between his MG ZR 190 and the MG ZS 180 of Karl Green. The pair traded the lead throughout, sometimes more than once per lap, before a slight mistake from Green on the final lap allowed Collier to make the decisive move and win by a third of a second, with Keith Egar's MG Midget another 20 seconds in arrears in third. Mike Peters (MG Midget) bounced back from a quick spin to catch and pass Mark Bellamy (MG ZR 170) for Class B honours, while Paul Wignall (MG ZR 160) was a comprehensive winner of Class A, as he would be again later in the day. In Class F, champion Brian Butler led all the way but Chris Greenbank, a late entry after repairing the engine damage incurred at Oulton Park, was rapidly closing in the latter stages. Greenbank fell less than half a second shy at the flag but earned the commentators' Driver of the Race award for his efforts.
Collier, who was having to manage a cracked brake disc in the first race, took a more comfortable win in the second, aided by Egar's typically fast start getting his Midget (which twice finished third) ahead of Green and allowing Collier to build an early margin. From there, he was able to use traffic from the concurrent Midget & Sprite contest to maintain a buffer.
"I did really have to work hard for the first one," admitted Collier. "It was really well driven by Karl. We were incredibly close and two or three or times we followed each other off!
"The second one, I could see that Karl was too far behind, so it was a case of making sure that every gear shift is perfect. I did miss it once and I just let the 'box settle because the last thing you want to do is hit second, not fourth. So I did lose a couple of seconds there."
Peters again secured Class B honours from Bellamy, with Butler also repeating his Class F success. Greenbank was again closing him down before a spin at Luffield meant he had to settle for second in class. Third in Class F, repeating his earlier result, was debutant Joe Jones in his MG TF LE500, which earned him the Driver of the Race award.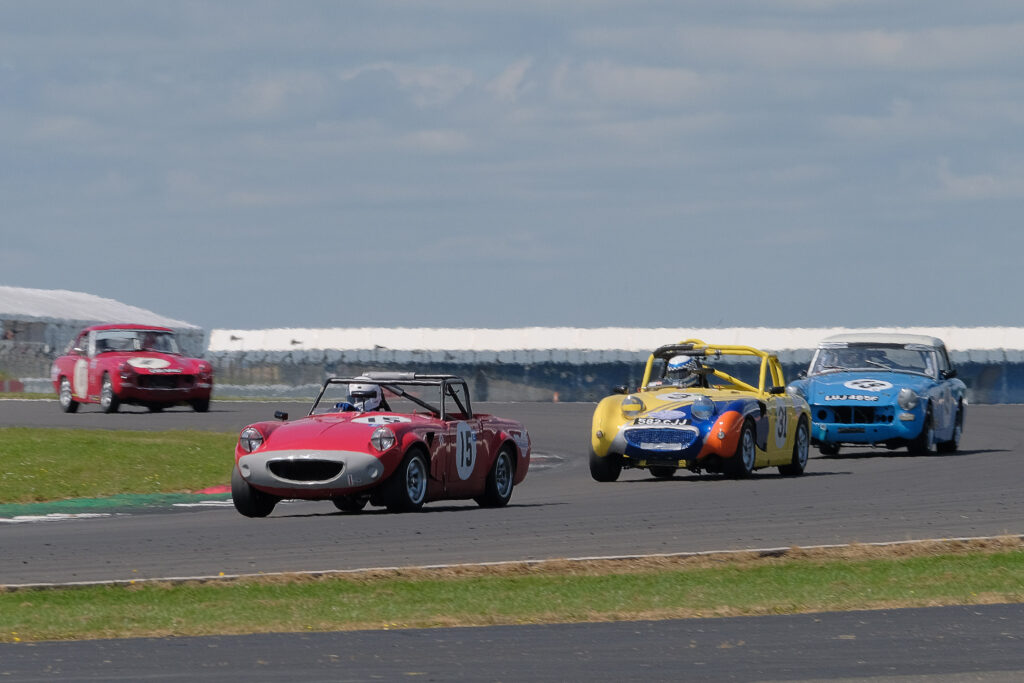 MGCC Lackford Engineering Midget & Sprite Challenge
After racing less than two weeks previously at Castle Combe, it was a slightly depleted grid of Midgets and Sprites that arrived to contest the Ted Reeve Memorial Trophy, remembering the long-standing driver who competed in Midgets for an incredible 48 years.
Polesitter Richard Wildman led away the trophy race from the fast-starting Class E Sprite of Pippa Cow, as front-row man Edd Weston dropped to fourth behind Stephen Pegram. But Weston, continuing to campaign his father Dave's Midget, returned to second within a couple of laps and proceeded to hound Wildman's similar machine. The youngster drew alongside on a few occasions but was biding his time. On the final lap, he got a run out of Luffield and pipped Wildman by just 0.05 seconds in a photo finish, claiming his maiden victory in the process. It was particularly poignant given the family connection to Ted Reeve.
"I was concerned that I'd get by him and then he'd go straight by me on the straight again and I'd lose time," explained Weston, who was presented with the beautiful trophy by Ted's wife. "So I hung back, stuck behind him, waited until the last lap and then pounced! That was my plan.
"My dad's been mechanic-ing for Ted Reeve since I was born. I've grown up watching him race and watching my dad race, and had his car at my house whilst my dad's worked on it, so it means a lot to win this."
Weston's success earned him the Commentators' Driver of the Race nomination as well as Sunday's overall Driver of the Day. He repeated the victory in the non-championship race two, this time beating Wildman by a slightly more comfortable 0.5s.
Cow twice topped Class E on her way to third overall, enjoying herself on the Grand Prix circuit some way clear of Ian Burgin and, in the first race, James Fettiplace. Mark Witherspoon pipped Carl Chadwick in a close scrap for Class D honours in the opener and was named Driver of the Race in the sequel after catching and passing Chadwick, whose race ended in the gravel while avoiding a spinner.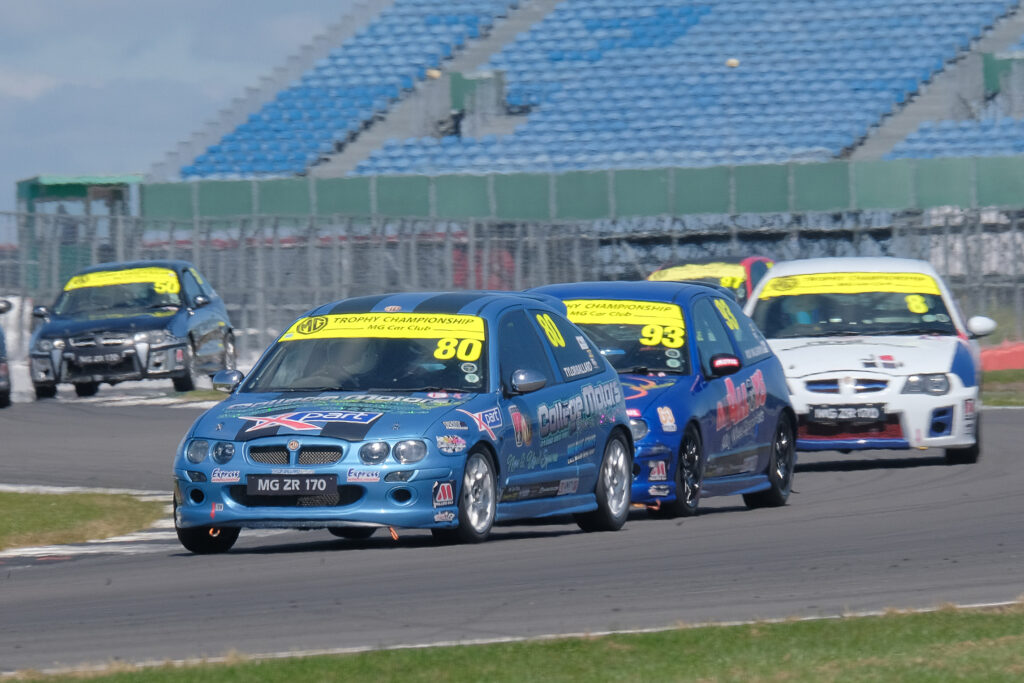 MGCC The Unity MG Trophy
Sam Kirkpatrick remains unbeaten in the 2021 MG Trophy but, once again, Fred Burgess made him work hard for his continued success.
Making his first appearance of the year in a ZR 190 newly built by 4G Racing, albeit in a non-scoring guest capacity, Ross Makar looked set to give the leading duo a run for their money. Indeed, from third on the grid, he ran around the outside of polesitter Kirkpatrick's similar car through Copse before yielding into the Maggots/Becketts complex. But the three-way fight would prove short-lived as Burgess's gearbox gave up the ghost and Makar's engine – an ageing unit transplanted from his previous machine – blew, ending his weekend. So Kirkpatrick could look after his tyres in the hot weather as he eased to a fifth win of the year from Adam Jackson in a season-best second, with Doug Cole completing the podium.
Josh Bacon (ZR 170) was named Driver of the Race and Saturday's Driver of the Day after claiming his first Class B win. He jumped class polesitter James Dennison and led throughout as a closely fought contest played out behind. Dennison fought off Tylor Ballard (pictured above) for second in class, with James Cole also edging out Ballard on the run to the flag.
Burgess converted pole position into the lead of race two but had his opening-lap margin wiped out by a safety car required after Bacon and James Cole's first-corner accident. Burgess made a good restart but Kirkpatrick got a run through Aintree to take the lead, only for Burgess to fight back with an around-the-outside run through Stowe, completed into Vale on the next lap. The effort was enough to earn Burgess the Driver of the Race, but a mistake under pressure at Brooklands allowed Kirkpatrick into a decisive lead to make it six from six this season. Jackson was relatively lonely in third, his fourth podium finish of the season.
"I had to really fight for that one," Kirkpatrick smiled. "Much more rewarding." It was another case of what might have been for Burgess, who nevertheless relished the contest: "It was a great race, we enjoyed it a lot. Sam moves around a lot coming into the braking zone, so you're trying keep an eye on which side he's going to go and then I just missed my braking point."
Dennison secured Class B honours from Ballard and Fergus Campbell, while James Moreton (ZR 160) passed Paul Croker to take his second Class C win of the weekend.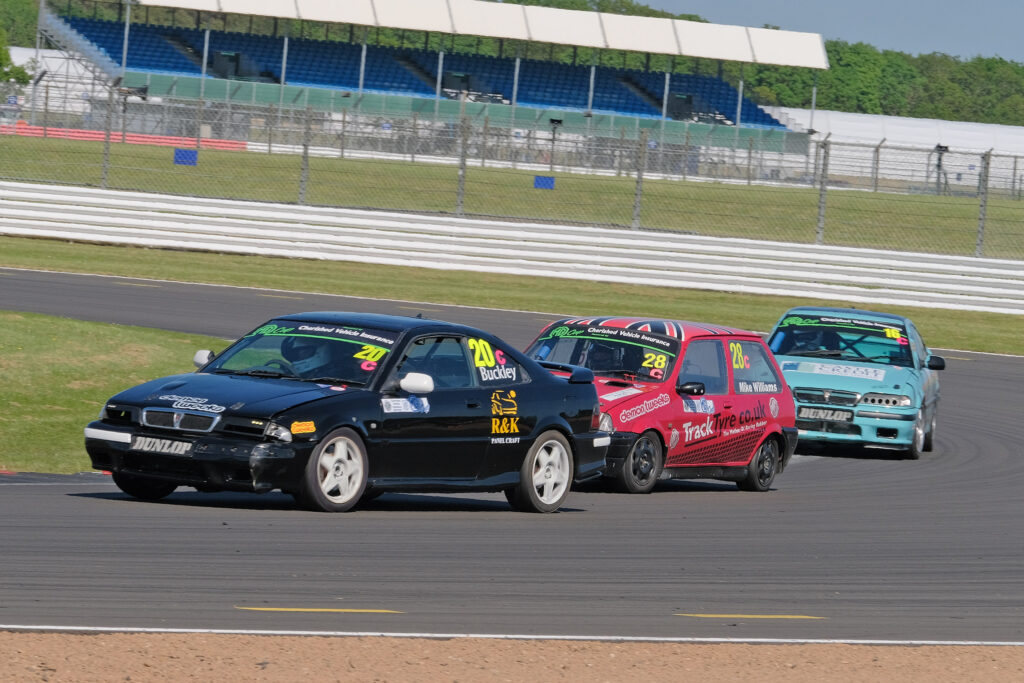 MGCC MG Cup powered by Cherished Vehicle Insurance
Mike Williams chalked up two more MG Cup wins but they came in contrasting fashion, while main rival Morgan Short's championship challenge was dented by failing to finish either race.
Williams (red Metro pictured above) pipped Short to pole position at the end of qualifying as the engine in Short's MG ZS 180 began to overheat – a legacy of the damage he picked up at Oulton Park that would come back to bite him. Williams was then able to get a jump at the first corner as Short had his hands full with the Rover Tomcats of Richard Buckley and Matt Simpson (both pictured above). That gave Williams the margin he needed to overcome his VVC-engined Rover Metro's comparative lack of power as he eased to victory. Things would go from bad to worse for Short as he pitted after two laps with a cooked engine and the suspicion that the car's new radiator didn't have the required cooling capacity.
Behind Williams, Buckley and Simpson engaged in a titanic duel, Simpson finally finding a way through on the last lap, earning the Driver of the Race award.
With Short absent from race two, the Tomcats made Williams work for his second win of the day. Both had spells in front before Williams eventually succeeded in his repeated attempts to pass Buckley at Stowe. Past champion Buckley held on to second from Simpson.
With points leader Iain Dowler absent owing to work commitments, Dan Jones dominated Class B in the first race but it came at a cost with a mechanical failure on the slow-down lap. That left the way clear for Wayne Stirling-Parker, making his final race start 27 years after debuting at Silverstone, to take the class honours in race two at the wheel of Rod Weston-Bartholomew's MG ZR 170 after his own Rover BRM hit trouble at a recent Speed Championship event.
"I raced here in 1994 – first ever race with the MG Metro Cup," said Stirling-Parker. "So 27 years later, I thought I'd start and finish at the same venue. It's been a wonderful time, to be honest with you. It's nice to spend most of my racing career in the MG Car Club."
Steve Tyler's MG ZR 160 twice took the laurels in Class A from Ian Boulton, who was returning to racing in a borrowed trackday car following his heavy accident at Brands Hatch.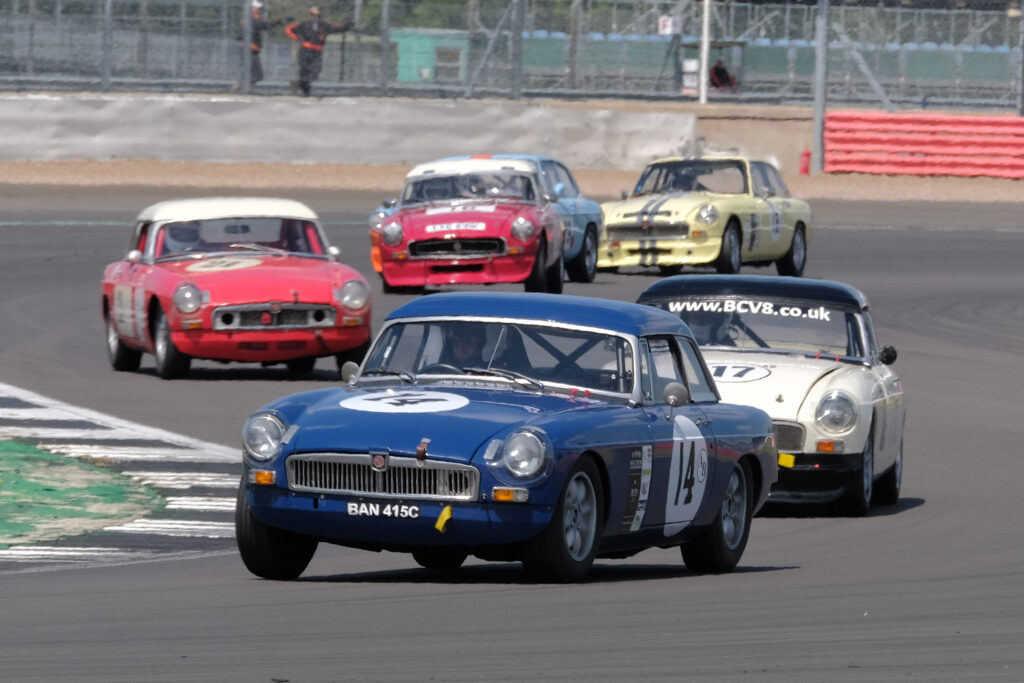 MGCC BCV8 Championship
Ollie Neaves clocked up his ninth and 10th wins in 11 BCV8 races over the past two years with another dominant display.
Neaves was untroubled in the opener, heading home the similar GT V8s of Neil Fowler and Ian Prior as the only Class D finishers after James Wheeler (broken gearstick) and Simon Cripps (differential) both fell by the wayside. Class C winner Andy Young (C GT) just pipped the invitational GT V8 of Peter Samuels – making his first appearance for several years – to fourth overall after a good battle and was named Driver of the Race, with Jim Bryan second in Class C after Steve Wells spun and Jonnie Wheeler's engine blew up. Babak Farsian's four-cylinder Roadster was a clear winner of Class AB, just two seconds behind Class B pacesetter Steve McKie.
Fowler jumped Neaves at the start of race two, and while Neaves was soon back in front, a mistake at Vale meant he had to come from behind again. It was hot work sitting behind the race-tuned V8, but Neaves still won with relative ease from Fowler and James Wheeler, with Young again taking Class C honours.
"The first race was a bit lonely," said Neaves. "But the second race, I had a great couple of laps dicing with Neil and then he seemed to just drop off a bit for some reason."
Returnee Mark Scott claimed Class B, while Driver of the Race and Class AB honours went to Paul Linfield (pictured above) who triumphed in a hard-fought battle with Russ McAngus, Simon Cripps (who had switched to his FIA-spec Roadster), Paul Rayment and James Walpole after Farsian suffered a broken halfshaft.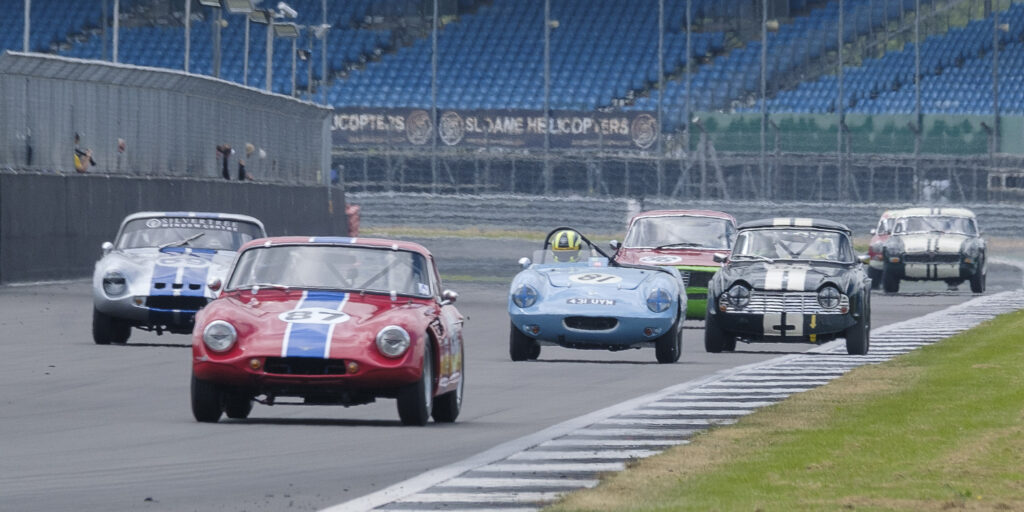 Equipe GTS
An extraordinary last two laps shook up the order in Sunday's Equipe GTS race. Saturday winner Lee Atkins (TVR Grantura 1800S) had rebuffed British GT racer Andrew Gordon-Colebrook's repeated attacks, including re-passing him around the outside at Luffield when Gordon-Colebrook had found a way through, only to spin away the lead. Gordon-Colebrook's Triumph TR4, which had pitted from third with a lose HT lead in Saturday's race, then expired and, with his vision obscured by the TR4's oil on his MGB's windscreen, Tom Smith also had an excursion. That left Allan Ross Jones (TR4), who beat Smith to second a day earlier, to take the win from the recovered Atkins and Smith.
Relieved to be told that he hadn't caused Gordon-Colebrook's demise, Atkins had clearly enjoyed the contest. "One of the best races I've ever had," he beamed.
Equipe Libre
After Richard Woolmer's extravagantly driven Ford Falcon succumbed to suspected fuel pump failure in the first Equipe Libre race, Robin Ellis overcame a clutch problem, which left his Lotus Elan 26R Shapecraft stuck in third gear, to claim his first win aboard the car from Rick Willmott (Jaguar XKE) and Cliff Gray's Lotus Elan.
Chris Beighton's Sunbeam Le Mans Tiger arrived on Sunday to dominate the second race which was affected by a safety-car period and then red-flagged after an incident claimed several cars on the resumption. Woolmer charged from the back to be classified second, with Gray third.
Equipe Pre-'63/50s
Equipe Pre-'63 honours twice fell to Nigel Winchester's monstrous Shelby 260, the first after withstanding race-long pressure from Mark Holme (Austin-Healey 3000 MkII) and the Jaguar E-type of Roberto Giordanelli. Sunday's win came a little easier after Holme expired in the closing stages, leaving Jonathan Smare's Healey in second and double 50s winner Jonathan Abecassis (Austin-Healey 100/4) third overall.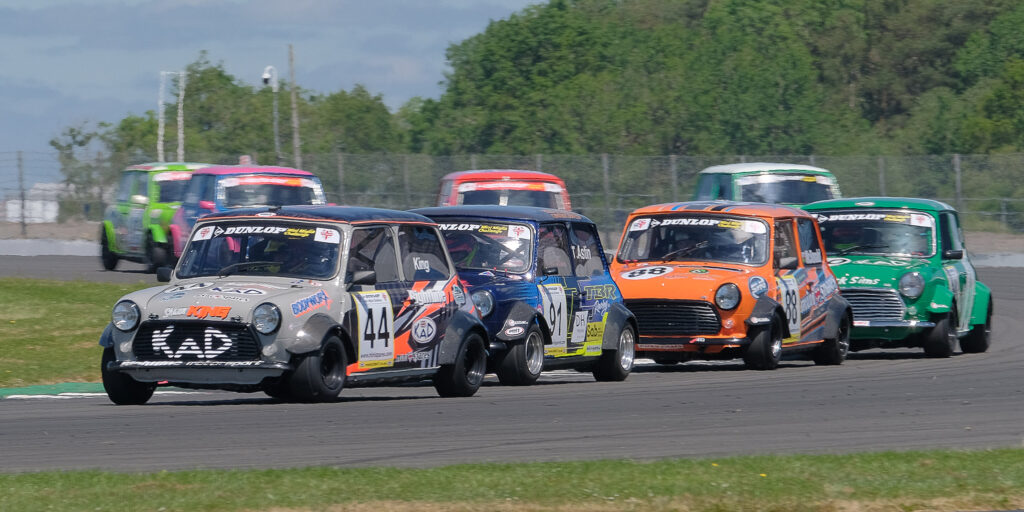 Guest races
A large entry of Classic Minis provided terrific close racing. In the opening Mini Se7en contest, a pack comprising reigning champion Jeff Smith, Joe Thompson, Jonathan Lewis, Spencer Wanstall and Nick Croydon-Fowler exchanged places throughout. Smith was eliminated from contention after pitting when he mistook a lap of grip caused by an oily track surface for a puncture. That left Thompson to take the win from Wanstall after Lewis's unsuccessful challenge at Abbey on the final lap. Sadly, Thompson and Wanstall were eliminated early on from the sequel – run concurrently with the second Miglia race – when Wanstall lost drive and was then collected by the closely following Thompson. Lewis, Connor O'Brien and Smith contested the win and finished in that order, giving Lewis his first Mini Se7en victory since winning the championship in 1981.
Endaf Owens won Saturday's Miglia race by holding off British Touring Car champion Andrew Jordan's last-lap challenge around the outside at Brooklands after the pair had worked together to break free of Rupert Deeth and Aaron Smith in third and fourth. After finishing sixth in the opener from the back of the grid following an engine failure in qualifying, Kane Astin benefited from the top-eight grid reversal to lead race two. Smith, Owens and Jordan soon joined the lead battle, while Deeth retired with an oil-pressure problem. It was reigning champion Smith who managed to take the win from Astin, Jordan and Owens, with all involved grinning from ear to ear afterwards.
Return to Oulton Park very different to 2020 – with spectators and some sunshine!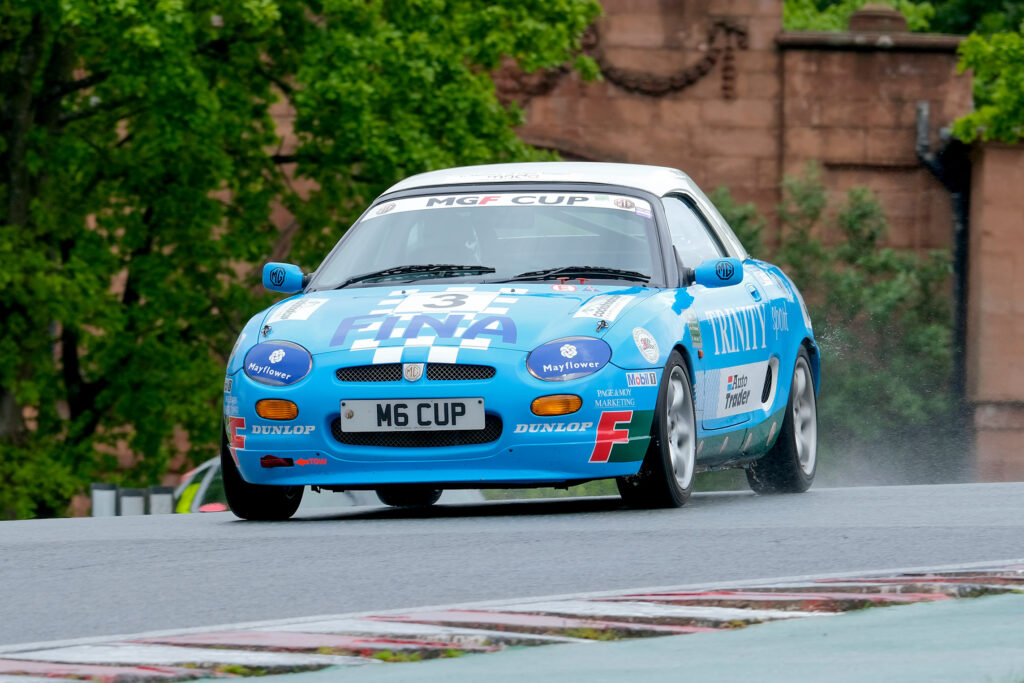 Mixed weather conditions in qualifying created an extra variable for the racers to deal with at the MG Car Club's second race meeting of 2021, at Oulton Park. Five of the club's championships were in action, each contesting two races, and they were joined by three series from Equipe Classic Racing. It was all played out in front of an appreciative crowd enjoying the newly-relaxed COVID restrictions that enabled spectators to watch the racing for the first time this year.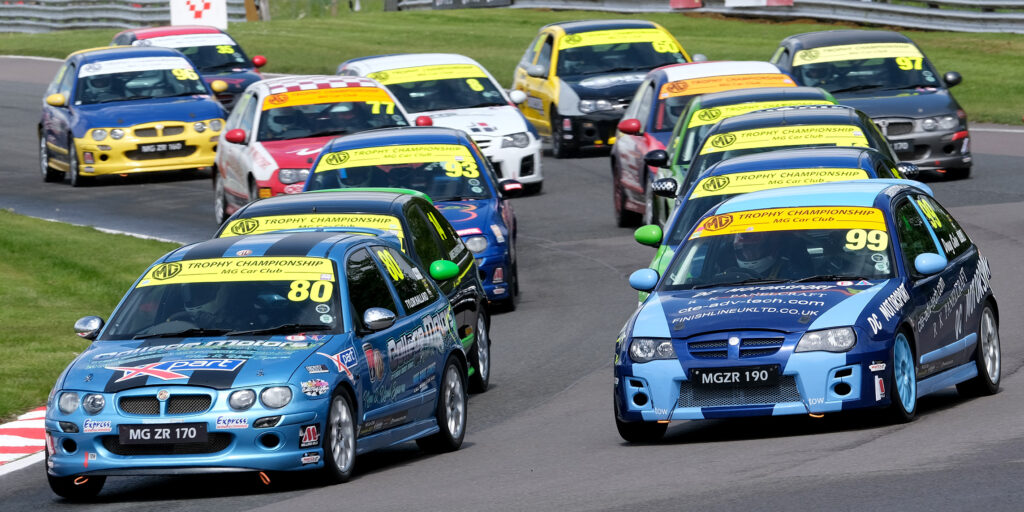 MGCC The Mangoletsi MG Trophy
It is now four wins from four races for Sam Kirkpatrick as he maintained his 100% start to the season in the MG Trophy. Kirkpatrick and Fred Burgess (both in ZR190s) picked up where they left off at Brands Hatch in April, the pair duelling for supremacy throughout.
Kirkpatrick's race one win from pole position was the more straightforward of the two, although he lost a hard-earned two-second advantage to a mid-race safety car. Burgess then shadowed him to the chequered flag in the two remaining green-flag laps, ruing his compromise of a wet set-up with slick tyres on what had become a dry track after wet qualifying.
Fergus Campbell impressed on his way to third overall and Class B victory in his ZR 170, earning the commentators' Driver of the Race award in the process. He edged Tylor Ballard by half a second on the road, but Ballard's 10s penalty for a false start dropped him to fourth in class. Paul Croker (ZR 160) was set to win Class C, only for a final-lap excursion exiting Cascades to cost him dear and promote John Donnelly to the win.
Campbell's lightning start allowed him to lead race two, and Burgess also jumped Kirkpatrick. The two ZR 190s quickly cleared Campbell and could barely be separated for the remaining nine laps of the challenging circuit. Kirkpatrick drew alongside on several occasions, but Burgess's defence held firm until Kirkpatrick squeezed inside at Cascades mid-race. But the Cumbrian couldn't shake off the Lincolnshire man as the pair traded lap records, Kirkpatrick's winning margin of 0.6s being almost unrepresentatively large!
"I had to fight for that one," admitted Kirkpatrick. "I went for a few overtakes, but they weren't quite perfect ones. But then I got a bit closer through Cascades than I normally would, so I let off the brakes and hoped!"
"I knew what Sam was going to do," said Burgess, "but I didn't think he'd be able to hold the speed down the straight [from the tighter exit] but he got a mega run out of there.
"It was the most tired I've been in a race car – I knew about it at the end of the race!" he added, as both drivers had clearly enjoyed an exhilarating contest.
Adam Jackson completed the podium in his ZR 190, a great result after his first race had ended with an engine fire caused by a split oil filter housing. Doug Cole, fourth, also failed to finish the opener after a gearbox mount broke, snapping the driveshaft. Patrick Booth was fifth after his earlier class podium, both achieved after the wrong choice of rubber in qualifying left him 15th on the grid, having also been running in his new engine.
Tylor Ballard chased down Campbell, passing him into Cascades after getting a run out of Old Hall, to win Class B and claim Driver of the Race honours, while Croker made up for his earlier disappointment with Class C honours.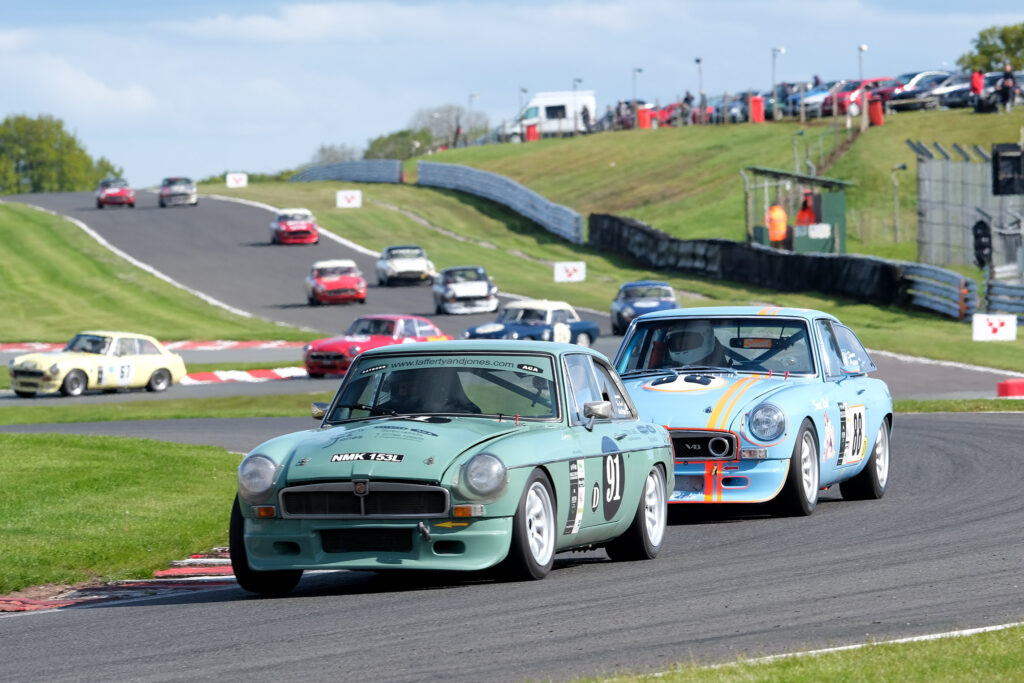 MGCC BCV8 Championship
Reigning champion Ollie Neaves bounced back from a wrong tyre call in qualifying to win both BCV8 races in his MGB GT V8, albeit in contrasting style. Simon Cripps took the first contest on the road with an impressive display that earned him the Driver of the Race award, only to lose out when penalised for jumping a restart.
Cripps sprung from third on the grid to lead but, like second-placed Neil Fowler and Class C leader Jonnie Wheeler, misjudged the safety car restart and incurred a 10s penalty. His pace was such that he fell less than a quarter of a second shy of building the margin he needed to overhaul Neaves on corrected times.
Neaves had qualified only fifth after running dry rubber on a greasy track, then made the mistake of switching to wets for the drier race. He prevailed in a battle for third with the similarly afflicted James Wheeler, then benefited from Fowler's final lap off, before inheriting the victory.
Behind Wheeler and Ian Prior in third and fourth, Andy Young won Class C in his C GT. A three-way fight also involving Jonnie Wheeler and Jim Bryan ended when unfortunate contact between the latter pair exiting Old Hall turned Bryan into the barriers, ending his day.
Neaves fully reasserted his authority with a commanding victory in race two. With conditions now almost perfect, he jumped from sixth to lead within two corners, then opened an advantage of 9s in three laps before keeping a watchful eye on the pursuing Cripps and James Wheeler as he nursed a slight brake vibration.
"That felt a lot more like it," beamed Neaves. "The car just felt so hooked up it was unbelievable. Those first few laps, the car was absolutely glued to the tarmac. I did three really hard laps, looked in my mirrors and wondered where everyone had gone!"
Cripps passed Wheeler for second with an exuberant move around the outside at old Hall and was finally able to shake him off when after both had moments at Druids on fluid spilt by the car of Wheeler's father Jonnie after a hose had come loose.
Young again won Class C from row eight of the grid after his own wrong tyre call in qualifying and was rewarded for his efforts with the Driver of the Race. Babak Farsian twice took Class AB honours with his four-cylinder Roadster able to get among the V8s, while Steve McKie (B GT V8) headed Class B in both races.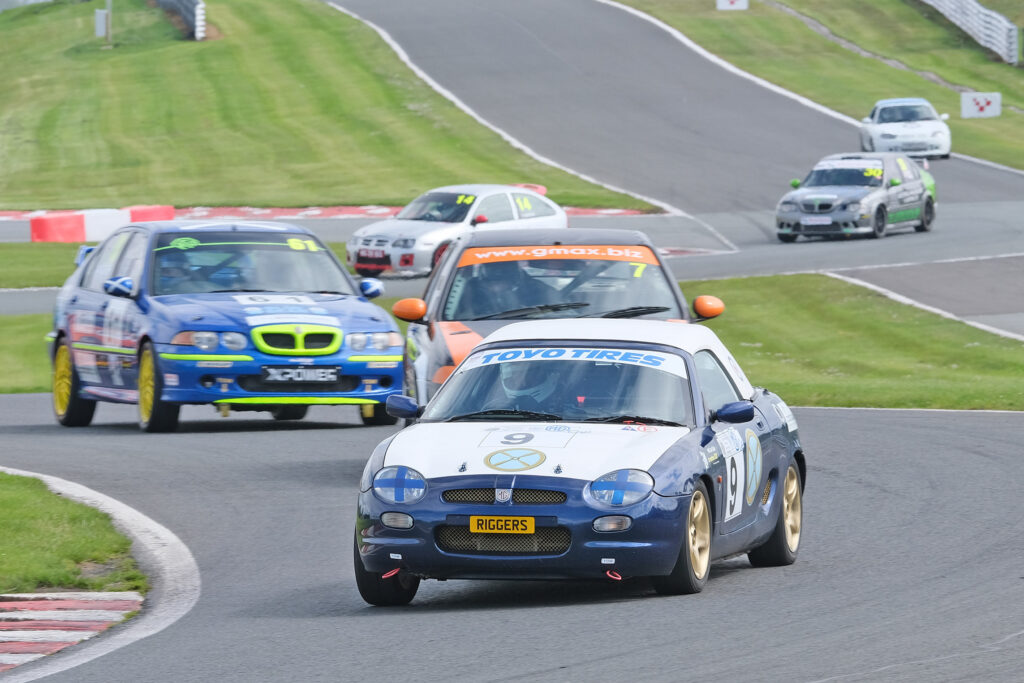 MGCC Cockshoot Cup
The largest Cockshoot Cup entry for several years assembled for the North-West based championship's first outing of the season. The story of its races again owed much to the wet conditions in morning qualifying.
Renowned wet-weather expert Ray Collier, who develops tyres for a living, qualified his MG ZR 190 on pole position by over four seconds, while regular frontrunner Keith Egar could only manage 13th in his MG Midget after choosing the wrong rubber. Collier took a comfortable victory in the first race, despite a cracked gearbox casing and a faulty fuel gauge meaning the car had been under-filled and was misfiring in the closing stages, while Egar carved his way through to second, and was named Driver of the Race.
It could have been even better for Egar, as he backed off to cool his engine before a final push, only for the chequered flag to be shown slightly early with the meeting running a little behind its tight timetable. Peter Bramble produced a similar charge from mid-grid to third in his MGB, ahead of Class F victor Brian Butler who had impressed in second overall for much of the way. Mike Peters took Class B honours in his MG Midget, while Paul Wignall (MG ZR 160) topped Class A.
The early pace of Butler and Egar was even more impressive in race two, as Butler led the early stages before being demoted by Egar, who had made an absolutely blistering start to run second, and Collier into Druids on the second lap. Egar would be denied again, however, as Collier – with his fuel tank topped to the brim – got a run through Island and passed the Midget into Shell Oils on the penultimate lap. Being named the meeting's Driver of the Day would be some consolation for Egar. Karl Green took his MG ZS 180 to third ahead of Driver of the Race Butler, with Peters and Wignall again claiming class honours.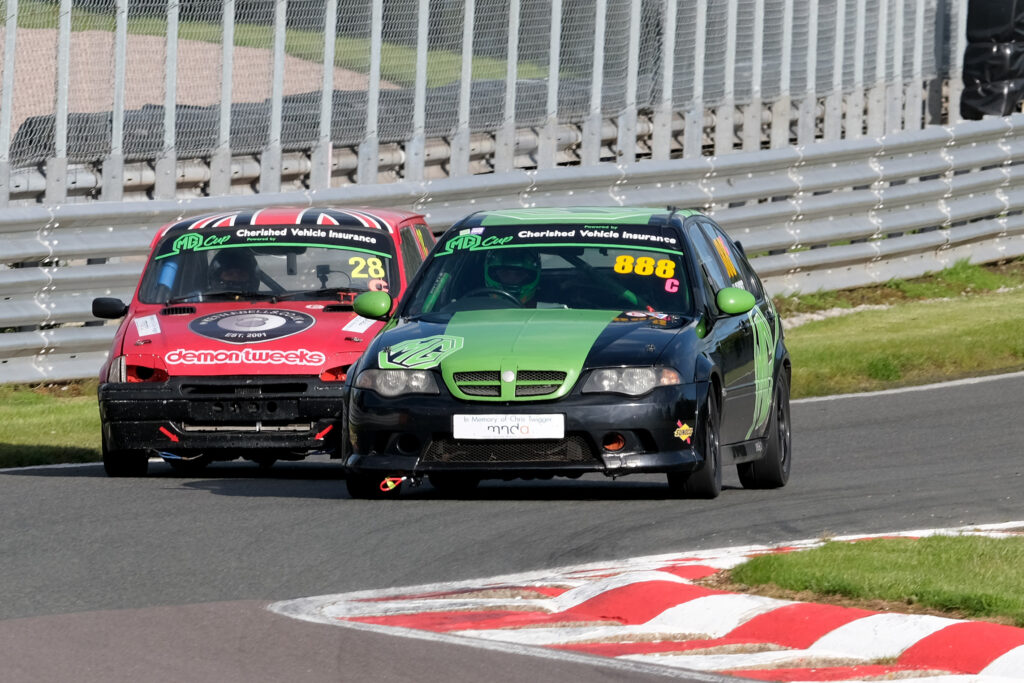 MGCC MG Cup powered by Cherished Vehicle Insurance
Two hard-fought MG Cup contests ended with honours even between the VVC-engined Rover Metro of Mike Williams, and sophomore driver Morgan Short's MG ZS 180. Benefiting from his wet running in Friday testing, Short put the ZS on pole position for each race by the huge margins of 7.4 and 8.8 seconds. But, after last year's horrendous conditions, race one would offer his first dry laps of the circuit.
Williams made his experience count to outdrag Short up Clay Hill on the first lap of the opener and, while Short stuck with him, he couldn't find a way through and had to settle for second. The Rover 220 Tomcats of the returning Richard Buckley and Matt Simpson were third and fourth, Simpson earning Driver of the Race for his charge from the back after being disqualified from qualifying for a yellow flag infringement. Iain Dowler (MG ZR 170) took Class B honours, while Jago Keen (MG ZR 160) claimed Class A.
Determined to learn from race one, Short was able to defend against Williams's similar attack in race two, and Williams lost time as he ran on the grass. But the Metro reeled the leader back in and was ready to take advantage when Short struck a slowing backmarker exiting Knickerbrook on the final lap. However, Short held firm to take his maiden win despite the scare.
"It was enough to do quite a bit of damage to the front of the car and I lost my whole gap to Mike," said Short, who was named Driver of the Race. "I thought, 'There's no point giving up now, I've just got to keep pushing and hope nothing's wrong with the car.' And luckily, it looks like most of the damage is cosmetic. I had a great race with Mike, we were battling the whole time. He's a great competitor and he's a good sport."
Simpson made faster progress early in the race so was able to beat Buckley to third, while Dowler took a comfortable Class B win and Keen too repeated his earlier Class A success.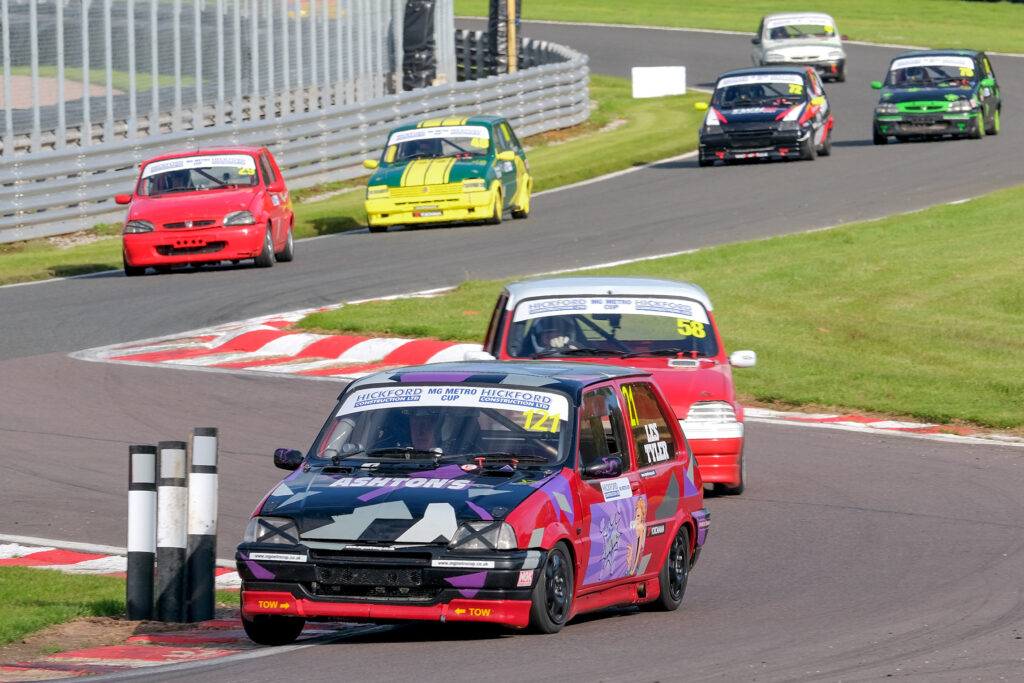 Hickford Construction Limited MGCC MG Metro Cup
Mark Eales put his Brands Hatch nightmare behind him to score a double success in the MG Metro Cup, which shared track time with the MG Cup. New pistons and heads were required after a holed radiator had cooked the engine, and qualifying at Oulton Park was the first chance to run the repaired engine in anger. He secured pole position after top qualifier Dan Willars was disqualified for a yellow flag infringement, with third fastest Tim Davies suffering the same fate.
From there, Eales was able to secure a consummate victory from Tim Shooter and Tony Howe, who headed a very tight battle among the rest of the top eight. Howe's climb from 10th to a podium finish earned him the Driver of the Race award, while Willars was happy to come through to sixth behind Phil Goodwin and Jon Moore, and Davies managed ninth.
"The plan was to try and get away as quickly as possible," said Eales. "I could sort of see where Tim [Shooter] was so it was a bit like, just keep an eye on him and if Tim's catching me we'll have to start pushing a bit harder."
With the Metro Cup's new rules meaning the grid for race two is based on race one finishing positions, it meant that the likes of Howe and Willars would be starting much closer to Eales for the sequel. But Eales once more immediately broke clear to control the race as battles raged for the other podium places. It was Howe and Willars that secured them from Goodwin and Les Tyler, as Shooter dropped to sixth and Davies was forced to retire.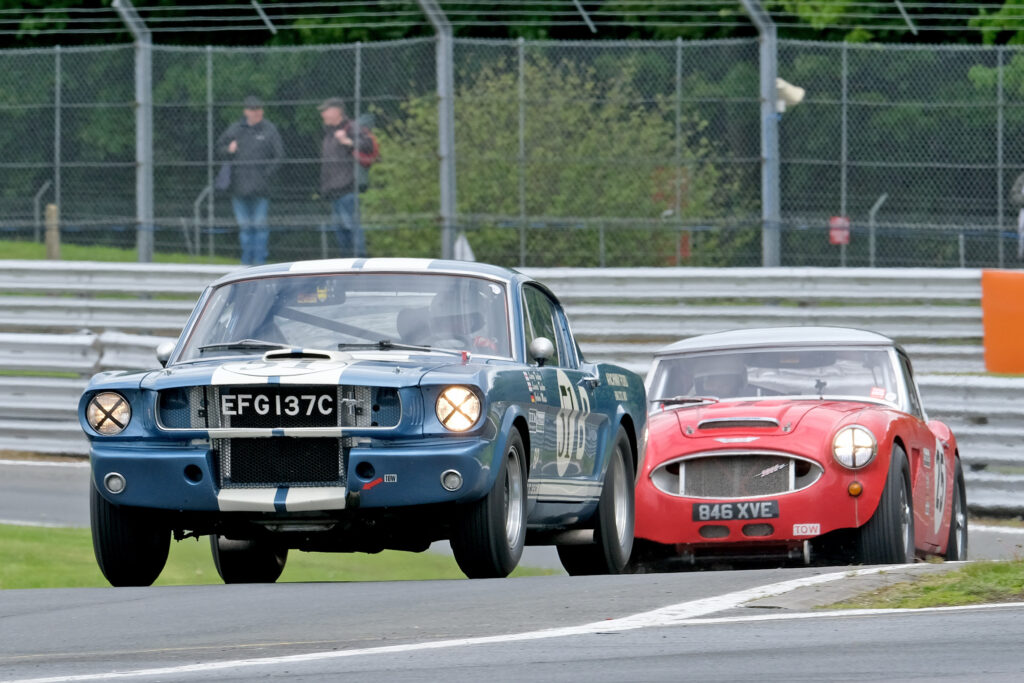 Equipe Libre
The TVR Griffith of Jamie Boot won the Equipe Libre race by nearly 30s, having worked its way through from fifth on the grid. Sharing customer Jon Hughes's MGB, Tom Smith had led the early stages before a spin at Druids let Boot break clear and scamper away. Father-and-son pairing Simon and Dan Smith were second in their Lotus Elan thanks to searing pace from Smith Jr in the second half, setting a fastest lap almost two seconds quicker than Boot's best. Rob Cull's TVR Grantura MkIII completed the podium after it demoted James Haxton's Austin-Healey 3000 MkI – which had run second for much of the race – in the closing stages.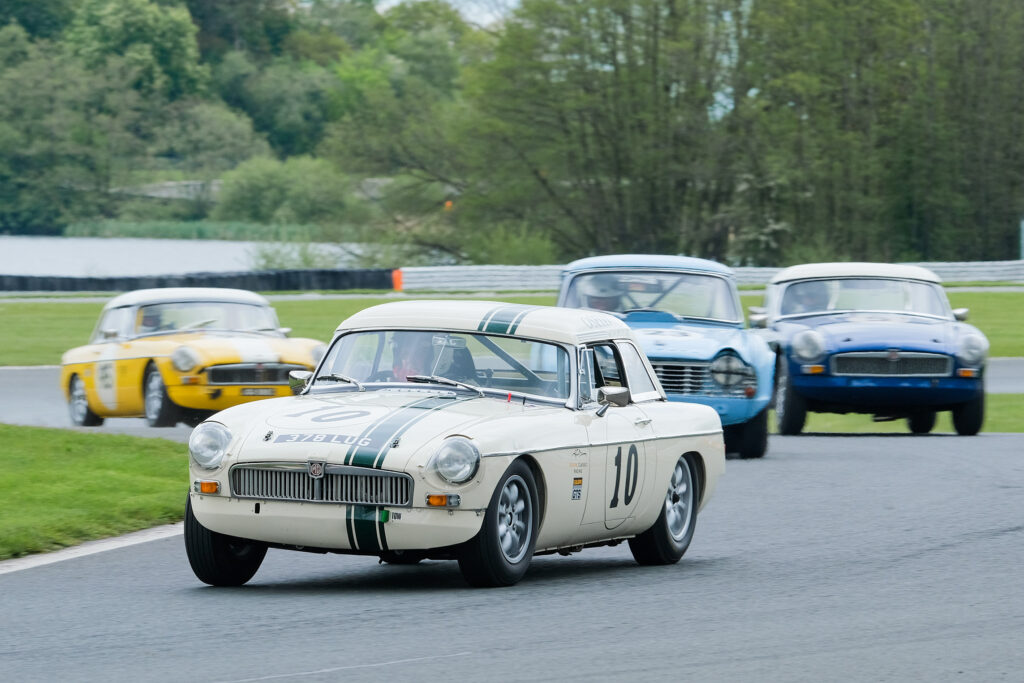 Equipe GTS
Back in his own MGB, Tom Smith dominated the Equipe GTS encounter, only to be hit with a three-lap penalty for speeding in the pitlane. That handed Mark Holme victory in his similar car, ahead of the busy Babak Farsian (MGB), who had lost time clearing Dominic Mooney's MGB early on. Richard Knight's Elva Courier completed the podium after the fancied TVR Granturas of Rob Cull and Mark Ashworth both hit trouble in the early laps.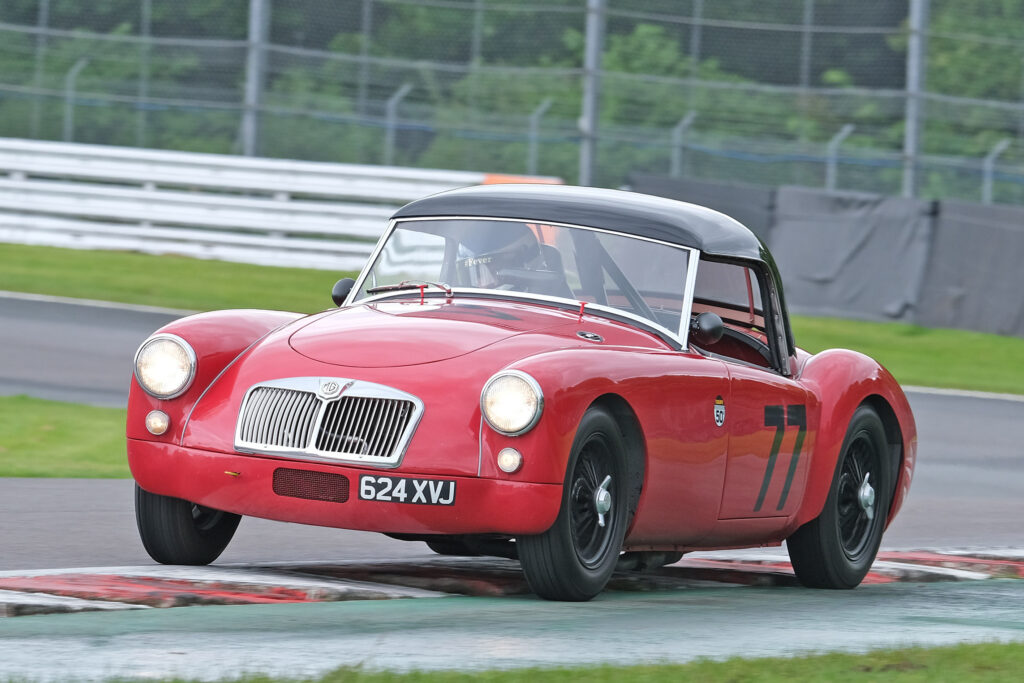 Equipe Pre-'63/50s
Mark Holme scored his second victory of the day in Equipe Pre-'63, this time at the wheel of his Austin-Healey 3000 MkII. Holme was untroubled throughout, building a big advantage from the start and taking his mandatory pitstop late in the window so that he was never headed. James Haxton's MkII version of the same car was nearly a minute adrift at the flag. Haxton cleared Tom Andrew's Jaguar E-type early on as Andrew appeared to struggle in the first half of the race, dropping back before recovering to third ahead of Andrew Williams (Austin-Healey 100M) and Rick Willmott (Healey 3000).
MG Car Club racers have spring in their step in Brands Hatch opener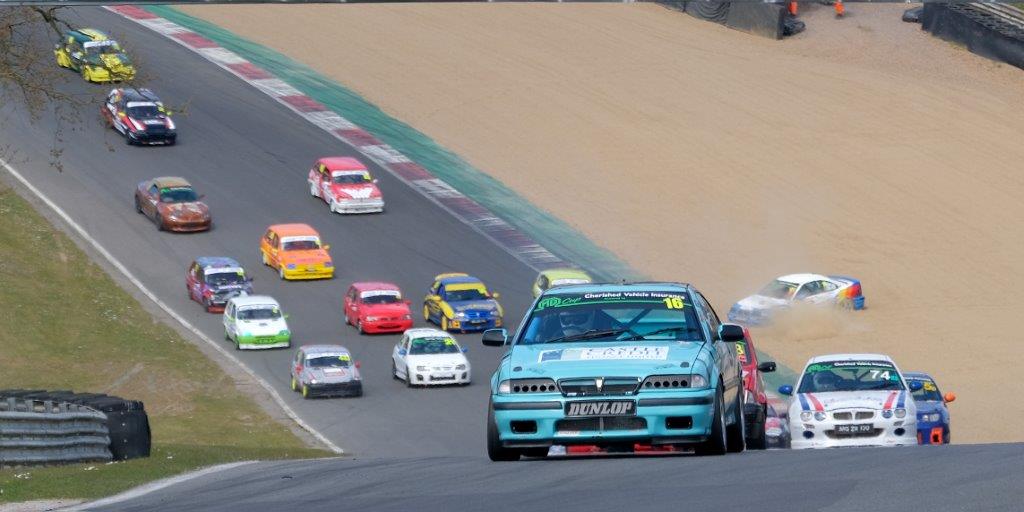 The MG Car Club held its 2021 racing season opener on a sunny spring weekend in Kent for condensed dicing on Brands Hatch's Indy circuit. Six of MGCC's race categories were present and, underlining the club's variety, cars from pre-war right up to the modern day were catered for. And, adding to the assortment, they were joined at Brands by no fewer than eight packed and eclectic Equipe Classic Racing contests, as well as by the Morgan Challenge.
And the competitors throughout the categories didn't need much time to get down to business and provide racing thrills.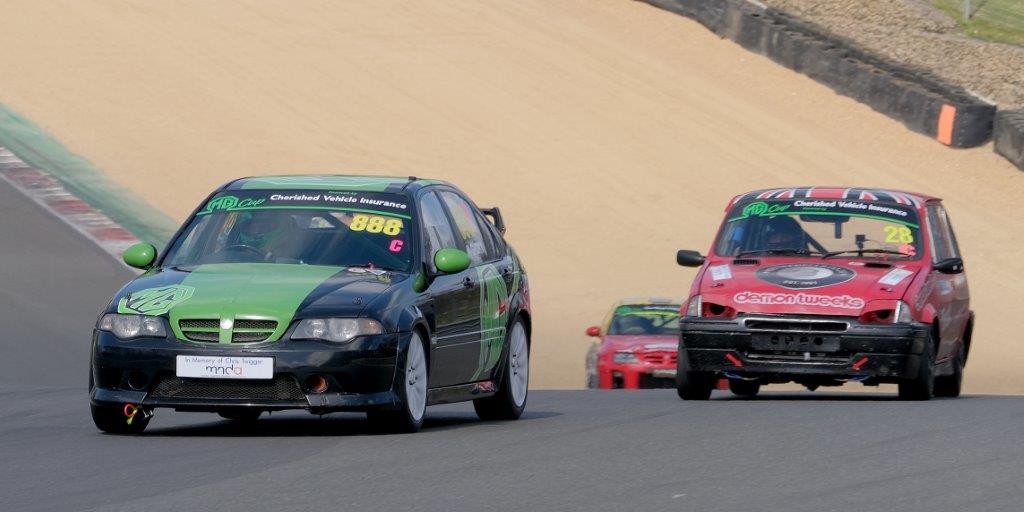 MGCC MG Cup powered by Cherished Vehicle Insurance
We are long used to Mike Williams winning MG Cup races, but don't be fooled into thinking the two more that he won at Brands Hatch were straightforward. Firstly, he doubted until the 11th hour that he'd be able to take part at all due to technical problems with his Metro (pictured above). And then, having resolved those, he had a new on-track challenge in the shape of Morgan Short, son of famous racer and team boss Martin.
Morgan raced in a Class A Rover 216 GTI last year, and he has now upgraded to a frontrunning MG ZS 180 (also pictured above) that he raced for the first time at Brands. And like Williams his participation was in doubt in advance, as he was initially only on the event's reserve list.
Matt Simpson led from the start in his Tomcat, while poleman Williams dropped to third behind Short. The Metro man passed after a few laps' battle, but soon had to do it all again as the race was red flagged when Ian Boulton went off at Surtees, and Williams dropped back behind Short on countback. Both Short and Williams vaulted past Simpson at the restart, and a few laps later Williams got the lead from Short exiting Graham Hill Bend. Short dropped to third behind Simpson by just 0.039 seconds with a last-gasp track-limits penalty.
Iain Dowler, in fourth place overall, comfortably won the Class B contest in his ZR 170, while Jon Gil got the Class A win, and Driver of the Race with it, after passing Jago Keen.
It looked like race two would be more straightforward for Williams as he led from Short, but at mid-distance he spun at Graham Hill Bend, letting Short by into first. Williams though was able to quickly hunt Short down and pass him for the lead, again on the exit of Graham Hill Bend, aided by the fact that Short's MG ZS was surging due to being short on fuel.
"It's been a funny week," said Williams. "We had so many issues with the car, didn't really get to start it until last Saturday. Matt [Simpson] came round to help me and we got the engine in: because of the new regs I've had to downgrade to a standard engine now. It was problem after problem after problem on the rolling road, then I did some laps here on Friday but I was having to change up at 6000rpm; that's just unheard of. I was introduced to Dan Surridge, we stripped the whole of the VVC mech out and he fixed all of the stuff. Went out today and it was so much better.
"It was just an awful week waiting to happen and all of a sudden it's just become fantastic. Great qualifying; great race. Not just the result but the feeling of going round doing what we were doing. It's absolutely fantastic. It's still buzzing me."
Short was fairly satisfied too. "It's brilliant. For a big heavy car [the MG ZS] handles really well. The car was extremely understeer-y in the first race – with that big V6 hanging over the front wheels. I was quicker than [Williams] in lots of places but I was losing all of it in Graham Hill Bend and that's where he got me.
"Second race we made some changes to try and reduce some understeer which really helped. We put in five litres less of fuel than we did the first race, and it started to surge once I got past Mike, literally two laps later. Coming through Paddock it was like the throttle's just not on. But realistically P2 is where I deserved to be."
Dad Martin added: "In the first race he was very gentlemanly, and [after the race one restart] he grew some horns. He's learning so much in a very friendly but very competitive environment."
Darren Harris won Class B, and took the Driver of the Race award, after passing Dowler mid-race. Gil again won Class A.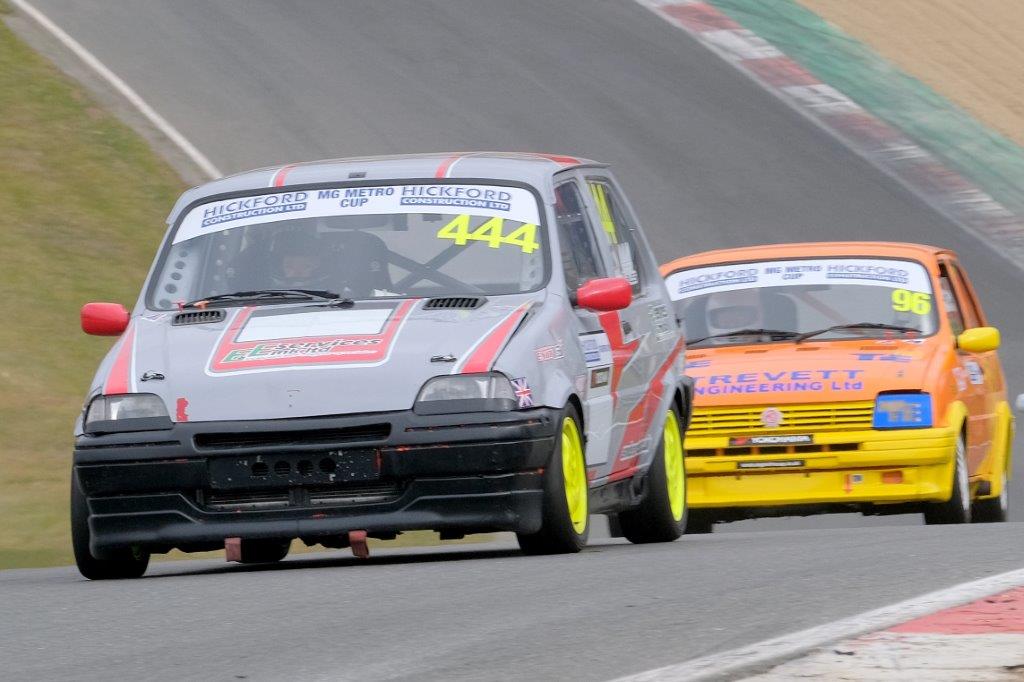 Hickford Construction Limited MGCC MG Metro Cup
The MG Metro Cup shared the track with MG Cup and provided plenty of its own drama. In the opening race's opening stint Mark Eales (pictured in car 444 above), Dan Willars and Tim Davies led the way, but then in the restart all three came together in the run to Paddock. The trio continued albeit well down.
That left Phil Goodwin in first but he soon pulled off when he lost drive, which he suspected was due to a gearbox seizure. Tim Shooter then led and kept the place to the end, and the birthday boy got an additional present of Driver of the Race.
Eales recovered to second and was chasing Shooter, but spun at Paddock on the final lap when a car ahead put fluid down. He was not able to rejoin due to a cracked radiator from the restart incident and this kept him out of the second race too. David Javes (pictured in car 96 above) and Richard Garrard completed the race one podium, while Les Tyler also spun on the treacherous Paddock surface and recovered to finish fifth.
Shooter made it a double in race two. Davies led from the off and Javes jumped Shooter for second when the latter lost momentum after attempting to pass Davies. Javes and Shooter soon cleared Davies then Shooter took the lead he wasn't to lose from Javes at Paddock. Tyler completed the top three and fourth-placed Davies got Driver of the Race.
"It was absolute carnage [in race one], I just benefited from it really," Shooter said. "I could see [Eales] coming, and then I looked in the mirror and he'd gone. Well pleased just to get through without any damage! Just right place right time!
"[In race two] Tim Davies and David [Javes] both got past me in the early laps, managed to get past Tim and then managed to get past David. I had a decent battle with him for a couple of laps, and then managed to gap him and then tried to keep my concentration. Really pleased with race two: it felt a bit more like it was on merit than just inherited."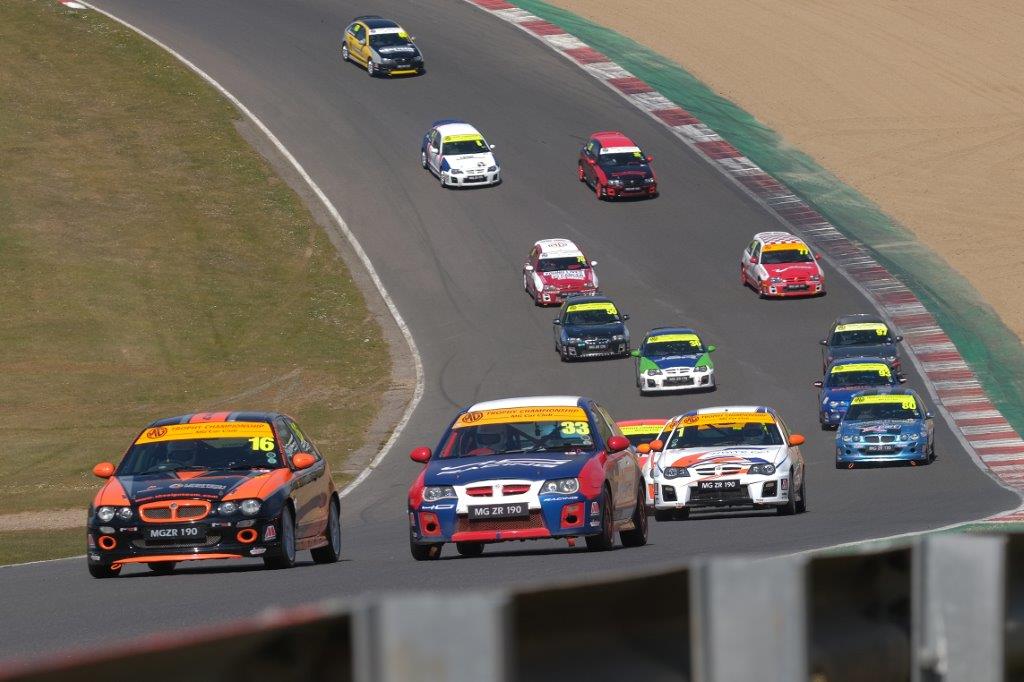 MGCC The Boretech Engineering MG Trophy
Sam Kirkpatrick at Brands continued his strong form from last season by taking two wins from pole position in his ZR 190. And it was two young guns who fought for first in both races from the front row. In race one Kirkpatrick just held off his fellow young gun Fred Burgess (car 16 seen above), who also continued his good 2020 form. Burgess made many attempts to pass, including at Druids on the last lap, but Kirkpatrick clung on,
The MG Trophy's qualifying was disrupted by many incidents as drivers reported the surface offered little grip at that point, and this resulted in a somewhat jumbled pair of grids. Doug Cole was one impeded by this but he recovered to finish third in race one.
James Dennison beat Fergus Campbell to the Class B win, pipping him in a thrilling run to the line, and Dennison got Driver of the Race with it. James Moreton in his ZR 160 won the Class C race.
Race two was a similar story at the front though this time Kirkpatrick beat Burgess with a little more comfort, managing to get Burgess out of his slipstream.
"Good day, two good wins," smiled a satisfied Kirkpatrick. "The first one was a bit more hard fought, the second one was a bit more relaxed. In the first one I had a bit more understeer and didn't have much confidence. [Race two] it felt good, I had a bit more confidence and I could break the tow. We made no huge changes [for race two], I think the track might have been better, felt grippier.
"It was a good start to the season, hopefully more of the same next time! I think next time everyone will be more on it and it'll be quite close."
Burgess added: "It was a very messy qualifying, I felt like I had the pace to get maybe on pole. [In the first race] I put Sam under a lot of pressure, I had a really good car, good balance, good pace. I was hoping I could have the same in the second race but the balance wasn't quite right. Didn't quite have the grip, halfway through the race I settled for second. Maybe we've got to learn how to manage the balance of the car as the tyres fade away; I'm sure we will learn."
Adam Jackson – newly graduated to Class A – completed the podium, climbing from a 14th-placed start amid the disrupted qualifying. He finished eighth in the first race as he'd left the track avoiding the suddenly slowing fourth-placed Patrick Booth ahead whose car had seized.
Two-time MG Trophy champion Graham Ross returned to the contest in a left-hand-drive ZR 190, and his day was a struggle after a qualifying off. He only finished 12th in race one thanks to a tyre problem, while in race two he was fourth.
"It's a bit disappointing if I'm honest," said Ross. "Ever since the off in qualifying it's just been an uphill struggle, just trying to get the car right. In the first race it turned out to be a duff tyre, the rear left was always stepping out every right-hand corner. I changed the tyre and it was a lot better, but that second race was just frustrating, the pace wasn't in the car. Back to the drawing board!
"The front end of the car is not right, after the off in qualifying it hasn't got the right camber on, I think it's bent a crossmember or something. If it was right would I have been on the pace? I'm not sure, you get these weekends.
"In both races [left-hand drive] was fine. It took a bit of time yesterday in testing to get used to it."
Dennison made it a double Class B win in race two, winning by 9s, and he was awarded Saturday's Driver of the Day. Moreton made it a clean sweep of MG Trophy doubles in this meeting by winning Class C's race two. He shadowed Guy Tolley for much of the distance and passed him to win late on at Druids. Moreton got also Driver of the Race.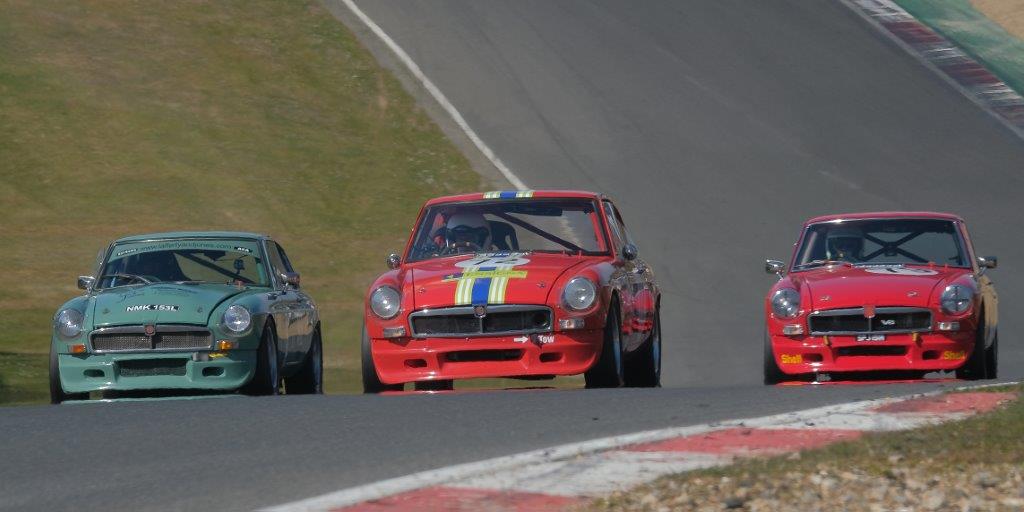 MGCC BCV8 Championship
Reigning champion Ollie Neaves was another at Brands to start 2021 in a similar vein to 2020, in his case continuing his all-conquering form. He won both races, in both being decisively clear of his closest chaser Russell McCarthy. Neil Fowler, learning the set-up ropes of his new MGB V8, completed the symmetry with third place in both races.
"Race one was fairly straightforward but really hard at the beginning with Russ hunting me down," Neaves said. "And again in race two the first five laps Russell was really on me and suddenly the car came a bit better and gave me that gap. And I got a bit better luck with the backmarkers than Russell did.
"Absolutely [I keep pushing when leading] because I know what Russell's like, he doesn't give up. If I back off then he'll be right back.
"I did an awful lot of work trying to work out how I wanted the suspension to be when I built [the car] and it's all worked out really well. I feel really good in the car, it feels really controllable and really nice to drive on the edge. Whereas a lot of cars I've driven, similar class, can be quite snappy."
Reigning class champion Jim Bryan was race one's Class C victor after long-time class leader James Wheeler retired late on when his coil lead detached. James's dad Jonnie got to drive the Class D Roadster at this meeting as a reward for all the work he's done on the car. Reigning AB class champion Russ McAngus comfortably won his class contest.
Simon Cripps had a particularly eventful meeting. He started qualifying in a Class D MGB GT V8, but its clutch failed early in the session then he had a collision when pulling off the track. He therefore dashed away to fetch a Class B MGB, and he won in class in race one despite a quick pitstop to check his pressure gauge after having fluid on his windscreen that he worried could have come from his own engine. After returning to the track he swiftly recovered his lead. This all got him Driver of the Race.
Wheeler made up for his race one disappointment by winning Class C battle in race two, holding off Andrew Young, though Young got the compensation of Driver of the Race. And McAngus doubled up in Class AB, winning by 1.4s from Simon Tinkler.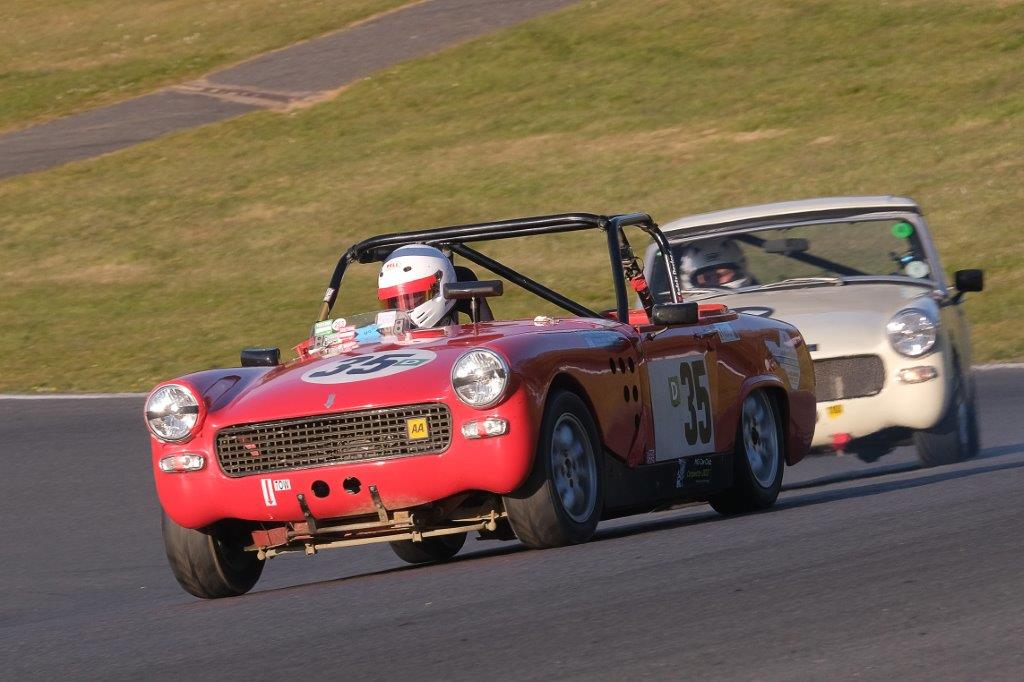 MGCC Lackford Engineering MG Midget & Sprite Challenge
The MG Midget & Sprite Challenge, also competing for the Steve Everitt Memorial Race, didn't let us down in the drama stakes. The opening counter had a thrilling four-way all-Midget fight for first between David Weston, Martin Morris, Richard Wildman and Michael Chalk.
Chalk led early but then was jumped by his three pursuers leaving a Paddock Hill Bend yellow flag zone, and not long later had a quick gravel detour at Clearways. This left Morris and Wildman disputing the lead, but the pair at half distance touched at Paddock and Weston got momentum on both to take a lead, while Morris immediately parked on the outside of Druids. Weston won with Wildman and Chalk still close at hand, and the victor got Driver of the Race too.
Pippa Cow won the Class E contest in her Austin-Healey Frogeye Sprite while her chief pursuer Tom Walker pitted after sustaining front-end damage to his Healey Sprite MkI from contact with a backmarker. Dean Stanton in his Healey Sprite comfortably won Class D.
Race two featured a straightforward win for Chalk as the only one from race one's frontrunning quartet to take part, with Wildman and Morris sitting out and Weston's son Edward taking over his car. Chalk won by 10s over the Class E battle that Walker edged from a closing Cow, Walker relieved by a late spin from his opponent. Cow though got Driver of the Race for her effort. Stanton was again a clear Class D winner.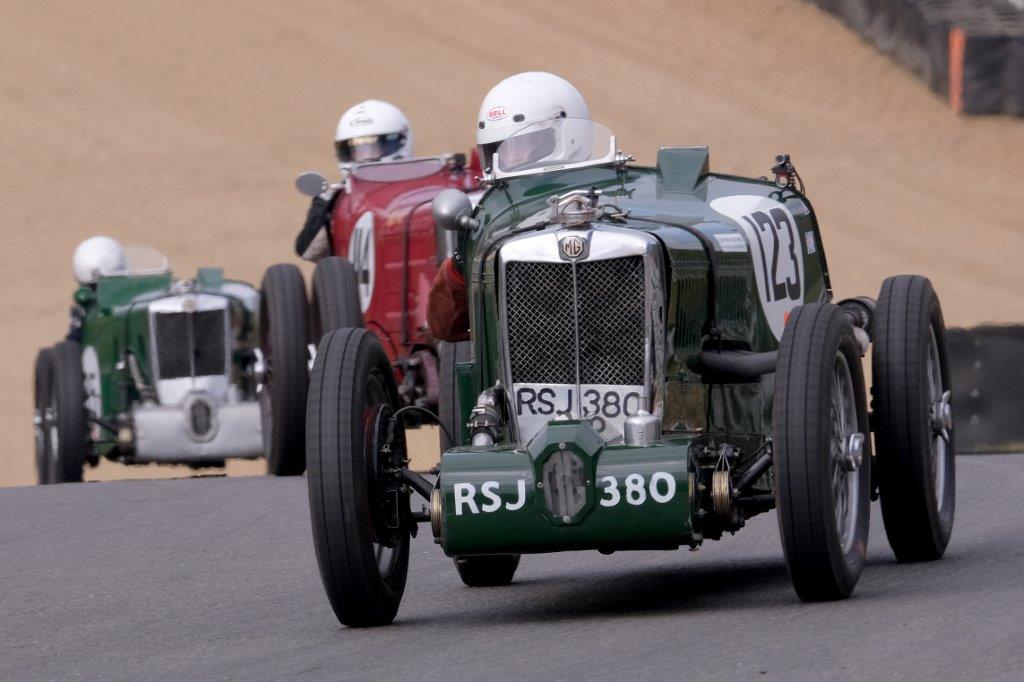 Baynton Jones Historic Motorsport MGCC Triple-M Racing Challenge for the Mary Harris Trophy
Brands was the scene of a welcome return of the pre-war Triple-M Challenge contest, and it too provided its share of thrills. The first race had a diverting victory fight between Oliver Sharp's Class C MG N Type Magnette and Tony Seber's Class D Wolseley Hornet Special.
Seber seized the lead from Sharp early on but Sharp was able to stick with his opponent. Then Seber sensationally spun at Surtees on the last lap, letting the closely chasing Sharp by to win. Sharp also got Driver of the Race.
Harry Painter's MG PA (pictured above) was a clear third overall and an equally clear Class B winner. Barry Foster in his Montlhery Midget just beat Fred Boothby's J2 by 0.5s to win Class A1, while Simon Jackson in his MG PB was a clear Class A2 victor.
Sharp won again in race two, and it was less dramatic this time as he led throughout from Painter and David Seber who had taken over Tony's car.
"The first race was very frenetic," Sharp said. "I was probably slightly faster than the Wolseley Hornet. I kept closing on him but the backmarkers were difficult. It was hard work, I was driving as hard as I could but trying to constantly negotiate traffic, it's a short lap.
"It's scary when someone spins in front of you in an old car, so you go onto hyper alert and do what you can to avoid it. [When Tony Seber spun] I was thinking 'don't hit me!' I went off onto the grass because he was coming back across the circuit. I felt I deserved the win because I was quicker. I really enjoyed the battle, it's really nice just having a dice.
"Second race was much easier really, I just made sure that I kept my position and pulled out a few seconds. It was a great day, it's a wonderful circuit, great fun and it's an amazing bunch of friends and camaraderie here."
Foster again beat Boothby in the Class A1 bout, this time by 4.2s, and Jackson also doubled up in Class A2. Andrew Long got Driver of the Race after finishing sixth overall and third in Class C in his KN, while Sharp was delighted to receive Sunday's Driver of the Day for his double triumph.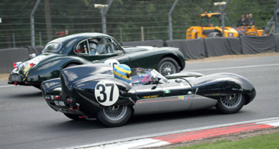 Equipe Pre '63/50s
The opening race for Equipe pre 1963 and 1950s machines had one significant example missing, in the shape of Peter Haynes' Lotus Eleven Le Mans (pictured above) that had claimed pole 1.5s clear of the rest. It transpired that his absence was a simple matter of having lost track of time and missing the start! In Haynes' absence, Roberto Giordanelli moved clear to win in his Jaguar E-type, while Andrew Williams' Austin-Healey 100M was the first 50s car to the flag in eighth place.
To relieve his own blushes Haynes, contrary his initial plans, returned the next day to make up for it in race two, and this he did by winning by over a lap. Nigel Winchester in his distinctive and powerful Shelby 260 finished second and was the first pre-'63 car home.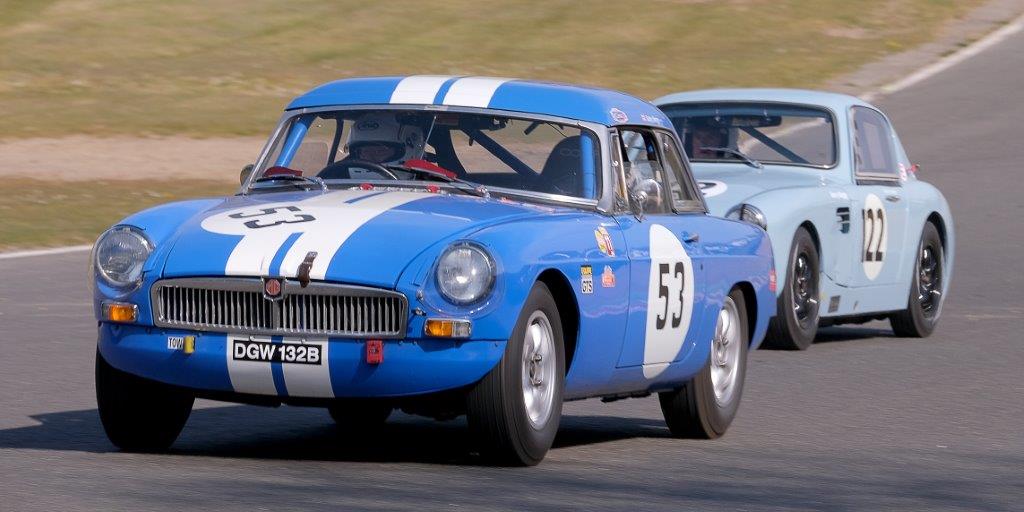 Equipe GTS 1
Mark Ashworth in his TVR Grantura won the opening Equipe GTS 1 race, holding Robi Bernberg's Grantura at arm's length. Poleman Rob Cull, also in a Grantura, dropped out from second place before half distance as his differential failed.
Another Grantura runner, Mark Owen, won the second GTS 1 race on Sunday. Owen from pole initially dropped to third behind Cull and Ashworth, and the trio crossed the finish line for the start of the second lap three abreast! Ashworth emerged from this as leader from Owen, but Owen got the lead from Ashworth on lap six at Surtees and remained ahead of Ashworth and Cull for the rest of the way.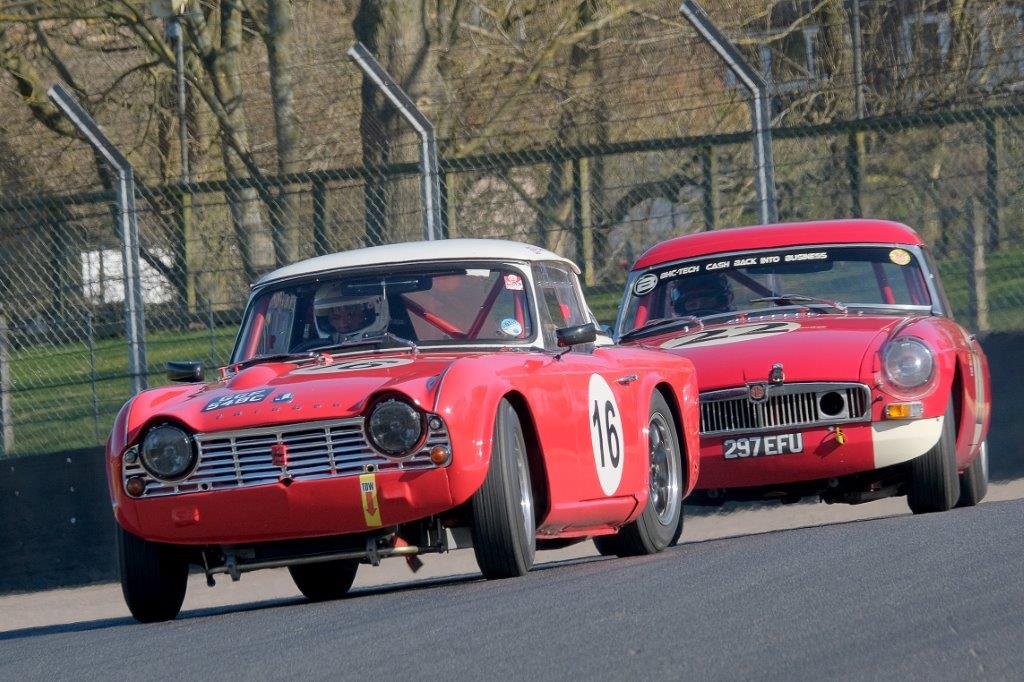 Equipe GTS 2
The opening GTS 2 was interrupted by a red flag after Chris Ryan, who was running second in a Triumph TR4, had a spectacular barrel roll entering the pitstraight when a wheel detached (picture above shows it loosening). Lee Atkins in a Grantura won by 3.8s from Tom Smith's MGB.
Atkins was denied a potential double the next day when he retired from the lead when his head gasket failed, repeating a problem he'd had in Friday testing even though it's a new engine. Jon Payne, who'd qualified second in his Triumph TR4, dropped out on lap one when his rear brakes locked approaching Graham Hill Bend and he decided not to risk continuing. Smith took a straightforward win.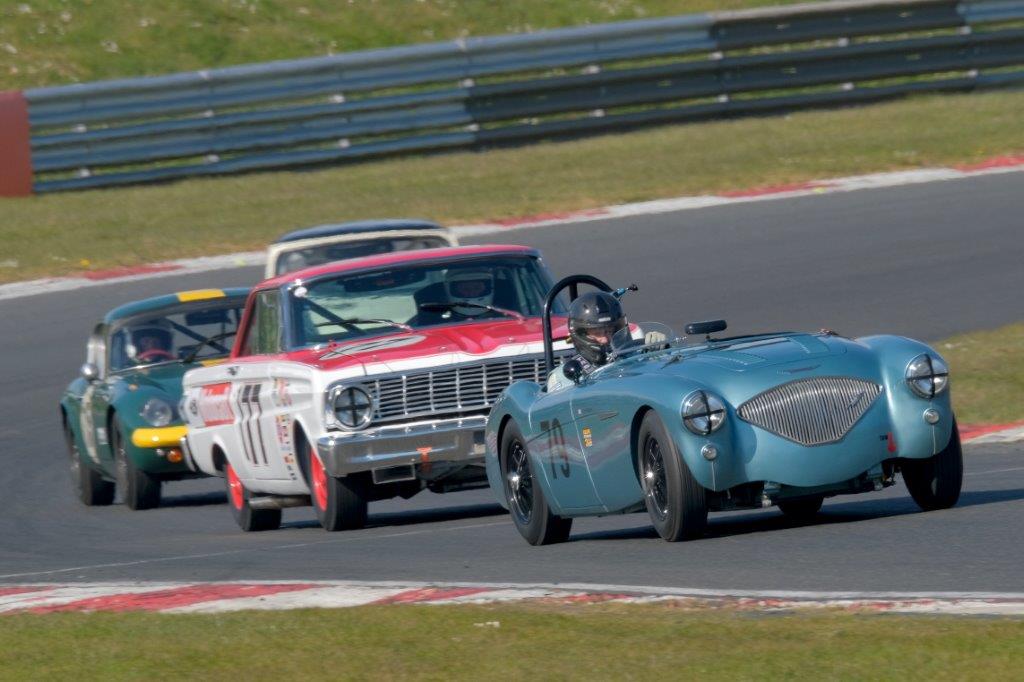 Equipe Libre
Chris Beighton in his Sunbeam Le Mans Tiger dominated the first of the eclectic Equipe Libre races, only briefly dropping behind James Haxton's Austin-Healey 3000 MK1 at the start then winning by 20s. Haxton had a long fight for second with Rick Willmott's Jaguar XKE, in which Willmott prevailed after passing Haxton late on. Haxton took a clear win in the second Libre race 6.4s ahead of Cull in second.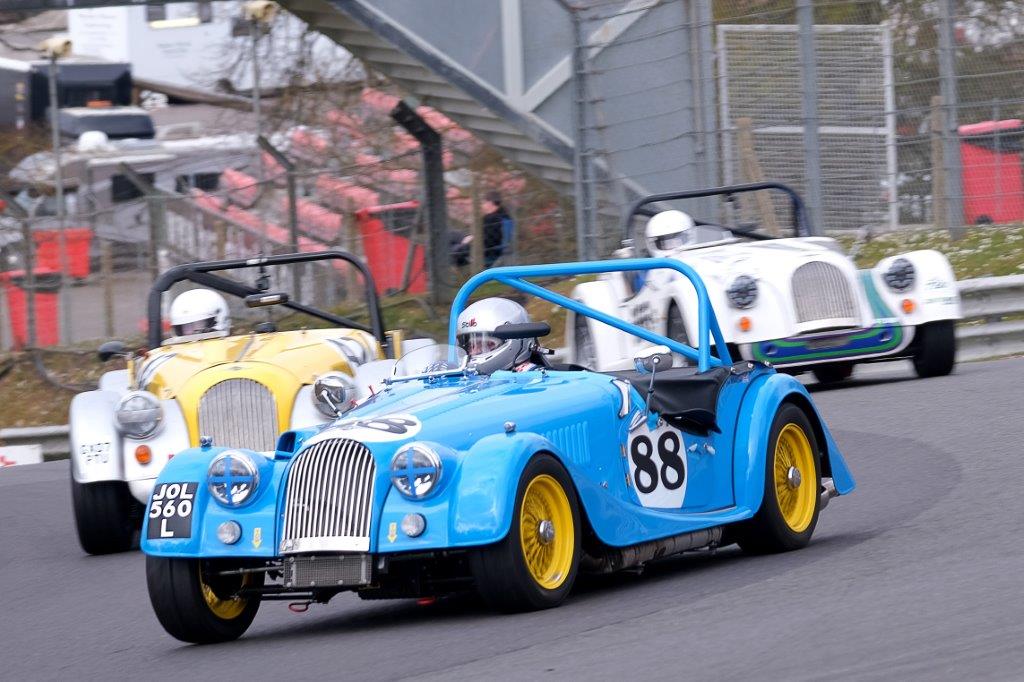 Guest races
Oliver Pratt dominated both Morgan Challenge races from pole in his Plus 8, Having set a best qualifying time 1.7s quicker than then rest he won the opening race by 24.8s and race two by 28.5s. During the meeting he also beat the Morgan Brands Indy lap record that had stood since 2003. In both races as well as in qualifying Roger Whiteside, also in a Plus 8, was Pratt's closest challenger.
MG Car Club update -Silverstone National 20th March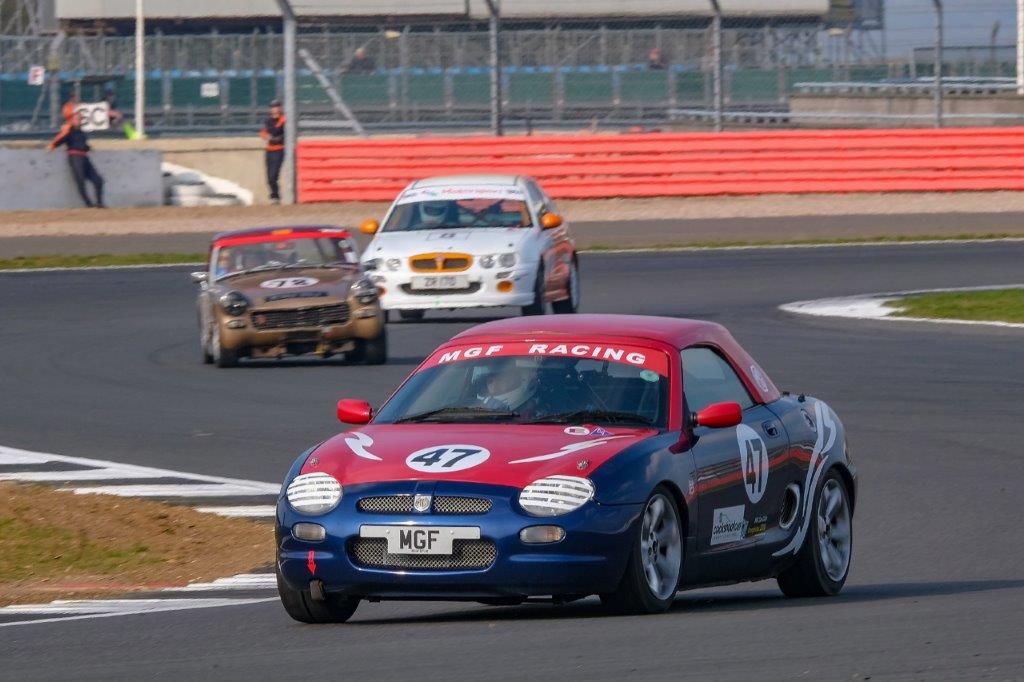 Many will have already seen the Motorsport UK announcement that no permits will be issued for motorsport until 28th March, thus effectively cancelling our Silverstone National meeting on the 20th March.
Sadly the planned relaxation of the countrywide lockdown on the 28th March comes just a few days late for our planned event and regretfully we therefore cannot run it. So near, yet so far!
It is a great disappointment to all of the competitors who have already entered [and those who were awaiting the statement from Government!]
We certainly had an excellent entry and we now look forward to seeing you all [and your fellow competitors!] at our Brands Hatch event scheduled for 24th/25th April.
The entry forms for the Silverstone event will be scrapped and we plan on issuing a new entry form in respect of Brands, which will be issued in the next few days.
We look forward to receiving it at your earliest convenience. Grids are smaller at Brands, so we suggest that you place your entries early……………
On behalf of the Race Planning Group
MG Car Club Silverstone National race meeting, 20th March 2021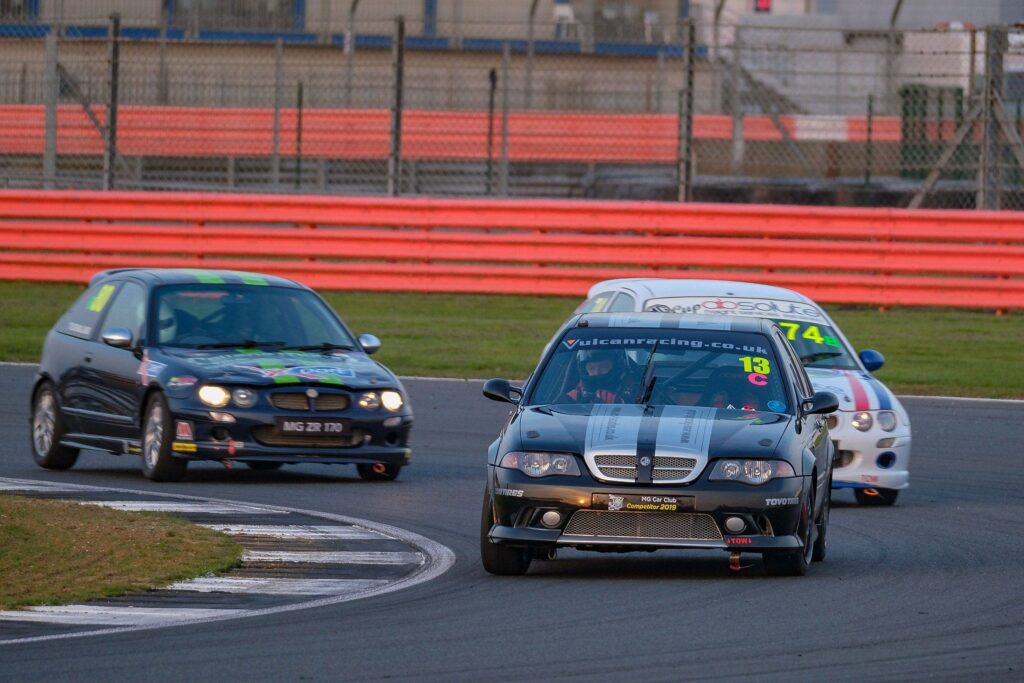 With the proposed season opener now five weeks away, MG Car Club continue to await news from the UK Government on when restrictions may be eased and from Motorsport UK on whether they will permit events in March to go ahead. At the moment, the Club has a valid Permit from Motorsport UK. It looks likely that the first step will be to return to tiered restrictions, with no idea on which areas may be in which tiers.

From the Club point of view, we remain committed to running the event if we are allowed to do so. A final decision will be made on Wednesday 24th February.

On behalf of the Race Planning Group
MG Car Club reviews status of 2021 season opener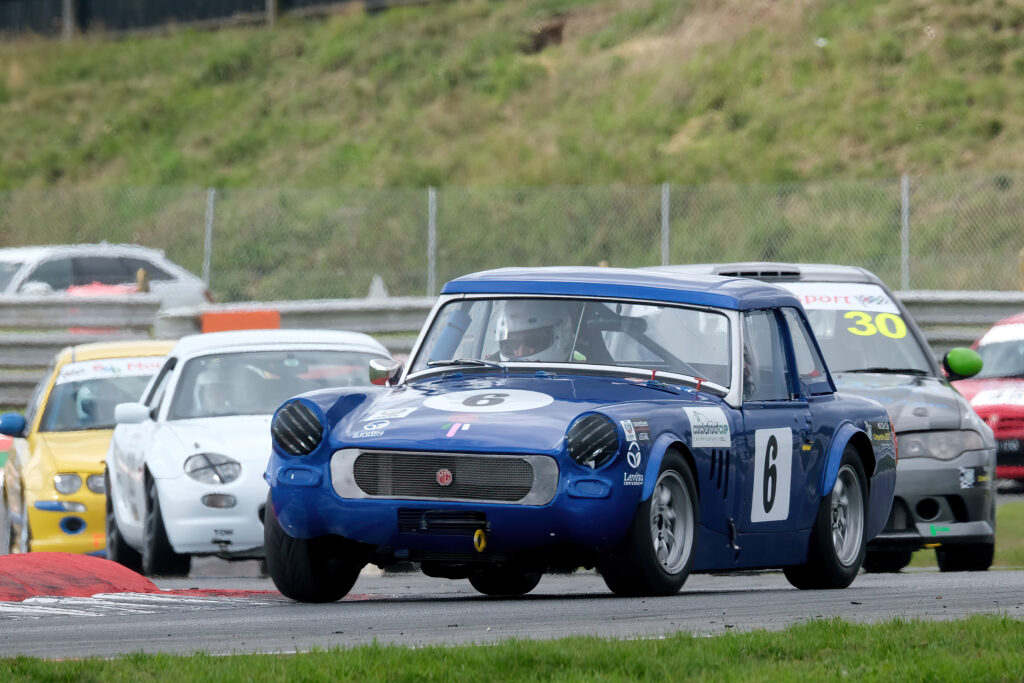 Following the recent indications this week, from the Government, of a likely statement on the lockdown, due now in week commencing 15th February, MG Car Club now feels that it is prudent to defer any decision on the planned Silverstone National race meeting on 20th March until the statement is made public. We will of course keep everybody in the loop and just as soon as a decision can be taken we will advise.
In the meantime, the Club is delighted to confirm that a strong number of entries have been received from our own Competitors and we understand that the same is true for our guests, Equipe Classic Racing. It is therefore hoped that we will be able to provide an event for our eager racing family, if it is safe and legal to do so and the country continues to move towards a safer future.
On behalf of MG Car Club Race Planning Group.
Silverstone in March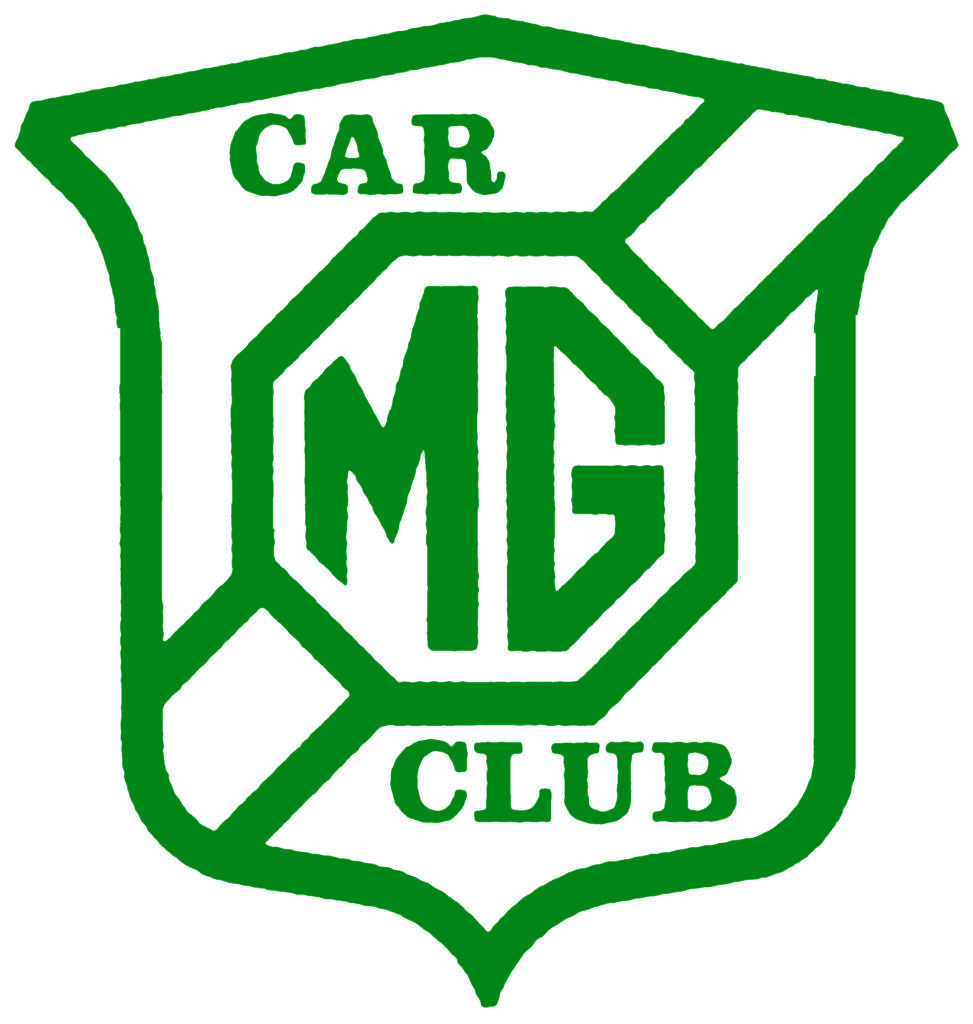 While the Club is aware that other Clubs have cancelled their race meetings scheduled for 20th/21st March, (due possibly to contractual requirements), at present MGCC are still extremely hopeful that conditions will exist where we can safely run a meeting on that weekend and we are planning to take a decision around February 1st as detailed before.
We already have an excellent response to the entry form that we have despatched and can only hope and pray that matters improve in the country to allow the meeting to proceed.
In the meantime we will be pleased to receive your entry form, no money will be taken and there is a full money back guarantee.
At present we can say no more but undertake to communicate around February 1st when matters may be clearer and when Motorsport UK may be in a better place to provide guidance as to permits and authorisation.
Sincerely
Ron Gammons on behalf of the MGCC Race Planning Group
MG Car Club Motor Racing 2021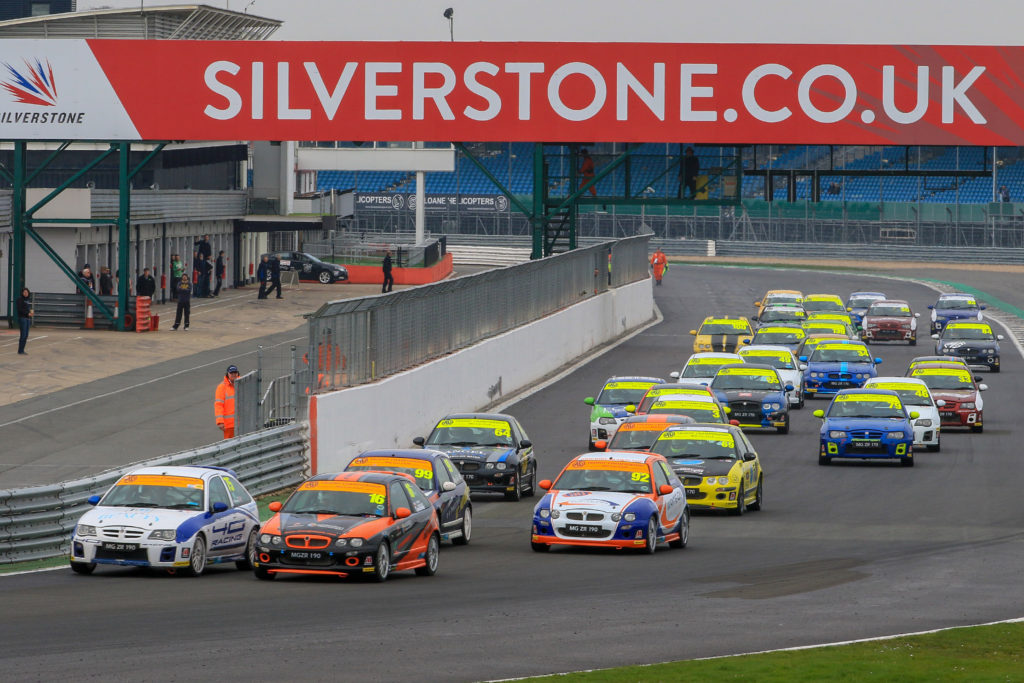 We have all been looking forward with eager anticipation to a full year of our excellent Club motorsport, but all of you will be aware of the present situation regarding the present lockdown announced just yesterday, which bans any unessential travel and which will preclude any motorsport for the time being.
The present lockdown is forecast to be, at the least, until mid-February. Nobody is clear as of yet as to what will happen then.
But we have to put in place some outline plans that would enable us to run event's should salvation occur!
The Club's 2021 race programme is scheduled to start on 20th March at Silverstone on the National Circuit.
If it is at all possible we intend to run that event, but obviously at some point a go/no go decision will have to be taken.
At present we see the latest that decision date can be as being 1st February, seven weeks before the event.
Therefore in order to even out the workload we intend in the next few days to issue the entry forms for the event and would seek their completion and return.
We will of course keep you advised as to the decisions just as soon as they are taken. Please do not contact the office, we will circulate information just as soon as we can!
In the meantime please look out for the entry forms and return them completed to the office.
Spring is approaching and an excellent season at some great circuits is approaching fast!
Best wishes to all for 2021
Ron Gammons on behalf of the Race Planning Group
MG CAR CLUB ANNOUNCE FULL CALENDAR FOR 2021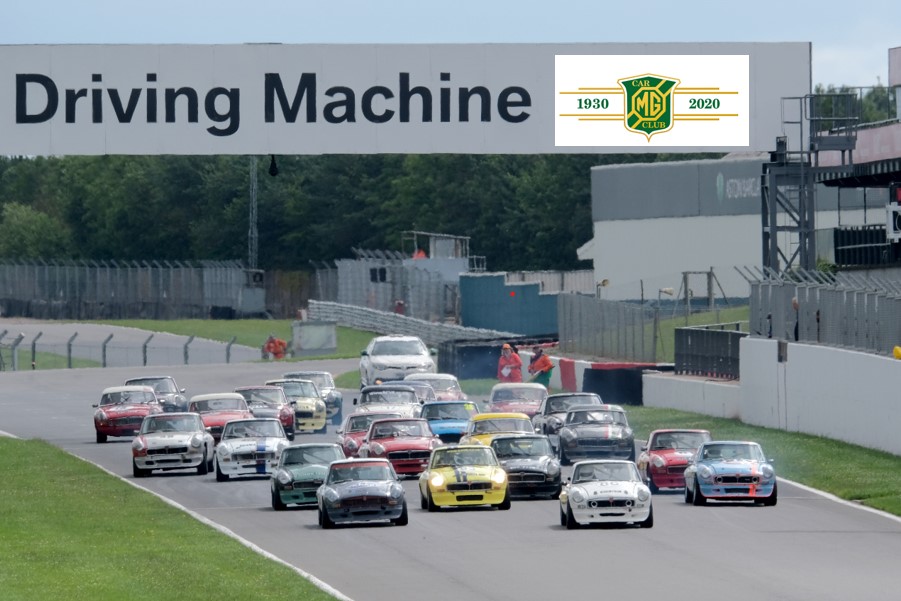 After the challenges that 2020 presented to Motorsport at all levels, MG Car Club are delighted to be able to announce plans for a full race season in 2021. With the inclusion of six MG Car Club Championships and commitment from a number of guests already in place, another exciting season of racing can be predicted, with visits to some of the best tracks that the UK has to offer.
As part of this, MG Car Club are delighted to confirm that they will host the premier historic series organised by Equipe Classic Racing at all six of the Clubs meetings in 2021 and that both groups are looking forward to an amazing season with some truly stunning cars in attendance.
MG Car Club always enjoy good grids and ultra-close racing and plan to race on the following dates at these venues:
20th March Silverstone National
24th/25th April Brands Hatch Indy
22nd May Oulton Park International
12th/13th June Silverstone Grand Prix Circuit
17th/18th July Donington Park National
4th/5th September Snetterton 300
The Club looks forward to welcoming competitors to these race meetings, as well as spectators as and when allowed to do so, in order to continue to enjoy the great atmosphere that is such a significant part of club motorsport.
Rain doesn't dampen spirits at Oulton Park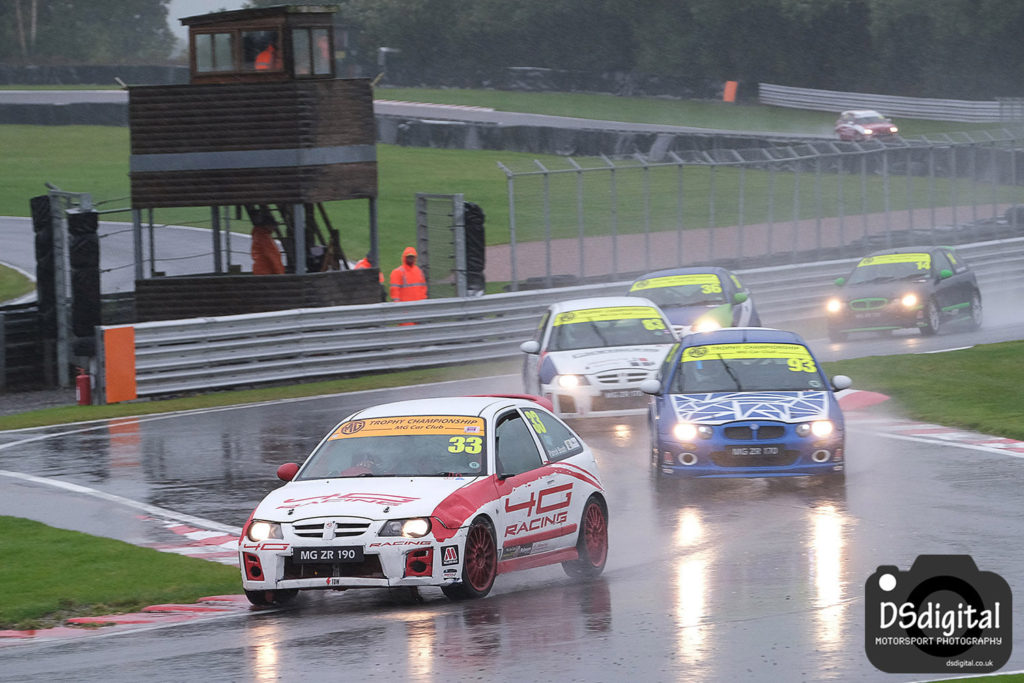 Storm Alex failed to dampen the spirits as the MG Car Club's racing season concluded in a one-day meeting at Oulton Park. Six MGCC categories were in action, with three crowning their 2020 champions, joined by a guest appearance for the Porsche Club Championship.
(more…)
No let up in MGCC action over two days at Snetterton
The MG Car Club gathered at a bright Snetterton 300 circuit for the second of the club's three race meetings in 2020. with the Norfolk meeting being held over two days.
(more…)
All change for MG Car Club's long-awaited Donington 2020 season-opener
MG Car Club's 2020 racing season at last got underway with a packed meeting at a sunny and warm Donington Park. A host of MGCC categories were present, as was Equipe Classic Racing as well as Morgans and Minis as special guests.
(more…)