An action-packed day of MGCC racing at Oulton Park
MG Car Club reconvened at the spectacular full-configuration Oulton Park track in Cheshire for its penultimate race meeting of the year, and provided a dramatic day of racing. Four MGCC championships were joined by two guests from Porsche Club GB, and there were almost as many seasons of weather during the day too, with an overcast morning and sunny afternoon separated by a short and extremely sharp rain shower! Something that only added to the on-track action!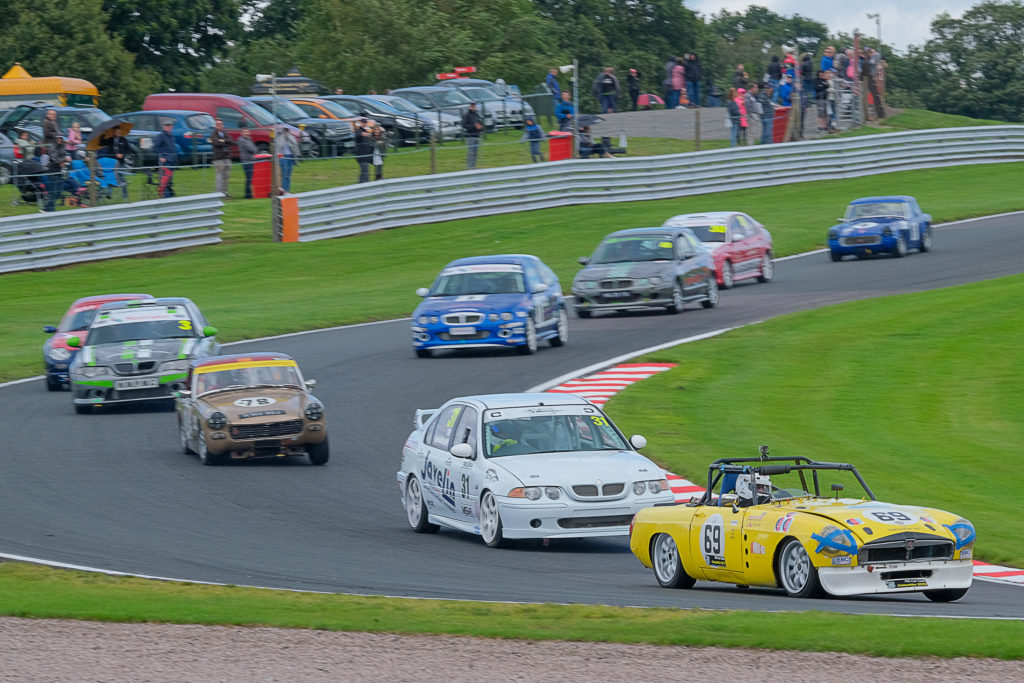 MGCC Cockshoot Cup
Paul Clackett in his MG ZS wrapped up this year's Cockshoot Cup championship in the previous round at Anglesey, but this was by no means the end of the excitement as at Oulton Park he was involved in a three-way fight for the win with a scarcely credible conclusion.
A few of Clackett's usual closest competitors weren't at Oulton, including Keith Egar, with an engine problem, and Michael Ashcroft. But 2018 champion Ray Collier was again racing his ZR 190, having missed the early part of the season with day-job clashes, and multiple Caterham champion Danny Winstanley also was racing as a guest, driving Howard Hunt's up-for-sale ZS 180 for the first time. Clackett started only eighth, as he had problems with his electrics in qualifying. Winstanley and Collier meanwhile filled the front row, Winstanley's best some 2.5 seconds quicker.
Clackett quickly made up for lost time though as on the opening race lap he stormed into the lead! On the third lap however Collier and slow-starting Winstanley got by and moved clear, aided by Clackett self-admittedly making a couple of gear selection errors.
Winstanley took the lead from Collier on the following lap at Hislops, and the front duo ran nose to tail until a dramatic final lap. The engine of Karl Green's MG ZS blew up at Old Hall, and while he pulled off quickly oil was left on the fast opening turn. Winstanley and Collier both hit the oil at went off into the barriers.
This let Clackett through to win by 17s from Peter Bramble's Roadster in second and Ashley Woodward's ZS 180 in third. "It's the old saying: to finish first, first you have to finish," Clackett said. "To finish the season with a win, that's how I started the season. I ran well in the race, I'm over the moon. Loved every minute of it.
"They [Winstanley and Collier] came up on me quick," Clackett continued. "Once they went past I was watching them and they were going at it hammers and tongs and I thought 'it's going to end in tears" – didn't realise it was going to be on oil. That's racing unfortunately! As long as they're OK that's the main thing."
"I saw Danny just break away, catch it and then fire off," Collier said of the late incident, "but by then you're committed, it's well over 90mph, the grass is still wet. It was one of those passenger rides that you never want unfortunately. It's been a brilliant race, he's [Winstanley] pulled my driving on a long way."
"It was going really well, I was quite comfortable [in first]," Winstanley added, "I wasn't pushing at 100%. I saw a yellow flag and eased off, so did the guy behind; when we arrived at the corner there was just oil everywhere."
Mike Peters was fourth home and with it an impressive Class B winner. Colin Stubbs was third home in class and crowned Class B champion, while his title rival Jimmie Johnson was fourth in class, departing a tight fight with Stubbs and Aaron Jackson for second in class late on as he was another to spin on Green's oil, though was able to continue. Ian Wright was sixth overall and an imperious Class A victor, and with it ensured his class championship.
Peters' performance got him both Driver of the Race and Driver of the Day awards. All three class winners also won the Vicky Peters Trophies.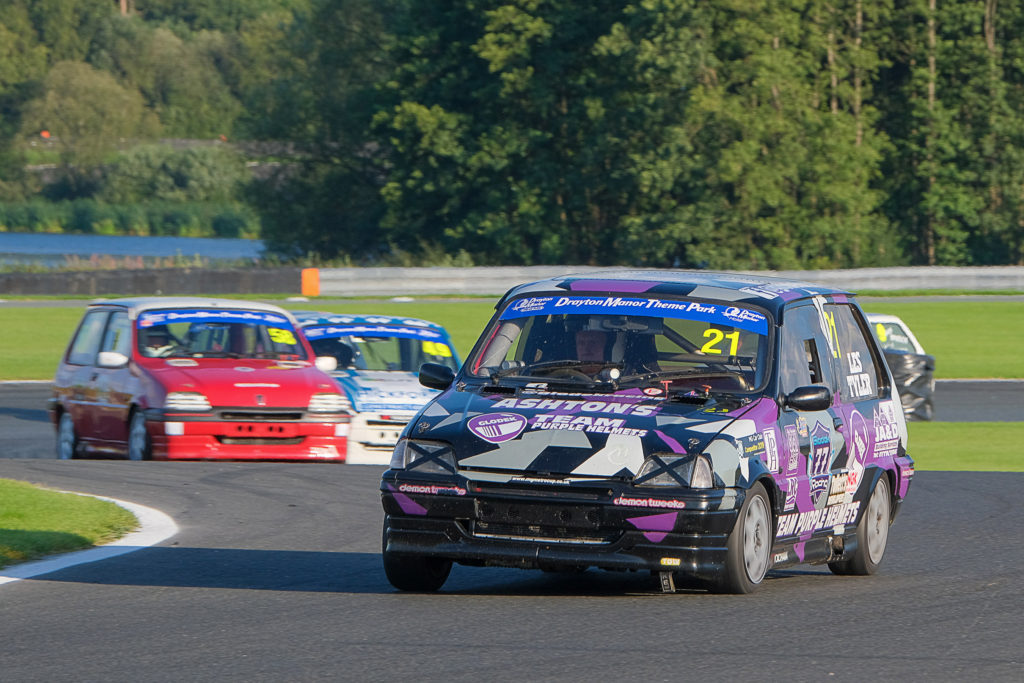 Drayton Manor Park MG Metro Cup
In Oulton's Drayton Manor Park MG Metro Cup races we at last got a close fight between the dominant Jack Ashton and Dick Trevett's rapid A-Series, which we had been denied since the season-opener at Silverstone, due in part to unreliability for Trevett.
Ashton won the opening race by 6.5s from Trevett, leading all the way, though Trevett was hobbled by his boost being too low. Tony Howe got Driver of The Race after finishing fourth having started ninth.
But in race two the close Ashton-Trevett battle was at last joined. Trevett, his boost sorted, got ahead at the start leaving Ashton with a conundrum on where to pass. But Ashton was getting a good run out of Druids into Lodge and it was there that he got by on the second lap. "I could have blocked him but we don't do that," said Trevett, "if he's quicker he's quicker. And he wouldn't block me."
Trevett then chased Ashton spectacularly, though the odd slide too many helped Ashton edge clear, his advantage peaking at 3.8s. Trevett noted his rear tyres were a little too worn as well, though added that this was not why Ashton beat him. They finished just 2.1s apart, though Trevett had a five-second penalty added for track limits. He still was classified second, and got Driver of the Race, with Howe this time third.
"We had a good ding-dong," said Ashton of race two. "Only a couple of his errors caused him to drop back a little bit, if it weren't for them he'd have been right behind me for the whole race."
"I'd just rebuilt the engine," Trevett added, "so it was a suck-it-and-see situation. [It] all held together, it sounds good, it drives good. [I was] Living with [Ashton] a bit better today. [There will be] a little bit more work, I'll be putting new tyres on for Snetterton and [then] I think we might be there."
Ashton with his two wins, poles and fastest laps at Oulton therefore continues his 100% record in the Metro Cup this year. He is aiming to complete the clean sweep at the Snetterton finale next month.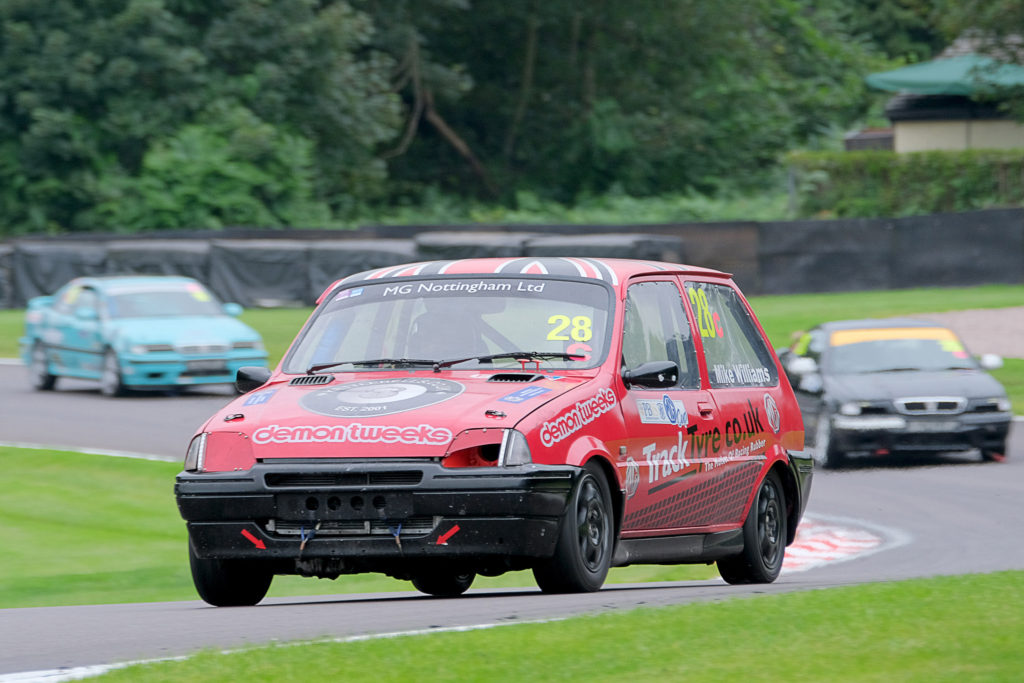 MGCC MG Cup supported by Peter Best Insurance
Mike Williams continued his strong form in his swift Metro GTi by winning the opening MGCC MG Cup race supported by Peter Best Insurance. He led all the way from pole, though the race wasn't entirely straightforward, as much of the 3.5s lead he had built early on was eliminated by a brief safety car call. Also Druids turn was treacherous for most of the distance due to oil on the circuit. "It was the scariest corner in the world before the oil went down and once there's oil it is the scariest corner in the world plus!," said Williams.
"It was just a case of hanging on in the first race, because I didn't really need to push, I was about a second a lap slower than qualifying just to get me round."
Williams beat championship-leader Richard Buckley's Tomcat home by just under a second, with Matt Simpson's fellow Tomcat close-at-hand in third. Stuart Tranter in the invitational class, also in a Tomcat, was fourth, just ahead of the ZS 180 of Peter Burchill, who got Driver of the Race for his effort.
Both the joint Class B championship leaders Iain Dowler and Ian Boulton hit problems in the first race. A piston or crankshaft failed on Dowler's ZR 170 early on, which sent him spinning in a cloud of white smoke at Druids, miraculously without any of the "about eight" cars behind hitting him. He still had to sit out race two, as there wasn't enough time to complete the required engine change.
Boulton had started at the back after a problem with the inlet manifold in qualifying meant the car wouldn't accelerate properly and was short on revs. Having swapped the inlet manifold for the race he rose to run second in class, but his 170 slowed late on as he heard the big end bearings fail. He nursed his car to the end and passed through the pits on the final lap, wanting to not necessitate a recovery of his car or drop things on the track, only to discover that meant he was classified as a non-finisher. Third-in-the-table Chris Boulton took the Class B win, leading all the way.
Williams looked well on the way to winning the second race too but a brake problem pitched him off at Druids. "I was completely in control, I wasn't pushing the car," Williams added. "What I think happened is the brakes on one side either locked up or on the other side failed completely. I had to press harder and harder and I think I almost got down to the floor with the pedal and it pulled me to the right."
This let Buckley through to win, holding at arm's length a multi-car scrap for second, and he admitted that fortune smiled on him. "Mike was just too quick to be fair," he said, "but then he had his brake problem, I just sort of managed the gap to the flag."
The scrap behind had a dramatic conclusion. Matt Simpson got by Burchill for third at Hislops on the final lap with a sharp outbraking manoeuvre, then tried immediately to line up a similar move on second-placed Tranter at Druids but found at the corner that his brakes had gone! The pair therefore collided and were out, letting Burchill through to second while Chris Boulton got third and another Class B win.
Ian Boulton returned from his race one problems and again came charging through from the back and this time finished second in class. This also got him Driver of the Race. Carl Robinson took both Class A wins from Aaron Ross.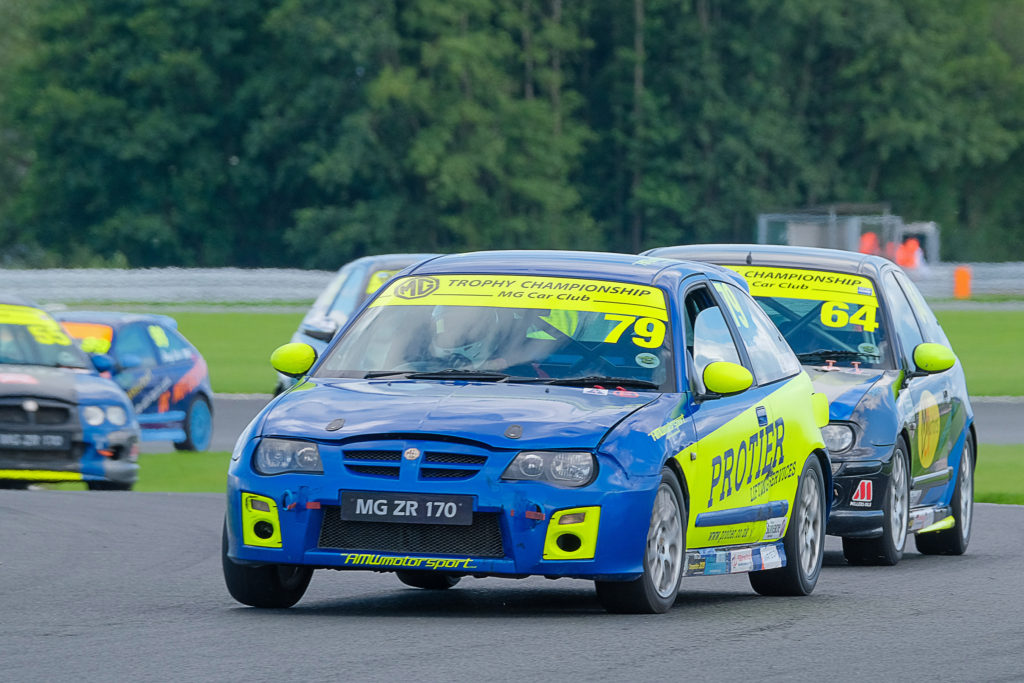 The Stoneacre Hyde MG Trophy
The opening Stoneacre Hyde MG Trophy race was an incident-packed affair, with the track still wet after the sharp rain shower. Much of the race was behind the safety car after a multi-car incident at Shell Oils on lap one which accounted for Adam Jackson, Fred Burgess as well as eventually, after a pitstop, second-place starter Patrick Booth.
After the safety car went in, championship leader and poleman Graham Ross led the three remaining laps and crossed the line first, but received a 10s penalty for being out of position at the start. This dropped him to fifth overall and second in class. Robin Walker inherited the victory and got Driver of the Race with it. Habitual frontrunner Doug Cole finished only seventh overall, and third in class, after locking up and spinning at Shell Oils just after the safety car was withdrawn.
Tom Butler was second home and with it got the Class B win, just ahead of Paul Luti and Sam Kirkpatrick who'd both had their problems. Kirkpatrick spun to the back at Hislops on the opening lap, while Luti also had lap-one drama, having a poor start then dropping down avoiding a melee at turn one, which he reckons left him with just two cars in the entire field behind him! He was delighted with his 170's handling in the wet.
Ross made partial amends by winning race two, this time in the dry, leading all the way. Cole on the opening lap meanwhile made a similar mistake at Shell Oils as in race one, which preceded a storming comeback to finish second and which got him Driver of the Race. For a time it looked like Cole might even catch Ross but the reigning champion had pace in hand and won by 3.6s.
"I have to be fairly satisfied," Ross said about his day. "The first race it was very annoying, rules are rules and I broke the rules so I've got to take my medicine. I was second in class so I didn't drop too many points. Second race went according to plan, I was thinking 'don't do anything stupid, pace it,' then all of a sudden I saw Doug Cole in my mirror, and I thought 'you've got to get a move on!' So a couple of quick laps and managed to bring it home."
Walker got third after Booth picked up a late puncture. "A win and third – better than I've ever done before! So very pleased!," Walker said.
Luti bagged the Class B win, heading a tight four-car battle which included Matt Turnbull, Burgess and Jackson. Kirkpatrick finished a lapped 17th after picking up rear-end damage at the first turn avoiding another spinner, then having to pit. "The car's a bit of a mess now," he said. His and Turnbull's results – Turnbull didn't finish the first race after bending driveshafts in a gravel excursion and pitting due to an excessive vibration upon rejoining – ensured it was a good day for Ross in the championship.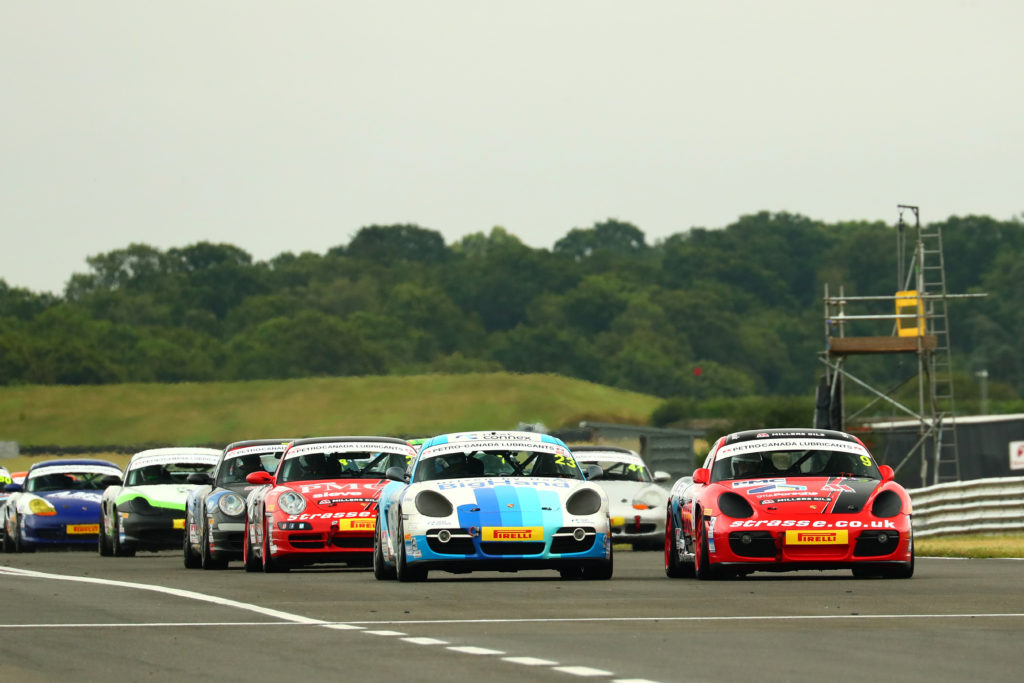 Guest races
The Classic Restoracing Championship for Porsche Boxsters held its season finale at Oulton. Ben McLoughlin starting from row two needed only a single solid points finish to ensure the title, but won the soaking first race by closing in on then storming past poleman and title rival Will Heslop. The race started behind the safety car, and Heslop made a smart jump on the rest when the safety car went in and led immediately by around five seconds.
However McLoughlin was by Heslop to lead within three laps, though the pair remained close for the rest of the way. "That was a real challenge," McLaughlin said of the conditions, "the rain came down rather hard when were in the collecting area. We've all got our dry tyres on which are cut slicks. They're obviously not great in the wet. There were so many rivers out there."
McLoughlin won the dry second race as well, but in less straightforward fashion. From pole he built a lead of close to 4s over Heslop before half distance, but from there Heslop hauled him back in and got by with a spectacular outbraking manoeuvre on the outside of Hislops on the penultimate lap. But on the final lap McLaughlin sought to retake the lead at Cascades and the cars collided. McLaughlin got home just ahead of Matt Bird, who had inherited second, while Heslop after his delay in the incident finished third, 11s back.
The opening Petro-Canada Lubricants Porsche Club Championship race with Pirelli was also interrupted by a couple of safety car periods, one at the start of the race and another at the end. This didn't stop championship leader Simon Clark leading every lap from pole in his Cayman, ahead of double champion Pete Morris in his 997 C2S. Toby Barlow in the Boxster took the Class 2 honours while Class 2 points leader Ross Morris – son of Pete – had to quit as the pins on his Boxster's brakes fell out at Shell Oils turn.
Chris Dyer claimed the second race in his Cayman, leading home Clark and Pete Morris after the 996 of early leader Glen Broster dropped out. Ross Morris this time won Class 2, while James Coleman, who has been in fine recent form, dropped out of that race due to a mysterious power loss at 5,500 revs, "like it had a restrictor on it". He'd had the same problem in race one but the safety car periods let him finish second in class nevertheless.
Join us at Oulton Park for our Penultimate Meeting!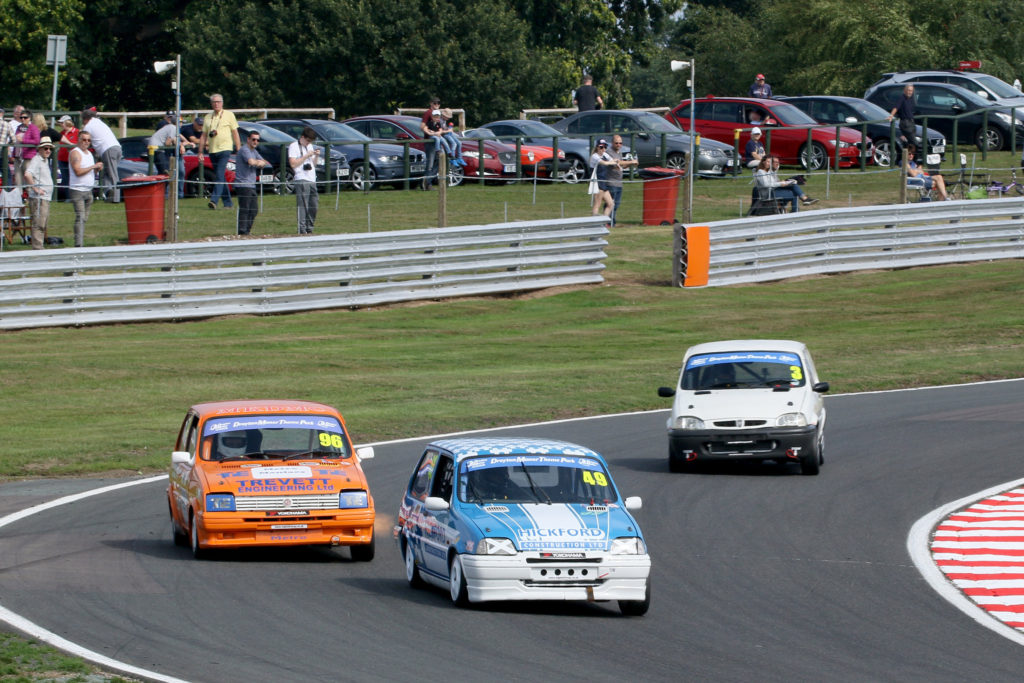 Circuit – Oulton Park, Cheshire
Race Day – Saturday 31st August

Open paddocks for spectators to meet the drivers and see the cars!
11 Races in total – Four MGCC Championships racing
Two guest championships from Porsche Club GB
The Club's penultimate race meeting for the 2019 season will feature a full schedule of the MGCC's championships and series, as well as two championship double headers from our guests, the Porsche Club Championsip.
In all, the MG Car Club will run eleven races over the course of the day, with qualifying in the morning, followed by the racing. The full line up is:
MGCC MG Trophy Championship (DH)
MGCC MG Cup sponsored by Peter Best Insurance Services (DH)
MGCC Drayton Manor Park MG Metro Cup (DH)
MGCC Cockshoot Cup
Porsche Club Championship (DH)
Porsche Classic Restoracing Championship (DH)
As always, the paddock will be open all day, allowing spectators a chance to meet the teams and drivers!
The timetable and other information for the meeting will be uploaded soon and can be found HERE.
Tickets for this meeting can be purchased from MSV with a special discount for MGCC memberships. Details on this discount, including the code and booking information, can be found in the Members Area of the Club website HERE or by calling Kimber House on 01235 555552.
Club members can also benefit from FREE parade laps at this meeting. The parade laps take place during the lunchtime break (subject to time available). Simply head to the MGCC Welcome Centre, sponsored by British Motor Heritage, when you arrive to sign on and find out all the details and timings.
For more information about Oulton Park, please CLICK HERE. 
MGCC back with a bang at Donington Park
MG Car Club racers made up for lost time after almost three months away, with the Donington Park Summer Race Weekend supported by British Motor Heritage, meeting number three of the 2019 season, characterised by intense on-track battles, some challenging weather, as well as a few tales of bad luck.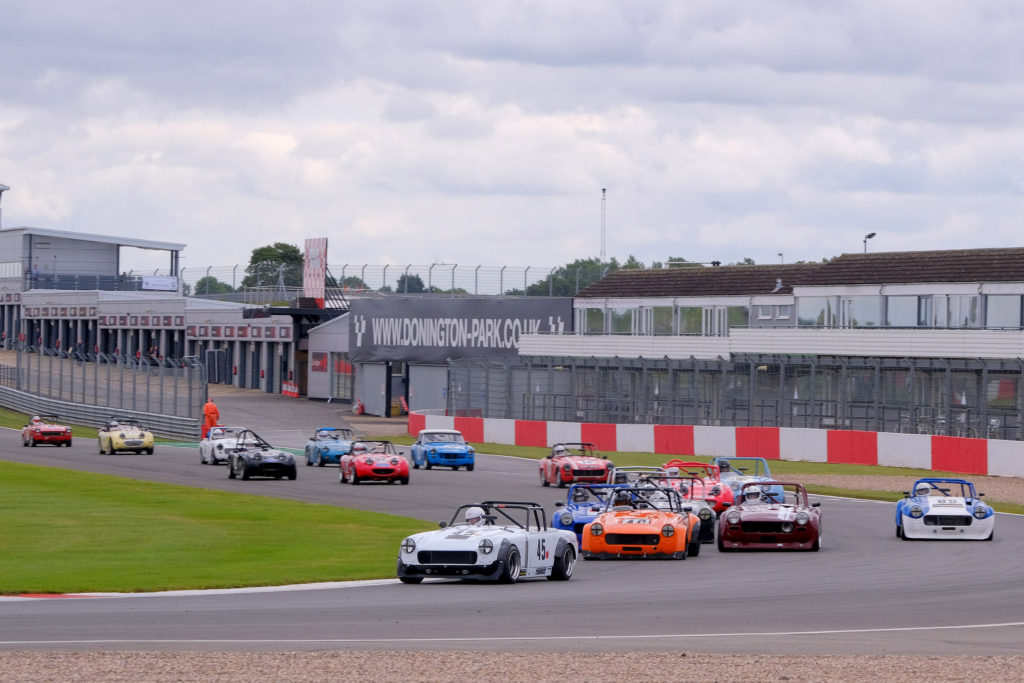 Lackford Engineering MG Midget & Sprite Challenge
Much of the Lackford Engineering MG Midget & Sprite Challenge event at Donington was dominated by David Morrison in his Midget. He has done a lot of work on the car, building a new engine over the winter and resolving a problem experienced in the earlier rounds of this year of its rear axle moving and leaking oil onto its rear brakes and tyres. And at his local track at Donington it appeared to pay off, as he claimed two comfortable pole positions then won the opening race, with it ending reigning champion Stephen Collier's monopoly on victory this season. Collier finished runner-up 8.8 seconds shy.
However in the formation lap for race two Morrison's machine lost some of its gears, forcing him to pull into the pits and retire before the race had even started. This let fellow Midget runner Collier take an easy win, by 10s from Richard Wildman.
"We've got the car working now," said a philosophical Morrison, "we got our first win and pulled away from Steve [Collier] on merit. Sadly today we've lost gears and we can't give Steve a good battle. But we'll move on and get the gearbox repaired. It's just part of the game called racing!
"I'm really chuffed that I have made everything work and got the car to my level – it's going to stick with me. Everybody that was watching it that understands these cars says it's well planted now. It's glued to the track."
Collier also regretted Morrison dropping out of race two. "I was hoping for a better race [with Morrison]," he said, "that's a real shame, I think we would have had a good battle. We were fairly close on time yesterday and I was hoping I'd made a little change to the car that might have brought me up with him."
Richard Perry won both Class E races in his Sprite, and either race was a similar tale as runner-up Pippa Cow in her Midget challenged him closely before encountering an delay – in race one a crosswind sent Cow across the grass at the Craner Curves, losing her a lot of time and places, while in race two she again lost time after contact with Tim Grigsby when trying to lap him. In both races she recovered to second in class.
Dean Stanton got race one's Driver of the Race for finishing third in Class E, while Mark Witherspoon in his Sprite got race two's Driver of the Race, and also Driver of the Day for Sunday, after topping Class D after starting from the back after missing the previous day's running and qualifying out of session. Jon Simpson won Class D in race one just ahead of Edward Easton.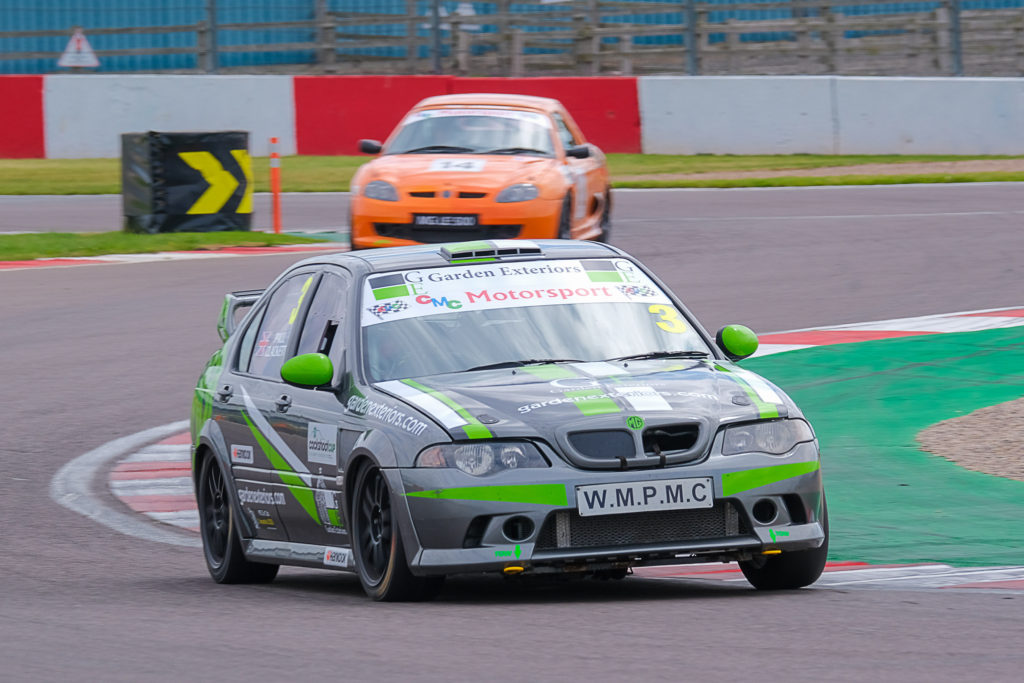 MGCC Cockshoot Cup with MGF/TF Cup
Paul Clackett in his MG ZS cruised to both MGCC Cockshoot Cup victories, starting both races from pole then establishing winning margins of just under half a minute. He did so too in sharply contrasting conditions, with race one in sodden weather and race two the next day in fine sunshine.
"Very pleased – two firsts; two poles," Clackett said, "just made sure I was hitting my marks. I was just loving the car, it just ran faultlessly.
"I love the wet or the dry, a car like that it just handles so well, you just push into the bends and it handles like a dream."
Phil Standish in his MG TF LE500 finished runner-up in race one and was running a strong second in race two as well but dropped out late on with a gear linkage problem, which he thought might have been his own doing due to getting 'overexcited' at keeping up with Clackett!
Keith Egar in his Midget finished second in race two, having struggled in the wet race one as his gamble on an intermediate set-up didn't pay off.
Ian Wright topped Class A in race two and got Driver of the Race, as he'd gone back to Doncaster to change engines overnight, after discovering at the end of qualifying that the original unit lacked compression on two cylinders. This also meant that he, much to his regret, missed the wet first race. Ashley Woodward got race one's Driver of the Race after finishing fourth.
Karl Green in his ZS got the race one Class B win while Ian Whitt in his Midget – another to struggle in the soaking first race – took the Class B win in race two. David Coulthard and Helen Waddington appeared in MGFs, Coulthard taking a seventh place in race one's wet conditions not suited to the car then a much more competitive fifth place in the dry race two.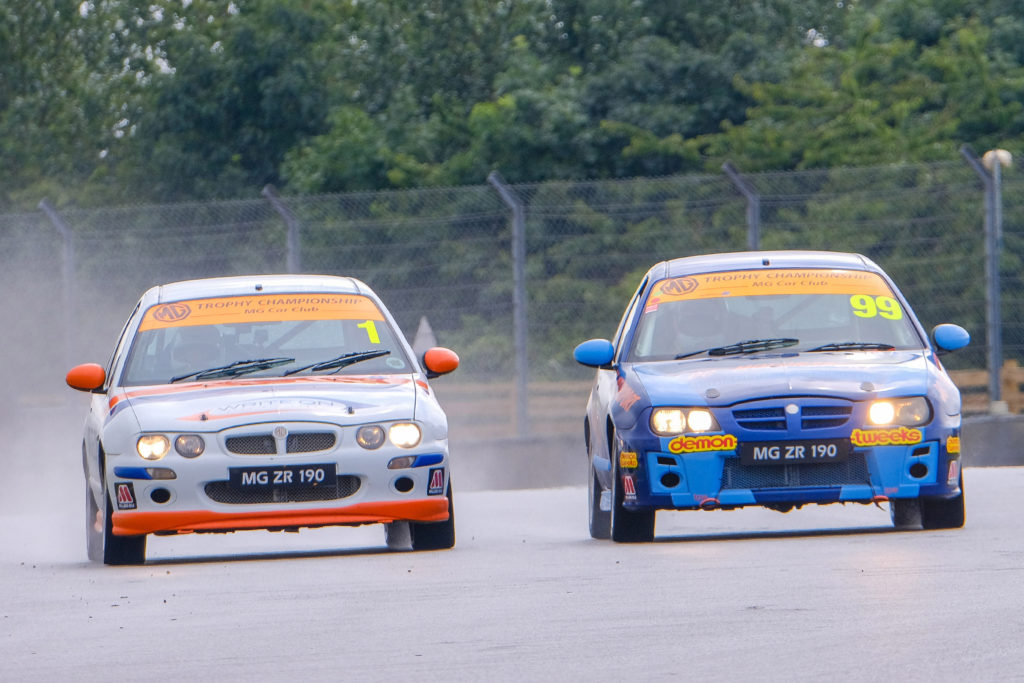 MG Trophy
Reigning champion Graham Ross made it three MG Trophy wins from four this year by claiming both Donington victories. He prevailed in wet-but-drying race one – held over two parts due to a red flag – with a last lap outside-to-inside pass of Doug Cole through the Craner Curves.
"I am [pleased], considering this weekend has been a bit experimental," Ross said, referring to a modified VVC head he was running for the first time, "but the wee thing has gone absolutely great. I can tick the box and say that one's a success.
"I like Donington, it's not one of these ones where I come with a negative attitude."
Cole got two second places from Donington, despite his gears jumping out in the second race, which let Ross past him at the Old Hairpin. "That's not an excuse, we should prepare them a bit better," Cole admitted. "I think I could have kept up with him if it'd been OK."
Double poleman Ross Makar had a frustrating time, as he dropped out of both races with blown head gaskets, which he suspected was due to gas getting into the engine and causing its water to overheat. Makar and Ross made contact at Redgate in race two as Ross went by shortly before Makar dropped out; though both drivers accepted there was nothing malicious in it.
Matthew Turnbull was Class B victor in both races, and got Driver of the Race as well as Saturday's Driver of the Day for his race one effort, where he finished third overall just 3.6s off Ross. He got the race two class win as well after Sam Kirkpatrick, who was holding Turnbull off, had a late-race engine blow up, ironically at almost exactly the same point of the track that he had a similar blow up in last year's Donington meeting. Kirkpatrick fell down in race one when he ran off at Coppice in wet conditions, not quite able to correct a slide. Adam Jackson was race two's Class B runner-up and got Driver of the Race. Joshua Bacon and Paul Croker split the Class C wins.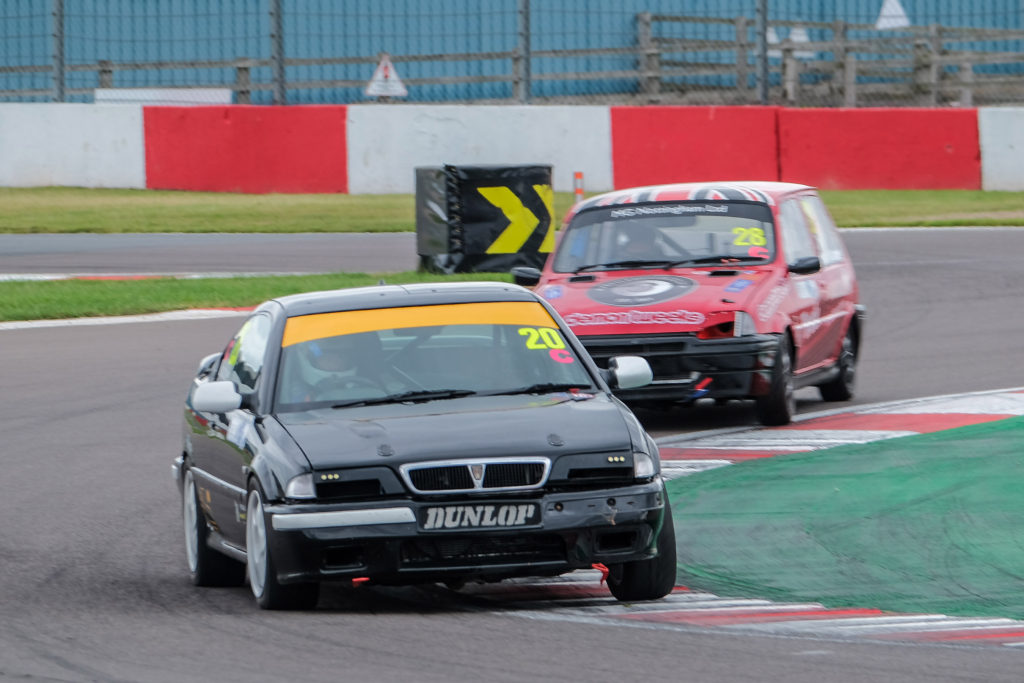 MGCC MG Cup supported by Peter Best Insurance
Both races for the MG Cup supported by Peter Best Insurance featured intense battles for first between championship leader Richard Buckley in his Rover Tomcat and Mike Williams, who appears now to have ironed out the previous reliability problems of his rapid Metro GTi. The pair took a win apiece.
Williams' Metro starting second beat Buckley off the line in both races though in both Buckley was able to move back into first place in short order; his fast-in-a-straightline Tomcat looking more suited to Donington than Williams' Metro. In race one however Buckley lost his power steering as it lost its fluid when the filler pot came away. This let Williams get with him and after a long and frenetic place-swapping fight Williams dived past at the chicane at the end of the final lap to win – though Williams thought it was the penultimate lap as the chequered flag was waved a few seconds early.
Race two was a repeat performance but with his steering problems now sorted Buckley was able to turn the tables to win, managing the gap to Williams behind.
"It was really really hard work," Buckley said of his race without power steering, "Mike was all over me and I was just doing as much as I could to keep just to keep in front and not hit him! Every time he came around the outside of me I was hanging onto the car! If he'd known the trouble I was having he'd have gone the other side. The last corner – gutting!
"Second race [was] just awesome, it was really a case of managing the gap and managing my tyres; Mike is always on the edge. I know he'll try his absolute damnedest and his tyres will go off."
"That was about as intense as it can get I think!" said Williams of the two battles. "I think we both lost control of the cars!," he added of his late race one pass to win "I was completely locked up at the front end, it was do or die basically! It was all good fun, we don't knock each other's cars or anything – it's hard racing but fair."
Dave Nixon finished third in both races, hanging on to the battling front pair in the first race to finish less than a second shy.
Ian Boulton in race one charged though the field to win Class B, starting from a lowly grid slot after his engine blew up in qualifying and he had to replace it for the race. The performance got him Driver of the Race. Boulton was nudged off on lap two of race two, losing him a lot of time and Iain Dowler that time took the Class B victory with a fine drive to fourth overall. Carl Robinson claimed both Class A wins, while Ed Davies in a ZR and Chris Hughes in a Rover 100 split the invitational class wins.
Kayleigh Twigger got Driver of the Race for race two after an intense battle for sixth place with Peter Burchill's 180, in which she only came up short when her Tomcat coughed short of fuel in the run to the line.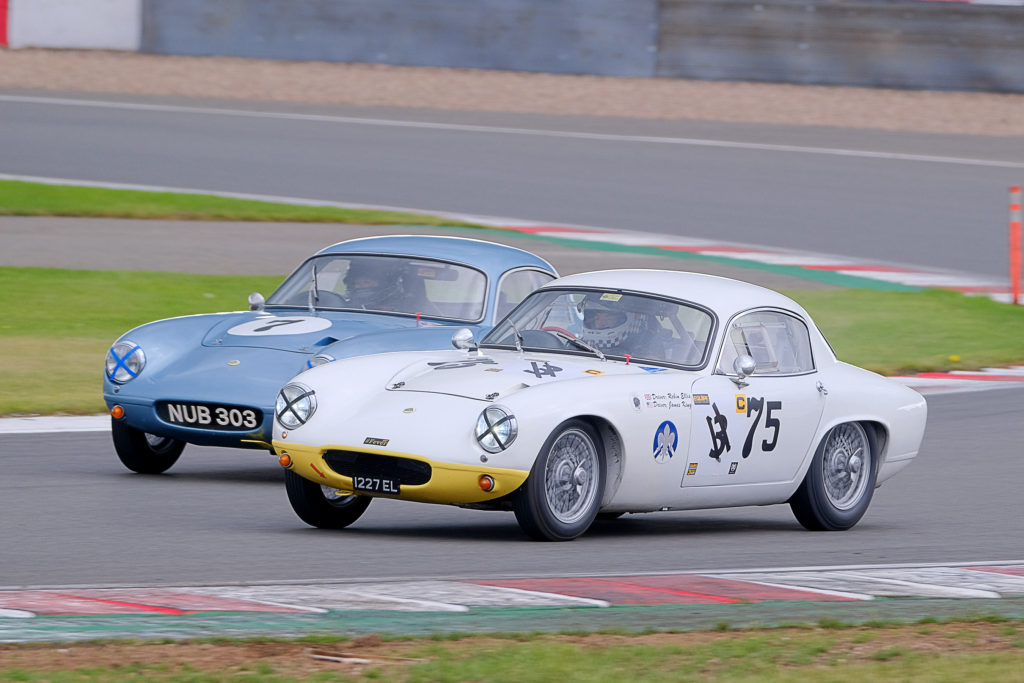 MGCC Iconic 50s
Robin Ellis in his Lotus Elite won the Iconic 50s race, held in tricky conditions which was initially damp but drying then was hit by intense rain late on. Ellis came home just under 5s ahead of Brain Arculus's fellow Elite – Arculus admitting to "really loath" such conditions. Ellis had moved ahead of poleman Arculus at McLeans and Coppice on the third lap.
Much of the race though was dominated by Mark Ellis in his MGA De Luxe. Mark's qualifying mark was only good enough for a place at the back, and having started from the pitlane he rose astonishingly to take the lead on the second lap, and he built an advantage of over 15s.
But then Mark from around two-thirds' distance appeared to hit technical problems, losing straightline speed and dropping to sixth by the end, cruising over the finish line. He did get the compensation though of Driver of the Race. Several drivers started from the pitlane, caught out somewhat by an early call to go to the assembly area with the timetable running ahead of schedule, and this included third-place finisher George Edney in his Lester MG, who is in his 50th year of racing.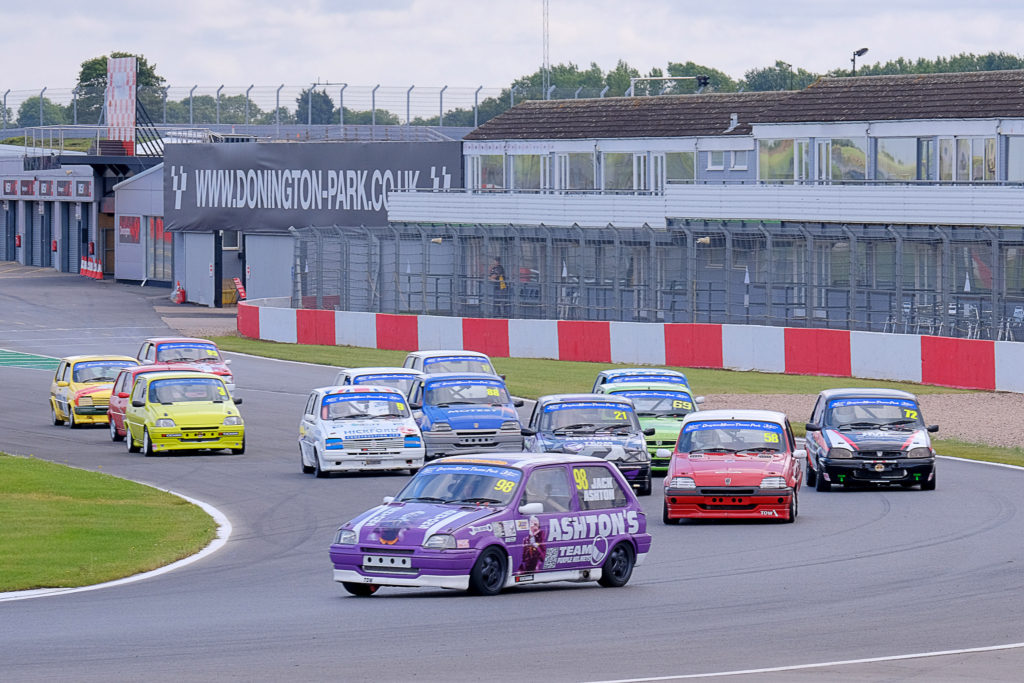 Drayton Manor Park MG Metro Cup
Reigning champion Jack Ashton continued his 100% record in the Drayton Manor Park MG Metro Cup this year by winning the two Donington races and in both cases by a margin of just under 40s. He was helped by Dick Trevett sitting out both races after hitting problems in qualifying, when a rod underneath his A-Series Metro's pistons came loose and damaged the gearbox. It left Ashton's main aim for the weekend to break the lap record, which he didn't quite manage.
"Bit of a shame that I didn't have a good race with Dick Trevett," Ashton said. "Chasing the lap record, didn't quite get it. Race one, I don't really know what happened, I tried my hardest but didn't seem to get it, but in qualifying I did, but it doesn't count in qualifying! So I was a bit gutted by that. Race two there was a load of oil down until the last two laps. Unfortunately didn't have the tyres at the start to try and have a go at it! All good fun!"
Ashton's team-mate Les Tyler got the Driver of the Race award for the opening Metro race for completing the podium in third behind runner-up Dan Willars, and winning out in a battle with Mark Wilson, Tyler calling it his best ever race. Race two had the same podium line-up and Joe Ball got Driver of the Race after coming home sixth.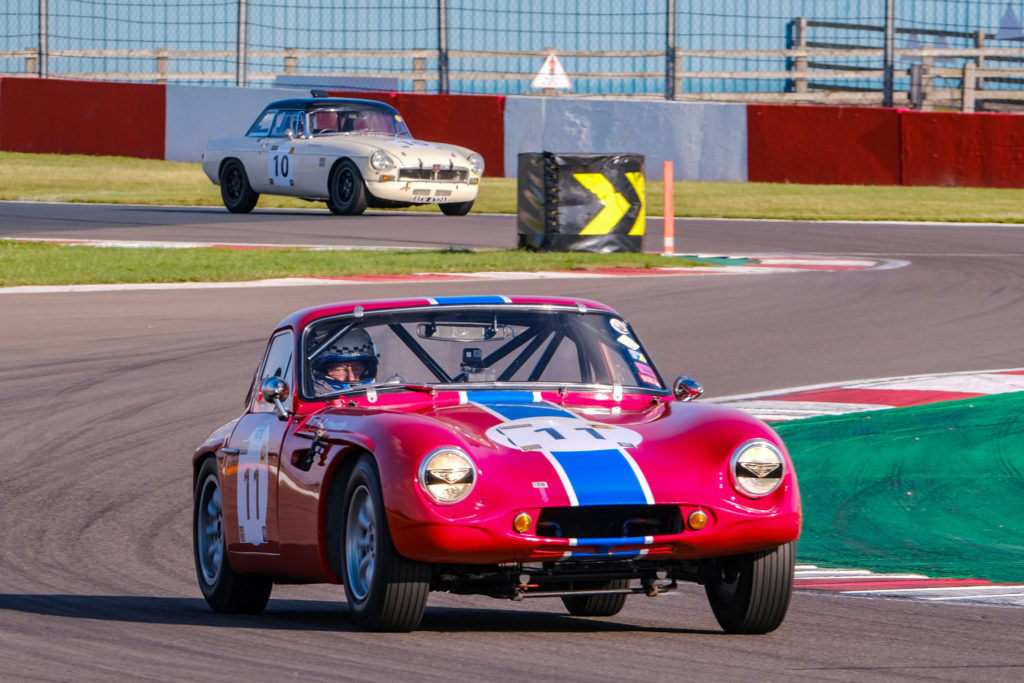 Equipe Three Hour Classic Relay
The Plastic Fantastic trio of Rob Cull, Rod Begbie and Mark Ashworth in their TVR Grantura Mk IIIs took the Equipe Three Hour Classic Relay win, in so doing going one better than their runner-up finish in the race last year. The win looked comfortable, by more than a lap, but the squad had a one-lap penalty added for Ashworth speeding in the pitlane plus a five-second penalty for him exceeding track limits – this taken together meant the victory margin was just 3.2s!
"It was very exciting," said Ashworth, "[I'm] 100% sure that I didn't [speed in the pitlane] because I didn't overtake the incoming car. Never mind – we still won by 3s which is a good margin! We knew that we'd got three quick cars and three fairly quick drivers, and that what's it's all about – doing it for three hours; keeping out the pits."
The 50 Shades… squad of Stephen Bond, Cliff Gray, Keith Fell and Piers Gormly in Lotus Elans was runner-up. Team Brexit, made up of Jeremy Welch, Doug Muirhead – taking part in his first ever race – and Mark Holme, all in Austin Healeys, looked like it might be on course to beat Plastic Fantastic for the win even without its subsequently penalties. But its chance was dashed when Holme was stranded on track near the end of the second hour when his Healey's coil went.
The team still recovered to finish third, despite its own five-second track limits penalty. It was less than a second ahead of Northern Lights – a team which included the MG Trophy's own Sam Kirkpatrick putting in very impressive times in an MGB Roadster – in fourth, which had dropped from second place late on due to Andrew Smith's Marcos sustaining a misfire.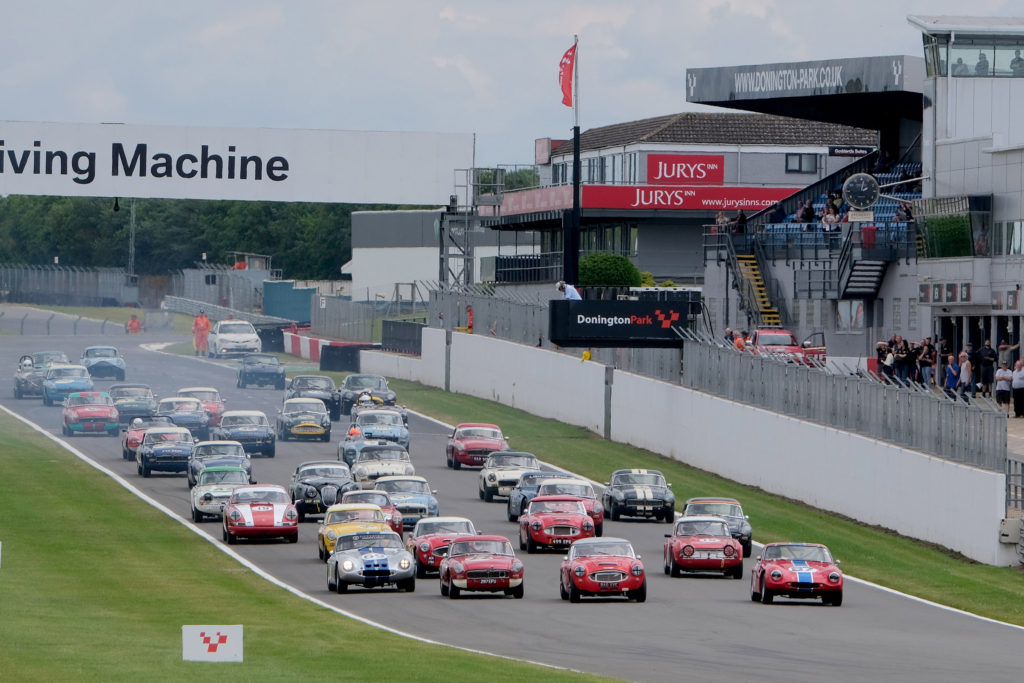 Equipe Classic Racing 40 minute 1 or 2 Driver Race
The additional Equipe 40-minute race for the relay entrants the following day was won by Chris Ryan in a Triumph TR4, despite having not driven the car for three months, running a fresh engine for the first time and getting a "very very long brake pedal" during the race. Much of the race was a tight six-car fight for first, though early leader James Haxton in his Healey 3000 dropped from contention when after leaving the track at the chicane pitting immediately believing the pit window was open after misreading a pit board.
Ryan's two closest on-track challengers meanwhile – Mark Ashworth in a TVR Grantura Mk III and Tom Smith in an MGB Roadster – picked up track-limit time penalties of 45s and 15s respectively, meaning they dropped to fifth and third respectively. Holme's Healey was classified second. Some 40 cars took part.
"I am pleased, it was completely re-learning," said Ryan who more habitually drives John Yea's Austin A40 including during in the 3-hour race. "Gearchange is different, braking's different, it's 200kg heavier, everything about it [is different], and there's a lot of weight transfer as it rolls."
Guest races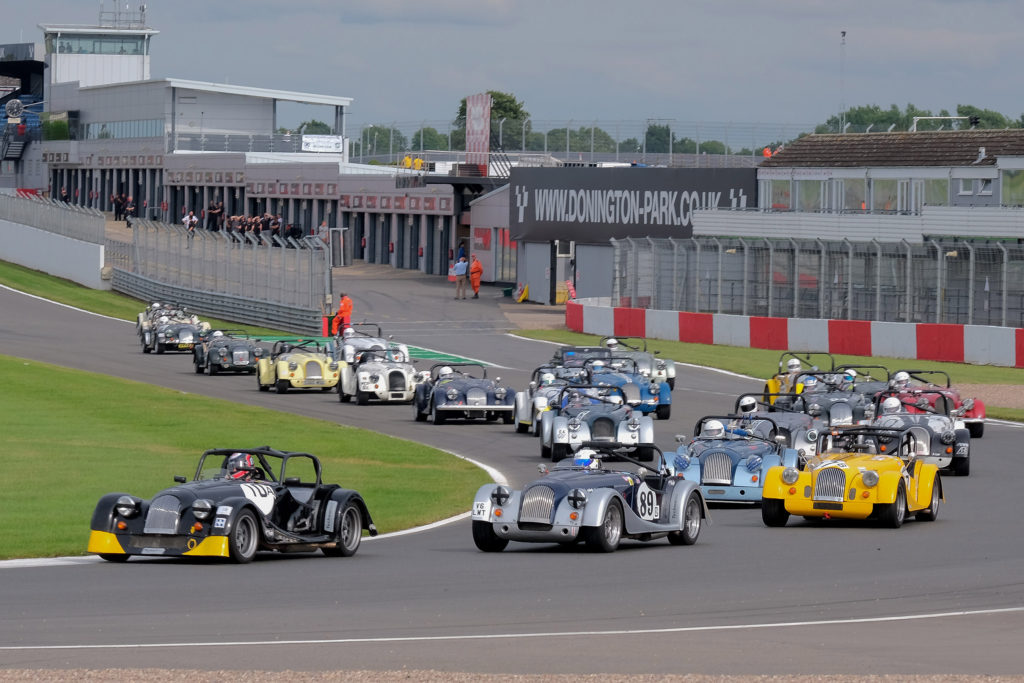 Philip Goddard in his +8 won both Aero Racing Morgan Challenge races comfortably. He had a poor start in the first race, as he hit the gate when selecting second, yet climbed back to lead by lap four, passing Andrew Thompson's ARV6 at Redgate. Thompson developed brake problems in the last third of the race and John Emberson in his Roadster passed for second on the penultimate lap. Goddard led all of the second race, with Emberson and Thompson again completing the podium in the same order.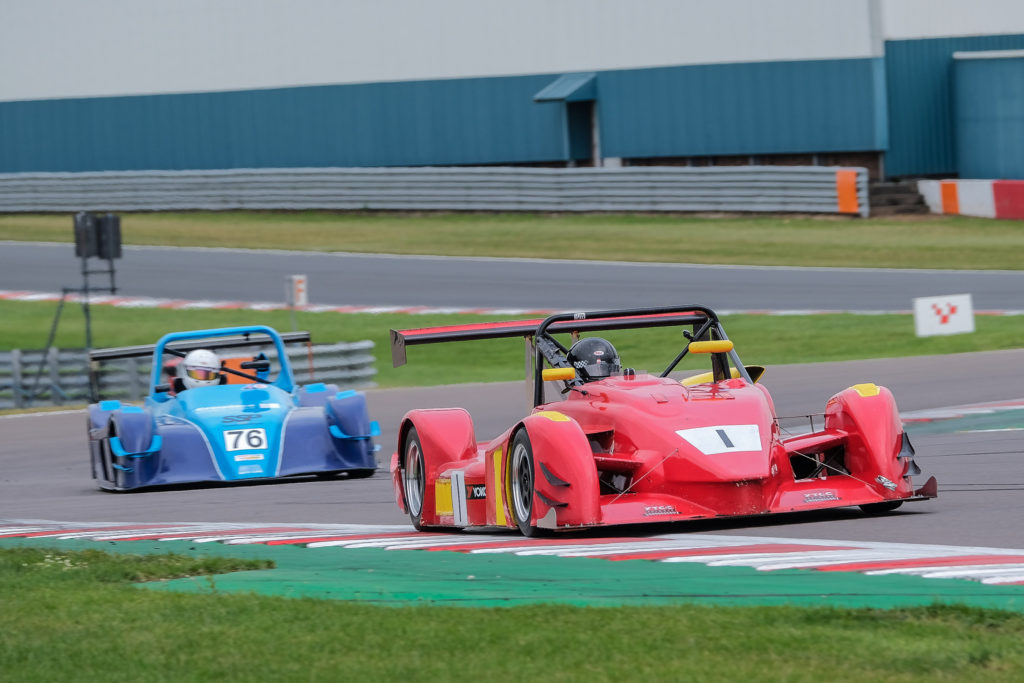 Tom Stoten won the SRCC Sports 2000 Racing Championship race in his Gunn TS11, after his two chief rivals dropped out. It looked like it would be a close three-car battle for the win in the 50-minute pitstop race, but early leader Charles Hall – also in a Gunn TS11 – went off at Coppice at one-quarter's distance when his brake pedal went to the floor and Hall snagged the throttle deal at the same moment. Then Michael Gibbons in his MCR2, who had been chasing Stoten gamely, stopped just after half distance when a bolt departed from his front left suspension.
MGCC Gain Headline Sponsor for Donington Park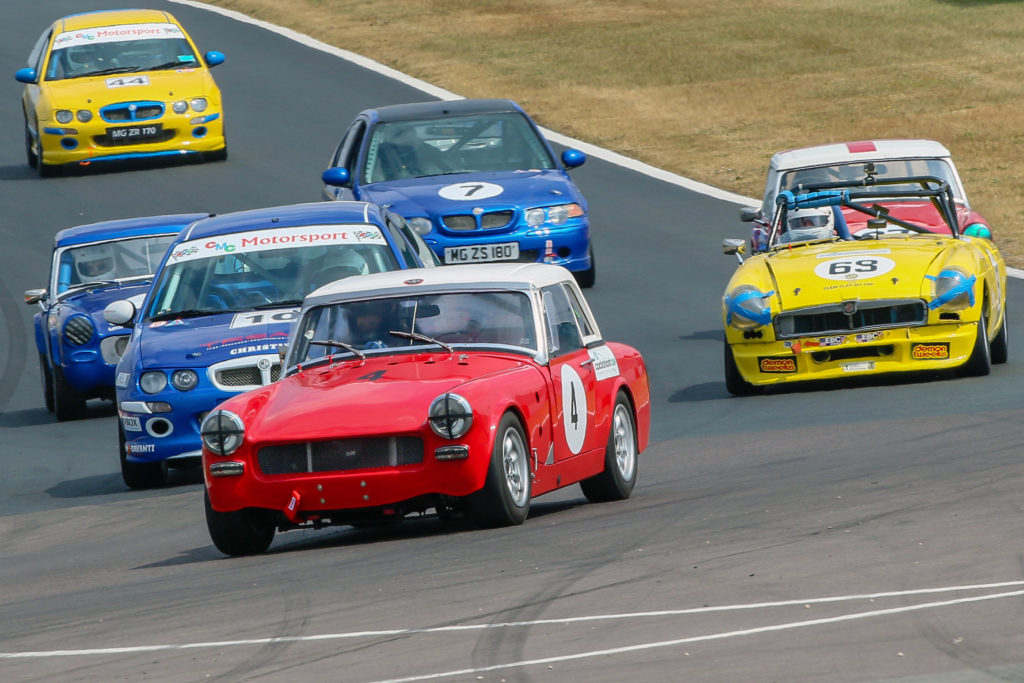 The MG Car Club are pleased to announce that British Motor Heritage (BMH) will be the headline sponsor at the Club's summer race meeting at Donington Park on the weekend of July 20th/21st.
Midgets & Sprites out at Mallory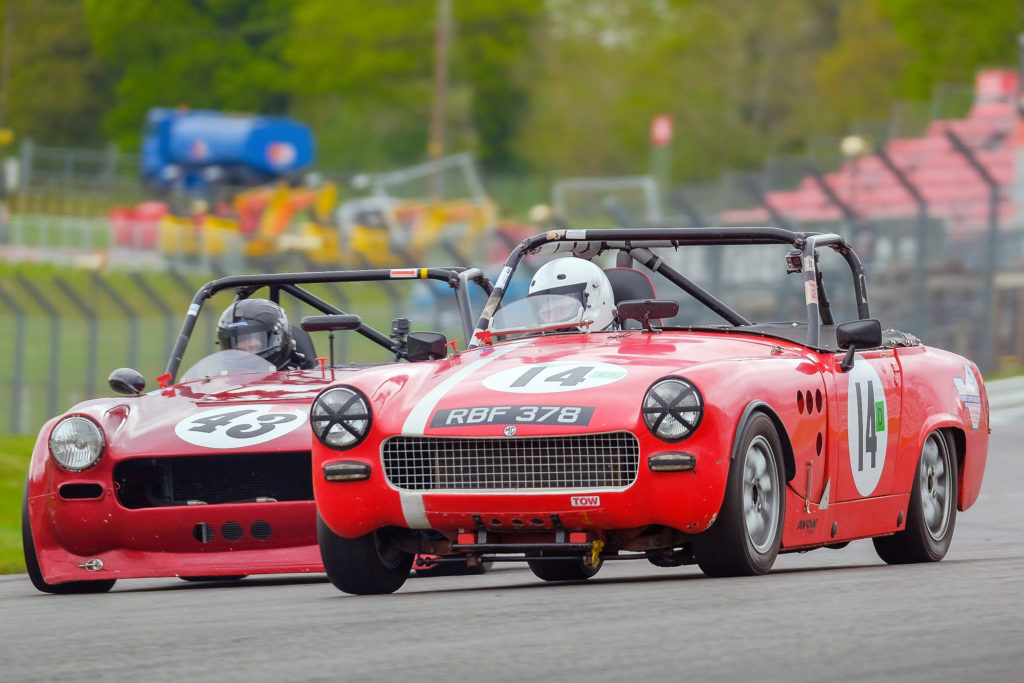 The MG Car Club's Lackford Engineering Midget & Sprite Challenge will be out at Mallory Park on Monday 27th May 2019 (Bank Holiday Monday).