Day of MGCC racing drama at Donington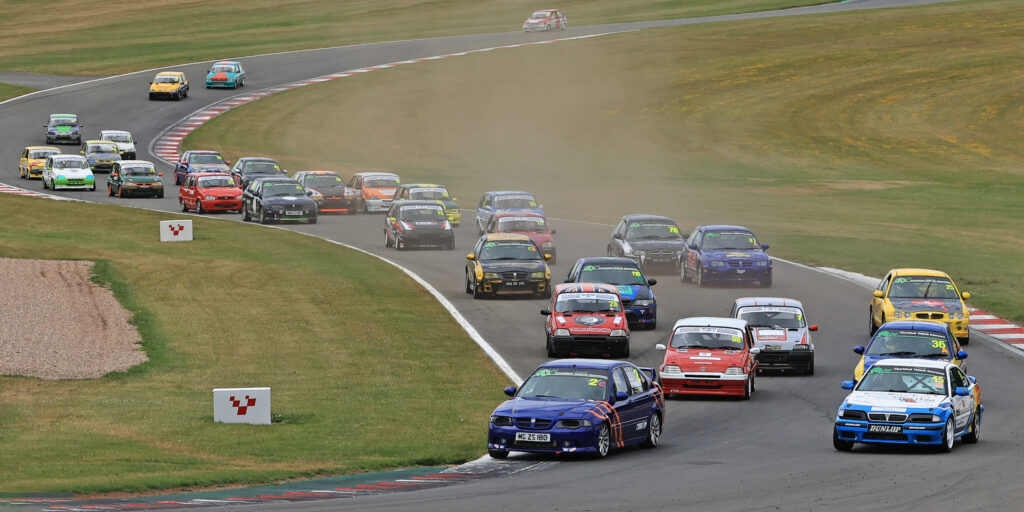 The MG Car Club reconvened for its Donington Park Summer Races meeting and an uncanny number of thrilling battles for race victory were squeezed into an intense day of action. There were no fewer than 14 races and nine categories represented, including MGCC's full range of racing competition going from modern cars to pre-War, all of them getting two races apiece. And spice, as if it was needed, was added with ever-changing track conditions amid sunshine and showers.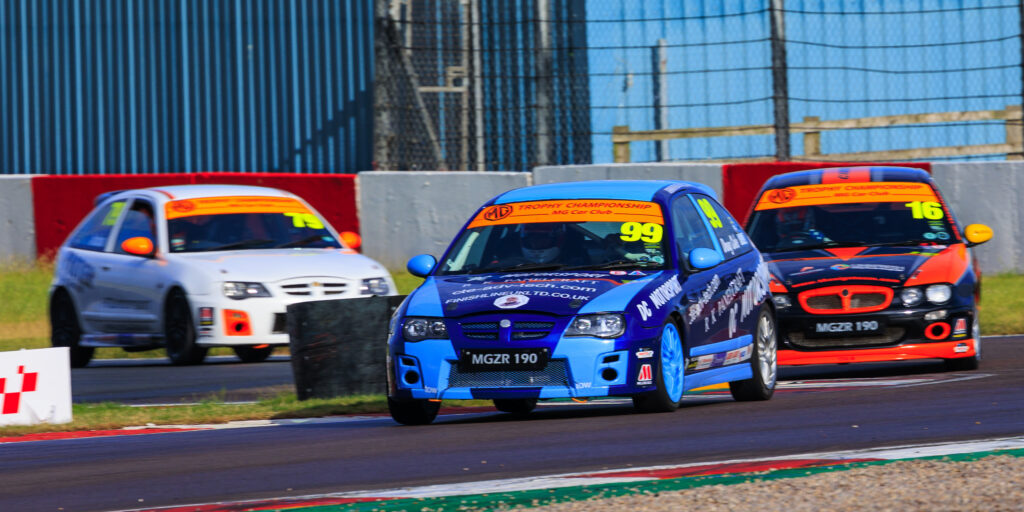 MGCC XPart MG Trophy
The 11th-hour withdrawal of reigning champion Sam Kirkpatrick did not result in a shortage of action in fighting for first place in two MG Trophy races. Doug Cole in his MG ZR 190 (pictured above, 99) won the damp opening race from pole, 2.6 seconds ahead of the chasing Adam Jackson.
Cole's task was also made more straightforward by that his fellow front-row starter Jason Burgess (above, 16), who'd won the previous four races, pitted after the first of two warm-up laps to switch his front tyres from slicks to wets in changing conditions. Burgess started from the pitlane and recovered to finish fifth.
And there was a race-one double celebration for the Cole family as Doug's son James won the Class B contest, and did so comfortably in fourth place overall. This also got James the Driver of the Race award.
Cole and Burgess then had an intense fight for first place in the damp-but-drying race two, swapping places more than once. Sadly the battle ended early when Burgess pitted with an electrical problem with three laps left, but it was not the end of the action as Cole in bagging his second win of the meeting only just resisted a fully slick-shod Jackson who, with the drying track coming to him, had closed in on Cole and attacked for first place on the final lap. This effort also got Jackson Driver of the Race.
Cole said: "It [race two] was a hard-fought race, Jason put up a sturdy old battle more than once.
"We should have had slicks on the back, but it was better because Adam didn't catch us until the last lap, I had one big mistake at the bottom of the Old Hairpin, a proper slide and that's where he caught me up. Another lap and he would have had me, without a shadow of a doubt. But you've got to be in front to win.
"First race we had wets all round and it was lethal. I love Donington, and I've always gone well here. Qualifying I was on it properly, a really really good qualifying time. I had a quicker one in the bag but I got boxed on the last corner. I think I would have been three-quarters of a second quicker."
The second Class B race was also a thriller, with a four-way battle for first. Josh Bromley won it, just ahead of Tylor Ballard, James Cole and Patrick Booth, who had switched from the Class A contest after an engine failure on his ZR 190 on Friday.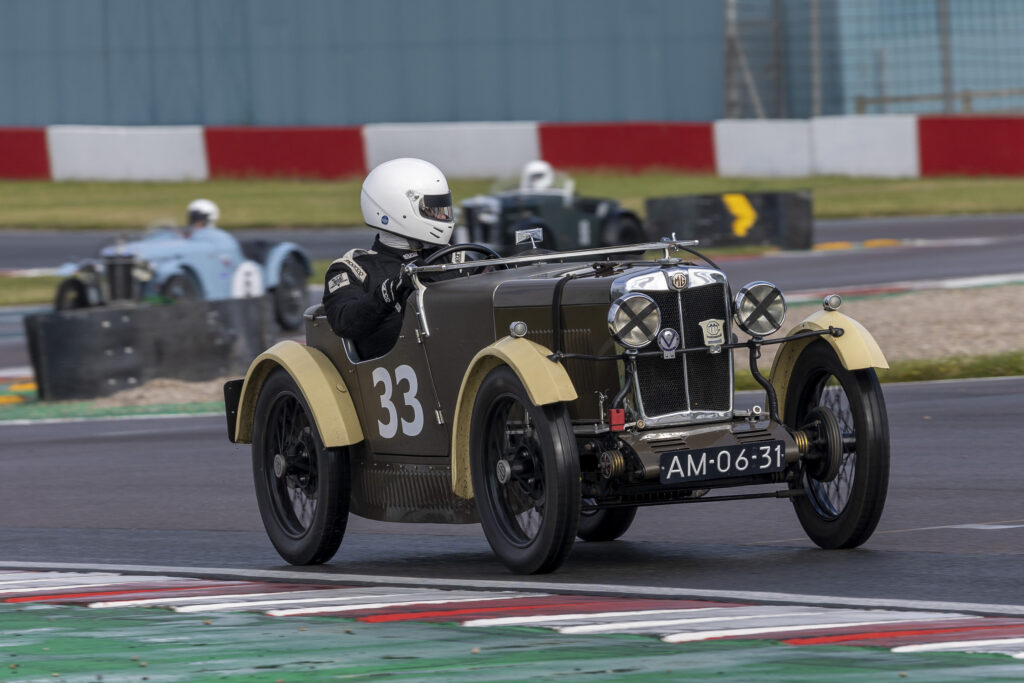 Baynton Jones Historic Motorsport Triple M Challenge
Both the front-row starters in the opening pre-War Triple M Challenge race were shuffled to the back almost immediately on a greasy surface. Polesitter Oliver Sharp in his MG N Type Magnette was caught out by the lack of grip being offered by Donington's asphalt, and spun at the first turn. He continued towards the rear of the field put quickly pulled out, still concerned by the shortage of grip.
Several cars spun at the first turn in an apparent concertina effect from Sharp's misadventure, though all recovered aside from Chris Edmondson's MG D Type. While second-placed starter Roland Wettstein also dropped down the order after contact in the rear of his Parnell-MG K3 and he too pulled out before long as he was unsure about his car's level of damage.
This all left Tony Seber's Wolseley Hornet Special well placed to win, which he did ahead of the closing Richard Frankel in his revered MG K3, and Frankel got Driver of the Race.
Mark Dolton was fourth overall and a comfortable Class C winner in his MG PB Special while Fred Boothby in his MG J2was an equally comfortable Class B winner. Annie Boursot just beat Onno Könemann (pictured above) to the Class A win.
Rod Seber took over the Wolseley Hornet Special for race two and, having not raced in race one from which the grid was based, Rod had to rise from the back. He did this in unison with Sharp and by lap three they were the lead pair. A spin and a run through the gravel by Sharp – who still wasn't happy with the grip on offer – decided the race in Seber's favour.
Dolton, this time third overall, again won Class C and this time got Driver of the Race too. Boursot again narrowly beat Könemann in Class A. Andrew Morland won Class B in his MG PA after Boothby didn't make the finish.
"Just a matter of keeping it on the track," Rod Seber said. "[Conditions were] a lot on the edge, not a lot of grip out there.
"[I] sort of lost it once at the chicane, but just held it. [Sharp] gave me a good race but he spun off a couple of times and missed a gear, that's how I got past him.
"[The car] weren't going too well this morning. The bias had gone to the back brakes, it had virtually zero brakes, and running too rich so we weakened it up so seems to be going a lot better."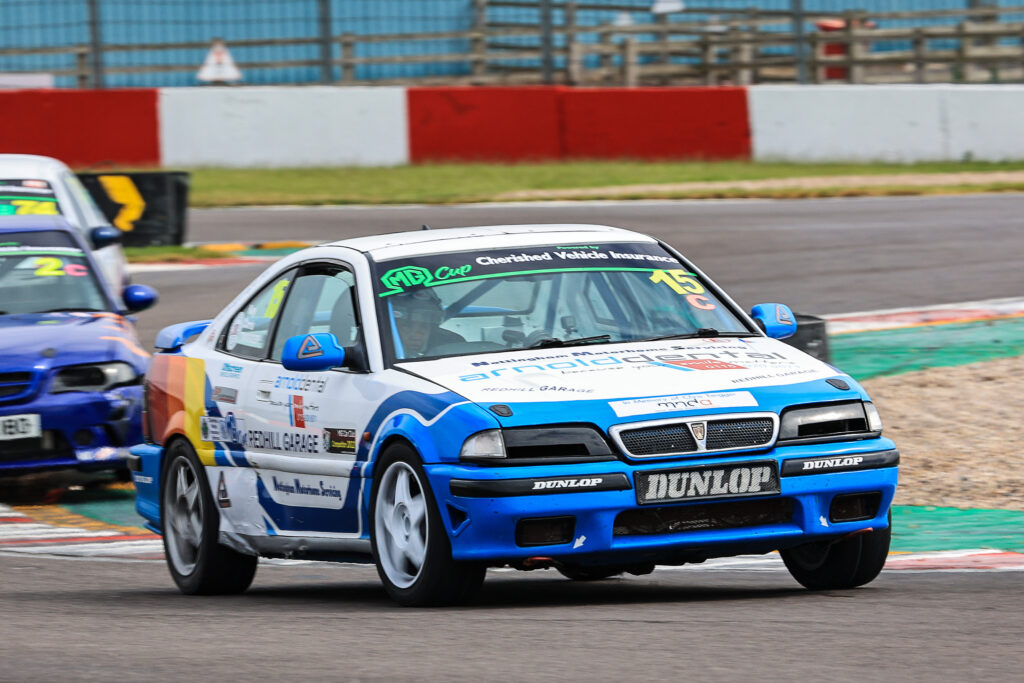 MGCC MG Cup powered by Cherished Vehicle Insurance
Richard Buckley continued his 100% win record in MG Cup's frontrunning Class C by winning the first Donington Park race, but he had to resist a strong race-long challenge from fellow Rover Tomcat Turbo runner Dave Nixon who had made significant improvements to his machine since the preceding Silverstone round.
Nixon rose from starting eighth after a wet qualifying to run second behind Buckley on lap one, and remained on his boot lid for the rest of the way, and might have got ahead had the race not ended a lap early with Peter Coleman's Metro off at Redgate.
Nixon said: "I've raced against Richard since 2005, 2006 maybe, so I know how he drives and we've had some good battles. It was great fun.
"I've done a lot of things to the car and it's transformed it back to how it should be. At Silverstone the car handled horrendously. The suspension mounting on the top, of the driver's side, the clamp that clamps it wasn't holding it in place properly when it was put under pressure, so I've modified it. I've got a full tyre's width on there [now] instead of just [a small amount] when it was pulling."
Buckley added: "It was relatively easy really, Dave started a bit further back, I just measured him a little bit. Just keep him at bay all the time. I think he could have been on me a bit more with another lap."
Ian Boulton held off his fellow MG ZR 170 of Iain Dowler to win Class B and take third place overall. Maddy Maguire meanwhile finished fourth in the class having qualified a stunning second overall, and she got Driver of the Race.
Steve Tyler took the Class A win after leader John Gil was nudged off at mid distance just after a safety car period.
In race two Buckley's victory run in 2022 ended at seven as this time Nixon got the better of him. Buckley led from pole on a now-tricky surface while Nixon dropped to sixth in the opening laps. Nixon though then rose and got on Buckley's tail by half distance, before passing him for first at Redgate. The pair remained interlocked for the rest of the way, and Nixon prevailed by 0.3s. Nixon also got Driver of the Race.
Nixon said: "Because it was raining so hard, I only softened mine [suspension] off a little bit and luckily it stopped raining. I was a little bit careful the first three or four laps and once Kayleigh [Twigger] went past me that really goaded me on to have a go.
"I caught up the others and I had a couple of places where I thought 'I can get past here'. And Richard came out the chicane a bit slower and I just got right behind him and thought 'I'm going past now'."
Maguire this time won Class B, passing Boulton at one-third's distance and winning by 4s, a showing that helped hergetDriver of the Day to go with her race-one award. Dowler meanwhile dropped to the back on lap 1 with front-right damage on his 170. Gil won Class A.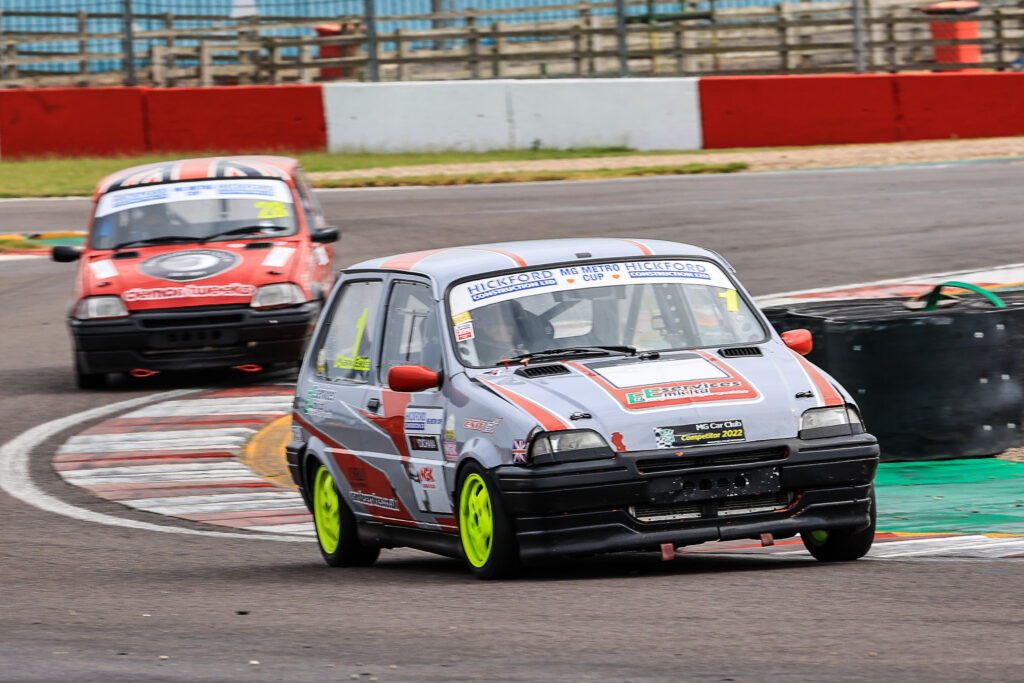 Hickford Construction Limited MGCC MG Metro Cup
MG Metro Cup shared a mixed grid with MG Cup for its Donington double header and reigning champion Mark Eales (above) won the first race, managing to keep Mike Williams (above, 28) at arm's length throughout, despite a safety car period. Eales often benefited from having a few MG Cup cars between him and his foe. He was also rewarded with Driver of the Race while Dan Willars completed the podium in third.
"First lap or so, 40 cars, it was pretty hectic," the victorious Eales said. "Got past Dan and managed to get away with some of the ZRs [MG Cup cars] and things. Safety car wasn't in my favour but the restart went pretty well and a couple of ZRs behind me weren't quite on the pace on the restart so it kept the other Metros a bit further back.
"Someone was doing me a lapboard today because I never know how far [it is] until the next Metro. Saying that, racing with the ZRs is great fun, battling with people you don't normally race against."
Dick Trevett qualified an impressive third overall on the mixed grid, four places ahead of the second-fastest Metro runner Willars, but Trevett spun at the Craner Curves on the first time through and dropped to the back, before recovering to finish 10th of the Metros.
Race two was a similar tale at the front as Eales again prevailed a few seconds ahead of Williams, having led him throughout and again benefiting from there often being MG Cup cars between them on track. Eales on lap one also managed to vault his Metro from eighth on the overall mixed grid and hounded the overall leader Richard Buckley from MG Cup.
Matt Simpson completed the podium and got Driver of the Race with it. Trevett meanwhile sat out the second race as he discovered after race one he had a hole where a piston should be.
"Really good fun," said Eales after his latest win. "Got a really good start, round the outside at the top of Craner Curves, then on the inside then on the outside and right behind Richard. They [MG Cup cars] take a bit longer to get up to speed so [I was] really pushing him in the corners. Just really enjoyed it.
"I could see Mike lurking in the background, the gap stayed pretty constant. Sometimes I tend to ease off a little bit when there's no need, but I had to really push all race to keep in front, didn't want Mike looking like he's catching me, that would be like dangling the carrot."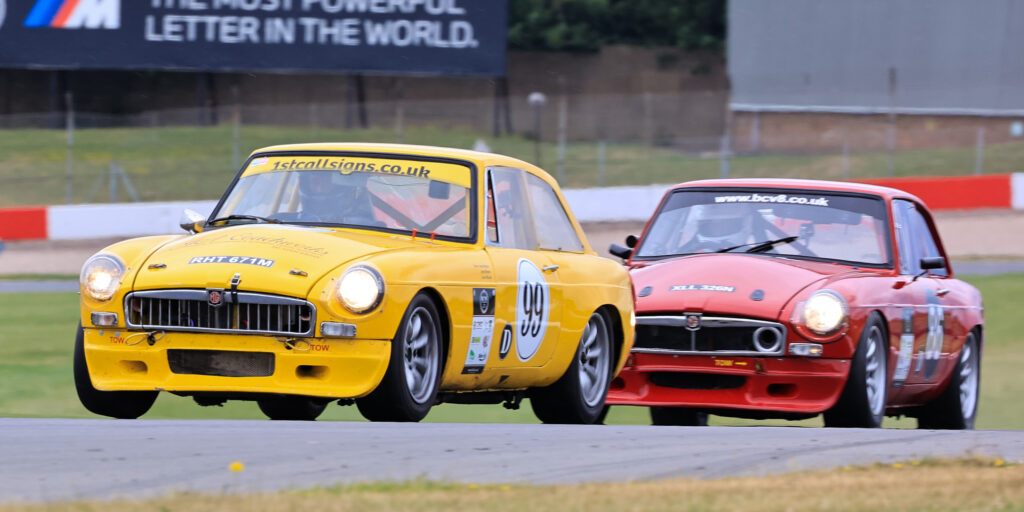 MGCC BCV8 Championship with MGCC MGAs
The BCV8 championship joined in with the meeting's theme of lively battles for first place, and indeed its victory scraps – certainly in race two – possibly were the most entertaining of all.
Both were long-awaited James Wheeler versus Neil Fowler fights, after Wheeler missed Oulton Park then Fowler had a catalogue of gearbox problems at Silverstone. In race one Fowler (above, 86) got the lead  from poleman Wheeler (above, 99) on lap one, then Wheeler passed Fowler back at mid-distance to win. Wheeler got Driver of the Race too.
Andrew Young won the Class C battle, having been chased for much of the way by Wheeler's dad Jonnie. Paul Eales was a clear winner in Class B while David Strike beat James Walpole in Class AB.
In the wet-but-drying race two there was another intense Wheeler-Fowler battle, and Fowler looked set to turn the tables as he passed Wheeler for first at mid distance. But then in the race's last gasp Wheeler sensationally pipped Fowler on the run to the finish line.
Wheeler enthused: "All I'll say is that Neil drove the absolute 'insert swear word' because that was awesome!
"We're on two different wet tyres, they're equivalent but Neil's were coming on at a different time to mine going off, and at the end mine started to switch back on and Neil's switched off, and I got him on the line. Just amazing.
"Me and Neil have had some fantastic racing today. In the first race I always felt I was on top of him, even though he was in front. In that one [race two]: nah [I couldn't run with him]. That was just luck his tyres went off at the end because he had it. We've both been racing D class for so long, but we never ended up on the same bit of track together."
Fowler responded in kind: "Probably everything James just said really! We don't very often end up on the same Tarmac when our cars are quite equal. We've had two good races this weekend, but I'm just so gutted I lost it on the line. Mine [tyres] were brilliant for three-quarters of the race and then they went off. That's life."
The second race was a double celebration for the Wheeler family as Jonnie won the Class C contest, outrunning Jim Bryan, and with this Jonnie got Driver of the Race. Eales took another clear win in Class B while this time Walpole beat Strike to AB honours.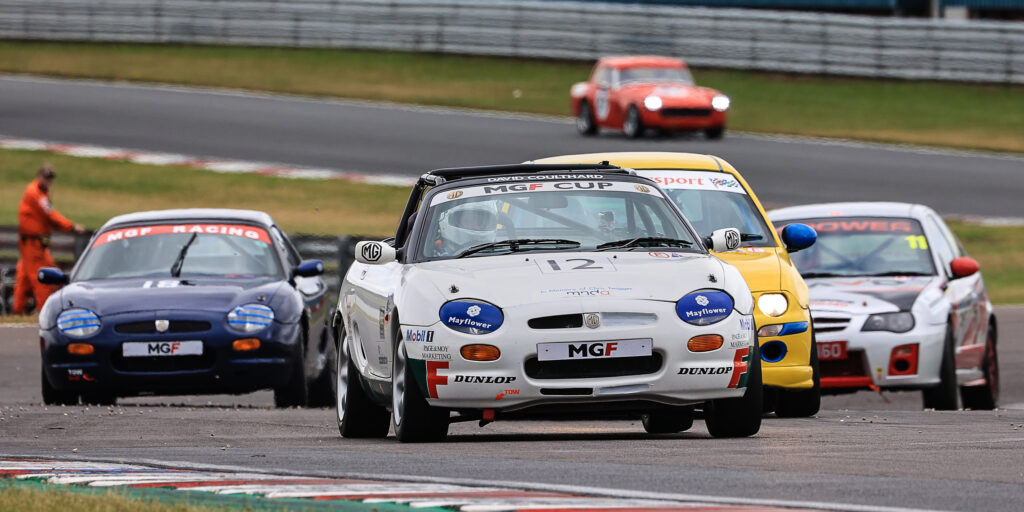 MGCC Cockshoot Cup
A pre-race rain shower created a jumbled first Cockshoot Cup race with a mix of tyre choices among competitors. Paul Wignall though brought some order in his MG ZS by dominating to win.
Mark Wright in his MG F Cup finished second 16s adrift while poleman Karl Green struggled with dry weather tyres on the front of his MG ZS 180 but managed to recover late on for third.
Tony Roberts in his MG ZS 170 prevailed in Class B for his first-ever Cockshoot class win, and this was supplemented by him getting Driver of the Race too. Rhys Higginbotham in his MG ZR was a clear Class A winner while Christopher Greenbank in his MG F was an equally clear Class F winner.
In the dry race two an unhappy Wignall retired early with frontal damage on his ZS after contact with the back of a rival car. This left Green and Wright to battle for the win, and Green prevailed by less than 2s after passing Wright in the early going.
Green said: "First race it was pick and choose which tyres you want, because it was wet then dry, wet then dry, and I think I just went with the wrong tyre choice. I went with wets on the back and dries on the front, but I just couldn't get any heat into the front tyres because it kept spitting with rain.
"Thankfully I went out on slicks all round this time and the rain held off just long enough for me to get the win. Great second race, really enjoyed it, Donington's one of my favourites anyway. Me and Mark had a great second race and I managed to pull away from him and then it was just a case of keeping the gap."
David Morrison returned to winning ways in Class B in race two, finishing third overall in his MG Midget and well clear of his class rivals, while Higginbotham made it a double victory in Class A. Greenbank's winning run in Class F ended as his exhaust was falling off and he was called in, which left Tom Mensley to take class honours.
David Coulthard (pictured above) had a great run in his MGF to finish fifth overall and he got Driver of the Race with it.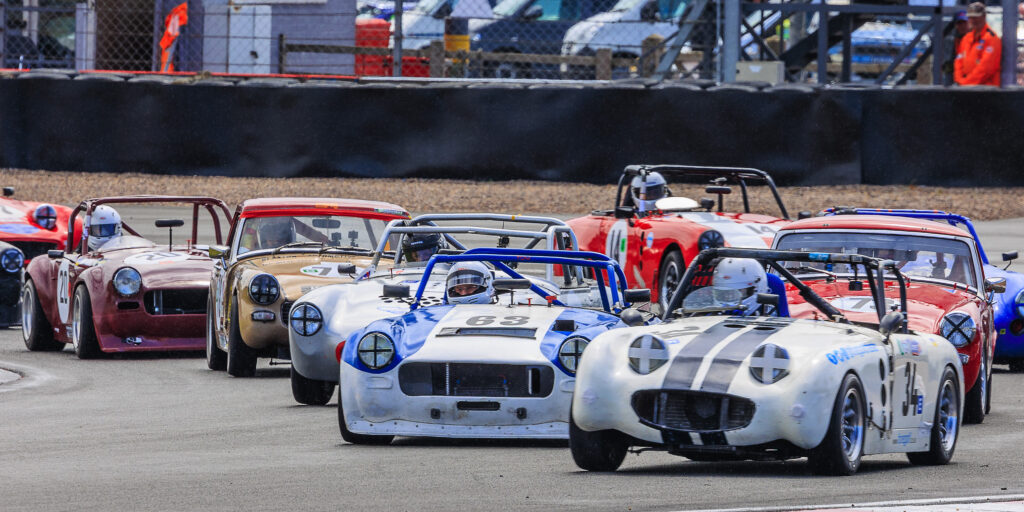 MGCC Lackford Engineering MG Midget & Sprite Challenge
In the opening Midget & Sprite race Richard Bridge, back in Class A having shown fine pace therein in the Brands Hatch season opener, rose from the back having been disqualified from qualifying for a flag infringement, and got the lead from Stephen Watkins after just three laps.
Watkins though fought back and soon re-passed for the lead and built an advantage of 3s. But on the last lap he spun on oil at Redgate, which allowed Bridge through to win while Watkins recovered for second. Bridge also got Driver of the Race.
"It was very slippery," Bridge said, "I had slicks on and it started to rain in assembly area and it was very very hard work in the first few laps. To come from the back to a win was very special.
"[Watkins] had a minor oil leak and it meant that I couldn't follow him closely. I thought I'll just wait for him break down, and then I realised it wasn't slowing him down at all so then I had to start trying to catch him up."
Watkins added: "I was very tentative at the start, it did seem a bit greasy out there, and we're on the slicks. And it slowly dried out and about halfway through it was dry enough to feel like I could push it harder.
"Richard had caught me up, got past me, by then I thought the track was dry enough to push it harder, so I managed to get back past him and pulled away. I thought this should be OK for the win, and it wasn't quite what I thought it would be!"
James Hughes finished third in his Austin Healey Frogeye Sprite and with it got a clear Class E victory. Barney Collinson comfortably won in Class D in his Midget, after having a close battle with Class I's fellow Midget runner Connor Kay.
The fully wet second race didn't suit slick-shod Class A runners and poleman Watkins indeed started from the pitlane to stay out of others' way, though he still managed to win his class ahead of Michael Chalk and Bridge.
Victory instead went to a delighted Kay, in only his fifth-ever race and his first meeting with Midget & Sprite Challenge. From third place he jumped into a lead that he kept when early leader Kim Dear left the track at Schwantz Curve, the Austin Healey Sprite briefly getting up on its side, and Ian Wright's Midgetwent off on the same lap.
"Quite unexpected!," Kay said. "We're just trying to shake down the car really. I've driven this one [the car] twice.
"It's my first time in the wet so I didn't really know what to expect, it [the car] was really easy to catch.
"We just wanted to get some historic racing this year, and they [Midgets] looked like they had good grids, relatively low power, so it's a good car to learn in."
Reigning champion Pippa Cow meanwhile had a catalogue of problems and didn't finish either race. She had a clutch problem on her Austin Healey Sprite on Friday so the clutch was changed for Saturday's qualifying, but therein she had a misfire and it transpired her car's distributor cap had come off. In the first race she rose sensationally from 14th to lead on lap one, but then a misfire returned. Virtually everything on the car was changed for race two, but she was hobbled by a misfire therein as well.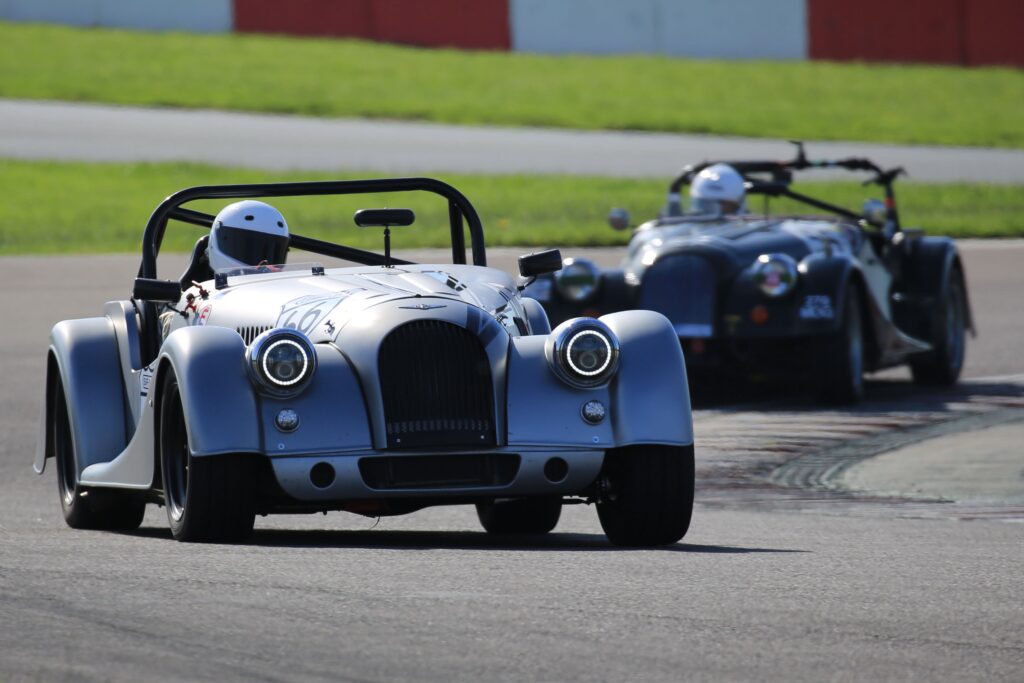 Morgan Challenge
The Morgan Challenge once again was a guest at an MGCC event with two races, and both were dominated by Andrew Thompson in his ARV6 (above).
In race one he immediately got the lead from 4/4 poleman Brett Syndercombe and cruised clear, beating second-placed Syndercombe home by over 40s. Alex Lees completed in the podium in his +8, finishing 7s shy of Syndercombe.
Race two was a similar tale as Thompson strode clear from pole and won by 47s, though this time there was a close battle for second between Syndercombe and his fellow 4/4 of James Sumner, which Sumner just won by 0.2s having passed Syndercombe on the final lap.