Return to Oulton Park very different to 2020 – with spectators and some sunshine!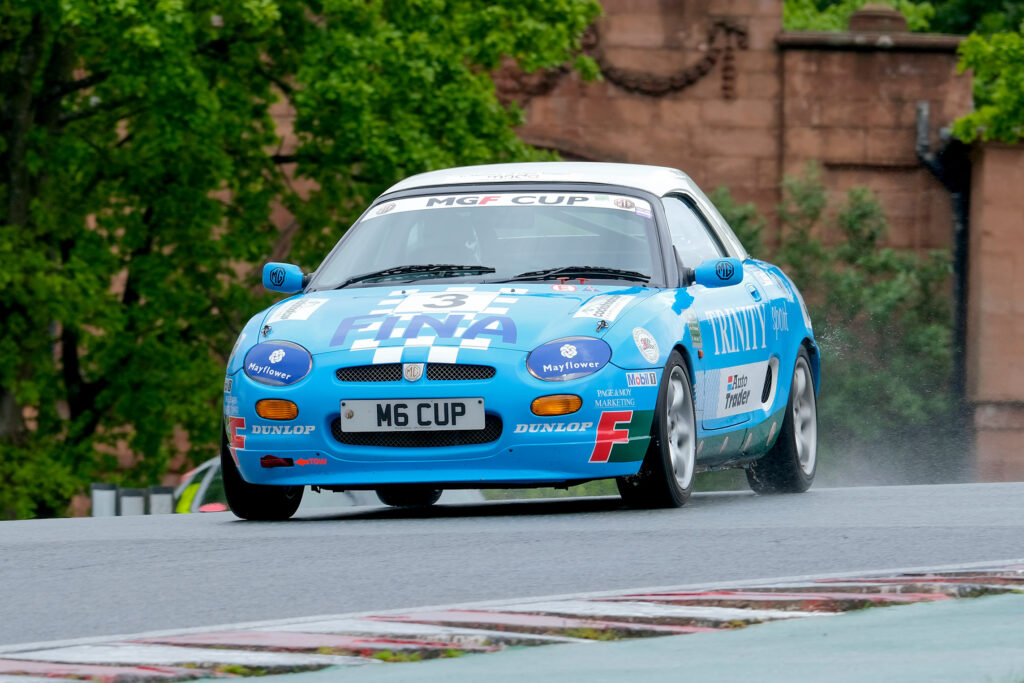 Mixed weather conditions in qualifying created an extra variable for the racers to deal with at the MG Car Club's second race meeting of 2021, at Oulton Park. Five of the club's championships were in action, each contesting two races, and they were joined by three series from Equipe Classic Racing. It was all played out in front of an appreciative crowd enjoying the newly-relaxed COVID restrictions that enabled spectators to watch the racing for the first time this year.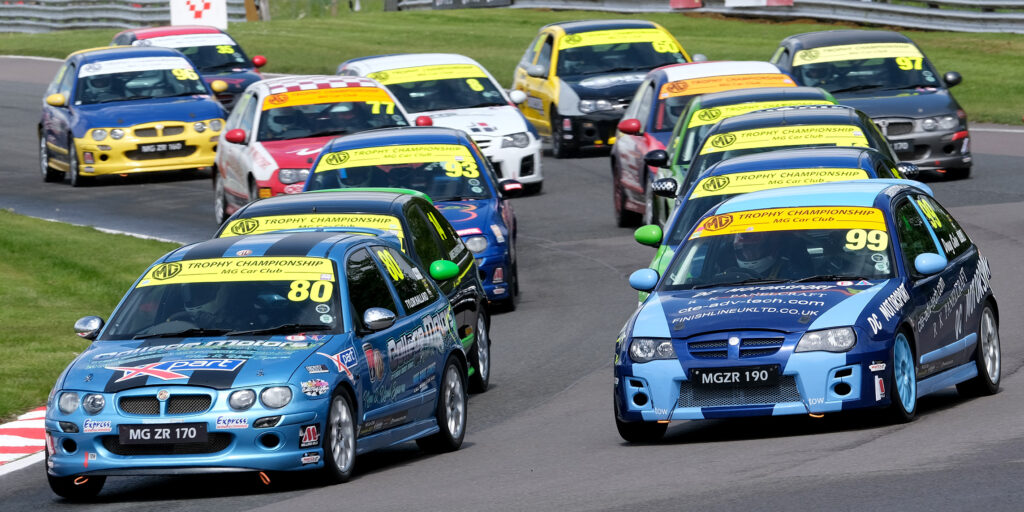 MGCC The Mangoletsi MG Trophy
It is now four wins from four races for Sam Kirkpatrick as he maintained his 100% start to the season in the MG Trophy. Kirkpatrick and Fred Burgess (both in ZR190s) picked up where they left off at Brands Hatch in April, the pair duelling for supremacy throughout.
Kirkpatrick's race one win from pole position was the more straightforward of the two, although he lost a hard-earned two-second advantage to a mid-race safety car. Burgess then shadowed him to the chequered flag in the two remaining green-flag laps, ruing his compromise of a wet set-up with slick tyres on what had become a dry track after wet qualifying.
Fergus Campbell impressed on his way to third overall and Class B victory in his ZR 170, earning the commentators' Driver of the Race award in the process. He edged Tylor Ballard by half a second on the road, but Ballard's 10s penalty for a false start dropped him to fourth in class. Paul Croker (ZR 160) was set to win Class C, only for a final-lap excursion exiting Cascades to cost him dear and promote John Donnelly to the win.
Campbell's lightning start allowed him to lead race two, and Burgess also jumped Kirkpatrick. The two ZR 190s quickly cleared Campbell and could barely be separated for the remaining nine laps of the challenging circuit. Kirkpatrick drew alongside on several occasions, but Burgess's defence held firm until Kirkpatrick squeezed inside at Cascades mid-race. But the Cumbrian couldn't shake off the Lincolnshire man as the pair traded lap records, Kirkpatrick's winning margin of 0.6s being almost unrepresentatively large!
"I had to fight for that one," admitted Kirkpatrick. "I went for a few overtakes, but they weren't quite perfect ones. But then I got a bit closer through Cascades than I normally would, so I let off the brakes and hoped!"
"I knew what Sam was going to do," said Burgess, "but I didn't think he'd be able to hold the speed down the straight [from the tighter exit] but he got a mega run out of there.
"It was the most tired I've been in a race car – I knew about it at the end of the race!" he added, as both drivers had clearly enjoyed an exhilarating contest.
Adam Jackson completed the podium in his ZR 190, a great result after his first race had ended with an engine fire caused by a split oil filter housing. Doug Cole, fourth, also failed to finish the opener after a gearbox mount broke, snapping the driveshaft. Patrick Booth was fifth after his earlier class podium, both achieved after the wrong choice of rubber in qualifying left him 15th on the grid, having also been running in his new engine.
Tylor Ballard chased down Campbell, passing him into Cascades after getting a run out of Old Hall, to win Class B and claim Driver of the Race honours, while Croker made up for his earlier disappointment with Class C honours.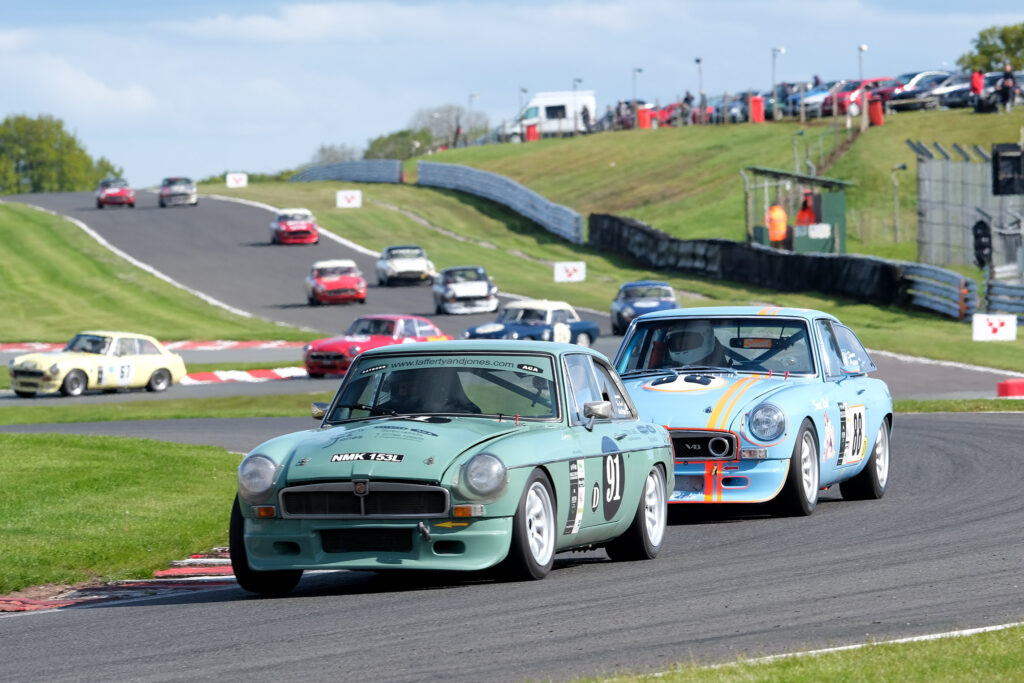 MGCC BCV8 Championship
Reigning champion Ollie Neaves bounced back from a wrong tyre call in qualifying to win both BCV8 races in his MGB GT V8, albeit in contrasting style. Simon Cripps took the first contest on the road with an impressive display that earned him the Driver of the Race award, only to lose out when penalised for jumping a restart.
Cripps sprung from third on the grid to lead but, like second-placed Neil Fowler and Class C leader Jonnie Wheeler, misjudged the safety car restart and incurred a 10s penalty. His pace was such that he fell less than a quarter of a second shy of building the margin he needed to overhaul Neaves on corrected times.
Neaves had qualified only fifth after running dry rubber on a greasy track, then made the mistake of switching to wets for the drier race. He prevailed in a battle for third with the similarly afflicted James Wheeler, then benefited from Fowler's final lap off, before inheriting the victory.
Behind Wheeler and Ian Prior in third and fourth, Andy Young won Class C in his C GT. A three-way fight also involving Jonnie Wheeler and Jim Bryan ended when unfortunate contact between the latter pair exiting Old Hall turned Bryan into the barriers, ending his day.
Neaves fully reasserted his authority with a commanding victory in race two. With conditions now almost perfect, he jumped from sixth to lead within two corners, then opened an advantage of 9s in three laps before keeping a watchful eye on the pursuing Cripps and James Wheeler as he nursed a slight brake vibration.
"That felt a lot more like it," beamed Neaves. "The car just felt so hooked up it was unbelievable. Those first few laps, the car was absolutely glued to the tarmac. I did three really hard laps, looked in my mirrors and wondered where everyone had gone!"
Cripps passed Wheeler for second with an exuberant move around the outside at old Hall and was finally able to shake him off when after both had moments at Druids on fluid spilt by the car of Wheeler's father Jonnie after a hose had come loose.
Young again won Class C from row eight of the grid after his own wrong tyre call in qualifying and was rewarded for his efforts with the Driver of the Race. Babak Farsian twice took Class AB honours with his four-cylinder Roadster able to get among the V8s, while Steve McKie (B GT V8) headed Class B in both races.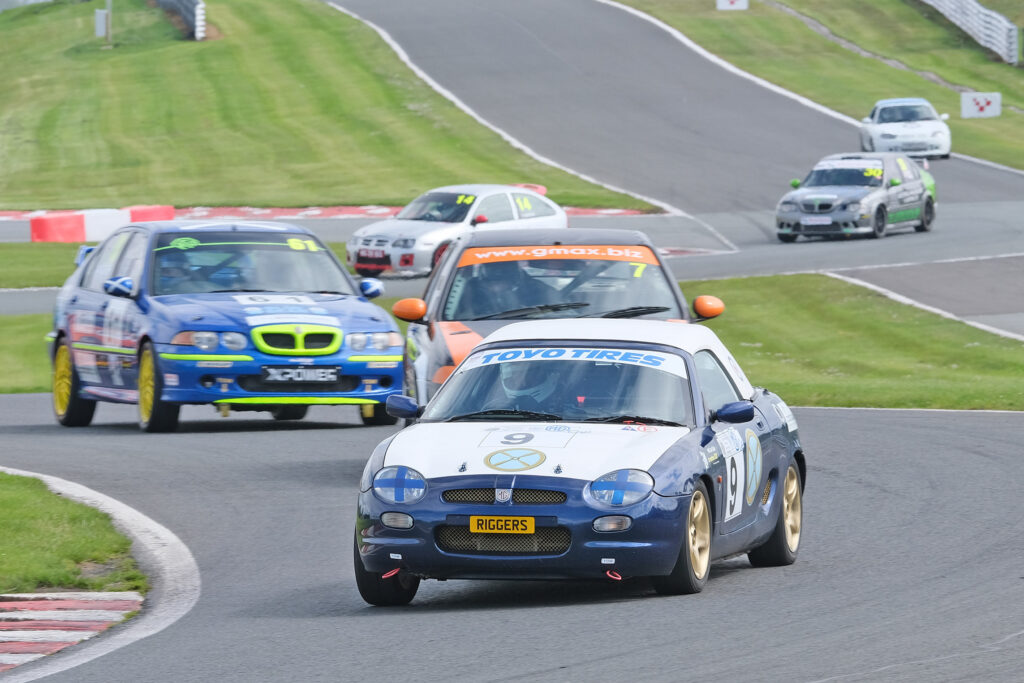 MGCC Cockshoot Cup
The largest Cockshoot Cup entry for several years assembled for the North-West based championship's first outing of the season. The story of its races again owed much to the wet conditions in morning qualifying.
Renowned wet-weather expert Ray Collier, who develops tyres for a living, qualified his MG ZR 190 on pole position by over four seconds, while regular frontrunner Keith Egar could only manage 13th in his MG Midget after choosing the wrong rubber. Collier took a comfortable victory in the first race, despite a cracked gearbox casing and a faulty fuel gauge meaning the car had been under-filled and was misfiring in the closing stages, while Egar carved his way through to second, and was named Driver of the Race.
It could have been even better for Egar, as he backed off to cool his engine before a final push, only for the chequered flag to be shown slightly early with the meeting running a little behind its tight timetable. Peter Bramble produced a similar charge from mid-grid to third in his MGB, ahead of Class F victor Brian Butler who had impressed in second overall for much of the way. Mike Peters took Class B honours in his MG Midget, while Paul Wignall (MG ZR 160) topped Class A.
The early pace of Butler and Egar was even more impressive in race two, as Butler led the early stages before being demoted by Egar, who had made an absolutely blistering start to run second, and Collier into Druids on the second lap. Egar would be denied again, however, as Collier – with his fuel tank topped to the brim – got a run through Island and passed the Midget into Shell Oils on the penultimate lap. Being named the meeting's Driver of the Day would be some consolation for Egar. Karl Green took his MG ZS 180 to third ahead of Driver of the Race Butler, with Peters and Wignall again claiming class honours.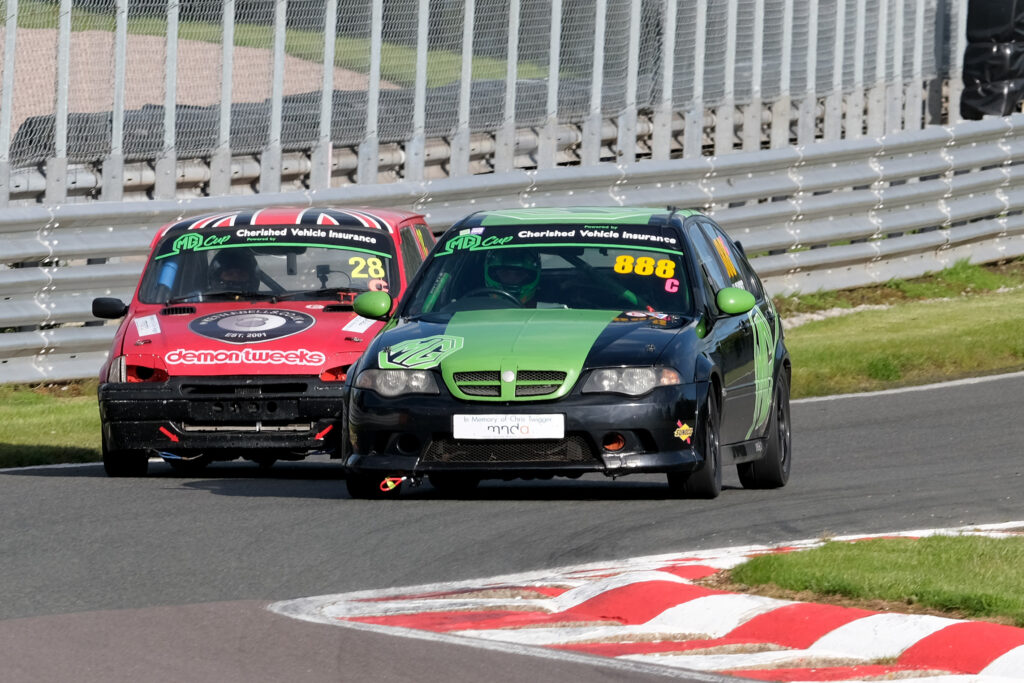 MGCC MG Cup powered by Cherished Vehicle Insurance
Two hard-fought MG Cup contests ended with honours even between the VVC-engined Rover Metro of Mike Williams, and sophomore driver Morgan Short's MG ZS 180. Benefiting from his wet running in Friday testing, Short put the ZS on pole position for each race by the huge margins of 7.4 and 8.8 seconds. But, after last year's horrendous conditions, race one would offer his first dry laps of the circuit.
Williams made his experience count to outdrag Short up Clay Hill on the first lap of the opener and, while Short stuck with him, he couldn't find a way through and had to settle for second. The Rover 220 Tomcats of the returning Richard Buckley and Matt Simpson were third and fourth, Simpson earning Driver of the Race for his charge from the back after being disqualified from qualifying for a yellow flag infringement. Iain Dowler (MG ZR 170) took Class B honours, while Jago Keen (MG ZR 160) claimed Class A.
Determined to learn from race one, Short was able to defend against Williams's similar attack in race two, and Williams lost time as he ran on the grass. But the Metro reeled the leader back in and was ready to take advantage when Short struck a slowing backmarker exiting Knickerbrook on the final lap. However, Short held firm to take his maiden win despite the scare.
"It was enough to do quite a bit of damage to the front of the car and I lost my whole gap to Mike," said Short, who was named Driver of the Race. "I thought, 'There's no point giving up now, I've just got to keep pushing and hope nothing's wrong with the car.' And luckily, it looks like most of the damage is cosmetic. I had a great race with Mike, we were battling the whole time. He's a great competitor and he's a good sport."
Simpson made faster progress early in the race so was able to beat Buckley to third, while Dowler took a comfortable Class B win and Keen too repeated his earlier Class A success.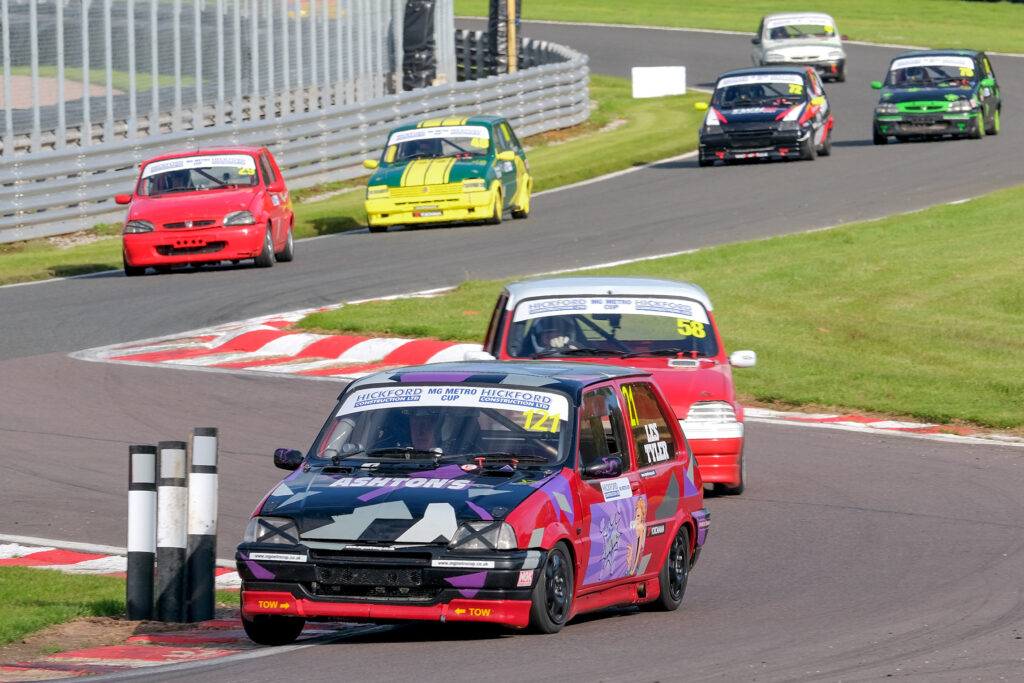 Hickford Construction Limited MGCC MG Metro Cup
Mark Eales put his Brands Hatch nightmare behind him to score a double success in the MG Metro Cup, which shared track time with the MG Cup. New pistons and heads were required after a holed radiator had cooked the engine, and qualifying at Oulton Park was the first chance to run the repaired engine in anger. He secured pole position after top qualifier Dan Willars was disqualified for a yellow flag infringement, with third fastest Tim Davies suffering the same fate.
From there, Eales was able to secure a consummate victory from Tim Shooter and Tony Howe, who headed a very tight battle among the rest of the top eight. Howe's climb from 10th to a podium finish earned him the Driver of the Race award, while Willars was happy to come through to sixth behind Phil Goodwin and Jon Moore, and Davies managed ninth.
"The plan was to try and get away as quickly as possible," said Eales. "I could sort of see where Tim [Shooter] was so it was a bit like, just keep an eye on him and if Tim's catching me we'll have to start pushing a bit harder."
With the Metro Cup's new rules meaning the grid for race two is based on race one finishing positions, it meant that the likes of Howe and Willars would be starting much closer to Eales for the sequel. But Eales once more immediately broke clear to control the race as battles raged for the other podium places. It was Howe and Willars that secured them from Goodwin and Les Tyler, as Shooter dropped to sixth and Davies was forced to retire.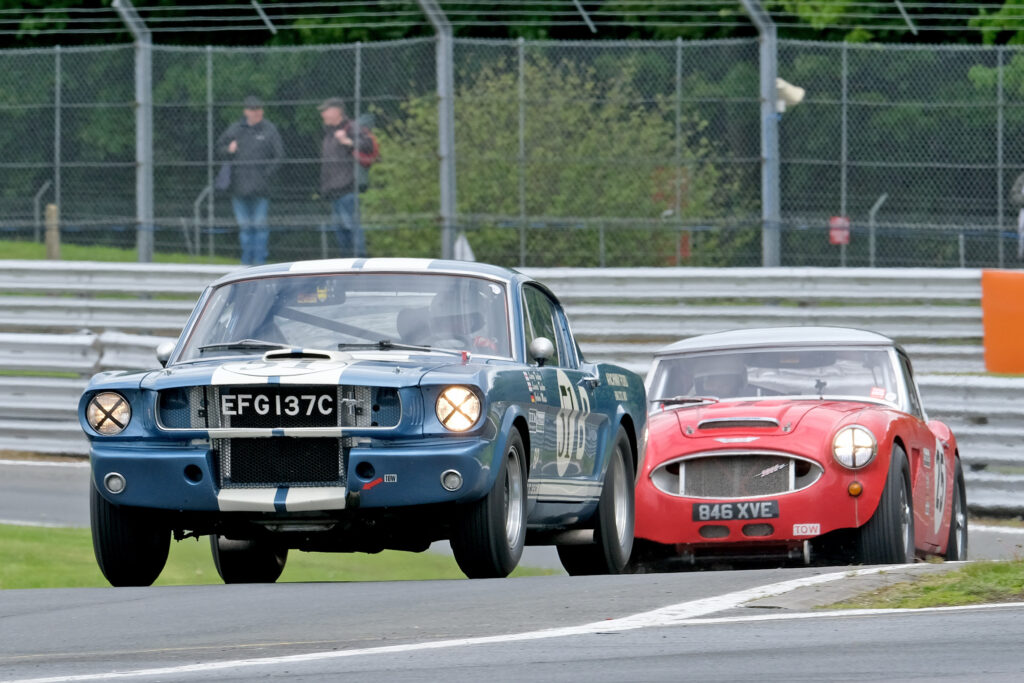 Equipe Libre
The TVR Griffith of Jamie Boot won the Equipe Libre race by nearly 30s, having worked its way through from fifth on the grid. Sharing customer Jon Hughes's MGB, Tom Smith had led the early stages before a spin at Druids let Boot break clear and scamper away. Father-and-son pairing Simon and Dan Smith were second in their Lotus Elan thanks to searing pace from Smith Jr in the second half, setting a fastest lap almost two seconds quicker than Boot's best. Rob Cull's TVR Grantura MkIII completed the podium after it demoted James Haxton's Austin-Healey 3000 MkI – which had run second for much of the race – in the closing stages.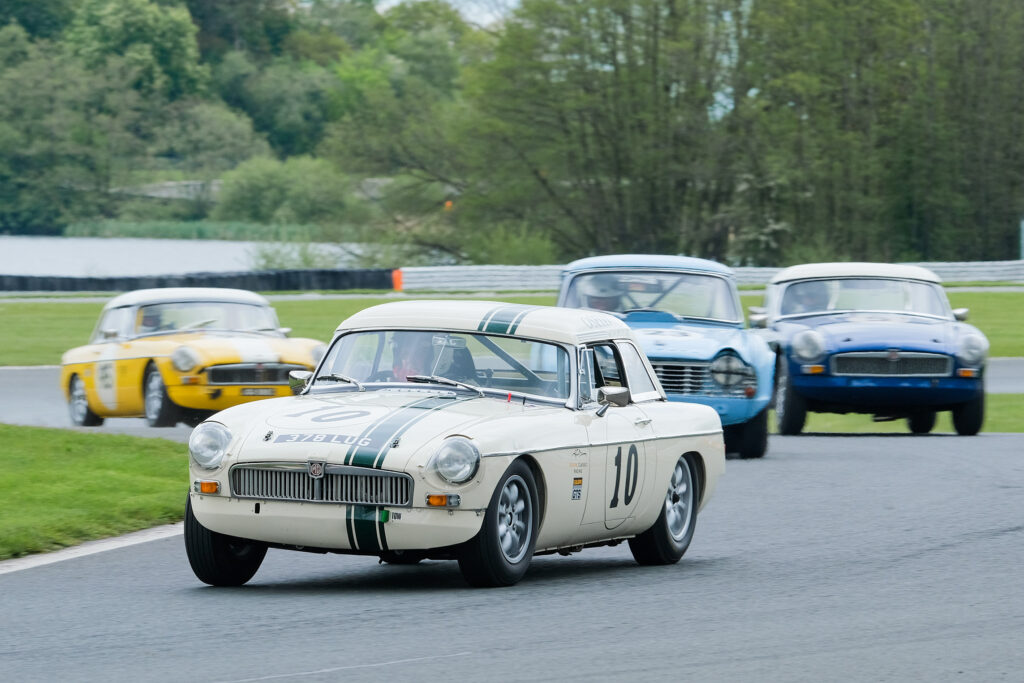 Equipe GTS
Back in his own MGB, Tom Smith dominated the Equipe GTS encounter, only to be hit with a three-lap penalty for speeding in the pitlane. That handed Mark Holme victory in his similar car, ahead of the busy Babak Farsian (MGB), who had lost time clearing Dominic Mooney's MGB early on. Richard Knight's Elva Courier completed the podium after the fancied TVR Granturas of Rob Cull and Mark Ashworth both hit trouble in the early laps.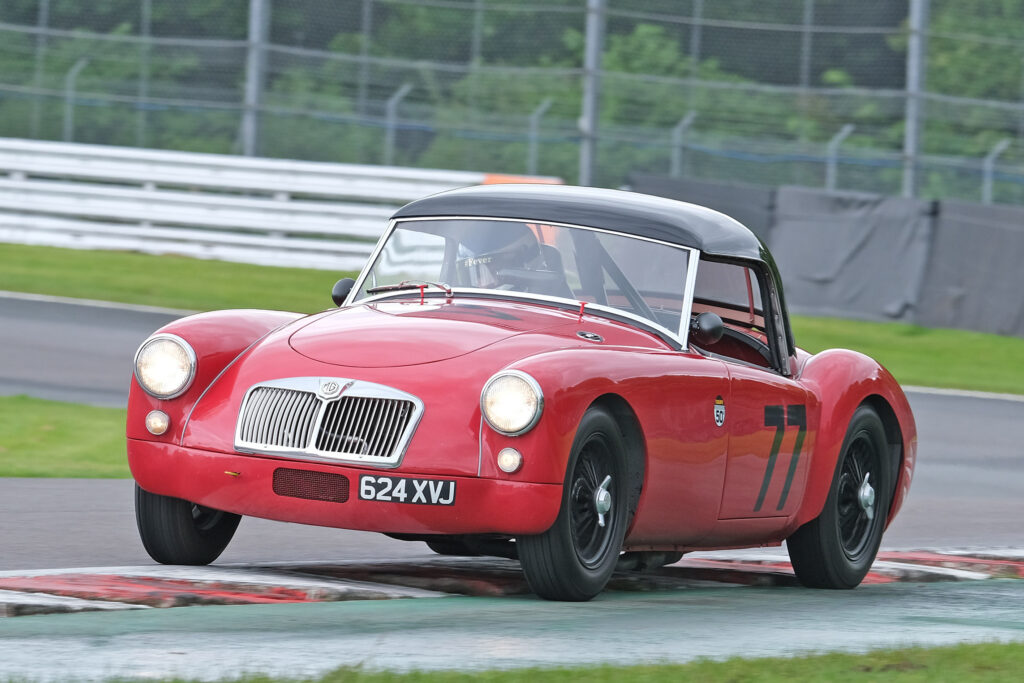 Equipe Pre-'63/50s
Mark Holme scored his second victory of the day in Equipe Pre-'63, this time at the wheel of his Austin-Healey 3000 MkII. Holme was untroubled throughout, building a big advantage from the start and taking his mandatory pitstop late in the window so that he was never headed. James Haxton's MkII version of the same car was nearly a minute adrift at the flag. Haxton cleared Tom Andrew's Jaguar E-type early on as Andrew appeared to struggle in the first half of the race, dropping back before recovering to third ahead of Andrew Williams (Austin-Healey 100M) and Rick Willmott (Healey 3000).