All change for MG Car Club's long-awaited Donington 2020 season-opener
MG Car Club's 2020 racing season at last got underway with a packed meeting at a sunny and warm Donington Park. A host of MGCC categories were present, as was Equipe Classic Racing as well as Morgans and Minis as special guests.
And, of course, much was new at the meeting with conspicuous, but efficient, Covid safety measures in place in what was both the club's and the circuit's first post-lockdown meeting. And on track as well much was new, particularly at the sharp end.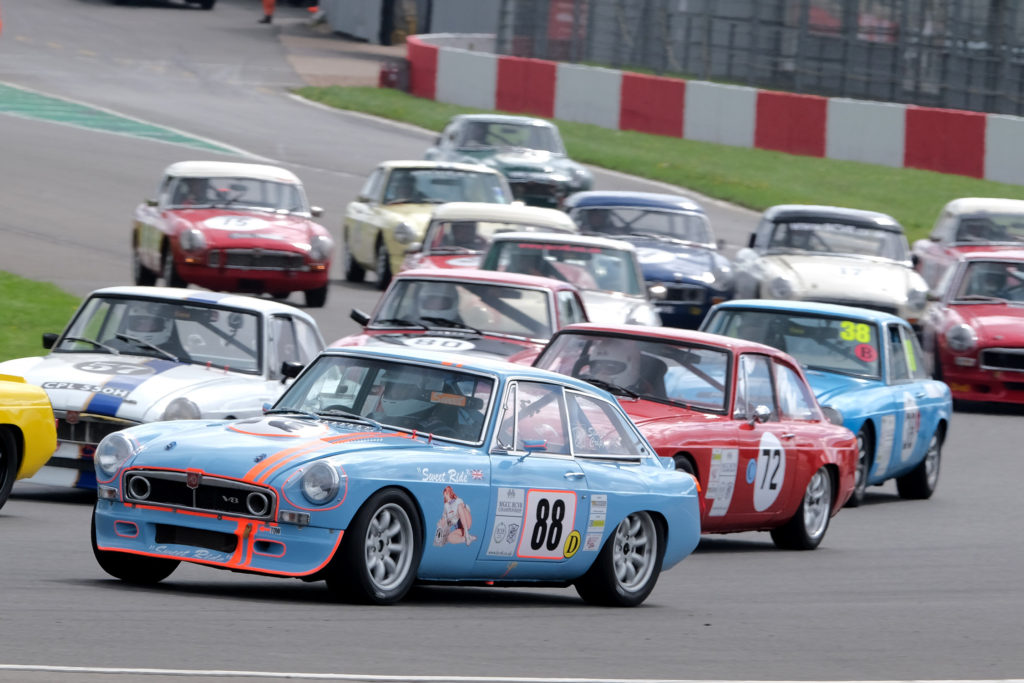 MGCC BCV8 Championship
Ollie Neaves in the BCV8 championship was another in new machinery, as he's overhauled his MGB to return to frontrunning Class D. And he, like Kirkpatrick, immediately took two wins despite the car's only previous running being a half-day shakedown pre-lockdown at Snetterton. Explaining the changes, Neaves said: "Brand-new engine, bigger wheels and tyres, flared wheel arches, there's an awful lot more that goes into making bigger-powered cars. You're doing 130mph in a car that came out the factory with 80bhp!"
Neaves had switched from BCV8's Class D to C some years ago. "When I won the championship in that [Class C] I just felt the need for more speed, it just had to be done!," he continued. "It took me about two years to slowly accrue all the parts [for a Class D car], I got there in the end and it's paid off."
In race one, Neil Fowler took the lead from poleman Neaves at the start, and Neaves got back past to lead before mid-distance. Russell McCarthy was in the victory fight too but fell away after understeering off at the Craner Curves and came home third behind Fowler.
Jim Bryan won the Class C contest after a frantic battle with Jonnie Wheeler and Steve Wells. Mark Scott took a clear Class B win and this also got him Driver of the Race. Russell McAngus won the Class AB contest by over 10 seconds.
And Neaves made it a double in race two, and got Driver of the Race with his second victory. Fowler again led off the start but Neaves had the lead back by the end of lap one, then moved clear. McCarthy got up to second but before we found out if he could haul Neaves in he ran out of fuel. This let Fowler again finish runner-up and Simon Cripps was third.
Neaves had his own problems, nursing "a massive brake vibration" in race two. "I knew Neil and Russell would be coming back for me, but I seemed to be able to manage the gap. I couldn't really have asked for much more on the car's debut: two poles, two wins, two fastest laps. Really pleased, a full house! I was very surprised."
Bryan in race two took a second Class C win. James Wheeler took over his dad Jonnie's car for this race, as his own GT V8 developed what sounded like a valve problem meaning he sat out race one. In race two Wheeler rose from the back to get with Bryan to fight for class honours, but he then slowed as something didn't feel right at the front of his car.
Scott claimed his second Class B win of the day, by 2.3s from Babak Farsian, while McAngus bagged another Class AB victory.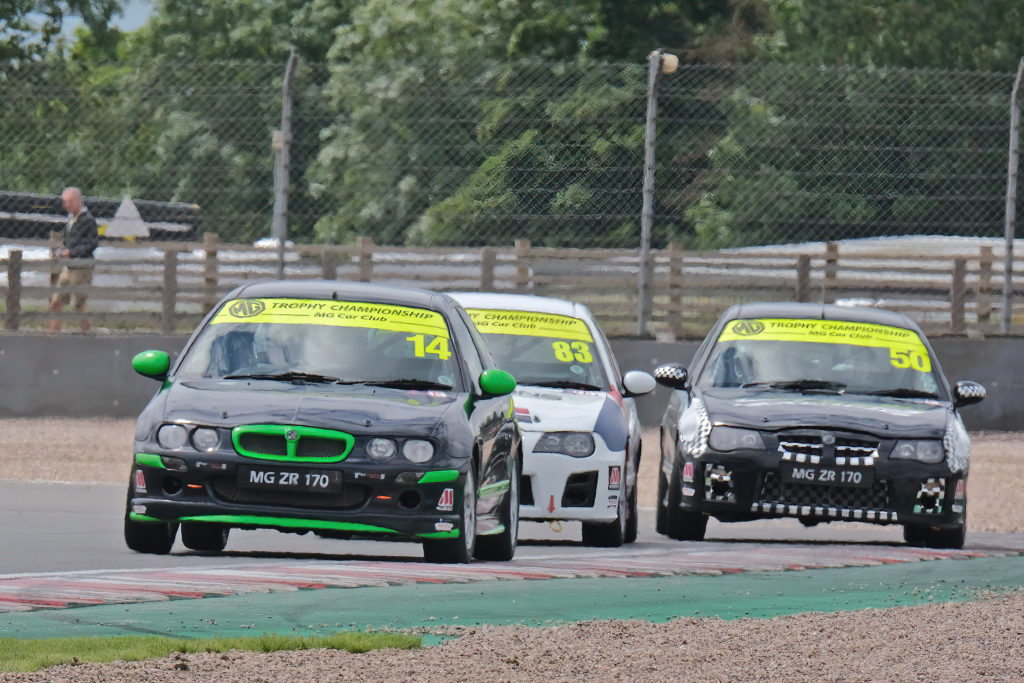 MGCC MG Trophy
Sam Kirkpatrick was especially glad of a change for Donington Park's curtain-raiser. He raced his newly upgraded MG ZR 190 for the first time, it being converted from his Class B ZR 170, and had a stunning weekend. It started with two decisive MG Trophy wins, the first of which was accompanied by the Driver of the Race award.
"Good first day in the new 190, couldn't have asked for much better," Kirkpatrick said. "The grip's the noticeable difference [from the 170], you can take so much more corner speed." His experience in the car beforehand was minimal too. "We did two 15-minute runs at Croft and a bit of testing yesterday," he continued, "it's not much different to the 170, just a bit grippier and a bit faster! We knew we had pace after testing but I don't think we were quite expecting it to go this well."
Fred Burgess twice finished runner-up to Kirkpatrick, in both races staying within reasonable range of the leader other than after a quick spin on oil at Redgate late in race two. And Burgess, just like Kirkpatrick, was racing a 190 in Class A rather than a more familiar Class B 170, though in Burgess's case it was all less planned.
He an engine failure in his 170 on his first lap of Friday testing and opted to race his dad Jason's 190 instead. But he'd never driven it before, and it also meant doing an extraordinary Friday round trip to get the car prepared and delivered, taking in Nuneaton and Milton Keynes. The 190 was ready late on Friday, giving Fred only half an hour's experience of it before qualifying.
"Bit of a whirlwind weekend!," Burgess said. "I'm really pleased with my pace, not far behind Sam who's a really quick driver. I was surprised. There's a lot more involved in the 190s, there's a lot more gear changes. I enjoyed learning." Burgess is now inclined to race the 190 more during the rest of the season.
Ross Makar took a pair of third places, while James Dennison won both Class B contests. The first of Dennison's wins opened up to him when two rivals hit problems: Adam Jackson's engine blew up and long-time leader Tylor Ballard slowed with an exhaust problem. In Dennison's second class win he clung on ahead of a multi-car fight, which also got him Driver of the Race and Driver of the Day.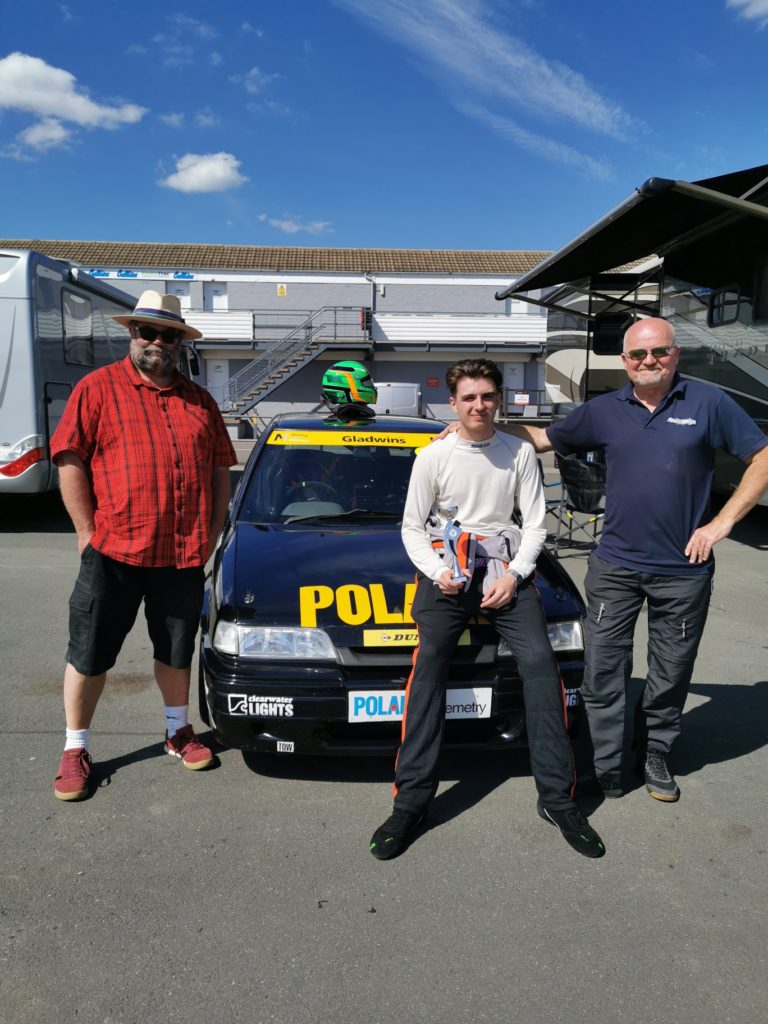 MGCC MG Cup supported by Peter Best Insurance
Continuing the theme of the meeting, reigning MG Metro Cup champion Jack Ashton was yet another in upgraded equipment. He has replaced his 1.4-litre Metro engine with a 1.8-litre version for a move to MG Cup. And at Donington he immediately joined similarly equipped Mike Williams in fighting for victory.
Williams won the first race, while the pursuing Ashton retired with a broken gearbox. Reigning champion Richard Buckley, now in Class B with a ZR 170, rose to finish second overall ahead of Stuart Tranter's Tomcat and got take the class win with it. Carl Robinson beat Dale Reet to Class A victory and was awarded Driver of the Race.
For race two Ashton installed a new gearbox with a diff in it, and found the car much improved. On lap one though while dicing for the lead with Williams in the Craners with his unfamiliar 'box he selected second gear instead of fourth, locked his wheels and ran through the Old Hairpin gravel. "I over-revved it to God-knows-what rpm," Ashton recalled. "Thought it was game over there and then but it still managed to keep on going."
He quickly recovered to second, and before we could find out if he could haul Williams in, Williams pulled into the pits with a seized wheel bearing. "It just made the car undriveable," Williams said, "it got to the point that it's dangerous. It was a big lead, if the car was running fine I would have driven comfortably and maintained a distance [to Ashton]."
It left Ashton well clear, yet there was late drama as his Metro started to smoke, possibly related to the earlier over-rev, but he just held on to beat Tranter by a scant 0.6s.
"I tried to just limp it home, which I just about did!," Ashton added. "It's leaking oil internally, I think a cracked piston or something not good. But we finished!
"It's testing the water with the new engine combo," Ashton said of his weekend, "after putting a new diff in it after race one it felt really good, I could get on the power a lot better. Now it's really singing. We hopefully can give Mike a good run for his money next time out."
Williams concluded: "Good race win to start off with, it was great race. [Race two] I was in control – that kind of thing happens doesn't it?"
Kayleigh Twigger completed the podium, competing in her dad Chris's for-sale Tomcat in tribute to him as he is now unable to race due to motor neurone disease, and the tribute included running a 'DAD 1' number plate instead of the usual 'TWIG 1'. Kayleigh also got Driver of the Race.
"First race it was fourth overall but I lost it as the driveshaft caputted, so I had a point to prove in this one [race two]," she said.
Dennis Robinson in his 170 won the Class B contest ahead of Buckley, who had a brief off at the Craners, while Carl Robinson again beat Reet to Class A honours.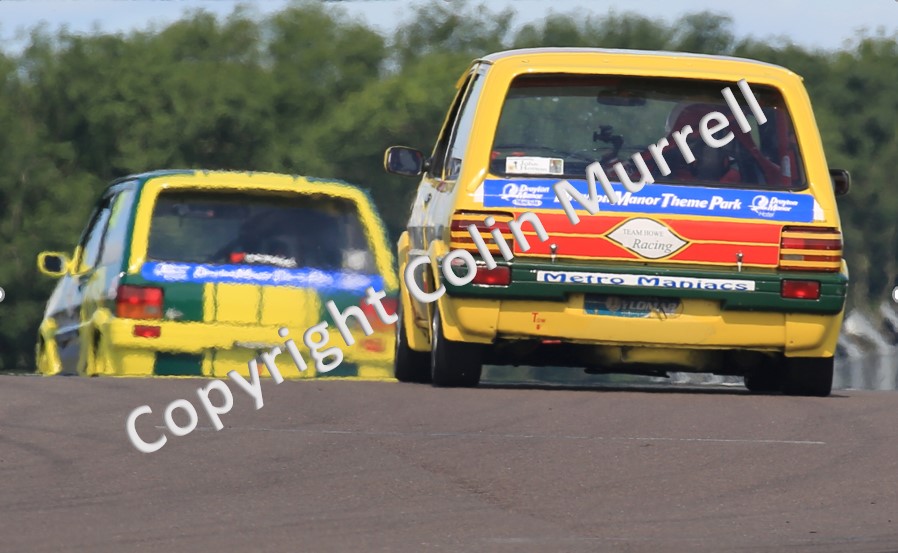 Drayton Manor Park MG Metro Cup
The MG Metro Cup shared its grid with the MG Cup, and with Jack Ashton moving on and Dick Trevett taking his regular alternating year out, there was a big opportunity for others to step to the front.
Tim Shooter narrowly beat the returning Mark Eales to win the first race – and got Driver of the Race with it – after leader Richard Garrard had a spectacular fiery exit caused by a turbo oil pipe. Dan Willars finished third.
Shooter and Eales again battled for the race two win, but both hit problems. First long-time leader Eales lost what could have been his first Metro win as he lost stopping power due to a problem on the car's front-left, either brakes or a wheel bearing. That left Shooter briefly looking on for a double win, but just half a lap later he stopped with an engine problem. Willars bagged victory ahead of Phil Goodwin and David Javes, and Kyla Birdseye in fourth got Driver of the Race.
"Definitely," Shooter said when asked if his day was bittersweet, "bit frustrating but that's racing. I was catching [Eales] slightly [in race two], don't know if I would have got to the back of him or not. Hopefully we'll have a good battle at Snetterton. Definitely [pleased with my pace], I made some improvements over the winter.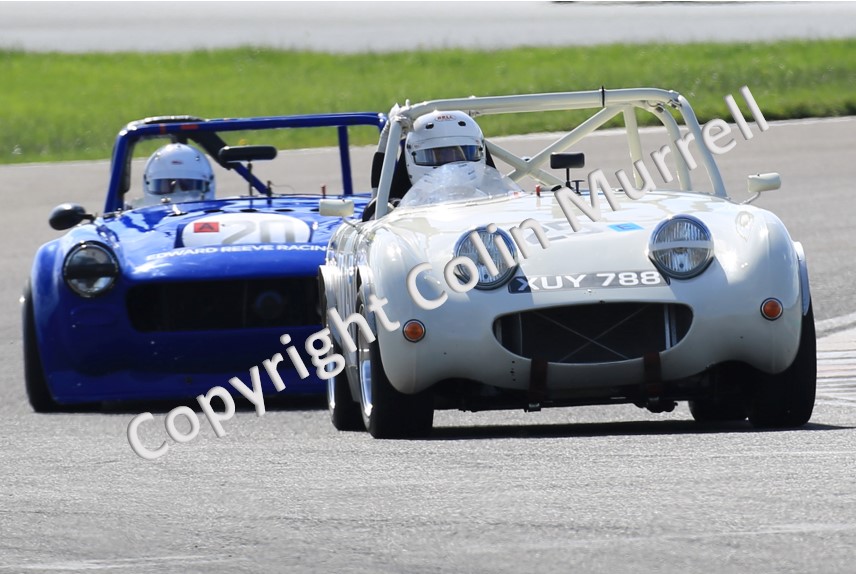 Lackford Engineering MG Midget & Sprite Challenge
David Morrison looked dominant in the opening Midget & Sprite contest as he streaked clear in the lead from pole. But then his Midget developed a misfire under a late safety car, and in the brief late green flag resumption Richard Wildman's Midget thrillingly closed in then passed Morrison for first in the last breath. Michael Chalk completed the podium.
Pippa Cow was fourth home and got the Class E win, indeed she looked good for third overall until the late safety car, when Chalk got ahead on Redgate's inside at the restart. Carl Chadwick won Class D and got Driver of the Race, while Mike Henney won Class I.
Morrison was hopeful his misfire was peculiar to the safety car, but come race two the problem remained and Wildman made it a double win, despite nursing a brake problem. "After a few laps the pedal starts going to the floor and it's kicking back, I think it's the wrong fluid," Wildman said. "I'll take the win anyway! It's been a cracking day, everybody's made a real good effort. [Race two] was just a management thing once I realised David had gone."
The hobbled Morrison fell to finish third, behind the worthy recipient of Driver of the Race Edward Weston, who climbed from the back to claim his best-ever result of second, driving a car his dad David built the year he was born! He already had an engine blow up in Friday testing meaning he had to use his dad's engine, and he then missed qualifying as in the assembly area he realised his accelerator cable had snapped. He rose from the back to sixth in race one, and race two was even better. "I just gelled with the car much better, used my dad's advice and went for it," Edward said. "Definitely a new experience that I want to do again soon."
Cow again took a comfortable Class E win while Philip Stader pipped Henney to Class I victory by just 0.2s.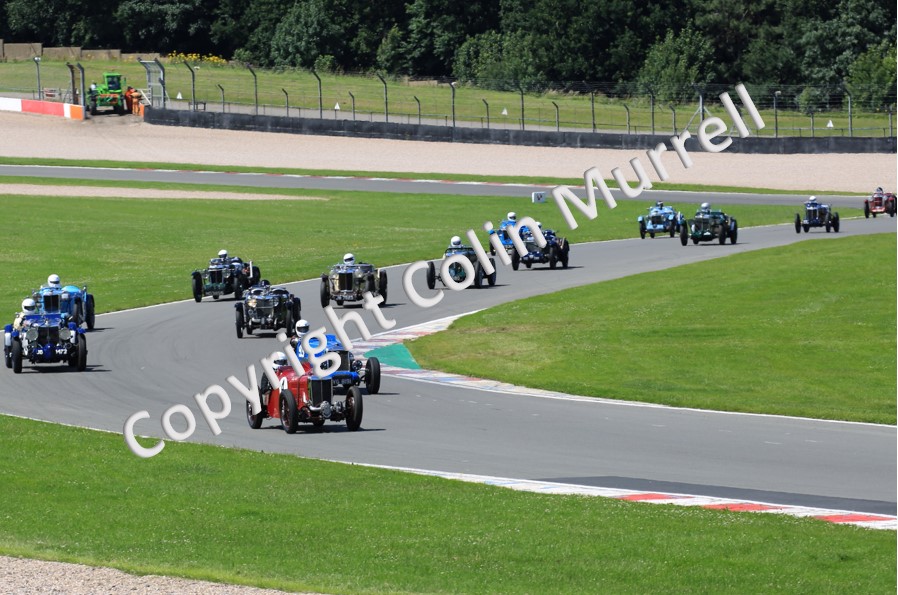 MGCC Triple M Challenge
Tony Seber in his Wolseley Hornet Special won both Triple M races. In race one he prevailed in a fight with Charles Goddard's PA Special. Rodney Seber in his own Wolseley Hornet Special rose from the back to race with them, rising 14 places to second on lap one, before falling away with an apparent misfire. Richard Frankel in his K3 Magnette got by him for third on the last lap and received Driver of the Race.
Tony Seber again beat Goodard in another close fight in race two, with Frankel again taking third. Vernon Mackenzie in his PB Cream Cracker just claimed fourth overall from Simon Jackson's PB, as well as got Driver of the Race. Andrew Morland in his PA took two comfortable Class A wins while Goddard got both Class B wins.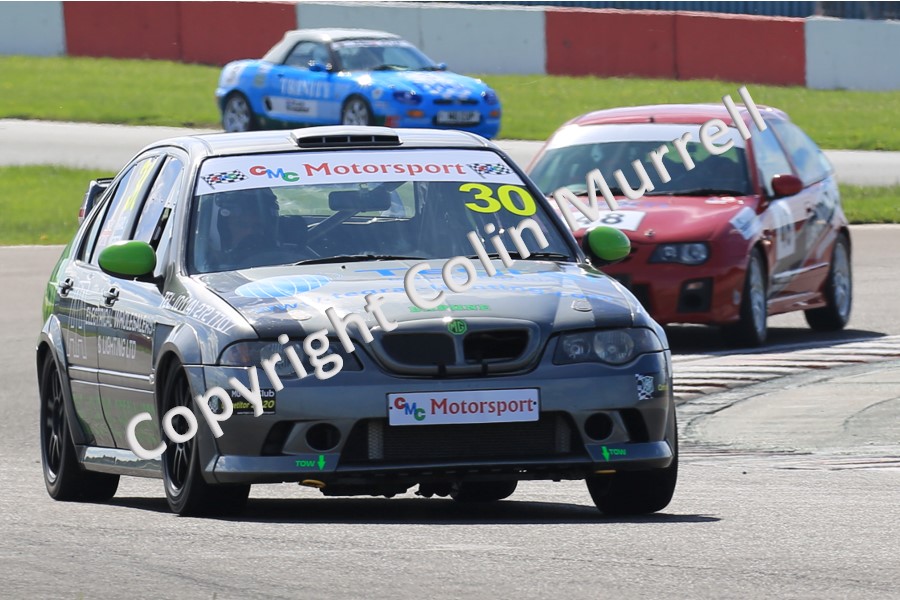 MGCC Cockshoot Cup
Sam Kirkpatrick, returning on Sunday, made it four Donington wins from four as he also bagged two imperious Cockshoot Cup victories. "[The car's] got better as the weekend's gone on because we've learned about the pressures and the tyres and stuff," Kirkpatrick said. "It's been a good learning weekend and it's been a lot of fun. It was quite easy to learn [the 190] pretty quickly, but I've been getting more used to it. We've never [before even] managed the double win! Four, you can't do much better!"
Ray Collier in his 190 twice finished a distant runner-up to Kirkpatrick, while Keith Egar in his Midget was third in race one and Karl Green in his ZS180 completed race two's podium. Green likely would have taken third in race one as well but he ran out of fuel late on.
Reigning champion Paul Clackett claimed a dramatic race one Class B win amid problems for his challengers. Ian Whitt rose from the back after brake problems in qualifying, and took the lead from Clackett at around a third's distance, but his Midget almost immediately lost drive with an alternator problem. Class victory battle was then joined between Clackett and Mike Peters, only for Peters' Midget to have a big engine blow up in the race's last moments. Chris Greenback got Driver of the Race after winning Class F in his TF 160.
Whitt in race two again rose from the back and this time won Class B as well as finished fourth overall just three seconds off a podium place. It earned him Driver of the Race and Driver of the Day. Greenback again took Class F's honours.
Equipe Three Hour Classic Relay
The Equipe relay was a close contest throughout its three hours. It was won by the '50 Shades' Lotus Elan pair Cliff Gray and Stephen Bond, who after a topsy-turvy battle prevailed over the Squadra Budino Nero team made up of three MGBs plus an Alfa Romeo GTA and with Tom Smith, Martin Richardson, Andrew Lawley and Jonathan Hughes driving. The contest for first place was resolved when Gray chased down Hughes late on and passed with 10 minutes left. Hughes' MGB later had to slow with a technical problem but still hung on to second place.
Winner Gray said: "This is the third time we've entered in the race and the last two occasions we've come second, so we were quite keen to see if we could better that. The last 20 minutes was just great fun, I was in second place with about 17s to catch the guy, I could see the board coming down. The weather was wonderful, these guys organise an amazing day, so we've had a lot of fun."
The runners-up were happy too, Richardson saying: "We came here today hoping for a good result on handicap, had no expectation of being anywhere near the front overall, so we're absolutely thrilled. We've got three MGBs, one Alfa and until the last two laps they've all run perfectly. I've thoroughly enjoyed it – you can see that from the beaming smile! Consistency [was key], we had a plan as to what we would do in the event of safety cars and that sort of thing, and it all worked."
Equipe Classic Racing Sprint Races
Jonathon Hughes is a well-known historic single-seater racer, with even a Monaco Historique Formula Junior win on his CV. Yet in Donington's Equipe contest he was another taking an unfamiliar car to debut victory.
He was there giving his Jaguar E-type overdue post-lockdown laps, and in Equipe's opening sprint race he eased the rapid machine to an imperious victory, rising from 18th on the random grid to lead after just over a lap. He won by 46s from Mark Holme's Austin Healey, and Bond back out in his Elan was third.
"It's all new to us," Hughes said, "I used to race Jaguars 10 years ago, [I'm] thoroughly enjoying it! As a family we've got a passion [for Jaguars] and this is a nice addition to the fleet. Anything where the car's eligible we'll probably have a go at!"
There were two Equipe sprint races due to demand, the grids split depending on when the entry was received, and Holme, now in a 3000 MKII, won the second sprint race after taking the lead in the pitstop round. The Robin Ellis and Nick Trott Lotus 26R led the race's early part but had a longer stop with a driver change to complete. Trott dropped to third by the end behind Tom Smith's MGB.
Guest races
Roger Whiteside in his Morgan +8 was first home in both Aero Racing Morgan Challenge races, but in the first was one of several disqualified for yellow flag infringements which meant Andrew Thompson, who Whiteside battled with throughout, took victory in his ARV6. In race two Whiteside rose from the back to claim a first place he was allowed to keep. While in the Dunlop Mini Challenge supported by Mini Spares, Miglias, Libres, Se7ens and the Mini 7 S-Class shared the track, and all featured plenty of typical slipstreaming action. Reigning Miglia champion Aaron Smith won both Miglia races, by just over a tenth in both cases, holding off Endaf Owens in race one and Lee Deegan in race two. Dan Lewis and Robert Davis took the Libre wins.
Reigning champion and ex-British Touring Car Championship racer Jeff Smith and Spencer Wanstall split the Se7ens victories after fevered battles between the two in both contests. Thorburn Astin and Connor O'Brien split the S-Class wins.