Champions Crowned at MGCC's Snetterton Races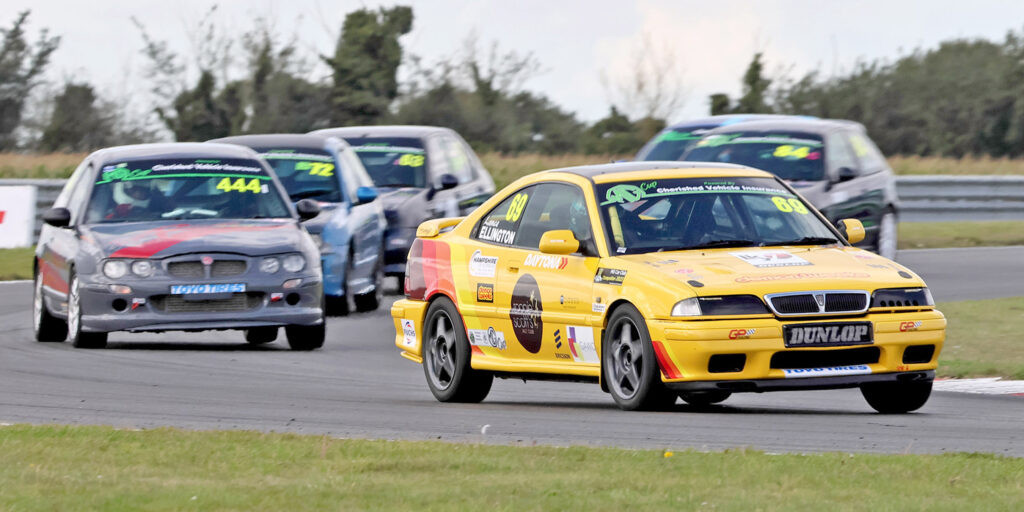 The MG Car Club held its final race meeting of the marque's 100th-anniversary year at a bright but breezy Snetterton. 
It was the season-closer gathering for most of MGCC's championships, meaning that as well as race honours to fight for there were plenty of titles to settle on the Norfolk venue's 300 layout. Appropriately the racers provided plenty of competitive and spirited battles across the two days of action in double headers for each of the five MGCC race categories.
The MGCC contests were joined by a healthy line-up from Equipe Classic Racing and the local Snetterton Saloons with its eclectic cast of cars for a 45-minute pitstop race. It all ensured a fine and entertaining weekend of racing.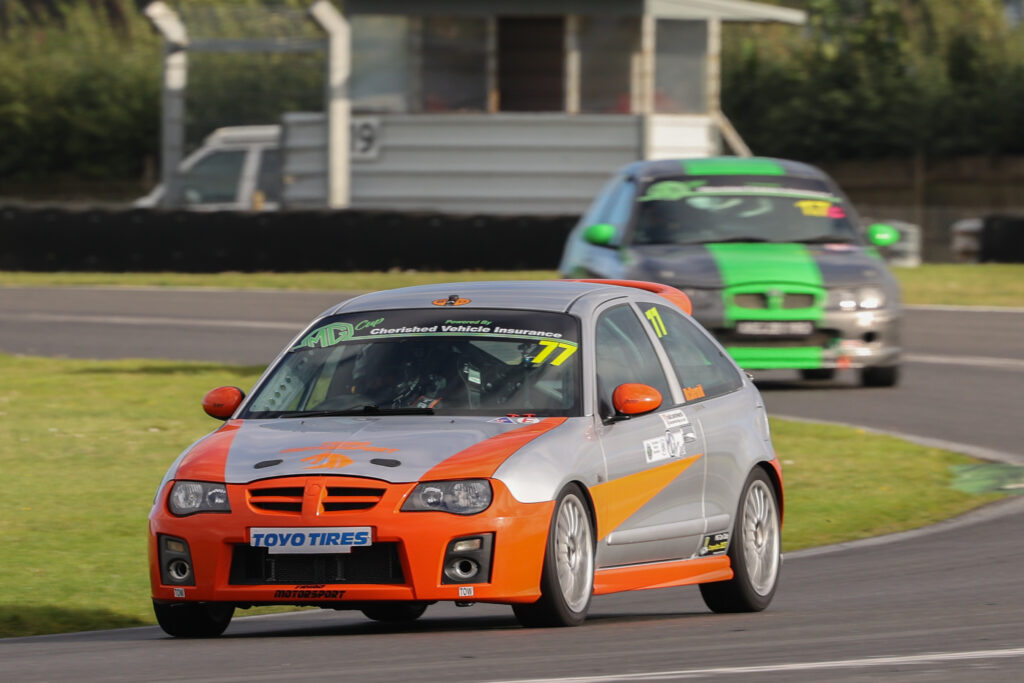 MG Cup Powered by Cherished Vehicle Insurance
MG Cup celebrated the contest's 35 years at its Snetterton season-closer with a special Saturday night hog roast and a big grid of 25 competitors.
There was a fresh look at the front of the field as Jake Fraser-Burns made his championship debut in his MG ZR 190 while the similarly equipped Steve McDermid was back for the first time since his race-winning outing at Brands Hatch's season-opener. The pair, with Fraser-Burns on pole, took their places on the front row of the grid for race one. McDermid took the lead at the start and stayed ahead to lead Fraser-Burns home by 1.5 seconds. Invitation clas entry, Stuart Tranter was third in his Rover 220 Turbo. Simon Lowery in fourth completed the Class C podium and was voted Driver of the Race by the race commentators.
Overall championship contender Ian Boulton was first to the flag in Class B, leading home his title rival and fellow MG ZR 170 runner Dan Ludlow. Class C's Ashley Woodward, who led the overall points coming into Snetterton, could only finish seventh in class with a down-on-power MG ZS 180.
McDermid and Fraser-Burns again filled the front of the grid for race two with McDermid on pole this time. The duo again had a close scrap for victory. Although Fraser-Burns got ahead briefly, McDermid again emerged on top after 20 minutes of very entertaining racing.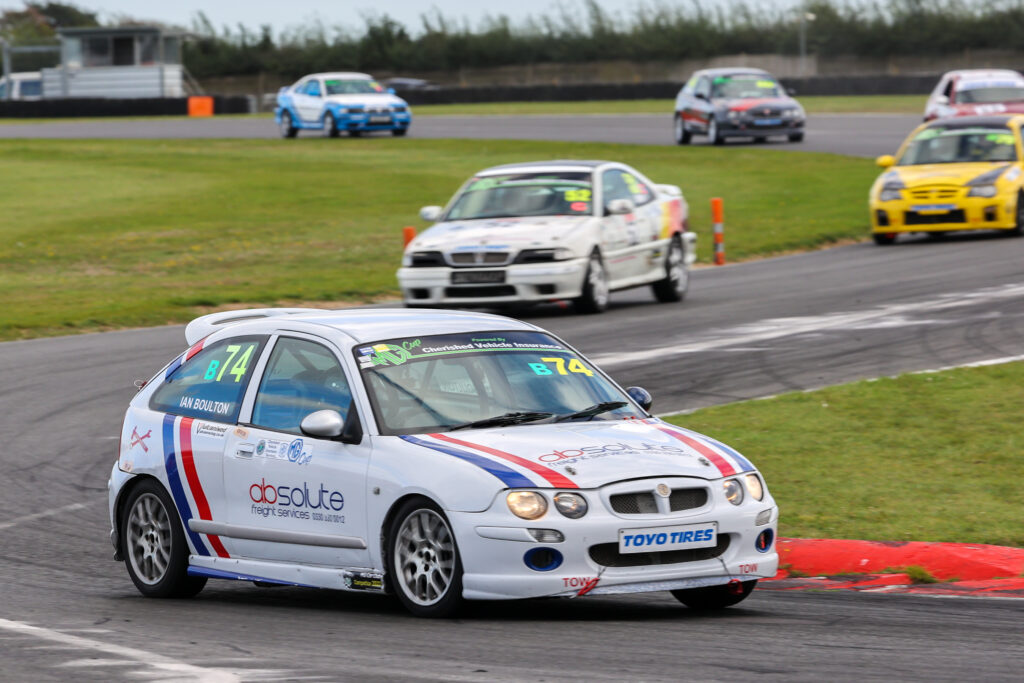 McDermid said: "I didn't really expect it and that second race I nearly lost it, I'm having a nightmare selecting gears. It happened at least four or five times and every time it happened obviously Jake closed the gap and he was right on me again. I'd pull away and get a little bit of a distance and it would all be for nothing.
"[Fraser-Burns] is good [to battle with], he's consistent, and we were about the same speed. [The car] wasn't really set up right [in race one] but it was better in the second race."
Tranter in race two again was third home ahead of another returnee, Lance Ellington in his 220 also competing for the first time since Brands. He was third in Class C and also got driver of the race.
Jack Chapman in his 170 won the Class B race, beating Boulton by just half a second, while Ludlow was fourth home in class. The result ensured that Boulton is overall MG Cup champion for 2023.
Boulton said: "I had a bad time getting here because the van broke down! And [in race one] we had a brilliant race and got a class win, which was lovely.
"[In race two] I wanted a clean race with no nonsense and it was anything but that. I managed to avoid getting any contact, but everyone around me was getting contact everywhere. And I found myself stuck in the middle of a pack, and I just had to pick my way through it to get into a safe space. When I got there, and I caught up with young Jack, and I thought 'well he wants to win, I don't need it', and I just sat behind him.
"[The season was] fantastic, enjoyable, with some lovely people."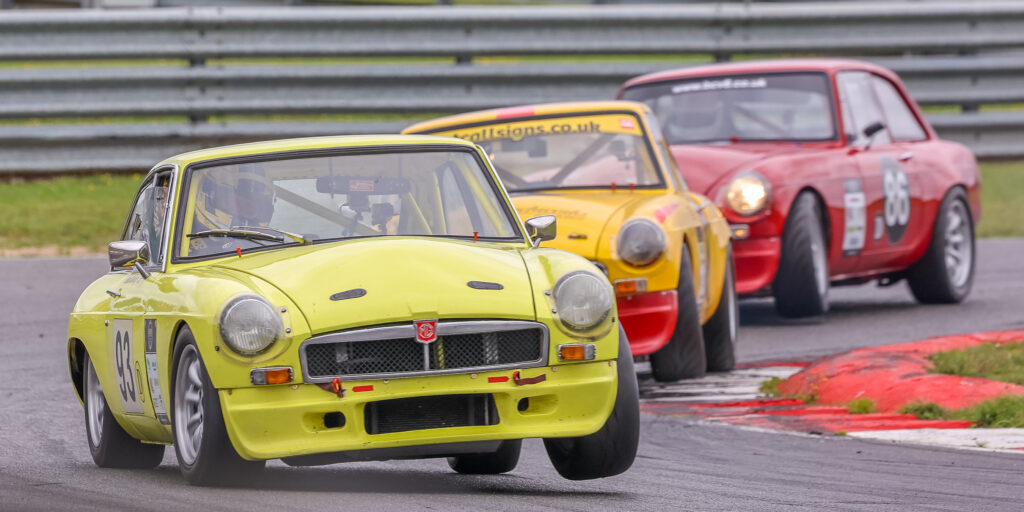 BCV8 Championship
Russell McCarthy was on fine form in his MG B GT V8 as he took pole position at the BCV8 championship's penultimate meeting of the season. However, all was not well with McCarthy's bright yellow machine and there was frantic activity in the paddock to change the gearbox and a half-shaft.
The work was finished in time and McCarthy was able to take his place on the grid for race one but dropped back to third at the start behind his similarly mounted rivals James Wheeler and Neil Fowler. McCarthy clambered his way back to first by half distance and went on to win despite having to fend off the close attentions of Fowler to the end.
Andrew Young in his MG C roadster took the flag in fourth place overall to win Class C, 3.5 seconds ahead of class rival Ken Deamer in his MG B GT V8. Babak Farsian's MG B Roadster won Class B not far ahead of Simon Cripps' MG B, after the class leader, Paul Eales, retired with a gearbox problem. David Strike was a comfortable Class AB winner in his MG B GT.
McCarthy wasn't able to fight for a double win at Snetterton as he retired almost immediately from race two with a misfire. It left Wheeler leading Fowler in a close fight for the win. Fowler briefly got ahead but half a lap later had a lock-up and Wheeler retook first place. They finished in that order.
Young passed Oliver Wardle's MG B GT V8 to seal a double win in Class C but he only held off his foe by three tenths at the end. Farsian again beat Cripps in Class B while Strike also became a double class winner.
McCarthy said: "The highs and the lows of motorsport! The first race I had a good race but the alternator fell off, and in [race two] I had a misfire. I'm not that disappointed, I've had quite a good weekend, because the first race I really enjoyed. You can't win them all basically.
"The car was quick, the car was handling well, I've done a few things to the suspension over the last couple of years and it seems I've got it into a place where it's driveable."
Wheeler said: "[Race two] was absolutely brilliant, it felt like an hour race though because holding off Neil for that many laps, he really piled the pressure on.
"A lot of times this year I've been the one behind him. I didn't want to let him past because I felt he was the quicker and then when he got me I thought 'that's it he got me', and then he locked up! Excellent race, what BCV8's all about.
"For race two I went stiffer with the suspension and that seemed to really help out compared to the first race, the tyres lasted a lot longer."
Wheeler also made another discovery on his car prior to the Snetterton races. "The rear wheel hub was slightly loose which had been knocking the pad out," he added, "so the last two races I've been chasing air in the brakes and it was actually knock off where the bearing's slightly loose and knocking the pads back. So once I found that out I was sorted!"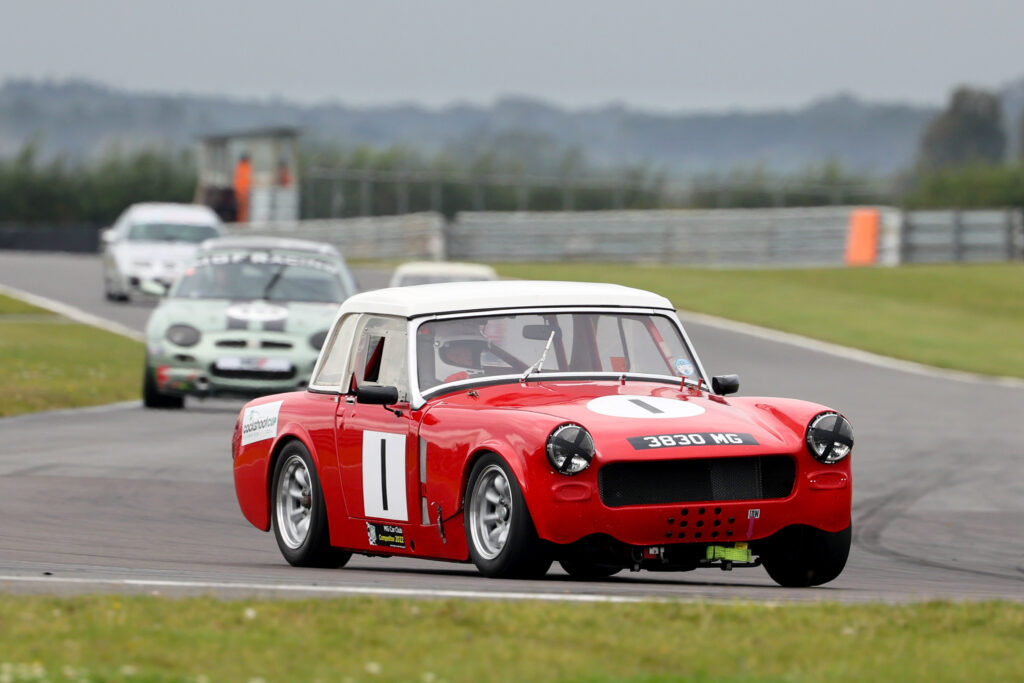 Cockshoot Cup Championship
The Cockshoot Cup runners made a rare visit to Snetterton and had a championship fight to settle, chiefly between Class F's Phil Rigby in an MG F and defending champion David Morrison in his Class B MG Midget.
At the front Mark Wright took pole for race one in his MG F Cup car with Morrison alongside him on the front row. As usual, the Midgets of Morrison and Keith Egar got rocket launches but Wright was able to maintain first place on the outside of Riches.
It set Wright up to win comfortably, despite a safety car interruption after Helen Waddington's MG ZR 170 spectacularly blew up at the rapid Coram curve and the resulting oil spill led to several cars spinning or half spinning.
On the resumption of racing Egar and Chris Greenbank (MG F) got past Morrison who was focused on taking Class B victory. Wright went on to take the flag 3 seconds ahead of Egar and Greenbank who finished second and third respectively. John Payne finished second in Class B having recovered from a spin on the oil to beat Mark Bellamy across the line for the place. Payne's efforts earned him the Driver of the Race award.
Rigby had a frustrating race. He had a spin at Coram while trying to recover after losing time as the field spread out at the safety car restart and could only manage this in class. Gareth Jones (MG TF) won in Class F.
Egar jumped Wright at the start of race two and the pair had a fascinating place-swapping battle for the win which went in Egar's favour. Egar also set a new outright Cockshoot lap record and received the Driver of the Race award.
The championship mathematics were that Morrison would retain his overall title with a class win, and that's what he again achieved when he took the flag in fourth place overall. Rigby though did what he could with a class win of his own, beating Gregory Elgood who had to drop out late on with a misfire.
Morrison's two Snetterton class wins meant he had eight wins in a row – a maximum in the championship where eight of the 10 results count – after having to sit out the two races at Oulton Park's season opener as his gearbox was leaking oil.
Morrison said: "I didn't expect [the championship win], the first two rounds we had gearbox trouble at Oulton, so I said 'right it's 10 rounds, the best eight to count, those eight have got to be class wins', so that's what we've done.
"I was still on the back foot with Phil, but we've done it. Reliability since then [Oulton]; do it yourself if you want it doing right. I trusted somebody else to machine a bush and he done it too tight and the seal got hot and dumped the gear oil at Oulton.
"You're under pressure [since Oulton knowing you can't slip up again] but the car's been phenomenal, reliable, and it's on rails. It's never blinked since then. We've just gone through everything after every race."
Rigby said: "I was disappointed in myself [in race one] because I drove abysmally, but I got away unscathed from spinning. So I was a bit down because I was kicking myself. [Race two] was totally different, it went very well.
"Greg [Elgood] was for the first two or three laps really pushing me, he must have had three Weetabix this morning, but sadly he's DNFed.
"[It was] an excellent season, first class for me, this is a fantastic crew, the Cockshoot crew, they really looked after me. It's cut throat on the track but in the paddock you couldn't hope for a better spirit."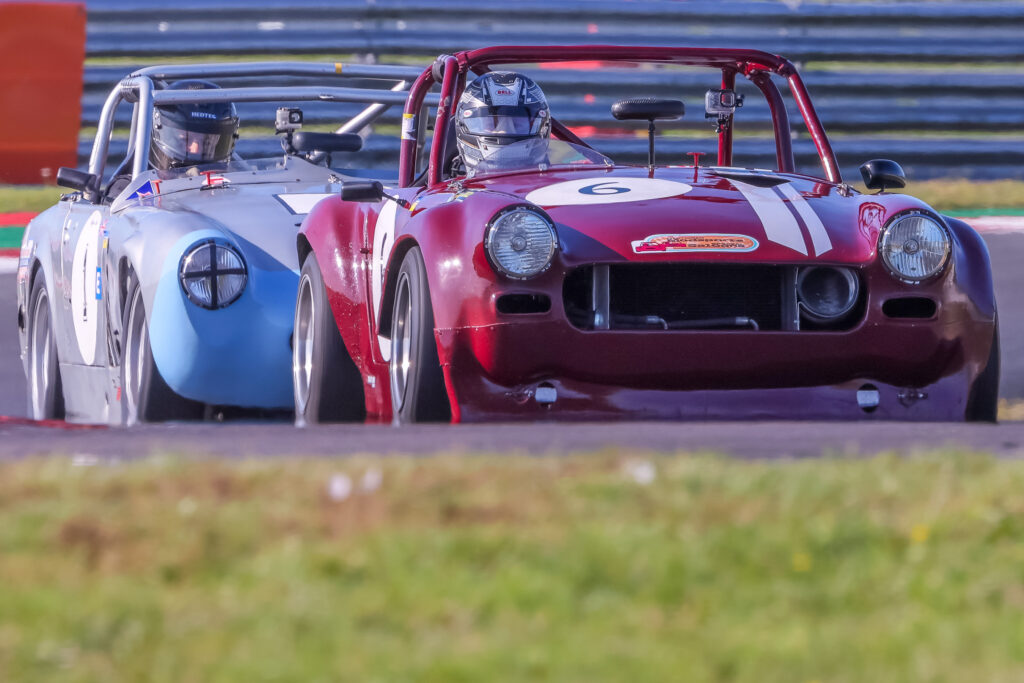 Lackford Engineering Midget & Sprite Challenge
Martin Morris – back in his maroon Class A Midget due to damage to his blue-liveried version – was dominant out front in the Midget & Sprite Challenge at Snetterton and won both races of the double header.
The fight for the championship in this season-closing meeting was chiefly between Class D Midget pair Hugh Simpson and Barnaby Collinson who was just behind on points. Simpson's Norfolk weekend didn't start well as his gearbox broke on his qualifying out-lap. Amazingly, he was able to to take part in the races having had a gearbox loaned to him…by his title rival, Collinson.
Simpson managed to jump from the back of the grid to head the Class D runners on lap one of race one, but then – running at race speed for the first time that weekend – he locked up and ran off track. It left Collinson with a clear on-track class lead ahead of Simpson and that's how they finished, the result shrinking the points gap between them.
Pippa Cow and Richard Bridge, running in P2 and P3 behind Morris, once again had a thrilling place-swapping battle for the Class E win. Cow pipped Bridge by a tenth at the flag for the class triumph and second place overall.
Morris once again dominated race two while Cow and Bridge once again had a close battle for second overall and the Class E win. Cow again prevailed and received the championship's Driver of the Meeting award.
The championship battle however was resolved almost immediately in that second race as Collinson slowed because a distributor lead detached and he was only able to rejoin the action three laps down. This left Simpson set fair for the title and, having jumped to second in class from the back of the grid on lap one, he passed Andrew Caldwell for the class lead on lap two and won the class comfortably in fourth place overall. The championship was his!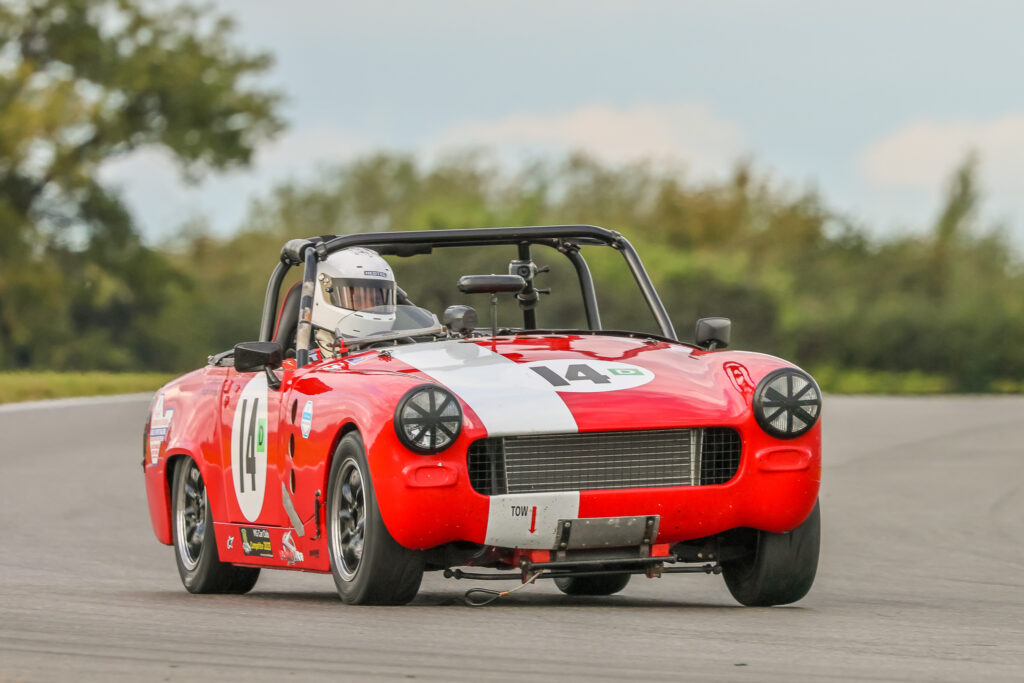 Simpson said: "It's a bit surreal really, it's been a really tough season, Barney's pushed hard all season and obviously helped us out yesterday with the gearbox, so we thank for him for that. Gutted that he had the problem today so we didn't have the fight to the end. But absolutely thrilled to take it.
"We've [this season] had the engine apart twice, we had a head gasket at Combe, we had piston rings all get cooked at Silverstone, had the gearbox issue yesterday, so it's not been an easy season. But it's been brilliant fun."
Collinson said: "A lead came off on the dizzy and it died, that was it. It's [the car] been mega all year apart from that one first mechanical failure all year on the championship-deciding race."
Double-winner Morris said: "It's been [a] fabulous [weekend], really good, and those guys behind me they kept me on my toes. Unfortunately Mike Chalk I thought was going to be with me but something happened to his car. But just the same having two [Class] Es behind battling for the championship was enough to make me keep on the ball. You make a mistake, you're in trouble.
"I was racing with the HSCC Modsports up at Croft with the blue [car] and unfortunately I lost my front wheel in the second race and we couldn't get the suspension done quick enough, so I put the engine back in this [maroon] one.
"They both go really well but the blue one handles a lot better. But no complaints: you win two races in a championship like this it's got to be a good car!"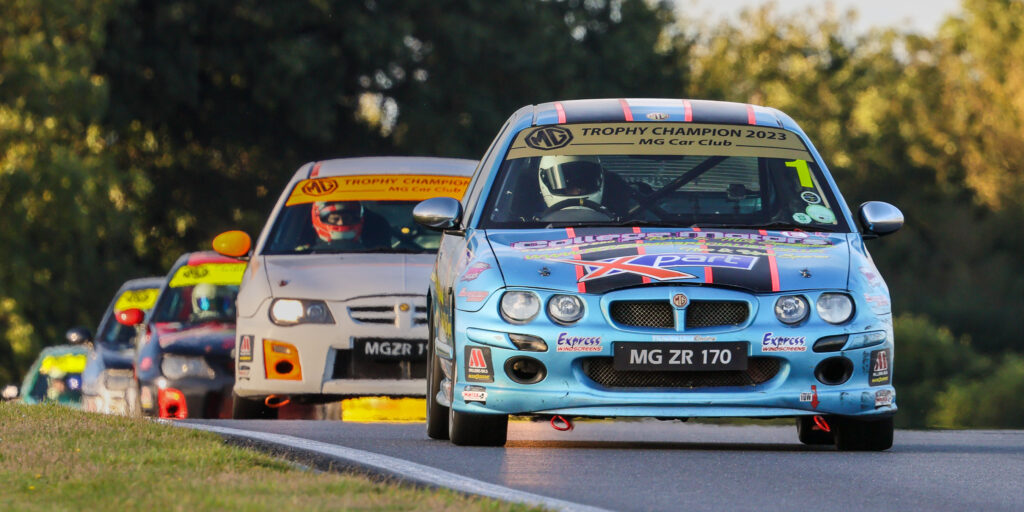 The Holden MG Trophy
The MG Trophy races at Snetterton featured a high-quality five-way battle at the front. Adam Jackson and Fred Burgess returned to the MG ZR 190 Class A contest to join habitual frontrunners Graham Ross and Doug Cole plus Cadwell Park's in-form man, Sam Meagher.
At the start of the first race the front five quickly became three as poleman Meagher spun at the first turn and Jackson had to run off the track in avoidance.
Ross had taken the lead at the start and stayed ahead for the duration while Cole held off an attacking Burgess before Burgess dropped away late on with an exhaust breakage but still finished third. Jackson set fastest lap and recovered to fourth place before parking with a driveshaft failure.
James Cole dominated Class B after establishing a clear early lead and he beat newly crowned overall champion, Tylor Ballard, by six seconds. Ballard, after claiming the title at Cadwell last time out, ran the number one and a special gold champion's windscreen sunstrip (a surprise gift from Graham Ross) on his car at Snetterton.
Tony Wigley, who finished fifth in Class B, was awarded Millers Oils NanoDrive Driver of the Race.
Ross said: "In qualifying I looked at the times, 1.2s behind, and I thought 'this is going to be a struggle'. But I made a good start. I thought that was my only way if I was going to maybe win it or control it if I could get to the front.
"And I'd made a couple of adjustments with set-up, because I've been twiddling all year with set-up, and it certainly wasn't any worse, let's put it that way. I just felt really good, felt comfortable, and just felt I could pull a gap. Chuffed there's life in the old dog yet!"
At the start of race two Ross again led from Doug Cole while Jackson immediately vaulted from 10th on the grid – after traffic problems in qualifying – to run fourth behind Meagher, with Burgess completing the front quintet.
Ross looked good for a double win but spun at Murray's. This let Meagher – who'd passed Cole early on – into the lead but with Cole on his tail. Cole got by to lead with a lap to go thanks to a fine move at Riches were he lined up on the outside line of the defending Meagher then cut back to out-accelerate him on the inside at the corner's exit.
It meant Cole won his final race before retiring from full-time racing and, adding to the celebration his son James doubled up on Class B wins holding off Ballard and Scott Bugner. Cole Sr also got Millers Oils NanoDrive Driver of the Race. Jackson, meanwhile, pitted as his driveshaft broke , the other side this time, and the grease in the boot went onto the exhaust filling the car with smoke.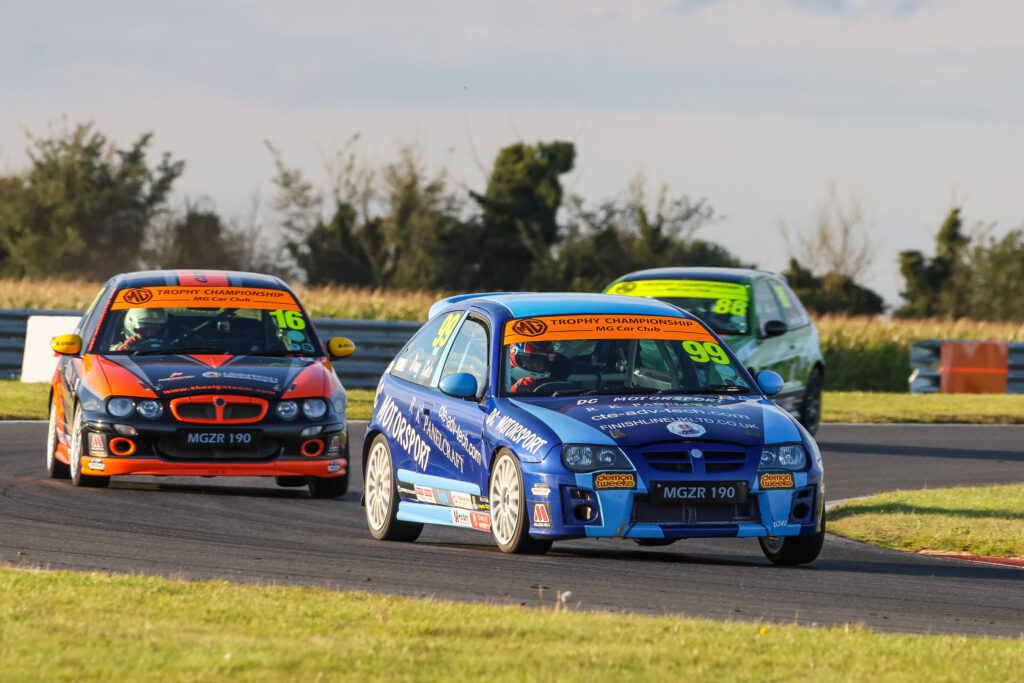 Cole said: "Just bided my time, tyres were coming in slowly, and when I saw Graham go off I started charging.
"[Meagher] was struggling around Coram so I thought 'I can get a run up here'. The lap before [at Riches] I went to the left a little bit and he covered the right. And I thought 'I know what I'm going to do next lap'. [The next lap] exactly the same thing, he tried to get too tight and I did the old switch back: 25 years of racing teaches you something!
"So the last official MG Trophy race, and I win the race. And my son won as well, even better!"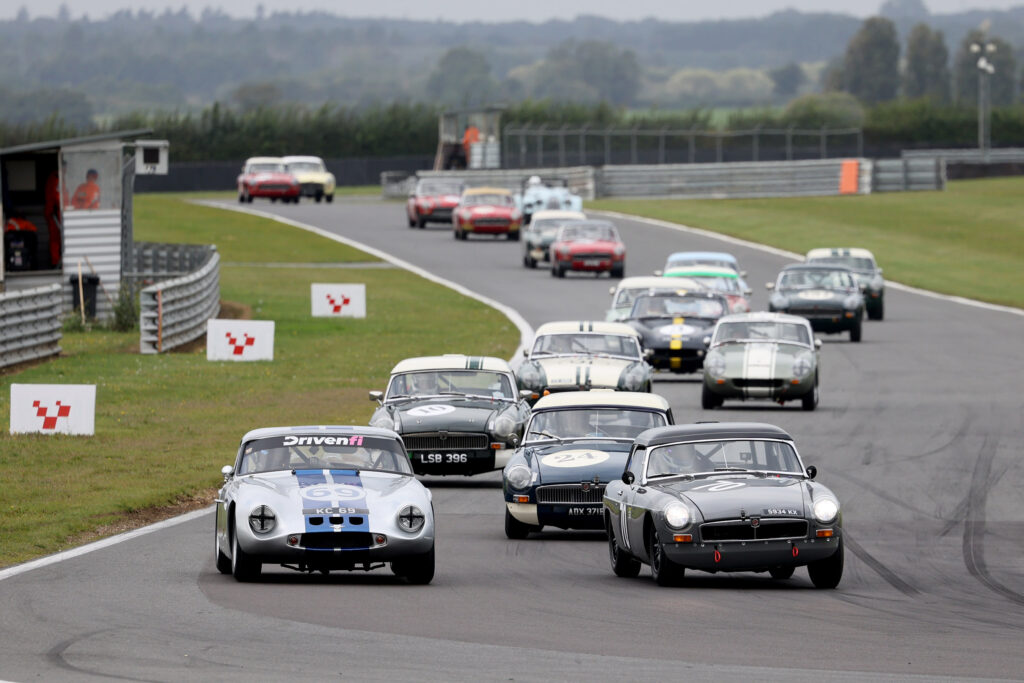 Equipe GTS
Equipe Classic Racing joint-owner, Rob Cull, won both Equipe GTS races in his TVR Grantura Mk III. He won the opening race by 25 seconds from pole despite having to perform a 40-minute differential change prior to the race and getting out to the grid with seconds to spare.
Lewis Saunders in his MG B Roadster was Cull's closest challenger but dropped back late on after his alternator broke.
Second-placed qualifier, Lee Atkins, was not able to race as a thread was pulled out of the cylinder head of his Grantura ending his meeting early.
In race two Cull again led from pole though this time had a close challenge from Saunders. They swapped the lead a couple of times early on before Cull moved clear to win by 10s.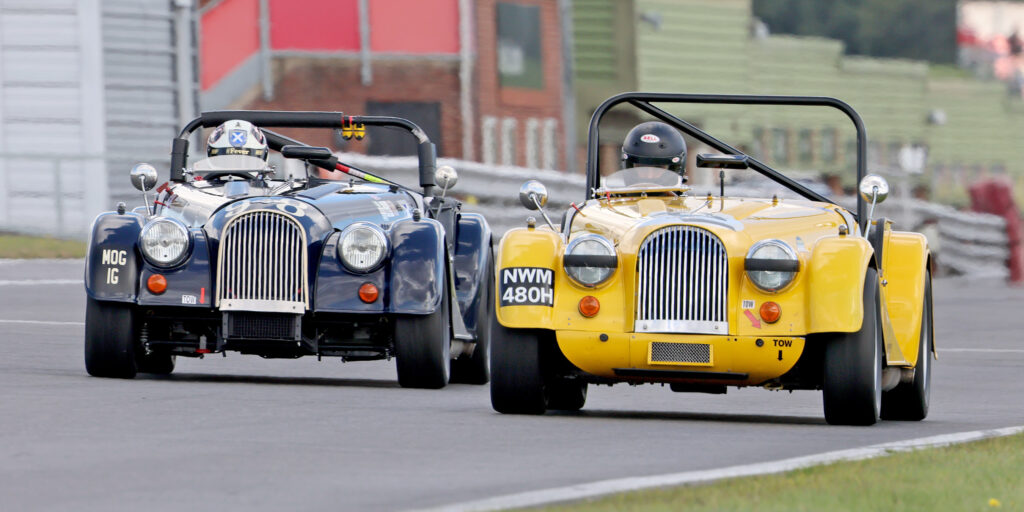 Equipe 70s/Pre-'63/50s
Andrew Wenman in his Morgan Plus 8 won the opening Equipe 70s/Pre-'63/50s race after taking the lead from poleman and fellow Plus 8 runner, Kevin Kivlochan, at the end of the opening tour. Wenman won by 20 seconds from Martin Reynolds' Ford Mustang Mach1 which climbed from fourth to second early on but couldn't match Wenman's pace.
Mark Holme meanwhile won the Pre-'63 and 50s race on its split grid. In his Austin-Healey 3000 the poleman dropped to third early on but quickly reasserted command to win comfortably.
In race two Wenman and Kivlochan both dropped out early with technical problems: Wenman was down on power as well as sensed a strange smell (that turned out to be from his new brakes) so he decided to pit, while Kivlochan's oil pressure light came on. It left Reynolds to lead home a Mustang 1-2 by 15s from John Dickson. Jack Rawles pipped fellow Austin-Healey runner Holme by a tenth in the Pre-'63 and 50s race.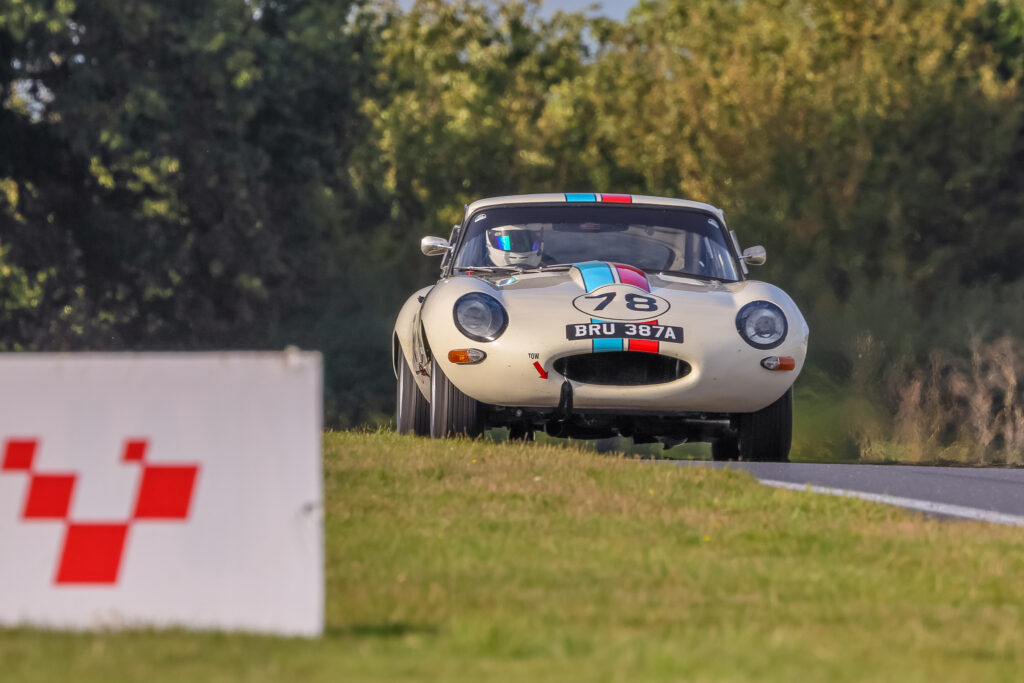 Equipe Libre
Danny Winstanley dominated the Equipe Libre double-header in his Jaguar E-type. He topped qualifying by 4.6 seconds then was eight seconds clear at the end of race one's opening lap. He eventually won by over a minute and a half.
Winstanley's dominance was helped further as his two closest rivals from qualifying dropped out of race one early with technical problems: John Dickson had problems with the clutch clearance in his Ford Mustang so couldn't get gears while Paul Whight had an intermittent ignition fault in his Lotus Elan.
Race two had a similar story at the front as Winstanley again dominated. The main variation this time was there was a red flag after Can Bitirim's MG B blew up at Murray's and dropped fluid resulting in a number of cars skating off track. The stoppage left a post-restart five-minute sprint to the flag. Winstanley still won by 9.5s, from Dickson who passed Frederic Laurent's E-type at Riches for the place late on.
Uncle Luke's Snetterton Saloons
Colin Tester moved clear from pole in first place in the opening half of the Snetterton Saloons' 45-minute pitstop race in his BMW E36 M3 with its mid-1990s British Touring Car Championship Schnitzer-inspired livery.
However after he handed the BMW over to his driving partner Ed Leigh their chasing team-mate David Marcussen – also in an M3 – and Luke Allen in a Volkswagen Golf TCR closed in. And in the final minutes Leigh and Marcussen collided as the latter sought to pass the former for the lead. While they recovered from their spins the near-at-hand Allen nipped into first place. However, Allen already had a one-lap penalty for a too-short pitstop and this cost him his on-the-road win.
Marcussen therefore looked set to inherit victory but he got a one-minute penalty for the collision, while Leigh had pitted after the clash. It all meant that James Mumbray, also in an M3, inherited the win, while BCV8 frontrunners Ollie Neaves and Russell McCarthy, who were sharing an M3, got second.
When the flag fell on the last race of the day on 24th September it brought an emotional end to racing as we know it for the MG Car Club championships. There will be more news about their plans for the future in the coming weeks.
Words by Graham Keilloh. Photographs by Dickon Siddall.