MG Live! back with a bang on Silverstone's sweeps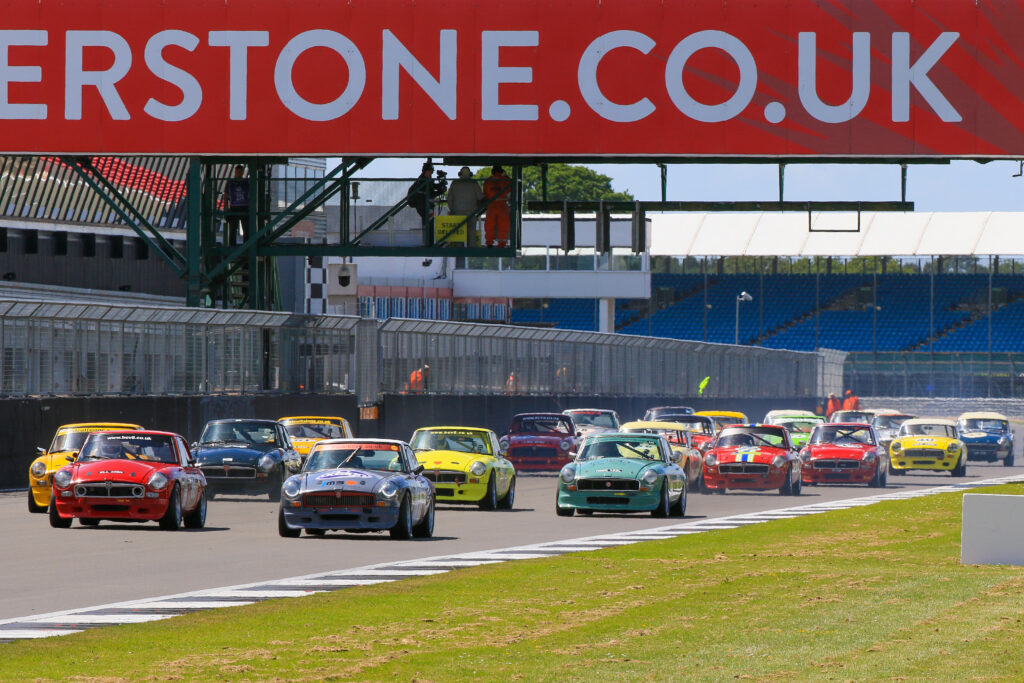 It was a big weekend for MG Car Club racing as the club's showpiece MG Live! event returned in full for the first time since 2018, after a combination of track resurfacing and Covid had kept the blue-riband meeting in its full form away in the interim.
And MG Live! brought with it a rare opportunity to race on Silverstone's full length and flowing Grand Prix circuit.
The weather was appropriately kind with dry and sunny, if sometimes breezy, conditions throughout the two days. And MGCC's competitors and those from the support programme lived up to the occasion with large grids and entertaining battles on Silverstone's sweeps across a packed schedule.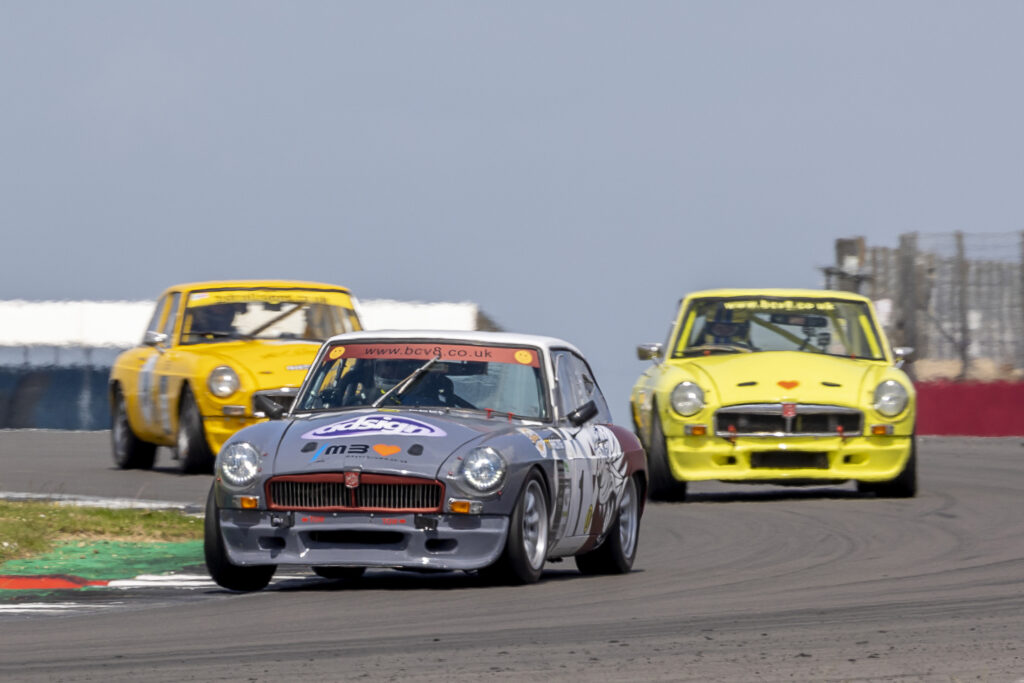 MGCC BCV8 Championship
Reigning BCV8 champion Ollie Neaves (pictured above) took part in the contest for the first time in 2022 at Silverstone, and he in large part picked up where he left off by taking two more wins from pole. His victory margins were though a lot closer than we had got used to in the last couple of years, in part due to suspension rule changes between seasons.
Behind Neaves in race one, third-placed Russell McCarthy closed in on James Wheeler during the race to have a close fight for second, though Wheeler held the place. The pair also got closer to Neaves in the late laps as the leader nursed his clutch.
Neil Fowler, who won twice in BCV8's previous round at Oulton Park and qualified next-up to Neaves here, dropped out early in race one with a gearbox problem, having already been frustrated by a radiator problem the day before.
Andrew Young in his MG C Roadster won in Class C by almost 10 seconds from Jim Bryan, while Mark Scott in his MGB Roadster was an even more clear winner in Class B. James Walpole in his Roadster won out in a close battle for Class AB victory with David Strike's GT, and Walpole also got Driver of the Race for his effort.
Neaves' fears about his clutch came to pass at the start of race two as he dropped to fifth at the start. Fowler grabbed the lead, though he again had to retire early with another gearbox problem. This let Neaves, who had by then climbed to second, into the lead and he again edged clear of the battling McCarthy and Wheeler behind.
Wheeler got ahead of McCarthy at half distance and gamely chased Neaves, but Neaves was still clear by around 3s at the finish. Young just beat Bryan home in Class C, while Scott edged Paul Eales in an all-Roadster fight for Class B victory.
Behind them Howard Grundon similarly edged fellow GT V8 runner Stephen McKie for third in Class B after a race-long battle, and Grundon got a popular Driver of the Race award with it. Strike this time beat Walpole for the Class AB win.
Neaves said: "As usual the car is absolutely amazing, just really pleased with it.
"It was a bit more action packed that race [race two], got a bad start and then I thought I'll keep out of their way for the first corner or so, it was really good fun coming back through. And James wasn't letting off so I had to keep going.
"[The clutch] was grabbing [at the start], I got quite a lot of wheelspin, and then everyone shot past me.
"The car's not actually quite as quick as it was [before the rule changes], it's about a second a lap slower. But it's still enough to give me a bit of an advantage. It's definitely getting closer, [but] there was an element of managing the gap."
Wheeler added: "We kept Ollie honest which is the main thing. I had an issue from qualifying which we've had to manage all weekend, the diff, and if we hadn't had to manage that maybe I could have kept him more than just honest. [But] I had a cracking race with Russell.
"Ollie's car is still stunning though, the level of the detail he goes into is just something else. We're going to have to up our games a bit and try and catch up with that. It's a lot closer: we've gained a second and a bit; he's lost a second."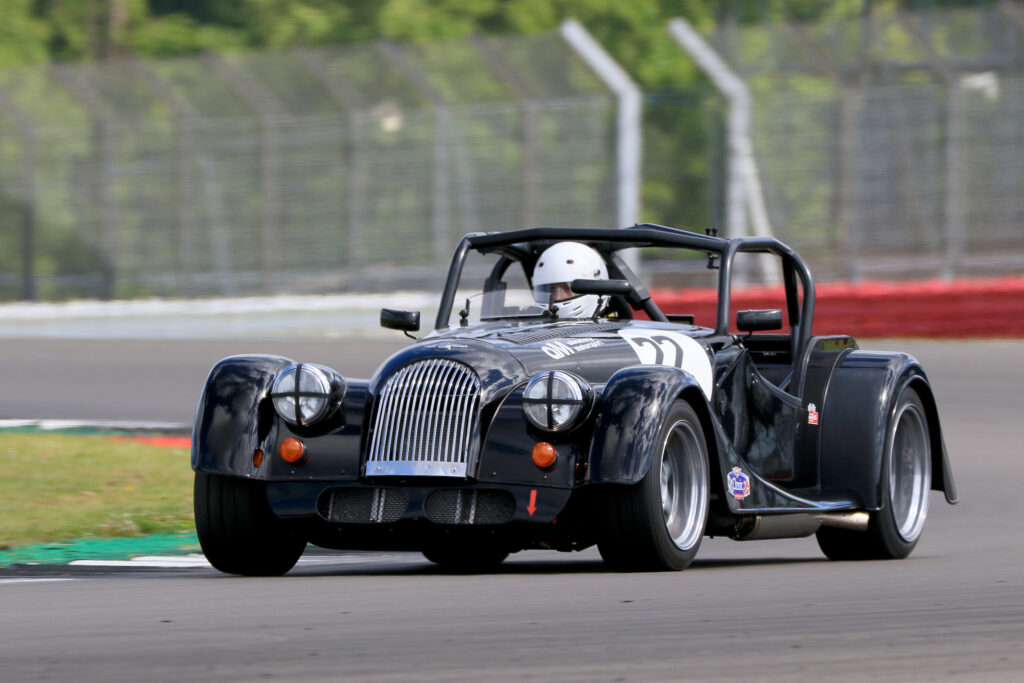 Morgans & Sports Cars
The meeting's Morgans & Sports Cars race was for competitors from Morgan Sports Car Club as well as some classic MGs that have not had somewhere to race for a time.
The Morgan +8 shared by Bill and Howard Lancashire got a dominant win from pole, while behind Roger Whiteside's +8 and James Bellinger's ARV6 during the first stint had a close place-swapping battle for second. Whiteside moved clear in the second half of the race after Simon Orebi Gann took over from Bellinger, though Orebi Gann nevertheless retained third place to the finish.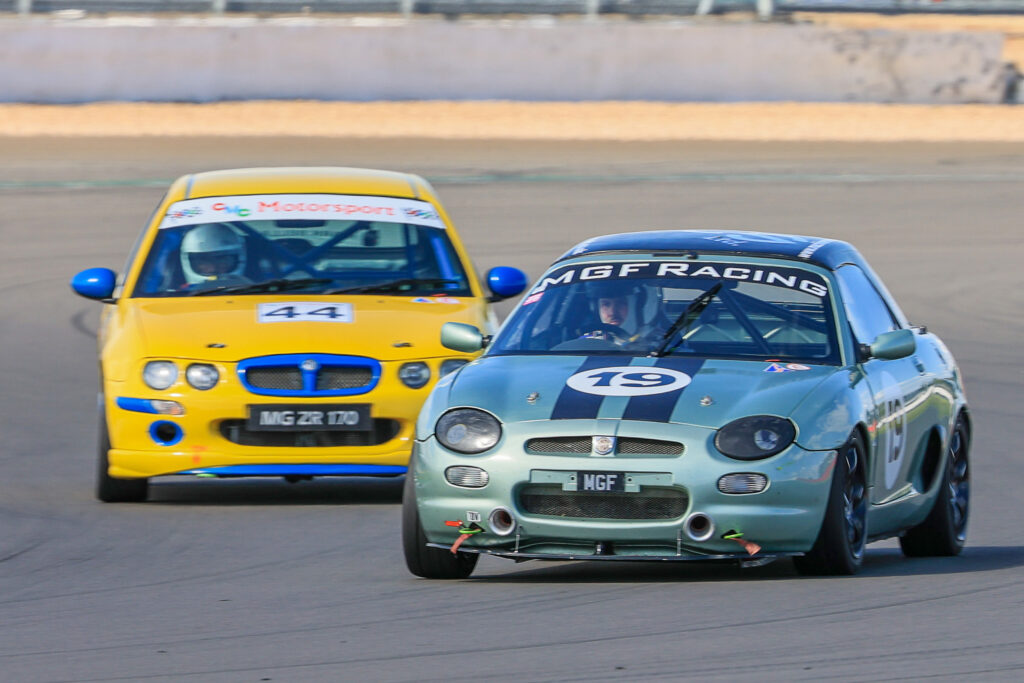 MGCC Cockshoot Cup
Karl Green in his MG ZS 180 took a clear win in the opening Cockshoot Cup race, finishing 4s clear of the eagerly pursuing Paul Wignall also in a ZS 180.
This was despite Green developing a differential problem in the race that he felt he had to nurse to the end. It was despite too the race being interrupted by an early red flag as two cars from MG Cup, which Cockshoot Cup was sharing the track with, went off at Copse.
David Greenbank made it a race-one 1-2-3 for ZS 180s while MG Midget contender, Keith Egar, spun more than once as after a puncture on one of his slicks in qualifying he didn't have another slick to replace it with. So he had to use the road tyre as a fall back, leaving him short of grip.
David Morrison, who has returned to Cockshoot Cup this year after being more commonly seen in Midget and Sprite Challenge recently, was fourth home in his MG Midget and first in Class B. John Payne in his Austin Healey Sprite was class runner-up and got Driver for the Race after climbing at scarcely credible speed from starting at the back due to a yellow flag infringement in qualifying. Christopher Greenbank (pictured above) in his MG F was the clear Class F winner.
Green's crew changed the car's differential overnight and on Sunday Green had no technical trouble in claiming his second win of the weekend. This time though Wignall led him from the off, but Green was unchallenged for the win after Wignall dropped out at half distance when his coolant hose let go. The now-fully slick shod Egar finished second, climbing from starting seventh after his puncture-compromised qualifying.
Morrison doubled up with another Class B win and fourth place overall, while this time Mark Bellamy in his MG ZR 170 was second in that class and got the Driver of the Race award. Greenback took another clear Class F victory.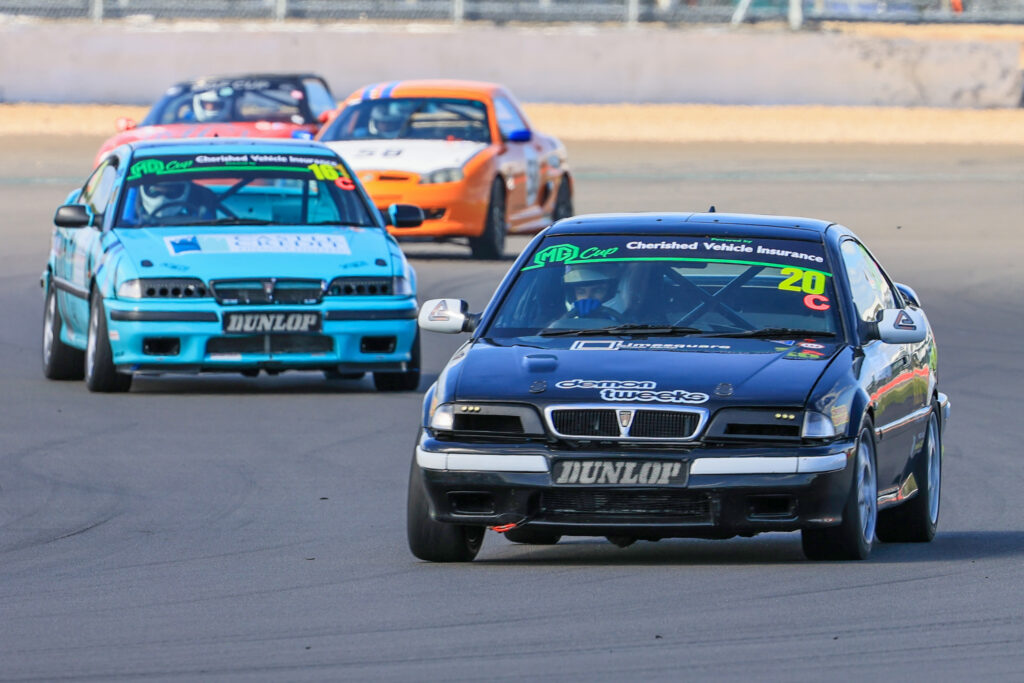 MGCC MG Cup powered by Cherished Vehicle Insurance
MG Cup shared the track with Cockshoot Cup, and 2019 MG Cup champion Richard Buckley (pictured above) continued his 100% record in Class C this year, taking both Silverstone wins outright and making it six class wins from six for him this season.
In both races though he had a close and entertaining battle for first overall with fellow Rover 220 Tomcat Turbo runner Matt Simpson (also pictured), who was back in MG Cup for this event having switched to MG Metro Cup this season.
Simpson got pole for the first race and led. Then Buckley got by on the second tour but Simpson resumed the lead when the order was put back a lap after two cars off at Copse resulted in an early red flag. Simpson again led from the restart and the pair again had a frenzied battle, but Buckley made his move for first permanent after a couple of laps and won by 3.4s, and got Driver of the Race with it.
Fergus Campbell in his ZR 170 won the Class B contest. Campbell had the classes' chief two championship protagonists Ian Boulton and Iain Dowler close behind, and both of them left the track in their battle on the last lap. Dowler still managed to finish second and Boulton third. Marcus Short continued to dominate Class A with another clear win in his Rover 216 GTi.
Buckley had pole for race two, but Simpson again got ahead of him at the start. The duo again diced closely and Buckley got ahead on acceleration exiting Luffield at the end of the second lap, and eventually beat Simpson home by just under two seconds.
Campbell in Class B this time retired early with an engine failure, having replaced the block between races after developing a problem in race one. Boulton this time won the class, edging clear of Dowler, and Boulton moreover got third place overall from Dave Nixon on the last lap. This all got him Driver of the Race too. Short won again in Class A.
Buckley said: "Pretty good, a little bit difficult with the mixed grid, made it a little bit tricky, but two really good races.
"Racing Matt [was] great fun, nice and close, he'll get me somewhere, I'll get him. Came out with two wins, and Driver of the Race as well. I love getting Driver of the Race, because that means you've entertained.
"They're [the Tomcat] pretty fast cars and Matt is really good to race against. We can go so close, mirror to mirror, almost touching each other, never exchange paint."
Simpson similarly enjoyed his weekend: "It started with qualifying, Rich nicked pole off me on his last lap but I was in front of him so I had one last lap and managed to put in a good time and get it on pole.
"I managed to lead the [first] race, I just run out of tyres, I couldn't find front-end grip all weekend. Buckley just had a little bit more front-end grip than me. I think I kept him honest.
"Second race, better place to start, I'm already on the inside line going in [to Copse] and backed him up a little bit. Then just try and go, go, go, get past as many Cockshoot cars as I could, and hope that they hold him up. But again ran out of tyres, especially through Brooklands-Luffield complex, and he outdragged me down the straight.
"The Metro Cup don't run here, although they've got some guys that have run it just for fun, so I had always planned to do MG Live! in the Tomcat. It's suited to the circuit, so it's got to be used! And when Richard said he was going to do it as well I was like brilliant, got to go out and have a battle with him."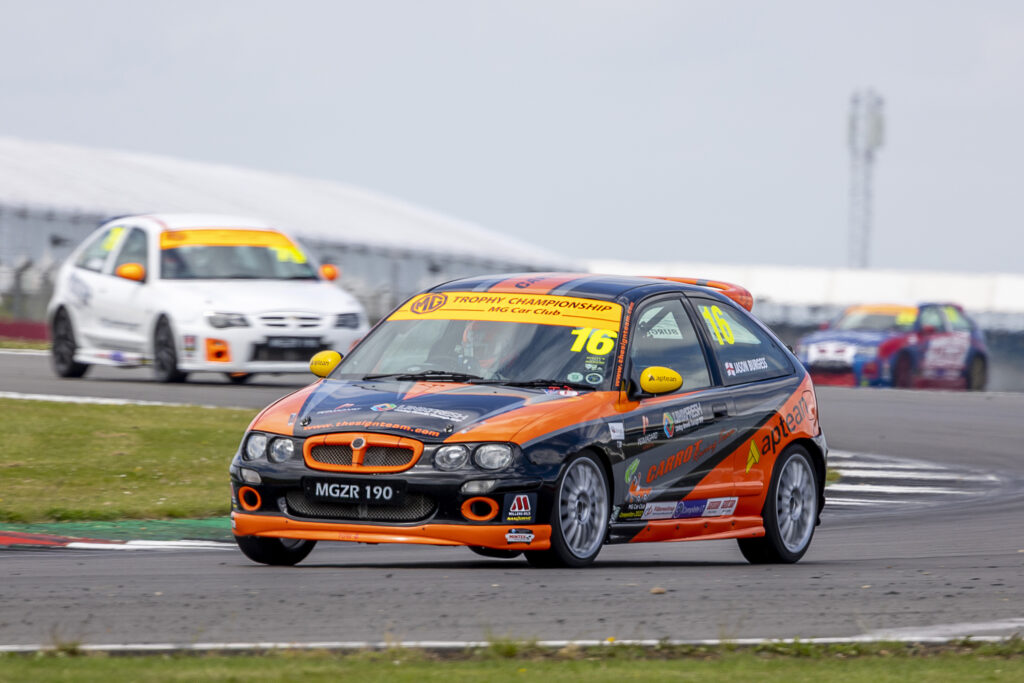 MGCC Perrys Aylesbury MG Trophy
The returning Jason Burgess (pictured above) continued his MG Trophy race-winning form started in the previous round at Cadwell Park by taking both wins at Silverstone in his MG ZR 190.
Burgess, the runner-up in 2018's MG Trophy, led Silverstone's race one from pole and crept clear from Adam Jackson next up. Doug Cole passed Jackson for second at around the halfway mark but by this time Burgess was over 5s up the road and the gap between them at the end remained similar.
There was a tight place-swapping fight for Class B honours, which Tylor Ballard – bouncing back from major car damage at Cadwell – just won out in by a mere 0.3s from Joseph Dalgarno, while MG Trophy points leader heading into this round Josh Bromley was also close at hand in third. Ballard got both Driver of the Race and Driver of the Day for his run.
Burgess in race two once again led from pole, though Jackson challenged him closely in the opening turns. Cole meanwhile climbed from fourth to second by one-third's distance, though again could not bridge the gap to the leading Burgess, who was 7.5s ahead at the end and Cole only just held off Jackson for the runner-up spot by under half a second.
Burgess's dominant win got him Driver of the Race and also Driver of the Day, meaning MG Trophy drivers took both of the meeting's Driver of the Day awards.
Class B's race-one winner Ballard spun in race two at Maggotts, and resumed but could only finish fourth in class. Dalgarno took a comfortable class win ahead of Bromley.
Burgess said: "Obviously to have two wins is really good, it's not what I expect when I come, I know I have to work for it.
"In both races I had a good clear getaway, a bit of pressure on the first couple of laps while I got the car up to temperature from the competition, particularly Adam and Doug, but then after that managed to get away.
"I don't ever think of the championship, I come to enjoy the weekend. I like to enjoy the moment wherever I am and doing whatever in my life and try not to put too much pressure on myself. We'll keep doing that, it seems to be working!
"At Cadwell it was my first time out for over three years, I'd forgotten how hard you had to drive the car and how physical it is to get the lap time that you need. And I actually never found the lap time I wanted at Cadwell, I have found it this weekend. If there had been more competition at Cadwell some of the people I've beaten today may well have beaten me at Cadwell."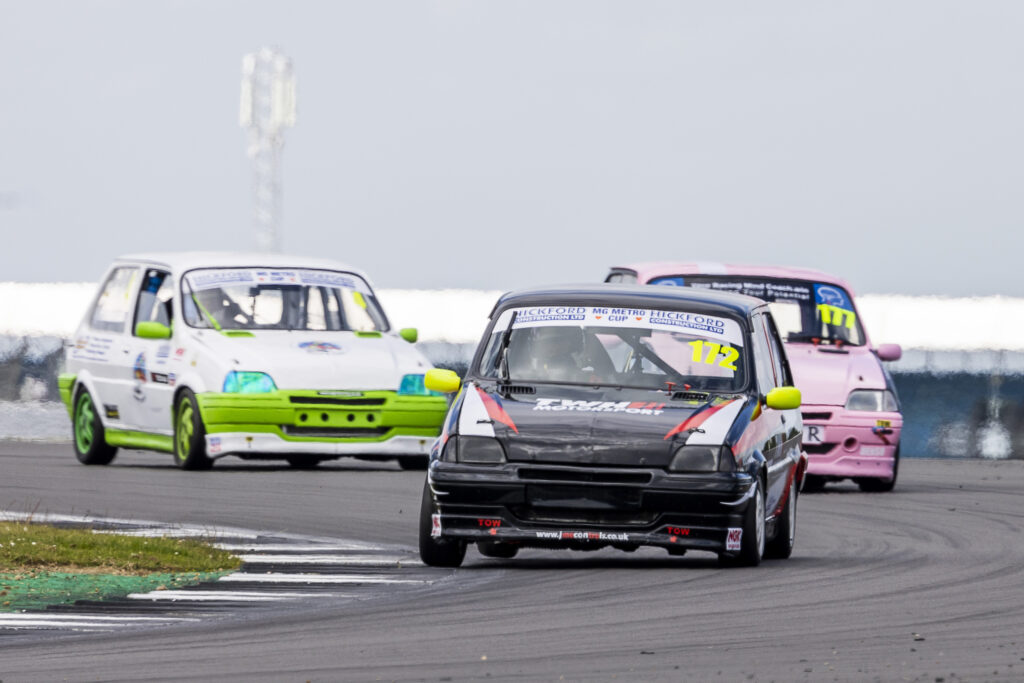 Hickford Construction Ltd MG Metro Cup
Five Metros joined MG Trophy on track for an MG Metro Cup non-championship encounter, and they entertained the crowds with a pair of frenzied three-way battles for victory between Jon Moore, Tim Shooter and the returning 2015 Metro Cup champion Philip Gough in his Rover Metro 114 GTi (all pictured above).
Poleman Moore led Gough in the first race, but Moore was forced to drop out of the lead when his throttle cable snapped. This left Gough set fair to win, finishing 10s ahead of Shooter.
The Moore-Gough-Shooter trio's fight for first in race two was especially captivating, as the three Metros stayed in close company throughout. Moore led for much of the way, but in the final laps he and Gough started a sensational place-swapping battle. Moore on the final lap got clear in the lead to win, while Shooter beat Gough for second.
Moore said: "It [race two] was brilliant. I started fifth and thought get a good start, get up to them, and then in about three or four corners I was in the lead, wow!
"So I did quite a few quick laps straight away, tyres started getting a bit iffy and then Phil caught us up and he made a move through Brooklands and Luffield and got up front. So I stayed on him for a couple of laps and he started making a few errors and got past him around Brooklands. It was a mega race, really good.
"[In race one I] pulled up with a broken throttle cable, Phil was on the back of me and it would have been a good race. I'm glad we got to have the race in the second race that the first race promised, and Tim was with us this time. So it was a really good race: full on, hard work."
Gough added: "This is the first race I've done in four years. I haven't got first gear in the car, so the first race it jumped out of gear at the start, and that one [the second race] I started in second.
"From the word go it was just a three-way scrap in that second race. I think I was in the lead three or four times, and Jon he was in the lead three or four times. We swapped places all the way round."
As for why he came back for this one, Gough said: "I slightly missed it, we're relatively local to Silverstone and I've worked here on and off over the last 20 years so it's sort of my local circuit. The car was up and running, we'd done a track day in it in February, but we only got the car ready to come here probably about eight weeks ago. So it was literally a spur of the moment 'why don't we go and do MG Live! in the Metro?' And it's been well worth it."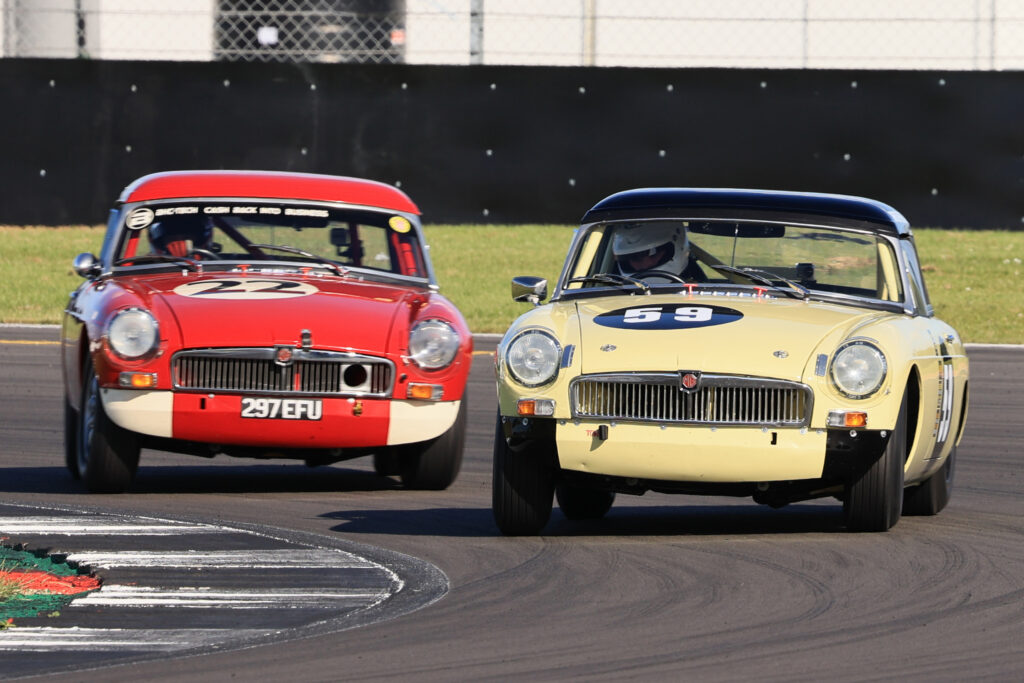 Equipe MGB60
Equipe Classic Racing supported MG Live! with a range of races – all lasting 40 minutes with a mandatory pitstop – and its line-up was led by a special MGB60 race to mark 60 years since the launch of the MGB roadster.
Some 59 cars took part and reigning MG Trophy champion – and frequent MGB racer – Sam Kirkpatrick (pictured above) prevailed from pole. The youngster won out in a race-long fight with Tom Smith (also above), and Smith indeed got ahead briefly thanks to a faster pitstop, but Kirkpatrick a few laps later reclaimed the place and headed Smith home to win by 2.5s.
The MGB shared by Tim Greenhill and Mark Cole led for a time and was still in a close third place at the end, but Cole under an early safety car had made the car's mandatory pitstop too early, before the window had opened, so they got a three-lap penalty.
Kirkpatrick said: "It's my first-ever pitstop race and I didn't want to speed in the pitlane or anything so I was taking it quite careful. And I did have a bit of a mess getting it going again after the pits.
"And it's the longest race I've ever done other than the relay and it was really fun. I'll have to get used to driving on slidey tyres though because at the end it was really slidey!
"I've never been in a race as big as this, so it's a really good win to have."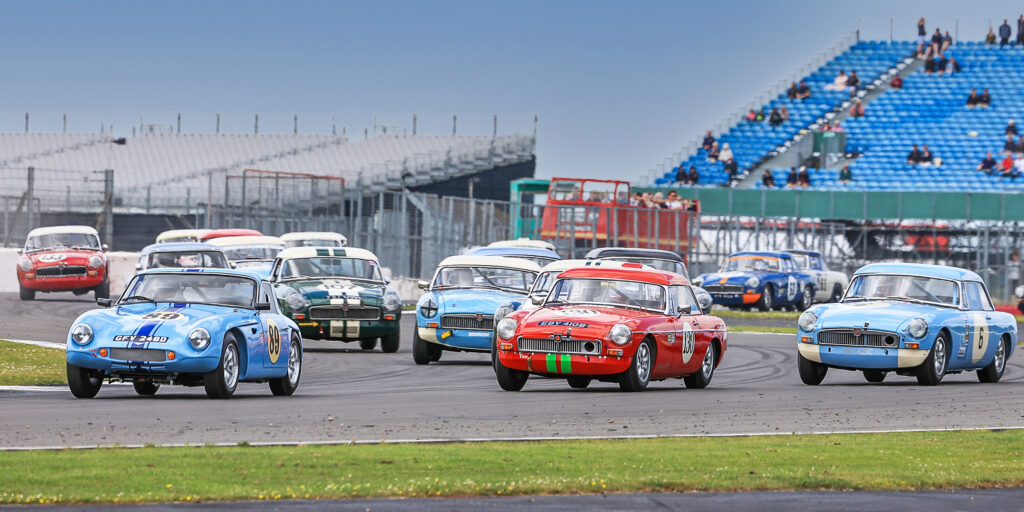 Equipe GTS
Sam Kirkpatrick looked good to win a second Equipe race of the weekend from pole in his MGB, in the GTS encounter. Once again he led from Tom Smith's MGB, but a safety car at half distance turned the race on its head.
Its timing meant that the lead runners had to stay out an extra lap in the 'queue' before making their mandatory pitstop. The upshot was that Kirkpatrick was left in 22nd place after pitting with Mark Holme's MGB now leading from Martin and Oliver Pratt's Morgan +4, who had been eighth and sixth respectively before the caution and were the first to peel into the pits.
After green flag running resumed the Pratt Morgan quickly passed Holme for the lead, and then led the MGB to the flag by 8.3s. Kirkpatrick managed to recover to third place, getting by Rob Cull's TVR Grantura Mk3 on the final tour.
Equipe Libre / 70s
Victory in Equipe's Libre / 70s race was fought over by Grahame Bryant's Morgan +8 and Mark Halstead's Ginetta G4R. Bryant led from pole and looked to be able to hold the pursuing Halstead at arm's length, until half distance when Bryant's Morgan slowed with a suspected electrical issue and pulled out.
This left Halstead set fair to win by 10s from Richard Hywel-Evans' Porsche 911 while Christian Douglas in his TVR Griffith 400 completed the podium.
Equipe Libre / Pre 63 & 50s
Dafyd Richards' Lotus 11 looked the pacesetter in the Equipe Libre / Pre 63 & 50s race, which had some 54 cars starting. Richards dropped from pole to fourth at the start but was back in first place at one-third's distance after passing in traffic the Jaguar E-type shared by Gary and John Pearson plus the Shelby 260 of Nigel Winchester.
This was however another race turned on its head by a safety car, which was deployed briefly just after Richards got the lead. During its deployment a number of cars – again led by Mark Holme, this time in his Austin Healey 3000 MK11 and running eighth before the caution – were able to save significant time by pitting under the yellow.
As the order shook out after all had made their stops Holme had vaulted into first place, around 10s clear of the Austin Healey 3000 of Jack Chatham which also pitted under the safety car. The duo finished first and second in that order, with Richards a distant third.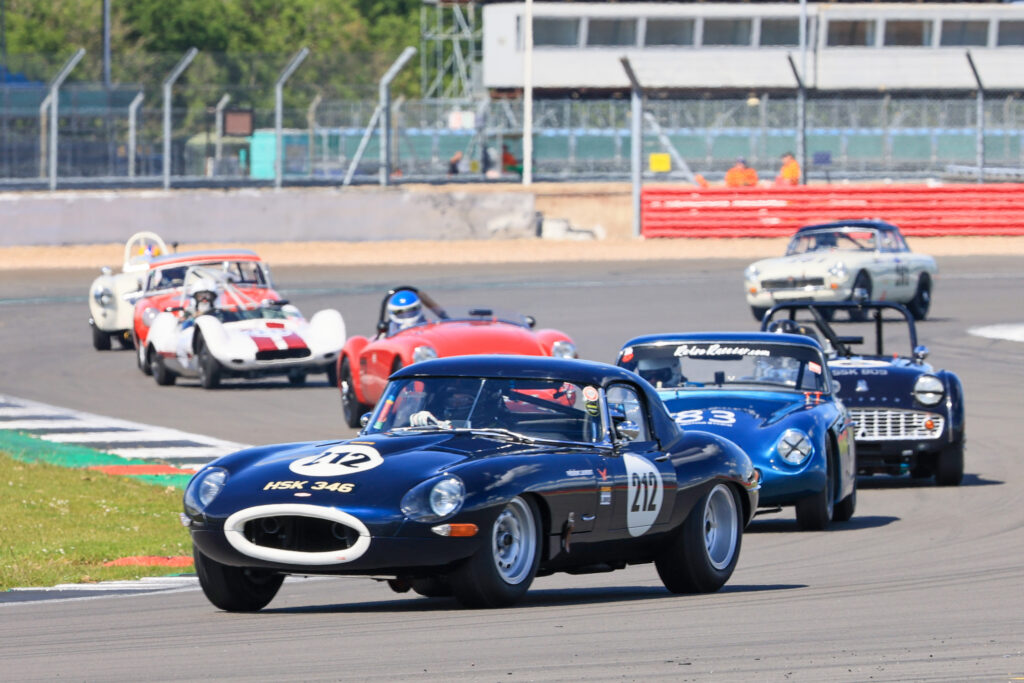 GT & Sports Car Cup
The event concluded with a two-hour race from GT & Sports Car Cup and Gary and John Pearson's Jaguar E-type was dominant in it, taking the lead from second on the grid and quickly building a sizable lead, remaining in a net first position throughout.
In the end their winning margin was over a minute ahead of the runner-up AC Cobra 289 shared by Richard Cook and Richard Tuthill, and that had a similar-sized advantage over the fellow Cobra of Richard Hywel-Evans and Oliver Bryant finishing third.
The polesitting E-type shared by Gordie Mutch and John Clark was also in the mix but dropped out with 40 minutes to go when the Jaguar started to emit smoke.