Glorious sunshine greeted the MG Car Club's flagship summer race weekend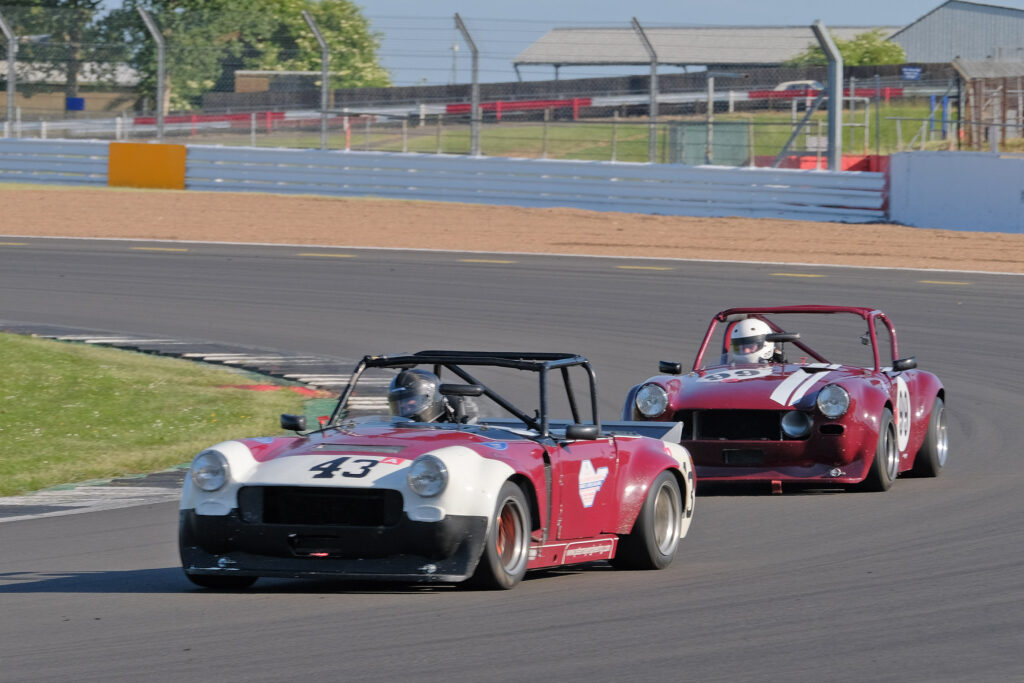 Glorious sunshine greeted the MG Car Club's flagship summer race weekend on the Silverstone Grand Prix circuit, sadly without the accompanying MG Live this year. But the racers put on a magnificent show with close-fought, fair racing enjoyed by competitors and spectators alike. Five of the club's championships were joined by three Equipe Classic Racing grids and a bulging entry from welcome guests the Mini 7 Racing Club.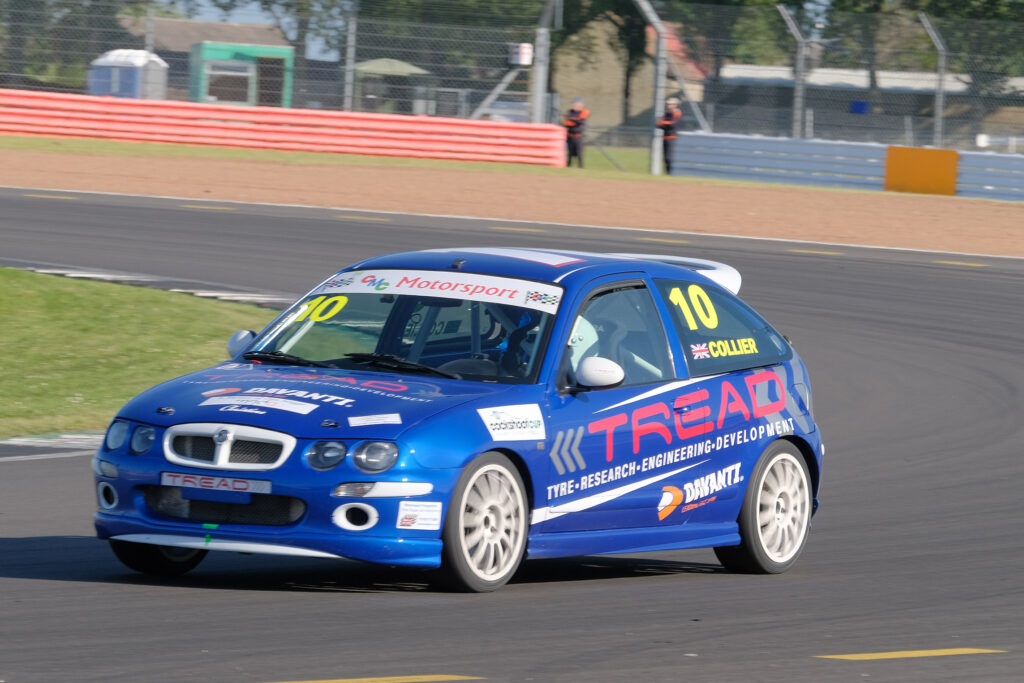 MGCC Cockshoot Cup
Three weeks after claiming two wins at the Cockshoot Cup's Oulton Park season-opener, Ray Collier (pictured above) added two more victories to his account.
The first came after a superb race-long duel between his MG ZR 190 and the MG ZS 180 of Karl Green. The pair traded the lead throughout, sometimes more than once per lap, before a slight mistake from Green on the final lap allowed Collier to make the decisive move and win by a third of a second, with Keith Egar's MG Midget another 20 seconds in arrears in third. Mike Peters (MG Midget) bounced back from a quick spin to catch and pass Mark Bellamy (MG ZR 170) for Class B honours, while Paul Wignall (MG ZR 160) was a comprehensive winner of Class A, as he would be again later in the day. In Class F, champion Brian Butler led all the way but Chris Greenbank, a late entry after repairing the engine damage incurred at Oulton Park, was rapidly closing in the latter stages. Greenbank fell less than half a second shy at the flag but earned the commentators' Driver of the Race award for his efforts.
Collier, who was having to manage a cracked brake disc in the first race, took a more comfortable win in the second, aided by Egar's typically fast start getting his Midget (which twice finished third) ahead of Green and allowing Collier to build an early margin. From there, he was able to use traffic from the concurrent Midget & Sprite contest to maintain a buffer.
"I did really have to work hard for the first one," admitted Collier. "It was really well driven by Karl. We were incredibly close and two or three or times we followed each other off!
"The second one, I could see that Karl was too far behind, so it was a case of making sure that every gear shift is perfect. I did miss it once and I just let the 'box settle because the last thing you want to do is hit second, not fourth. So I did lose a couple of seconds there."
Peters again secured Class B honours from Bellamy, with Butler also repeating his Class F success. Greenbank was again closing him down before a spin at Luffield meant he had to settle for second in class. Third in Class F, repeating his earlier result, was debutant Joe Jones in his MG TF LE500, which earned him the Driver of the Race award.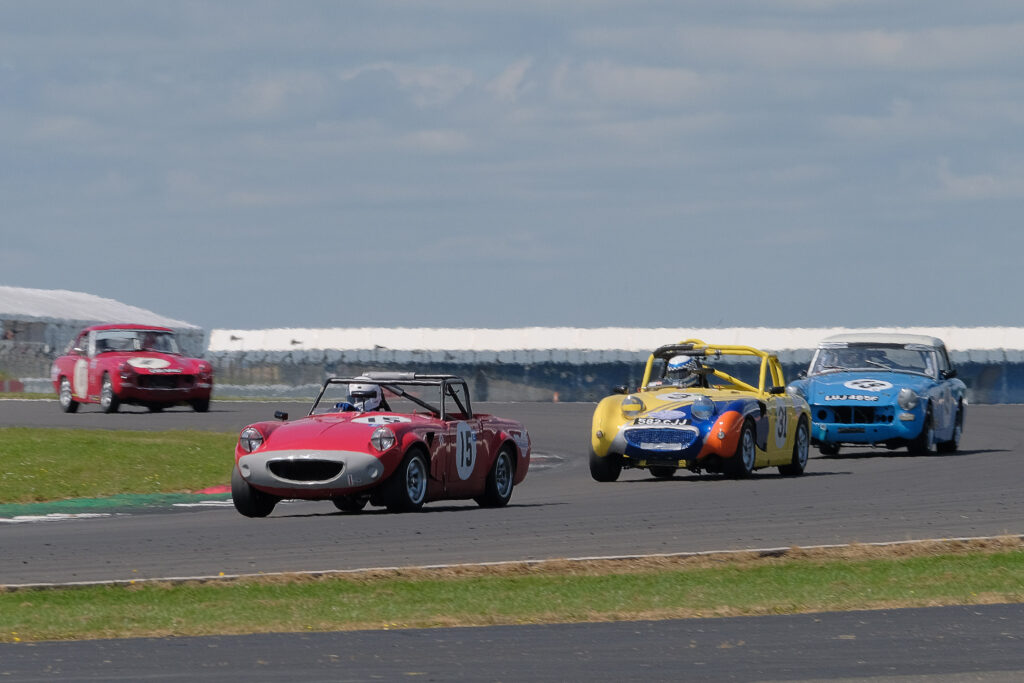 MGCC Lackford Engineering Midget & Sprite Challenge
After racing less than two weeks previously at Castle Combe, it was a slightly depleted grid of Midgets and Sprites that arrived to contest the Ted Reeve Memorial Trophy, remembering the long-standing driver who competed in Midgets for an incredible 48 years.
Polesitter Richard Wildman led away the trophy race from the fast-starting Class E Sprite of Pippa Cow, as front-row man Edd Weston dropped to fourth behind Stephen Pegram. But Weston, continuing to campaign his father Dave's Midget, returned to second within a couple of laps and proceeded to hound Wildman's similar machine. The youngster drew alongside on a few occasions but was biding his time. On the final lap, he got a run out of Luffield and pipped Wildman by just 0.05 seconds in a photo finish, claiming his maiden victory in the process. It was particularly poignant given the family connection to Ted Reeve.
"I was concerned that I'd get by him and then he'd go straight by me on the straight again and I'd lose time," explained Weston, who was presented with the beautiful trophy by Ted's wife. "So I hung back, stuck behind him, waited until the last lap and then pounced! That was my plan.
"My dad's been mechanic-ing for Ted Reeve since I was born. I've grown up watching him race and watching my dad race, and had his car at my house whilst my dad's worked on it, so it means a lot to win this."
Weston's success earned him the Commentators' Driver of the Race nomination as well as Sunday's overall Driver of the Day. He repeated the victory in the non-championship race two, this time beating Wildman by a slightly more comfortable 0.5s.
Cow twice topped Class E on her way to third overall, enjoying herself on the Grand Prix circuit some way clear of Ian Burgin and, in the first race, James Fettiplace. Mark Witherspoon pipped Carl Chadwick in a close scrap for Class D honours in the opener and was named Driver of the Race in the sequel after catching and passing Chadwick, whose race ended in the gravel while avoiding a spinner.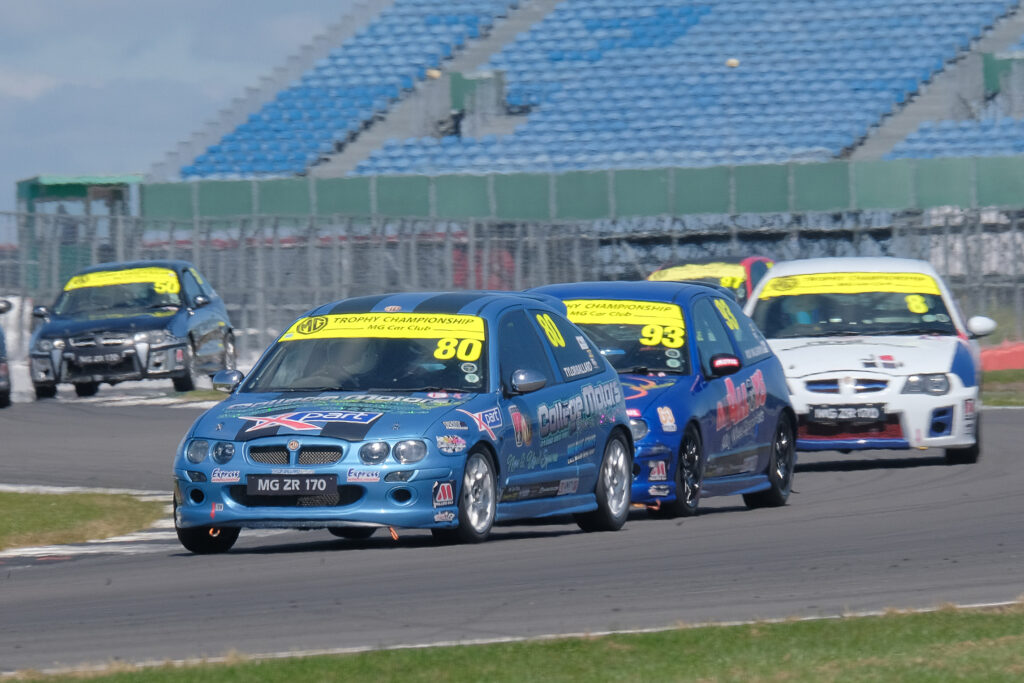 MGCC The Unity MG Trophy
Sam Kirkpatrick remains unbeaten in the 2021 MG Trophy but, once again, Fred Burgess made him work hard for his continued success.
Making his first appearance of the year in a ZR 190 newly built by 4G Racing, albeit in a non-scoring guest capacity, Ross Makar looked set to give the leading duo a run for their money. Indeed, from third on the grid, he ran around the outside of polesitter Kirkpatrick's similar car through Copse before yielding into the Maggots/Becketts complex. But the three-way fight would prove short-lived as Burgess's gearbox gave up the ghost and Makar's engine – an ageing unit transplanted from his previous machine – blew, ending his weekend. So Kirkpatrick could look after his tyres in the hot weather as he eased to a fifth win of the year from Adam Jackson in a season-best second, with Doug Cole completing the podium.
Josh Bacon (ZR 170) was named Driver of the Race and Saturday's Driver of the Day after claiming his first Class B win. He jumped class polesitter James Dennison and led throughout as a closely fought contest played out behind. Dennison fought off Tylor Ballard (pictured above) for second in class, with James Cole also edging out Ballard on the run to the flag.
Burgess converted pole position into the lead of race two but had his opening-lap margin wiped out by a safety car required after Bacon and James Cole's first-corner accident. Burgess made a good restart but Kirkpatrick got a run through Aintree to take the lead, only for Burgess to fight back with an around-the-outside run through Stowe, completed into Vale on the next lap. The effort was enough to earn Burgess the Driver of the Race, but a mistake under pressure at Brooklands allowed Kirkpatrick into a decisive lead to make it six from six this season. Jackson was relatively lonely in third, his fourth podium finish of the season.
"I had to really fight for that one," Kirkpatrick smiled. "Much more rewarding." It was another case of what might have been for Burgess, who nevertheless relished the contest: "It was a great race, we enjoyed it a lot. Sam moves around a lot coming into the braking zone, so you're trying keep an eye on which side he's going to go and then I just missed my braking point."
Dennison secured Class B honours from Ballard and Fergus Campbell, while James Moreton (ZR 160) passed Paul Croker to take his second Class C win of the weekend.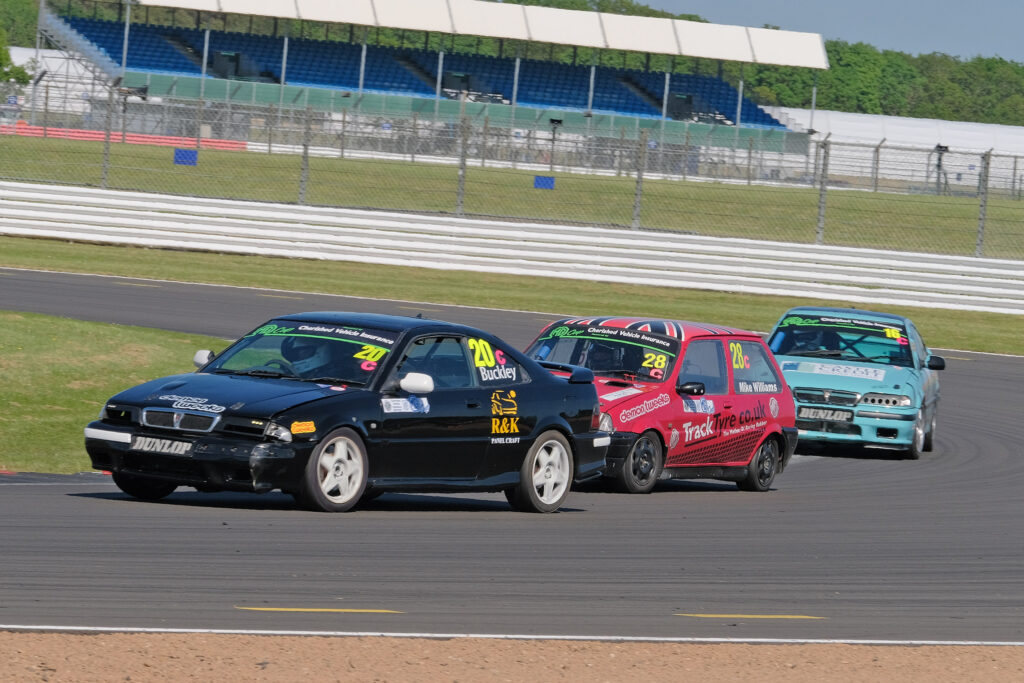 MGCC MG Cup powered by Cherished Vehicle Insurance
Mike Williams chalked up two more MG Cup wins but they came in contrasting fashion, while main rival Morgan Short's championship challenge was dented by failing to finish either race.
Williams (red Metro pictured above) pipped Short to pole position at the end of qualifying as the engine in Short's MG ZS 180 began to overheat – a legacy of the damage he picked up at Oulton Park that would come back to bite him. Williams was then able to get a jump at the first corner as Short had his hands full with the Rover Tomcats of Richard Buckley and Matt Simpson (both pictured above). That gave Williams the margin he needed to overcome his VVC-engined Rover Metro's comparative lack of power as he eased to victory. Things would go from bad to worse for Short as he pitted after two laps with a cooked engine and the suspicion that the car's new radiator didn't have the required cooling capacity.
Behind Williams, Buckley and Simpson engaged in a titanic duel, Simpson finally finding a way through on the last lap, earning the Driver of the Race award.
With Short absent from race two, the Tomcats made Williams work for his second win of the day. Both had spells in front before Williams eventually succeeded in his repeated attempts to pass Buckley at Stowe. Past champion Buckley held on to second from Simpson.
With points leader Iain Dowler absent owing to work commitments, Dan Jones dominated Class B in the first race but it came at a cost with a mechanical failure on the slow-down lap. That left the way clear for Wayne Stirling-Parker, making his final race start 27 years after debuting at Silverstone, to take the class honours in race two at the wheel of Rod Weston-Bartholomew's MG ZR 170 after his own Rover BRM hit trouble at a recent Speed Championship event.
"I raced here in 1994 – first ever race with the MG Metro Cup," said Stirling-Parker. "So 27 years later, I thought I'd start and finish at the same venue. It's been a wonderful time, to be honest with you. It's nice to spend most of my racing career in the MG Car Club."
Steve Tyler's MG ZR 160 twice took the laurels in Class A from Ian Boulton, who was returning to racing in a borrowed trackday car following his heavy accident at Brands Hatch.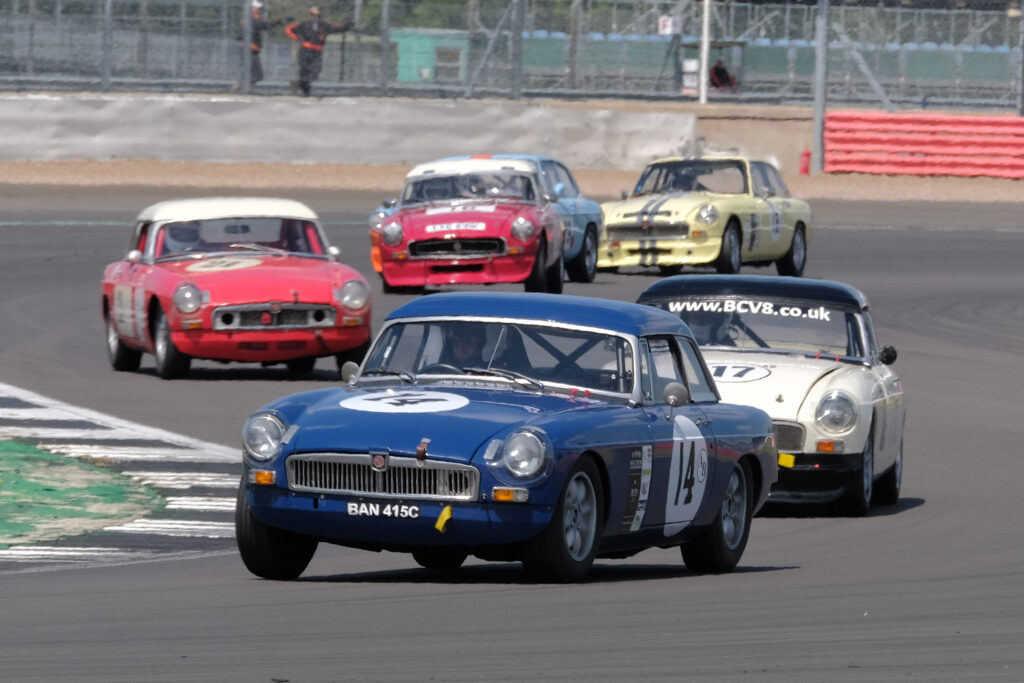 MGCC BCV8 Championship
Ollie Neaves clocked up his ninth and 10th wins in 11 BCV8 races over the past two years with another dominant display.
Neaves was untroubled in the opener, heading home the similar GT V8s of Neil Fowler and Ian Prior as the only Class D finishers after James Wheeler (broken gearstick) and Simon Cripps (differential) both fell by the wayside. Class C winner Andy Young (C GT) just pipped the invitational GT V8 of Peter Samuels – making his first appearance for several years – to fourth overall after a good battle and was named Driver of the Race, with Jim Bryan second in Class C after Steve Wells spun and Jonnie Wheeler's engine blew up. Babak Farsian's four-cylinder Roadster was a clear winner of Class AB, just two seconds behind Class B pacesetter Steve McKie.
Fowler jumped Neaves at the start of race two, and while Neaves was soon back in front, a mistake at Vale meant he had to come from behind again. It was hot work sitting behind the race-tuned V8, but Neaves still won with relative ease from Fowler and James Wheeler, with Young again taking Class C honours.
"The first race was a bit lonely," said Neaves. "But the second race, I had a great couple of laps dicing with Neil and then he seemed to just drop off a bit for some reason."
Returnee Mark Scott claimed Class B, while Driver of the Race and Class AB honours went to Paul Linfield (pictured above) who triumphed in a hard-fought battle with Russ McAngus, Simon Cripps (who had switched to his FIA-spec Roadster), Paul Rayment and James Walpole after Farsian suffered a broken halfshaft.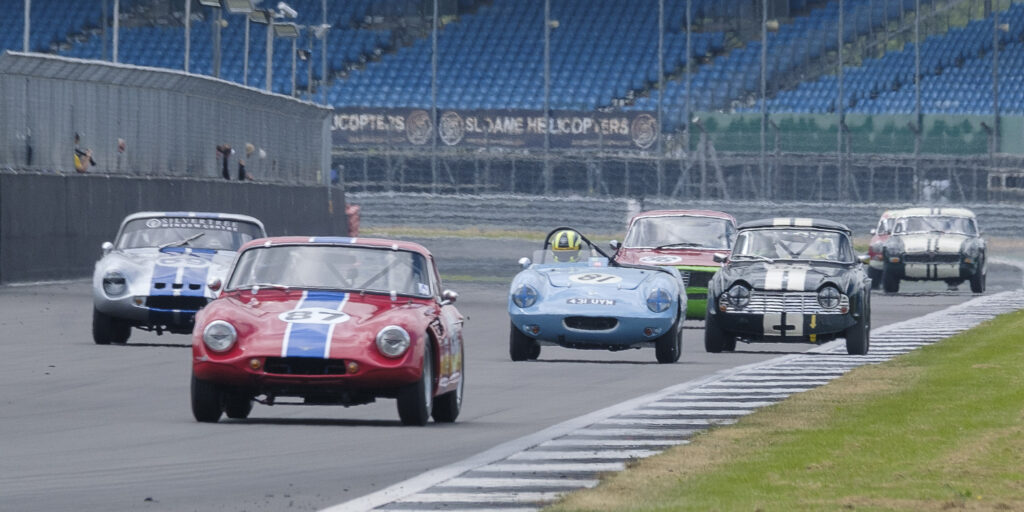 Equipe GTS
An extraordinary last two laps shook up the order in Sunday's Equipe GTS race. Saturday winner Lee Atkins (TVR Grantura 1800S) had rebuffed British GT racer Andrew Gordon-Colebrook's repeated attacks, including re-passing him around the outside at Luffield when Gordon-Colebrook had found a way through, only to spin away the lead. Gordon-Colebrook's Triumph TR4, which had pitted from third with a lose HT lead in Saturday's race, then expired and, with his vision obscured by the TR4's oil on his MGB's windscreen, Tom Smith also had an excursion. That left Allan Ross Jones (TR4), who beat Smith to second a day earlier, to take the win from the recovered Atkins and Smith.
Relieved to be told that he hadn't caused Gordon-Colebrook's demise, Atkins had clearly enjoyed the contest. "One of the best races I've ever had," he beamed.
Equipe Libre
After Richard Woolmer's extravagantly driven Ford Falcon succumbed to suspected fuel pump failure in the first Equipe Libre race, Robin Ellis overcame a clutch problem, which left his Lotus Elan 26R Shapecraft stuck in third gear, to claim his first win aboard the car from Rick Willmott (Jaguar XKE) and Cliff Gray's Lotus Elan.
Chris Beighton's Sunbeam Le Mans Tiger arrived on Sunday to dominate the second race which was affected by a safety-car period and then red-flagged after an incident claimed several cars on the resumption. Woolmer charged from the back to be classified second, with Gray third.
Equipe Pre-'63/50s
Equipe Pre-'63 honours twice fell to Nigel Winchester's monstrous Shelby 260, the first after withstanding race-long pressure from Mark Holme (Austin-Healey 3000 MkII) and the Jaguar E-type of Roberto Giordanelli. Sunday's win came a little easier after Holme expired in the closing stages, leaving Jonathan Smare's Healey in second and double 50s winner Jonathan Abecassis (Austin-Healey 100/4) third overall.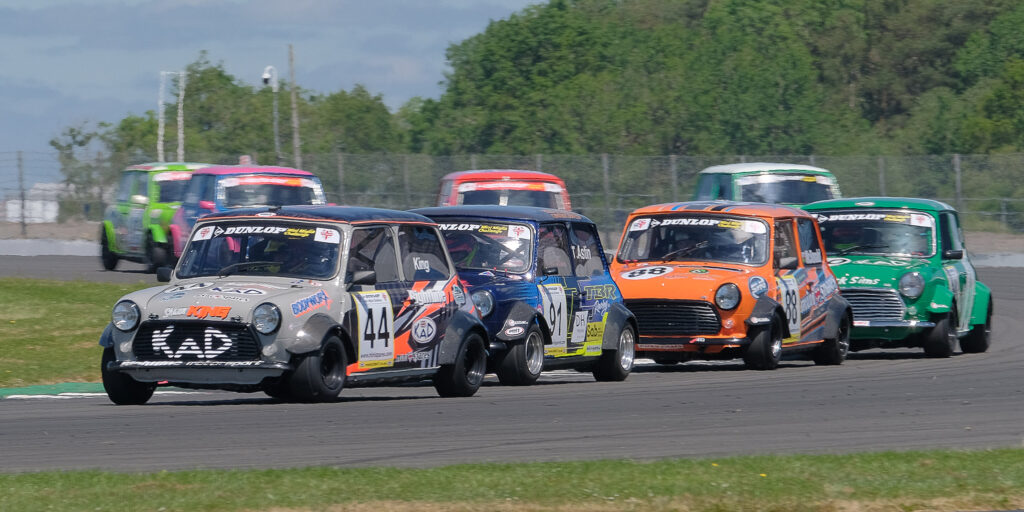 Guest races
A large entry of Classic Minis provided terrific close racing. In the opening Mini Se7en contest, a pack comprising reigning champion Jeff Smith, Joe Thompson, Jonathan Lewis, Spencer Wanstall and Nick Croydon-Fowler exchanged places throughout. Smith was eliminated from contention after pitting when he mistook a lap of grip caused by an oily track surface for a puncture. That left Thompson to take the win from Wanstall after Lewis's unsuccessful challenge at Abbey on the final lap. Sadly, Thompson and Wanstall were eliminated early on from the sequel – run concurrently with the second Miglia race – when Wanstall lost drive and was then collected by the closely following Thompson. Lewis, Connor O'Brien and Smith contested the win and finished in that order, giving Lewis his first Mini Se7en victory since winning the championship in 1981.
Endaf Owens won Saturday's Miglia race by holding off British Touring Car champion Andrew Jordan's last-lap challenge around the outside at Brooklands after the pair had worked together to break free of Rupert Deeth and Aaron Smith in third and fourth. After finishing sixth in the opener from the back of the grid following an engine failure in qualifying, Kane Astin benefited from the top-eight grid reversal to lead race two. Smith, Owens and Jordan soon joined the lead battle, while Deeth retired with an oil-pressure problem. It was reigning champion Smith who managed to take the win from Astin, Jordan and Owens, with all involved grinning from ear to ear afterwards.