Rain doesn't dampen spirits at Oulton Park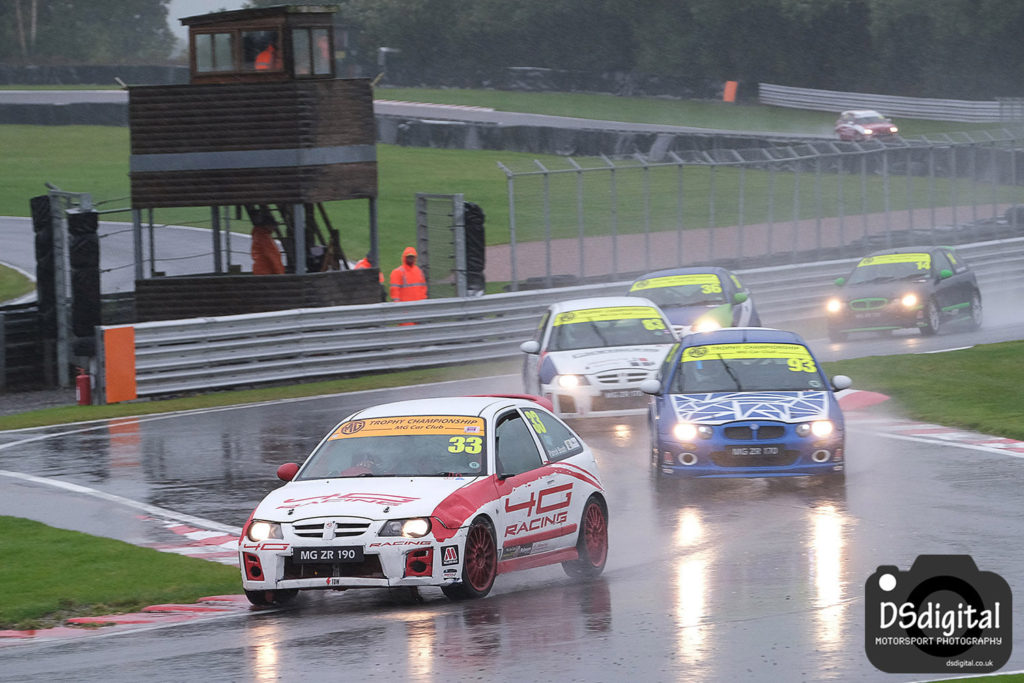 Storm Alex failed to dampen the spirits as the MG Car Club's racing season concluded in a one-day meeting at Oulton Park. Six MGCC categories were in action, with three crowning their 2020 champions, joined by a guest appearance for the Porsche Club Championship.
MGCC MG Trophy
Wins were shared by Fred Burgess and Ross Makar as the MG Trophy concluded its non-championship season. For Makar, it marked a happy end to an extended period of woe during which he had qualified on pole position five times last year but managed to finish only once, although a podium last time out at Snetterton had been promising, despite further mechanical issues.
Sam Kirkpatrick, returning to the series in which he had been a double winner at Donington before missing the Snetterton weekend when his father fell ill, took pole position in the wet qualifying session, with Makar starting alongside. After a safety-car start, that pair began to pull clear, with Makar hounding Kirkpatrick. So close to Kirkpatrick was Makar that when the leader made a mistake at Old Hall and went off, Makar did exactly the same thing. Both ended up in the barriers and although both escaped unharmed, the resulting safety car was soon upgraded to a full red flag to allow for barrier repairs.
That gave Fred Burgess his second win of the season in father Jason's car. Burgess had been passed by Doug Cole, making his first appearance of 2020, at Shell Oils, only for Cole to spin at the same corner a lap later.
"Even on the green flag lap it was trying to spin," said Burgess. "It was good fun but very tricky."
Cole held on to what became second, earning himself the Driver of Race award for his progress from fifth on the grid, with Class B winner Tylor Ballard third overall. Ballard had clung on well to the Class A runners despite a tyre disadvantage.
Kirkpatrick withdrew from race two with clutch issues, handing Makar pole position. From there Ross took a comfortable win – despite his windscreen wipers failing in the assembly area – over a field further depleted by the difficult conditions. Burgess came home second, with Ballard again managing third overall and the Class B win. Behind Adam Jackson and James Dennison, Ashley Parsons scooped the commentators' Driver of the Race award for prevailing in a good scrap with Joshua Bacon and Joe Dalgarno.
"I wanted to make sure I didn't make the same mistakes from race one," said Makar. "To be honest, in the end the car was great. The set-up was great and I just managed the gap comfortably. Fred caught me up a little bit and then I went two seconds a lap quicker. There was plenty of time out there, but I wanted to be sensible and not do anything stupid like I did in the first race."
Makar is hoping his mechanical issues are now behind him after replacing his car's fuel pump. It was not delivering the pressure it should have been under load, starving the engine of fuel and leading to a series of engine failures.
"We've changed an awful lot of components, that's just the latest one on the list," he said.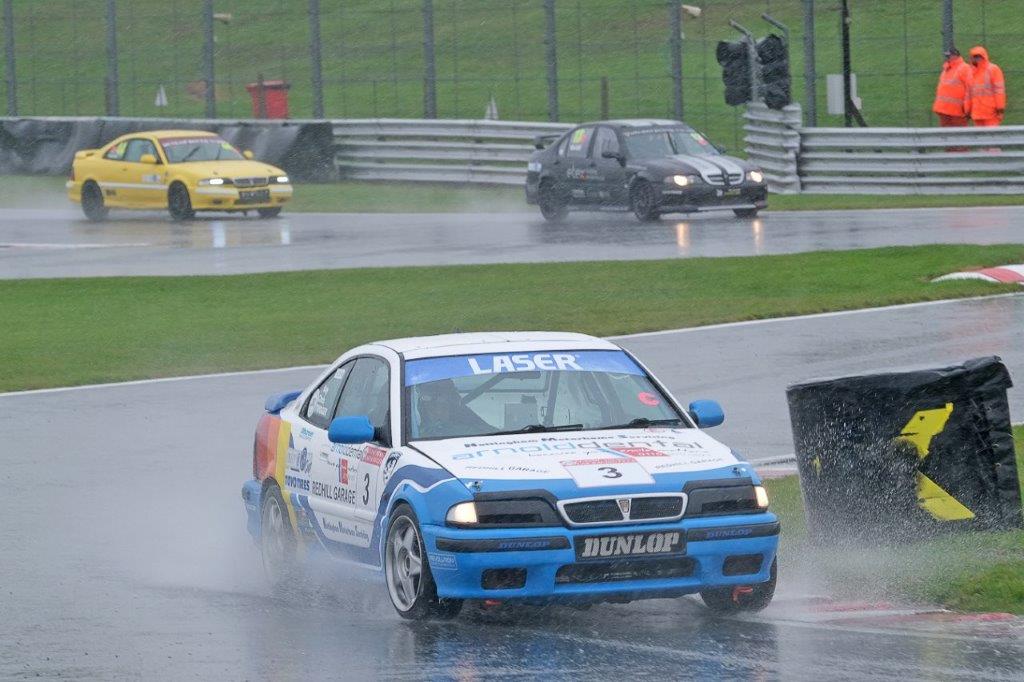 MGCC MG Cup supported by Peter Best Insurance
The Rover Metros of Jack Ashton and Mike Williams continued their battle for honours in the MG Cup, with Ashton claiming both wins.
Ashton had qualified on pole for the opener and led the race throughout. Williams was never far behind, but rued his misestimate of the impact that a safety-car start would have on the number of laps. Not wanting to show his hand too soon, Williams fired in the fastest lap on what turned out to be the final tour, but ran out of laps to challenge further, falling less than a second short.
Third place went to Class B winner Darren Harris in his ZR 170, just edging Kayleigh Twigger's Class C Rover 220 Tomcat Turbo, and earning himself Driver of the Race honours in the process. Dennis Robinson was second in Class B despite a 10-second penalty for overtaking under the safety-car release, having started from the pitlane after being late out of the assembly area. The same fate befell son Carl in his Class A ZR 160 although he still did enough to win the class.
Twigger's second fastest qualifying time gave her a maiden pole position for race two, and she led until standing water caused her engine to splutter. She slipped back to fifth before losing control on the final lap, and sadly collecting Stuart Tranter's similar Tomcat in the incident.
Ashton benefited from Twigger's misfortune, and survived a trip down the escape road at Hislop's, to repeat his earlier success over Williams.
"I couldn't see anything behind Kayleigh, so I take my hat off to Mike driving behind me at the speed he was," said Ashton. "The wipers were flat out and it was just not clearing the screen quick enough."
"It was mega fun [but] it was hard!" he added, reckoning the conditions were worse than in the first encounter despite managing to set a faster lap. "I pulled the wick a little bit mid-way through the race. I saw Mike was fairly close to me so I thought, 'Let's just go for it!'"
Harris again took Class B honours in third, ahead of Peter Burchill (ZS 180) and Class A winner Carl Robinson, whose success was enough to clinch the overall championship title. Second in Class B meant Dennis Robinson scooped the class title, while Williams took Class C championship honours.
Eighth overall and second in Class A earned Morgan Short (Rover 216 GTi) the Driver of the Race, having coped admirably well in the treacherous conditions despite his limited experience.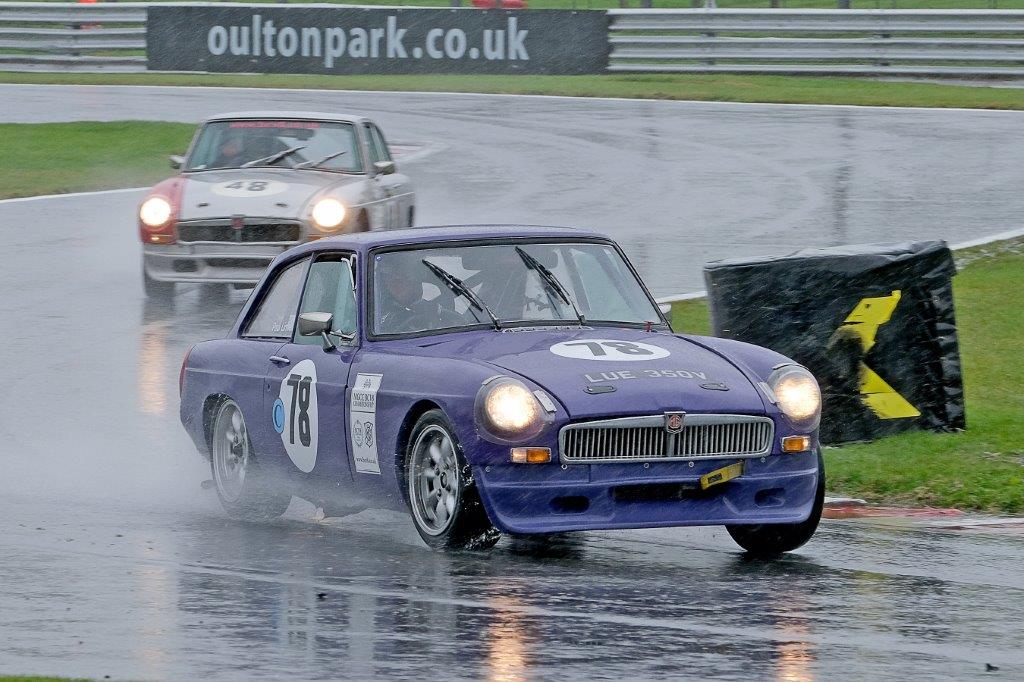 MGCC BCV8 Championship
After a wretched season in which he had so far failed to finish a race, James Wheeler switched to Ian Prior's similar B GTV8 for the final BCV8 round of the season, and proceeded to claim a stylish win from pole position.
Wheeler headed home the previously unbeaten Ollie Neaves by five seconds, with the pair more than half a minute up the road from two-time champion Russell McCarthy and Neil Fowler who held fourth from Simon Cripps despite a trip across the escape road at the Hislop's chicane.
"I've needed this because I've had so many issues with my D class [car]," beamed Wheeler. "Ian's got fed up of seeing me on the sidelines and said 'Why don't you have a drive of mine?' And look what's happened! I'm really, really chuffed. I'd love to have a go in it in the dry now!"
Wheeler's success netted him both the Driver of the Race and the overall Driver of the Day awards, while Neaves was far from empty-handed. After the day's second race was cancelled due to the adverse weather conditions, he was confirmed as overall BCV8 champion.
"It's a bit of a sad way to conclude it," Neaves admitted. "But I think the reality is we would have had a good shot at first or second again, which would have been enough. The car's been super reliable all year, absolutely mega."
He had also enjoyed having a closer race than in the season's earlier contests: "The first few races I've kind of been just gone on my own, quite far ahead. So it's nice to have someone to race and James is just amazing in the wet. I'm pretty pleased with that – I haven't got much wet driving experience."
Neaves's main challenger for the overall title had been Class B runner Mark Scott, but Scott was sadly unable to start the race after picking up damage to his Roadster in qualifying. Class B race honours went to Ian Prior, back in his old car, while Russell McAngus completed a clean sweep for the season in Class AB ahead of his planned progression to Class C next year.
Jim Bryan just held off Jonnie Wheeler and Steve Wells in a very close battle for Class C race honours.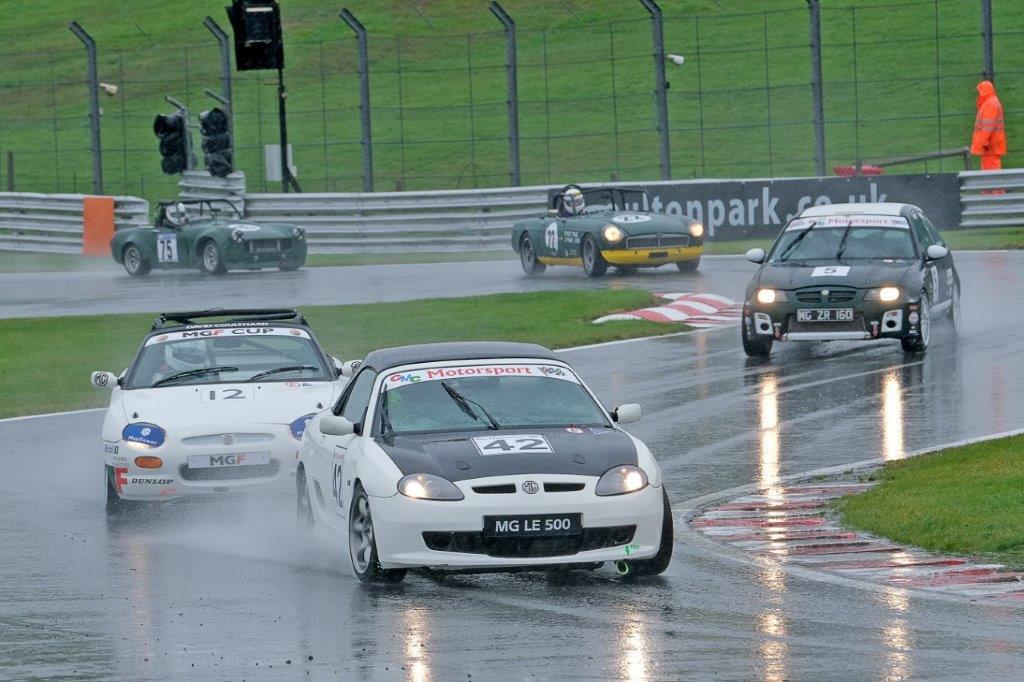 MGCC Cockshoot Cup
Ray Collier produced a mesmerising performance in the difficult conditions to win the Cockshoot Cup race in his ZR 190 by nearly a minute from the ZS 180 of Karl Green. On his home track, Collier made light of any aquaplaning despite still suffering the after-effects of the big crash he had at Oulton Park last year.
"You just get on the throttle and spin the wheels back up and then brake back down again, but you've just got to have that sense of mind to do it," Collier explained.
"Every lap, Dad was on the [pit] wall [signalling]: 'Slow down, slow down'. Every time I was like, 'This feels a bit too slow,' and every time it aquaplaned!"
Brian Butler finished third in his MGF VVC, winning Class F and clinching the overall championship in the process as main rival Chris Greenbank was hit by electrical issues.
"I actually really enjoyed it!" said Butler. "Horrendous conditions. I really feel for the marshals who are stood out there in these horrible conditions all day."
Mark Bellamy's ZR 170 took Class B honours, while Nick Ashman was named Driver of the Race for battling to second in the class in his ZR, just missing out on fifth overall to Mark Wright's Class F MGF.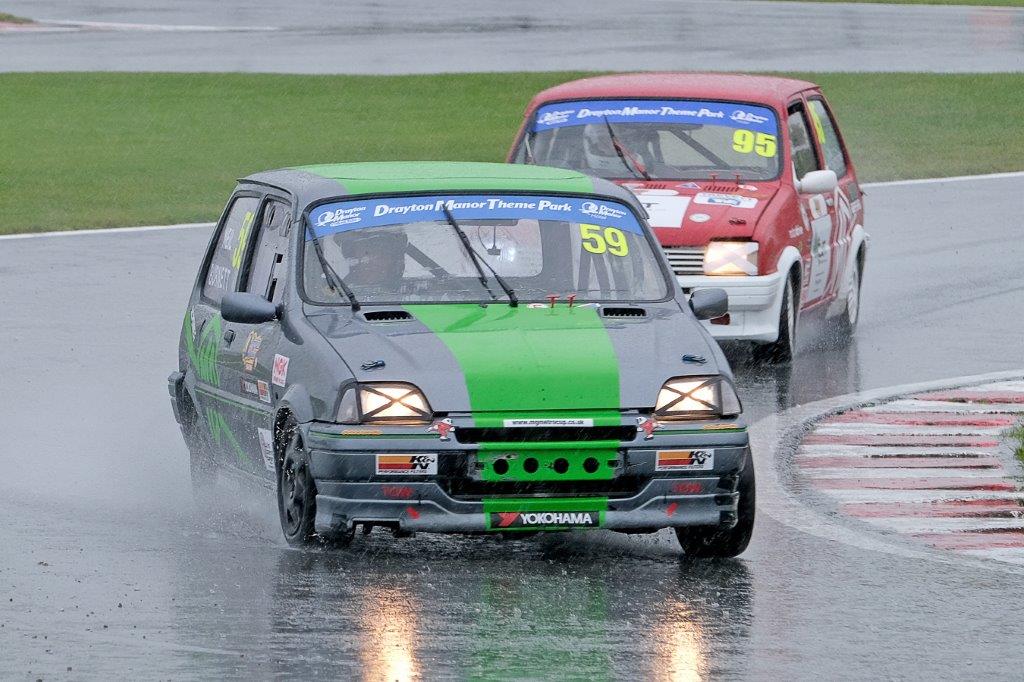 MGCC Drayton Manor Park MG Metro Cup
Sharing a grid with the MG Cup meant that Mark Eales was able to keep a buffer between himself and his rivals on the way to MG Metro Cup victory. New softer suspension had obviously done the trick, and suited the wet conditions, as he charged to pole position by a massive five-second margin.
From there, Eales always had some MG Cup runners between him and the pursuing Dan Willars and Tim Davies, as he took a resounding win.
"When you see some headlights catching you, you can't figure out who it is because of all the spray and everything," Eales said though, so he couldn't let up despite what was in effect a big margin. "Once you've found the standing water, you know which bits to avoid. It was more or less [a case of] stick to the middle of the track because the standing water's on the edges."
Willars was second, with Davies earning the Driver of the Race award in third, delighted that a major overhaul of his own car, including a new engine, had paid dividends. Richard Garrard was fourth while Donington race winner Tim Shooter was severely hampered by visibility issues with a misted up screen.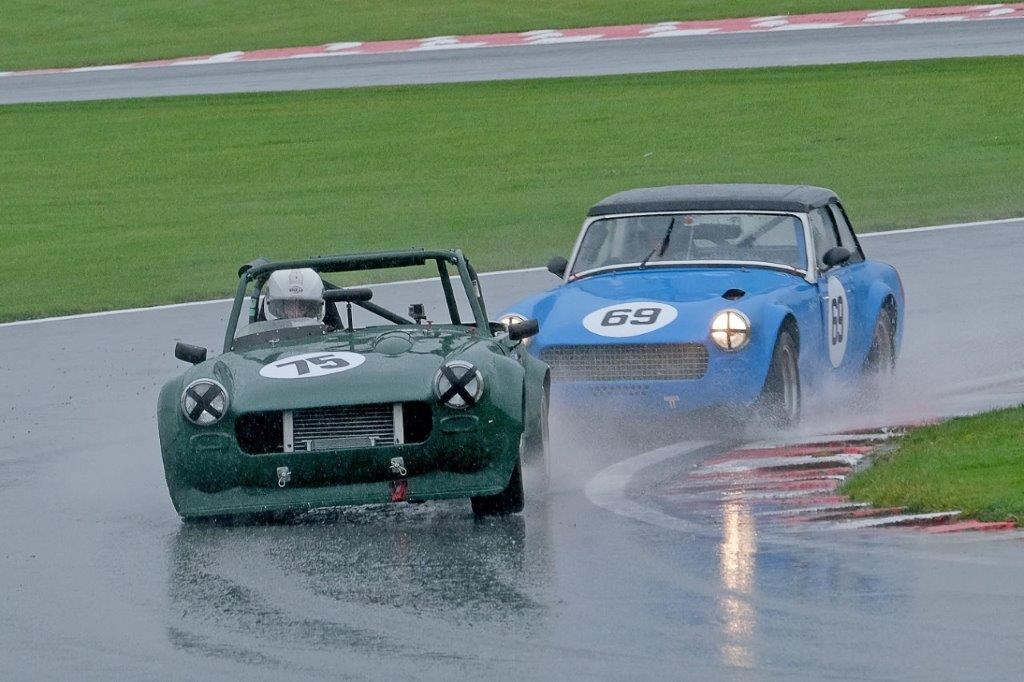 MGCC Lackford Engineering MG Midget & Sprite Challenge
An outing for the MG Midget & Sprite Challenge was added to the Cockshoot Cup grid at Oulton Park as part of this year's necessary calendar re-jigging. Coming only a fortnight after the series' Castle Combe event meant that numbers were a little down, with David Morrison claiming the honours in his Midget.
Morrison was the only driver able to keep touch with Cockshoot winner Ray Collier, but said: "I decided not to have a go at Ray – he's not in my class."
Morrison put his previous technical issues behind him to finally defeat Richard Wildman, who was over a minute behind in his own Midget. Bruce Carter was third, another 30 seconds back.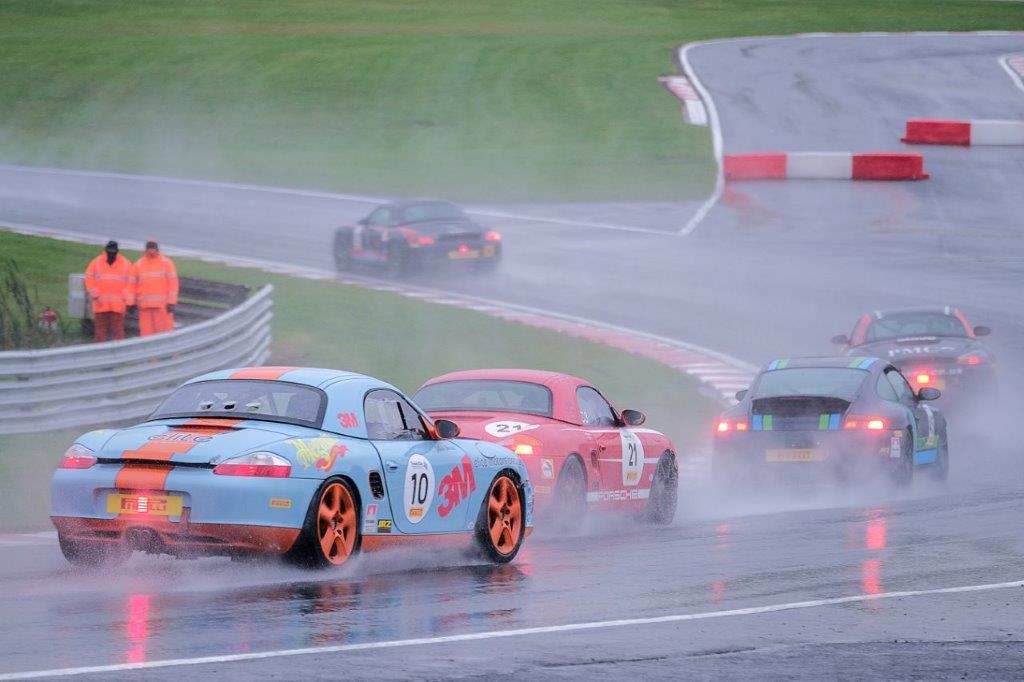 Guest races
The two Petro-Canada Lubricants Porsche Club Championship races were shared between Mark McAleer and Pete Morris. McAleer won the opener from fourth on the grid, a good start lifting him to second before he passed Morris at Lodge. Simon Clark and McAleer's son Jake also demoted Morris before the end. Morris hit back to win race two from pole position, leading home Clark and James Caley after each McAleer retired – Mark with gearbox failure and Jake to a last-lap accident.
"I got a cracking start and once I got behind Pete it was difficult to see where we were going but the car felt so good I could still place the car behind him and have confidence in it," said McAleer Sr after his win. Once he'd passed Morris, it was a case of managing the race, as "the last thing you want to do is look a mug by being in the lead and chucking it off!"
Rookie Charles Clark and James Coleman took a win apiece in Class 2, while Paul Simpson was twice victorious in the concurrent Porsche Classic Boxster Cup.
Due to adverse weather, the race officials made the difficult decision to cancel the last three races of the day for the safety and wellbeing of the Marshals and Competitors.
The Club cannot thank all involved enough and looks forward to seeing everyone again in 2021.
---
Words by Mark Paulson
Photos by Dickon Siddall