Hot racing action for MG Car Club's Brands Hatch season opener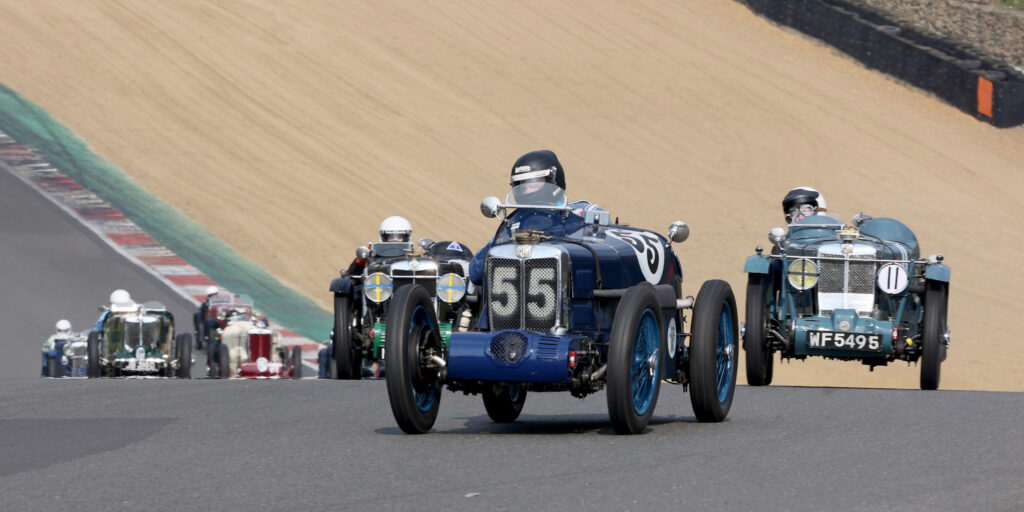 MG Car Club reconvened for the start its latest racing season with five MGCC diverse categories getting their campaigns for 2022 underway on the Brands Hatch Indy circuit. They were supplemented by a race from new guest Ecurie Classic Racing, and it all made for an intense single day of competitive action.
The intensity was matched by the drivers, with each category providing captivating racing both for overall victory and throughout the field. And it was all held in sunny, dry and mild weather that threatened to more resemble mid-summer than mid-March.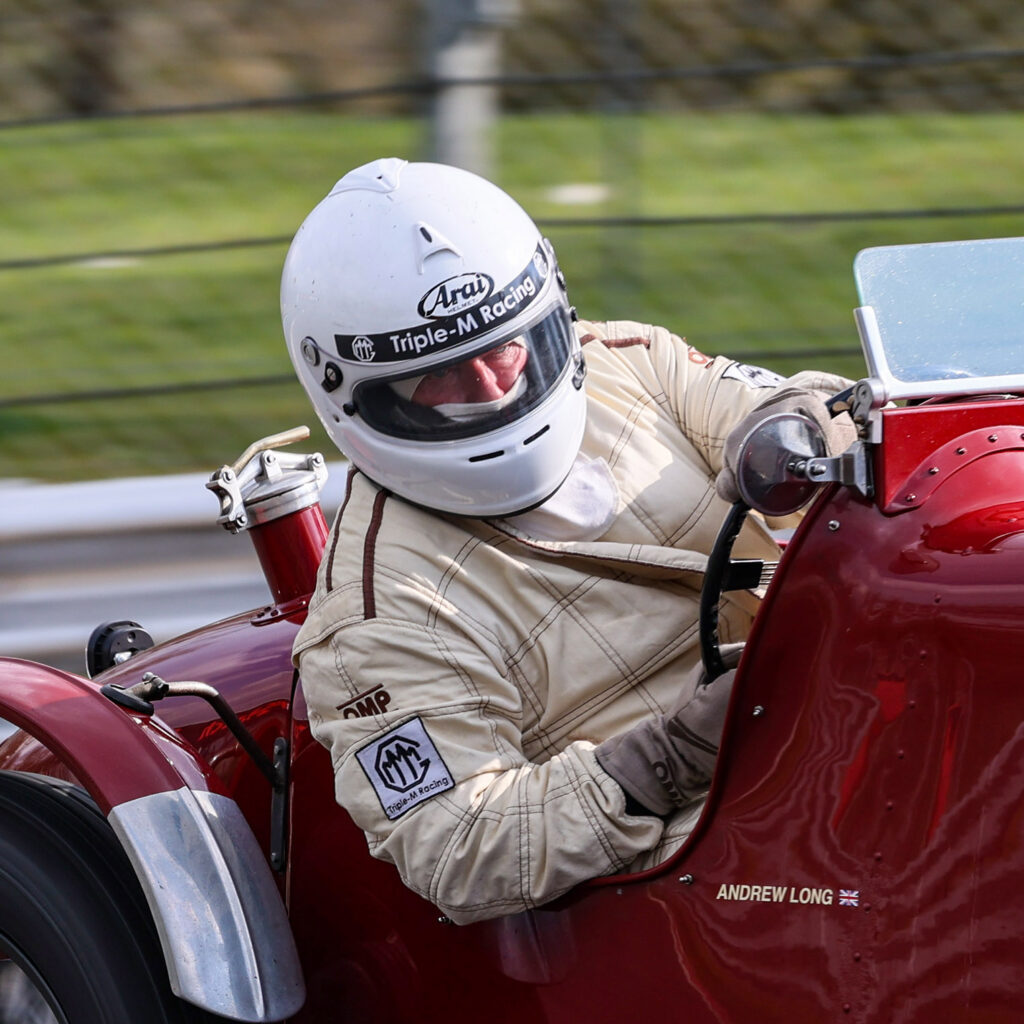 Baynton Jones Historic Motorsport Triple M Challenge
Andrew Long (pictured abocve) dominated the opening Triple M Challenge race for Pre-War MGs from pole with his MG N Type. Duncan Potter in his MG Montlhery Midget and Fred Boothby's MG J2 meanwhile had a close place-swapping battle for second place, with Potter prevailing for the runner-up spot which also got him the Driver of the Race award.
Teifion Salisbury's MG K3 in fourth and Chris Edmondson's MG D Type in fifth also ran in close company throughout and were separated by just half a second at the end.
The second Triple M race was a similar story, as Long again moved well clear to win with apparent ease, and this also got him Driver of the Race, while Potter and Boothby again took turns in second place, with Potter again prevailing.
Mark Dolton in his MG PB Special, who finished seventh in Race 1, finished fourth in the second event ahead of the fifth-placed Andrew Morland's MG PA, which was sixth in Race 1. Salisbury and Edmondson, again running in close company, were next home.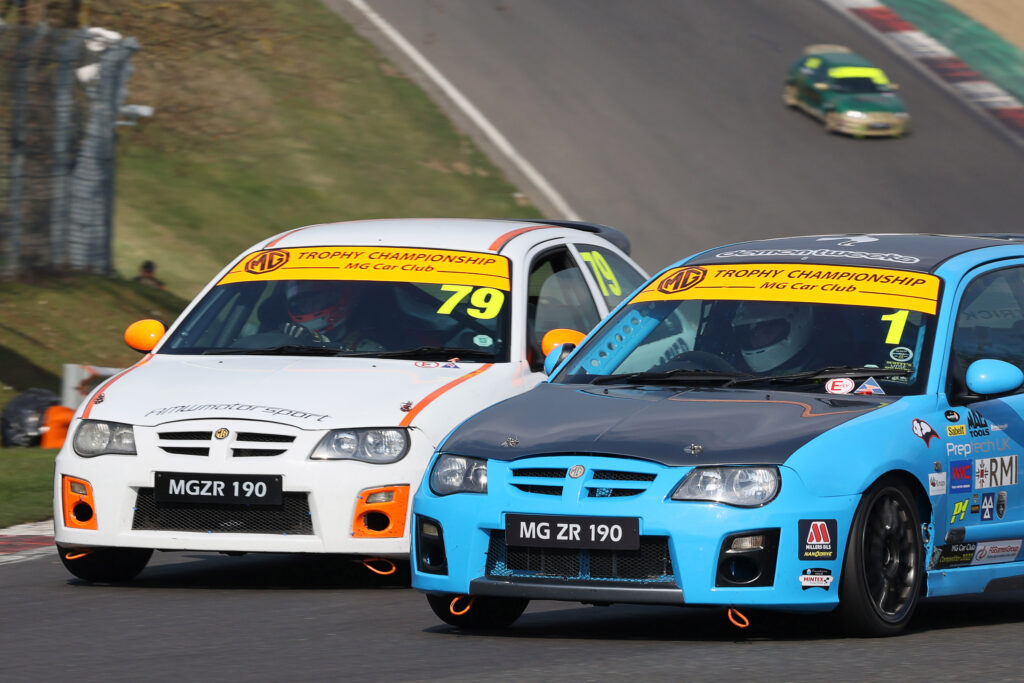 MGCC The FG Barnes MG Trophy
Reigning MG Trophy champion Sam Kirkpatrick was back for 2022's Brands Hatch season opener and took yet another win in Brands' Race 1. But to do so he had to beat a strong challenge from fellow MG ZR 190 runner Adam Jackson (both pictured above).
Kirkpatrick got too much wheelspin at the start and fell behind Jackson, but quickly regained first when Jackson slid wide at Druids. Jackson kept attacking though and passed Kirkpatrick for the lead at Paddock.
Kirkpatrick at one-quarter's distance got back ahead with a thrilling Druids move on the outside, where he was able to box Jackson in behind a backmarker. The front pair continued in close company until the fight ended early when Jackson lost time with a trip through the Paddock Hill Bend gravel. He nevertheless retained second place ahead of double champion Graham Ross, and they ran in that order to the end.
"I didn't think it would be that close [with Jackson] from the quali times," Kirkpatrick said, "but I know he's fast and in the race it's always different.
"I tried it [the Druids move] around his outside the lap before and went a bit far. So tried it again and luckily there was a backmarker there to pin him against, and I got past. I saw the backmarker before and I knew I could maybe pin him [Jackson] in a bit, but we caught him at the right time and it worked out well for me."
Jackson added: "The car's a bit lairy to be honest, it was obviously fast but I think it needs dialling back in.
"I'd closed back up on him [Kirkpatrick] and I was pushing more, and I just pushed it a little bit too far through Paddock Hill and lost the back end. I had to steer into it [the slide] at which point it snapped a bit and went into the gravel."
Josh Bromley passed James Dennison in the early stages to win Class B, an effort that got Bromley Driver of the Race too. Dennison meanwhile lost second in class on the final lap when he got his braking wrong at Druids and went into the gravel. Matthew Harvey won Class C ahead of Chaz Ryles.
Race 2 proved much more straightforward for Kirkpatrick as he won at a canter after all of his Class A rivals – Jackson, Ross and Patrick Booth – started from the pitlane after an incident in the first attempted start (the other Class A runner, Doug Cole, didn't take part after encountering a misfire in Race 1).
In that Race 2 first start, Booth and Jackson, side by side and disputing second place at Paddock, made slight contact and slid and spun in front of a crowded pack and the luckless Dennison's machine was collected by Jackson. Dennison couldn't take the restart, though was physically unharmed despite an ambulance being called to the site of his stranded MG ZR 170.
Come the reconvened race Jackson, despite having to hold his steering wheel at an angle from the damage, was able to climb through the pack to finish second, pipping Class B winner Joseph Dalgarno in a thrilling run to the line. Tylor Ballard was second in Class B while James Cole, third in Class B and sixth overall, got Driver of the Race. Ryles this time beat Harvey in Class C.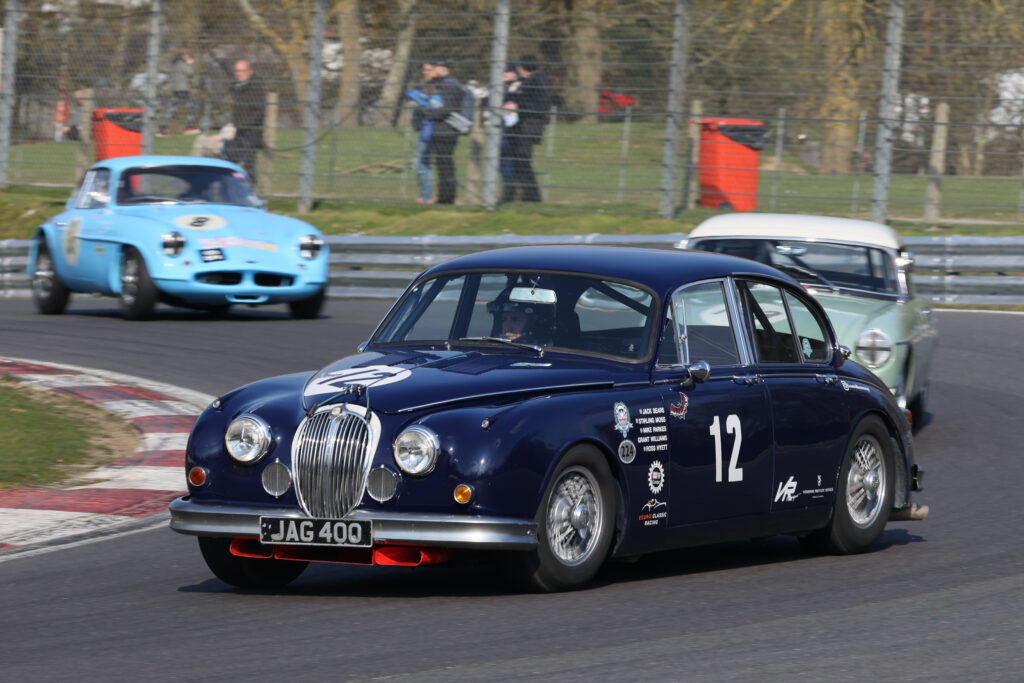 Ecurie Classic Racing
The guest Ecurie race, a 40-minute pitstop event for its classic cars, was won impressively by Grant Williams in his distinctive Jaguar Mk2 that was raced by Jack Sears and tested by Stirling Moss (above).
Williams led the opening stint clearly after polesitter Richard Lambert's Rochdale spun early on but Lambert then climbed through the field excitingly as often the fastest car on track and closed to within 3.7s of Williams.
The safety car was deployed during the pitstop window, as Robert Salisbury's Jaguar had left the track at Clearways, and Williams under the caution pitted a lap later than many rivals and dropped to seventh. He quickly rose to re-establish the lead though after green flag racing resumed, and held off the Jaguar of John Young, who had taken over from Nigel Webb, by 2.3s to win.
Nick Smith, newly back from a humanitarian trip to Poland, took over the Rochdale but pulled out before the end when the car dropped a cylinder, having also just picked up a couple of track-limit penalties.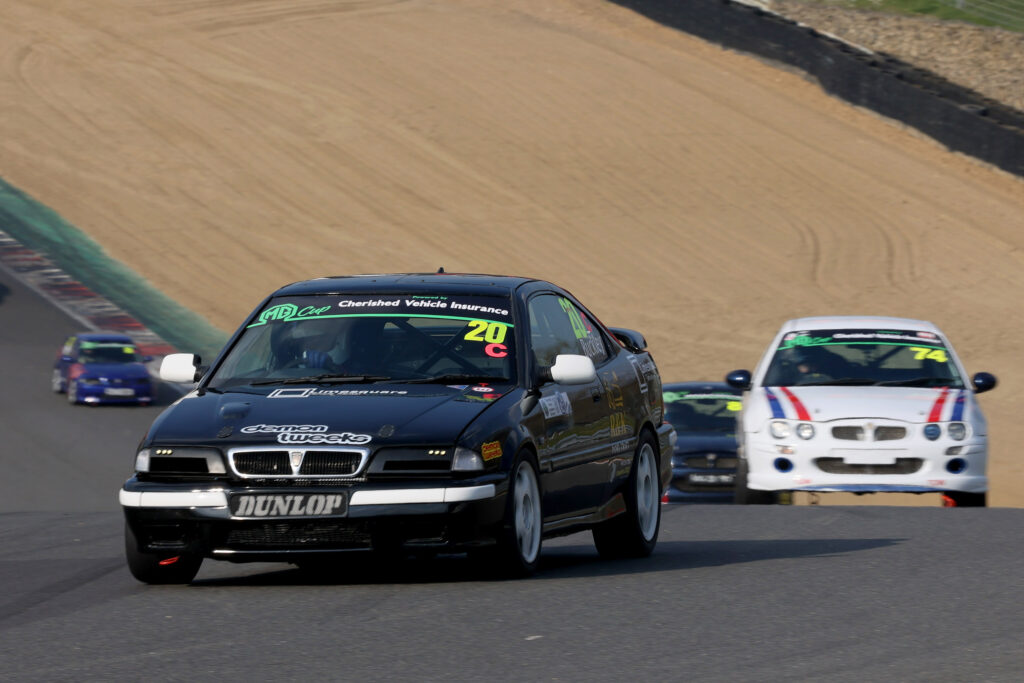 MGCC MG Cup powered by Cherished Vehicle Insurance
The MG Cup races at Brands Hatch also had two frantic battles for first, in this case between 2019 champion Richard Buckley (pictured above), these days back in his Rover Tomcat Turbo, and the invitational MG ZS 180 entry of Karl Green, who is more commonly seen in the Cockshoot Cup and was at Brands Hatch for the very first time.
Buckley held off an attacking Green to win a restarted Race 1, which also was ended early when Chris Boulton's MG ZR 190 went off at Paddock. Ian Boulton was third overall and first in Class B, ahead of Iain Dowler's fellow MG ZR 170.
Steve Tyler beat fellow MG ZR 160 runner Aaron Ross by 1.3 seconds to win Class A, and this also got Tyler Driver of the Race.
Buckley and Green took up battle for first again in Race 2, and Green passed Buckley a handful of laps in with an charging move at Druids. But this delayed both and Green and Buckley resumed in third and fifth respectively.
The pair quickly recovered to first and second and Buckley chased Green hard for the rest of the way, though Green won by 0.4s.
"Good day," Buckley said, "first race, I made an absolute hash start, it was awful, but I managed to then keep the lead. Karl in the ZS, that thing is so quick. I just managed to keep him behind me, we had a really good race.
"And then second race, same thing really. Didn't make a particularly brilliant start. Ian [Boulton] got in front and Karl was in front. I managed to get back past Ian then I made a demon move down into Paddock to take Karl, and I thought it was going to be pretty much the same thing [as Race 1].
"He did a bit of a late lunge down on me into Druids [and] Ian and Iain went past. So we were then chasing them and then I was trying to chase Karl to see if I could get him again but he was just that little bit in front. It was good fun again. Two really good races so can't be happier."
Boulton again was third home overall and the Class B winner, while fellow MG ZR 170 competitor Jack Chapman finished fourth overall and second in Class B and was awarded Driver of the Race.
Ross won Class A, while next up in class this time was Marcus Short in his Rover 216 GTi, who rose through the field impressively after a poor start. Short, taking part in only his second ever car race, is the latest racing son of Le Mans overall victory contender Martin Short – who built the 216 – and is the younger brother of last year's MG Cup frontrunner Morgan, who also cut his MG Cup teeth in the 216.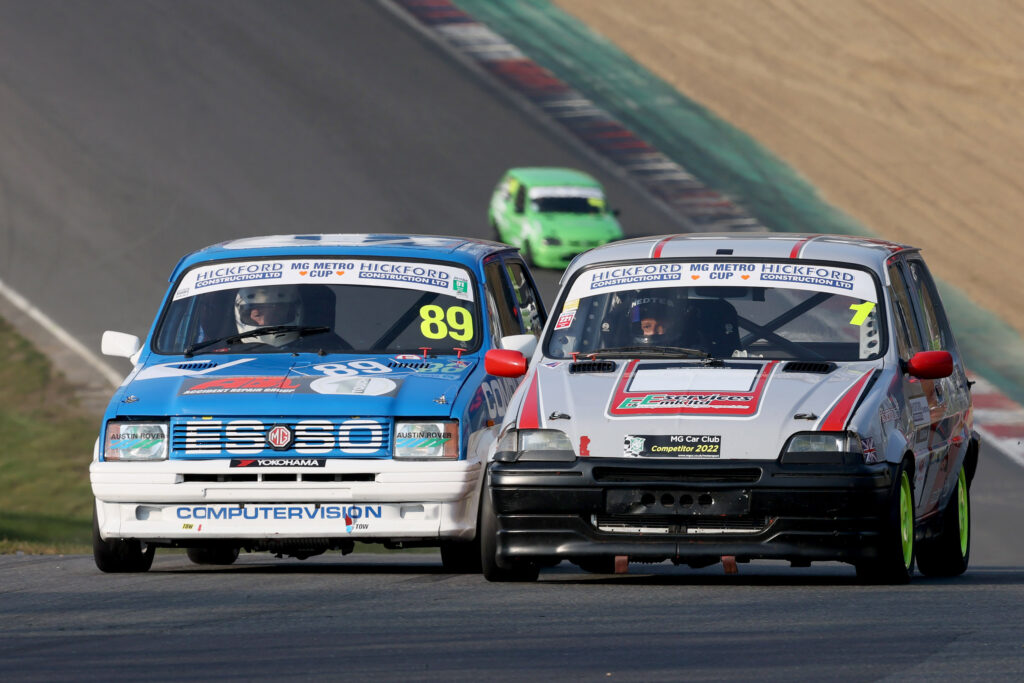 There was much to anticipate in this first MG Metro Cup gathering of the season, with 2017 Metro champion and reigning MG Cup champion Mike Williams returning along with the ever-rapid Dick Trevett, to join incumbent pacesetters such as reigning Metro champion Mark Eales and Robbie Kenning (both pictured above). And the anticipation was justified with fantastic multi-car battles at the front at Brands Hatch.
Eales looked set to lead the frontrunners home in Race 1, but the race then ended in unusual circumstances. The safety car was brought out as Kenning had slid into the Clearways gravel, and under the caution leader Eales peeled into the pits; it transpired that he had wrongly been advised to do so.
Williams was first to the chequered flag as during the one-lap green flag sprint to the finish Trevett, who'd inherited the lead from Eales' misfortune, went off at Paddock with a shock absorber problem. But the result was subsequently changed to make Eales the winner, and with this Trevett got second ahead of Williams. Jon Moore was fourth home, which also got him the Driver of the Race award. "The first race went really well, the final result wasn't quite what we all expected but I got the result I needed," Eales said, "I didn't want it to end like that but we'll say no more about that. Really happy [with my pace], onward and upward."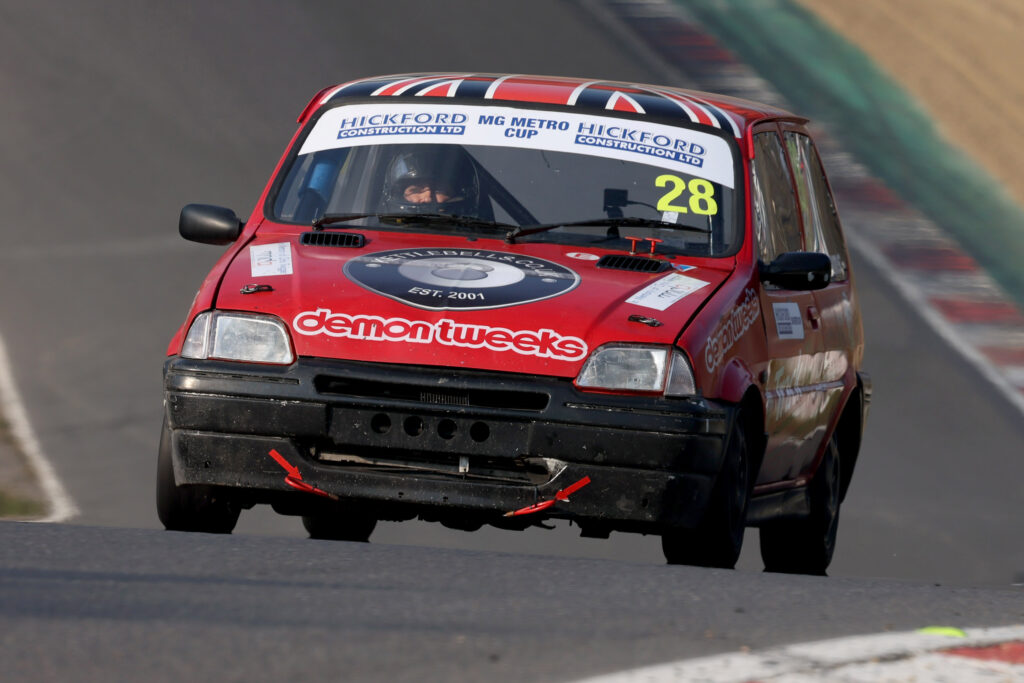 Williams got the recompense though of winning Race 2 and with it got Driver of the Race. Trevett was second home, while Eales didn't make the flag after he sustained rear damage when he dipped a rear wheel on the grass and spun "trying a little bit hard" then got hit by a pursuing car. Richard Garrard who was due to complete the podium pulled out with a lap to go when his CV joint seized. Tim Shooter therefore got third.
Williams said: "I know it sounds silly but I didn't want come and lead from the start and do a trackday type scenario where there's no-one really behind you and there's obviously no-one front of you, so throw me right in the middle of the pack like that and battling. To get the win as well at the end it was well fought and well earned. I had a great big smile on my face all day with the racing."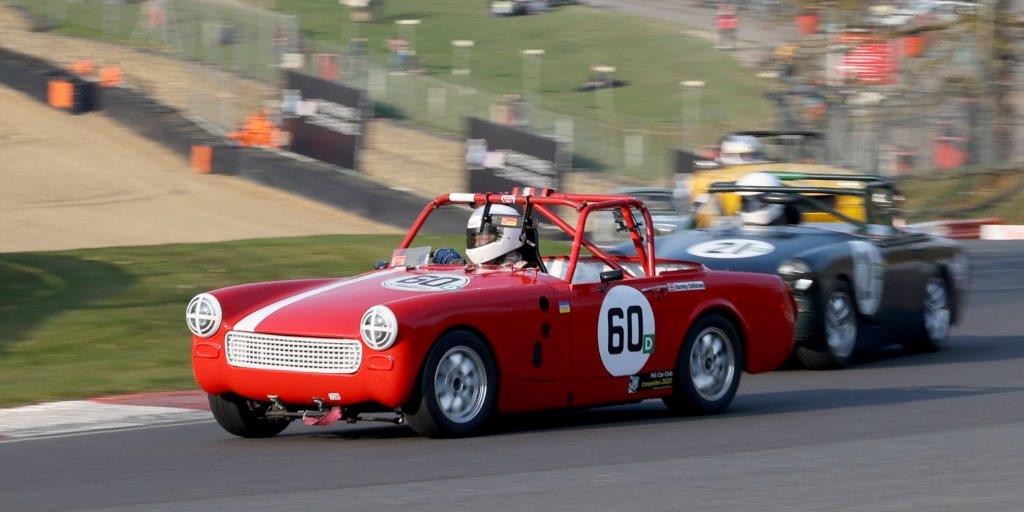 MGCC Lackford Engineering MG Midget & Sprite Challenge
The Midget and Sprite Challenge's Brands Hatch curtain raiser maintained the meeting's theme of having exciting multi-car battles for first place.
Victory in the opening race was a matter for Richard Bridge and returning multiple champion Paul Sibley, who started his comeback in the category at last year's Mallory Park season closer. And Bridge's Sprite prevailed in Brands' Race 1, as having attacked Sibley's Midget in the race's early part he got by at Druids around two-thirds' distance.
Reigning champion Pippa Cow in her Austin Healey Frogeye Sprite won Class E, passing Tom Walker's Sprite at half distance then holding him off for the rest of the way.
In Class D, Barney Collinson (pictured above) in his Midget prevailed in a three-way scrap with Ian Burgin's and Edward Easton's Sprites to win. This freshman victory got Collinson Driver of the Race.
Stephen Watkins – another returning to the Midgets and Sprites, in his case after two years away – finished third in Race 1, 20s shy of first, and set-up changes got him onto the pace for Race 2 and he therein beat Sibley for victory after another long and absorbing place-swapping fight. There was a slightly early finish when Oshin Shahiean in his Midget went off at Druids. Watkins also got the Driver of the Race award with his win.
Bridge meanwhile had ran with the front battle early on but then dropped back to finish a distant third after his throttle cable jammed.
"In the first race it understeered," Watkins said. "And the second one I changed the rollbar at the back and made it a bit stiffer at the back and balanced it up a lot nicer. That put me in a better position, and gave me a chance to have a good battle with Paul.
"I could see he was getting the same problem, he was understeering towards the end of the race. I was finding it difficult to get past him, but I was managing to get a better drive out of Clearways but he was keeping the inside line into Paddock. So I thought I'll have a go at going round the outside which is a bit iffy, but Paul was good and gave me the space. We had some great fun, he dived back a few times, we had a great race."
Bridge said: "The first race was brilliant, loved it. I'm trying to do the full season this year, and hopefully win it. It's about time I won the championship."
Bridge got his results despite having to install his spare engine at the 11th hour. "That's [the throttle problem] what happens when you have to put the spare engine in in a hurry. [We were] building up a new engine and we tested it on the dyno and it had a problem, so we decided to go with the spare engine which is a bit tired.
"But it didn't seem to matter in the first race, and if the throttle cable had been fine in the second race I would have been at least there or thereabouts for the win.
"It's great [to battle Sibley], because when I started in 2009 he was the man to beat but I wasn't in the same class as him, and I was really disappointed when I knew that I was going to come back to Class A and he'd decided to retire. He's so experienced, he's such a good driver"
Walker turned the tables on Cow to win Class E in Race 2, while Collinson doubled up in Class D with another win. He again beat Easton, while Shahiean had earlier spun out of what was another three-way class win battle. Collinson also got Driver of the Day.