MG Car Club enjoys sunshine on return to Cadwell Park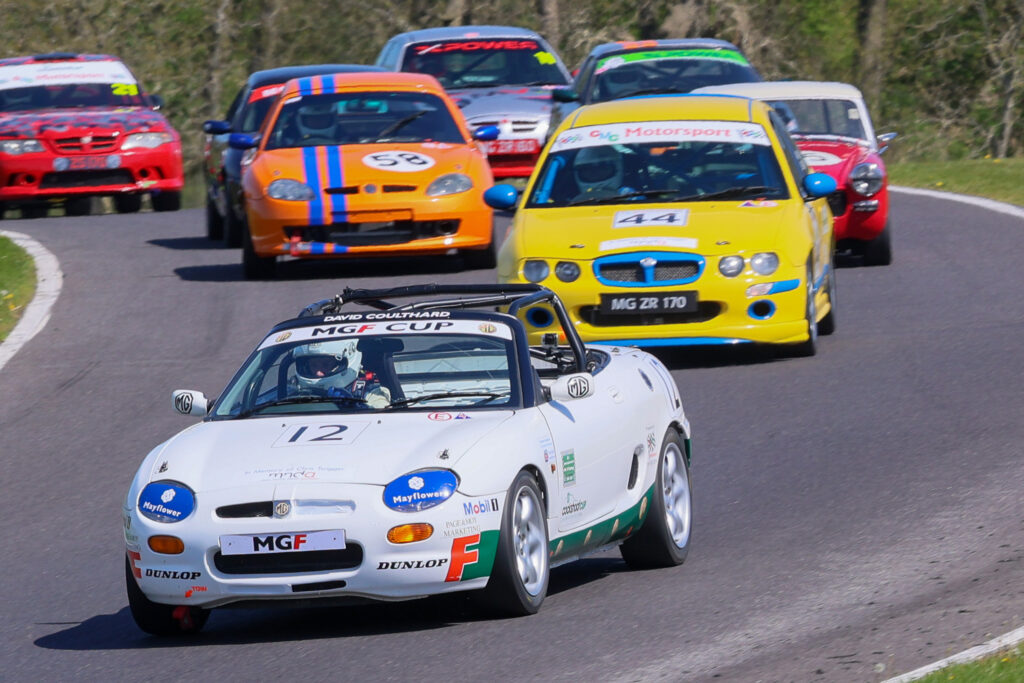 The MG Car Club's first visit to Cadwell Park since 2017 provided a day of close racing action under sunny skies in the beautiful Lincolnshire Wolds. With its narrow ribbon of tarmac snaking up and down hills, through woodland and into open areas, the 2.2-mile 'mini Nurburgring' proved as demanding as ever for the racers, who all rose to the challenge. The members' parade at lunchtime also provided an opportunity for those not competing to experience the fabulous circuit.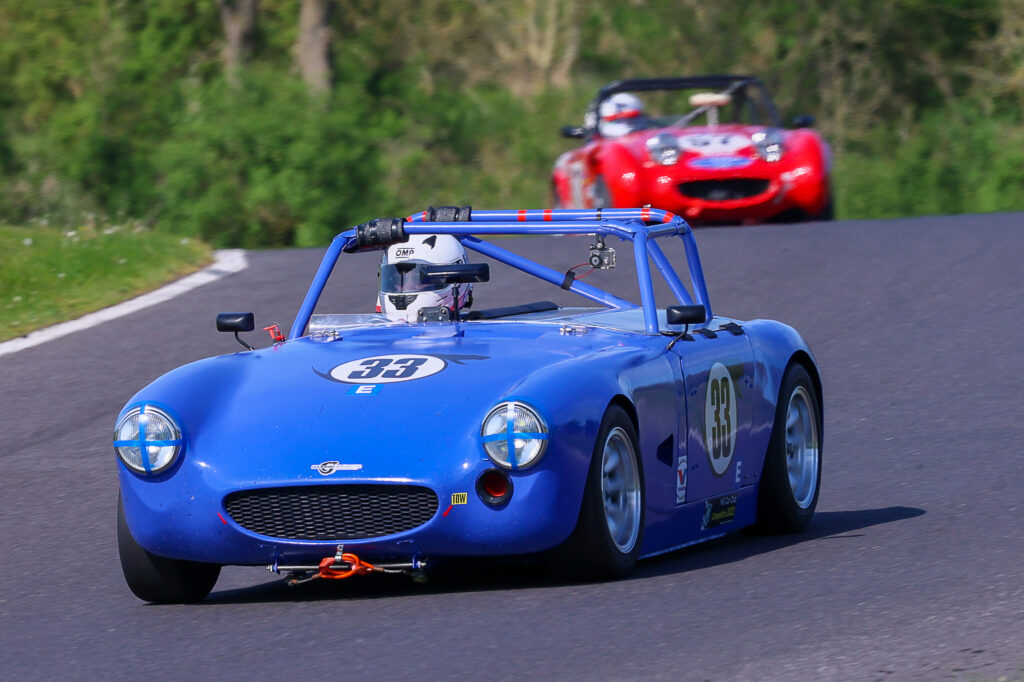 MGCC Lackford Engineering MG Midget & Sprite Challenge
After an excellent Midget & Sprite Challenge entry at Brands Hatch, numbers were a little down at Cadwell Park, particularly in Class A, where just three cars were entered. That may have contributed to Paul Sibley's dominance, although such was the former champion's pace he would have been tough to beat regardless.
One of Sibley's challengers was an early casualty as Brands winner Richard Bridge lost his engine in qualifying after it ingested a broken spark plug. With Mike Chalk caught in the upper midfield, that left Sibley's Midget – on pole by a massive 5s – a clear run to victory, which he duly claimed by nearly 10s without putting too much strain on the car.
Reigning champion Pippa Cow (Austin-Healey Sprite) was an equally comfortable second, and Class E winner, having briefly led at the start. A good scrap between Chalk and Peter Kennerley's Class E Midget for third overall sadly ended with Chalk in the wall between Mansfield and the Mountain. Kennerley himself was excluded from the results for not having a working transponder. So series sponsor Robin Lackford and James Hughes (both in Mk1 Sprites) completed the top four, Lackford holding on by less than a quarter of second.
Behind them, the Class D battle for road-modified cars raged. Ian Burgin (Mk1 Sprite) eventually prevailed, and was named Driver of the Race for his efforts, but Barney Collinson, Edward Easton (who both retired with engine woes) and Oshin Shahiean all played their part.
With a number of drivers suffering mechanical dramas, a depleted field assembled for race two. Sibley made a slow start from pole position, handing Cow an initial advantage, but Sibley powered back past on the Park Straight into a lead he wouldn't relinquish. Cow was again very comfortable in second, earning herself the Driver of the Race award for her dominance of Class E.
There was also a standout performance from Richard Bridge, who had stepped into his father John's Class E Sebring Sprite (pictured above) for the second race, and carved through from the back of the grid to third, despite a lengthy safety-car period – for Shahiean's demise at Barn – limiting the number of racing laps.
Class D was claimed by the Midget of former Cockshoot Cup man Ian Wright, who has switched to the championship this year.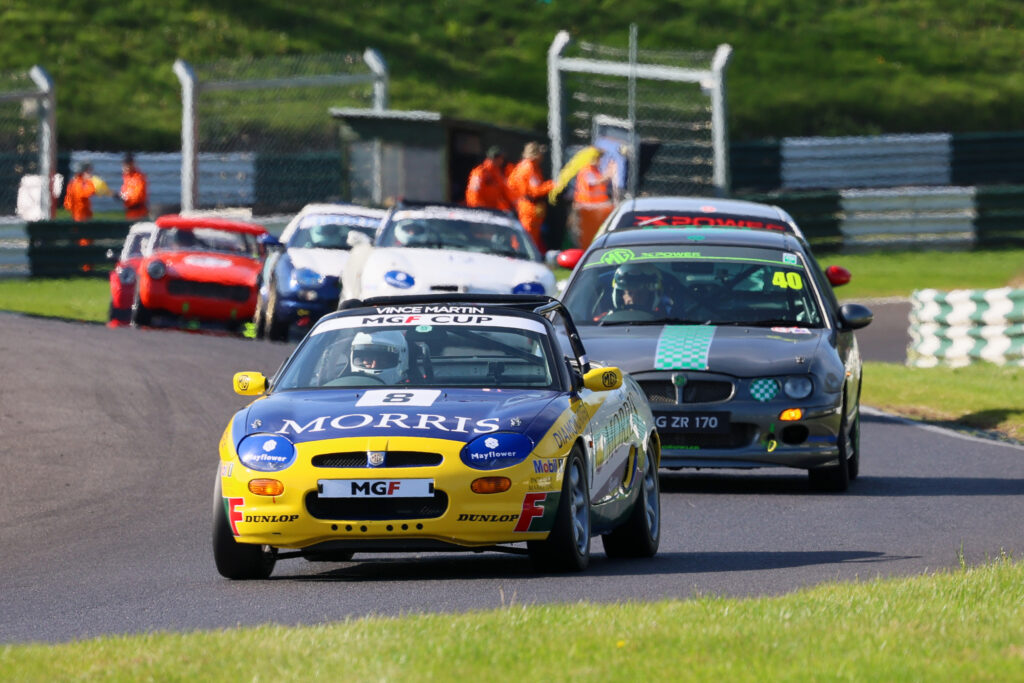 MGCC Cockshoot Cup
The North West Centre's own championship did not travel to Brands Hatch in March, so opened its season at Cadwell Park with a fantastic entry of 29 competitors, its most for a good many years. Two races provided some of the action of the day, with Mark Wright (pictured above) and Paul Wignall both recording their maiden wins in the championship.
Alternator trouble on Wright's MGF Cup car prevented him from recording a time in the Cockshoot Cup's qualifying session, meaning he would have to complete the minimum mileage out of session and start both races from the back of the grid. Wignall meanwhile was having his first competitive outing in the ex-Morgan Short MG ZS 180 after only a handful of laps testing at the same circuit. But last year's Class A champion belied that lack of familiarity to claim pole position by nearly a second from David Morrison's MG Midget. The rest of the grid was a little jumbled, particularly for the second race based on second-fastest times, after a safety-car disrupted session.
When Peter Bramble's MGB piled into the tyre wall at the circuit's iconic Mountain section, it brought a premature halt to race one and required a complete restart, negating Morrison's lead and the rapid progress of Wright to 12th place in a single lap.
Wignall made a better getaway at the second time of asking, but Wright's charge through the field was simply breathtaking. He had risen to fourth within three laps, before passing Keith Egar's K-Series powered Midget and Morrison on consecutive laps on the middle portion of the circuit. Wright then closed in on Wignall, who himself was particularly spectacular through the Mountain section. After sizing up his prey, Wright got a better exit from Barn, the final corner, and powered past on the start/finish straight. He eased clear over the remaining two laps to record a truly amazing victory, even more so considering he was experiencing gearbox problems.
"I'd got to get the run out of Barn because I knew I was flat through the left-hander [Coppice] and I knew he wasn't," explained Wright, who was named the commentators' Driver of the Race for a performance that would also earn him the Driver of the Day award. "I really enjoyed it. I don't mind starting from the back – the guys are all clean, a good set of lads to race with."
"I'm happy with that," grinned Wignall. "I don't think anybody's going to beat Mark, are they?"
Behind Wignall, Morrison won Class B in third overall while Chris Greenbank placed his MGF seventh to claim Class F honours.
Wignall started the second race from sixth on the grid, and avoided an incident at Charlie's, the long right-handed second corner, which dropped the Midgets of Morrison and Ian Whitt down the order and scattered several other cars.
Egar came away with the lead ahead of Phil Standish, the multiple race winner making a return at his local circuit in an MG ZR 190, with Wignall third. As Wignall worked his way into the lead, Wright was again carving through the field, and had risen to third when his race ended abruptly with a very smoky engine failure.
So Wignall was relatively untroubled on his way to a first win by more than 5s from Egar. Having lost out in the early skirmishes, Karl Green mounted a sterling recovery in his MG ZS 180, just pipping Standish to third on the line. Morrison also recovered well to sixth overall, again winning Class B.
Greenback completed a Class F double in fifth overall, for which he was named Driver of the Race. Behind Morrison, rear-wheel-drive debutant Tom Mensley brought the ex-Brian Butler title-winning MGF home in a very creditable seventh, second in class.
Class A in both races was won by debutant Rhys Higginbotham, piloting the ex-Leon Wignall MG ZR 160 as Wignall Jr (twice second) has transferred across to the similar car vacated by his dad.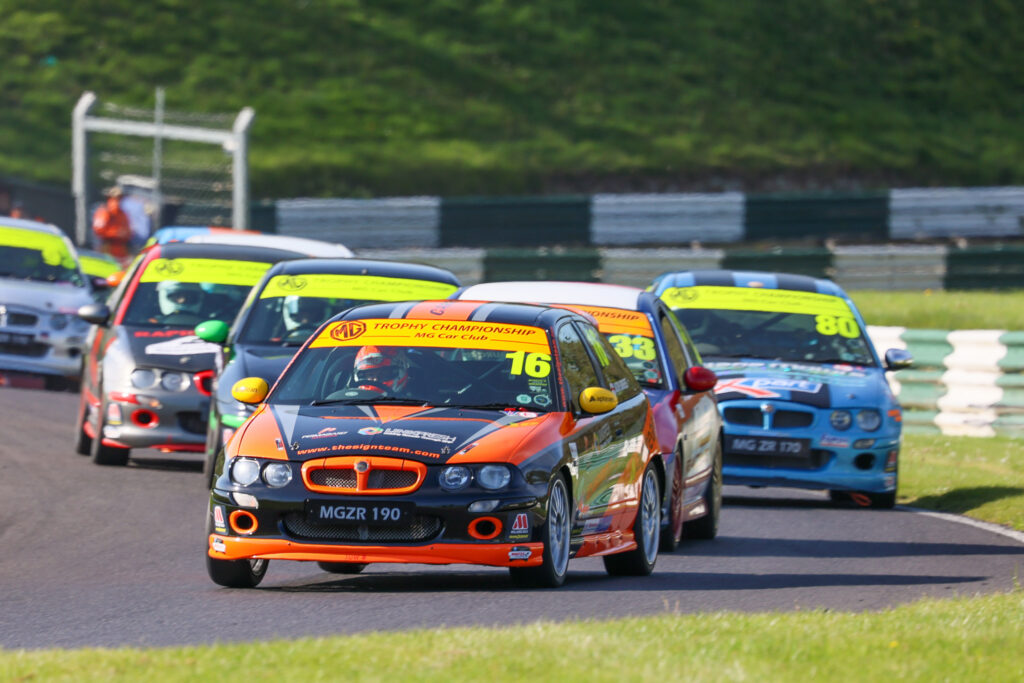 MGCC The C.I.T. MG Trophy
On his return to the MG Trophy after three years away, Jason Burgess (pictured above) claimed a comprehensive double victory, leading both races almost from lights to flag.
Sadly the Class A entry for MG ZR 190s was hit by mechanical troubles for Doug Cole and Adam Jackson (combined with work commitments), a Friday testing accident for Graham Ross and university commitments for Sam Kirkpatrick. With Robin Walker and Paul Savage bedding in their new cars after heavy accidents last year, that left Burgess and Booth to contest outright honours, chased by the leading ZR 170 runners in Class B.
While James Dennison (170) initially got the jump at the start of race one, Burgess and Booth quickly moved ahead. Booth whittled down Burgess's lead in the closing stages, but flat-spotted his tyres in a lunge at Park on the penultimate lap, allowing Burgess to win by a less representative 8.6s.
"I needed to make sure I got off the line faster than that 170 because it's a difficult place to overtake," said Burgess. "And he nearly had me – I think my front tyres were smoking trying to keep up with him! But once we got past we were away. Then I think I probably relaxed just a fraction, and then he [Booth] reeled me in."
Set-up tweaks for race two meant Burgess was in firmer control over Booth once the race restarted after an early safety car. That was caused by an incident among the Class B leaders on the Mountain section.
Josh Bromley had managed to repeat his Brands Hatch class win in the opener, for which he was named Driver of the Race. He passed Dennison at the Mountain late on after Dennison had a couple of frights when his brake pedal went to the floor. Bromley tried a similar move on the opening lap of race two, but his car ended up getting turned across the front of Dennison's. With the track virtually blocked at the top of the Mountain, the pursuing pack was left with nowhere to go. As Tylor Ballard attempted to squeeze past, his car was clipped and sent into the inner barrier, sustaining heavy damage. Ballard himself walked away from the wreckage and was amazingly the only retirement from the incident which took three laps to clear.
Astin Wigley was chief beneficiary, moving into third overall. Dennison managed to pick off Wigley in the restarted race to claim class honours and reignite his championship challenge after a difficult weekend at Brands. But Wigley held on to second in class, the best result yet for the teenager, which earned him the Driver of the Race award. Third was Joe Dalgarno, repeating his race one result, having survived a skirmish with Jack Chapman on the final bend.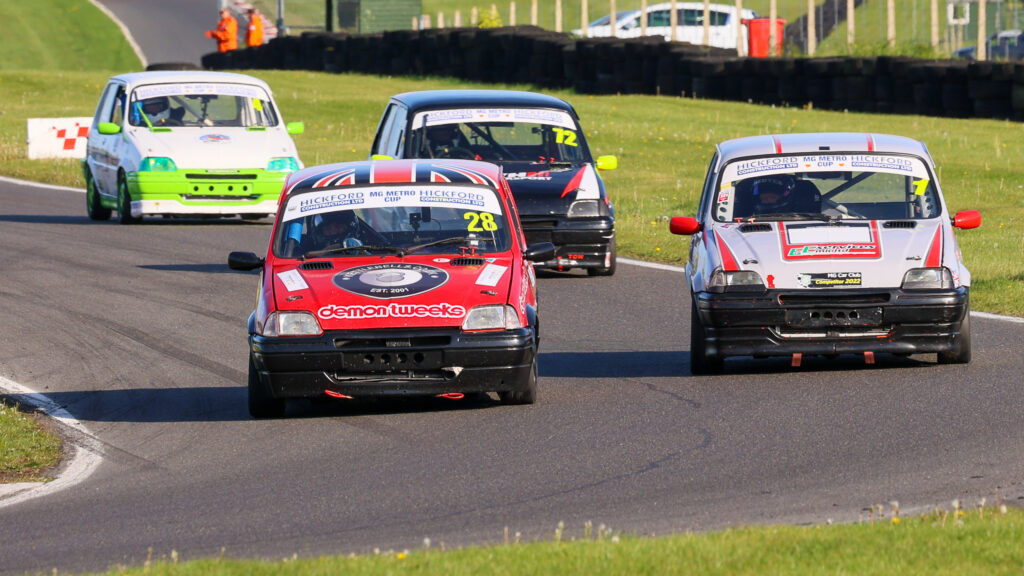 Hickford Construction Limited MGCC MG Metro Cup
Just as they did at Brands Hatch, Mark Eales and Mike Williams shared the spoils in the Metro Cup.
Reigning champion Eales (Car Number 1, above) jumped polesitter Williams (Car Number 28, above) at the start of race one, and inadvertently edged him onto the grass as Williams fought back approaching Coppice. With Williams forced to lift off, Tim Shooter and Dick Trevett nipped past.
By the time Williams had worked his way back into second, Eales had built a 6s lead and appeared to be in control. That was until a late safety car was required to clear Trevett's stricken car, which had bent a valve.
Eales had Williams breathing down his neck for the one-lap dash to the flag but, despite a couple of mistakes, clung on to win by 0.2s and was named the commentators' Driver of the Race. Shooter completed the podium ahead of Jon Moore, Matt Simpson and Les Tyler.
Eales again got the jump in race two, but Williams this time held onto second through Coppice and Charlie's, fending off Moore's challenge. That was crucial as it gave Eales no opportunity to break away. In fact, he didn't lead for long at all, as Williams got a better exit from Charlie's to claim the inside line along Park Straight and into Park. From there, Williams controlled the race to win by nearly 5s.
"A good day, good fun," was Williams's verdict. "I got a good start, there wasn't anything really wrong with it [but] he's obviously just a little bit better off the line. I just kept my foot down [through the] first corner [to keep Moore behind]. I wasn't slowing down for that one! I had to slow down in the first race – that was why I got passed in the second corner.
"I got the distance [ahead] and then it was just a case of maintaining that, and making sure Mark was a good second behind me. If it dropped beneath a second I put in a 'qualifying' lap and off we start again."
Shooter audaciously passed Moore into Hall Bends mid-race to clinch his second podium of the day, while Tyler this time beat Simpson to fifth. Driver of the Race was debutant Ben Young who impressed many on his way to ninth. It had been a challenging debut for Young after mechanical woes forced him to miss qualifying and he was only just able to make the lunchtime members' parade to complete his requisite three laps. From the back of the grid, he rose to 10th in race one, then improved another position in the sequel, reducing his lap times markedly over the course of the day.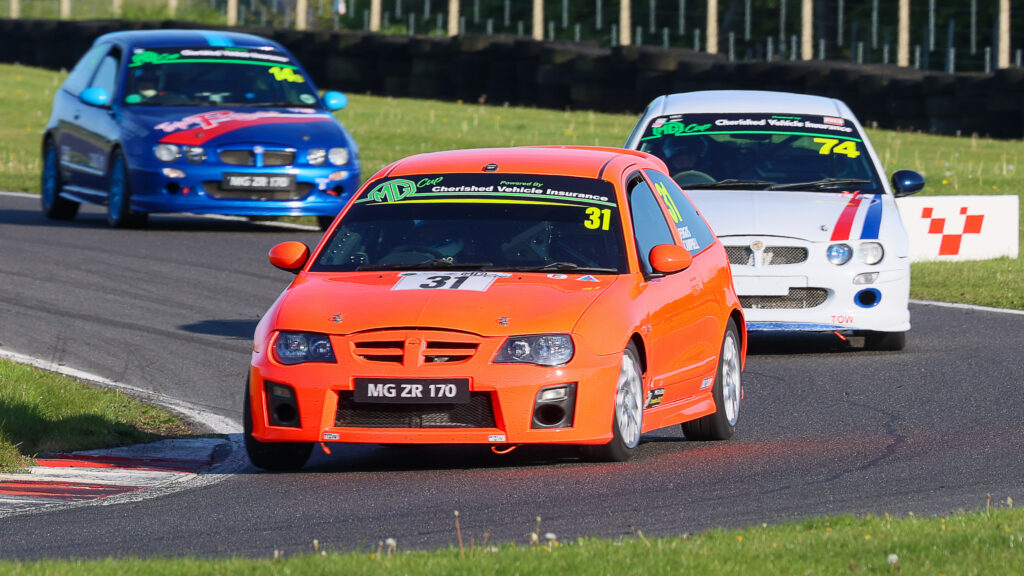 MGCC MG Cup powered by Cherished Vehicle Insurance
While Fergus Campbell claimed a dominant win in the opening MG Cup race, there was plenty of intrigue in the tactical contest going on behind. That would become the lead battle in the second race, in which Richard Buckley prevailed.
Campbell (pictured above), the current MG Trophy Class B champion, plans a relaxed season, and was making his first appearance in the MG Cup. Outright power is not as important at Cadwell Park as some other circuits, which Campbell demonstrated by putting his MG ZR 170 on pole position alongside the similar car of Ian Boulton (Car Number 74, above). The Class B pairing held that order throughout, with Campbell claiming victory by nearly 5s.
"Cadwell Park's a fantastic place to come to," enthused the victor. "You've got to keep your wits about you round here."
Behind them, Dave Nixon was struggling to maximise a new set of tyres on his Rover 220 Tomcat. Having to go defensive through Gooseneck to keep the similar car of Buckley behind compromised their overall pace and allowed a multi-car train to form behind. Eventually, the pressure told, and Nixon's trip over the Mansfield kerb let Buckley and Dennis Robinson (ZR 170) through, with Buckley winning Class C.
Seventh overall and winning Class A was Driver of the Race Marcus Short (Rover 216 GTi), who had qualified a fantastic third overall, and stayed among the main pack, clawing back in the corners what he lost on the straights. He would repeat his class success later in the day, albeit slipping to ninth overall.
From row two, Buckley jumped Campbell and Boulton at the start of race two and was joined shortly afterwards by Nixon in second. A similar train then formed behind the leader, with Buckley holding firm by making sure Nixon always had to think about attacks from behind as well as his own challenges for the lead.
"It was a bit of reversed roles there, wasn't it?" said 2019 champion Buckley. "I got an absolutely amazing start. I didn't do what I normally do which is spin the wheels up. Took it nice and steady, they hooked up, and that was it – I was gone!
"I saw Dave had had a fairly decent start as well. Fergus is a really good driver. He's class. So I pretty much knew that if I could keep Dave at bay, then Fergus would keep nibbling at him. I was playing him a little bit because I knew Fergus was there, so if I could just back him up a little bit, especially coming up through up over the Mountain and into the woods, let Fergus have a little bit of nibble at him, he's got to look behind him."
It worked well, and earned Buckley the commentators' Driver of the Race award, as he won from Nixon, Class B victor Campbell and Boulton, with father-and-son duo Dennis and Carl Robinson completing the closely-contested top six.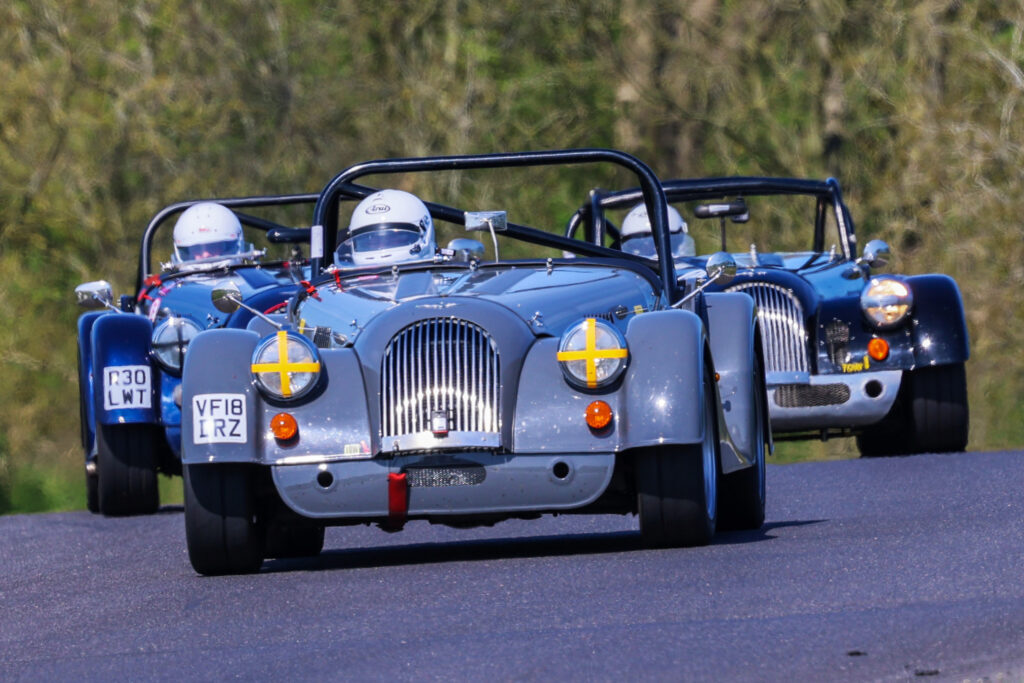 MSCC The Morgan Challenge
A 21-car field of Morgans made a guest appearance at the event for a single 30-minute race, the longest of the day. But Russell Paterson and Roger Whiteside ensured it remained absorbing throughout as they contested victory in their V8-powered +8s.
Polesitter Paterson lost out to Whiteside when the latter got a better run exiting Barn at the end of lap two. But Paterson reclaimed a decisive lead at around two-thirds' distance when Whiteside got sideways through the Mountain section.
The gap ebbed and flowed through traffic, but Paterson held to win by less than a second, with Andrew Thompson's Snetterton-winning ARV6 in third, the Class 2 winner, some 30s further back. Thompson was followed by Tom Andrew's +6 and former F3 Cup man Shane Kelly's four-cylinder machine, which won Class 3. Craig Hamilton Smith in the Baby Doll just edged reigning champion Brett Syndercombe for sixth.