Snetterton Race Report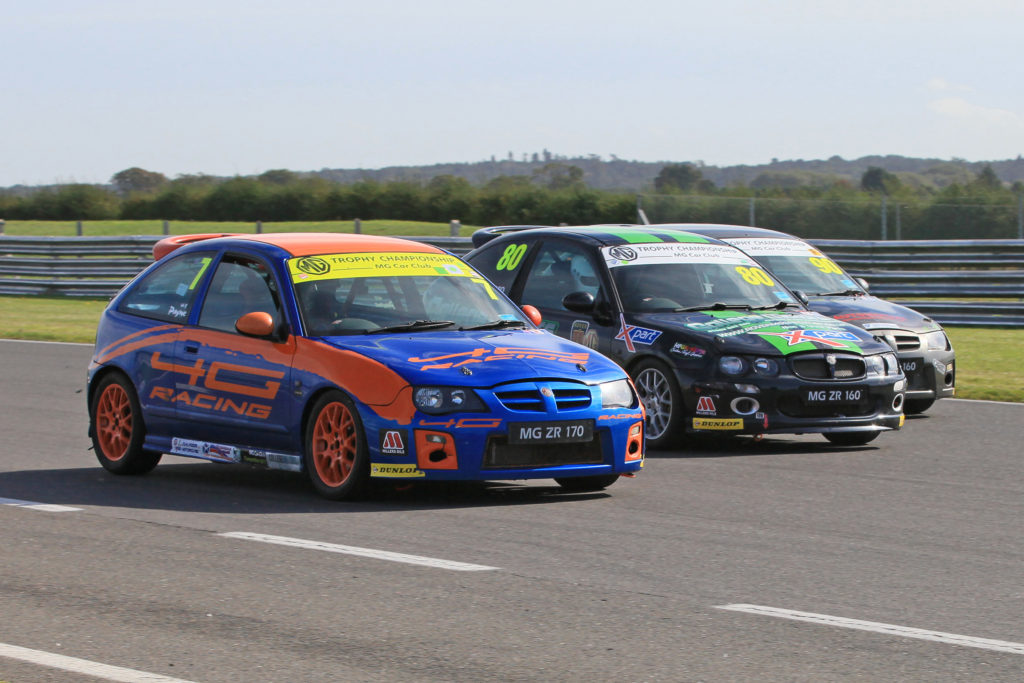 Snetterton arrived once again, and with it came the end of another season. A mixture of weather across the two days made for interesting racing conditions, yet the entertainment was as thrilling as ever. As well as our usual array of MGCC championships and series', we were joined once again by the MSCC Aero Racing Morgan Challenge, for what was a tantalising showdown. Words: Leanne Fahy, Photos: Dickon Siddall.
The Boganmoor MG Trophy
With a championship title to be decided, all eyes were on the MG Trophy grid for the first of their two races. Ross Makar succeeded in the penultimate race of the 2017 MG Trophy season. In what was an abrupt end, due to a red flag with just 1 minute 30 seconds left on the clock.
As the race began, it was Paul Luti who stormed to the head of the field, as pole sitter Doug Cole spun out of contention. After landing at the back of the field, we were set to witness an outstanding performance from Cole, as he negotiated his way through the pack.
As the 29 car field circled the Snetterton 200 circuit, Makar saw his opportunity to edge passed Luti for the lead. Once ahead, he managed to secure enough of an advantage to claim another race win.
Behind, attentions turned to another exciting Class B tussle. With Luti ahead, he soon entered defence mode, as a train of rivals tried their utmost to muscle their way ahead.
As the final lap came into sight, the red flag robbed us of a nail biting finish, when a car needed recovering from a dangerous position near Nelson's. As the action ended, Luti held onto his Class B victory, ahead of Ollie Coles, Ryan Firth and Ollie Hood.
First lap woes were not enough to dampen Cole's efforts, when he finished second overall, just over three seconds adrift of Makar. Gary Wetton claimed third overall. Andy Spencer proved victorious in Class C, ahead of Matthew Turnbull and Paul Croker.
A sterling performance from Adam Jackson saw him crowned as Driver of the Race, after steering his way from 19th on the grid to a ninth place finish. Our commentary team also deemed him worthy of the Driver of the Day award on Saturday.
In true MG Trophy style, the championship battle went right down to the wire. The final 20 minute race of the 2017 season would be the one to crown our new champion.
It was a familiar sight at the head of the field, as Makar fended off Cole for the duration. With the pair separated by little over an inch, it was a race long tussle that saw Makar take the final victory of the season, ahead of Cole. Despite missing out on the race win, Cole's performance saw him awarded the Driver of the Race.
With Class A decided, attentions again turned to the Class B battle, which was as frantic as ever. Ollie Coles held the focus this time, as he led the way, hounded by Luti. As the pair circled, a late braking manoeuvre into Nelson's from the latter launched Luti ahead, at least for a little while.
Determined to seal victory, it wasn't long before Coles fought back and surpassed for the Class B lead once again. From here, the duo engulfed themselves in a furiously entertaining scrap, that eventually saw Coles secure the spoils, ahead of Luti and Tom Butler.
Andy Spencer doubled his success in race two, with another commanding victory. Paul Croker claimed the runner-up spot this time, ahead of Joe Cruttenden.
In what has been a fantastic season of racing once again, we are pleased to confirm your 2017 MG Trophy Champion as Matthew Turnbull, also the Class C Champion. Ross Makar claimed Class A championship spoils, whilst Paul Luti was crowned Class B Champion.
MGCC WES BCV8 Championship
Neil Fowler demonstrated a commanding performance in the first of two BCV8 Championship races. After gaining the lead immediately, Fowler extended his advantage to an eventual 15 second advantage.
Unable to make a dent in Fowler's lead, Ian Prior steered his way to a solitary second place, ahead of James Wheeler in third.
Jim Bryan claimed Class C honours from fourth place overall, whilst fellow class winner Ben White and Ollie Neaves completed the top 10. John Wreghitt's performance deemed him worthy of the coveted Driver of the race award.
Just 0.6 seconds separated Ian Prior and James Wheeler at the end of the second outing, after a race long battle that saw Prior finish ahead.
Drama in the 11th hour for pole sitter Fowler saw his MGB GT V8 machine extracted from the grid by way of marshal power, as everyone else slotted into place. As the race began without him, it was a two horse race at the front between Prior and Wheeler for the duration.
Despite immense pressure from the striking yellow machine of Wheeler, Prior secured a victorious end to his 2017 BCV8 Championship, also claiming the Driver of the Race award.
Ollie Neaves originally held third place, however as Jim Bryan stormed his way through the pack, the pair swapped positions. Bryan claimed a third place finish, ahead of Neaves, Ben White, Ben Tovey and Stephen Mckie.
MSCC Aero Racing Morgan Challenge
A familiar sight befell the sole Morgan Challenge appearance when regular frontrunner, Keith Ahlers stole the show.
After starting second on the grid, it was Andrew Thompson who dominated the early stages, as he led the way. After being chased by pole sitter Ahlers for a number of laps, Thompson was soon muscled aside, as Ahlers stormed to a dominant win by over 14 seconds.
Thompson held on for second place, ahead of third placed Tony Lees. Simon Orebi Gann progressed on his sixth place qualifying position, to finish fourth.
MGCC Peter Best Insurance MG Cup
Alan Brooke sidelined his Oulton Park woes, to claim an opening race victory at Snetterton. After an early race challenge against Matthew Simpson and his Rover Tomcat, Brooke came through to triumph.
As the red lights diminished, it was Simpson's fast starting Tomcat that led the way, as Brooke followed. Brooke isn't one to hang about, and with championship points in his sights, it mounted a challenge, which saw him surpass Simpson and take the lead.
Simpson held on for a second place finish, whilst Richard Buckley completed the top three. Behind, Dan  Jones impressed with a fourth place finish, after starting in ninth place. A feat that saw him worthy of the Driver of the Race award. Peter Burchill had looked set for a strong result, after moving up the field, however his chances were eradicated when his MG ZS suddenly slowed mid-race, causing him to pull off circuit.
Ian Boulton suffered a toasty end to his race, when his MG ZR set on fire under the bridge, around the back of the circuit. With marshals on the scene in seconds, he was able to salvage his car, ready for race two on Sunday.
Simpson dominated race two on Sunday morning, as Brooke fell by the wayside. A rain shower before the start made for a wet race, confirming conditions on circuit as somewhat treacherous.
An equally strong getaway for Brooke and Simpson from the front row of the grid saw Simpson manage to sneak ahead. With little between them, the top two edged away, renewing their two car race from Saturday.
As the pair diced, problems evolved for Brooke when he spun at Murray's whilst lapping a backmarker.  After quick composure, he rejoined, albeit down in eighth place.
With a safety gap between him and nearest challenger Iain Dowler, Simpson steered his way to victory by over four seconds. Dowler held on for second place, ahead of Joshua Wright. A superb performance for the Class A entrant saw him progress from 10th on the grid to third overall and first in class. An outstanding display that saw him rewarded with the Driver of the Race accolade.
Richard Buckley secured fifth place, whilst Brooke managed to work his way back to a sixth place finish.
MGCC Lackford Engineering MG Midget and Sprite Challenge
It was a lights to flag triumph for Stephen Collier, in the first of two MG Midget and Sprite Challenge outings. Pole position gave him the ideal advantage, as his MG Midget fired its way towards turn one.
Once ahead, it was a steady race for Collier, as places changed behind him. Ed Reeve acted as rear gunner early on, however as the race progressed, it was Stephen Watkins who edged ahead, to claim an eventual second place finish and Driver of the Race.
Reeve's efforts saw him hold on for a third place result, whilst Paul Campfield secured fourth place, and a Class E victory. Carl Chadwick and Richard Perry completed the top six.
Collier emulated his race winning performance in race two, albeit in somewhat different conditions. A wet outing meant Collier enjoyed a comfortable race win, an astounding 57 seconds ahead of nearest challenger, Reeve.
Reeve made second place his own for the duration of the 20 minute outing, in what was a solitary performance. Treacherous conditions on circuit made for an interesting outcome, as third place changed hands a number of times.
As the chequered flag fell, it was Bruce Carter who settled in third place, ahead of Carl Chadwick, Richard Perry and David Morrison. Our commentary team awarded Chadwick the Driver of the Race.
MGCC Drayton Manor Park MG Metro Cup
A change in weather conditions part way through the first MG metro Cup race made for an interesting outcome, as the lead changed hands in the final moments. Andrew Ashton was the man ahead when it mattered, as a train of cars swiftly followed him across the line.
Mike Williams was the man to watch, as he stormed towards turn one ahead of the chasing pack. As a plethora of MG Metro cars hunted him down, Williams was unfazed, as he held his ground lap after lap.
Separated by inches, Williams soon found himself hounded by an Ashton-Connell quartet, with Andrew ahead of Lee Connell, Jack Ashton and Tony Connell.
As Andrew edged ever closer to Williams, a sudden slide saw him drop to third place, causing for a reshuffle of the order. A late rain shower, which covered part of the circuit made for an interesting end, and with a recovery drive on the cards from Andrew it was set for a showdown.
With the chequered flag in sight, it was Andrew Ashton who recovered to take victory, narrowly ahead of Williams, Lee Connell and Jack Ashton.
Early morning rain declared race two a wet race. Another championship decided in the final race of the season, there was everything to play for. After 20 minutes of solid entertainment, it was Mike Williams who mastered the conditions, to be crowned race winner.
Williams fended off fierce attention from Andrew Ashton early on once again. However, when a sudden engine issue reared its head, Andrew was forced out of contention.
Unaffected by the conditions, Williams held on for a dominant race win, ahead of Lee Connell, Dick Trevett, Tony Connell and Jack Ashton.
MGCC British Motor Heritage 4 Hour Relay Race
It was all about the Morgans in the four hour relay race. Morgan Mustangs dominated on the road, ahead of Aero Racing. The only team not have a handicap applied, Morgan Mustangs had a lot of work to do.
As the final lap came into sight, drama hit the Aero Racing team, when Tony Hirst came flooding into the pits with a left rear puncture. In a last minute change, a swift manoeuvre saw them launch a reserve into the race for the final tour.
The Matthew Bentley Racing team tried their best to upset the rhythm of the Morgans, with their combination of MG ZR and trio of Lotus Elise entrants, finishing third on the road.
With handicapped results applied, it was FORC Alfa Squadra Corse who were awarded top spot, ahead of Aero Racing and Morgan Mustangs.
That concludes yet another season for the MG Car Club, and what a season it has been. Plans for 2018 are already being discussed and no doubt the new calendar will be with you all shortly. I would like to take this opportunity to thank you all once again, the great racing you all provide makes my job extremely easy and enjoyable. I'm sure you will also join me in thanking Pete and Heather Macwaters for the last 10 years, I'm sure we'll see them both around the paddock next season.
Have a great off season. See you all in 2018.
[portfolio_slideshow id=3847]