Oulton Park Race Report
A variety of MG Car Club series were packed into a hectic single day's schedule on September 1 for the club's penultimate meeting the season held in pleasant weather at the spectacular Oulton Park circuit.
British Motor Heritage North West 100
And the schedule included a very special one-off British Motor Heritage North West 100 mile race, run as an aggregate of two 50 mile races allowing refuelling and potentially a driver change between legs. The race was open to sportscars, GTs and Saloons on moulded and treaded tyres.
Andrew Rath driving a Lotus Europa built a fifty-four second lead over Bernard Foley in a MGB GT in the first part of the 100 mile race. In the second part though it looked like Foley – who was during alone – would be able to claw back the time to win overall and he indeed at the halfway point of part two was forty-four seconds clear of Chris Tilly, who had taken over the Lotus from Rath. However then the gap stabilised and Tilly was subsequently able to close back in meaning he was only twenty-one seconds shy at the end and that he and Rath were the overall winners.
The Dan Surridge and Julia Penfold pairing was third in their ZR 170 and Penfold was awarded Driver of the Race for the second part after holding off James Wheeler's Roadster for much of the way in a spirited dice. Paul Rayment got Driver of the Race for the first part after prevailing in a long all-MGB Roadster battle with Simon Skentelbery.
The Knight Industries MG Trophy
Jason Burgess won both The Knight Industries MG Trophy races and in so doing took maximum advantage in the championship table. Championship leader heading into the meeting Graham Ross led the first race from pole with Burgess in second seeking a way by. The pair touched at Old Hall second time through leaving Ross in the barrier and Burgess dropped behind new leader Gary Wetton. Burgess then got by Wetton at half distance for a lead he wasn't to lose.
And Paul Luti in Class B, who was second to Ross in the overall championship, also didn't make the end of race one as his brake pedal went to the floor leaving him in the gravel. Luti had also been unhappy with his brakes in the previous two rounds at Donington and Silverstone, and his problems included air getting into the system as well as issues with the pads.
Luti in the first Oulton Park race had been in locked in a tight scrap for Class B honours, which was won by Ryan Firth in third place overall and Firth with it got Driver of the Race. He just pipped Sam Kirkpatrick for the class win with Mike Harris, who was third in Class A, also in close proximity between the pair. Kirkpatrick dropped to third in class afterwards, behind Tom Butler, due to a five second penalty for track limits being applied.
Tylor Ballard continued his run of Class C wins stretching back to his Brands Hatch crash earlier in the year, consigning Class C table leader John Booth to second place four seconds adrift.
The damage from his race one off meant that Ross was unable to take part in race two and Burgess again took advantage by winning. He led from lights to flag though had to resist close attentions from second-placed Doug Cole for the entire distance, particularly after a period when the safety car boards were displayed then withdrawn before the pack had formed up, in which time Cole moved a little closer to the leader. Wetton followed them home in third, four seconds adrift.
"Over the moon," said Burgess after his double win. "Really happy with the second race, it was a clean fight. Kept honest by Doug, as he always does, we were both throwing everything at it and we were pretty even.
"I was looking forward to the chequered flag – it seemed to go on forever and ever!"
"My early lead was because I managed to get a break away, I think Doug had got someone behind him and I worked extra hard to get the tyres warm, up to pace, and I was very confident from the word go."
Race two's Driver of the Race award went to fourth-place finisher Harris for upping his pace and staying well up the road from the Class B pack that time.
Burgress also made gains in the overall championship in race two as Firth finished third and Luti fourth in Class B behind class winner Kirkpatrick and second-placed Matthew Turnbull. The quartet had a close battle for class honours though the mentioned safety car board intervention had the effect of spreading them out a little.
Ballard again led home Booth in the Class C race, this time by two seconds.
TN Racing BCV8
Russell McCarthy won the first TN Racing BCV8 race comfortably in his GT V8. Having taken pole by over a second he admitted that starts were his Achilles' heel, which came to pass as he dropped to third at the off behind Rob Spencer and Neil Fowler – that pair who were separated by just a point at the Class D table top heading into the meeting.
McCarthy passed Fowler at Old Hall on lap two then swept by Spencer on the start-finish straight third time by to take back first place. Spencer then dropped to a distant third with a rough-sounding engine and second-placed Fowler took up the chase of McCarthy enthusiastically, finishing within six seconds of him.
Ollie Neaves was fourth overall and took the Class C win ahead of Rob Spencer's son Jordan, who also got Driver of the Race thanks to his spectacular driving. Benjamin Tovey took a comfortable Class B victory – pre-Oulton Park class championship leader Simon Cripps was not at the meeting – while Class AB leader Simon Tinkler also took class honours.
Poleman McCarthy was also beaten off the line in race two, dropping to third initially and later on the first lap dropped to fifth after an off. He recovered to join a close three-way battle for the lead with Fowler leading and Ian Prior in second – who had a puncture in qualifying and a throttle cable break early in race one.
McCarthy was able to take second place from Prior at around two-thirds' distance but Fowler held McCarthy off for the remainder to win. Prior maintained third place and finished just over a second shy.
It was Fowler's first win of the season and it also got him Driver of the Race. The result was particularly good for him in the Class D championship as Spencer's engine problems in race one – which was due to a spring detaching with the potential to damage a piston – meant he had to sit out race two.
"Long overdue a win! So that was needed!," said a relieved Fowler afterwards. "I know I'm leading my class [now]. Just one round to go at Snetterton, so [as] long as I finish there and finish reasonably I'll be quite happy.
"The whole race [two was] under pressure. It was really enjoyable – enjoyable seeing the chequered flag!"
Neaves was denied a double Class C win when he pitted with technical problems with just two laps go, which let Andrew Young through to take the victory. Tovey and Tinkler again took comfortable class wins in Class B and AB respectively.
Peter Best Insurance MG Cup
Richard Buckley in his Rover 220 Turbo took his fourth win of the season in a dramatic Peter Best Insurance MG Cup opening race, co-sponsored by Expert Beauty, and with it got Driver of the Race. Buckley seized the lead from Matthew Simpson's 220 on the final lap when the latter ran out of fuel, though Simpson still salvaged second. Earlier Alan Brooke's Metro had led but had a ten second penalty applied for an out of place starting position, then he slowed and pulled in having heard a strange noise from his engine at the top end.
Mike Simpson as at Donington started his Metro from the back – this time due to smelling fuel in his cockpit in qualifying then being unsure about his wheel bearings all of which meant he did not set a qualifying time. This time he came through the pack to run third in the race, but then was told to pit by race control as his exhaust was hanging off.
Ian Boulton finished third overall and won in Class B in his ZR 170 – he was locked in a close fight with David Thompson's fellow 170 which was resolved when Thompson got a five second penalty for track limits late on, though Boulton pipped him home in any case. Darren Harris eased to a dominant Class A win in his ZR 160.
Race two lost both of his front row occupants almost immediately. Brooke who was due to start second did not want to risk a larger engine failure after his earlier problem so did not take part. Poleman Simpson also had a knock-on impact from his first race issue; his running out of fuel then created a problem with his fuel pump and with little drive at the start of race two pulled off after a few metres.
The race two show was stolen by Williams who once again starting from the back, of 15 runners, had a stunning launch and moved around the outside of turn one to run in second place after a few corners! He then cleared Buckley to lead on lap three after a frenzied battle which including Williams leaving the track briefly.
Buckley was able to stay with Williams for the rest of the way particularly as Williams' Metro developed a misfire later on, though Williams held on for his first win since his double triumph at Brands Hatch earlier in the year.
Thompson finished third and claimed the Class B win. He had again been in close battle with Boulton but the latter was eliminated in a dramatic multi-car incident also involving Dave Nixon and Stuart Tranter.
Harris got fifth place overall took another Class A win which has made his class title this year a matter of when not if. He also was given race two's Driver of the Race and overall Driver of the Day for his advantage over the rest of his class – in both races he finished over a minute clear of the next home.
Drayton Manor Park MG Metro Cup
Jack Ashton won the sole Drayton Manor Park MG Metro Cup race, aided by that his brother and championship rival Andrew started from the back after not setting a qualifying time as his gearbox dumped its oil during the session. Unusually neither Ashton took pole, as that was taken by Shamak Glodek, though Jack Ashton took the lead at the start. Andrew was fourth at the end of lap one and passed Glodek for second, around the outside of Old Hall, with two laps to go. By then Jack was close to ten seconds up the road, though Andrew had the partial consolation of winning Driver of the Race.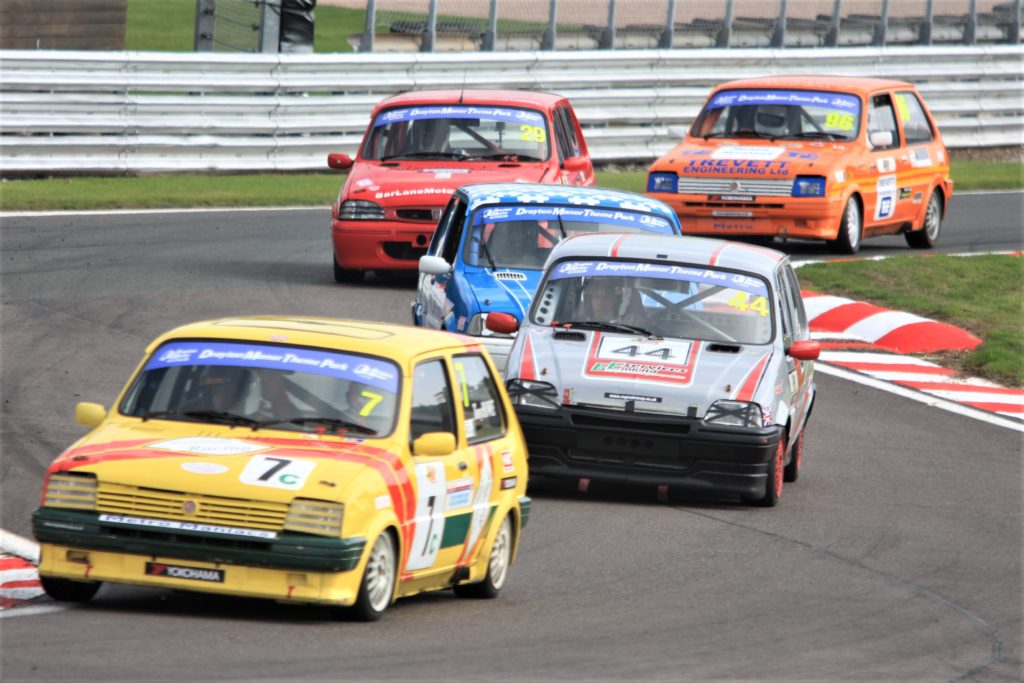 Cockshoot Cup
Ray Collier continued his domination of the Cockshoot Cup by taking another win in his ZR 190. Phil Standish took the lead from fifth on the grid after an amazing start in his TF, but Collier – who has already wrapped up this year's championship – had the lead back by the end of lap one. He triumphed by nine seconds ahead of Standish, who held off Peter Bramble's Roadster for second.
Mike Peters finished fourth overall in his Midget and with it took a dominant Class B win as well as the Driver of the Race accolade, recovering from terrible problems in the Anglesey round. In addition Peters had only flown back from Portugal the day before the race.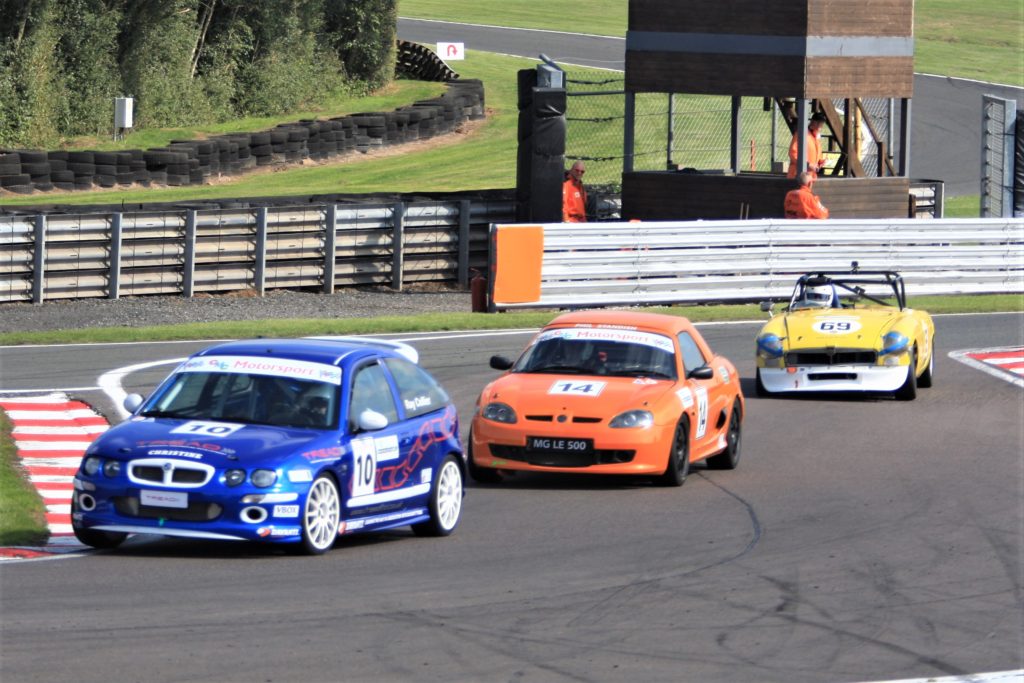 Words by Graham Keilloh
Photos by Martin Price