Oulton Park race report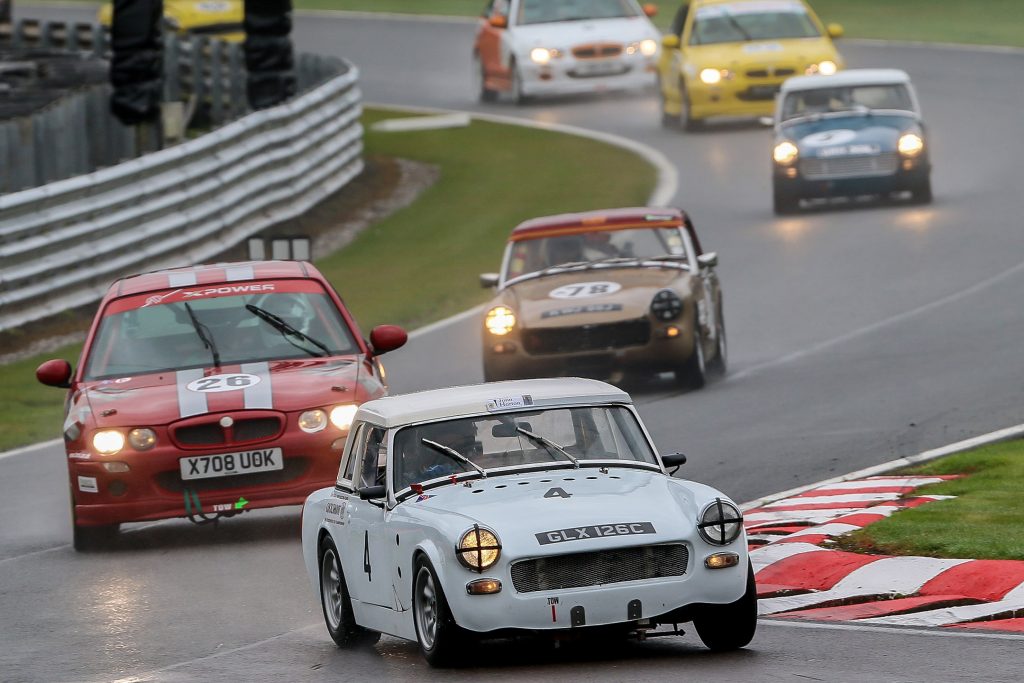 With the summer break behind us, the MG Car Club arrived at a very wet Oulton Park for the penultimate round of 2016. We were pleased to be joined by the Sylatech Porsche Club Championship and Aero Racing Morgan Challenge once again. Despite the weather, everyone put on a great show for some spectacular racing performances. Report by Leanne Fahy, photos courtesy of Dickon Siddall.
MGCC MG Trophy Championship
Colin Robertson made light work of tricky conditions in the opening MG Trophy outing. Paul Luti led the way from pole position, however, Robertson soon caught the distinctive yellow MG ZR to replace him at the front.
A few dramas befell the MG Trophy paddock before the race. Problems with his race car and truck saw Luti forced to make some last minute changes, whilst others suffered problems during qualifying. An engine blow out for Rob Perkins sent Doug Cole into a spin, when oil on the track saw him lose grip.
With Robertson out in front during the race, Luti soon found himself under pressure from Graham Ross. Unable to fend off the charging 190 machine, Luti slipped to third for much of the outing.
Before long, Chris Bray entered the mix. Despite starting 25th on the grid, Bray managed to weave his way to a third place finish. Jason Burgess held on for a fourth place finish, ahead of Cole in fifth, who battled his way through the pack from the very back of the grid.
Luti landed in sixth place overall, to also claim Class B honours. Lee Sullivan followed Luti to second in class. Paul Croker was the man to beat in Class C, ahead of early class leader Matthew Turnbull and William Payne.
A red flag with just one minute 30 seconds left on the clock signalled an abrupt end to the final race of the day. It was Ross who claimed honours this time around, with Robertson close behind in second place.
Luti had led the way from pole position once again at the start, as fellow front row starter, Jack Roberts slotted in behind. Luti's control soon came under threat, when Ross and Robertson quickly latched onto his tail.
Before too long, Ross had manoeuvred his way ahead. Robertson echoed his move shortly afterwards, to settle himself in second place.
Just before the race end, Chris Bray once again steered his way from the back of the grid to land in third place. Luti held on for fourth place, to secure a second Class B victory of the day, ahead of Doug Cole and James Cole. Croker claimed Class C honours, ahead of William Payne and Matthew Turnbull.
Lackford Engineering MG Midget & Sprite Challenge
James Dunkley's dominant performance ensured he stole the show in the sole MG Midget and Sprite Challenge race. Despite treacherous conditions, Dunkley's MG Midget proved to be the car to beat.
With an eventual four second gap on his side, Dunkley claimed an unchallenged victory. Andy Southcott steered his way to second place, in what became a strong yet solitary result, ahead of Stephen Collier in third place.
Peter Kennerley held on for fourth overall and third in Class B, whilst Stephen Pegram and Richard Wildman completed the top six. John Collinson and Jon Simpson claimed Class E and D victories, respectively.
Dunkley's victory was enough to secure him the championship lead.
MGCC Watt Electrical BCV8 Championship
James Wheeler and Neil Fowler swapped positions between qualifying and the race end, to crown Wheeler victorious. Fowler's pole position swiftly came under threat when Wheeler set his sights on the lead.
After claiming control, Wheeler proceeded to launch to a 32 second advantage. Behind, Fowler battled the conditions to steer his way to a second place finish, with a comfortable gap to third placed man Ian Prior in his MGB GT V8.
Jonnie Wheeler and Russell McCarthy finished 4th and 5th, respectively, ahead of Andrew Young. Benjamin Tovey steered his way to a Class B victory, whilst Bob Luff was awarded top spot in Class AB.
MSCC Aero Racing Morgan Challenge
Russell Paterson claimed his first win of the season, in the sole Aero Racing Morgan Challenge outing, as son Elliot fell by the wayside.
A pole position start for Elliot gave him the immediate advantage he craved. However, as the race progressed, a spin onto the Foster's circuit saw Elliot forced out of contention, as the lead was handed to father Russell.
Although he relinquished his lead, Elliot held on to claim a second place, ahead of Philip Goddard. Tim Parsons and Tony Hurst, followed, whilst Kevin Laidlaw completed the top six finishers.
MGCC Drayton Manor Park MG Metro Cup
Andrew Ashton triumphed ahead of Oli Hood in the sole MG Metro Cup pursuit. As the lights went out, it was Hood who claimed the better start to lead into Old Hall from second on the grid.
Despite his early advantage, Hood soon came under threat when Ashton launched an attack. As the MG Metros fired themselves around the challenging Oulton Park circuit, Ashton managed to find a gap alongside Hood, big enough to squeeze his racer into the lead.
Once in front, Ashton managed to stretch his advantage to just over five seconds. Behind Hood, Lee Connell completed the top three finishes, ahead of Richard Garrard and early front runner Dan Willars. Mark Eales completed the top six.
MGCC Cockshoot Cup
Ross Makar overcame a brief safety car period to secure Cockshoot Cup spoils. Hard work from the MG ZR driver in qualifying gave him the advantage he desired, as he stormed towards Old Hall ahead of his rivals.
Regardless of the brief interruption, Makar returned to form at the restart, to steer his way to an commanding victory.
Second place was awarded to Gary Wetton, who challenged Makar early on. Behind, the battle for third was a fierce pursuit, with Ashley Woodward eventually claiming the position, ahead of Ray Collier and David Coulthard.
Philip Standish had stood himself in good stead for a top three result, however after a side by side moment with Woodward he slipped back to sixth place.
MGCC Motoring Classics Thoroughbred Sportscar Championship
Neil Fowler dominated in his MGB GT V8, to walk away with his first win of the season. The chequered flag appeared slightly earlier than planned, as officials tried to reclaim lost time from the schedule. But after leading the way from the start, it was Fowler's race.
Ian Prior trailed Fowler's distinctive white machine for the duration, but as time ran out he was unable to dismantle Fowler's advantage.
Russell McCarthy secured a third place finish, whilst the battle for fourth ignited a fire amongst the pack. Jim Bryan narrowly held on, despite the best efforts of his pursuer, Babak Farsian. The pair had raced mere inches apart for much of the outing, however settled into a steadier rhythm by race end.
Sylatech Porsche Club Championship with Pirelli
Mike Johnson claimed victory in the opening Porsche Club Championship race, to start their season finale in style.
A  storming start from fourth on the grid saw Johnson use the wet conditions to his advantage, as he splashed his way around the outside into Old Hall, and into the lead.
From here, Pete Morris tried his utmost to distract Johnson from his incoming spoils, however was unable to make a difference. Despite this, Morris held on for a strong second place finish, ahead of Chris Dyer in third. Steve Cheetham collected Class 2 spoils, ahead of Andrew Toon and Jake McAleer.
Johnson returned to the victory circle in race two to claim his second win of the day, to end his season in victorious style.
As Johnson led the way once again, Morris followed, as Mark McAleer hassled him for position. As the pair circled, McAleer seized his opportunity to launch himself alongside and around his rival into Old Hall. A brave manoeuvre saw McAleer elevated into second place, where he stayed until the chequered flag came into sight.
Steve Cheetham doubled his success in the second race, to claim Class 2 honours once more. Ross Morris followed him home this time around, with Toon third.
With the 2016 championship going down to the wire, it was Toon who was crowned 2016 Porsche Club Championship champion.
Despite difficult conditions at times we sailed through the penultimate race meeting of the year, quite literally at times. Here's hoping for better weather at Snetterton in a few weeks time. We look forward to seeing as many of you as possible for another great season finale.