MGLive! Silverstone race report
MGLive! impressed yet again, with fantastic grids and thrilling racing all weekend. With 15 races over two days, as well as plenty to see and do around the circuit we were pleased to enjoy yet another successful weekend. The sunshine we booked even made an appearance. Report by Leanne Fahy, photos courtesy of Dickon Siddall.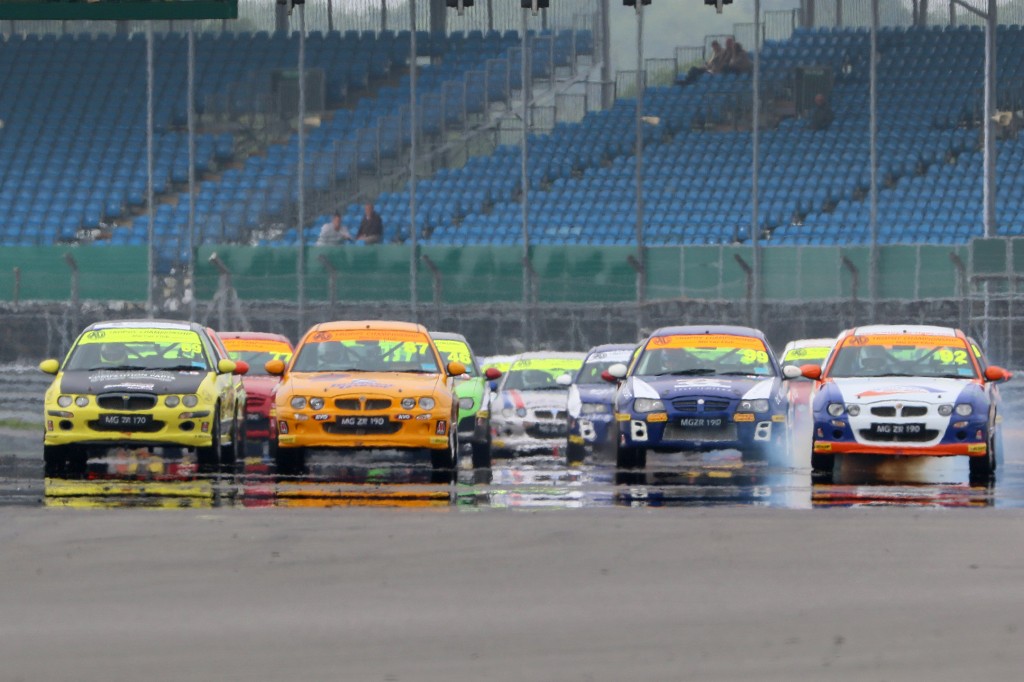 The MG Trophy Championship begins at Silverstone
MGCC MG Trophy Championship
Graham Ross and Colin Robertson dominated the opening MG Trophy outing.  Making their annual return for MG Live, the Scottish duo immediately took control as the field thundered towards Copse for the first time.
The duet were soon pestered by the chasing Doug Cole, however were unfazed by his efforts. After 20 minutes around the Silverstone Grand Prix Circuit, it was Ross who claimed victory, with Robertson in tow. Cole held on for third, whilst Rob Perkins and Robin Walker made it a Class A top five.
Class B was a hive of activity throughout, with Paul Luti ahead of his rivals. After starting from the head of the class, Luti managed to hold his ground, despite the intense focus from those behind him. Dismissive of the pressure, Luti held on for a class victory, ahead of Fergus Campbell. A disqualification for Andrew Rogerson from third place promoted Lee Sullivan to third in class.
William Payne controlled Class C, however after an apparent mechanical issue removed his chances of success, class honours were handed to a very receptive Gianni Picone. MG Trophy newcomer Matthew Turnbull happily claimed second in class, ahead of reigning champion John Gil and another Trophy debutant Paul Croker. Paul Bryson, Tim Martin and Tony Jones rounded out Class C. Picone was also awarded Driver of the Race by our commentary duo for his class winning efforts.
A mechanical issue for Ross as the lights went out for race two meant he was immediately forced to the sidelines. In his absence, Robertson claimed honours, after an eventful outing. With Ross out of the running, the fast starting Luti leapt to the fore, to lead the way around Copse. However, the Class B driver was soon under threat, when Robertson and Cole muscled their way ahead.
With the top two out in front, closely followed by Jason Burgess, who stormed through from 21st on the grid to third place early on, attentions turned to the fiercely entertaining battle in Class B.
Fergus Campbell looked to have the upper hand for much of the race, however, as the gaggle of cars negotiated their final lap, Luti managed to find a way passed to grab the lead in the final moments. Campbell held on for second in class, ahead of Lee Sullivan and Richard Marsh.
Burgess lost his third place to Perkins in the second half of the outing, however rounded out his impressive performance with a fourth place finish, ahead of Robin Walker in fifth.
Payne made amends for his issues in race one to seize a Class C win this time around. Picone collected second place, ahead of Turnbull and Gil.
MGCC Iconic 50's with FISCAR
The combined Iconic 50's with FISCAR race saw Mike Freeman take overall honours. His efforts on circuit meant he also claimed FISCAR victory, whilst Mark Ellis steered his way to an Iconic 50's triumph.
After starting from pole position, Freeman lost his advantage to slip to third place early on. But as the mandatory pit stops came into play, Freeman was able to clamber back to the head of the field. A late stop gave Freeman the chance to perform on circuit, to take the lead and the eventual victory.
Neil Cawthorn had featured at the front early on, however after a premature pit stop he dropped down the order slightly. After 11 laps, Cawthorn returned to favour, to finish second behind Mark Ellis in the Iconic 50's category.
A dramatic dive into the pits at the end of the formation lap for Brian Arculus meant he started from the pit lane. Despite having a 34 car field to battle his way through, Arculus steered his Lotus Elite to an impressive fifth on track and third in the FISCAR race.
Jason Harris, Patrick Rignell and Martyn Corfield completed the top six in FISCAR, whilst Graham Coles, Alex Quattlebaum, Jim Mackie and Peter Hiscocks rounded out the top six in the Iconic 50's performance.
MGCC Watt Electrical BCV8 Championship with Lackford Engineering MGCC MG Midget/Sprite Challenge
Rob Spencer and Sam Healey triumphed in the first race of their respective series'. The combined BCV8 Championship and Midget and Sprite Challenge made for an impressive 49 car grid, with a fantastic collection of MG machinery.
As the grid formed, a stalled car caused for a delayed start and shortened race distance to 18 minutes. As the second start got underway, Mark Scott was slow to get away, but was luckily avoided by the field behind him. With the BCV8 machines at the head of the field, Spencer slotted into control at race start. With a clear view into Copse corner, he led the hard charging James Wheeler and Russell McCarthy, as the race thundered into action.
As the top three raced amongst themselves, a collision further back brought out the safety car. A coming together between David Morrison and Stephen Pegram saw the pair stranded track side, with their cars in need of recovery.
A lengthy stint behind the safety car meant the race was neutralised for the duration, however with just enough time to squeeze in one more racing lap, it was a fierce end to a busy race.
With one lap to make it count, Wheeler and McCarthy entered attack mode, as they chased their rival. Thrilling side by side action saw the lead come under threat on the final tour, but as Wheeler launched an attack he ran wide, allowing McCarthy to pip him for second place. Neil Fowler, Andrew Young and Jordan Spencer completed the top six.
Healey's efforts in the MG Midget and Sprite Challenge saw him steer his Austin Healey Sprite Mk II to victory, ahead of Graeme Adams, David Weston and Andy Southcott.
Lotus Cup Europe
A 30 minute long defensive drive saw Jonathan Packer score opening Lotus Cup Europe success, despite a race long chase from Xavier Georges. An impressive 34 car field took to the track for the series' first appearance at MG Live, and the crowds certainly weren't disappointed.
As the top two battled, the chequered flag saw their separation stand at just 0.7 seconds, in what became a two horse race. Behind, Andrew Wright steered his Lotus Exige V6 Cup R to a solitary third place, ahead of Tommie Eliasson, Steve Williams and Robin Nilsson.
The 211 class victory was awarded to Jean-Baptise Loup, the son in the Loup father-son pairing, ahead of long time leader Christophe Lisandre and father Philippe Loup
Packer doubled his weekend's success in race two on Sunday. Despite losing ground at the start, he fought back to edge Wright from his victorious perch.
Long-time leader Wright led the way from the start, as the array of 34 Lotus machines powered their way towards Copse for the first time. Before long, Wright's mirrors echoed the image of Packer's Evora GT4 that furiously hunted him down.
As Packer chased, a bit of a twitch from the rear of his car forced him to drop back into third place, as Wright breathed a sigh of relief. His relief was short lived however, when Packer managed to regain the lost ground and edge his way into a victorious position.
Wright held on for second place, ahead of Georges, Eliasson and Nilsson. Loup claimed 211 class success once again, ahead of Lisandre, Fournier and father Philippe.
Equipe GTS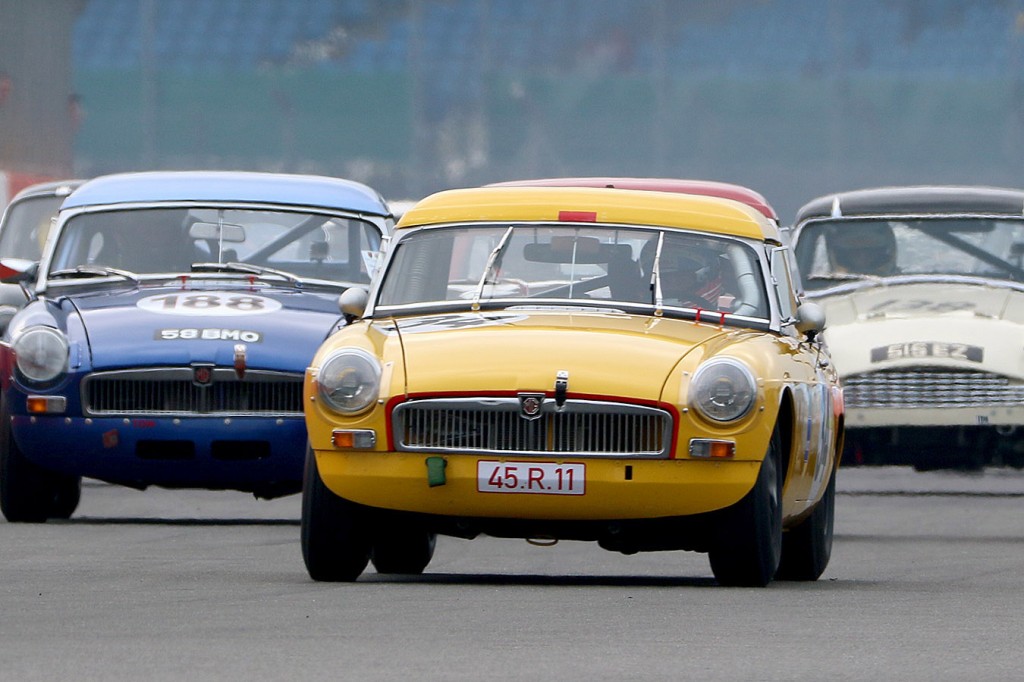 The Equipe GTS Series had 58 cars lined up – the maximum grid at Silverstone 
Mark Cole was the man to beat in the first Equipe GTS outing. A fiercely entertaining race saw the MGB Roadster driver battle tough competition, before claiming victory.
A thrilling performance from start to finish saw the Equipe GTS series deliver as ever, as a maximum grid of 58 cars lined up ready for action, and what a spectacular sight it was.
With a pole position advantage Cole leapt to the fore, to immediately lead the way, with the weight of the Equipe GTS series on his tail.
As the field negotiated the Silverstone Grand Prix circuit, a few drivers began to fall by the wayside. Drama suddenly hit Becketts when an MGB shed a wheel, before forcing the driver off circuit, luckily with the well behaved wheel managing to stay clear of the racing line.
With the mandatory pit stops completed at mid-race distance, Cole found himself immersed in battle, as Tom Smith launched an attack. As the pair toured, their MGB Roadsters were separated by just 1.3 seconds at race end.
Behind, Mark Ashworth held on to claim third place in his TVR Grantura Mk III, ahead of Richard Woolmer and Chris Ryan. Scott Quattlebaum had proved an integral feature early on, however after a retirement on lap nine, his chances were suddenly dismissed.
Cole provided the crowds with a repeat performance in race two, to claim his second win in as many days. After being held on the starting grid longer than anticipated, the grid were directed around the circuit for a second formation lap.
A slightly easier end to the race befell Cole this time around, with a 3.9 second cushion to second placed Mark Ashworth.
Regular front runner Smith featured once more, to claim a third place after 10 laps of high speed, full throttle action, narrowly ahead of Woolmer.
With the top four places taken car of, all eyes were fixed on the Tuner Mk II blur that was Scott Quattlebaum. A race retirement on Saturday meant he started from 40th on the grid for race two. Despite the challenge in front of him, Quattlebaum stormed through the field to claim an impressive fifth place as the chequered flag fell. Brian Arculus returned to the track once more, to claim a strong sixth place in his Lotus Elite.
MGCC Peter Best Insurance Cup & Drayton Manor Park MG Metro Cup
Dan Ludlow and Ben Rushworth triumphed in their respective championships during race one. Ludlow made himself comfortable at the head of the field, to steal Peter Best MG Cup honours, whilst Rushworth added to his victorious MG Metro Cup tally.
Ludlow was chased by Simon Cripps for much of the outing, as the pair looked set to make it a race long performance. However, as the end of the race came into sight, Cripps suddenly slowed and looked set for a terminal pit lane finish.
With his gremlins seemingly fixed, Cripps managed to continue, and albeit some 6 seconds adrift, he held on to second place.
Paul Eales battled his way to third place, despite numerous detours off track in the final laps, whilst Thomas Halliwell crossed the finish line in fourth place. Halliwell had started from the back of the grid after blowing an oil hose during qualifying, but managed to salvage a strong result. James Darby and James Walpole completed the top six.
Rushworth and Williams reignited their consistent MG Metro Cup battle, as the pair fought from the off. The added challenge of battling amongst another series, added another layer of excitement to their scrap. However, as the chequered flag ended their fun, it was Rushworth ahead of Williams. The Ashton brothers completed the top four, with Andrew just 0.6 seconds ahead of Jack.
Another back of the grid start wasn't enough to faze Halliwell in the second Peter Best Insurance MG Cup outing, when he raced through to victory.
Hayden Edmonds had led for much of the outing, only losing the lead to Halliwell on the final lap of the race. Despite missing out on victory, Edmonds clinched a strong second place, ahead of Walpole and Grant Summersbee.
Rushworth doubled his MG Live silverware, with another MG Metro Cup victory in race two, once again ahead of Williams.
Williams led the way early on, but it wasn't long before Rushworth edged his way ahead. As the top two battled for the duration, third and fourth places were eventually taken over by the Ashton brothers, with Andrew ahead of Jack once again.
Reigning champion Philip Gough made his racing return at Silverstone, however after battling an overheating engine during qualifying, his weekend was far from easy. An unfortunate retirement in both races made for a difficult return.
Sylatech Porsche Club Championship
Mark McAleer triumphed in the first Porsche Club Championship outing. A quick getaway launched him to the head of the field, where he remained for the entire 25 minute outing.
Behind, Kevin Harrison initially slotted into second place, however after receiving a 10 second penalty for starting out of position on the grid, Harrison was swiftly demoted down the order. In his absence, Mike Johnson moved into second place, to hold the position until the chequered flag. Pete Morris completed the top three, ahead of Paul Winter and the recovering Harrison.
Andrew Toon collected Class 2 honours, but not without a battle. The chasing Steve Cheetham made for an interesting race, to keep Toon honest for the duration, with Tim Speed third. John Williams collected Class 3 honours. Morris claimed the spoils in race two, albeit just 0.2 seconds ahead of race one winner McAleer. As the race unfolded Morris managed to hold his ground out in front, despite the best efforts of McAleer.
Behind the top two was another fierce battle, with Johnson, Ellis and Harrison separated by just 0.6 seconds as the trio swept passed the chequered flag. Paul Winter completed the top six, whilst Chris Dyer made up for his race one spin with a seventh place finish.
Class 2 spoils were awarded to Toon once again, with Cheetham in tow once more. Speed and Craig Wilkins followed in third and fourth places, respectively, whilst Williams claimed Class 3 honours once more.
MGCC Motoring Classics Thoroughbred Sportscars Championship with MGCC Cockshoot Cup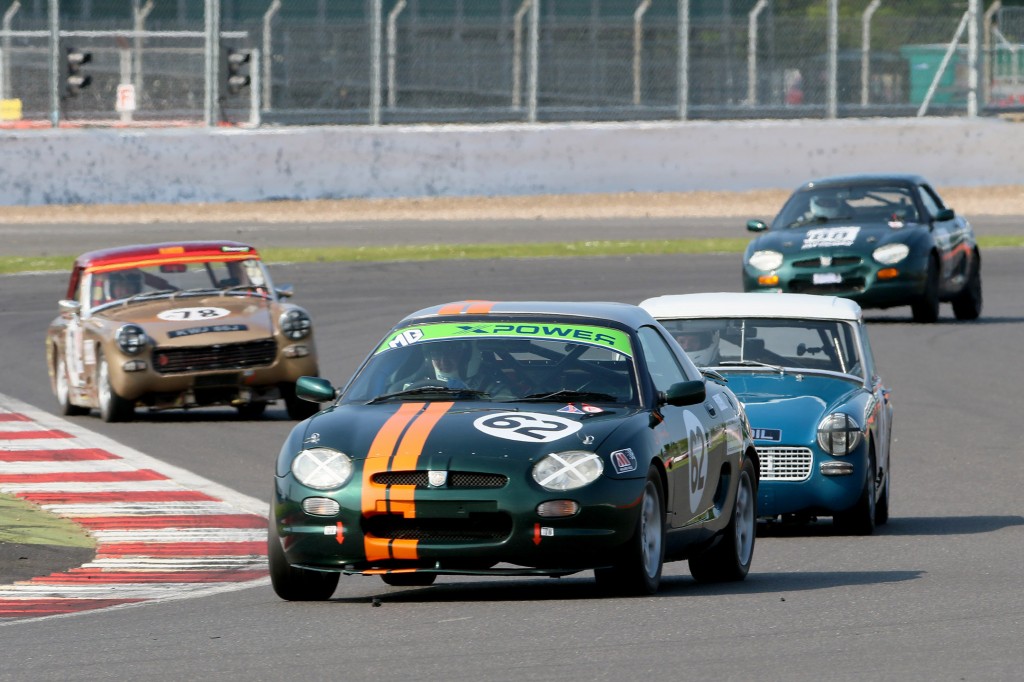 Adam Key in his green MGF 
A foggy start to the day meant qualifying for the combined Thoroughbred Sports Car and Cockshoot Cup outing was hampered, with just a few flying laps to set the best times. By the arrival of race one, the sun was shining and the temperature had definitely risen.
The Thoroughbred Sports Cars took over the front half of the field, with James Wheeler at the helm. With a three second cushion by race end, Wheeler was able to defend his crown unchallenged, ahead of Neil Fowler in runner up spot.
Fowler's race was less simple, when the charging Rob Spencer launched an attack for second place. As the pair battled, a side by side moment for position made for interesting viewing. The action soon simmered, however, when Spencer found himself by the wayside just three laps from the chequered flag.
With clear space behind him, Fowler claimed a comfortable second place, ahead of Russell McCarthy and Mark Halstead.
Cockshoot Cup honours saw Gary Wetton sweep to victory. After suffering with kidney stones on Friday, Wetton recovered enormously to race at Silverstone this weekend. Despite his ailments, he claimed a clear win in race one.
A race long battle saw Wetton struggle for control, as he and Philip Standish swapped positions multiple times. However, as Standish encountered trouble that forced him out of the running, Wetton went on to claim an untroubled victory. Former MG Trophy racer Ross Makar made his mark on the Cockshoot Cup this weekend with second place in race one, some 37 seconds ahead of Ashley Woodward. Jason Simm featured heavily in the mid race scraps on circuit, before crossing the finish line in a strong fourth place.
David Coulthard had looked good for a sound result, before he returned to the pits just five laps from the chequered flag. The Cockshoot Cup returned on their own for race two, and it was Ross Makar who claimed the spoils this time around. Fierce competition announced itself in the form of Wetton, as Makar tried his best to fend him off. After 20 minutes of high speed action, the chequered flag rescued Makar, to crown him victor by just 0.6 seconds ahead of Wetton.
Woodward steered his way to third place, albeit some 34 seconds adrift. Jonathan Harker collected fourth place, with Ian Winstanley fifth. Coulthard recovered from his race one woes to claim sixth place in race two.
MSCC Aero Racing Morgan Challenge
Keith Ahlers claimed an unchallenged victory in the sole Aero Racing Morgan Challenge appearance, to finish over one minute ahead of his nearest rivals.
Pole position quickly became the race lead for Ahlers, from where he didn't look back. Behind, the father-son duo of Russell and Elliot Paterson collected second and third places, respectively, after a race long battle for runner-up spot.
Tony Hirst steered his way to fourth place, but not without a fight on his hands. A strong performance meant he hung onto fourth place, as Jeremy Knight and Andrew Thompson rounded out the top six.
It's hard to believe MGLive! has been and gone for another year, but what a weekend it was. Many highlights to take away from this year's event, one being the fantastic racing and grid sizes. A huge thank you to everyone for their efforts. We look forward to seeing you at Mallory Park in a few weeks' time.