MGCC thrills and spills at Brands Hatch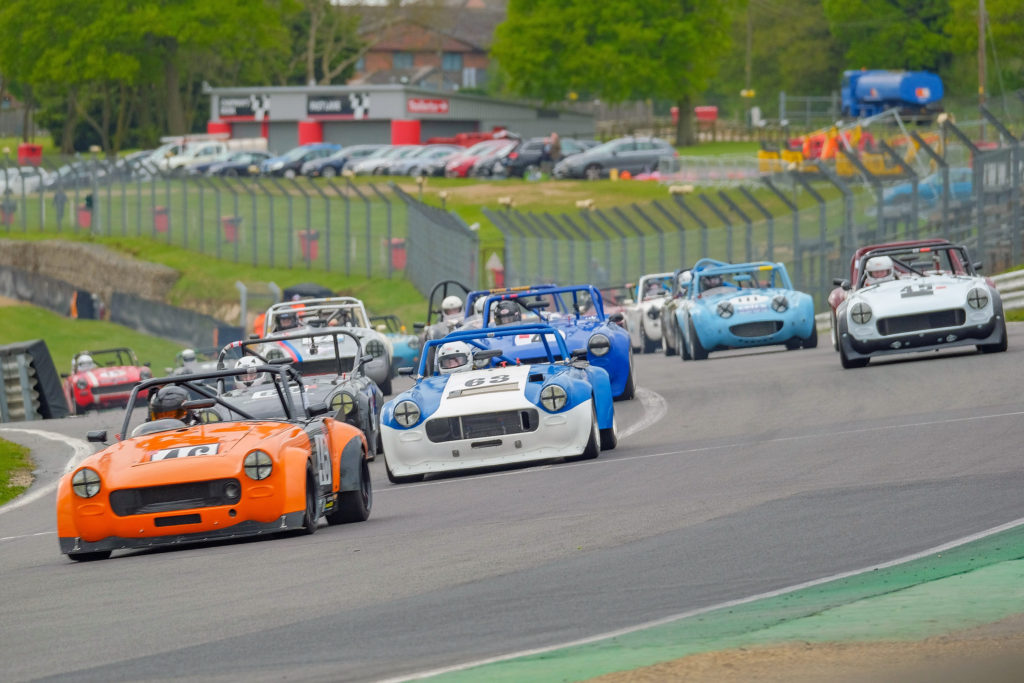 At Brands Hatch, the MG Car Club's second race meeting of the year, the Maidstone MG Trophy, MGCC Lackford Engineering MG Midget & Sprite Challenge and Baynton Jones Historic Motorsport MGCC Triple-M Racing Challenge all made their 2019 season bows. And the weather changed along with the line-up, with the sun and warmth of Silverstone's opener replaced by cooler conditions and intermittent rain in Kent.
The Maidstone MG Trophy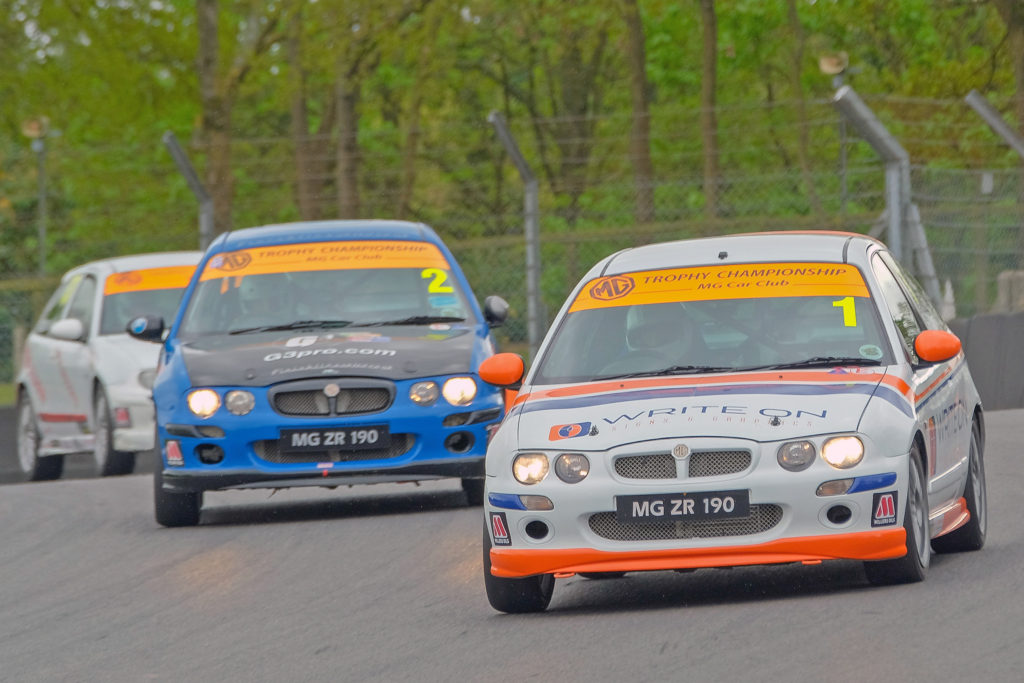 The common theme of the Maidstone MG Trophy season-opener was recovering from adversity. Reigning champion Graham Ross won race one after starting seventh following "a gamble that didn't really pay off" of running slicks in wet-but-drying qualifying. Ross was aided to victory by Doug Cole spinning on fluid at Clearways – one of several to spin there – then by Ross Makar retiring from the lead when throttle body screws got loose and were sucked into his engine.
Ross was chased home by returning three-time champion Chris Bray, who wasn't letting Ross relax despite Ross's self-admitted desire to cruise to the flag! "It was more to do with the attrition of a couple of others," said a modest Ross of his win.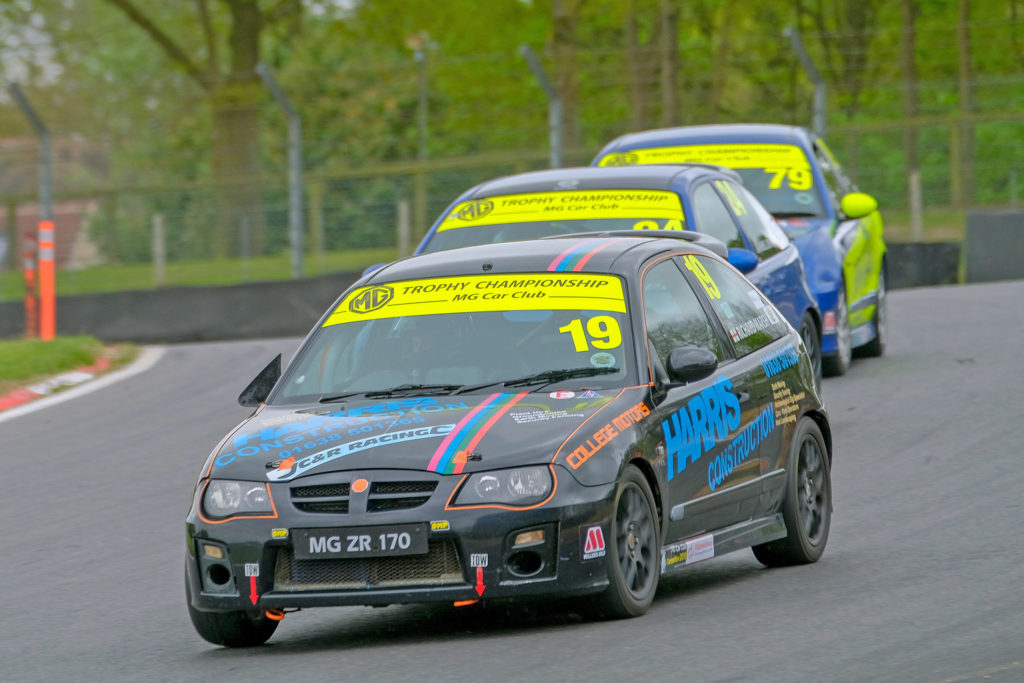 Sam Kirkpatrick looked on for Class B victory but retired with a clutch failure on his ZR 170 – "[it] gradually got worse," Kirkpatrick said, "first it wouldn't go into second and then it wouldn't go into anything". Paul Luti competing in that class also hit problems with his 170, with a water pipe for his coolant detaching and leaking fluid onto his tyres. Further Luti didn't realise this was amiss until the race finished; he also didn't realise what was happening to his engine temperatures without coolant, as his temperature sensor was in fresh air! It meant a frantic engine repair for race two due to the overheating.
The Class B win was instead taken by Richard Marsh (no. 19) who after starting at the back of the class grid headed a fine scrap with Samuel Johnston and Adam Jackson. This also got Marsh Driver of the Race.
Cole (no. 99) later in the race was hit in the side by Tylor Ballard's 170 who was out of shape in avoidance of another car losing it, meaning a frantic repair of Cole's door for race two. "I had to do something about it; I had to win," said Cole of the second race, and he did just that by leading home a four-car battle and resisting enormous pressure from Makar, Bray – who discovered after the race he'd picked up a left-rear puncture after running over debris – and Ross. It also earned Cole Driver of the Race and Driver of the Day for Saturday.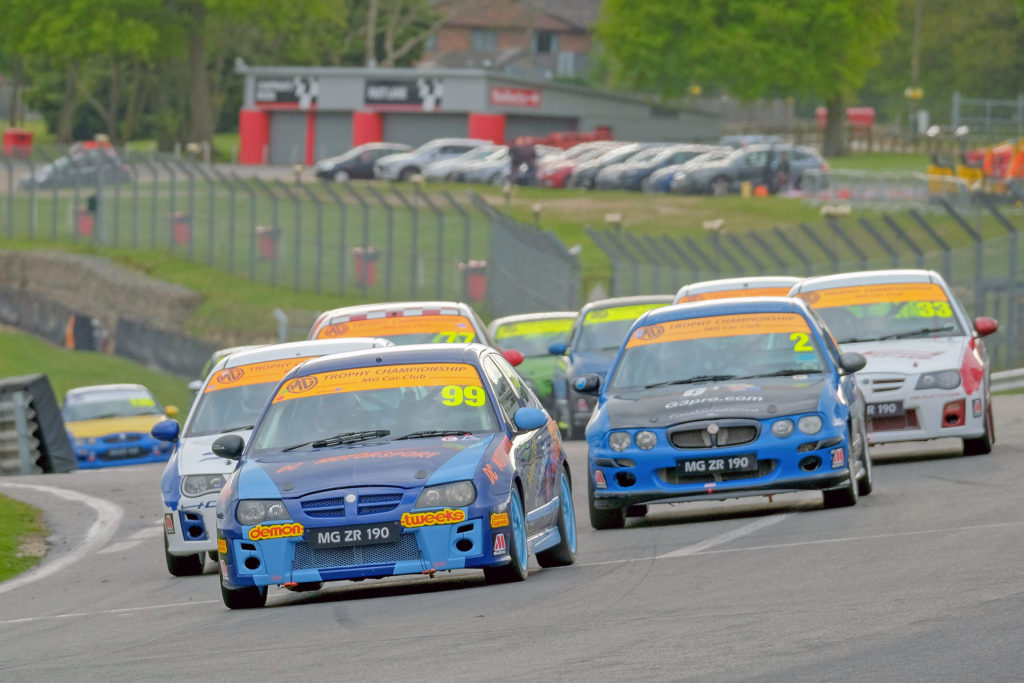 "I've had a few races like that [in terms of pressure], but nothing like for 18 laps," said Cole, who had the added challenge of not having timing and therefore having no idea how many laps remained. "It was just like keep putting the car in a safe place. We've been racing for 10 years together so we know each other really well; we don't knock each other off."
"It was just nose-to-tail for lap after lap," added Ross. "It was just awesome, and pretty clean from where I was sitting. It's one of those ones you come off with a big grin on your face."
Kirkpatrick got "a bit of a redemption" by winning Class B in race two, passing Luti partway through when Luti got stuck behind a 190; Kirkpatrick started the move at Clearways and completed it at Paddock.
MGCC Lackford Engineering MG Midget & Sprite Challenge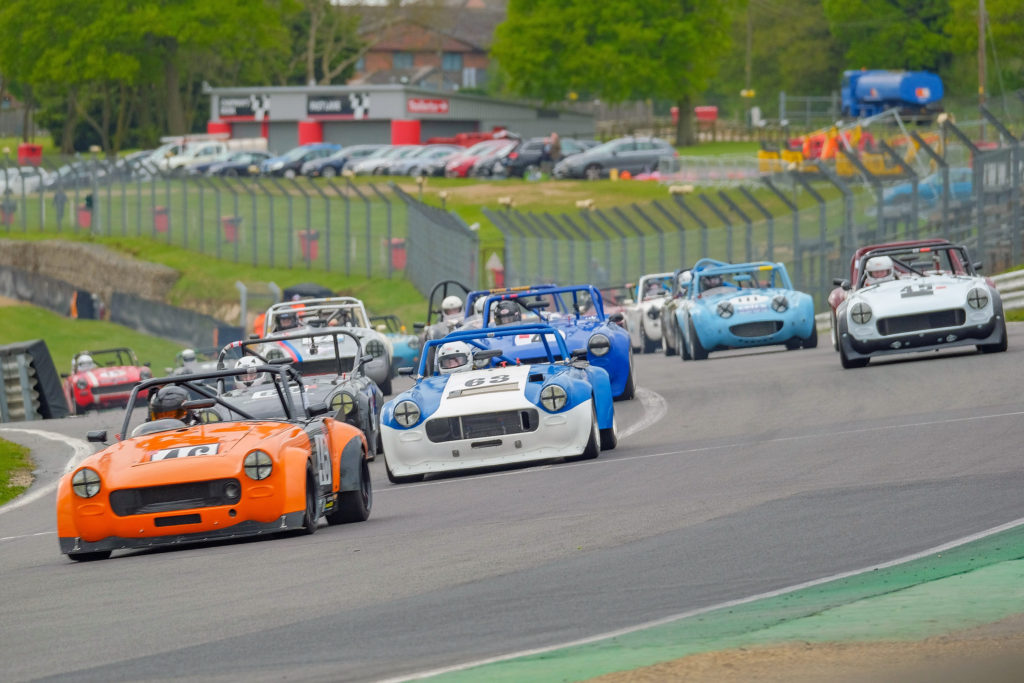 Reigning champion Stephen Collier (no.46) started 2019 as he left off last year by winning both of the Lackford Engineering MG Midget & Sprite Challenge season-opening races. "It couldn't get much better could it?," said Collier of his results. His Midget was essentially unchanged since 2018, with only a new clutch plate and a rebuilt gearbox. "I had planned to lighten it but I didn't get round to it!"
In race one it looked initially that Collier would win at a canter, but a mid-race safety car deployed when Robert Morris spun his Sprite – though Morris was able to continue without outside assistance – got Stephen Watkins' fellow Midget onto Collier's tail. Watkins – fast but unlucky towards the end of last season – chased Collier closely for the rest of the way, a showing which got Watkins Driver of the Race. The race also finished under the safety car, after Nick Rose's Midget spun at Clearways, joined shortly after by Robin Lackford's Sprite.
Marc Campfield (no. 111) in a Sprite won the Class E race ahead of Pippa Cow's Midget. Campfield is son of reigning Class E champion Paul Campfield who is unable to drive the car due to breaking his hand in a skiing accident. Richard Perry in a Midget took the Class D win.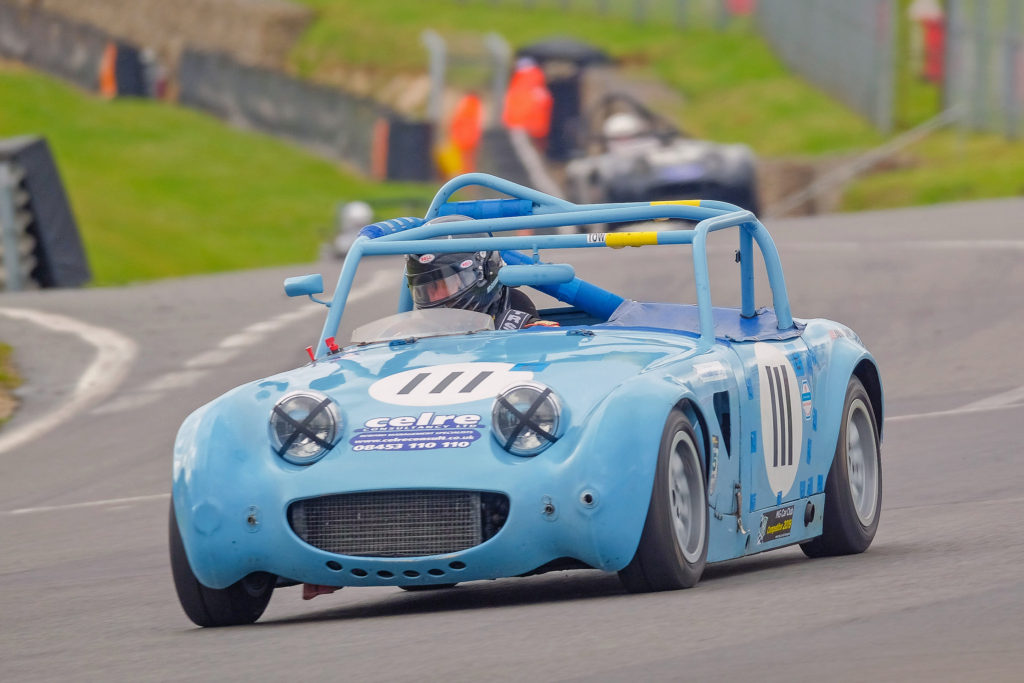 Race two had a similar pattern at the front, with Collier leading and Watkins on his tail. Watkins looked like he might be the quicker on a tricky surface with oil put down at Paddock and Graham Hill Bend by Rose. "We were both sliding around all over the place," Watkins noted.
However Watkins then hit Perry – who again was leading his class – at Graham Hill Bend when lapping him, removing them both. "It was shaping up for a good race, he [Perry] was saying he didn't expect me to be there," Watkins said. "It was risky but it swayed me to attempt it as I was so close to Steve."
"He was quicker than me in certain corners," Collier added of his Watkins battle. "We just kept concertina-ing. I was probably more circumspect about the oil than he was."
Collier still had a strong lead even with the safety car resultant of the Watkins clash, as Morris proceeded slowly and therefore never caught the safety car, and those pursuing Collier were caught in Morris's wake. Morrison indeed got too impatient in the slow-proceeding queue and passed two cars before the line at the restart. He got a four-second post-race penalty which dropped him from second to fourth, behind runner-up Richard Wildman and Andrew McGee – both in Midgets. Driver of the Race was awarded to Ian Burgin.
Lackford claimed the Class E win after Campfield led in class before dropping to third after experiencing apparent intermittent technical problems then having an off. Jon Simpson's Midget inherited the Class D win from Perry.
MGCC BCV8 Championship
The two BCV8 Championship races were attritional affairs. The first race started in gathering rain which didn't play into the hands of poleman Russell McCarthy at his local round. He had a poor start then on lap two was speared into by Jonnie Wheeler's GT V8 which had lost it under braking for Paddock. It put both cars into the gravel with McCarthy's GT on its side!
This meant a red flag, and in the truncated restarted race James Wheeler quickly built a strong lead, but then dropped out when his head gasket failed. It was the second of Wheeler's head gaskets to go – the left hand bank failed in qualifying with his right hand bank failing in the race. In both cases frantic repairs were required to get his car out for the next session with almost no time to spare.
Neil Fowler therefore inherited race one victory, half a second clear of Ian Prior. Russell's brother Spencer completed the podium in his Roadster, and with it got Class B win, coming through from the back at an incredible rate after a fuse broke half a lap into qualifying. He also got Driver of the Race and Sunday's Driver of the Day.
Andrew Young in fourth place overall took Class C honours in his GT, while Ollie Neaves – who had considerable problems with his Roadster in the Equipe races – took the Class AB victory.
Wheeler – his head gasket woes behind him – got recompense by winning race two. He led from pole and this time benefited from attrition, as Russell McCarthy, who had shadowed him from the start, got past him to lead at Paddock on lap five but immediately slowed then retired after experiencing a bad vibration, possibly a legacy of his race one accident. "It's just been one of those weekends where nothing was going to go right," McCarthy said. "I invited 20 people to come along today, a lot of people have said they're not going to come back as they're bad omens!"
"We were going to have a cracking battle," added Wheeler.
Young again took the Class C win and again by finishing fourth overall, while Jim Bryan in the GT V8, second home in Class C and fifth overall, got Driver of the Race. Spencer McCarthy finished sixth and got another Class B win while Neaves took a second AB victory.
Baynton Jones Historic Motorsport MGCC Triple-M Racing Challenge
Harry Painter dominated the two Baynton Jones Historic Motorsport MGCC Triple-M Racing Challenge races, taking his PA to comfortable wins. His father Mike briefly led at the start but Harry was back past at Surtees on lap one, and finished 20 seconds ahead of runner-up and Class C winner Oliver Sharp who passed Mike Painter late on. Richard Frankel is his MG PB Cream Cracker – ninth overall and third in Class B – got Driver of the Race.
The Mary Harris Trophy, awarded based on the race result with handicapping applied, went to Charles Goddard in his PA Special who finished fifth on the road and won Class B. Mike Davies-Colley in a PA was Class A winner.
Harry Painter again led Sharp home in race two, this time by 12.6s. Despite dropping to third at the start, Painter was in the lead by lap three. Goddard, like Sharp, took his second class win of the day in race two while in Class A Hamish McNinch beat Davies-Colley home by less than 2s. Class B runner-up Fred Boothby was awarded Driver of the Race after showing much improved race pace in his J2.
MGCC MG Cup supported by Peter Best Insurance with MGCC Drayton Manor Park MG Metro Cup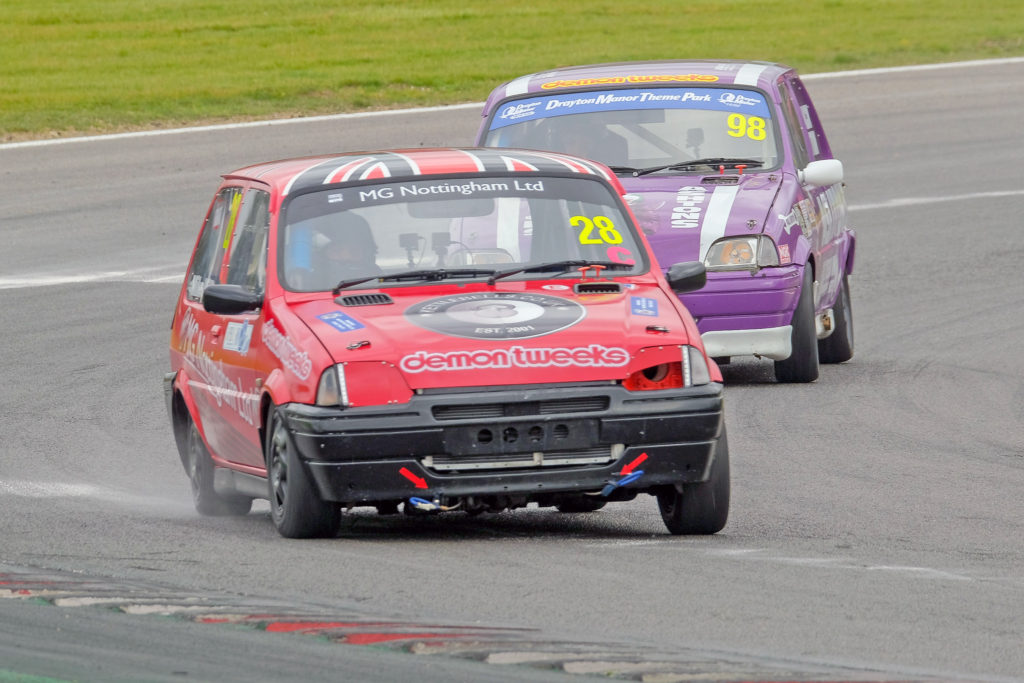 Mike Williams (no. 28) at last avoided technical maladies to exploit his Rover Metro GTi's pace and win both MG Cup supported by Peter Best Insurance races. He led all the way from pole in both and his race-winning margins were 18.7s and 22.6s.
"It's nice to be able to get round the circuit and see a chequered flag!" Williams exclaimed. "After the disappointment at Silverstone [in round one], because of course being the first race you've been waiting nearly six months to get there, so having done one lap in qualifying and the engine blow up was the biggest kick in the guts you can have.
"It's [Brands is] a Metro circuit. I've got a big advantage here as it goes round corners. It was just a case of staying out in front and enjoying it."
The MG Cup shared grids with the Drayton Manor Park MG Metro Cup and reigning champion Jack Ashton (no. 98) fought at the front in his less powerful but more nimble car. He qualified on the front row alongside Williams then finished third overall in race one, being passed by Richard Buckley's Rover 220 Turbo at Druids at one-third's distance.
This got Ashton the Metro win, with Dick Trevett finishing second in the category and seventh overall. Trevett had to recover from a right-front hub problem in qualifying and vaulted from 15th on the grid to ninth on lap one. It all got Trevett the Metros' Driver of the Race.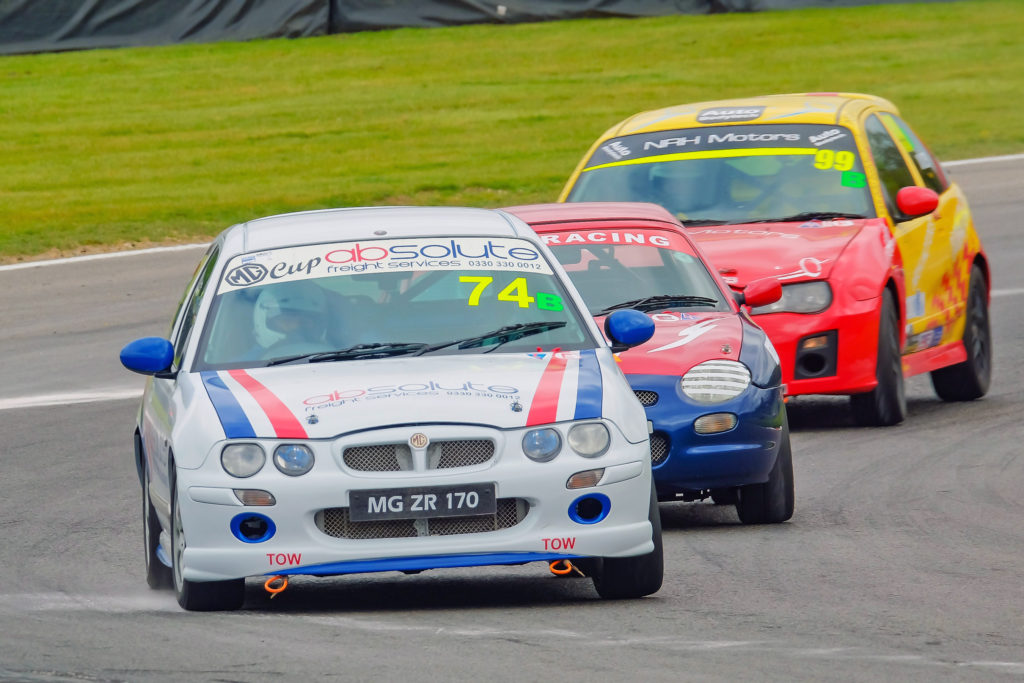 Ian Boulton (no. 74) took the MG Cup race one Class B win and Driver of the Race in his ZR 170, finishing fourth overall. Aaron Ross comfortably won Class A in his 160.
The second race had a similar pattern at the front and the same top three finishers, with Buckley this time getting by Ashton at the start. He still had no answer to Williams' pace and Ashton again fought him hard for the runner-up position.
"It was a bit of a David and Goliath battle," said Ashton. "I'm here to enjoy myself so if there's a race on I'm going to race. I said I'll let him have his go at Mike [Williams] because that's his own race, but it was quite apparent that Mike was just pulling away. So it was 'race on' in my eyes! I definitely would love it [a mixed grid] to happen again."
Peter Burchill got MG Cup's race two Driver of the Race after finishing fifth in his ZS 180 while Mark Wilson – the third Metro home in only his second ever Metro race meeting – got the Metros' Driver of the Race. Dale Reet took the MG Cup's Class A win in his 160 after longtime leader Ross stopped late on. Boulton in sixth place overall completed a double Class B triumph.
Equipe GTS Group A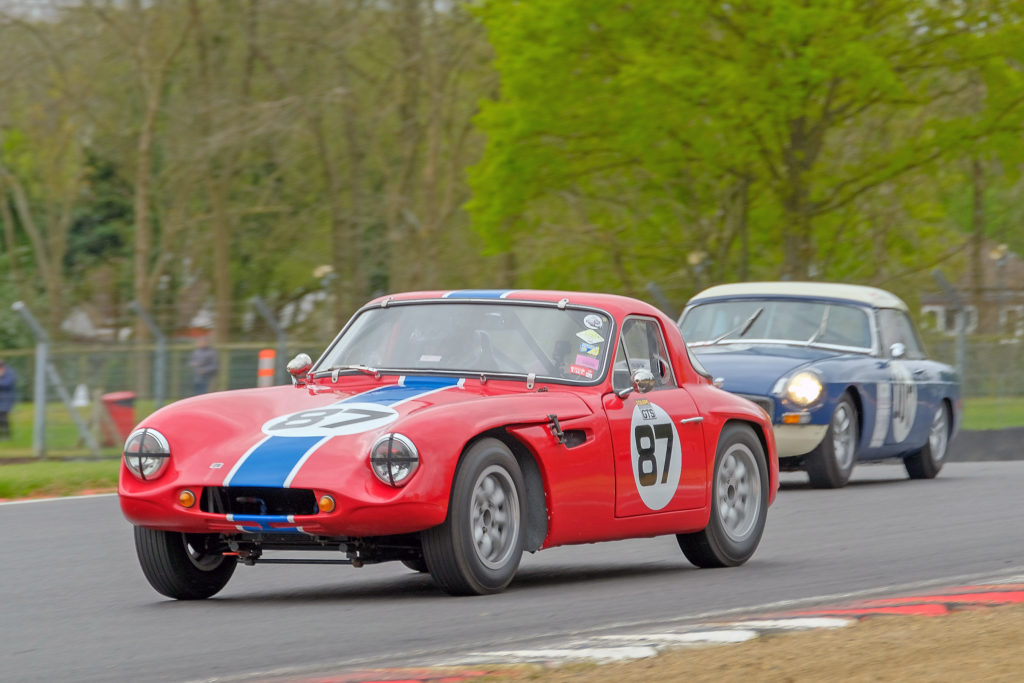 Equipe once again had a strong presence, with 101 cars and 111 drivers competing across six races. Mark Ashworth (no. 87) claimed both GTS Group A wins in his TVR Grantura Mk III. In both he had a close fight with Ollie Neaves' MGB Roadster, but Neaves was twice stopped by technical woes. In race one, having been passed by Ashworth at mid-distance, Neaves pulled off near the end with carburettor issues.
In race two, Neaves, just when he looked set to challenge Ashworth's lead after a safety car got him onto his tail, again pulled off when the vibration from a damaged propshaft meant a flange detached in his engine.
Brian White in his Triumph SLR was the Class 4 winner in race one while Nick Mountford in a TR4 claimed that honour in race two.
Equipe GTS Group B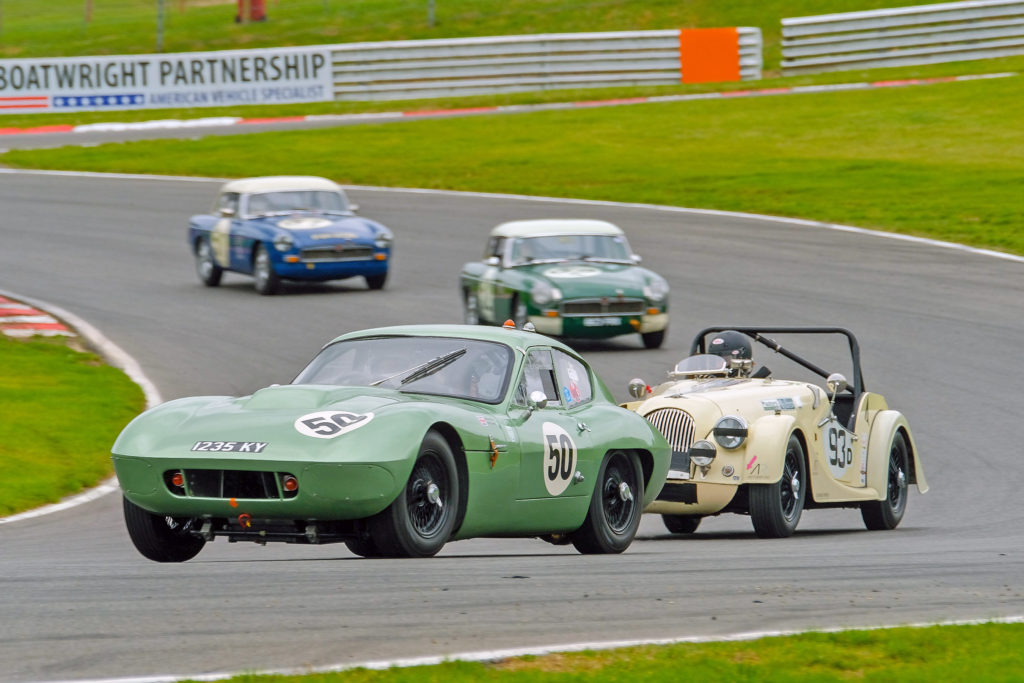 Simon Ashworth made it three wins from the weekend for the TVR Grantura, by winning the opening Group B race in it. Tom Grindall's Midget led for much of the way but Ashworth moved past in traffic in the late laps. Poleman Lee Atkins was slow away in his Grantura due to difficulties getting first and second gear, then he retired a few laps later when one of the followers broke, which he thought may be related to his difficult getaway.
Race one's third-place finisher Brian White (no. 50) in his Triumph was Class 4 victor, while race two runner-up Jon Payne, also in a Triumph, took that race's Class 4 win. Oliver Harris took a comfortable Class 5 in race one while Nick Harris did the same with the same car in race two.
The Grantura couldn't get four wins from the meeting though. Ashworth in it was challenging Peter Edney's Roadster for the Group B race two lead but spun on the damp track at one-third's distance, losing several places. Edney later himself spun at the same spot, also losing many places, meaning Rob Cull in another Grantura came through to win from starting at the back. Cull had hardly run earlier in the weekend and retired early in race one.
Equipe Pre 63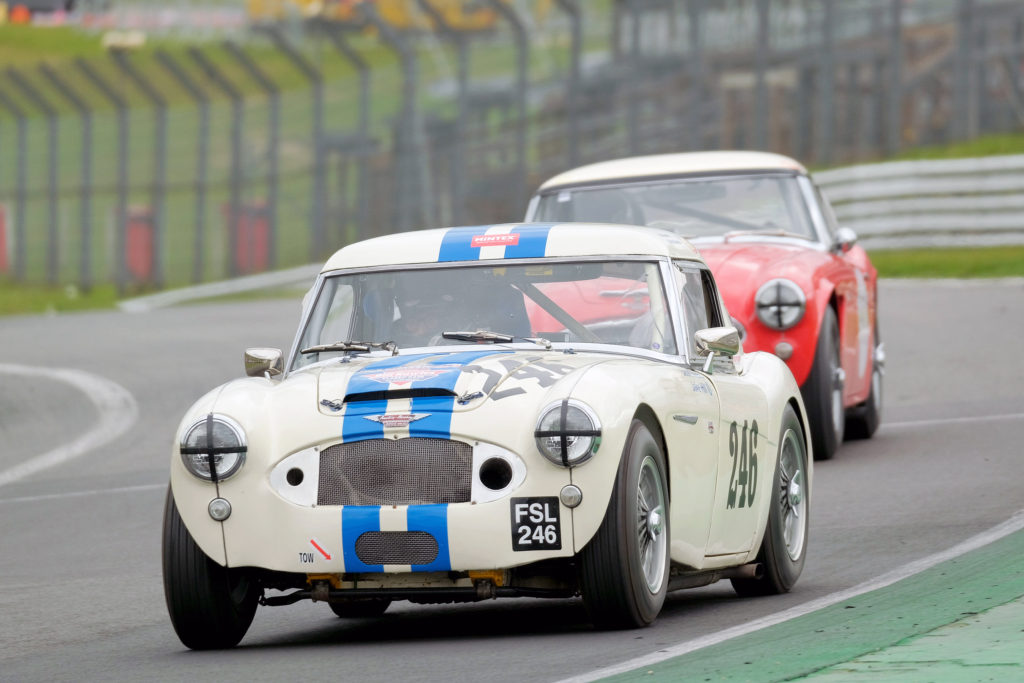 Bill Rawles (246) won Equipe Pre 63's race one in his Austin Healey 3000, holding off a race-long challenge from Mark Holme's Healey. The next day Bill's son Jack took over the wheel and came roaring through from the back to pass Holme at Paddock at two-thirds' distance for a lead he didn't lose.
Oliver Harris was a comfortable Class 5 winner in race one in his Healey 100/4, and Richard Knight took over the car in race two and repeated the class result. David Wenman in his Morgan +4 was the Class 4 victor in both races.
Guest Races
Mark Charteris won both HSCC Classic Clubmans races in his Mallock Mk20/21. He won race one by a lap, though race two was closer as he beat runner-up Clive Wood in his Mallock Mk20B by just 6s, having run behind him early on. Wood had spun to the back on fluid dropped at Graham Hill Bend in race one.
Philip Goddard and Keith Ahlers shared the Aero Racing Morgan Challenge wins in their Morgan +8s, Goddard headed Ahlers home in race one while Ahlers, who had been hampered by a misfire earlier in the day, was able to turn the tables in race two.
Jonathan Bevan and Rod Birley won the Amusetime Production Saloons Series pitstop race in their Honda Integra on its first time out with a new engine. But they only won after the winner-on-the-road pairing Paul Restall and Colin Tester was disqualified. Their Sierra lead much of the way but got a drive-through penalty for pitlane speeding, then when Restall didn't serve this the black flag was issued, which Restall again didn't heed.
Alex Sidwell in a Holden VE/F meanwhile beat Birley home in both Iwade Garage Super Saloons races. Birley had looked set to win the first race but lost the lead when his Escort slowed mysteriously before coming back to life.
Words by Graham Keilloh
Photos by Dickon Siddall